San Antonio is a great destination to discover the south's history, culture, and lifestyle. There are several historical sites, museums, and great art galleries to visit.
Located in the southern part of Texas, San Antonio is probably mostly known for its tacos and anything part of Tex-Mex cuisine. However, there are several other alternatives if you are looking for something different.
Surprisingly, the city gets widely recognized for having excellent sushi, nigiri, sashimi, and other forms of Asian fusion delicacies. So, if you find yourself in San Antonio and are looking for a sushi experience, there are many excellent sushi restaurants in town to satisfy your craving.
You can check out a list of the 11 best sushi restaurants in San Antonio below! But first, let's quickly see the top sushi places depending on people's preferences.
Best for Family & Couples: Sushishima Japanese Restaurant
Best for Parties: Godai Sushi Bar and Japanese Restaurant
Best for Traditional Sushi: Nikki's Tokyo Inn
Best Sushi Restaurants in San Antonio
Sushihana Japanese Restaurant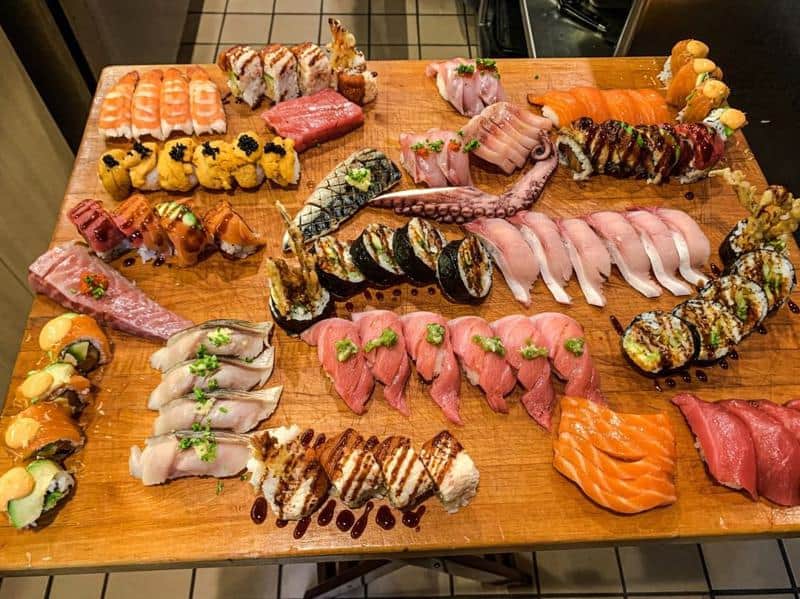 Address: 1810 NW Military Hwy, San Antonio, TX 78213
Phone: +1 210 340 7808
Website: Sushihana
Located close to the Holocaust memorial museum, Shushihana is an elegant Japanese restaurant serving traditional and modern alternative Asian cuisine. Since its opening in 2003, it continues to be one of San Antonio's premier Japanese restaurants.
Sushihana artfully combines freshness and finesse to create sushi, sashimi, and impeccable entrees. With the excellent menu of the flavorful Crudo, the Spicy Salmon Poke, delicate tempura, and juicy Ribeye made with an orange, ginger, and arbol teriyaki sauce, you'll want to keep coming back again and again.
Also, with such a friendly staff and a building layout featuring a patio, the restaurant has a warm and inviting ambiance. Its decoration and architecture go well with excellent service, professionalism, and delectable dishes.
Godai Sushi Bar and Japanese Restaurant
Address: 11203 West Ave, San Antonio, TX 78213
Phone: +1 210 348 6781
Godai is undoubtedly one of the most famous Japanese restaurants in the area. It is regularly frequented by locals and travelers. The Texas-style sushi bar is an award-winning restaurant conveniently located next to hotel accommodations and popular commercial streets.
Godai offers an upbeat and casual ambiance, perfect for both lunch and dinner. Its beautiful seating layout and outdoor sitting area are perfect for a relaxed day in the summertime. Also, Godai has take-out and delivery options if you're on the go.
Be sure to try Mark's Special, an avocado salad surrounded by salmon and yellowtail, drizzled with spicy sauces, or the Seared or Peppered Tuna Appetizer with garlic sauce and capers. Fusion dishes, including tuna asparagus wraps, are also a favorite on the menu.
Niki's Tokyo Inn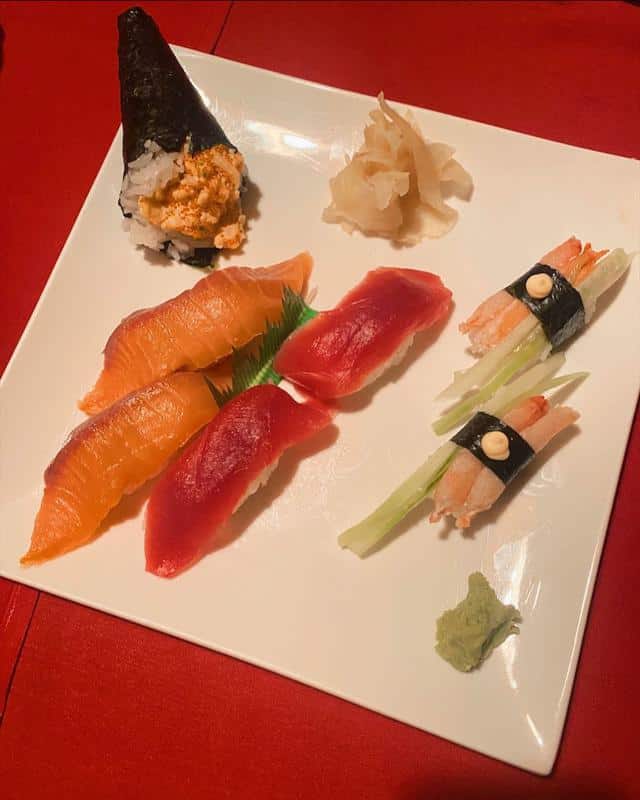 Address: 819 W Hildebrand Ave, San Antonio, TX 78212
Phone: +1 210 736 5471
Website: Niki's Tokyo Inn
If you are looking for an authentic Japanese experience in the heart of San Antonio, then Niki's is your destination. In fact, the restaurant is run and owned by a Japanese family, so it is most often frequented by the Japanese community.
They have an extensive menu of traditional Japanese dishes, and their sushi is heavenly. They have several mouthwatering dishes, but some must-try is the miso soup, the shrimp-fried rice, and the eel, which is just about the best thing you'll ever eat.
Their hospitality is top-notch thus, it is a restaurant loved by most locals and travelers. Also, their portions are pretty generous, the seafood fresh, and the ambiance very unique.
Read More: Best Seafood Restaurants in San Antonio
Sapporo Sushi and Asian Fusion
Address: 5638 W Hausman Rd, San Antonio, TX 78249
Phone: +1 210 314 4423
Website: Sapporo Sushi
Near the University of Texas area, you'll find Sapporo Sushi, one of the best restaurants in creative Asian cuisine. It specializes in traditional Japanese and Korean cuisine but with an innovative twist.
Sapporo offers tasty lunch specials such as Bento Boxes inspired by the traditional Japanese lunch boxes. Their drink menu is extensive, with domestic and imported beers, wine, and different types of sake bombs.
They have various creative sushi rolls and other Asian fusion delicacies. The spicy tuna roll is a fan favorite, and the nigiri platter. You can't go wrong with any of the sauces, all specially crafted to complement each type of sushi.
Wasabi Sushi Bistro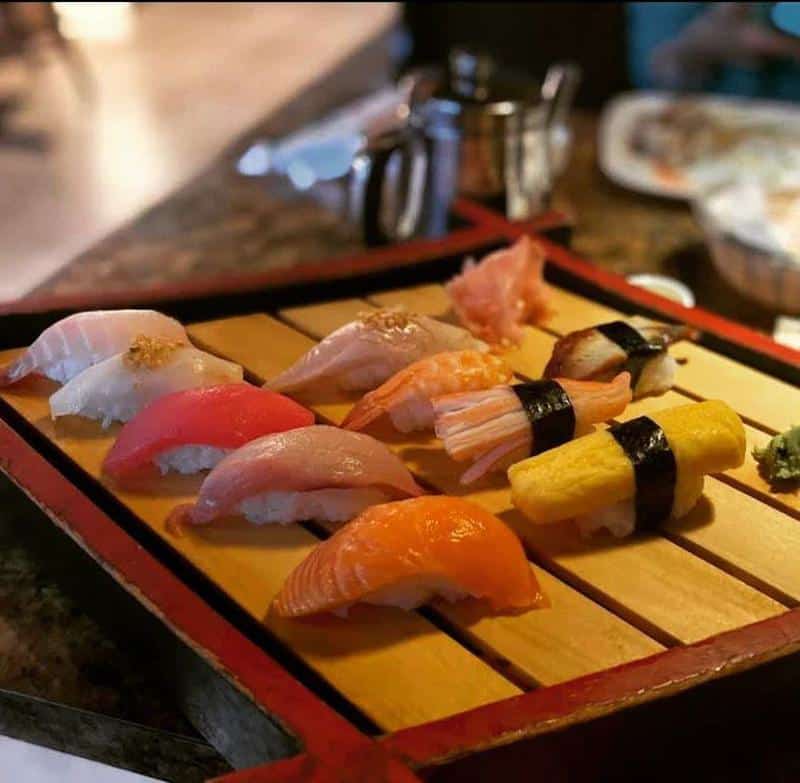 Address: 9921 I-10, San Antonio, TX 78230
Phone: +1 210 877 2300
Website: Wasabi San Antonio
Wasabi Sushi Bistro is an excellent choice for a casual and cozy environment with family and friends. The classic, neat and beautiful decor gives the restaurant a relaxed ambiance.
Wasabi is a modern minimalistic eatery known for its hot sake during happy hour and sushi. They also have a variety of Asian-inspired dishes with Chinese and Korean influences.
Some of the most popular dishes are kimchi, omakase, and spicy crab spring roll. Also, it should be noted here you'll find the servers to always be friendly and attentive.
Wild Goji Sushi Restaurant and Bar
Address: 7115 Blanco Rd #110, San Antonio, TX 78216
Phone: +1 210 277 0638
Website: Wild Goji
If you are looking for the best Asian street food around town, nobody does it better than Wild Goji. However, unlike other street food bars and bistros, Wild Goji's interior is modern and spacious.
You can expect to get all of the dishes you'd see at an Asian street market, including exceptional ramen, refreshed katsudon, and of course, delectable sushi rolls. Additionally, they serve complimentary waters with Goji berries.
Wild Goji sushi bar definitely offers a unique restaurant experience. So if you're ever in the area, treat yourself to the sushi sashimi lunch, classic maki roll, or even their signature miso soup!
Koi Kawa Japanese Restaurant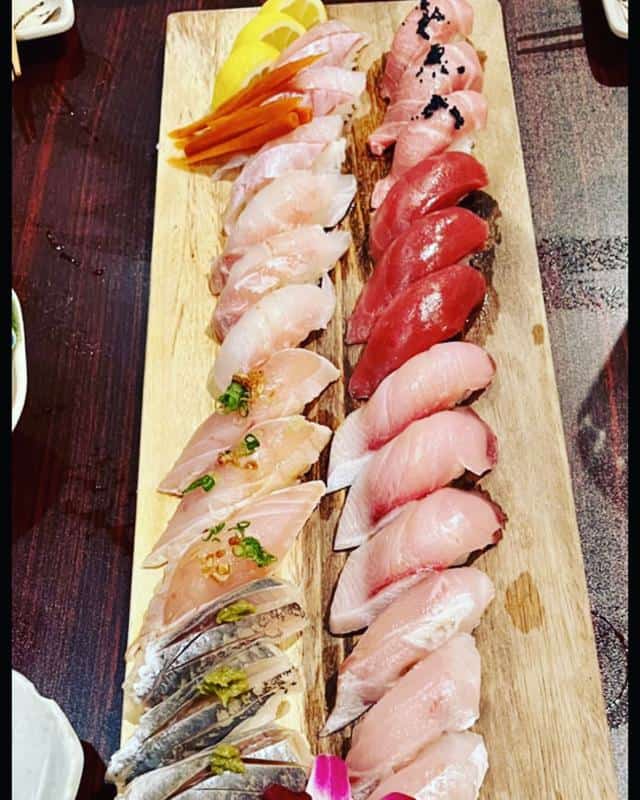 Address: 4051 Broadway, San Antonio, TX 78209
Phone: +1 210 805 8111
Website: Koikawa Sushi
Koi Kawa is a cozy Japanese restaurant near the San Antonio Botanical Garden and the Witte Museum. Thanks to its location, you can have superb views of the San Antonio River and Brackenridge Park. They serve sushi, sashimi, nigiri, and hot dishes in a bright and welcoming atmosphere.
Its welcoming and inviting ambiance makes everyone feel like a big happy family. The staff always patiently answers your questions and provides consistently excellent service. They are easily a neighborhood favorite and always offer a gratifying experience.
Here you can taste succulent creations such as noodle-based dishes, stir-fried dishes, lobster and vegetable tempura, chicken katsu, and of course, delicious sushi rolls.
Piranha Izakaya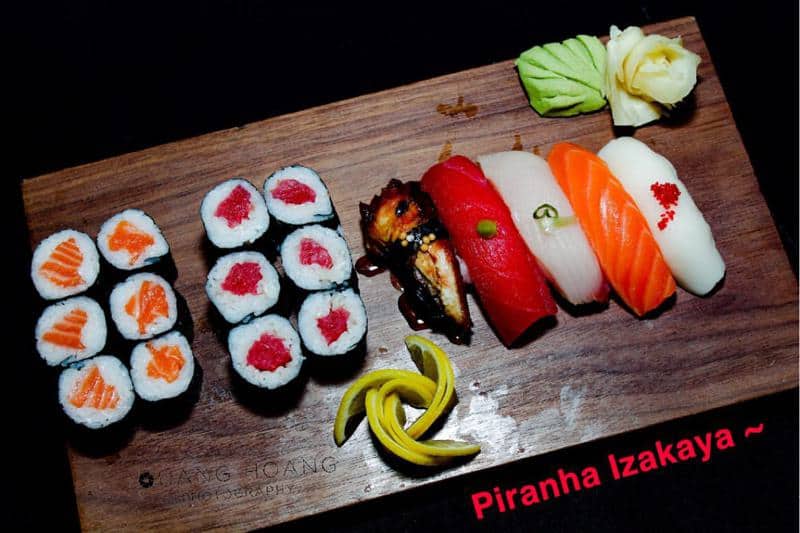 Address: 260 E Basse Rd, San Antonio, TX 78209
Phone: +1 210 822 1088
Website: Piranha Izakaya
Piranha Izakaya is located in a bustling area with plenty of shops. So, it is an ideal stop after exploring and going around San Antonio. As a trendy Americanized Japanese restaurant, it perfectly fits this busy neighborhood.
Piranha's upbeat atmosphere and expansive menu, including an extensive list of martini options, wine, and sake, will not disappoint, whether for a business lunch or date night.
Also, it is an excellent place for those who may not be so familiar with sushi. The chefs or servers are always happy to make recommendations according to your taste. The Rainbow Sushi Roll is great for first-timers, but try the Super Eel Roll or the White Lotus Roll if you feel more courageous.
Yellowfish Sushi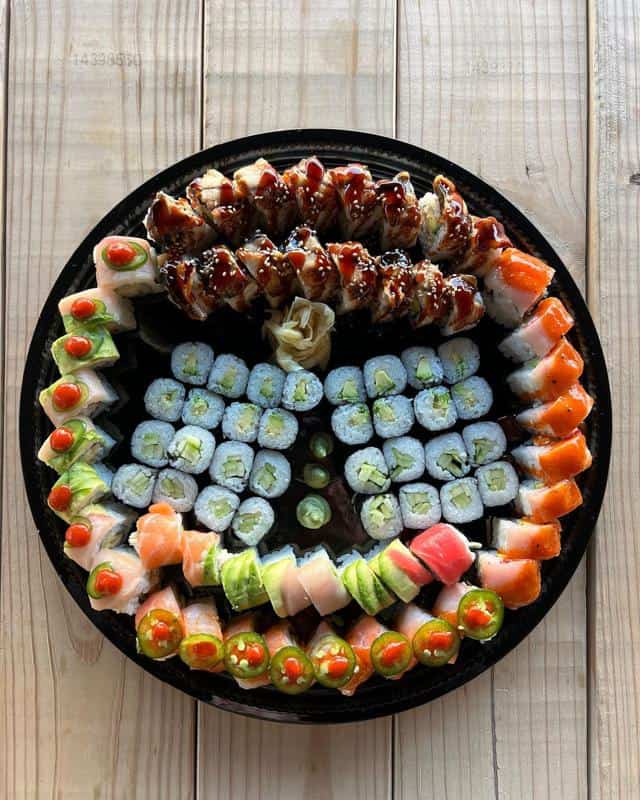 Address: 9102 Wurzbach Rd, San Antonio, TX 78240
Phone: +1 210 614 3474
Website: Yellowfish Sushi
Yellowfish is not just any ordinary sushi restaurant, it is a fusion of Mexican and Japanese cuisine. They serve Mexican-inspired sushi rolls made with fresh ingredients.
Its cozy and modern interior creates an inviting, quaint, and warm atmosphere loved by families, couples, and business people who look for a quick yet delicious lunch meal.
The staff is always eager to help, and their friendliness and professionalism make Yellowfish one of the most relaxed restaurants in the area. For an unforgettable experience, make sure to try out the El Dorado roll, Juma roll, or the El Magico roll with one of their many fantastic sauces.
Sushishima Japanese Restaurant
Address: 1205 N Loop 1604 W #230, San Antonio, TX 78258
Phone: +1 210 492 2338
Website: Sushishima
If you are nearby the Inverarte art gallery and craving sushi, stop by Sushishima for a taste of Japan. It is an excellent choice for a memorable dining experience.
The staff's welcoming greeting and the restaurant's cozy vibe can instantly attract you. It is an ideal place for a family day out. Also, the freshness and flavorful dishes are definitely another plus. The chefs always ensure to pick ingredients carefully and create healthier and nutritious food.
A favorite choice amongst the various sushi rolls is the Big Easy roll, which consists of tuna, salmon & yellowtail, topped with sesame seeds & scallions.
Sake Cafe Sushi Bar and Grill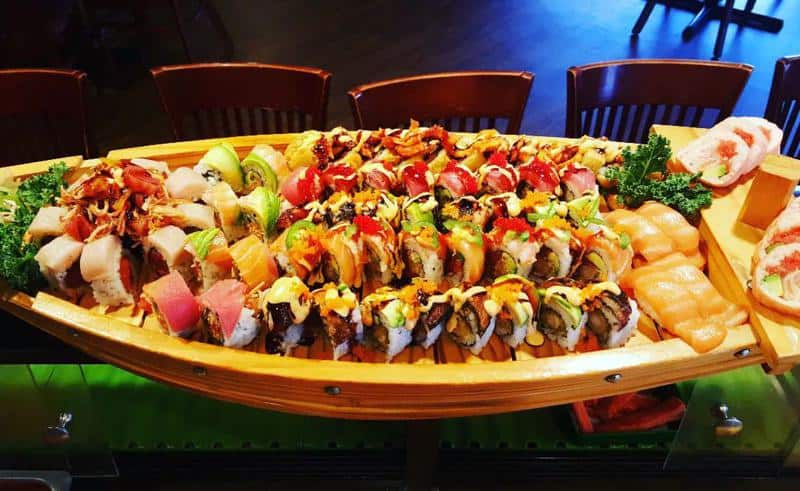 Address: 19179 Blanco Rd #101, San Antonio, TX 78258
Phone: +1 210 408 6388
Website: Sake Cafe
The Sake Cafe is one of the most popular sushi restaurants in San Antonio. The presentation of the sushi rolls is lovely, and they have an excellent selection of hot dishes and small plates as well.
They also serve sake, both hot and cold. It is trendy during the happy hour because the sake is 20 percent off the regular price. And of course, there are always meal specials during happy hour.
The Ahi Tuna Sashimi is one of their signature dishes, but there are plenty of sushi rolls and dishes for every taste. The staff is generally always friendly and welcoming, making you feel like part of their family.
Also Read:
Final Thoughts
San Antonio is a terrific city to experience diverse history and culture and fantastic culinary experiences. Of course, it is mainly known for the Mexican influence on foods. Still, nobody ever said no to alternative cuisines, especially sushi.
Sushi is a fun and delicious food that can be prepared with many combinations of meats, veggies, and sauces. All of these restaurants have outdone themselves with traditional sushi, and some have added a twist.