When you look at the sushi rolls on your friends' dinner plates, you might be tempted to give one a try. For some though, the thought of raw fish, seaweed and foreign ingredients might make you think twice. But not everything on those plates will taste 'foreign', so you can ease into enjoying this type of cuisine. Many people new to the sushi experience are surprised to find that many sushi rolls are made with ingredients they either already have in their pantries or regularly enjoy.
Some of the top sushi dishes enjoyed by seafood lovers are without a doubt a variety of sushi rolls. What's in sushi rolls? Can sushi rolls be made with cooked ingredients? And more importantly, with the long list of sushi variations, how will you know which contain cooked ingredients? If you've asked one or more of these questions, then this article is for you.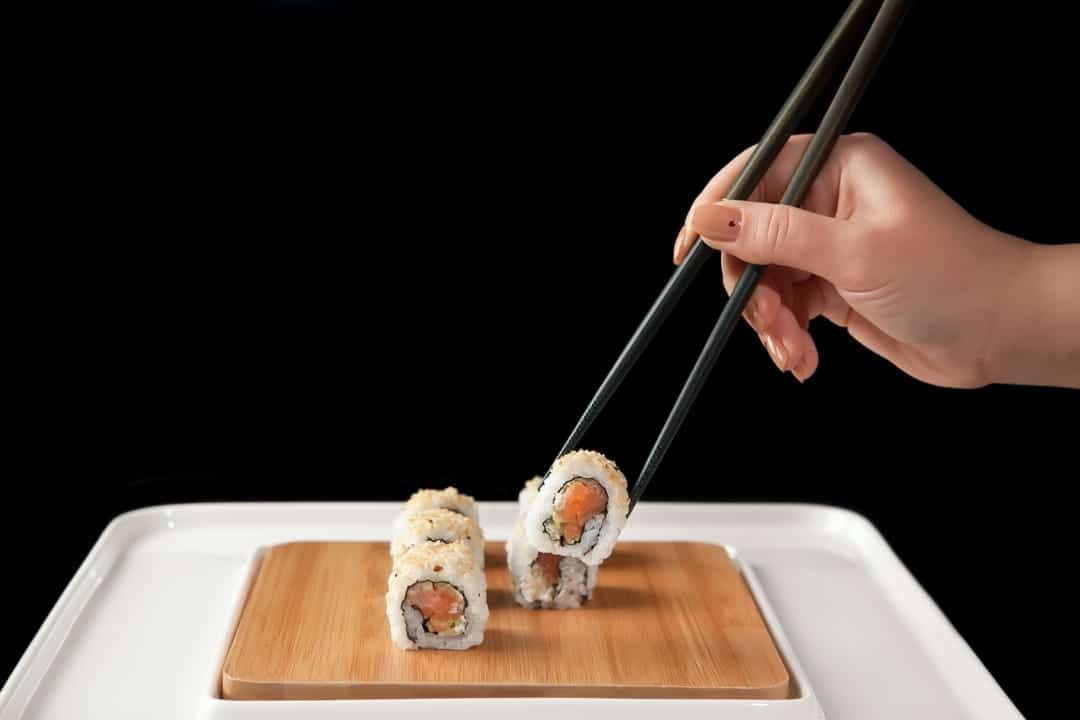 We're going to answer these questions as well as give a rundown of the most popular cooked sushi rolls. Some are so easy to make that you can cook them at home. Read on as we dive into the world of cooked sushi.
Cooked Sushi Rolls – Everything You Need to Know
Before you decide to order sushi for the first time, it's best to have an idea of the various options on offer. Once you know the difference between some of the top sushi roll options, it'll be easy for you to know what to order.
Does Sushi Have to be Raw to be Regarded as Sushi?
Many people tempted to try sushi for the first time will be surprised to discover that not all sushi has to be made of raw fish. In fact, the term "sushi" doesn't specifically indicate raw fish. Generally, sushi is made up of vinegar rice mixed with a variety of different ingredients, which can include cooked or raw fish.
Sushi that contains cooked ingredients is the perfect way for newbies to step into the delicious world of sushi without biting into a chunk of raw fish. Sushi options made from cooked ingredients or fresh vegetables are also a great way for pregnant women to enjoy sushi without risking mercury poisoning.
What is Cooked Sushi Made of?
More good news is that cooked sushi can easily be made with a variety of different ingredients. Some of the more popular ingredients found in cooked ingredients include the following:
Smoked salmon
Poached shrimp
Crab tempura
Barbecued eel
Non-seafood proteins such as seared beef or teriyaki chicken
Variety of cooked or fresh vegetables
The Best Cooked Sushi Rolls to Order or Make At Home
Once you try sushi for the first time, the various flavor explosions will be so great that it'll make perfect sense why your friends are always raving about it.
As we've already mentioned, some dishes are so easy to make at home, you'll wonder why you haven't made them sooner. Without further ado, let's dive right in.
1. California Rolls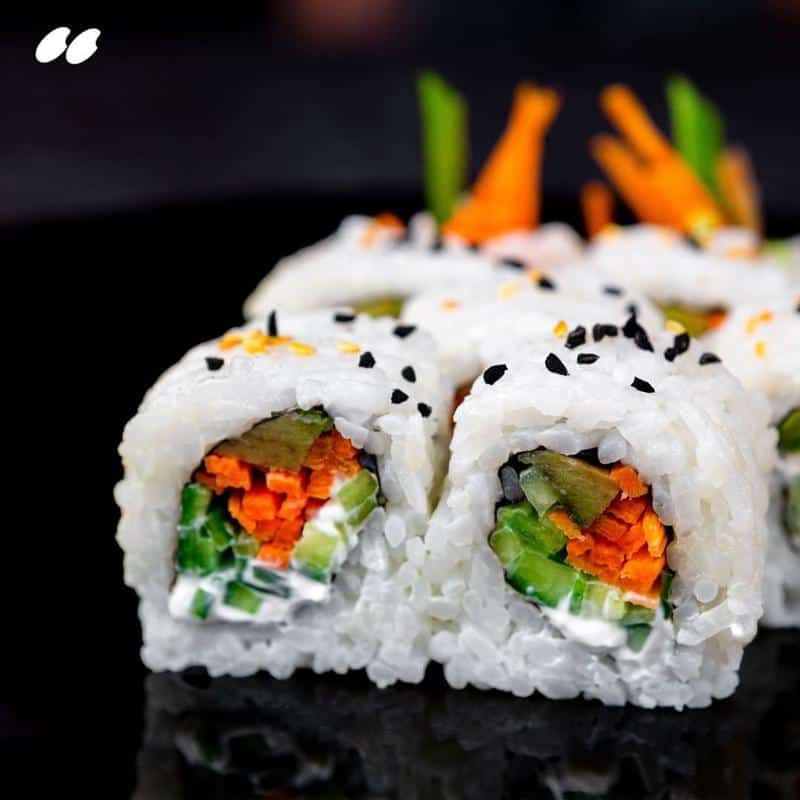 One of the most popular and commonly ordered sushi rolls is without a doubt the famous California rolls. Made with imitation crab meat, avocado and cucumber, California rolls can easily be made at home as a snack or as part of a sushi platter.
2. Crunchy Sushi Roll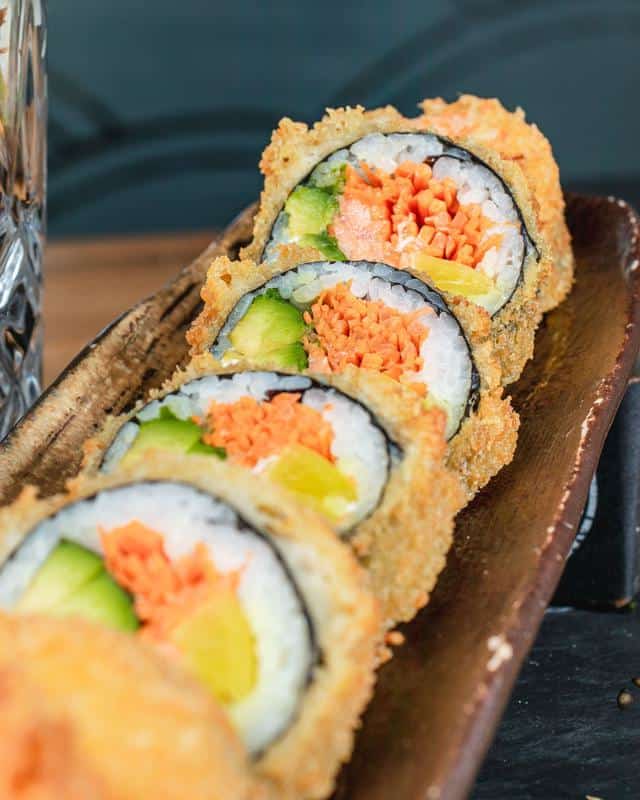 If you enjoy sushi with extra texture, then a crunchy sushi roll is worth trying. Similar to a California roll, this variation combines avocado and cucumber with crunchy shrimp tempura which has a toasty breadcrumb topping. It's even tastier with some Sriracha sauce.
3. Philadelphia Rolls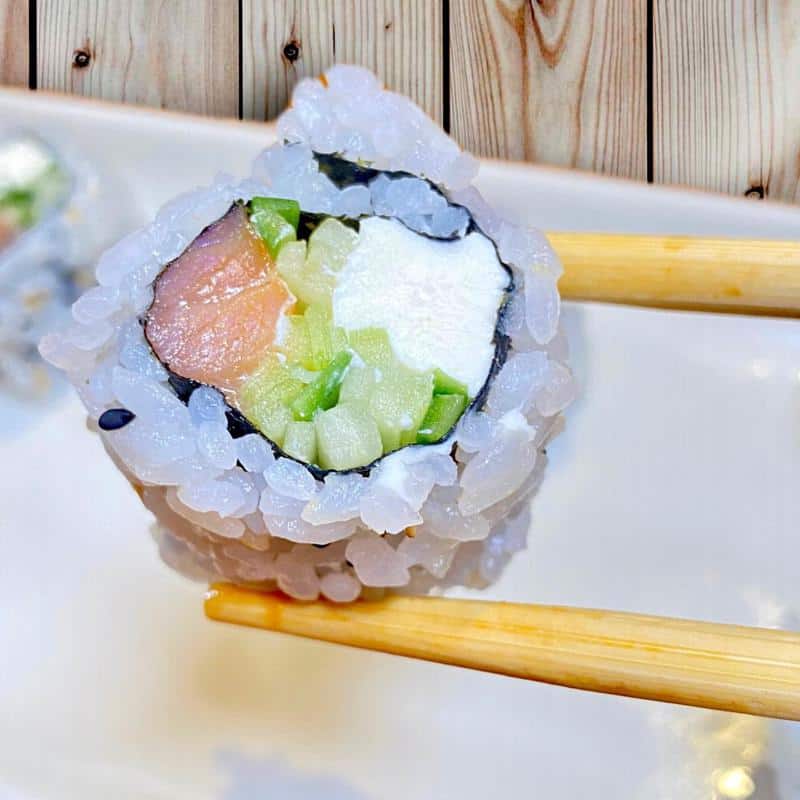 Another firm favorite for many people on the average sushi platter is the Philadelphia roll. Made using slivers of delicious smoked salmon, cucumber and cream cheese, this roll adds a twist with its thin, tasty slivers of smoked salmon. For the most part, these ingredients are wrapped in nori (seaweed) and rice to create this tasty sushi roll.
4. Dragon Roll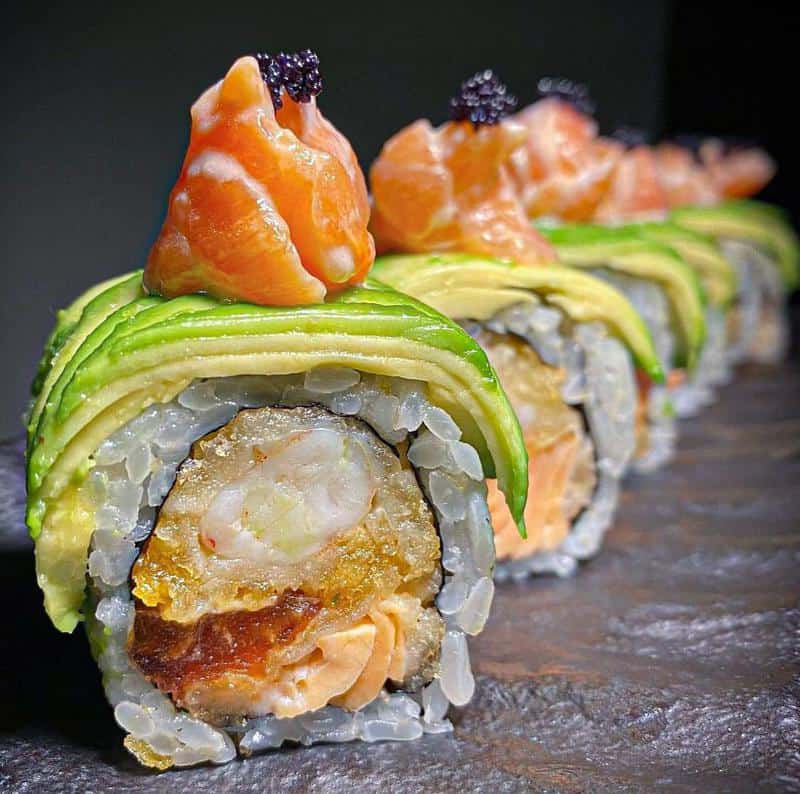 One of the most popular ingredients in a host of different sushi rolls is shrimp tempura. It's crispy, super tasty and adds a delicious flavor and texture to just about any dish. Dragon rolls are made using shrimp tempura as a filling. Layers of avocado are placed on top of the roll. After the roll is filled, it's cut and displayed on a plater to resemble a dragon, hence the name.
5. Volcano Sushi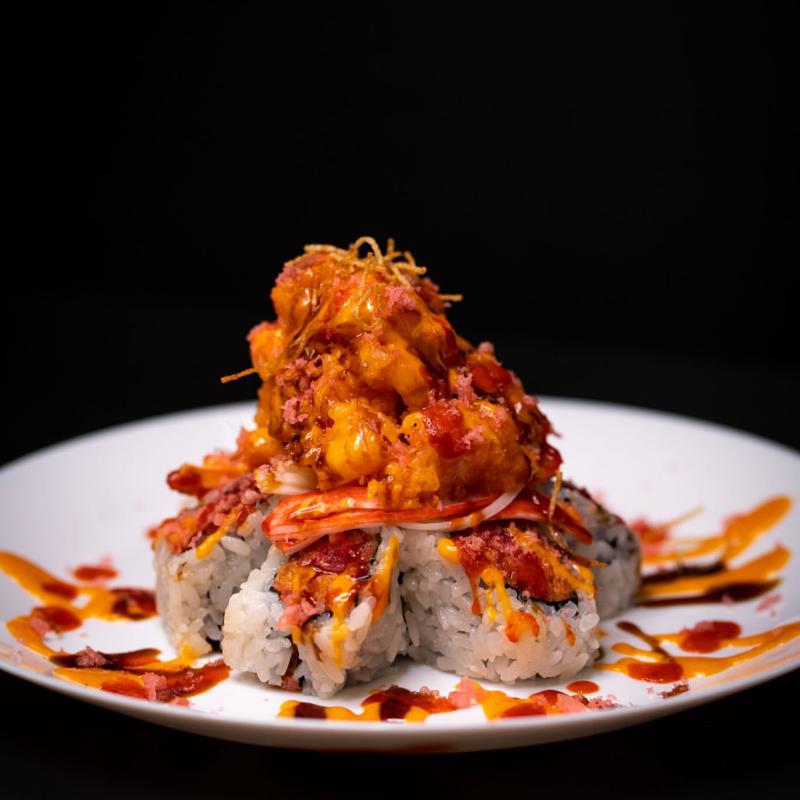 An equally popular sushi option to try is the volcano sushi roll. It's made with cooked pieces of shrimp and salmon combined with vegetables and creamy avocado. A topping of baked spicy and creamy crab salad is made to look like lava and draped over the top of the roll. This is where this tasty roll gets its name from.
6. Tamago Sushi Roll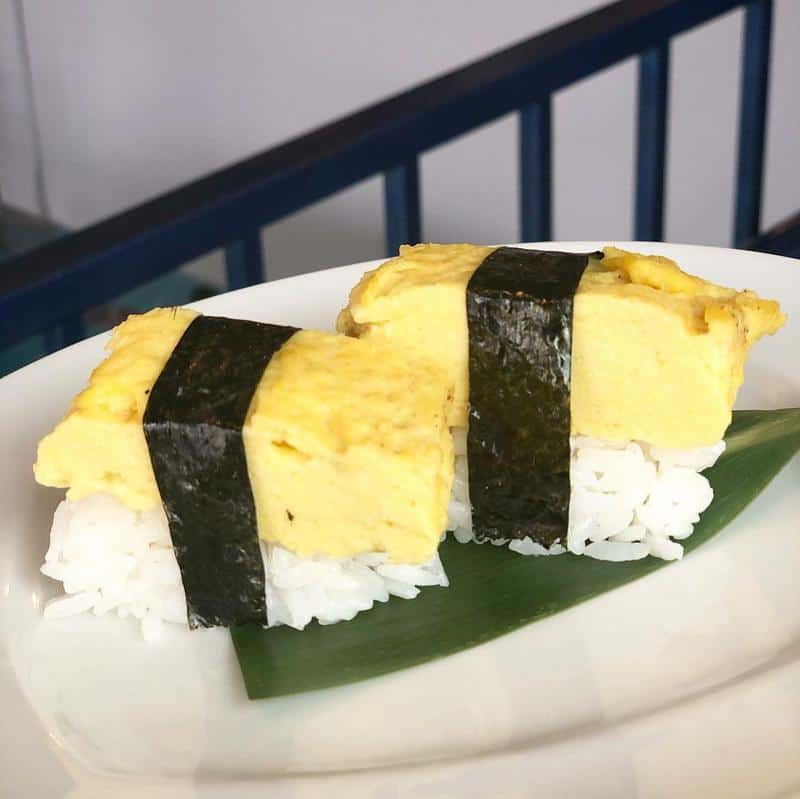 Tamago refers to any sushi made with cooked egg. This roll is a sweet and savory fluffy Japanese-style omelet layered over sushi rice. It's a common choice as breakfast sushi and can also include smoked salmon slices.
7. Salmon Sushi Roll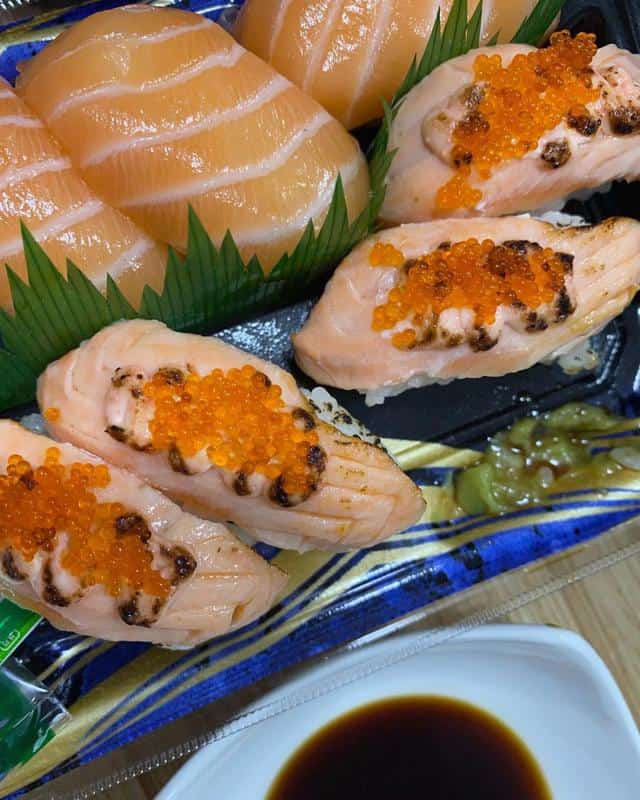 A list of delicious sushi fillings won't be complete without adding a salmon roll. While many seafood lovers enjoy the versions with raw salmon slivers, you can easily sear the salmon skin for a cooked option. Add cucumber, avocado and carrot for color and crunch. A spicy mayonnaise sauce is a wonderful complement to this roll.
8. Boston Roll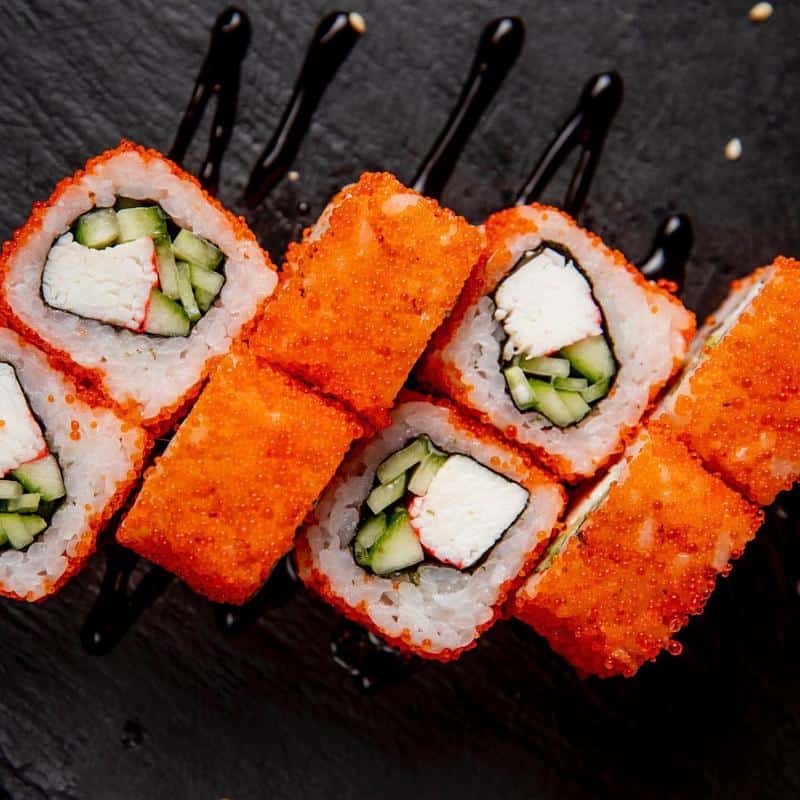 If you enjoy poached shrimp this sushi roll is right up your alley. Aside from fresh, tender pieces of poached shrimp, crunchy cucumber and creamy avocado make this roll quite tasty. For a spicy twist, garnish with tobiko or masago. You can also drizzle some wasabi sauce over the roll if you like.
9. Spider Roll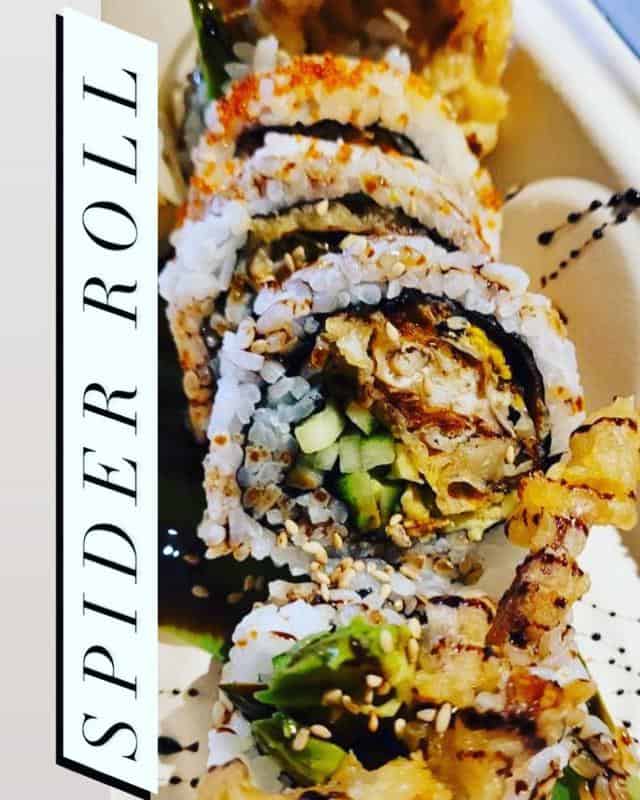 Part of what makes it difficult to identify the ingredients of a sushi roll is their peculiar names. The spider roll is no different. And, rest assured, there are no spiders in this roll! Instead, you'll find soft-shell crab tempura combined with carrot sticks and fresh cucumber. As an added burst of flavor, it's served with soy or wasabi sauce.
10. Cooked Tuna Sushi Roll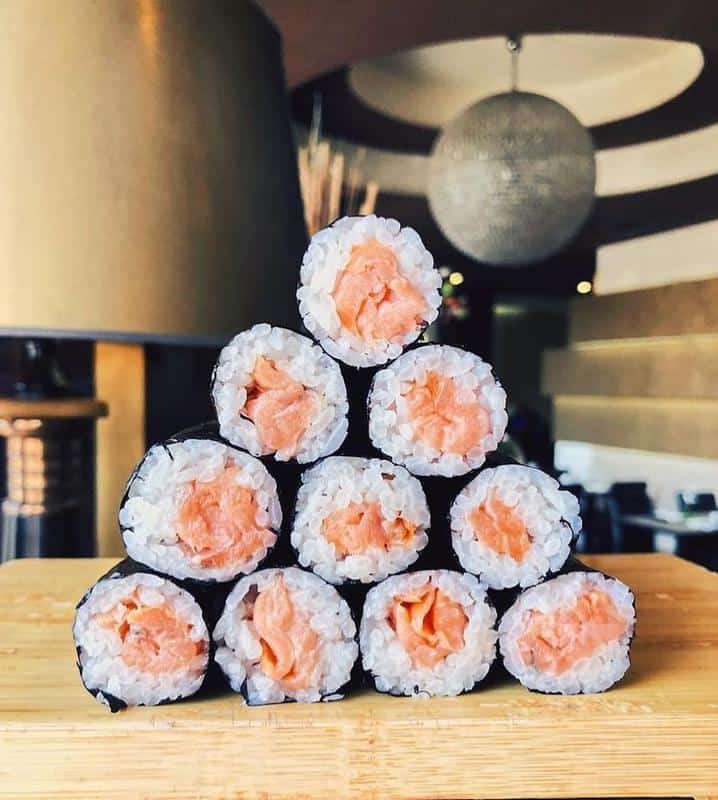 Raw tuna isn't everyone's cup of tea. Especially if you don't often eat seafood. A little-known fact to people new to sushi tasting is that canned tuna can easily be used as a filling. Simply combine tuna with cucumber and avocado. If you want to add some color and additional crunch, consider adding thinly sliced carrots, beet or even red onion.
11. Unagi Sushi Roll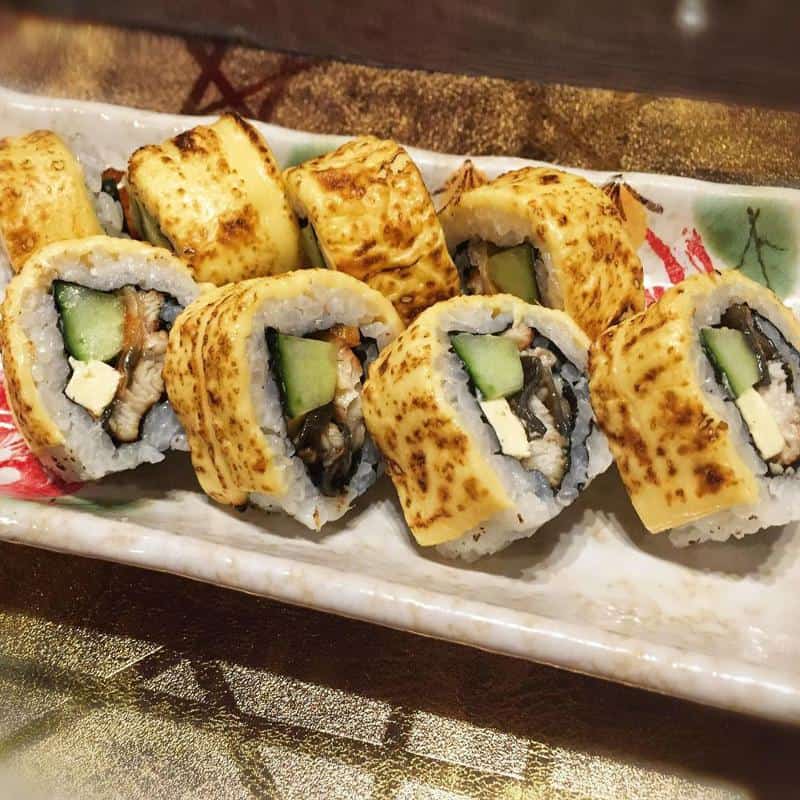 Unagi sushi is a wonderful combination of barbequed eel and cucumber. Top it off by drizzling with a wasabi sauce or a sweet and spicy unagi sauce. For a creamy taste, add some fresh avocado.
12. Caterpillar Roll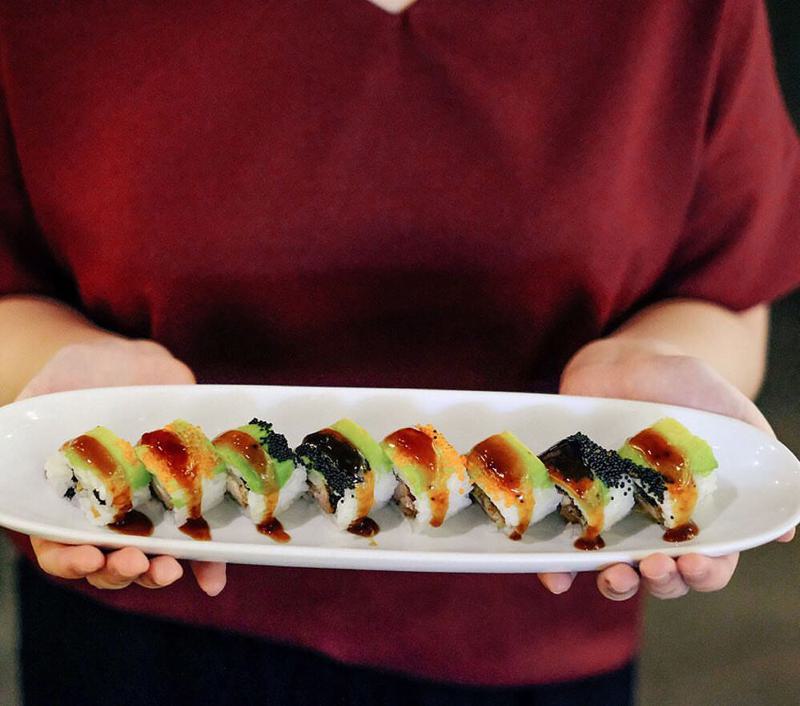 The caterpillar roll is similar to a dragon roll in the way it's laid out and decorated on a plate. The topping is also made up of slices of avocado while the filling is either barbequed eel or shrimp tempura.
13. Godzilla Roll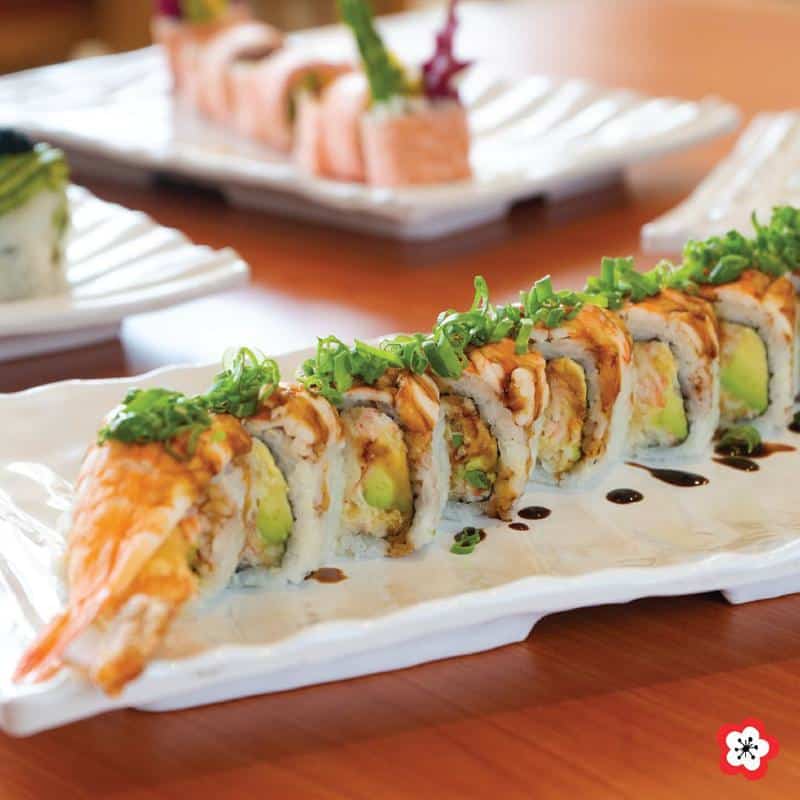 Often referred to as a Japanese shrimp tempura sushi, the Godzilla roll is filled with crispy shrimp tempura, cucumber and avocado wrapped in seasoned rice and seaweed sheets. Once again, if you're making it at home, you can add extra slices of colorful vegetables for color and extra crunch.
14. Crab Roll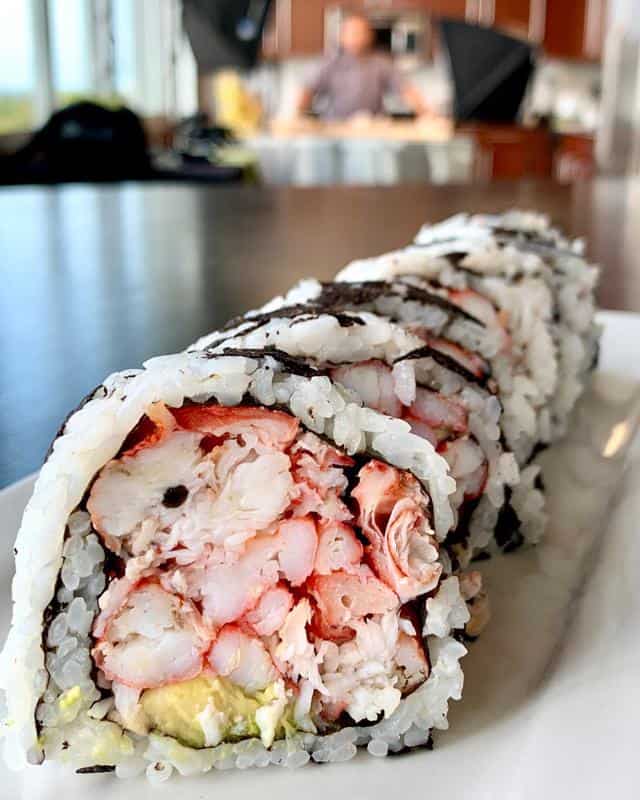 Another tasty sushi roll worth trying is the crab roll. Made from a filling of king crab and mayonnaise, the crab roll is another firm favorite on sushi platters. As with the other sushi roll options, adding vegetables such as carrots, cucumber, beets, red onions and thin yellow pepper strips add color and crunch.
15. Chicken Teriyaki Roll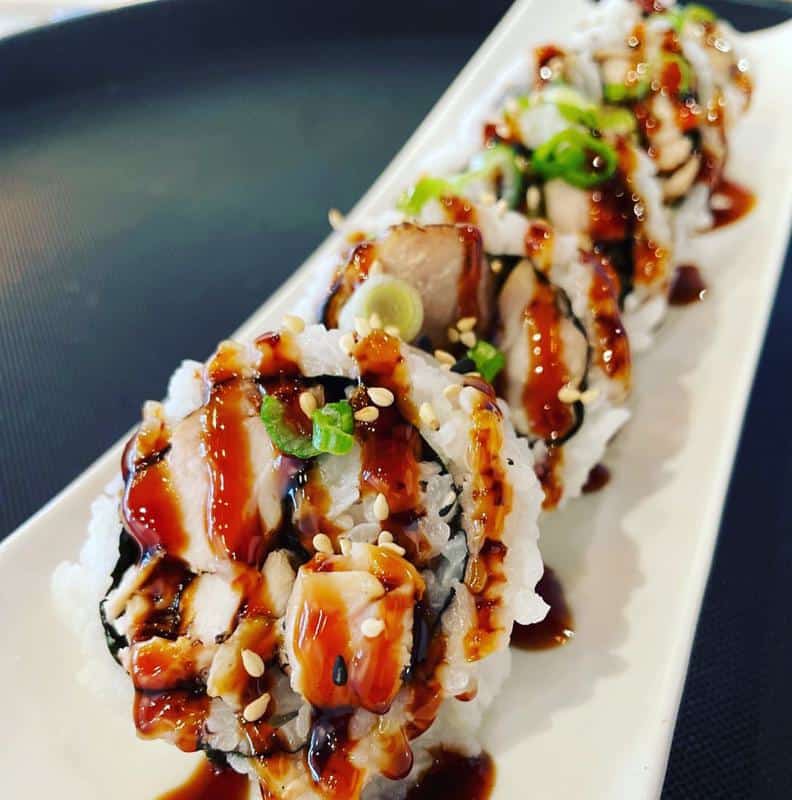 Since chicken and rice are always a tasty combination, it's no surprise that these two ingredients make an equally flavorsome combination in a sushi roll. Shred a chicken breast and mix with Sriracha and mayonnaise for a flavor explosion. Add a few crunchy stir-fry veggies and a few sprinkles of teriyaki sauce to finish off that wonderful taste.
16. Beef Sushi Roll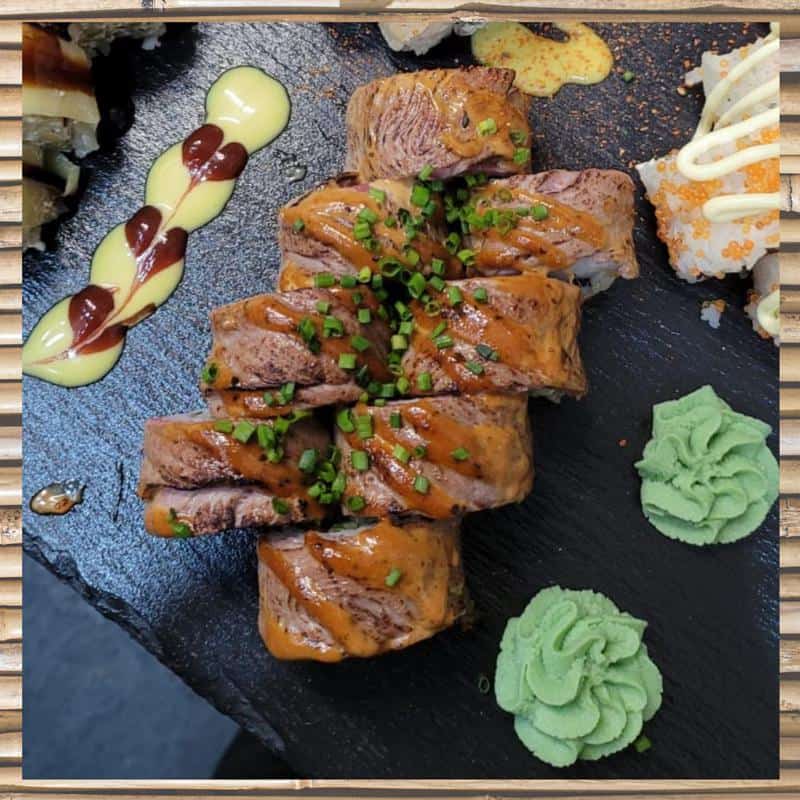 If you don't eat seafood (raw or cooked) but also don't want to be excluded from the fun at a sushi party, then you can opt for a beef sushi roll. Simply fry, sear or grill your favorite cut of beef and cut it into long thin strips. Add some lightly fried stir-fry vegetables for color, crunch and flavor. Add soy sauce for an added splash of flavor. Both the chicken and beef sushi rolls are ideal to eat during pregnancy.
Related Read: Can Sushi Be Cooked?
Vegetarian Sushi Rolls
We're listing a few of our favorite vegetarian options as well since they can also contain a variety of raw and cooked ingredients. The different vegetables, tofu, sauces and herb combinations are endless. It's so easy to come up with a few unique sushi rolls by mixing your own combinations.
17. Cucumber Roll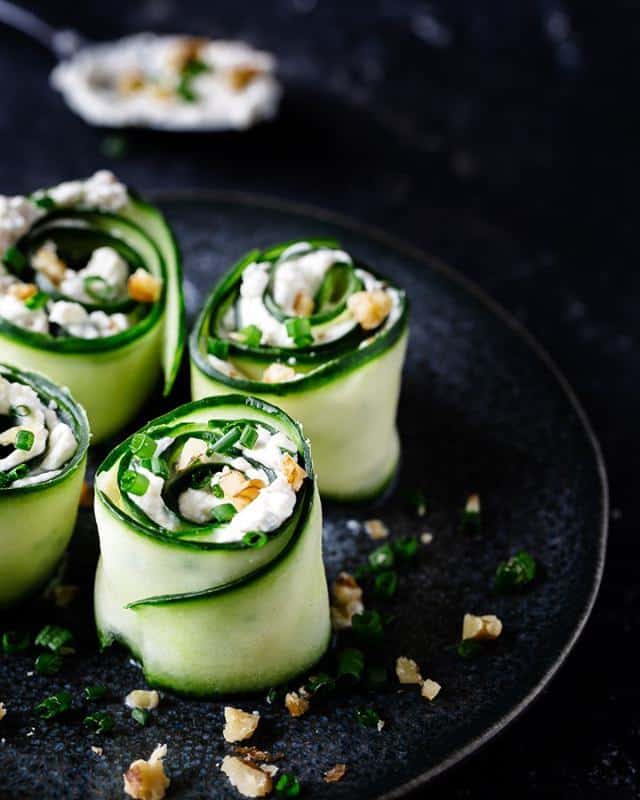 If you're looking for an easy to make, light and low-calorie sushi roll, one of the many cucumber variations is a must-try. This simple filling combines crunchy cucumber and creamy avocado with pickled carrots to make a tasty vegetarian option.
18. Oshinko Roll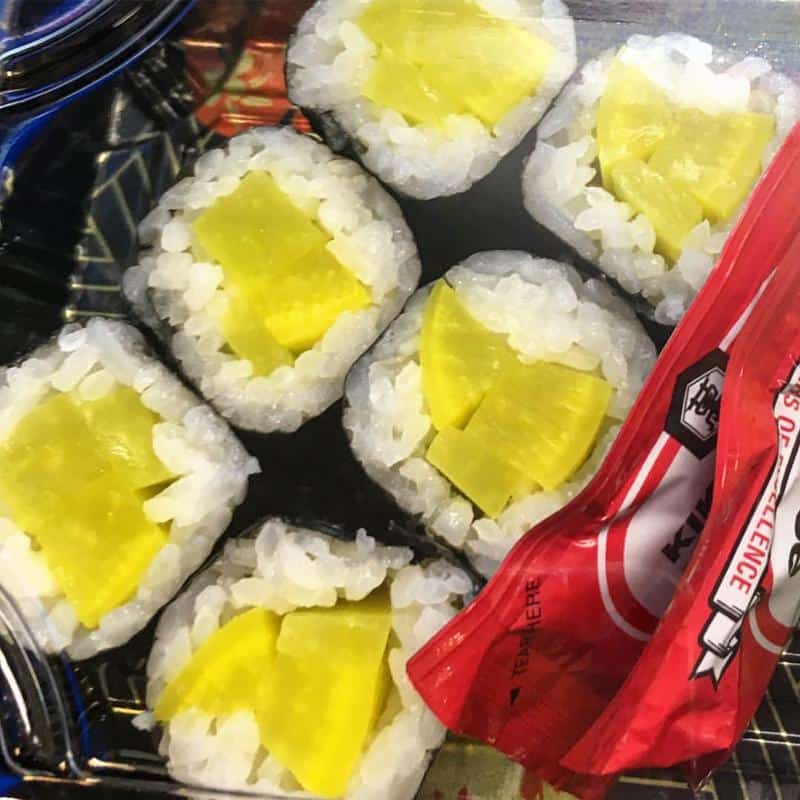 Oshinko is a Japanese term that refers to a combination of crispy pickled vegetables. The most common choices are radishes, cucumbers, carrots and even beet. Simply wrap the pickled vegetables in the rice and nori to create a flavorful Oshinko roll.
19. Vegetarian Sushi Roll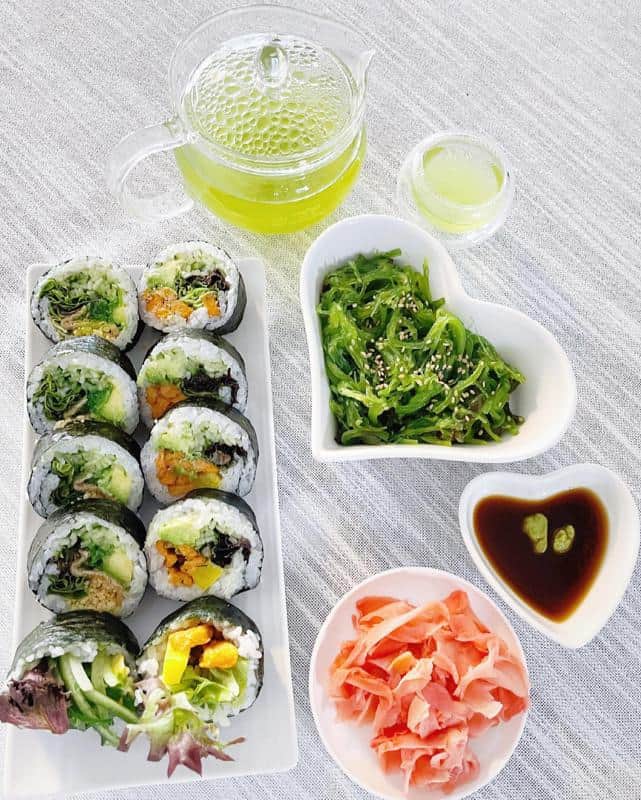 Here's another sushi filling so easy to make, you'll feel like making it every day. Simply combine tasty vegetable ingredients such as bell peppers, cucumbers, carrots and purple onions. For a spicy variation, add a spicy sauce of your preference.
20. Avocado Sushi roll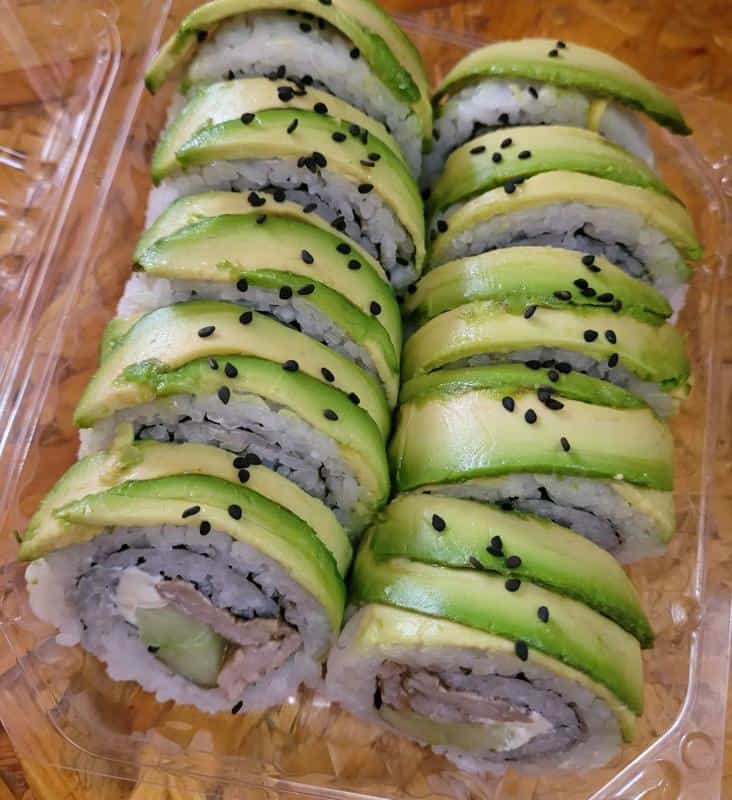 For a simple, yet tasty sushi roll, an avocado sushi filling contains seasoned sushi rice with chunks of creamy avocado rolled in nori. You can dip the avocado in lime juice to give it a cool, fresh burst of flavor.
Also Read: 35 Fun and Tasty Sushi Filling Ideas
Final Thought
With our list of delicious, cooked sushi roll ideas, there's no reason to be excluded from the sushi experience if you don't eat raw fish. Whether it's a shrimp tempura filling, a daring beef sushi roll or a delicious dragon roll, the combinations for cooked sushi rolls are endless. In fact, there's no limit to the creative and tasty combinations you can come up with. If you can cook an ingredient, you can create a filling with it.
Tasty Asian sauces like wasabi, soy, teriyaki or Sriracha sauce make perfect and flavorsome additions as part of the filling or simply to dip or drizzle. Treat your family or dinner guests to a few options from our list and watch your sushi platters become your statement dish!