When thinking about Richmond, Virginia, you probably think of the delicacies of shrimp and grits and soft-shell crabs. They're a long shot for the first destination to pop into your head when it comes to sushi, but that definitely doesn't count them out of the race.
In fact, Richmond has some extraordinary hidden gems that are an absolute must for sushi fanatics. From restaurants with their own unique characters to sushi that pack a punch of fusion flavor, you'd never expect. There's a lot more than meets the eye.
So let's sushi what they've got!
Our Top Picks
Best dining experience: Osaka Sushi & Steak
Best value for money: Fighting Fish
Best family-friendly restaurant: Hokkaido Japanese Steakhouse
The Best Sushi in Richmond, Virginia
Osaka Sushi & Steak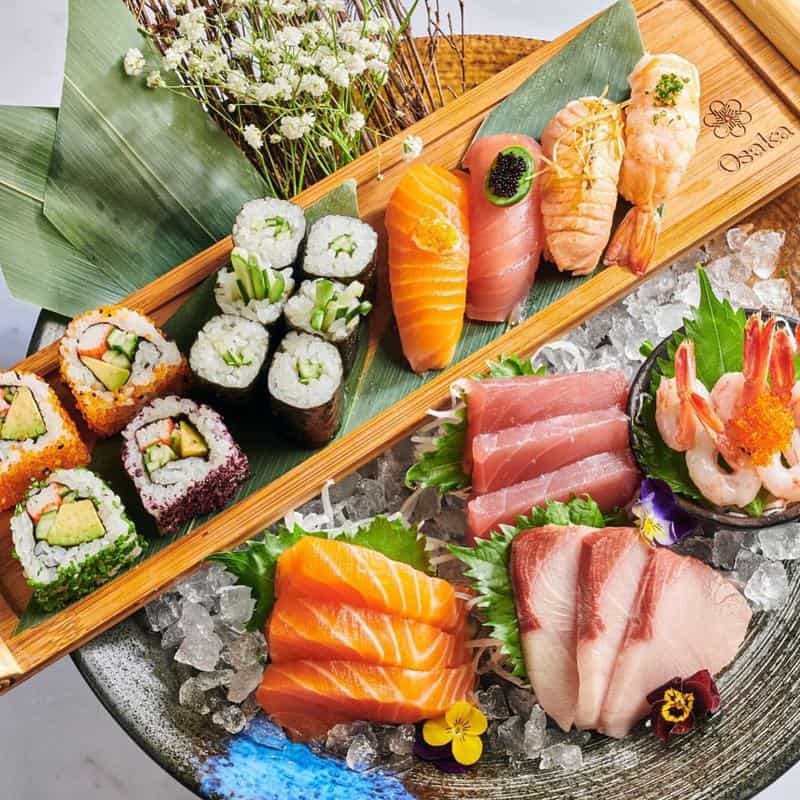 Location: 5023 Huguenot Rd, Richmond, VA 23226
Website: www.osakasushiva.com
Hours: 11:30am – 2:30pm (Lunch), 5:00pm – 10:00pm (Dinner), Closes at 10:30pm on Frid – Sat
Price: $$
Osaka Sushi & Steak is a calm, cool and collected place for every occasion, reasonably priced and with menu items to sate the appetites of any hungry soul that wanders in, it's a wonder why it's such a popular establishment.
With a creative, Asian fusion approach to their meals, you'll be questioning whether the chefs have any more tricks up their sleeves! With dishes that range from eel delicacies to lobster cuisine, they've thought of it all, and better yet, they've conveniently packaged it in that known and loved sushi-style.
Bite-sized and easy to try a little bit of everything. And if a fancy roll doesn't do the trick, remember to take a look at the sashimi selection. You won't regret it.
It's a casual affair here, don't worry too much about dressing up but expect a world-class experience fit for fine dining regardless!
With an open sushi bar where you can watch your food being prepared and finished to perfection and an airy restaurant that's both lively and has a comforting sense of privacy if you feel for it, Osaka Sushi & Steak is definitely a place worth visiting.
Fighting Fish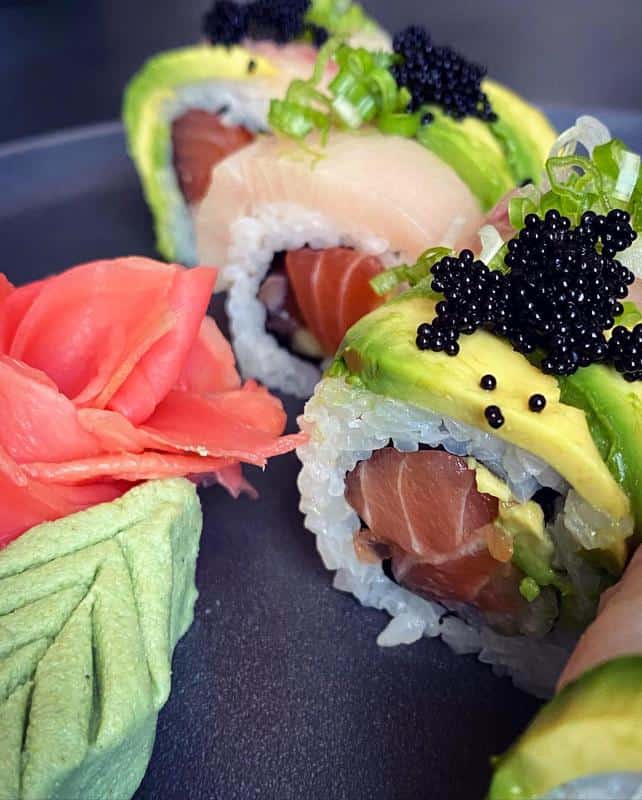 Location: 912 N Arthur Ashe Blvd, Richmond, VA 23230
Website: www.fightingfishrva.com
Hours: 11:00am – 2:00pm, 5:00pm – 9:00pm, closes 10:00pm Fri – Sat
Price: $$
Fighting Fish is a whole lot of quirks packed into one compact little venue that definitely lives up to its name! They have nothing left to prove in terms of their food and are a high-contending hole in the wall that definitely deserves its due praise.
What the restaurant lacks in venue grandeur, they replace with creatively decorated dishes that create a visually appealing plate and leave you drooling to tuck in. Their menu (including Happy Hour sushi specials) includes a range of fusion sushi options like sushi burritos, alligator rolls, and even wasabi ketchup. Combining the incredible culinary feats of pan-Asian cuisine with all American ideas.
The restaurant itself is comfortable, with a minimalistic Japanese style that leaves a lot of room to breathe without high expectations from diners as to what occasions are best suited for the establishment. It's an all-rounder, with the ability to suit business or host a family for sushi-frenzied fun.
Hokkaido Japanese Steakhouse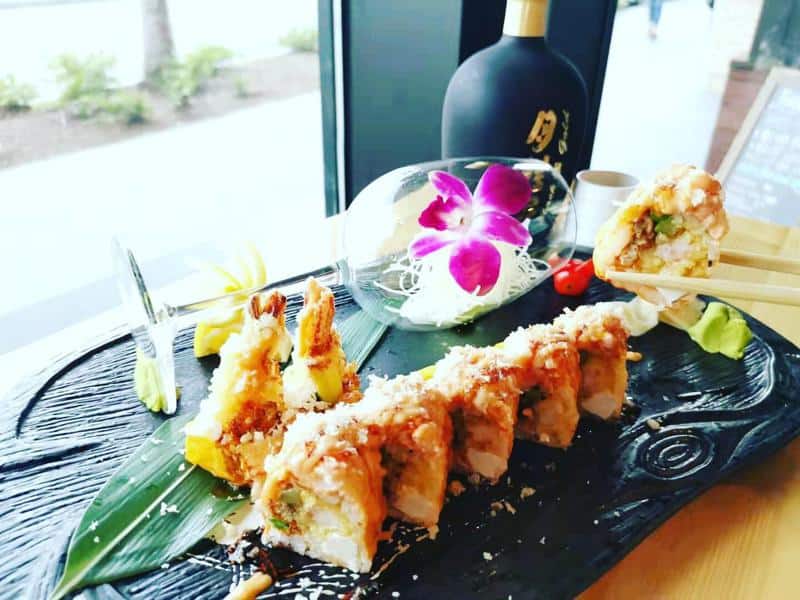 Location: 4217 Crossings Blvd, Prince George, VA 23875
Website: www.hokkaidosteakhouseva.com
Hours: Closed on Mon, 11:00am – 9:30pm,

12:00pm – 9:30pm (Sat – Sun)

Price: $$$
Hokkaido Japanese Steakhouse is an attractive little space that packs most of its punch into the meals it produces. It may not look like much, but it's a force to be reckoned with sushi appetizers and dishes that are breathtaking‌. Let's just say you're not coming here for the venue. You're coming for the meal of a lifetime!
Fresh fish, locally sourced greens, and a dash of All American fusion. You'll be amazed what the ingenious chefs at Hokkaido can produce in a tightly wrapped rice and nori bundle! Who knew such a small parcel could be as flavorful, vibrant, and luscious as this? It's certainly something to write home about!
The venue is small and cheerful, with breaths of Japanese styling throughout that allow you to close your eyes and feel as though you've been transported. It's snug, allowing for comfortable and easy gatherings with friends, family, and business prospects, and delivers foods and service so good you'll be questioning whether you had wandered into a 5-star restaurant.
Hiro Sushi Bar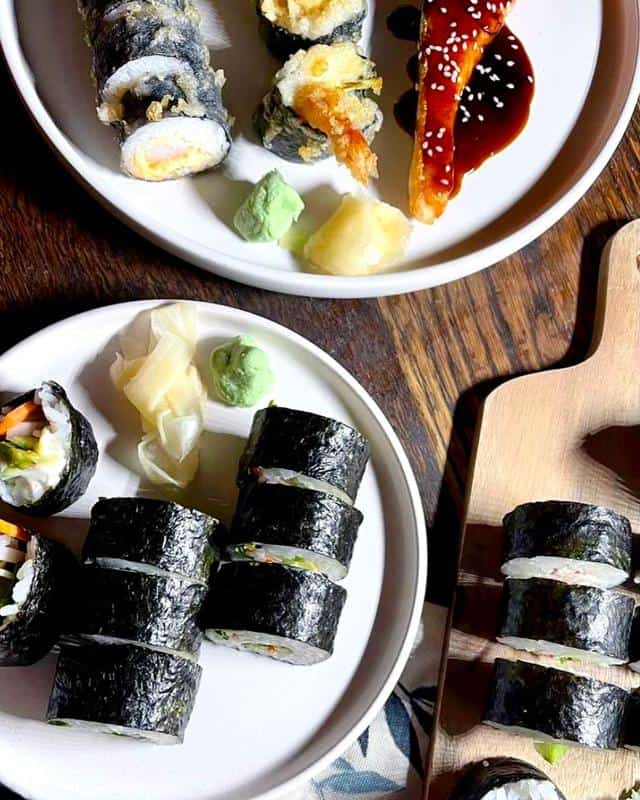 Location: 9958 Midlothian Turnpike, Richmond, VA 23235
Website: hirosushirichmond.com
Hours: 11:00am – 9:30pm, closes 10:30pm on Fri – Sat, 12:00pm – 9:30pm Sun
Price: $$
It's a wonderful surprise to walk into this diner-esque venue and expect a typical burger and fries, only to be greeted by plates full of handmade, fresh, picture-perfect sushi that flies out the kitchen by popular demand to the eagerly awaiting diners that flock through its doors daily.
It's quaint and doesn't leave a lot to the imagination, but the stunning dishes that float on boat-style platters to tables are sure to blow your mind. Sure they have the usual selection of makis and sashimi, but it's the uniquely colorful rolls that accentuate the plates that capture eyes and stomachs across Richmond.
Featuring stunningly fresh ingredients and some unusual suspects like macadamia nuts and peppers, you'd be sure to find yourself something out of this world to tantalize your taste buds with!
The venue is small and charming, with checkerboard tiles and little Japanese lanterns adding a little taste of the world you're about to enter into. It's picturesque for family occasions, wanting little more from patrons than open minds and eager bellies. No suit or tie is needed here.
If you have more time to travel to Maryland, don't forget to check out our list of best seafood restaurants in Maryland.
Akida Japanese Restaurant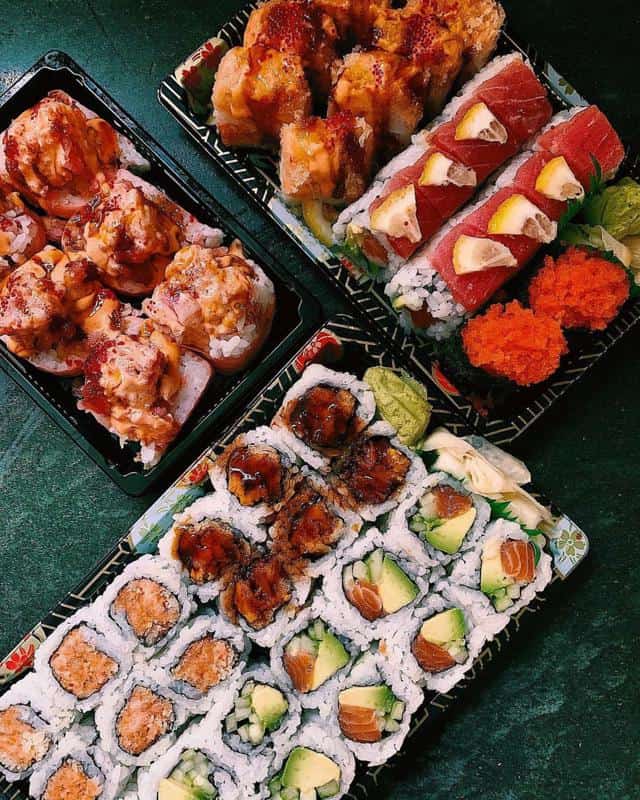 Location: 606 N Sheppard St, Richmond, VA 23221
Website: N/A
Hours: 11:30am – 2:30pm, 5:00pm – 9:00pm, 5:00pm – 9:30pm Sat, Closed Sun
Price: $$
Opened in 2015 by Kevin Mak, Akida Japanese Restaurant is another in a sprouting culinary empire that rightfully deserves a spot in the sunlight. While they may slack in their online presence, you can't blame them with delicate sushi dishes that embody a worthy adversary to contending restaurants. You wouldn't want their focus to be shifted to the nitty-gritty. They let word-of-mouth speak for itself!
The menu is extensive, to say the least, and doesn't just boast sushi options but a variety of other delicious Japanese dishes, opening up a window of opportunity for fussy eaters to find something to sink their teeth into.
The sushi itself has selections to overwhelm even the greediest of diners, ranging from specialty rolls, hand rolls, and sashimi, and bring to the table natural and refreshing ingredients that exude flavor in every bite.
As for the venue, it breathes an essence of calm and comfort that can only be described as feeling like Home. You feel as though you're welcomed into a Minka in the Japanese countryside, with eager and welcoming staff, a spirited atmosphere, and passionate chefs. You're in excellent hands here.
Sticky Rice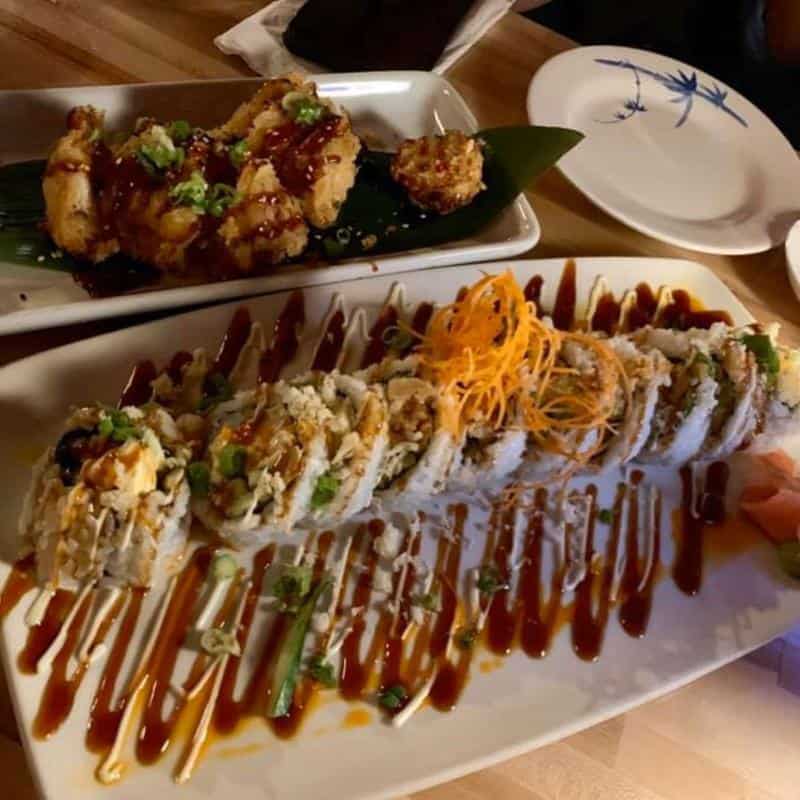 Location: 2232 W Main St, Richmond, VA 23220
Website: ilovestickyrice.com
Hours: 4:00pm – 2:00am
Price: $$
Sticky Rice Richmond is one of two branches, the other stationed in Washington DC and hosting the same caliber of enthusiasm and humor surrounding just how sought after their sushi dishes are. They're a quirky and fun-loving franchise that embodies the idea of food bringing people together, and they don't disappoint in that aspect.
They combine the best of both worlds, using ingredients like sriracha in some of the specialty rolls to add that extra kick. They have a substantial selection, ranging from vegan to not, and boasting something I haven't seen offered elsewhere in the form of monster rolls, which adorn a look of similarity to a Japanese-style burrito, and it'd be a lie if I said it doesn't look like one of the most ingenious inventions in sushi history.
The restaurant thrives on activity and is a social hub packed full of sushi-fueled events that are bound to catch attention and bring in flocks of adoring fans. This is definitely something they embody. It wouldn't necessarily stand as your average family-friendly establishment and is more suited to an adult-oriented crowd with its eccentric approach to dining.
Red Salt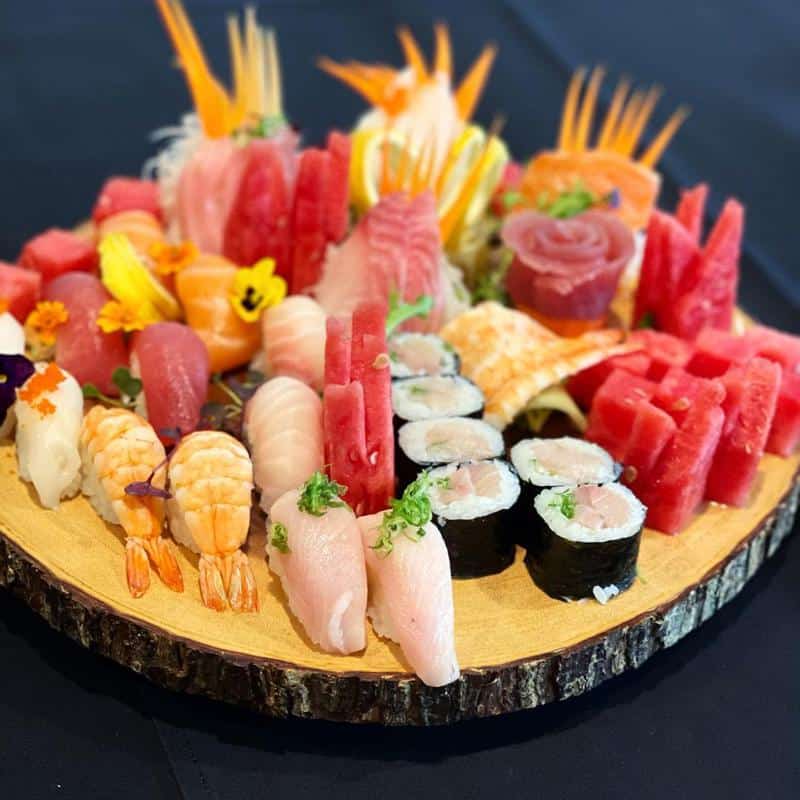 Location: 12221 W Broad St, Henrico, VA 23233
Website: www.redsaltrva.com
Hours: 11:30am – 2:30pm, 5:00pm – 10:00pm, Closes at 11:00pm Fri – Sat, 9:00pm Sun
Price: $$$
Red Salt doesn't fit the usual picture of a Japanese restaurant, but this by no means counts them out of the race when it comes to some absolutely scrumptious sushi dishes courtesy of a little slice of Japan in this American chophouse setting. All this means it's amongst the spread of gorgeously prepared meats.
You can find an exorbitant amount of sushi options that boast everything from the usual favorites to some incredible fusion sushi rolls. These unique options incorporate fresh ingredients and some phenomenal locally sourced fish to bring something wholly unique and tantalizing to the plate!
To tie the experience together, you can enjoy your sushi selection in a modern industrial-style setting that is both mesmerizing and other-worldly, with a spirited atmosphere to boot. The staff is highly praised and extremely attentive. With a sushi bar, outdoor seating, and Instagramable aesthetic, there's nothing you can do but appreciate the fusion setting with some good friends and some great food.
Sakura Japanese Steak House and Sushi Bar
Location: 9008 W Broad St, Richmond, VA 23294
Website: www.sakura804.com
Hours: 11:30am – 2:30pm, 4:30pm – 9:00pm, closes at 9:30pm Frid – Sat, 12:00pm – 9:00pm Sun
Price: $$$
As much as Japanese steakhouse cuisine is a given with this place, it by no means dominates the show, and their specialty lies embedded in a wide range of sushi dishes, from traditional to fusion, that is everything you'd crave in terms of incredible sushi selection.
Featuring ingredients from mango to eel, they feature crowd favorites in both the traditional and the fusion departments that will have you craving for more even when your belly is filled. Nobody can be blamed for having eyes bigger than their stomach here. In fact, I think that's what they're counting on.
Visually, the food is impeccably plated taste-wise? Unbeatable. With something for everyone ranging from sweet-tasting summer snow rolls to Philadelphia rolls, there's an option on the menu to capture the hearts of every diner and have them coming back for more.
The restaurant features a visual flair, from hibachi grills to an open view sushi bar where every step of the process can be watched and enthrall you with dinner and a show. It's a comfortable and casual affair, surrounded by the embracing warm wooden features popular amongst Japanese cuisine establishments.
Read More:
Conclusion
Richmond, Virginia, has a lot of amazing places and sites to visit and is a hub for social activities, bars, and restaurants. Their Japanese cuisine may form a small part of their community.
Still, they have ensured that everything they have to offer is worth trying. They are unique, and each restaurant has its own personality and twist on the cuisine, so you'll always be pleasantly surprised when you visit them.