If you're looking for good seafood, Oklahoma is definitely worth a visit. The state is home to some of the best seafood restaurants in the country, and you'll find plenty of fresh options to choose from.
Moreover, Oklahoma also has a wide variety of coastal fish options, so you're sure to find something to your liking. You may choose from oysters to razor clam chowder to good old-fashioned fresh-caught fish on your plate.
With so many great options around town, it can be hard deciding where you won't go next. For those on a hunt for the best seafood OKC, we've compiled a list of our favorite places to get your seafood fix.
Whether you're a local looking for a new spot to try or a visitor in town for a short time, check out these restaurants. We bet they'll have you coming back for more!
Our Top Picks
Best overall seafood restaurant: The Drake Seafood Restaurant
Best price seafood restaurant: Bob's Fish & Seafood
Best seafood restaurant with a view: Hefner Grill
Best seafood restaurant for small gatherings: Pearl's Crabtown
Best seafood restaurant with deals: The Crawfish Pot
Best for the Family: Off the Hook Seafood & More
Best Seafood OKC
The Drake Seafood Restaurant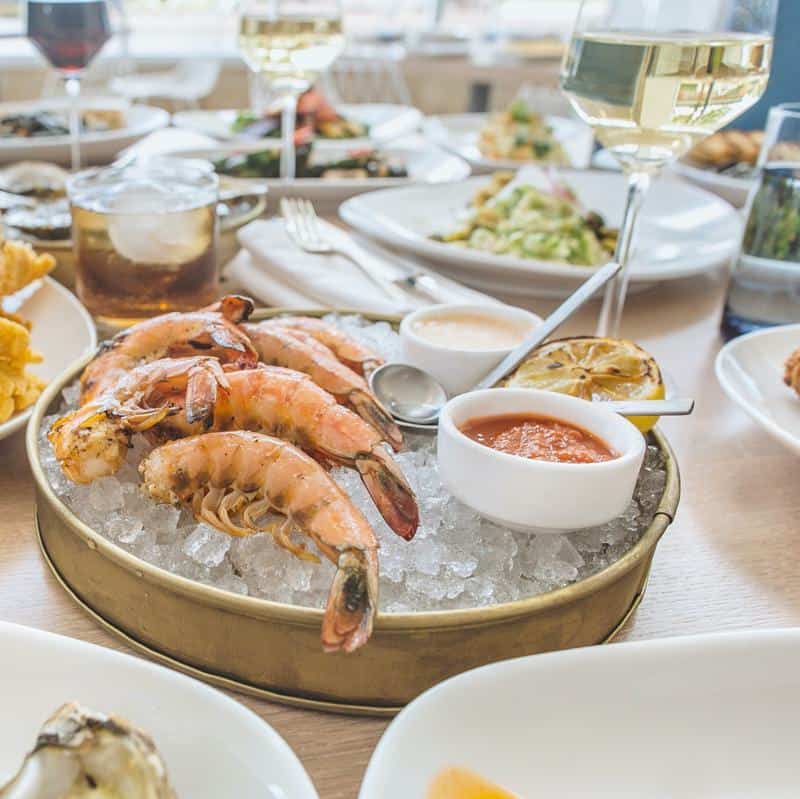 Address: 519 NW 23rd St STE 111, Oklahoma City, OK 73103
Hours: 4:30 am – 9:00 pm; open until 10:00 pm on Fridays and Saturdays
Price: $$
The Drake claims to always use fresh ingredients and makes sure to have an amazing presentation to make you drool.
You must try the blackened redfish or salmon steaks alongside sea scallops & shrimp. There are many more options if you wish to experiment with food. Other tasty choices include trout filets, grilled snapper, and lobster rolls, while the Drake Crab Cake is a specialty here.
With a menu that has something for everyone, they have the dish that will soon become your new favorite. Besides, Drake Seafood OKC is known to be one of the most budget-friendly while still delivering for a large appetite.
For an experience as luxurious and memorable as your next meal, The Drake Restaurant is a must-visit place.
Bob's Fish & Seafood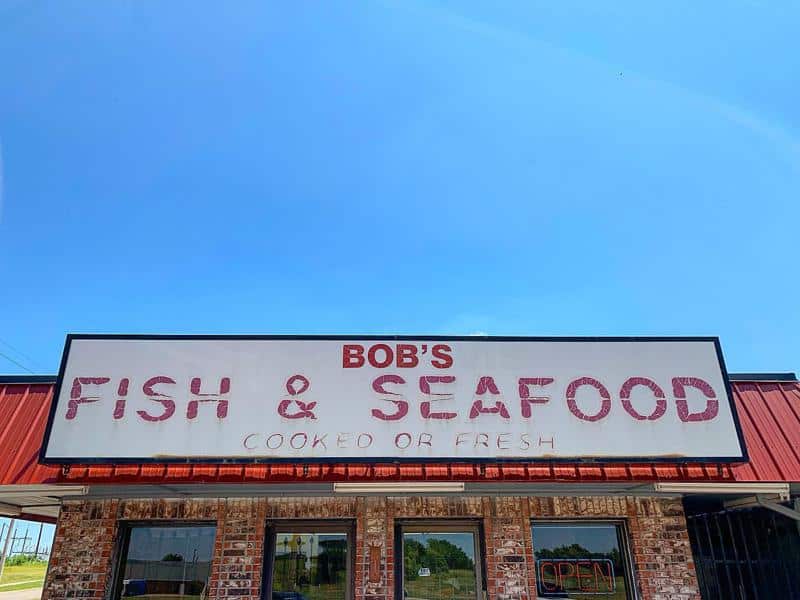 Address: 3340 N Kelley Ave, Oklahoma City, OK 73111
Hours: 10:00 am – 7:00 pm; open until 8:00 pm on Fridays and Saturdays
Price: $
Bob's Fish & Seafood is one of the most service-oriented seafood restaurants in OKC. They have the finest selection of fish that are kept fresh on ice to deliver the maximum flavor.
The restaurant offers dine-in, delivery, and takeout options at your convenience. You may choose to dine in with friends or family or visit to order a quick takeaway on a busy evening.
Their must-try menu option is the freshly caught catfish. The catfish dinner comprises three catfish filets, hush puppies, and potato wedges.
Another strong contender for your dinner is the shrimp dinner. Their 6-piece shrimp dinner comes with potato wedges, coleslaw salad, and hush puppies.
The best part is that you get such a filling meal at low prices without compromising on the quality of the food.
After you are done with your scrumptious dinner, you must finish your meal with the dessert choices. Their pecan, sweet potato, and fruit flavor fried pies are fabulous.
Hefner Grill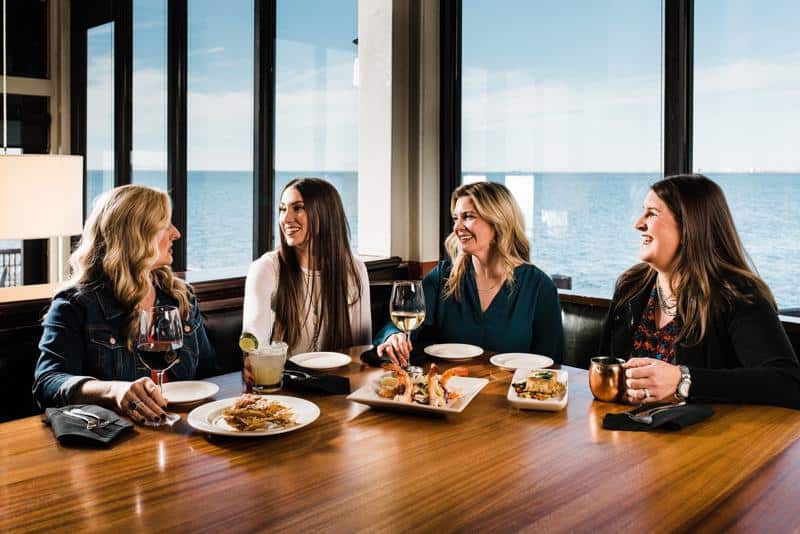 Address: 9201 Lake Hefner Pkwy, Oklahoma City, OK 73120
Hours: 11:00 am – 9:00 pm; open until 10:00 pm on Fridays and Saturdays
Price: $$
This is amongst the best restaurants for seafood in Oklahoma City because it never fails to impress the visitors. The restaurant has a great interior and stunning view no matter where you sit.
Anyone who has dined for seafood here can tell you how amazing their food and service are, making a great first impression on new customers. There's no doubt that once they try some fresh Pecan Crusted Trout or Cedar Plank Salmon, they'll be hooked on its delectable flavor.
Hefner Grill has a kid-friendly menu so that you can take your kids there for a fun outing. For kids, a must-order item is the fried popcorn shrimp, catfish tenders, or cheeseburgers.
Besides, a list of great food doesn't sound complete without mentioning Heffners unique, perfectly cooked salmon. It comes with horseradish sauce, grilled onion, and grilled vegetables on the side.
You may choose from a selection of broccoli, green beans, zucchini, bell peppers, carrots, and squash. Therefore, you can go for these delicious classics that satisfy any seafood craving while still being healthy enough.
Pearl's Crabtown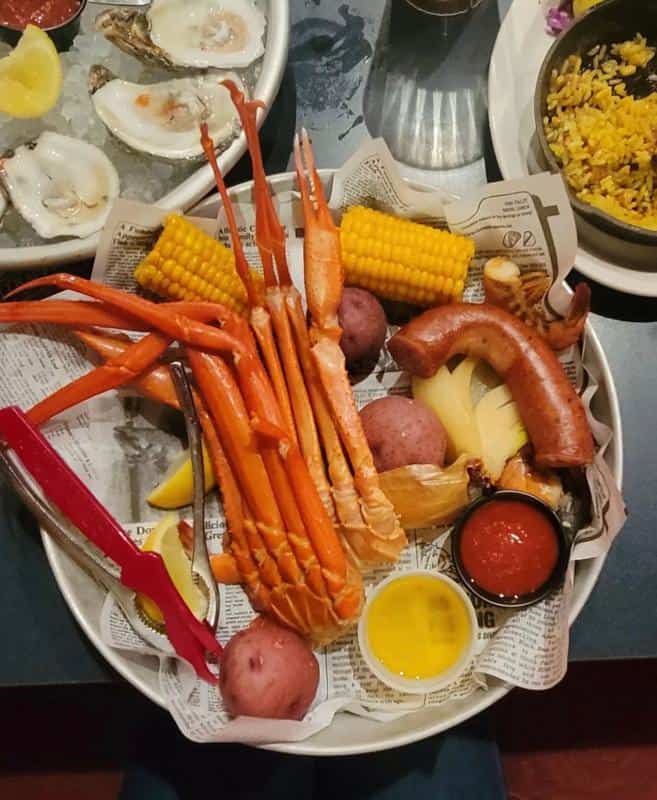 Address: 303 E Sheridan Ave, Oklahoma City, OK 73104
Hours: 11:00 am – 10:00 pm; open until 11:00 pm on Fridays and Saturdays
Price: $$
Pearl's Crabtown is another fantastic place to eat seafood in Oklahoma City. Located just blocks away from historic Bricktown, this seafood OKC restaurant is for an old-fashioned ambiance with traditional flavors.
Their main seafood menu mainly includes crab appetizers which are a must-try. And seafood dinner options include Louisiana Crab Cakes, seafood gumbo, cajun platter, jambalaya, and crawfish creole.
They have an in-house cajun cuisine that is a must-have for all visitors. Fried clams, crab pot pie, and cheesy crab and shrimp skillet are among the best options for crab lovers.
With fantastic food and a pleasing ambiance, your outing will be a hit at Pearl's Crabtown. Their food is claimed to be extra-fresh and delicious, so you'll have a hard time choosing from the great selection of dishes.
You may also find the staff extremely helpful in choosing the best dish as per your preference. In addition, the prices at the restaurant will not burn a hole in your pocket.
Pearl's Crabtown is a must for foodies who, if you wish to host a private party, the restaurant does not charge for the private room, so that's another great perk.
The Crawfish Pot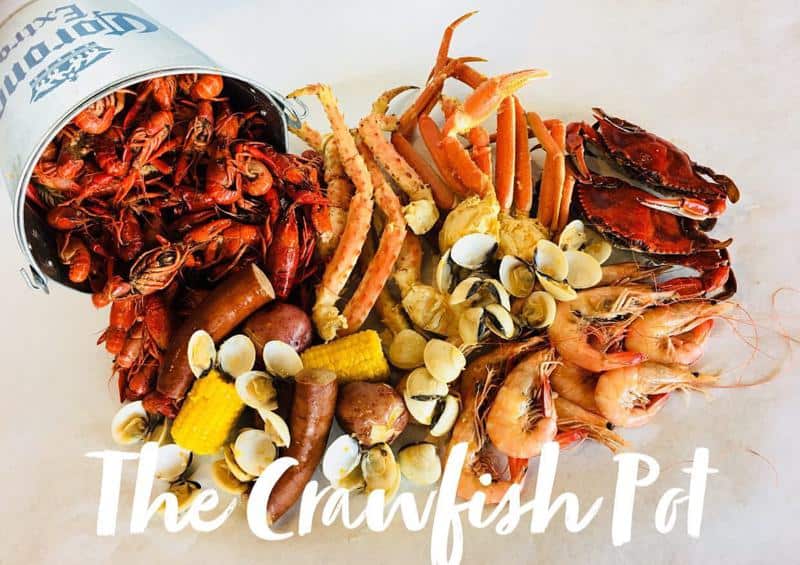 Address: 1841 Belle Isle Blvd suite e, Oklahoma City, OK 73118
Hours: 11:00 am – 9:00 pm; open until 10:00 pm on Fridays and Saturdays
Price: $
The Crawfish Pot is a restaurant synonymous with fresh and healthy seafood. You may also find their service quick and impeccable no matter when you visit. They have a menu specializing in boiled seafood with unique side dishes to relish.
Besides, they currently have a TGIF happy hour from 3 pm to 6 pm, where you can order select beers, oysters, and appetizers with a buy one get one offer. A must-try dish from their menu is the catfish and shrimp creole.
It is served with fried catfish in a flavor-rich shrimp creole sauce. For pasta lovers, they have seafood creole pasta with mussels, crawfish, scallops, and shrimp. So, it's an absolute choice to go for with some wine.
One more item you must not miss from their menu is the BBQ shrimp barbecued to perfection and served with delicious sauces. You must also try their shellfish special with a selection of jumbo gulf shrimp, king crab, crawfish, sausages, corn, and potatoes.
The boil special is cooked with snow crab, headless shrimp, and crawfish with corn, sausages, and potatoes on the side. Another unique menu item for seafood lovers has king crab, snow crab, clams, crawfish, shrimp, lobster tail, and cherrystone clams.
Off the Hook Seafood & More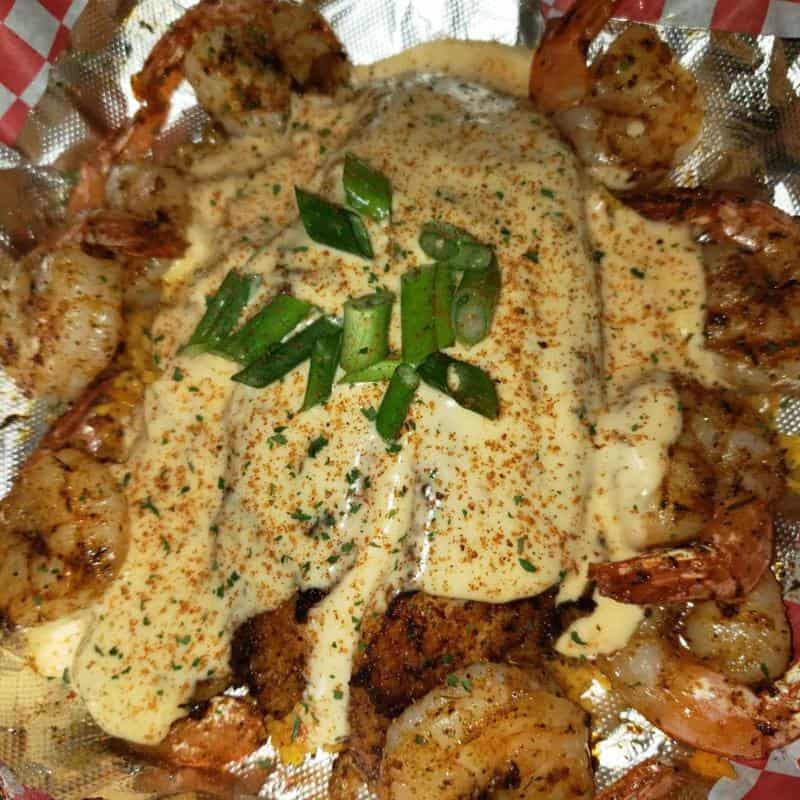 Address: 125 W Britton Rd, Oklahoma City, OK 73114
Hours: 11:00 am – 4:00 pm
Price: $
Off the Hook Seafood & More is a popular seafood restaurant in Oklahoma City. Their fresh food is so delicious that people from all over town visit the restaurant to try the raved menu items.
However, it's not just the taste, as the presentation is equally appetizing. You can find almost everything you want on this menu, including melted lobster sandwiches or smothered surimi fish filet.
Their melted lobster sandwich is an in-house creative treat that's not worth skipping. They'll also offer you the option to pick a fish with shrimp, seafood fries, or rice for a filling meal.
Their seafood gumbo is another must-try item with shrimp, crawfish, lump crab, chicken sausage, and veggies. This is a gluten-free meal as it comes with rice.
You must also try other varieties of seafood items from the menu, such as grilled salmon, blackened shrimp, grits, and fried catfish. Off the Hook Seafood and More is a local seafood restaurant that provides excellent food for everyone to love.
As you can see, they have something special in-store with their amazing selection of dishes. With the chill vibe at this restaurant for seafood OKC, you may love to visit here with friends and family to have a great time.
This local restaurant might become your new go-to place for all weekends. Just note that you must reach there early as they don't take reservations for now.
Trapper's Fishcamp & Grill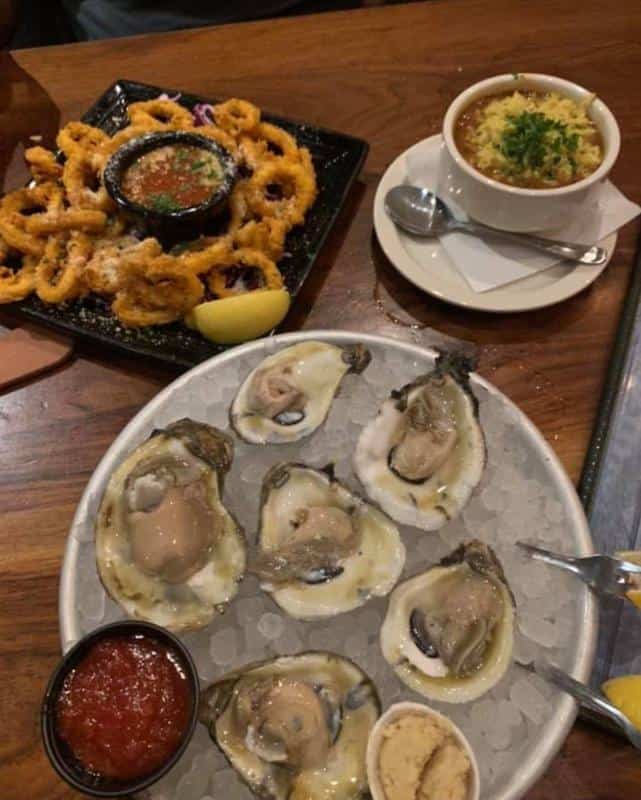 Address: 4300 W Reno Ave, Oklahoma City, OK 73107
Hours: 11:00 am – 10:00 pm; open until 11:00 pm on Fridays and Saturdays
Price: $$
Trapper's Fishcamp and Grill is one of the best seafood restaurants in Oklahoma City. They have various menu items, such as salads, soups, steaks, chops, and pasta dishes. Besides, they offer fresh seafood options, including salmon cutlets, sushi-grade tuna steaks, crab cakes, alligators, and oysters on the half shell.
Amongst the most talked-about dishes from all the reviewers is Mahi Mahi, so evidently, it's a must-have. You must also try their signature Flash Fried Oysters with Louisiana Buffalo Sauce & Housemade Blue Cheese Dressing.
Another must-try item from the menu is Large Popcorn Shrimp. The Trapper's Catch Tilapia topped with scallop, shrimp, and Creole cream sauce is also a great dish to experience.
Lastly, don't forget to try their Fresh "Sashimi Grade" pepper-crusted Ahi tuna, which comes seared in soy-ginger glaze, grilled vegetables, and Wasabi Aioli.
Trapper's Fishcamp & Grill is the perfect place to go when you want a fast, fresh meal with excellent service. They have tasty seafood that won't take long to be set on your table.
Moreover, there is a wonderful atmosphere in the indoor seating area. This restaurant has everything you need for a fantastic meal – from fresh ingredients and quick serving times.
The Catch Fresh Cajun Seafood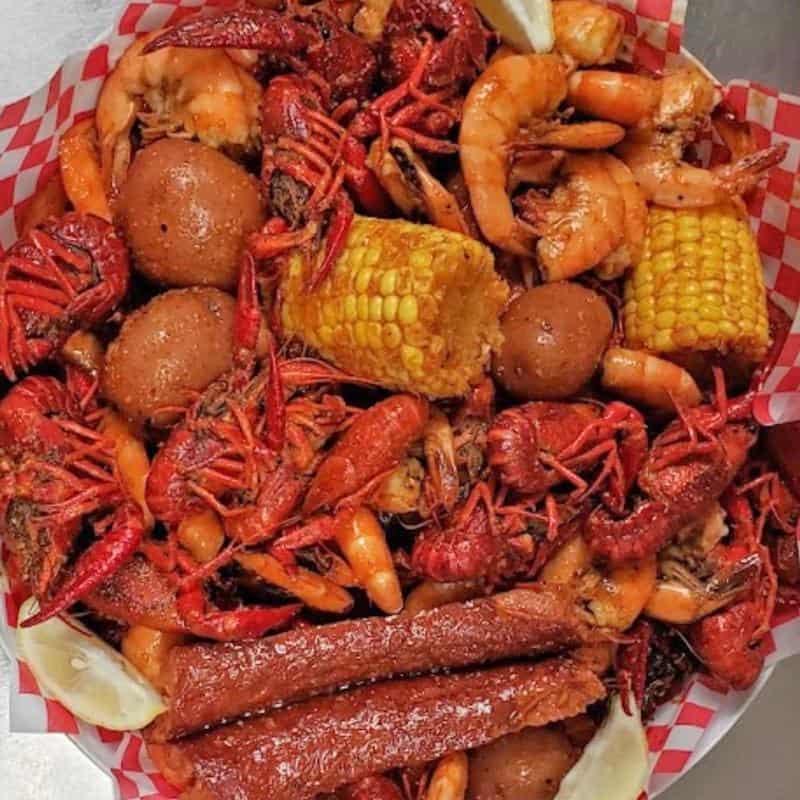 Address: 1841 Belle Isle Blvd suite e, Oklahoma City, OK 73118
Hours: 11:00 am – 9:00 pm; open until 10:00 pm on Fridays and Saturdays
Price: $$
The Catch offers a fantastic seafood OKC experience known for its upscale atmosphere in the city. This restaurant is known for its delicious coastal cuisine, with both cooked and boiled seafood options.
It's one of the best seafood restaurants in Oklahoma City for those looking to enjoy some fresh fish served up in style!
Whether you're looking to enjoy some delicious seafood or are in the mood for a salad, The Catch has a delectable menu. You must try their boiled seafood as a healthy food choice.
This includes boiled shrimp, crab and shrimp, crawfish, and snow crab. They also have cooked delicacies that are must-try, mainly oysters, crawfish, jumbo shrimp, and whitefish.
Besides, they have sandwiches, pasta, salad, and desserts to accompany your seafood. Moreover, you'll find the staff here to be amicable and experienced.
If you're trying seafood for the first time, they'll have the best recommendations to try. You may also ask them to customize your meal with more or less sauce as per your preference.
They also pay attention to the preparation if you ask for less spicy sauces. This place is a must one to go with your friends, family, or partner for a hearty meal.
Red Lobster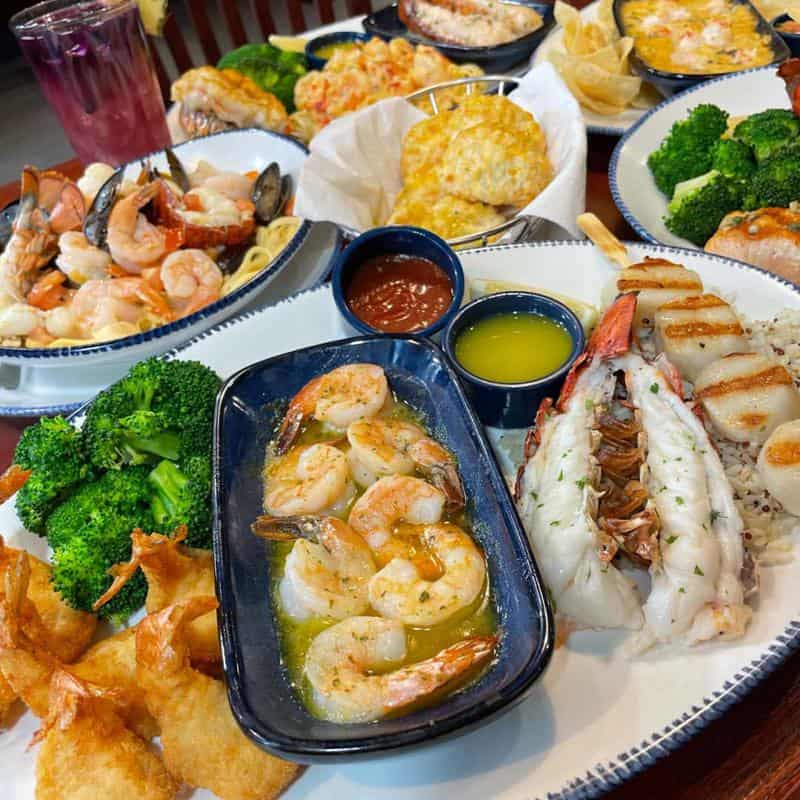 Address: 1000 SW 74th Street Oklahoma City, OK 73139
Hours: 10:00 am – 11:00 pm; open until 11:00 pm on Fridays and Saturdays
Price: $
Red Lobster is a great place to go if you're looking for the best seafood in OKC. Backed up by the Global Sustainable Seafood Initiative (GSSI), they take pride in using sustainable and traceable seafood for their menus.
Their wild-caught lobsters are a must-try and are available on their Lobsterfest menu. These include Lobster Lover Dream with a roasted rock lobster tail, butter-poached Maine lobster tail, and lobster-and-shrimp linguini in a creamy lobster sauce.
This is served with lemon and melted butter and two sides. Their Bar Harbor Lobster Bake is another must-try item. It comes with Petite Maine lobster tails, split and roasted, with shrimp, bay scallops, mussels, and fresh tomatoes.
Those who wish to try seafood along with steak must order their Steak-And-Lobster Wednesday. It comprises a Maine lobster tail paired with a peppercorn-seasoned served with lemon, melted butter, and a choice of two sides.
Pier 88 Boiling Seafood & Bar OKC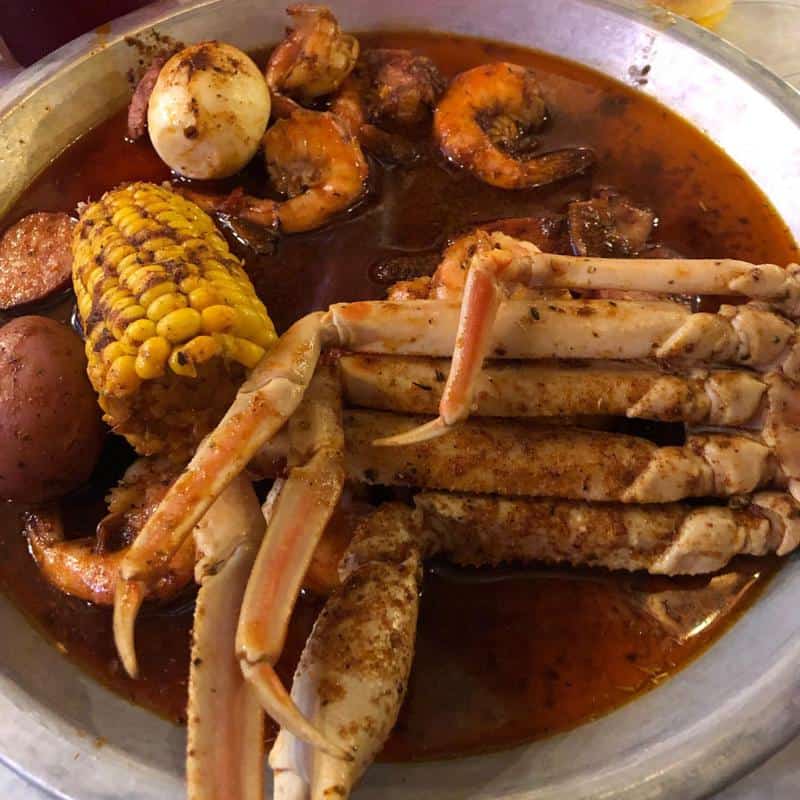 Address: 2125 W Interstate 240 Service Rd, Oklahoma City, OK 73159
Hours: 11:00 am – 10:00 pm; open until 11:00 pm on Fridays and Saturdays
Price: $
Pier 88 Boiling Seafood & Bar OKC is a go-to for many who wish to experience their famous Low Country Boil. It contains shrimp with no head, snow crab legs, all-meat sausage, boiled egg, corn, and potato.
You must order this for a filling lunch or dinner. The restaurant claims to use the freshest seafood from the coast, so you can stay assured about the food quality.
Moreover, they provide generous portions to ensure you'll feel full after the meal. One more must-try from their menu is the lunch basket along with seafood.
The lunch basket offers choices such as fried oysters and shrimp. Also, go for the shrimp buffalo wings as a light evening snack.
Visitors also like how quick their service is with a minimal waiting time for the orders. Pier 88 is perfect for trying the best seafood OKC at affordable prices. Moreover, the prices are flexible if you want to customize your order.
Also Read:
Final Word
There you have the best places for seafood OKC. It's time to plan your next outing to these places to eat the freshest seafood. Grab your friends and family and check out one of these fantastic seafood spots!
These ten restaurants will have you covered whether you're in the mood for fried fish or boiled exotic seafood. Get out there and start experiencing some of the best seafood Oklahoma City offers!