The Buffet at Wynn has everything needed for an unforgettable dining experience in Las Vegas. As one of the top-tier buffets in Nevada's Sin City, Wynn's buffet is well-known for its beautiful décor, swift and professional service, and mouthwatering cuisine.
The Buffet at Wynn Las Vegas serves breakfast, brunch, and dinner. From traditional American fare and Asian-inspired cuisine to a seriously awesome dessert selection, Wynn's buffet offers nearly 100 dishes including a wide range of made-to-order foods.
If you wish to know more about Wynn Buffet Las Vegas food offerings, décor, prices, and opening hours, this ultimate guide to dining at Wynn Buffet Las Vegas has got you covered.
Wynn Buffet Décor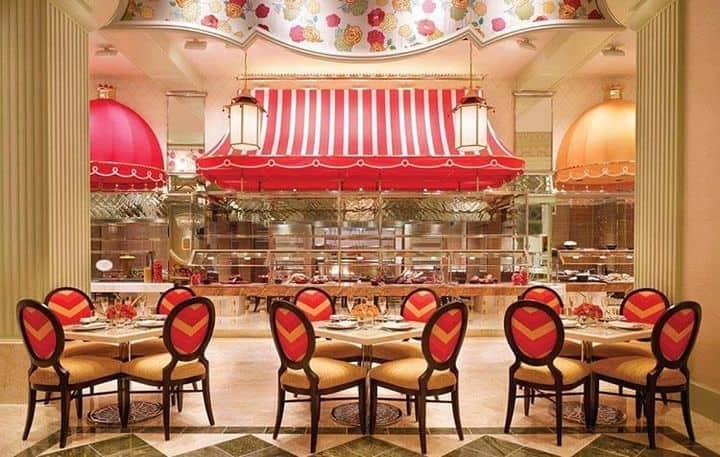 Address: 3131 S Las Vegas Blvd, Las Vegas, NV 89109
Phone: +1 702-770-3340
In Las Vegas, you will find many buffets. From casual joints with basic interiors and mediocre food to tastefully decorated dining rooms where each dish is crafted to perfection, there is plenty to choose from when dining in Las Vegas.
The Buffet at Wynn looks like an upscale restaurant. With a large atrium space with high ceilings, lovely flower displays, and marble flooring, this Las Vegas buffet has an intimate feeling. It's a great place to visit with family and friends while staying in Las Vegas.
The Buffet at Wynn Menu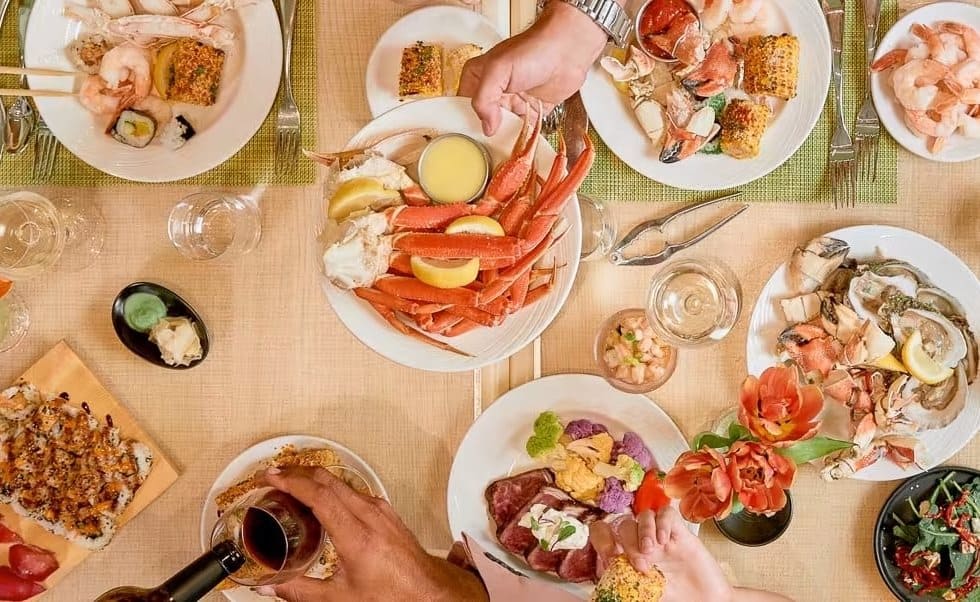 Wynn's buffet has 16 live-action cooking stations designed by Executive Chef Jason Duarte. Expect to find more than 90 dishes offered daily.
Whether you are craving prime rib and other butcher-inspired cuts, wish to enjoy signature pasta dishes, or are in the mood for some traditional American fare like mac and cheese, you'll notice that this Las Buffet satisfies every craving.
Visitors will also find many vegan and vegetarian options on the menu. The friendly staff at the Wynn Buffet is always more than happy to help you find offerings that fit into these categories.
Wynn Buffet Breakfast and Brunch Options
The Wynn Buffet is a popular place in Las Vegas to start your day and enjoy breakfast and brunch. The food served for breakfast and brunch is world-class with many options to choose from. The great thing about this buffet in Las Vegas is that it offers both classic breakfast options and cooked meals.
For instance, you will find all the usual suspects for breakfast and lunch like French toast, eggs prepared in a bunch of ways, pancakes, sausages, and pastries. But, visitors can also choose something from the freshly cooked foods that are definitely more typical for lunch and dinner offerings.
If you wish to stick to the classic breakfast foods, go for their pastries that range from sticky bus and muffins to croissants and Danish. Biscuits and gravy are also delicious, as well as eggs Benedict.
Wynn Buffet Lunch and Dinner Foods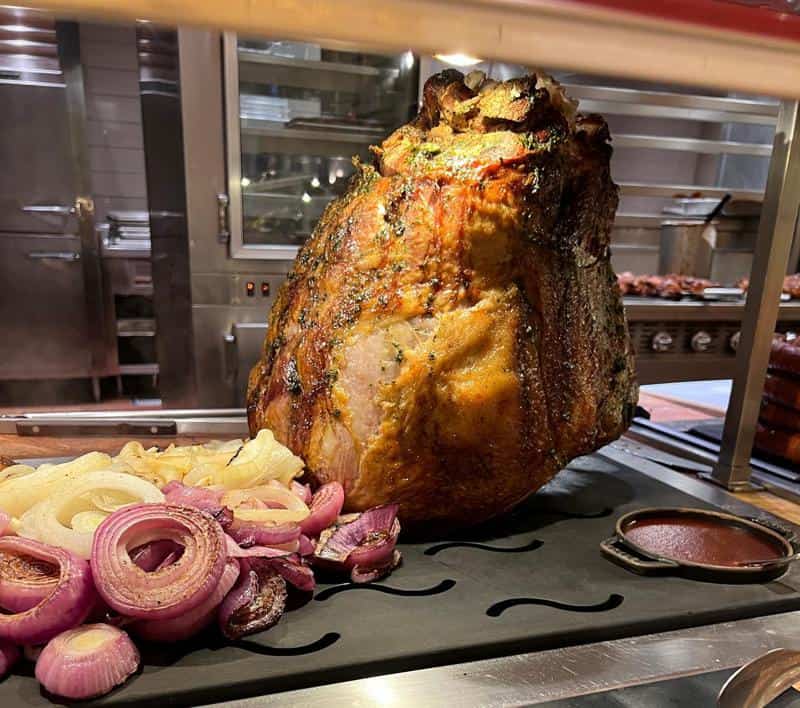 Lunch and dinner offerings at the Wynn Buffet in Las Vegas are plentiful. It's a time when the main meals come out. There is a variety of freshly-cooked meats to choose from, as well as things like chicken wings, grilled veggies, pasta, dried fruits, and mac and cheese.
The salad selection is also spectacular with options like kale and quinoa salad. Meat lovers will want to try the delicious prime rib or go for the dry-rubbed rotisserie chicken which is seasoned to perfection and available at the live-action meat station.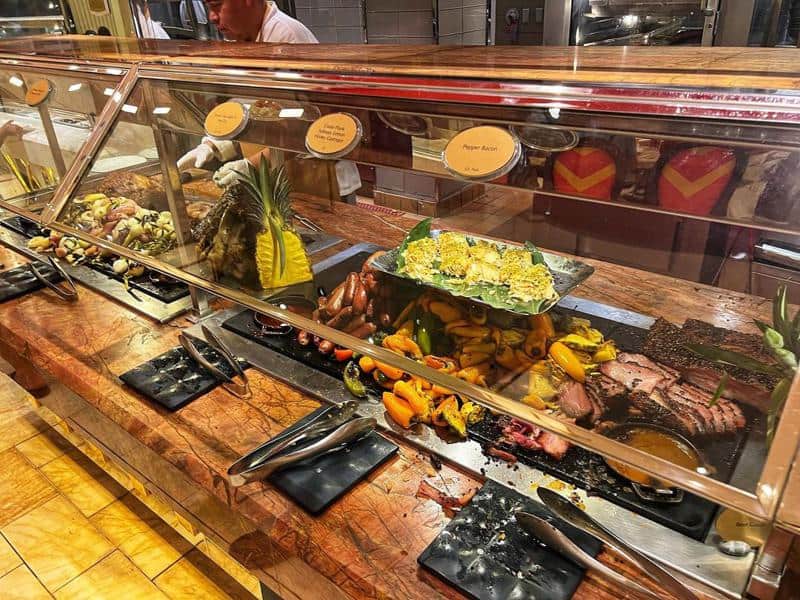 If you are into spicy foods, Thai chicken wings is what you want to get. There is also no shortage of Asian delicacies available ranging from California to Shrimp tempura rolls.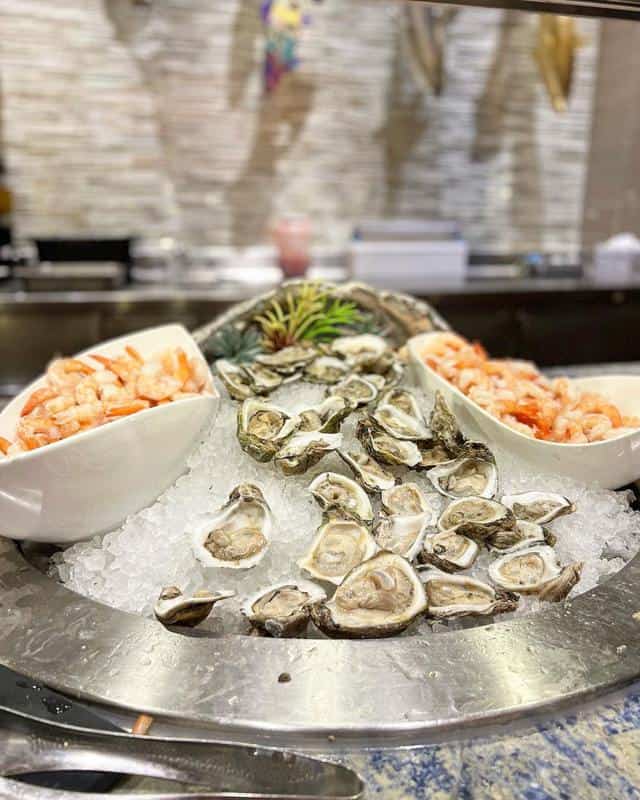 Visitors who wish to sample seafood will definitely want to try the large snow crab legs. This dish is precut, making it easier to get all the juicy meat from inside.
When it comes to dessert for lunch and dinner at the Wynn buffet, the options are truly endless. The crème Brulee is simply divine, as well as the strawberry cheesecake and brownies with molten fudge.
Wynn Buffet Hours of Operation and Pricing
Monday to Thursday
Breakfast from 8:00 AM to 9:00 AM for $38.99 per person
Brunch from 9:00 AM to 3:00 PM for $45.99 per person
Dinner from 3:00 PM to 9:00 PM for $64.99 per person
Friday to Sunday
Gourmet Brunch, 8:00 AM to 3:00 PM for $49.99 per person
Gourmet Dinner, 3:00 AM to 9:00 PM for $69.99 per person
Kids are ½ the price and the ages for children are 3 to 9 years old.
Is it Possible to Make a Reservation at Wynn's Buffet
Unfortunately, this Las Vegas buffet doesn't take classic reservations. However, Wynn's Buffet offers the option for securing your spot in line. All you have to do is book pre-paid priority seating which will secure your spot in line and minimize the wait. You will find more information about this here.
Can I Pay in Cash?
Nope. This buffet only accepts credit and debit cards and does not accept cash payments.
What's Included in The Price?
You can spend up to 2 hours on limitless food offerings. There is also the option of getting endless pour beverage packages at an additional cost.
Read More:
Final Thoughts
The Wynn's Buffet is a great place in Las Vegas to enjoy a gigantic selection of freshly-made foods and cuisine from all over the world. The dining room itself looks spectacular and provides a perfect setting for a memorable breakfast, brunch, and dinner experience.
The food offerings are plentiful with something for everyone. Visitors can enjoy breakfast and brunch classics, as well as lots of innovative dishes from 16 live-action cooking stations designed by Executive Chef Jason Duarte.
Although this buffet is a bit on the expensive side, it is worth every penny considering the variety and the high quality of the dishes available.