Cape May is a famous beach town embellished with restored Victorian architecture and the largest commercial fishing port on the East coast. Owing to its fresh seafood and vintage charm, it is filled with excellent food choices and wonderful restaurants.
Enjoy globally-influenced flavors and classic seafood variety. Here are the best restaurants in Cape May with range, variety, and quality.
Best Overall Restaurant: Union Park Dining Room
Best Romantic Restaurant: Sapore Italiano
Best Fine Dining Restaurant: 410 Bank Street Restaurant
Best Restaurant with a View: The Lobster House
Best Restaurants in Cape May, NJ
Union Park Dining Room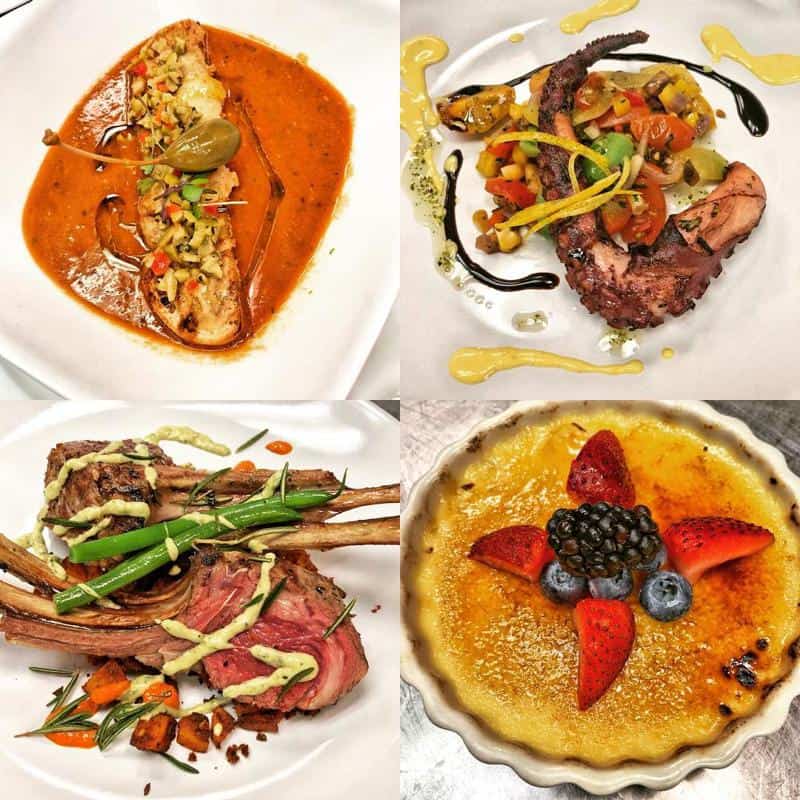 Address: Hotel Macomber, 727 Beach Ave, Cape May, NJ 08204
Known for: Luxurious fine dining with an award-winning menu and sophisticated vintage touches
Union Park Dining Room is another fantastic fine dining spot in the town located across the Atlantic Ocean with eye-catching views and classic American cuisine. The restaurant has received Critics Choice Awards in the New Jersey Monthly Magazine as being the best restaurant in the state.
It has also received OpenTable's Diner's Choice Award multiple years in a row. The dining area has vintage touches with luxurious mahogany and cherry furniture, antique fixtures, a cozy fireplace, and an intimate setting for romantic dinners.
The restaurant also features a private dining area for large groups. The seasonal menu is filled with a variety of seafood dishes as well as elevated American delights like Dry-Aged Pork Chops, Short Ribs, or Duck Trio.
Sapore Italiano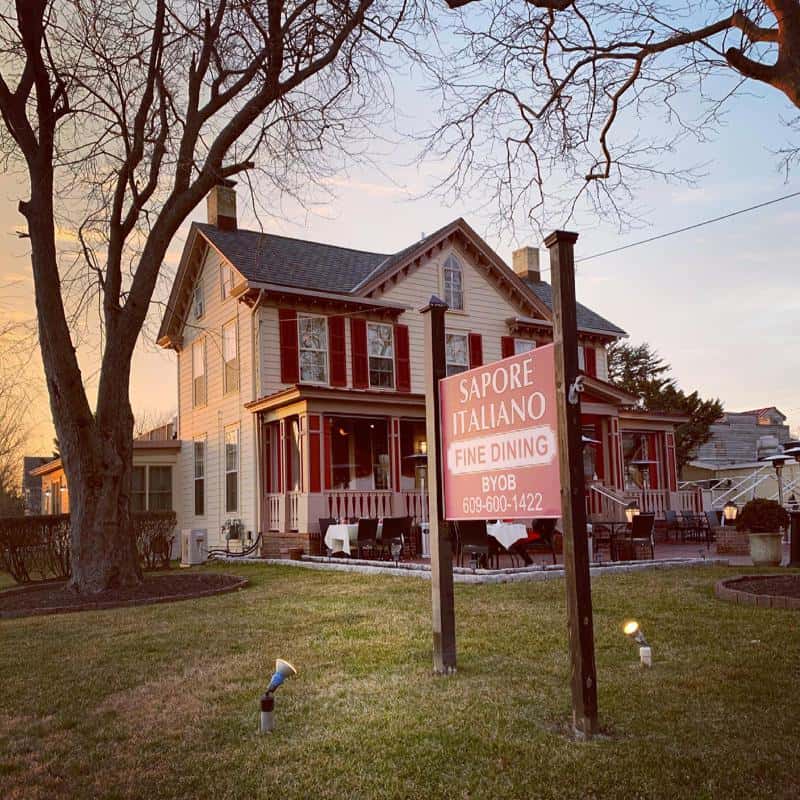 Address: 416 S Broadway, West Cape May, NJ 08204
Known for: Romantic ambiance with classic Italian fare
Have a dreamy evening with your beau at the quaint and romantic Sapore Italiano. The classy fine-dining BYOB Italian restaurant has a rustic setting within a restored Victorian-style house in West Cape May.
The dinner variety beautifully complements its elegant interiors with farm-picked, fresh, and local ingredients. The menu has classic Italian fare with seafood and homemade desserts.
Try their catch of the day with fresh tilapia, salmon, flounder, branzino, or shrimp and calamari. Bring your favorite wine or enjoy a lively conversation over after-dinner teas and coffees with a variety of desserts like a classic Crème Brulé or Gelato.
410 Bank Street Restaurant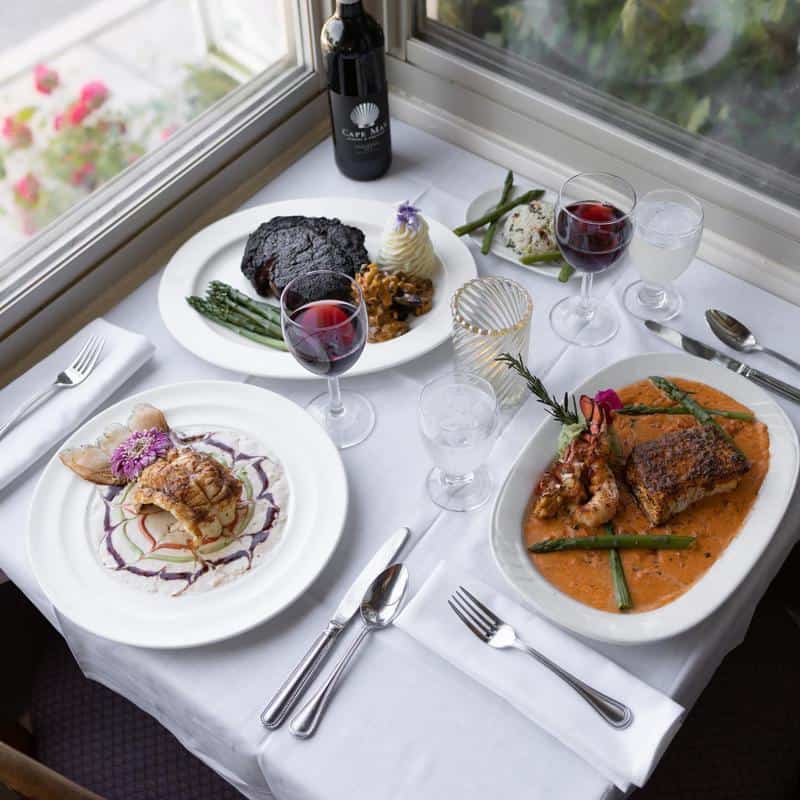 Address: 410 Bank St, Cape May, NJ 08204
Known for: Rustic fine dining experience with a vintage setup and romantic ambiance
410 Bank Street Restaurant welcomes you with open arms as you walk down the tropical garden to reach its entrance filled with an intimate and warm ambiance. With a refined setup and dignified service, it is one of the best fine dining spots in the city for date nights and formal affairs.
Offering enchanting views from its huge windows amid an airy setup in a classic Victorian beach house, the restaurant has wrought-iron chairs to impart a seamless vintage feel. The dishes are heightened with Creole and Caribbean flavors and they also have Latin and French varieties in the mix.
The most popular appetizer on the menu is their fresh and delightful Shrimp and Crawfish Beignets. Seafood entrees include Jail Island Salmon which pairs perfectly with wine.
The Lobster House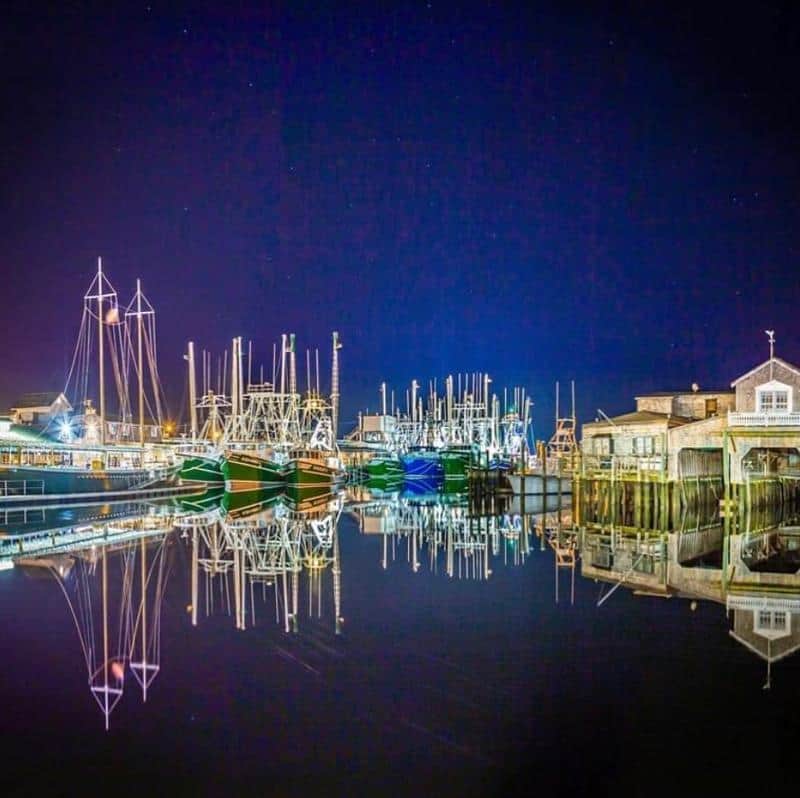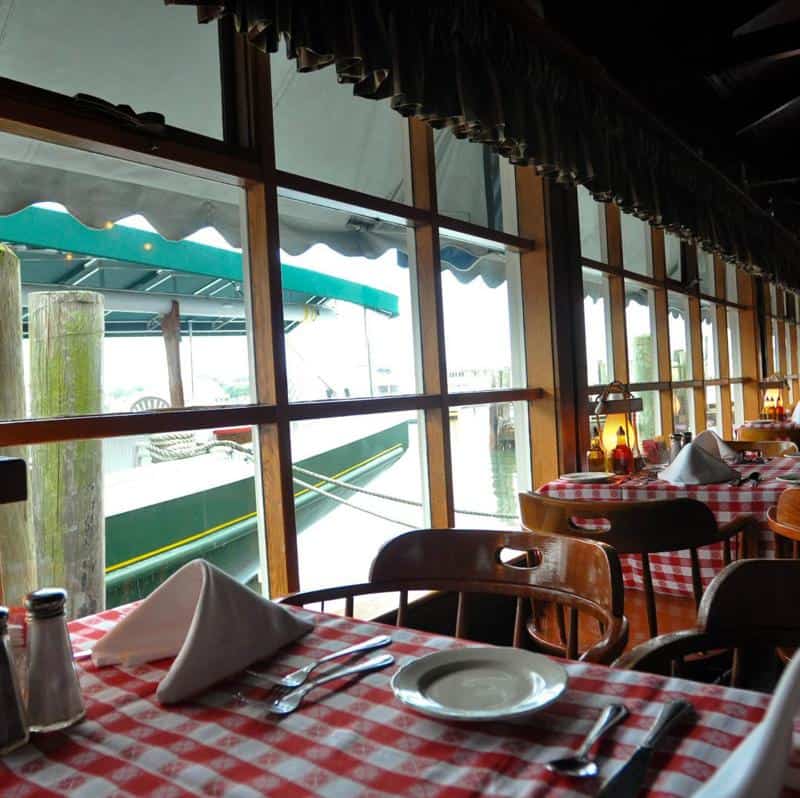 Address: 906 Schellengers Landing Rd, Cape May, NJ 08204
Known for: Beautiful views, luncheon and drinks on the sailing vessel, and freshest seafood variety
Overlooking the mesmeric Cape May Harbor in all its glory, The Lobster House offers a unique dining experience to its visitors with a refreshing nautical ambiance and a 130ft long authentic Grand Banks sailing vessel – the Schooner American.
The Schooner is set up like an outdoor cocktail lounge serving a full luncheon menu, appetizers, and drinks.
Step out and enjoy the evening breeze at the sailing vessel before indulging in some fresh and delicious seafood entrées. Options include Cape May Scallops, Crabmeat Au Gratin, Baked Crab Imperial, Sauté Shrimp Parmigiano, Flounder Francaise, and much more.
Schooner Dinner is a popular dinner special with one pound lobster, cherrystone clams, scallops, shrimp, and mussels served in a Kettle.
The restaurant also has a Live Lobsters station served broiled or steamed – It can't get fresher than this!
Peter Shields Inn and Restaurant
Address: 1301 Beach Ave, Cape May, NJ 08204
Known for: Lovely beachfront location with elevated American dishes and seafood variety
Beautified with a tranquil canopied porch and mesmeric views of the ocean, Peter Shields Inn and Restaurant is a fine dining establishment with an intimate ambiance. The family-friendly setting invites locals and visitors with elevated American cuisine and generous portions.
Tucked in a 1901 beachfront mansion, the award-winning restaurant also has a fine selection of wines and a carefully curated menu by its executive chef George Galati. The first course meals have delights like Seared Hudson Valley Foie Gras, Grand Marnier Cinnamon Swirl French Toast, Apricot Marmalade, Almond Granola, and Cherry Puree.
The second course includes meaty treats like Filet Mignon, Prime NY Strip Steak, Prime Cowboy, and Creekstone Prime Ribeye. Seafood variety includes Alaskan Halibut and Pan Seared Jumbo Crab Cakes with Mascarpone Risotto.
Tisha's Fine Dining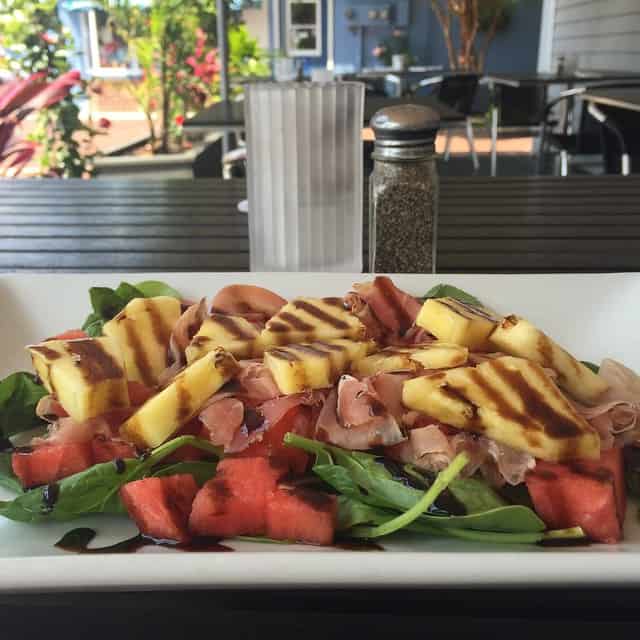 Address: 322 Washington St, Cape May, NJ 08204
Known for: Small town charm with elevated New American dishes and a lovely outdoor seating
The quaint and elegant Tisha's Fine Dining is a lovely locally-owned eatery filled with small-town charm and an impressive new American menu. The restaurant has rustic polished wood accents with white-clothed tables for a fine dining experience amid casual surroundings.
The place is well-loved by patrons and visitors for its delicious variety and views of the town streets from the breezy outdoor seating area. Stop by for a quick lunch with their refreshing salads, including the juicy and tangy Summer Salad with watermelon and pineapple wedges in Prosciutto and baby spinach glazed with balsamic.
For dinner, we highly recommend the fresh and mouthwatering Grilled Salmon and Shrimp in Thai chili sauce or a simple Risotto seasoned to perfection. The restaurant also serves a variety of burgers, wraps, and po'boys.
Oyster Bay Restaurant and Bar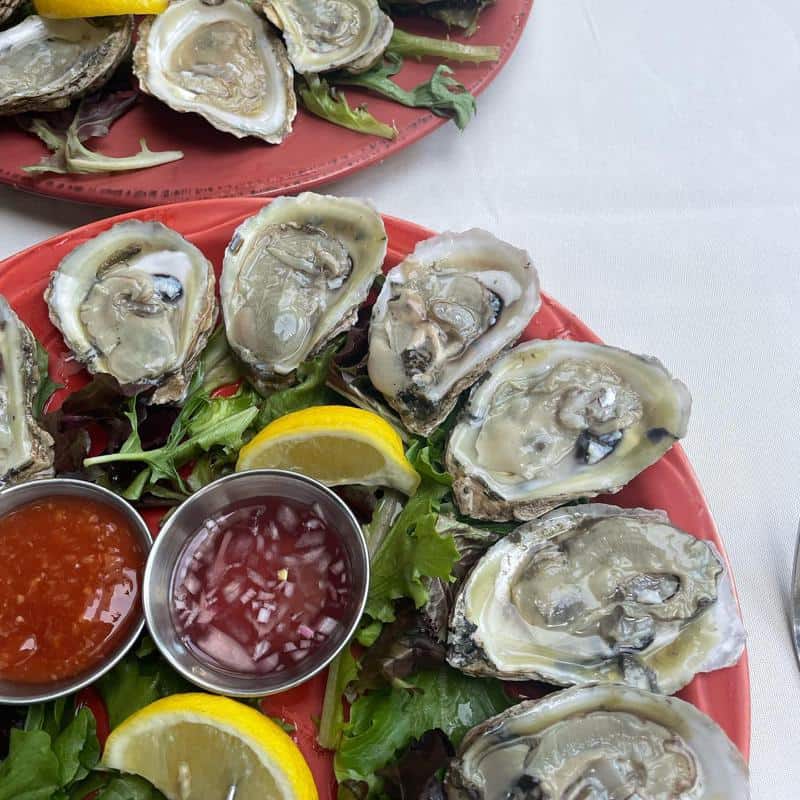 Address: 615 Lafayette St, Cape May, NJ 08204
Known for: Fresh and delicious seafood variety, cocktail happy hour, and oysters
Feast on some deliciously refreshing oysters and steak at Oyster Bay Restaurant and Bar. The breezy restaurant has a nautical theme with unpretentious surroundings.
The locally-owned spot is a great option for casual dining and happy hour specials. The Buck a Shuck Wednesday features dollar oysters with cocktail happy hour from 4 pm onwards and you get a wide array of drinks at discounted rates.
The dinner entrée has classic dishes with a few special and seasonal delights in the mix. Try the hearty Seafood Pot Pie with a bit of everything in a piping hot stew, or a Crispy Duck Breast paired with your favorite cocktails.
Lucky Bones Back Water Grille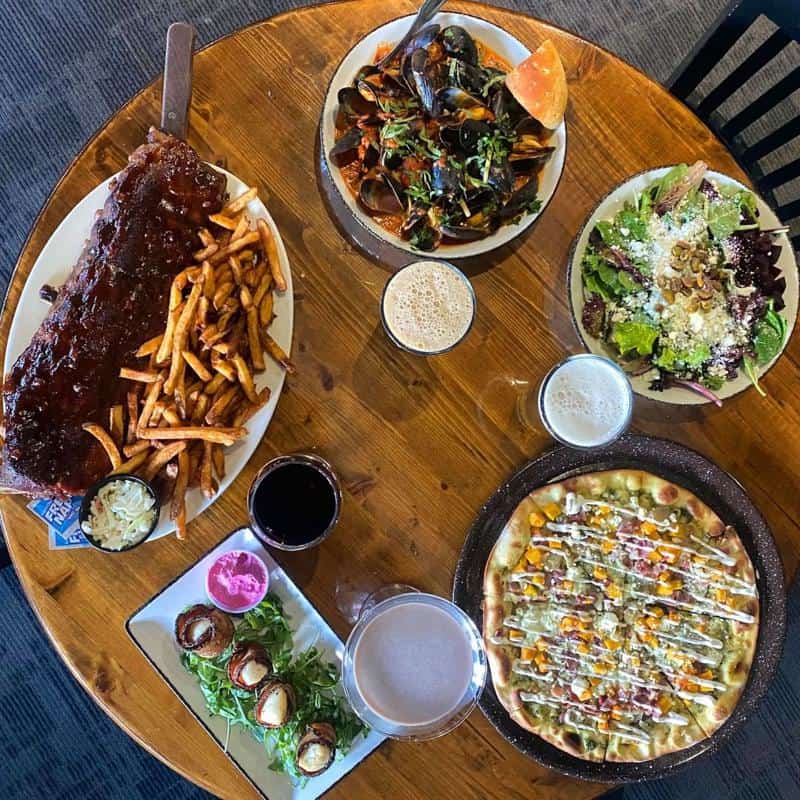 Address: 1200 NJ-109, Cape May, NJ 08204
Known for: Classic American dishes with zero trans-fat, open brick oven, and homemade soups and desserts
With a gorgeous waterfront setting, the bright and beautiful Lucky Bones Back Water Grille offers one of a kind dining experience. The upscale and elegant restaurant has an open brick oven pizzeria on the bay, a full bar, and a brightly lit dining area with an intimate ambiance.
The polished space attracts a lively crowd with comfort eats and fresh seafood variety. The food has zero trans fat with homemade soups, sauces, and desserts made from scratch every day.
Try one of their delectable pizzas made with a secret sauce recipe and a mouthwatering thin crust. Share a plate of the fall-off-the-bone Slow-Cooked Baby Back Ribs with your loved ones, or try a tasty Seafood Garganelli with artisan pasta tossed in shrimp, crab, scallops, parmesan cream, and green peas.
The Mad Batter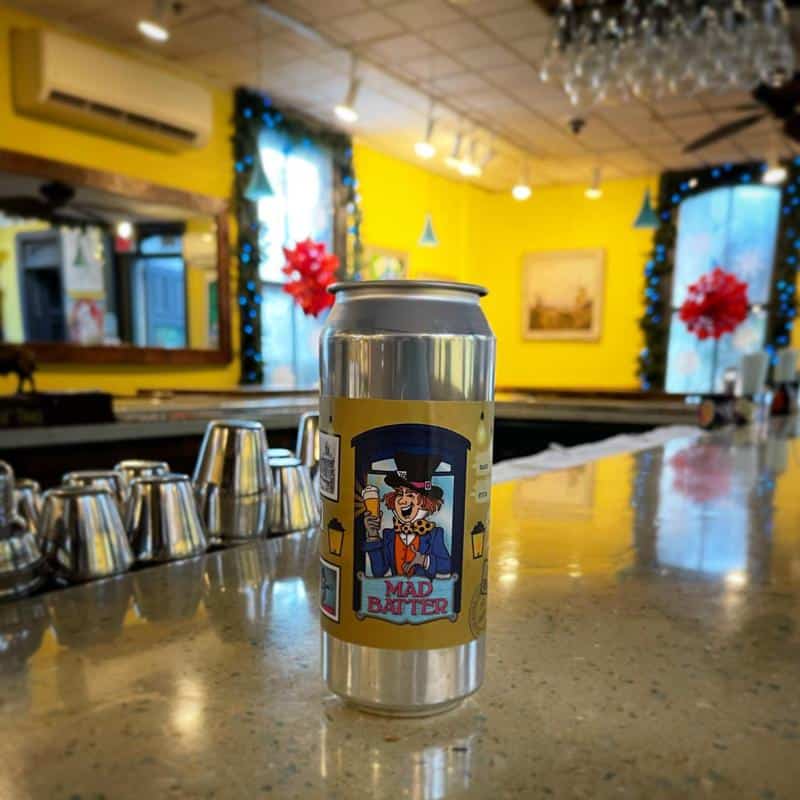 Address: 19 Jackson St, Cape May, NJ 08204
Known for: Famous brunch spot with mimosas and traditional American breakfast
The Mad Batter is a perfect brunch spot to satiate your weekend cravings for mimosas and traditional American breakfast delights. The tastefully decorated and well-loved restaurant pays homage to 70s diners with its rustic interiors and psychedelic vibe.
As its name suggests, it is much like the mad hatters' tea party where everyone sits down for a classic feast with hot beverages and boozy drinks. Besides their famous brunch, the dinner menu is also quite impressive with range and quality.
Try the Chorizo Paella for a Spanish treat, or a simply Tuscan Fettucine to get a taste of little Italy close to home. The restaurant also has gluten-free options and a full kid's menu available.
Black Duck on Sunset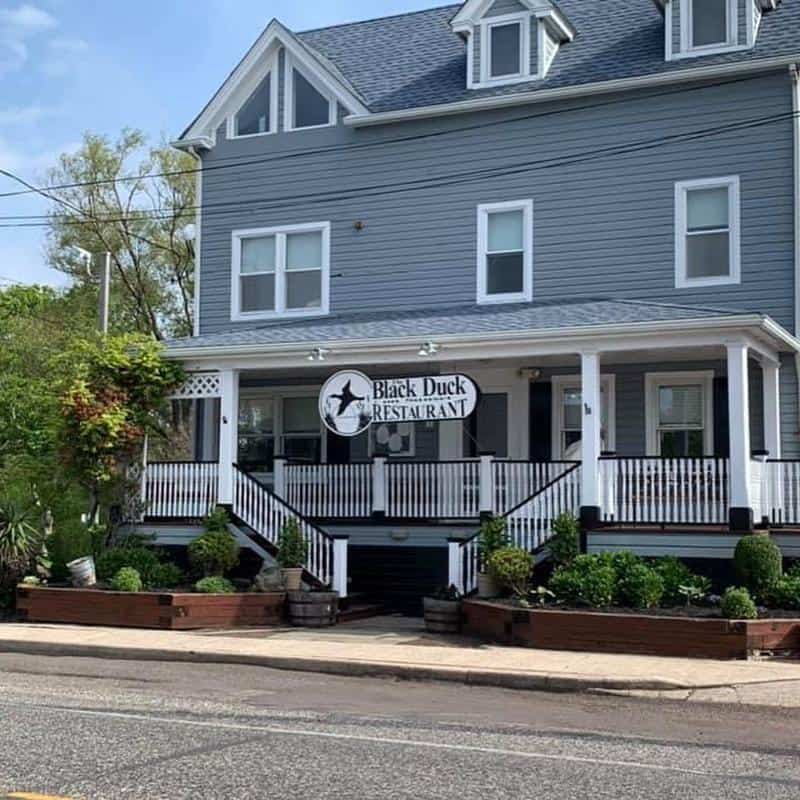 Address: 1 Sunset Blvd, West Cape May, NJ 08204
Known for: Quaint little restaurant with small-town charm and delicious American cuisine with fresh seafood variety
Famous for breakfast and lunch, Black Duck on Sunset is a quaint little spot with a moderately priced menu and friendly service. with a lot of local charm, the restaurant also caters to private parties, events, and rehearsal dinners.
It is set up in a beautiful gray clapboard house with slow-spinning ceiling fans and rustic framed pictures. The menu features Asian-influenced American dishes with fresh seafood variety and BYOB options.
Start the evening with a delicious serving of Lobster Bisque or Southwestern Duck confit and Goat Cheese Egg Roll, and treat yourself to a mouth-watering seafood entrée. The Pan-Roasted Salmon has lobster heirloom tomato scampi, basil pistou, artisanal pasta, and spiced shallot, and the Grilled Filet Mignon is a hearty meaty treat with sour cream horse radish bacon in red wine sauce and chard broccoli.
Freda's Café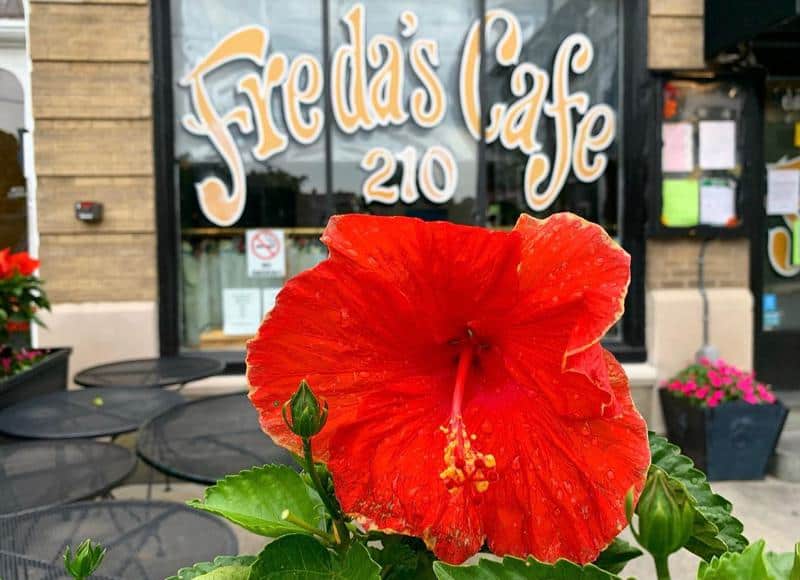 Address: 210 Ocean St # 1, Cape May, NJ 08204
Known for: Humble café with innovative dishes, signature crab cakes, and house-made baked goods
Emanating a laidback Friend's central perk vibe with its casual ambiance and friendly service, Freda's Café serves a variety of baked goods and New American dishes. The cozy café is a local's favorite spot with amazing choices and delectable house-made cakes.
The café features a lot of innovative dishes, putting unique twists on classic comfort food. Try the delicious Spring Rolls or a light Goat Cheese and Beet Salad for lunch while taking in the small-town café vibe.
The café also serves Signature Crab Cakes, Soup De Jour, and Baked Brie. The entrees include Seafood Pesto, Herb-Roasted New Zealand Lamb Chops, and juicy Chicken Encroute.
Washington Inn and Wine Bar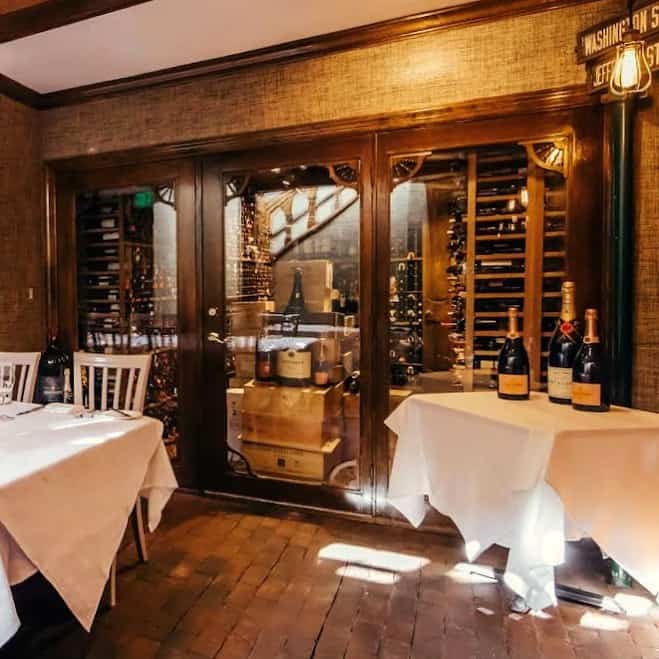 Address: 801 Washington St, Cape May, NJ 08204
Known for: Rustic spot with turn-of-the-century atmosphere and a seasonal American menu
Transport yourself to a 1970s era with feather boas and sequined cocktail dresses at the Washington Inn and Wine Bar. The hip restaurant is located in a historic building and offers a unique dining experience to its visitors.
The layout is revamped to balance vintage and contemporary with a turn-of-the-century ambiance. The restaurant has a grand dining room, outdoor seating, and a full-service bar.
The menu is largely seasonal with a lot of rotating dishes and some standard favorites like the Mediterranean Branzino and Washington Inn Crab Cakes. Make your holidays extra merry with their scrumptious holiday feasts loaded with familiar dishes like Oven Roasted Turkey, House-made Cranberry Sauce and Gravy, and classic Pumpkin Pie.
Mario's Pizza and Italian Eatery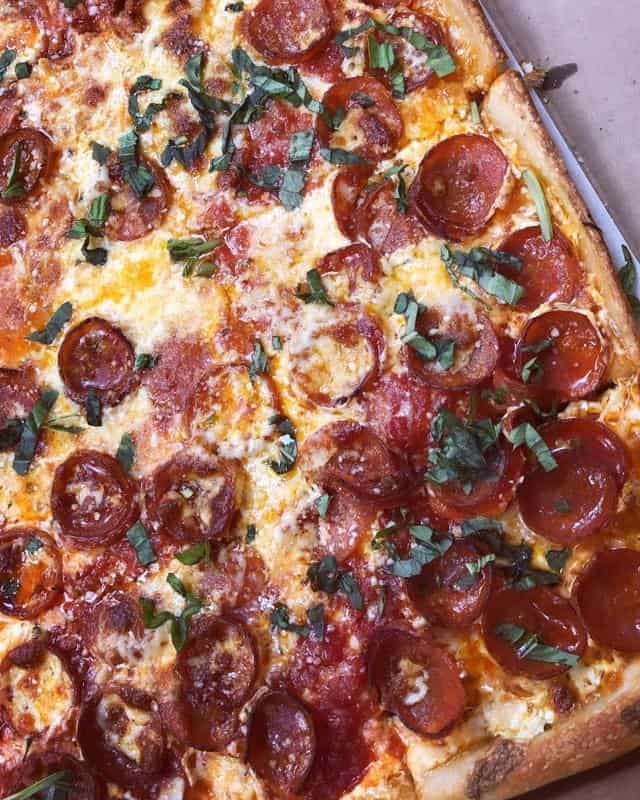 Address: 315 Ocean St Unit # 7, Cape May, NJ 08204
Known for: Authentic Italian pizza and appetizers in a casual ambiance
The casual and friendly Mario's Pizza and Italian Eatery is a local pizzeria with authentic Italian recipes in a laid-back ambiance. It is a popular hangout spot and perfect to catch up with friends over tasty pizza pies.
The menu is budget-friendly and outdoor seating is available as well. Start your meals with a serving of mouth-watering Jalapeno Poppers and Buffalo Wings with your favorite drinks.
The XL Neapolitan Margherita Pizza is their most-selling variety. Also, try a Classic Pepperoni sprinkled with fresh basil and loaded with layers of gooey cheesy goodness.
Backstreet Simply Delicious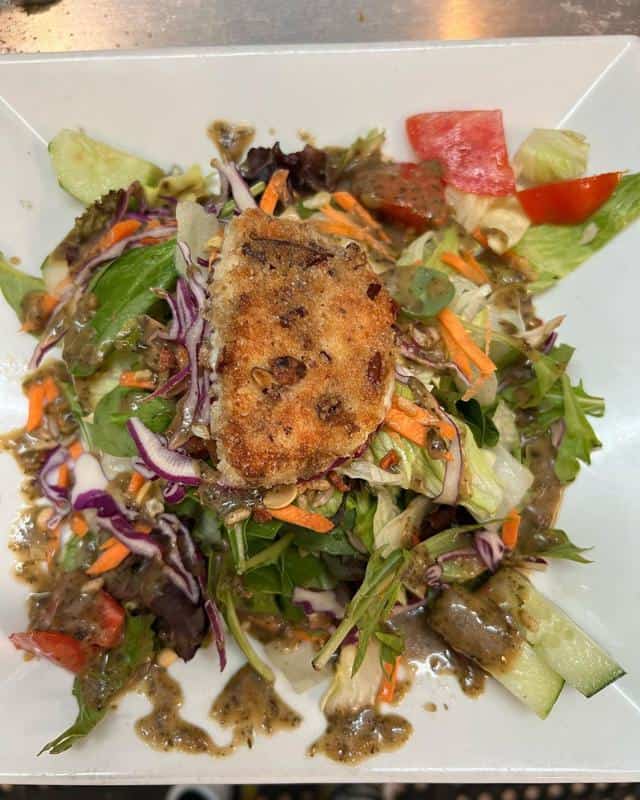 Address: 600 Park Blvd, Cape May, NJ 08204
Known for: Casual dining with seasonal delights and house-made bread and desserts
Backstreet Simply Delicious opens in the summer and fall and serves classic comfort American food in hearty portions. Owner and Chef Theresa McGlade poured her heart and soul into curating a perfect menu loved by locals and visitors alike.
House specialties include steak, pasta, and seafood with special house-baked bread and local favorites. The menu is small with a few choices but without any compromise on quality and taste.
Try a Warm Goat Salad with a tangy homemade basil balsamic vinaigrette or honey mustard doused Spinach Salad with roasted walnuts and gorgonzola cheese. The seafood entrees include Maple Glazed Salmon, Pan-Fried Fish, and Cheddar Crusted Grouper.
George's Place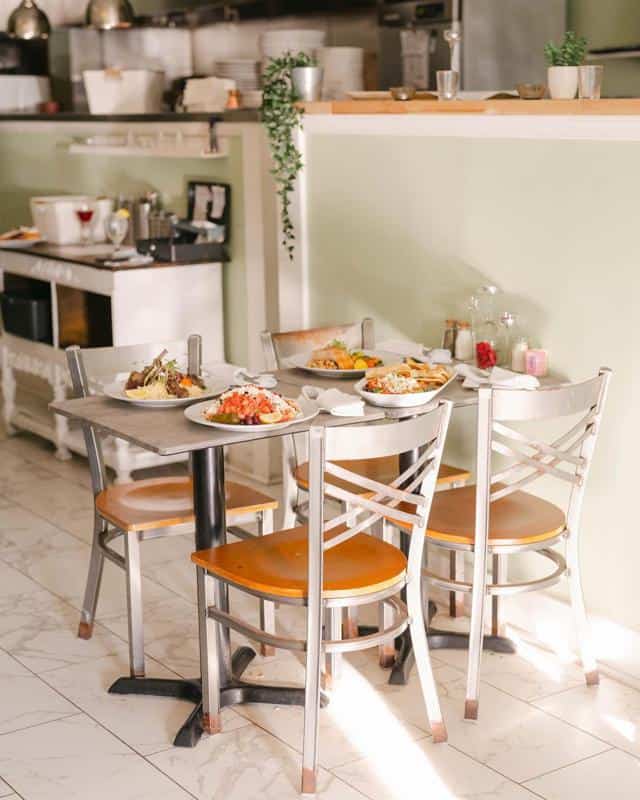 Address: 301 Beach Ave, Cape May, NJ 08204
Known for: Authentic and traditional Greek food with simple and classy interiors
George's Place is a quaint Greek restaurant in the heart of downtown. Occupying a small corner with neat and breezy interiors, it has the best and freshest Greek cuisine in town.
It is a peaceful little spot to enjoy your favorite salad at lunch but turns into a lively Greek tavern past sunset with an impressive drink menu. Enjoy traditional Greek food with mesmeric ocean views and the lovely Cape May weather.
The restaurant's specialty is the Chicken Gyro made with grilled lemon chicken, fresh lettuce and tomatoes, crunchy onions, and tzatziki on grilled pita. Also try the Falafel Pita, Grilled Cheese Special, and Classic Chicken Tenders.
Ebbitt Room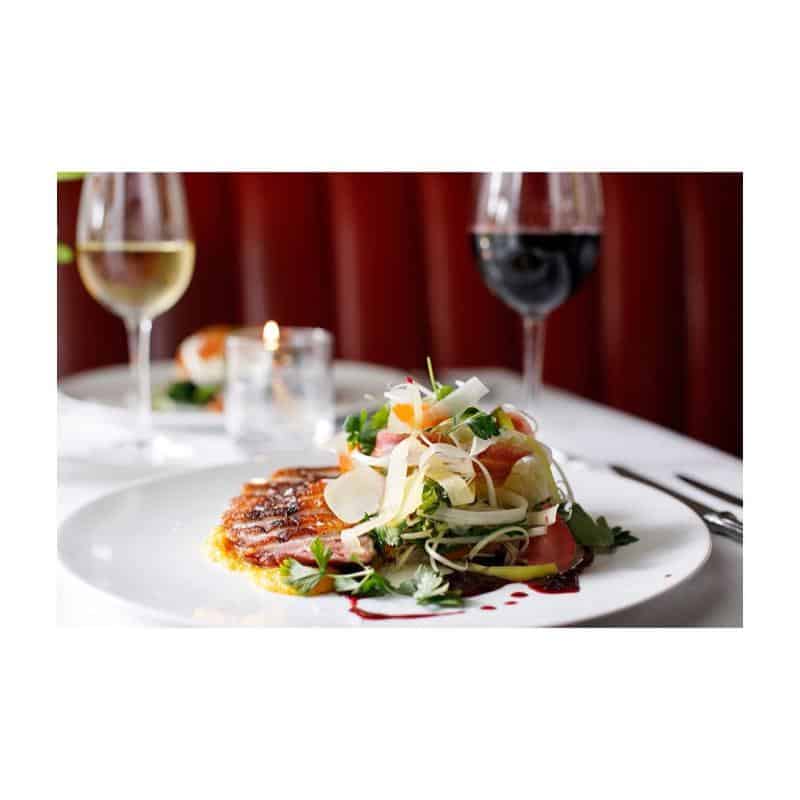 Address: 25 Jackson St, Cape May, NJ 08204
Known for: Lavish fine dining in the heart of downtown
Ebbitt Room is a luxurious fine dining spot in the heart of downtown in the renovated 1879 Virginia Hotel. Chef Jason Hanin has curated a delectable dinner menu with classic American cuisines.
The freshest seafood, steak, and vegetarian variety give plenty of options to satiate everyone's palate. The dishes are prepared with locally-sourced ingredients and organic produce from Cape Resorts' Beach Plum Farm.
Try a classic Cape May Scallops or Atlantic Swordfish entrée with your favorite wine. The Braised Lamb Shank and Prime NY Strip are served with seasonal farm vegetables and delicious roasted potatoes.
Read More:
Conclusion
The beauty of Cape May is exponentially enhanced by the variety of restaurants and diversity in cuisines.
From quaint eateries with seasonal offerings to lavish and graceful fine dining options, you will surely find a restaurant you love on our list.