Old Town, in Fort Collins, situated at the Rocky Mountains base and 60 miles north of the Denver International Airport, is where you will find the city's buzzing art and entertainment venues, from bars to eclectic restaurants.
The college town of Fort Collins has been making a name for itself as a popular culinary and nightlife region, some even calling it the Napa Valley of craft beer.
Whether looking for a great place to chug some beers or a vibrant dining venue next to the local college, Fort Collins has you covered. Multiple outdoor recreation venues drive the city's economy and boast the restaurant business in the area.
Read on to learn of the restaurants for late-night snacks and where to dine when touring the Rocky Mountains. B&B Pickle Barrel is a favorite to the local students at Colorado State University, while Jax Fish House is home to the town's best chefs.
Top 15 Restaurants to visit in Fort Collins
1. Ginger and Baker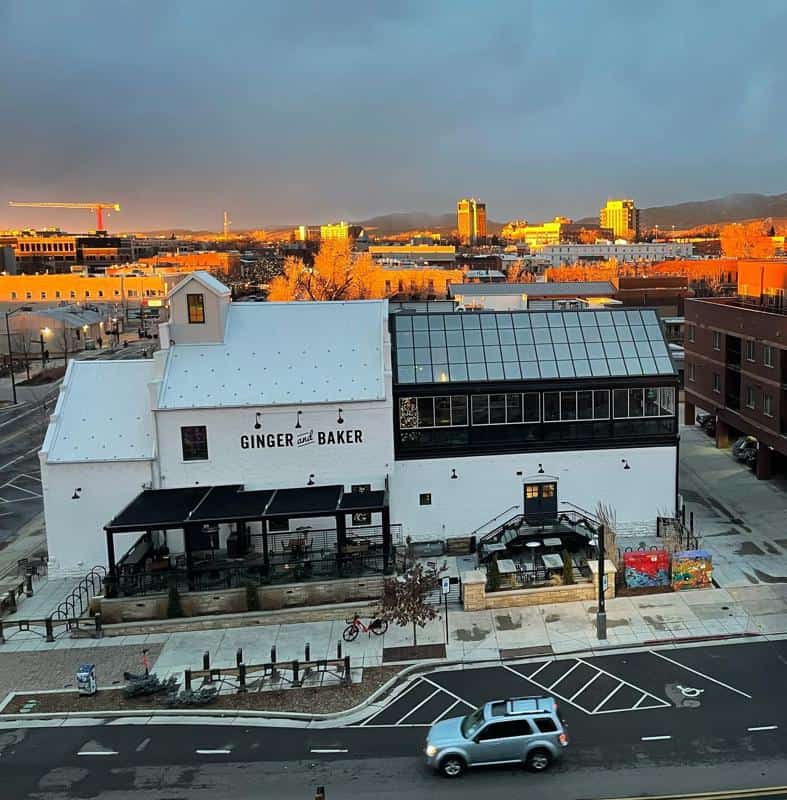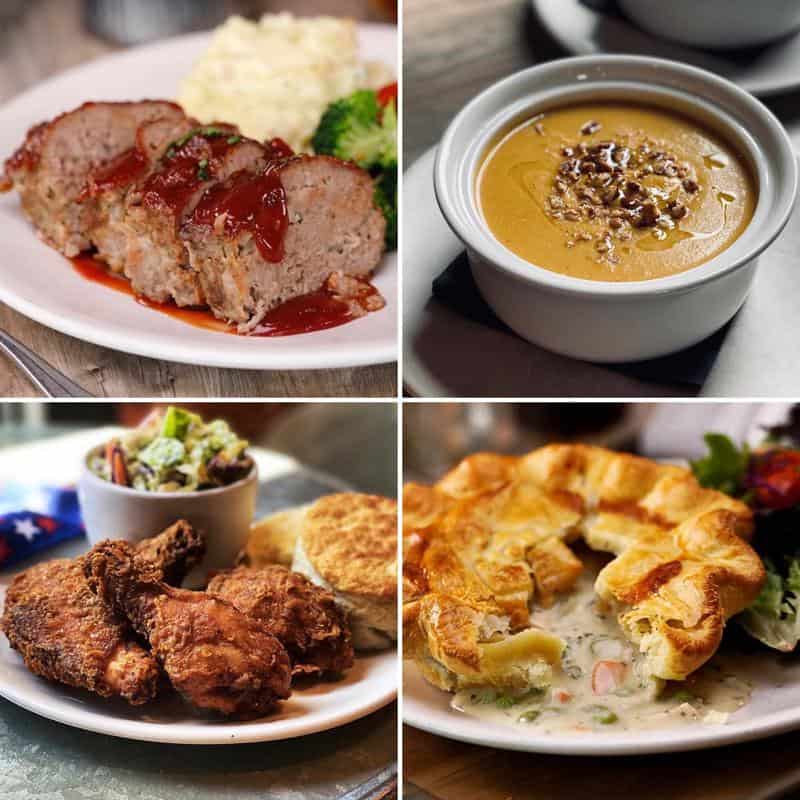 Address: 359 Linden Street, Fort Collins, Co 80524
Phone: 970 223 7437
Known for: good wine list at the Cache and dog treats at the market & bakery.
The award-winning wine list at the Cache in Ginger and Baker is enough reason to guarantee a great time. It is an old place that has been operating for more than a century in a building that once housed the Northern Colorado Feeders Supply.
Today, Ginger & Baker consists of The Café, The Cache, and the Market & Bakery. The café serves modern farm-to-fork American classics in a comfortable and cozy ambiance.
Head into the Cache to experience what a modern Colorado steakhouse is all about: savory steaks, strong whiskey, and fine wine. This is where you will find the Wine Spectator Award of Excellence wine list curated by Alex Ettinger, the resident wine connoisseur.
Visit the Market & Bakery for some freshly-prepared pies and gourmet coffee. There is an included dog menu to feed your furry friends. The most popular items are the bowls with beef & potato options alongside chicken dishes, salmon & rice combos, and treats.
2. Austin's American Grill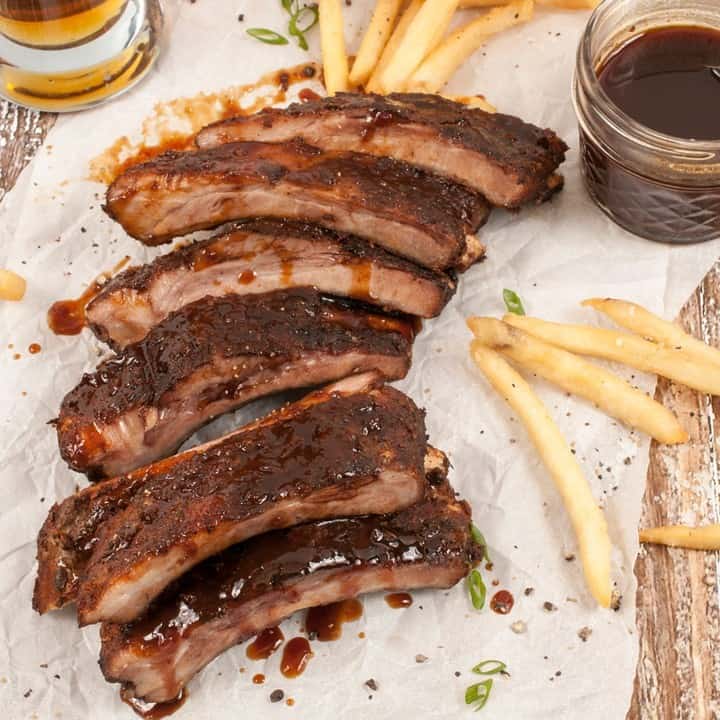 Address: 100 W. Mountain Avenue, Fort Collins, CO 80524 and 2815 E. Harmony Road, Fort Collins, CO 80525
Phone: 970 224 9691 and 970 267 6532
Known for: good American bar food
Austin's American Grill has two locations, one in Old Town Square and another in Midtown along Harmony Road. The restaurants are known for their high-quality chicken and roasts made over an open flame.
Southwestern foods are the order of the day, and the dark brick walls ooze the southern charm that instills a certain mystique in the restaurant and bar. Head to the outdoor patio for a cool breeze and warm lighting during dinner meals.
3. The Melting Pot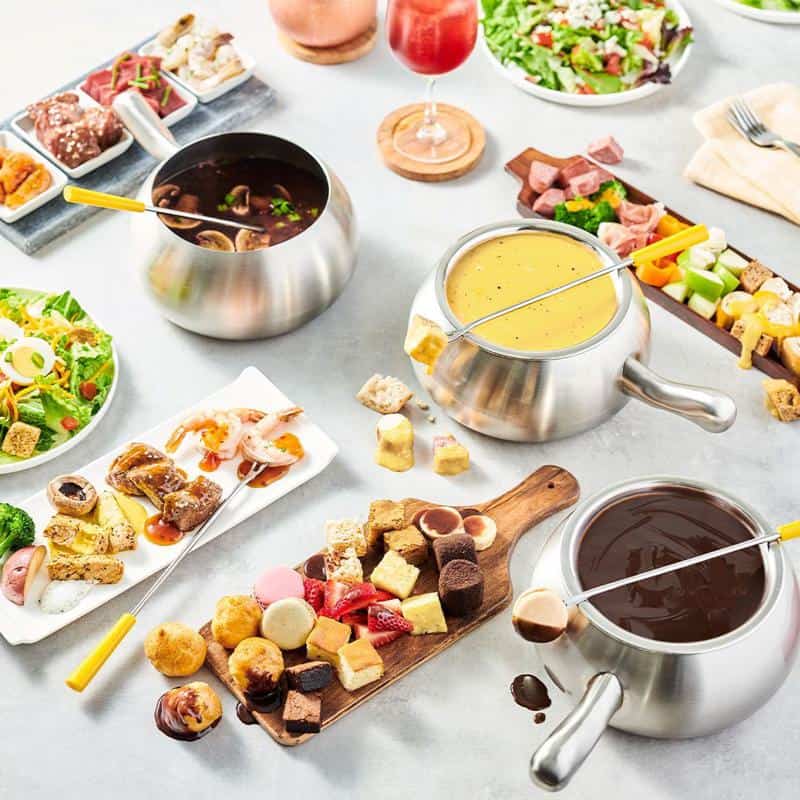 Address: 334 East Mountain Avenues, Fort Collins, CO 80524
Phone: 970 207 0100
Known for: flavorful entrees and desserts
The Melting Pot is part of four restaurants locally owned by two ambitious entrepreneurs, Ryan Houdek and Ty Fulcher. The duo is owners of the popular speakeasy Social in an underground venue, the Rodizio Grill specializing in Brazilian cuisines, and the Union with classic soda fountains.
Melting Pot is a versatile restaurant fit for celebrations, family events, date nights, and corporate events. Have a taste of their multi-course meal bound to take you more than 3 hours. The staff is also highly praised for their in-depth knowledge of the cuisines.
Special offerings at Melting Pot include the 'Thursday' package for date nights on Thursdays. It comes with a romantic four-course meal for two, candle-lit tables, rose petals, and Sparkling Chocolate Fondue for $55 per person.
Every Wednesday, you get the special Fondue menu that costs $35 for three courses and $47 for four courses.
4. The Emporium Kitchen and Wine Market
Address: 378 Walnut Street, Fort Collins, CO 80524
Phone: 970 493 0024
Known for: a great happy hour and brunch kitchen with French-inspired designs
The warm and inviting atmosphere at the Emporium is what makes this American Brasserie a true French-inspired destination. It combines an open kitchen with a deli, market, beverage shop, wine cellar, bar, dining rooms, and a counter for brunches.
It is a vision of Sage Restaurant Group that opened its doors in late 2017, much to the delight of residents who waited for years.
The dinner menu is filled with small plates like steak tartare, fried fontina, and broiled oysters. Large plates range from the 8-ounce tenderloin with rosemary fingerling potatoes and the roasted chicken with citrus orzo and market vegetables.
5. JAX Fish House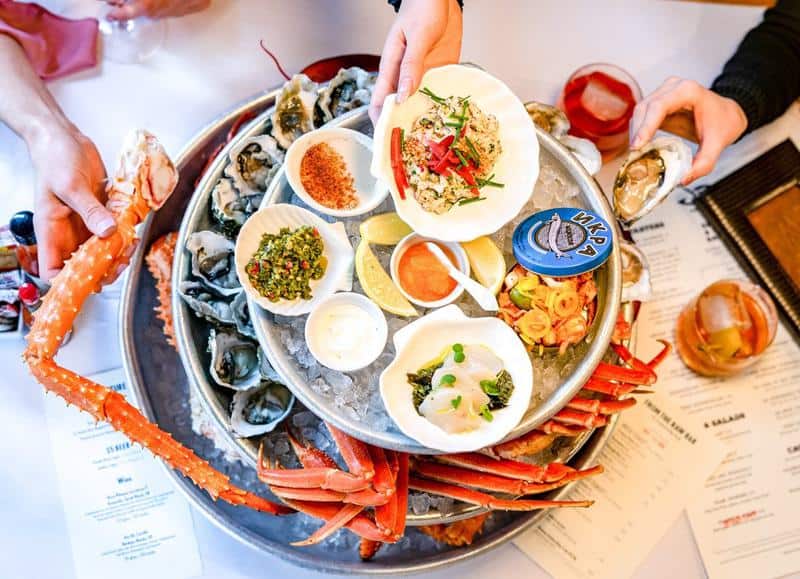 Address: 123 North College Avenue, Fort Collins, CO 80524
Phone: 970 682 2275
Known for: fresh seafood from Fort Collins' best chefs
JAX Fish House is an award-winning restaurant awarded by the James Beard Foundation, as well as Wine Spectator with its 2019 Award of Excellence and a mention in one of the best seafood places in the Travel & Leisure Magazine.
Happy Hour is available from 4 pm to 6 pm, and oysters are in plenty in a dozen varieties. Fresh, sustainable seafood is the order of the day, with clams and lobsters at the raw bar and seasonal entrees from grilled salmon to the Maine lobster rolls and North Carolina catfish.
6. Rodizio Grill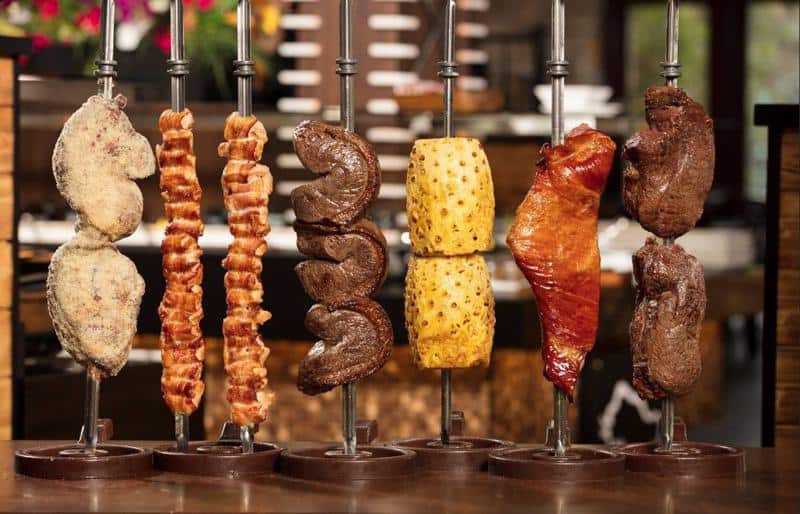 Address: 200 Jefferson Street, Fort Collins, CO 80524
Phone: 970 482 3103
Known for: traditional Brazilian steakhouse flavors
Rodizio Grill is locally owned by Ryan Houdek and Ty Fulcher, who brought the Brazilian steakhouse fare to the United States. Rodizio Grill's history is one painted with a mother's recipes and a son's dedication to spreading the homeland's cuisines to a world lacking many tropical flavors.
The restaurant is among the first American Brazilian steakhouses that serve rotisserie-grilled meats with Brazilian sides and gourmet salads. Try the Picanha sirloin signature cut or the flavorful Maminha sirloin steak consumed medium to medium rare.
7. B&B Pickle Barrel Deli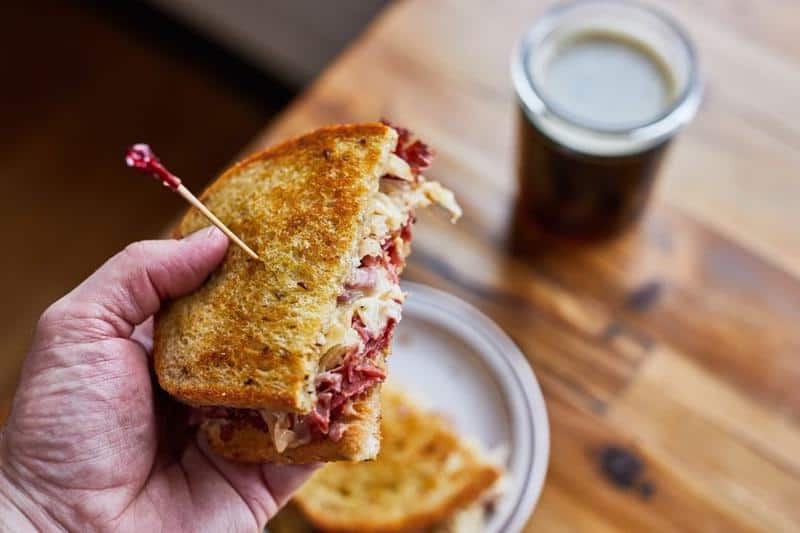 Address: 120 W Laurel Street, Fort Collins, CO 80524
Phone: 970 484 0235
Known for: build your own sandwich and a full bar
B&B Pickle Barrel Deli has been a staple among Colorado State University students since 1988. It is another locally-owned business in Fort Collins run by a couple, Mike and Kara DiTullio, who bought the restaurant in 2021 from Brenda Smith.
The deli has recently been understaffed, and there are rumors it might close. However, the doors are yet to remain permanently closed, and till further notice, you can walk in to have some of the best sandwiches in Fort Collins.
Head into the full bar to catch a game with your college buddies over some local brews. Try their breakfast dishes, from the grilled potatoes to the egg sandwich, omelet, and grilled French toast served with a side of home fries.
8. The Farmhouse at Jessup Farm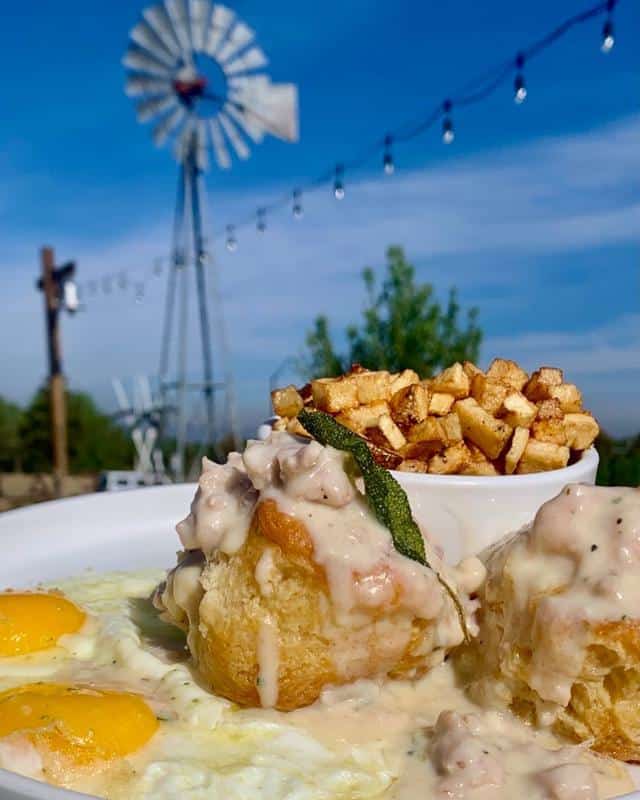 Address: 1957 Jessup Dr, Fort Collins, CO 80525
Phone: 970 631 8041
Known for: farmhouse cuisines
The Farmhouse is located in the Jessup Farm Artisan Village, a 130-plus-year-old residence that houses many businesses. It is a restaurant dedicated to modern farm cuisines, all crafted by hand and made sustainably.
Hand-crafted cocktails are in plenty, while Chef Riley Bell brings the guests American staples from all regions in the country. Go in for brunch on Saturday and Sunday between 9 am and 2 pm, or opt for the dinner from 4 pm to 9 pm.
Start with the fried local pumpkin risotto or pork belly bites made from house-smoked pork belly and sweet potato mash. Feast on the rosemary walnut salmon as the main dish with its creamed chard and fingerling potatoes.
9. Big City Burrito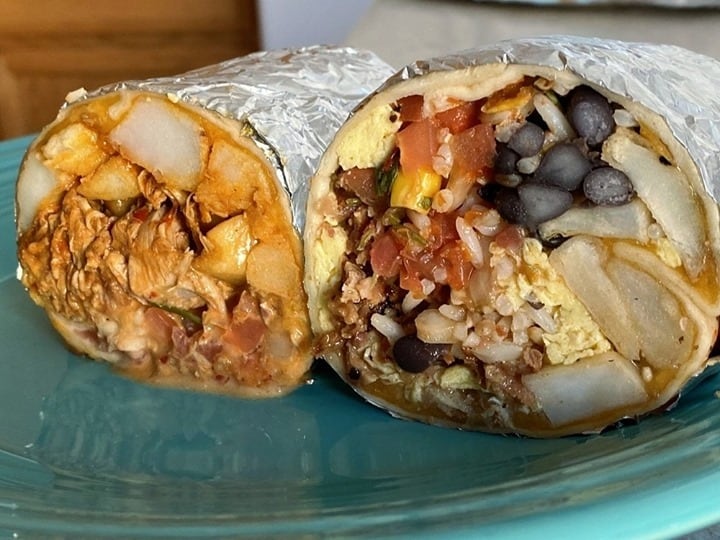 Address: 510, South College Avenues, Fort Collins, CO 80524
Phone: 970 482 3303
Known for: great breakfast burritos
Big City Burrito is open every day from 8 am to 8 pm when it serves fresh burritos in plenty. Start by picking a burrito, bowl, or The Gutbuster. Proceed to select the rice, then bean, and a filling from choices of pork, beef, chicken, bacon, and sausage fillings.
Special offers include the Friday specials, where you get extra veggies on your burrito for just $0.99, and the 'Phat Tuesday', where you can have any potato burrito with free soda for just $5.99. Head over to Loveland along North Denver Avenue if you are looking for another Big City Burrito location.
10. Avogadro's Number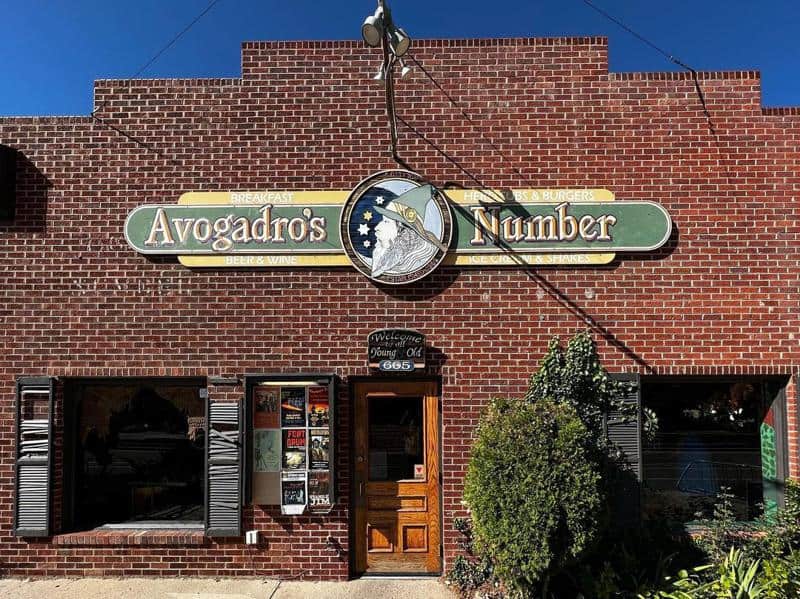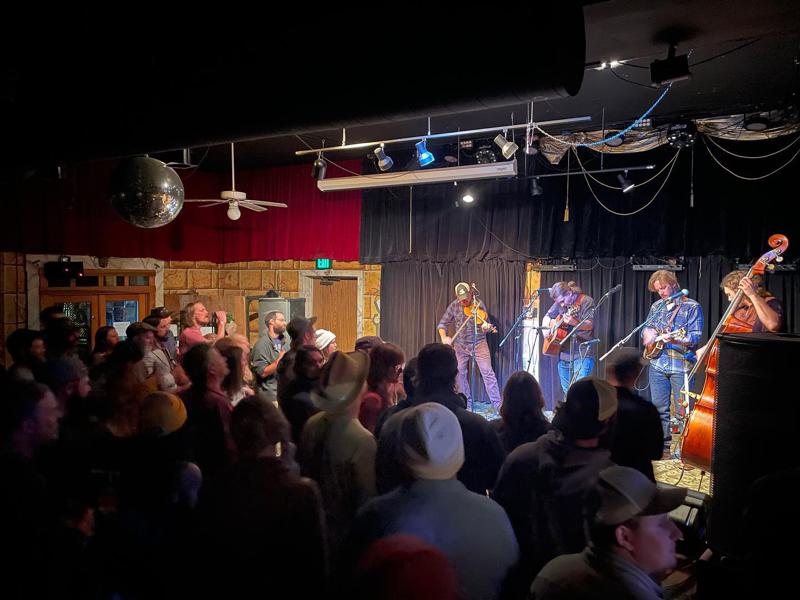 Address: 605 S Mason Street, Fort Collins, CO 80524
Phone: 970 493 5555
Known for: great murals on the wall and popular house-made tempeh
Avogadro's Number is a casual diner across Colorado State University serving house-made tempeh, pizzas, salads, and regular breakfast sandwiches. Who knew a vibrant and energetic venue like this would come out of the number of units in one mole of a substance.
The eatery hosts live bands and performances every week. Book your tickets online from their website between 11 am and 7:30 pm to enjoy one of the best live band venues in Fort Collins.
11. JAWS Sushi
Address: 1205 W. Elizabeth Street, Fort Collins, CO 80524
Phone: 970 682 2678
Known for: colorful and flavorful sushi rolls
Please remember that you cannot reserve your dinner at JAWS Sushi. You need to be present to put your name on the waiting list. It is a highly popular sushi den that runs on a first-come, first-serve basis.
Specialty rolls are plenty, with popular choices like the whiskey roll with tuna and Shitake mushrooms, tie-dye California rolls with assorted Sashimi, and the Red Panda roll with salmon, micro greens, Jalapenos, and cream cheese.
Happy Hour is available every day from 11 am to 1 pm with enticing options like the $3 drafts, Sake bombs, and wells. If that is not up to your liking, try the $4 large hot sake for the whole two hours.
Also See: Best Sushi in Colorado Springs
12. The Regional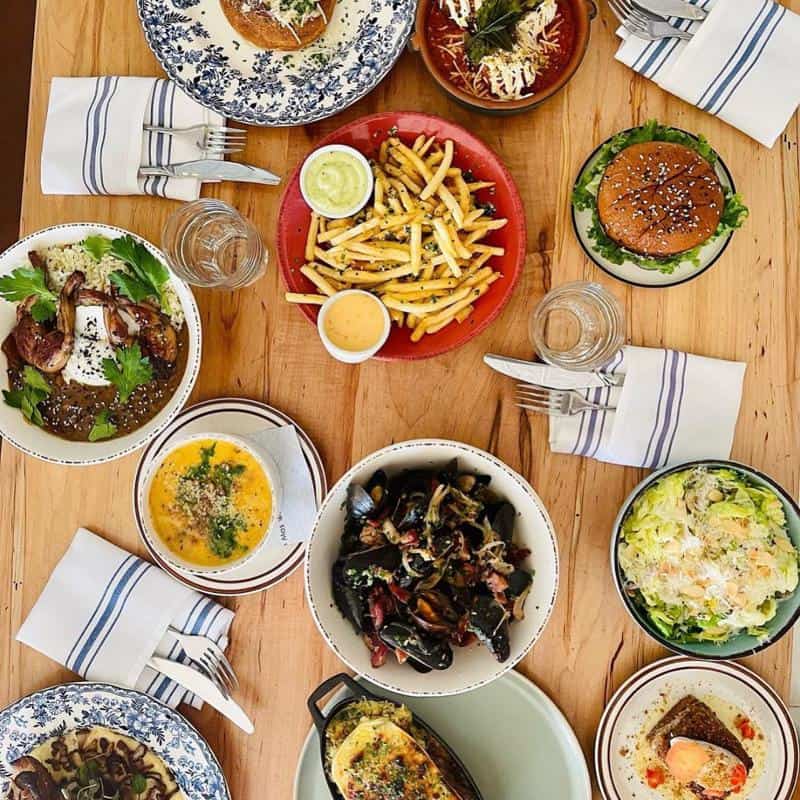 Address: 130 S Mason Street, Fort Collins, CO 80524
Phone: 970 689 3508
Known for: hometown American foods
The Regional has been hopping venues and management for years. Original owner Kevin Grossi moved the restaurant from Denver in 2018 to Fort Collins at Mason Street but sold it in 2021 to a couple after just three years of running the show.
Kevin's dedication is still carried on with an emphasis on American foods that taste homemade from fresh produce from the farm, ranch, or docks. Delight-in-the-house specials like the crispy fried chicken and the creamy shrimp and oysters.
13. The Exchange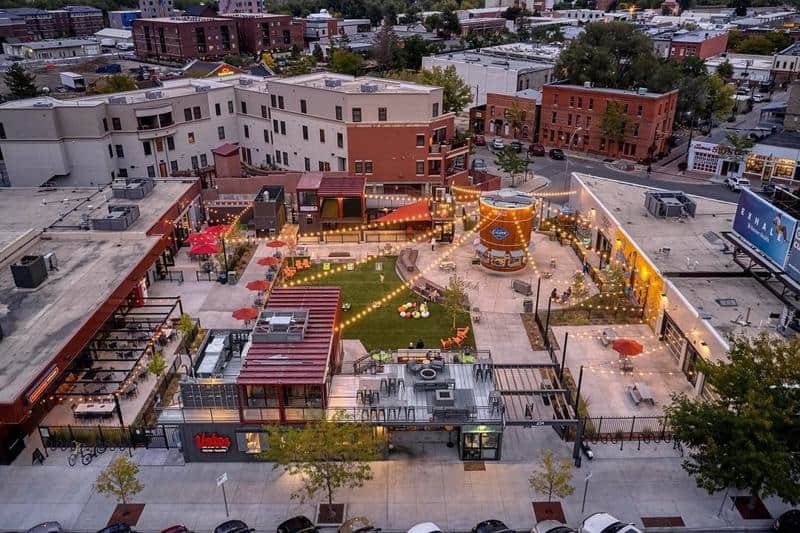 Address: 200 N College Avenue, Fort Collins, CO 80524
Phone: 970 632 5050
Known for: plaza-wide alcohol consumption and common area for collaborating
The Exchange is pronounced in its French pronunciation and comes with an authentic urban environment and décor. It is a great place for cocktails among the locals and is often used as a collaborating space for professionals and students.
The Exchange is made up of several spaces, each dedicated to serving the different needs of the community. There is a central plaza for relaxing and socializing, as well as a green space for resting.
Dining is offered at fort Collins Donut company with its little bakery and at Old Town Churn, which has a 26-foot-tall ice-cream churn. Vatos Tacos + Tequila is another great place for food and premium margaritas.
Fun Fact: Because of its common consumption permit, you can carry your drinks to any venue in the Exchange plaza. Have a few at Infinite Monkey and pop in the CopperMuse for some cocktails as you shop in the DIY fashion stalls.
14. Blue Agave Grill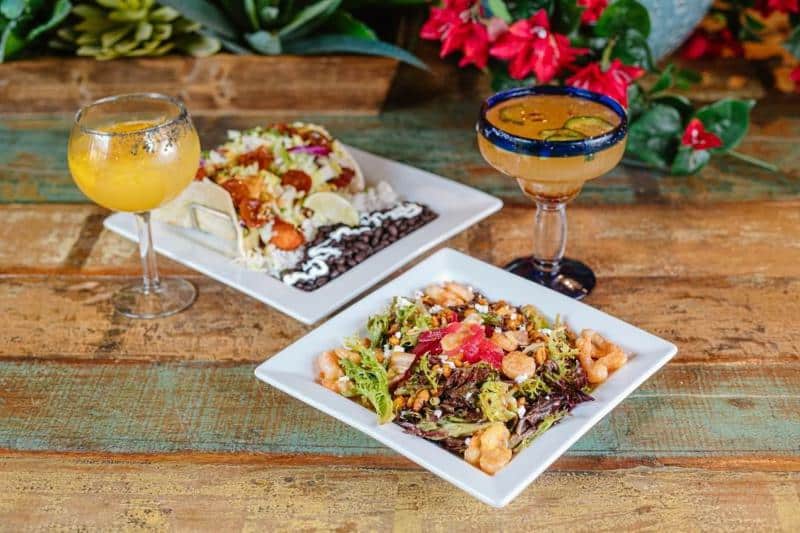 Address: 201 South College Avenue, Fort Collins, CO 80524
Phone: 970 631 8076
Known for: art museum surrounding, extensive margarita, and contemporary food menu
Blue Agave Grill is a site to see. It has been in operation for more than 30 years, but the Fort Collin location opened in 2014. They focus on Southwestern contemporary foods and drinks like the house made sangria, over ten types of margaritas, and infused tequilas.
The patio and fire pits make for a great evening dinner with your loved ones or on a date. Enjoy the art museum surroundings that give the restaurant a vibrant ambiance and inviting feel.
15. Welsh Rabbit Bistro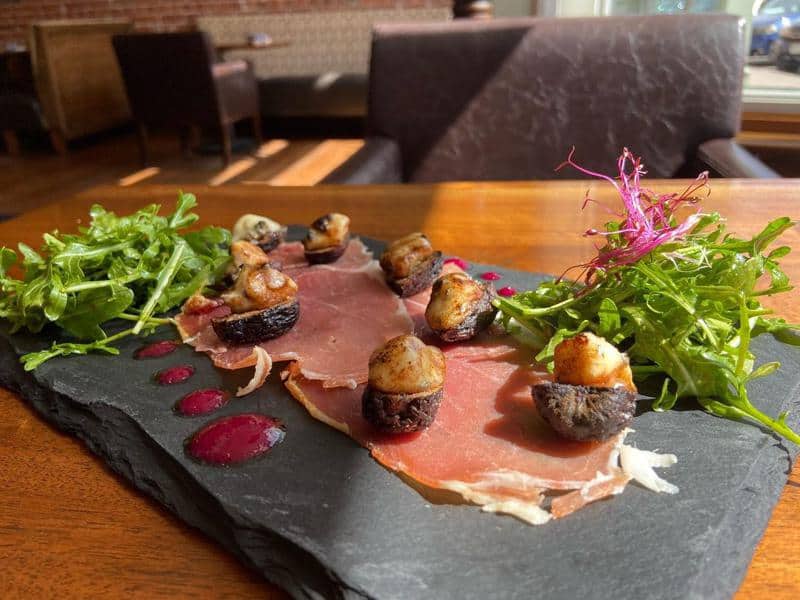 Address: 200 Walnut Street, Fort Collins, CO 80524
Phone: 970 232 9521
Known for: cheese products and dishes
The Welsh Rabbit Bistro comes with an outdoor patio that seats over 24 guests, and the dining room indoors caters to 32 diners. It is a cheese bistro specializing in cheese and meats.
Visit the bistro for Happy Hour between 2 pm and 5 pm every Monday to Saturday to get the $5 draft beers or the $6 glasses of wine.
Go into the Welsh Rabbit Cheese Shop for all your cheese-friendly products and meals, including the cheese monger's choice platter with a good mix of brie, cheddar, and gouda.
16. Tasty Harmony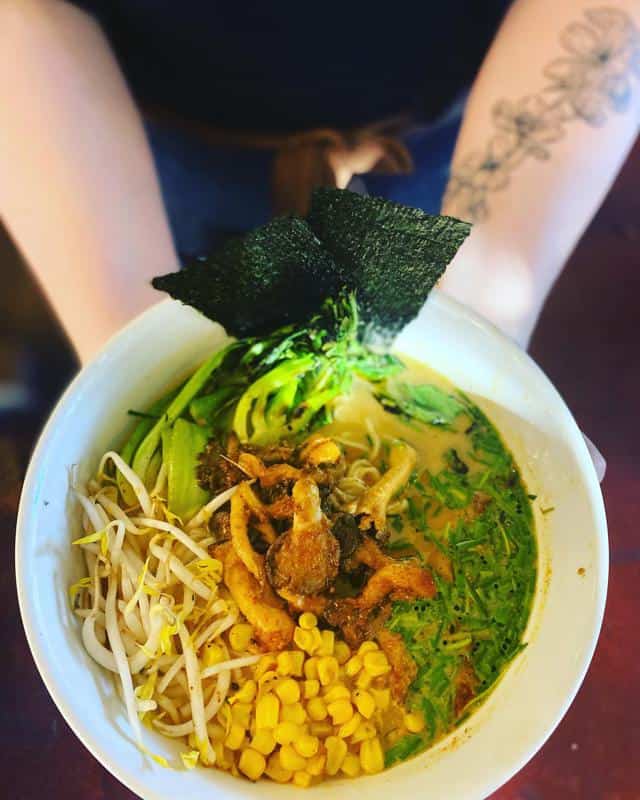 Address: 160 W Oak St, Fort Collins, CO 80524
Phone: 970-689-3234
Known for: Vegan, healthy meals
Tasty Harmony focuses on offering the neighborhood wholesome, organic, plant-based food. The vegetarian menu at Tasty Harmony is ideal for people who desire to eat out at a more health-conscious restaurant.
They serve the Southern Com-Fort Collins — a mouthwatering dish comprising garlicky collard greens, BBQ sauce, mashed potatoes, and other components.
Some delectable choices include barbecue pulled jackfruit, black and blue burger, and various smoothies. The outer patio is an excellent place to meet and people-watch in the summer.
17. Silver Grill Café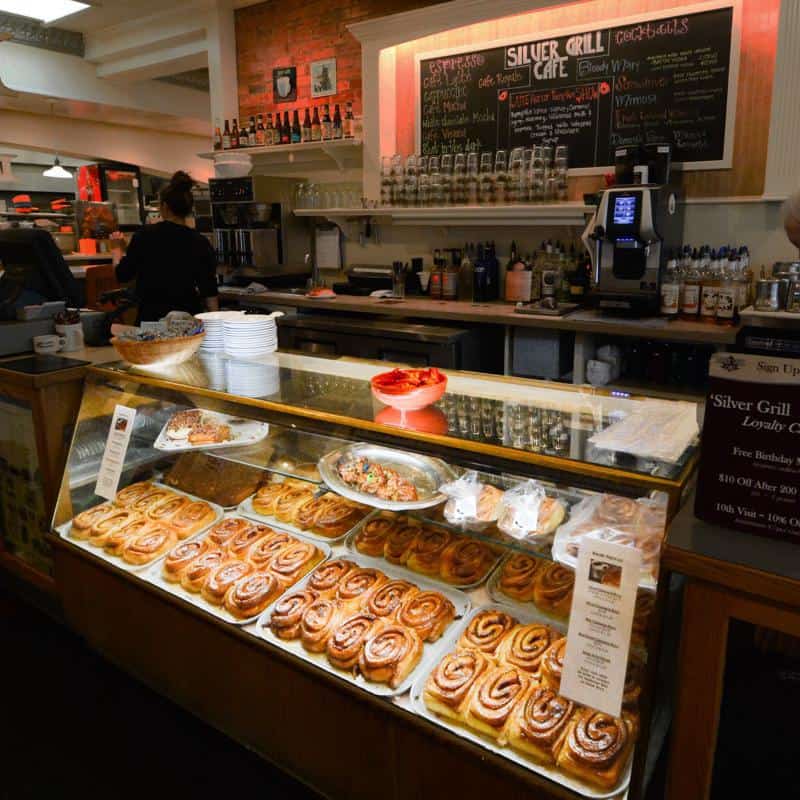 Address: 218 Walnut Street, Fort Collins, CO 80524
Phone: 970-484-4656
Known for: History; cinnamon rolls
The Silver Grill Café, the city's oldest eatery, still exists today and is known for its outstanding cinnamon rolls and retro ambiance. Due to its lengthy history and legendary cuisine from the region, this modest café is among the most sought-after dining facilities in the area.
You may order a single enormous cinnamon roll, a piece of a bun that has been buttered and grilled, or a 4-pack takeout of cinnamon rolls. You might even indulge in the tastiest taco salads and breakfasts, including French toast.
The Silver Grill also offers a gluten-free breakfast for vegetarians. Lastly, this restaurant affords you the luxury of eating indoors or on the terrace while enjoying a view of the Old Town streets.
18. Pizza Casbah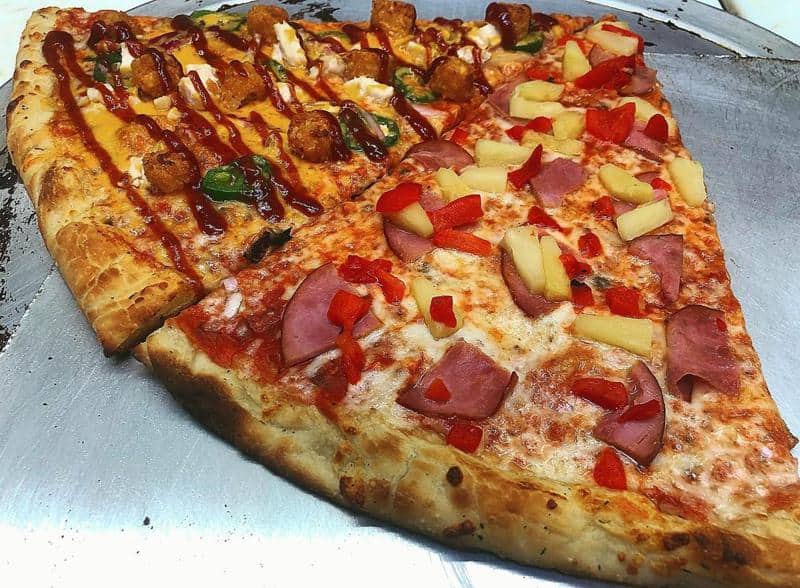 Address: 126 W Laurel St, Fort Collins, CO 80524
Phone: 970-221-9144
Known for: Pie bakery; market; rooftop bar; dog-friendly patio
What would a college town be without a go-to pizza place? Pizza Casbah, a locally owned and maintained business for more than 17 years, takes pleasure in providing the Fort Collins region with the best pizza.
Their delivery of freshly prepared, hand-stretched dough is the same with a New York-style finesse. Every day, fresh ingredients are sourced to prepare their delectable cuisine.
All pizzas are stone-baked and garnished with premium cheeses, hand-cut veggies, meats, and handmade sauces. Additionally, they have gluten-free choices.
Read More:
Final Thoughts
At Fort Collins, you won't miss anything if you enjoy traveling, trying out new dishes, and having fantastic dining experiences.
There are several restaurants with Mexican, American, and Italian inspirations, and you can explore all or some of the recommended top restaurants while at it.
Some honorable mentions you may want to check out when looking for the best restaurants in Fort Collins include:
Rainbow Restaurant
RARE Italian
Waltzing Kangaroo