It's a classic pairing, bubbles and orange juice tickling the taste buds. Mimosas are a staple in brunch culture on a worldwide scale, and you'd hardly find a venue that doesn't pair their delicious brunch meals with this perfect little concoction. With its reputation for its debauchery and "sins," it's no surprise that some of the best bottomless mimosas can be found in this desert oasis.
With all the glamor a trip to Vegas can provide, a mimosa certainly fits the bill for luxury. There's rarely a better feeling than sitting back with friends and lettings this champagne fruit fusion do the talking. It's part of why champagne lunches are so incredibly popular, and nobody can fault it.
So while the lights of the Strip dazzle you, the entertainment inspires you, and your whole trip is fuelled by Sin City magic, don't forget to hold your mimosa high and toast your experience. No idea where to start?
We've poured into this search, so you don't have to.
Best Bottomless Mimosas on Las Vegas Strip
Alexxa's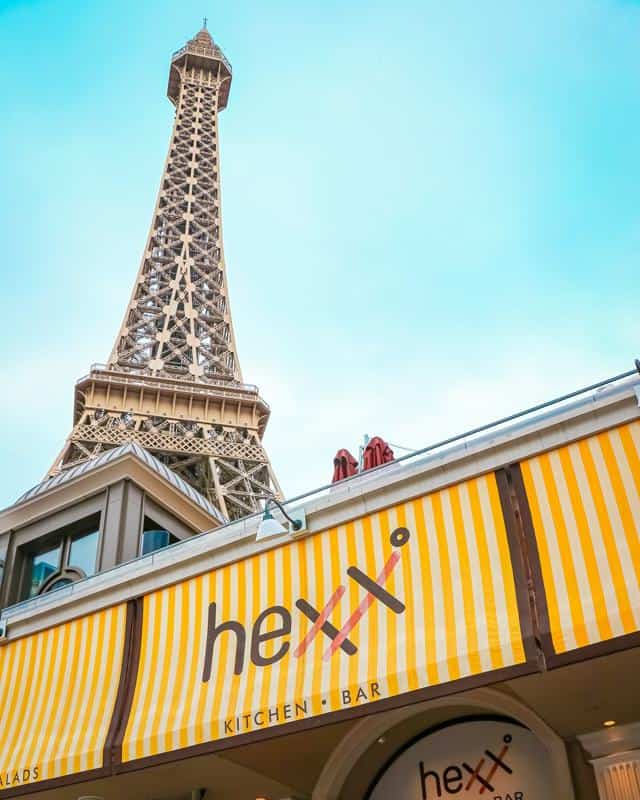 Location: 3655 S Las Vegas Blvd, Las Vegas, NV 89109
Hours: 7am to 10pm (Sun – Wed), 7am to 11pm (Thu to Sat)
Price: $$
Previously known as Hexx, Alexxa's has risen to the top and now sits in a pristine location with a view of the Eiffel Tower. So while your passport might be dusty and at home, you'll feel transported by your surroundings and feel so happy about it. Alexxa's is a contemporary American cuisine restaurant and serves all the best all-American food they can.
They serve bottomless mimosas daily and have a variety of other drinks and cocktails that might just tickle your fancy. They're a lively restaurant that serves brunch and dinner, hosting musical entertainment from the likes of Beau and Sugatone in their Cocktail Lounge.
The menu is elaborate and hosts all the best you could want. You can choose from various omelets for breakfast, pizza for lunch, and perhaps some surf and turf or ribeye for dinner.
It's a modern contemporary venue that feels like an experience in itself. It doesn't offer the close-quarter comfort of some other restaurants. Still, it has a beautifully unique quality that opens up exciting dining experience opportunities. The staff are enthusiastic and spare no expense to make their guests feel doted on.
Tableau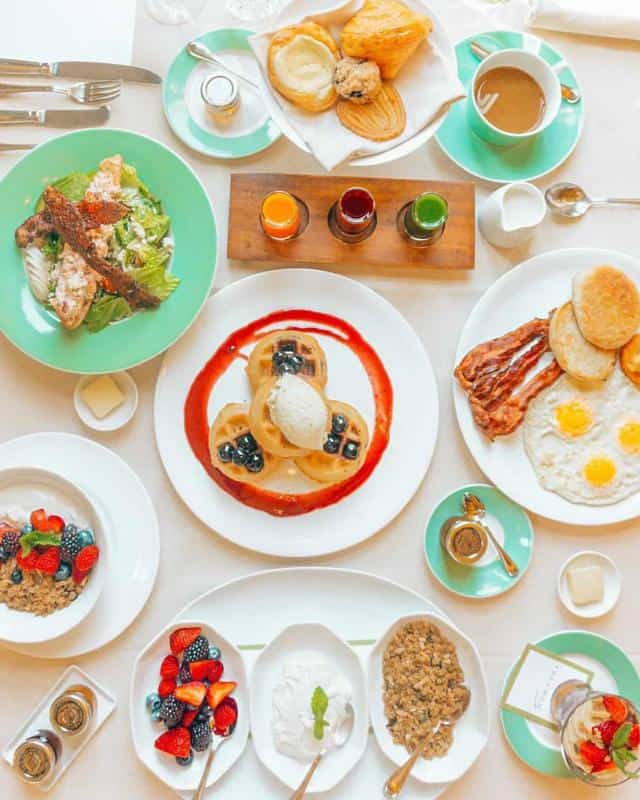 Location: 3131 Las Vegas Blvd S, Las Vegas, NV 89109
Hours: 7am to 2:30 pm
Price: $$$
Tableau has become a quintessential part of the Wynn resort and casino and has a sweeping view of the pools and gardens. They're a fine-dining establishment with a little bit of quirk thrown in here and there, specializing in delicious breakfast and brunch foods.
They attract the likes of royalty and celebrities. While they seem as though they deserve suit and tie attire, they prefer to keep things resort casual. With their main brunches happening on Saturdays and Sundays, they have $39 bottomless beverages, including mimosas and sangrias that incorporate themselves into your meal seamlessly.
They serve high-class New American cuisine, and you can find yourself munching on gourmet french toast in the mornings. Some noteworthy dishes are their seared salmon and pork cavatelli pasta for brunch. And since brunch should never be had alone, some options can be shared amongst the table.
They are beautifully decorated and a grand venue with ample seating and quirky decor. They have an option of indoor or outdoor dining experiences. You can sit and overlook the pools and gardens of the Wynn or be mesmerized by the stunning restaurant.
La Cave Wine and Food Hideaway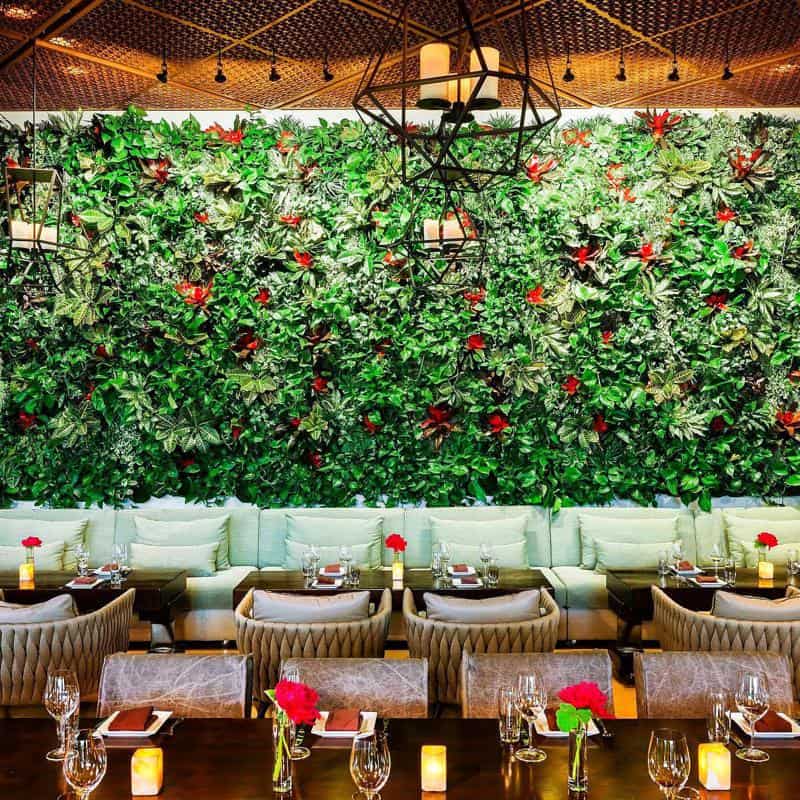 Location: 3131 S Las Vegas Blvd, Las Vegas, NV 89109
Hours: 4pm to 9pm (Mon – Thu), 4pm to 10pm (Fri), 10am to 10pm (Sat), 10am to 9pm (Sun)
Price: $$$$
A Forbes favorite, La Cave Wine and Food Hideaway, is another winning restaurant that can conveniently be found at the Wynn. They're a cozy establishment specializing in winning and dining their patrons in every elegant way possible, and we expect nothing less. They are one of the more frugal venues on this list but don't let the price sway you. You're getting everything you paid for and more.
With bottomless brunches being available on Saturdays and Sundays, you'll be able to indulge in an array of endless drinks ranging from mimosas to pomegranate lemonade cocktails and more for $34. Their bottomless brunch is bottomless in two ways, with the brunch being served in Butler's trays as an all-you-can-eat experience. The only downside is it's a two-hour limit. Nevertheless, you can enjoy tomato Caprese, parfait, and scramble for brunch.
The venue exudes grandeur and elegance, with wooden finishes that bring a sense of comfort alongside hints of red that pop and add nice luxury to it. There's seating indoors and outdoors, and it's a family-friendly venue, meaning the kids can join at discounted rates too!
Nacho Daddy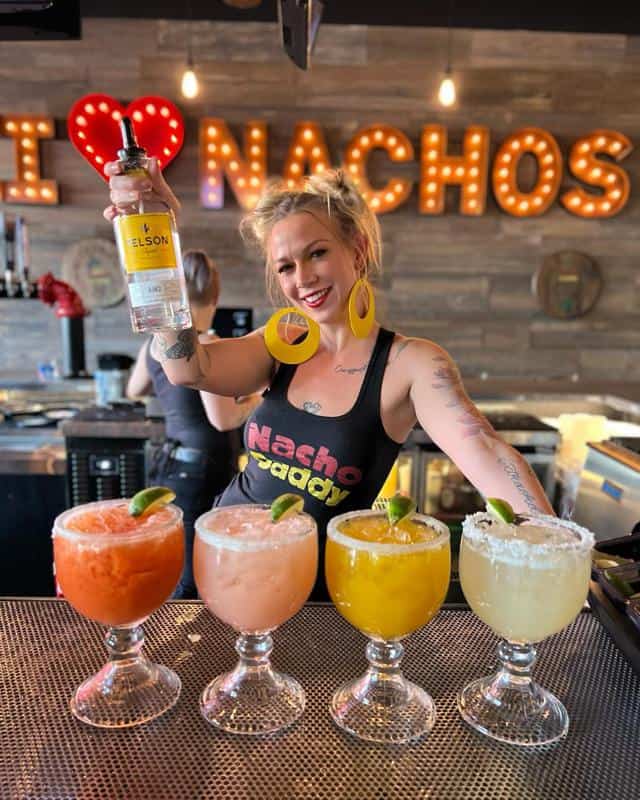 Location: 113 N 4th St, Las Vegas, NV 89101
Hours: 8am to 2am (Mon – Thur), 8am to 3am (Fri to Sun)
Price: $$
Nacho Daddy has been an expanding enterprise since 2010 and was so beloved by Las Vegas locals they decided to open 2 more branches in other locations across the city. They are a Mexican-cuisine hit with late hours, offering those wondering about the strip a reprieve when they're feeling for a midnight snack.
They serve brunch daily, and paired with their brunch are bottomless mimosas which come in multiple flavors, including pineapple and cranberry. So you can have one of the best boozy brunches here if you're into Mexican food.
There's a bit of fusion, and they haven't neglected all-American favorites like avocado toast in favor of simply Mexican. But if you prefer the spice, you can sit and enjoy a delicious breakfast taco or their World Famous Nachos, which come in exotic flavors too, like Lobster and Filet Mignon.
They're a casual place that can mimic some of your favorite local sports slots, except you won't find the comfort of bar finger foods. Instead, you'll indulge in flavor-packed nachos and fajitas. The staff is friendly and efficient, and the entire atmosphere warps through the day from relaxed to a full-on party the later you stay.
Best Bottomless Mimosas Las Vegas Off-Strip
Therapy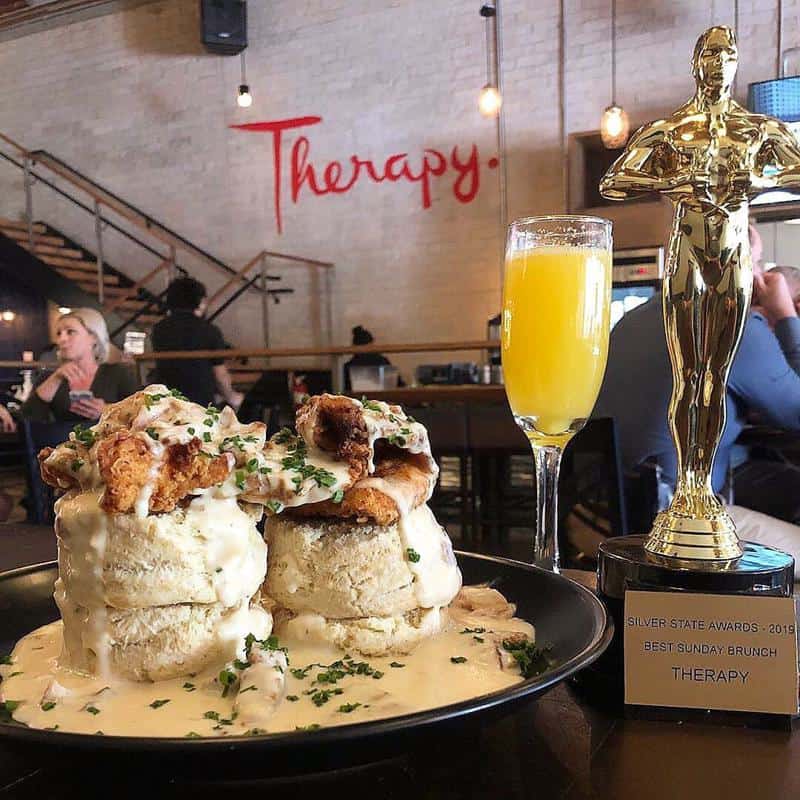 Location: 518 E Fremont St, Las Vegas, NV 89101
Hours: 11am to 12pm, 11am to 12am (Fri – Sat)
Price: $$$
With an ingenious name to suit and an innovative brand, Therapy has become a bit of a sensation to visit. A mere stone's throw from the Freemont street experience, this little venue has packed a lot of punch since opening. It continues to thrive in its unique way of capturing the hearts of any wary visitor. Whether you're there for the atmosphere or the food, you'll definitely have a great trip.
They're open early and stay open late, with a bottomless drink option that can carry your entire day away, and I'm tempted to encourage it. For $18, you can have a never-ending supply of mimosas. They serve fusion American cuisine that's hearty and delicious.
You can enjoy the likes of Hangover steak, a zoo burger, and plates and platters to suit your wildest dreams. They also have a cryptic offer of the Therapy food challenge. If it means I get to try everything, I'm in. I have mimosas to help me wash it down.
Downtown Terrace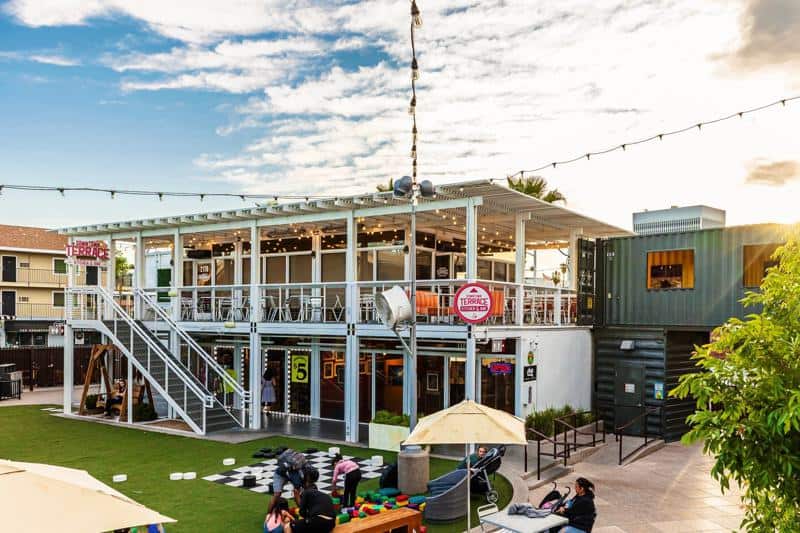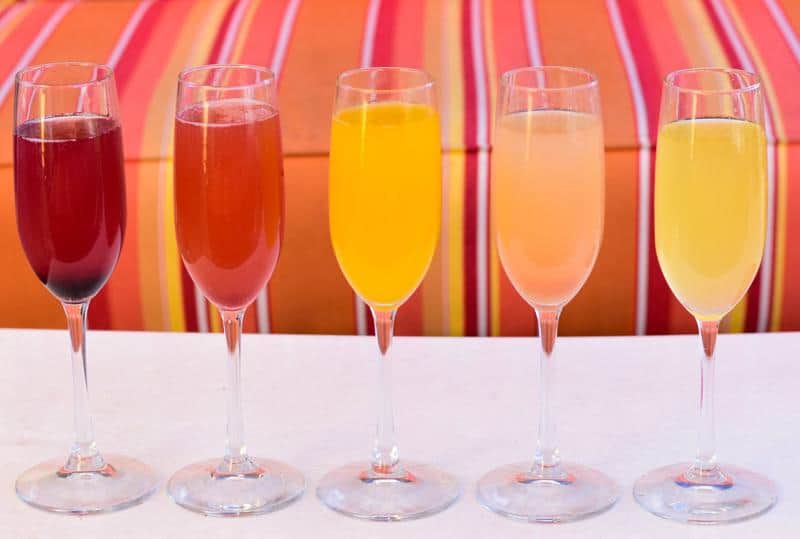 Location: 707 E Fremont St Suite 1170, Las Vegas, NV 89101
Hours: 11am to 7pm, 9am to 7pm
Price: $$
Downtown Terrace is fairly new to the scene and already boasts an OpenTable Diner's Choice award for 2022. They're small but have come through with a fighting spirit. Despite not having that excessive Vegas atmosphere, they've brought forward a unique and interesting approach that makes them different. And it's a valiant effort that's much appreciated. Again, it's a new-age restaurant with modern charm by its side.
They serve bottomless all day, every day, using your choice of Paul Chevalier champagne or JP Chenet, providing juices to mix your mimosa with exciting variety. From pineapple juice to raspberry juice, you can adjust your mimosa.
This is paired with a small and targetted menu that sees items like Salmon Ceviche starters and Shortrib Hash being items of choice amongst diners. Their food is modest and wholesome. They pour immense effort and heart into providing an excellent dining experience.
Did I mention this entire restaurant is in a small dual-space building, with grass that you can go picnic on if you feel for it? In its entirety, it's a unique and beautiful venue with near panoramic views and a subtle but powerful sense of decor. The youngsters that serve you are full of life and bring a vibrance to the space you definitely don't want to miss.
Americana Restaurant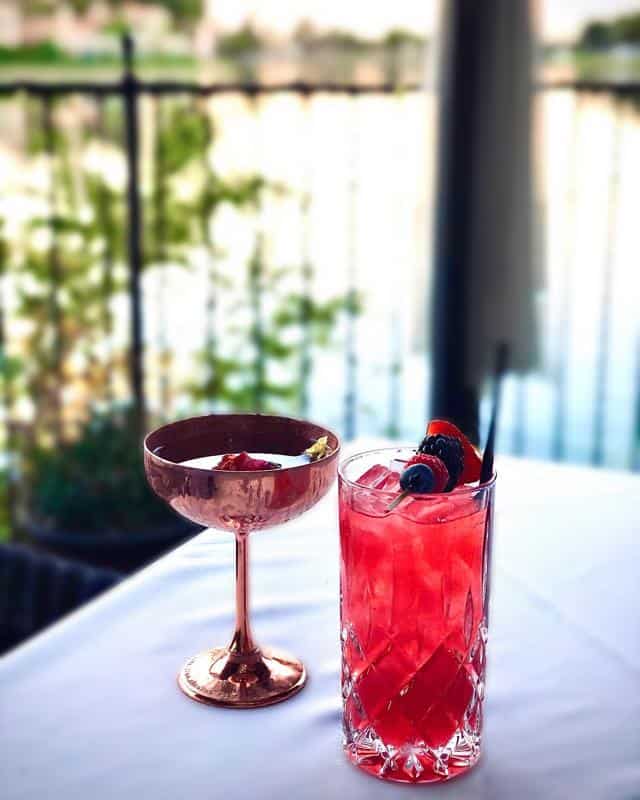 Location: 2620 Regatta Drive, Suite 118, Las Vegas, NV 89128
Hours: Closed Mon, 11:30 am to 8:30 pm (Closes 9pm Fri – Sat), 11am to 2:30 pm (Sun Brunch)
Price: $$$
If location is anything to go by, Americana Restaurant is at the top of its game. It's a beautifully situated, lakeside restaurant that has been generously and deservedly awarded, providing excellence in everything. They've been visited by celebrity chefs and continue to be a pillar that offers a glimpse of what true fine dining should be like.
Their brunch is the highlight of their entirety. It's raved about just about anywhere you look, and while we'd like to say it's for the food. Of course, we all know the $20 bottomless mimosas have something to do with it.
There's a stunning array of dishes to choose from, which is all expertly prepared and incredibly delicious. Seafood options include oysters served raw, or you could opt for an Italian Eggs Benedict. The sky is the limit here, with the exception of the drinks, where thankfully, there is no limit.
The restaurant boasts dedicated staff whose enthusiasm and excellent service have pleased many. The venue itself is a beautiful affair, romantic and just dazzling. Their brunches are generally very relaxed, and their evenings get more vibrant. Overall it's a stunning venue with a stellar menu.
7th & Carson Downtown Kitchen and Bar
Location: 616 E Carson Ave #110, Las Vegas, NV 89101
Hours: 9am to 8pm, 9am to 4pm (Sun)
Price: $$
2018 Restaurant of the Year award winners 7th & Carson has created a new age experience that takes dining to a new level. Their menu is a creative mix of new-age American foods that are both mesmerizingly beautiful to look at and even better to taste.
They offer brunch and dinner, and both come with the promise of one added extra we all need. Bottomless drinks. For $25, you can sip back all the mimosas you want. There's a melting pot of food on their menus, each more divine than the last and serving crowd-pleasing favorites with a bit of 7th & Carson twist.
You can have gourmet flatbread paired with a mimosa with seasonal juice of your choosing or even a Full Irish breakfast. The menu becomes more robust for dinner with options like Chicken and waffles, jambalaya pasta, or shrimp curry.
They've created a casual dining space that flows out onto not one but two enclosed patios. Keeping that intimacy of a dining experience and taking away any unwanted views. The walls are plastered with abstract artwork, which extends to some seating. It's truly unique and definitely interesting.
Toasted Gastrobrunch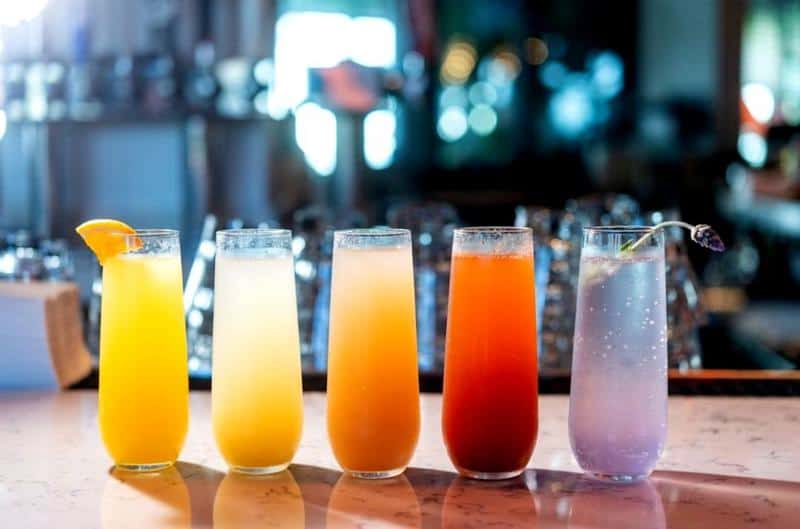 Location: 9516 W Flamingo Rd Suite 100, Las Vegas, NV 89147
Hours: Closed Mon & Tue, 8am to 2pm (Wed; Thur – Fri), 8am to 3pm (Sat and Sun)
Price: $$$
Toasted Gastrobrunch is the perfect combination restaurant for boozy breakfasts and liquor-filled lunches. They don't offer dinner service, but they definitely fought their way to a winning streak. Their Sunday Brunches were described as incredible affairs. With bottomless mimosas costing $25, we can certainly guess why.
They have an innovative menu comprised of drinks and food that'll make you weak at the knees. It's an all-American fusion cuisine restaurant, and they pride themselves on providing delicious breakfasts and lunches. You can choose to start your day off with a variation of hash or with their specialty Coconut Pistachio Kanafee.
Lunch serves smoked brisket sandwiches and a mean BLT. Their breakfast-brunch options certainly outweigh their lunches. You'll find a mix of Mexican-inspired to good old trusty breakfast dishes and something sweet to top it all off.
With indoor and outdoor seating and plenty of it, you'll be able to fit friends and family at your table with ease and receive excellent service from enthusiastic and motivated staff.
CRAFTKitchen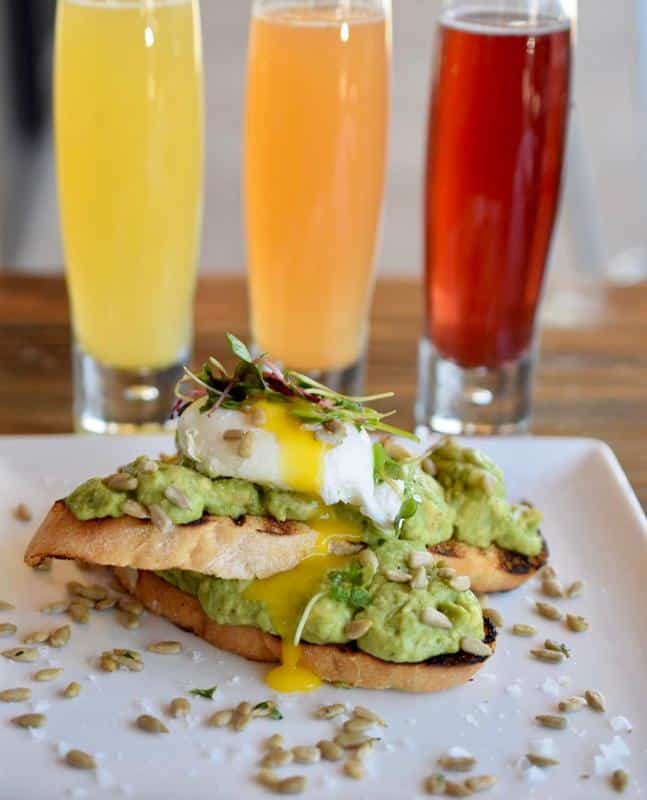 Location: 10940 S Eastern Ave Ste 107, Henderson, NV 89052
Hours: 8am to 3pm
Price: $$
As unassuming as it is, CRAFTKitchen has grown in fame and is well-beloved amongst its patrons for the delicious foods prepared by Chef Jaret and encapsulating atmosphere. It's a small-time restaurant with a big heart and a lot of ambition pushing it into the big leagues and helping it compete against bigger and fancier brands. The tenacity of this little urban bakery has caused enough of a scene to have it recognized, and awards are sure to follow.
They serve breakfast, brunch, and lunch options, which are all accompanied by the option of $18 bottomless mimosas. They extend their options to their drinks, and you won't find yourself sipping on a classic mimosa once you see what else they have up their sleeve.
You can pick from an array of freshly prepared pastries or sit down and have yourself some incredible breakfast foods. Omelets, breakfast burritos, and benedicts. They slowly start to phase in more towards their lunch rush. You'll find yourself lost in thought, pondering whether a Korean fried chicken burger or Avocado tacos are better.
There's comfort in the soft tones, and the staff is extremely pleasant. It's a wonderful atmosphere for a boozy breakfast that doesn't get too out of hand. Kids are welcome too, just not for the drinks, of course!
Mimosas Gourmet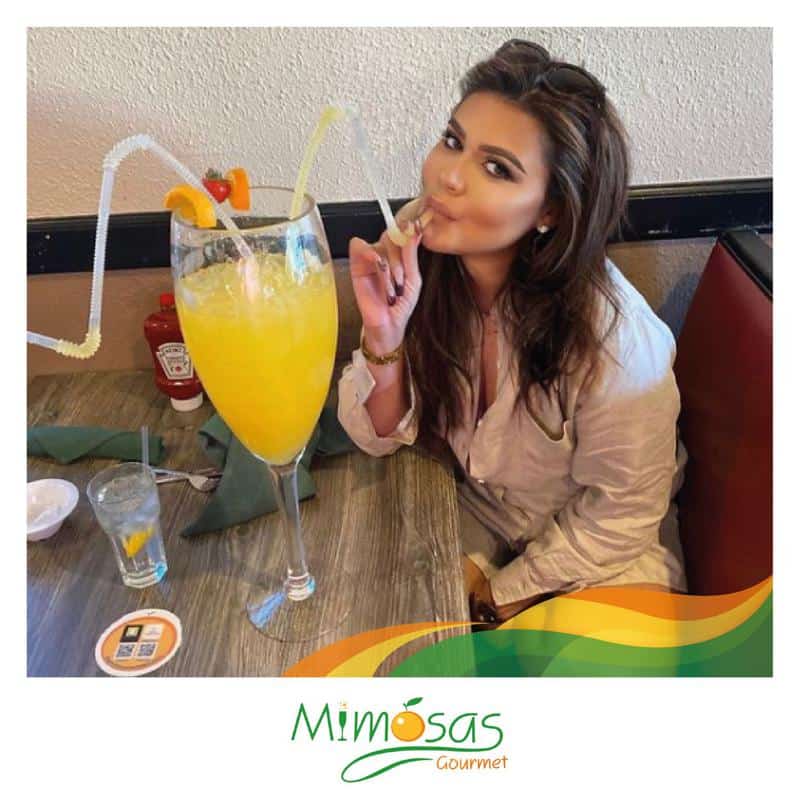 Location: 3455 S Durango Dr #114, Las Vegas, NV 89117
Hours: 6am to 3pm, 6am to 4pm (Sat – Sun)
Price: $$
Mimosas Gourmet stands out as one of your typical strip mall-type restaurants. Still, they are a stylish little restaurant that has gained so much popularity that they've expanded and have branches in other cities across America.
As the name derives, you can obviously find mimosas in abundance here. You can find flavors like peach, pomegranate, and classic. If you're brave enough, you can join their #mimosasmademedoit movement and indulge in a Super mimosa. They know it's what you're there for and decided to make them bottomless for Sunday brunches.
As for the food, it's classic and indulgent. You can get a variety of scrambles and skillets. You can get sandwiches or Angus beef burgers for lunch with all the trimmings. Their food has a kick to it, so be warned those mimosas might be your life savers.
It's a spacious venue that's rather simply understated. When the focus is on the food and drinks alone, though, they're winning in the aspect of visuals. It's always vibrant and lively here, with groups of people indulging in super mimosas and good food. The service is excellent, and it's family-friendly.
Honey Salt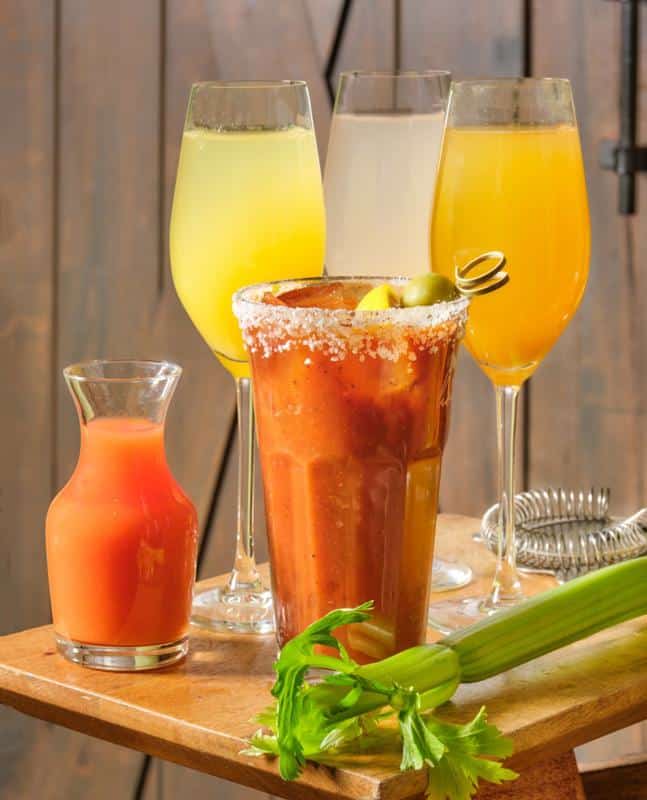 Location: 1031 S Rampart Blvd, Las Vegas, NV 89145
Hours: 11:30am to 9pm (Mon – Thur), 11:30am to 10pm (Fri), 10am to 10pm (Sat), 10am to 9pm (Sun)
Price: $$$
Honey Salt is a beautifully established restaurant, its rustic and enigmatic, with delicious meals flowing freely through the kitchen doors. They've developed a fan following that has spoken incredibly highly of their experiences and has often caught the attention of passers-by. It's a welcoming environment that ensnares the senses and captures hearts with ease.
They cater for all kinds, with a bottomless brunch special on your favorite choice of beverage from a classic orange mimosa to a more adventurous blood orange mimosa and all of the bloody varieties from mary to maria. These complement their food exceptionally well, and you'll be spoiled for choice in that aspect. They serve breakfast pizzas, frittatas, and buttermilk fried chicken, to name a few.
They exude class and elegance, with a clean and warm-toned venue that just settles you as you walk in. The seating is ample, and they also cater to children, making them an ideal spot for family gatherings where the adults can indulge in some liquid therapy.
Also Read: Candy Martini Bar Las Vegas: Sugar Bar Ultimate Guide
Conclusion
Las Vegas is a land of plenty. You'll find entertainment, food, and alcohol in abundance and being used to their best potential. It's a wonderland of experiences that strives to keep the world interested in what happens behind the 'Sin City' walls.
You'll be leaving upset if you skip even one of their highly acclaimed shows and buffets, and even more so when you realize it's a world of bottomless drinks too! I don't know about you, but I finally figured out why they say, "What Happens in Vegas, stays in Vegas." It was the bottomless mimosas.