Vietnamese food is one of the most intriguing cases which can promote its traditional culture and absorb the quintessence of various national cuisines at the same time.
There's no need to visit this S-shaped country to have such a once-in-a-lifetime gastronomic experience. Nowadays, Vietnamese cuisine has made its way to numerous countries, including the US. And it is more than just Phở and Bánh Mì.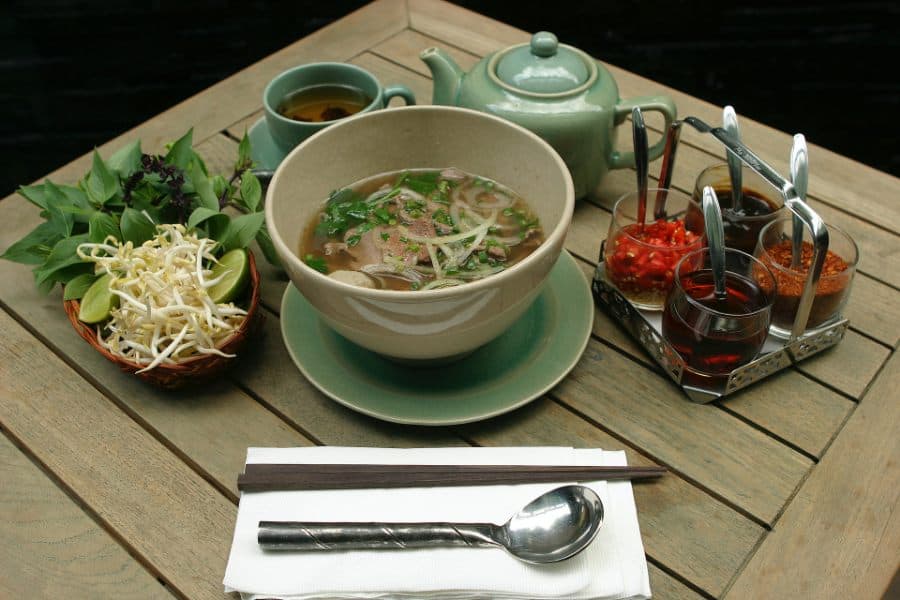 Although those two dishes are featured in CNN's 50 best Asian street foods, many gems await your discovery. Follow me in this article to uncover the best 20 Vietnamese dishes you must sample once in your life.
20 Best Vietnamese Dishes
Before diving into all the details, let's save this handy list of my 20 best Vietnamese dishes for your quick reference later.
Phở (Pho)
Bánh Mì (Vietnamese Baguettes)
Cơm Tấm (Vietnamese Broken Rice)
Bún Chả Hà nội (Grilled Pork With Rice Vermicelli)
Chả Cá Lã Vọng (La Vong Fried Fish)
Bún Bò Huế (Hue Spicy Beef Noodle Soup)
Bún Riêu Cua (Vietnamese Crab Noodle Soup)
Mì Quảng (Quang-Style Noodle Soup)
Cá Kho Tộ (Braised Catfish In Clay Pot)
Cao Lầu (Cao Lau Noodles)
Bột Chiên (Fried Rice Flour Cake With Eggs)
Bánh Xèo (Vietnamese Crepes)
Bánh Khọt (Vietnamese Mini Fried Pancakes)
Bánh Căn (Vietnamese Mini Grilled Pancakes)
Bánh Cuốn (Steamed Rice Rolls)
Hủ Tiếu Nam Vang (Vietnamese Pork And Seafood Clear Noodle Soup)
Bánh Tằm Bì (Vietnamese Thick Noodles In Coconut Milk)
Gỏi Cuốn (Vietnamese Summer Rolls)
Cà Phê Trứng (Vietnamese Egg Coffee)
Sâm Bổ Lượng (Ching Bo Leung)
1. Phở (Pho)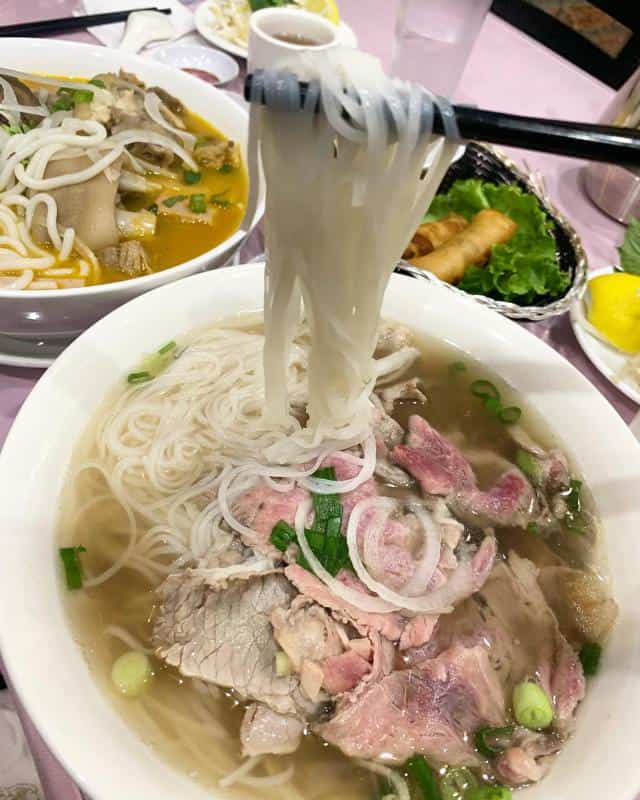 Vietnam is a nation of noodle soups, and many people eat at least one bowl of noodles every day, if not more. Among them, Phở is properly the first thing that comes to your mind when thinking of Vietnamese cuisine.
Slurping a hot bowl of rice noodle soup brimming with your preferred meat (beef or chicken) and fresh greens (like cilantro, basil, and parsley) is always an unforgettable experience for those who have tried Phở before.
What makes this dish so phenomenal is its hearty stock. Thanks to the use of star anise, cinnamon, and various aromatic ingredients, Phở broth can satisfy even the pickiest eaters.
There are many ways to enjoy a hot bowl of Phở. The most typical one is to add hoisin sauce and sriracha sauce to the broth. Then, squeeze a slice of lemon into your delicious bowl and enjoy its mouth-watering flavor.
You can also try the crunchy Vietnamese fried breadsticks (quẩy) together with this delicacy. However, not all establishments offer them!
2. Bánh Mì (Vietnamese Baguettes)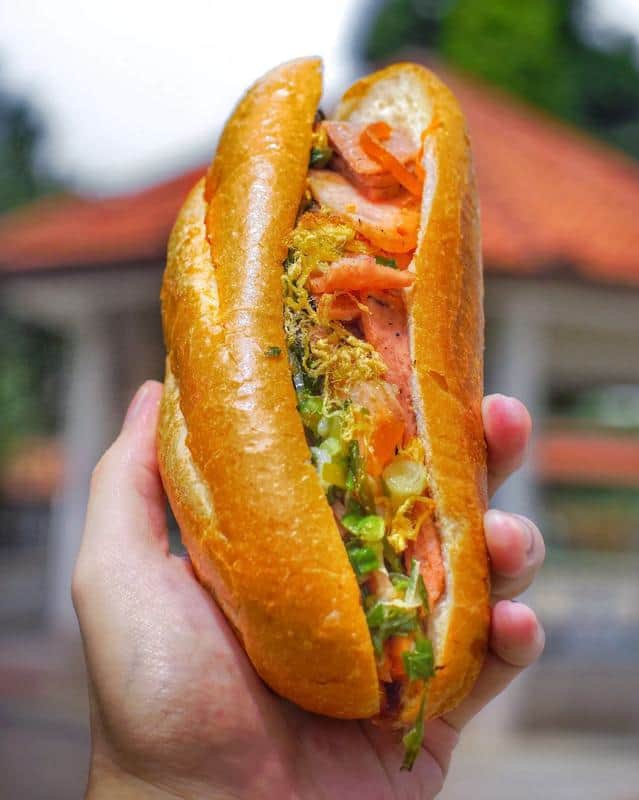 Along with Phở, Bánh Mì is undoubtedly the second most famous Vietnamese specialty. It is a go-to dish for those having a hectic schedule with little time to eat.
Originally brought in by the French during the Vietnam war, it was called "Bánh" (or Pain). Later, challenges in imports and exports led to ingredient changes in production.
Rice flour, the same element in noodles, was utilized. Thus, it gave rise to the name Bánh Mì". Typically, it is a crusty baguette filled with luncheon meats, pork skin, pâté, cucumbers, radish, and carrot pickles.
Then, soy sauce and chili are added before the baguette is sliced in half, wrapped in paper, and delivered to you. There is no absolute rule or recipe for a perfect Bánh Mì. Each seller experiments and has his or her own varieties.
3. Cơm Tấm (Vietnamese Broken Rice)
Vietnamese broken rice with grilled pork chops, a sunny-side-up egg, a steamed egg cake, and a few slices of cucumber and tomato guarantees to be one of the most delicious meals you have ever tasted.
Broken rice refers to the fractured rice grains after the drying and milling process. Compared to regular white rice, people consider broken rice to be cheaper and of lower grade.
Yet, there is nothing wrong with it. Conversely, Cơm Tấm would never be the same without broken rice!
What makes this breakfast option unforgettable is the small bowl of fish sauce mixed with garlic and red pepper. Some establishments also drizzle green onion oil over the rice, giving the dish a more robust taste.
4. Bún Chả Hà Nội (Grilled Pork With Rice Vermicelli)
Bún Chả Hà Nội is arguably Vietnam's most recognized lunch meal. After Former President Obama and Chef Anthony Bourdain tried this fantastic dish during their 2016 trip to Vietnam, it instantly became a worldwide hit!
Like Phở, Bún Chả Hà Nội represents Hanoi's beautiful cuisine with the ideal blend of rice vermicelli (bún), vegetables, grilled pork over hot charcoals, and a fish sauce dish.
To enjoy, dip small bundles of rice vermicelli into the fish sauce bowl and eat them with other ingredients, such as pork and greens.
5. Chả Cá Lã Vọng (La Vong Fried Fish)
In Vietnamese, "Chả Cá" translates to "grilled fish", while "Lã Vọng" refers to Lu Wang – a noble in ancient China. This dish is trendy in the North with its fragrant flavors and colorful textures.
Each mouthful features flaky white chunks of catfish (cá lăng) marinated in turmeric before being sautéed in butter. Fresh dill and green onion are sprinkled over the fish fillets, making it a gorgeous entrée.
Chả Cá Lã Vọng is considered a delicacy since it is only available in top-rated restaurants. A good way to enjoy it is with rice vermicelli and peanuts.
6. Bún Bò Huế (Hue Spicy Beef Noodle Soup)
This noodle soup originated in Hue, Vietnam's former capital reputable for spicy food. Since its first appearance in the 16th century, Bún Bò Huế has undergone various changes and gradually won the spotlight as one of the best Vietnamese noodle dishes.
A bowl of Bún Bò Huế has spaghetti-sized rice vermicelli noodles served with tender slices of beef flank and shank, Vietnamese sausages (chả lụa), flash-boiled veggies, and a handful of greens.
Its scarlet broth is a perfect combination of beef bone flavor, aromatic lemongrass, anatto oil, and other ingredients after hours of simmering, providing a deep flavor and vibrant red color to your bowl.
7. Bún Riêu Cua (Vietnamese Crab Noodle Soup)
If you are a crab lover like me, you will soon get addicted to this flavor-packed soup. Bún Riêu Cua is a unique meal with an extremely aromatic broth , soft rice vermicelli, golden tofu blocks, and stewed tomatoes.
The main star of this soup is the foam-like cakes of minced crab, ground pork, and egg. They give this noodle soup a subtle seafood flavor and can quickly melt in your mouth.
Vietnamese love to top Bún Riêu Cua with shrimp paste, chili sauce, and a squeeze of lemon. You can leave shrimp paste aside, as its pungent taste is not for everyone. And don't forget to side Bún Riêu Cua with a truckload of fresh herbs and veggies.
8. Mì Quảng (Quang-Style Noodle Soup)
Here comes another fantastic noodle soup originating in Central Vietnam, specifically Quang Nam province. Traditionally, the dish is an inevitable part of death anniversaries and Lunar new year occasions among the locals.
Unlike Phở, its flat rice noodles are chewier and distinct for the brilliant yellow hue thanks to the use of peanut oil.
The topping includes a wide array of delicious treats, from shrimp and chicken to pork belly and snakehead fish. Don't forget to add mustard greens, sliced banana blossoms, basil, and lettuce for more texture and flavor.
What sets Mì Quảng apart is its rich broth made from chicken or pork bones. Simmered with fish sauce, garlic, black pepper, and other spices, the lukewarm broth is added last in very little amounts, garnished with peanuts and toasted sesame rice crackers.
9. Cá Kho Tộ (Braised Catfish In Clay Pot)
If you are a fan of MasterChef, you probably remember Christine Ha, a blind Vietnamese American contestant who won season 3 of the show. Her audition with the excellent braised catfish in clay pot really wowed the judges that day!
This Southern Vietnamese dish usually features catfish (or snakehead fish) stewed in a sweet caramel concoction made from fish sauce and sugar . The word "tộ" indicates the clay pot, a traditional utensil in which the dish is cooked.
This local food has a rich and salty flavor, which matches brilliantly with regular white rice and boiled veggies. Sprinkle your plate with black pepper and green onions to complete the meal.
10. Cao Lầu (Cao Lau Noodles)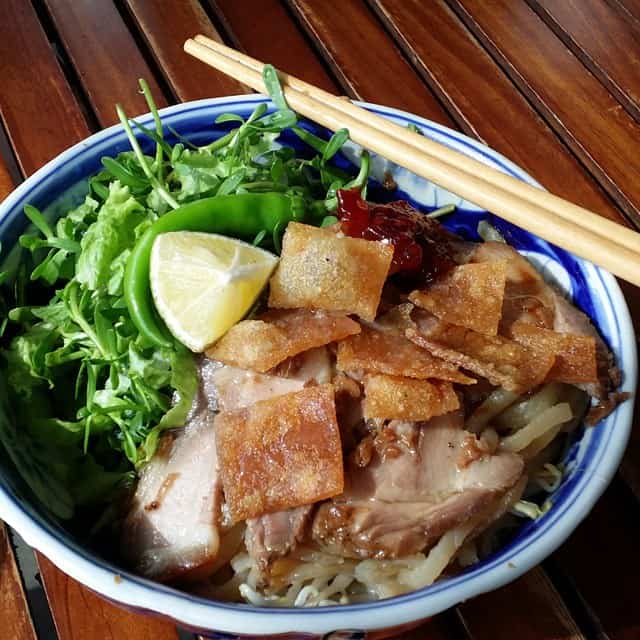 "Cao Lầu" literally translates into "high story" in English. It is said that back when Hoi An was still a commercial port, many merchants often enjoyed meals in high-story restaurants to supervise their shops, thus giving rise to the dish name.
Fast forward to today, this specialty has become the sole specialty of Hoi An city. Its taste is like no other Vietnamese noodle soup, with references from various ethnicities that frequented the ancient port during its heyday.
While the slightly firm and thick rice noodles (Cao Lầu) resemble Japanese udon, the savory pork, pork crackling, and crunchy fried tofu are Chinese. Not to mention, the stock and fresh greens are unmistakably Vietnamese.
Do you know that the original Cao Lầu's stock in Hoi An is made entirely from Ba Le well's water? The water, which comes from Hoi An's thousand-year-old well, is said to have magical characteristics.
11. Bột Chiên (Fried Rice Flour Cakes)
Bột Chien may not be the healthiest Vietnamese street food, but it is undoubtedly a mesmerizing dish. You may find it similar to carrot cake in Singapore or Kkanom Pak in Thailand. However, all varieties come from Chai Tow Kway of China.
Originating in the Sino-Vietnamese community in Hochiminh City, Bột Chiên is very popular with both the afterschool and after-midnight crowds. The rice and tapioca flour dough is cut into bite-sized rectangles and fried in a big wok until golden and crisp.
Then, eggs are added to hold everything together. Usually, most chefs prepare the fried flour dough beforehand and deep-fry it again when receiving your orders. This practice makes sure your Bột Chiên plate is always crispy and hot.
Typically, it is served with papaya slices and a dollop of sweet chili sauce to balance the dish's rich flavor.
12. Bánh Xèo (Vietnamese Crepes)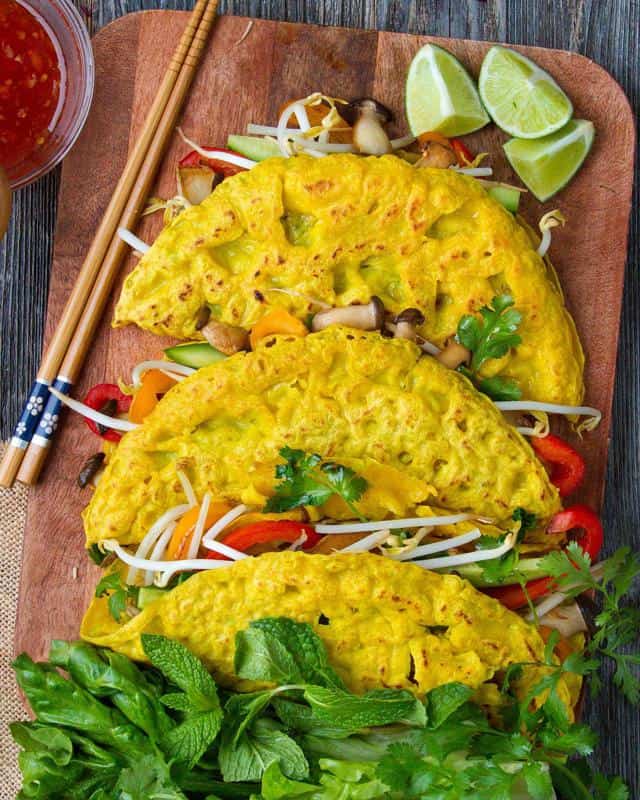 Doesn't the dish name sound delicious? The word "xèo" refers to the sizzling sound when the rice batter hits a hot skillet. Each region in Vietnam has its own Bánh Xèo type. Yet, two versions in South and Central Vietnam are the most popular.
Unlike Bánh Xèo in Central Vietnam, which is white and small, its Southern cousin is larger and yellow. It has a crispy outer layer and a stuffing of bean sprouts, mung beans, shrimp, pork belly, and baby clams.
Diners may wrap this mouth-watering treat in a lettuce leaf with other veggies and dip it in Vietnamese fish sauce.
13. Bánh Khọt (Vietnamese Mini Fried Pancakes)
These little pancakes are so crispy that they can impress the pickiest diners. Vendors use miniature molds to fry the batter, which is made from turmeric powder, coconut milk, and rice flour. Then, shrimp, pork belly, and green onions are added atop.
When done, you will have golden and crispy pancakes with savory fillings. Unlike Bánh Xèo, which is a large, thin crepe, Bánh Khọt is smaller and has a thicker batter.
You should wrap these bite-size treats with lettuce and dip them in fish sauce before adoring their hearty flavor in your mouth.
14. Bánh Căn (Vietnamese Mini Grilled Pancakes)
Many people often confuse Bánh Căn with Bánh Khọt. The former is grilled batter over flame on an earthenware grill, while the latter is fried batter in lots of oil.
Originally served plain, these pancakes nowadays come with various fillings, including shrimp, squid, or pork. They have a creamy and egg-like texture and a crispy outside crust that helps hold the flavor-packed stuffing inside.
To have a more native experience, you can accompany these grilled pancakes with green mangos, papayas, and a bowl of fish sauce featuring green onions and floating meatballs.
15. Bánh Cuốn (Steamed Rice Rolls)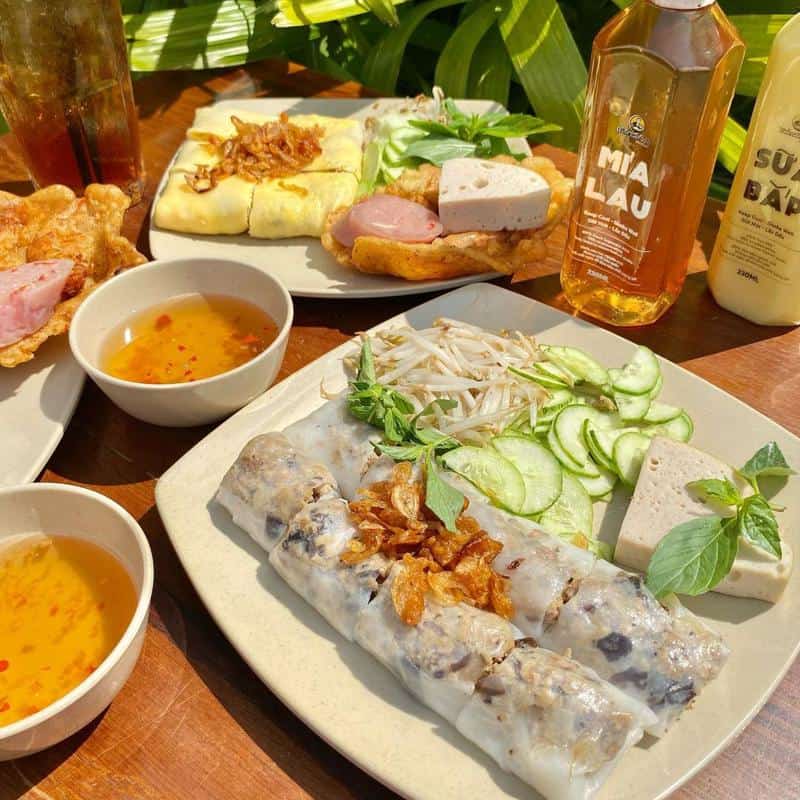 Originating in Northern Vietnam, Bánh Cuốn has gradually won the heart of all diners across the nation.
Although its premade Bánh Cuốn sheets are available at supermarkets, certain US restaurants produce them in-house. If you are lucky enough, you can watch live their entire production process.
Typically, these thin and silky white sheets are made by steaming rice batter on a cloth atop a pot of boiling water. Then, various fillings, from minced wood ear mushrooms to cooked ground pork, are added to the rice sheets.
Garnish your plate with fried shallots and serve it with a bowl of fish sauce and some Vietnamese sausages (chả lụa) to complete this tender breakfast option.
16. Hủ Tiếu Nam Vang (Vietnamese Pork And Seafood Clear Noodle Soup)
In Vietnamese, "hủ tiếu" stems from Teochew in China, and "Nam Vang" refers to Phnom Penh in Cambodia. When combined, they form a magnificent clear noodle soup with stunning ingredients.
Sitting in front of a hot bowl of Hủ Tiếu Nam Vang, you will see ground pork, slices of pork hearts and livers, quail eggs, squid, and shrimp floating next to opaque rice noodles in a clear, umami-filled broth.
Besides the typical version above, you can enjoy this delicacy with broth on the side or with no broth at all. For these variations, your noodles are seasoned with sesame oil or soy sauce to infuse a bolder flavor.
17. Bánh Tằm Bì (Vietnamese Thick Noodles In Coconut Milk)
Bánh Tằm Bì is a must-try Vietnamese dish for fans of coconut milk. This Southern Vietnamese gem has vastly different flavors and toppings despite employing the familiar thick noodles made from rice and tapioca.
Below the thick noodle layer, you will see various fresh greens and herbs (cucumbers, basil, and coriander). Above those gooey noodles, you will have sliced lean pork and shaved pork skin, topped with a garnish of green onions.
Then, a ladle of rich coconut milk covers your plate to provide a final touch. Then, mix everything up to render its sweet, fresh, and rich flavor.
18. Gỏi Cuốn (Vietnamese Summer Rolls)
Whenever I ask my friends about their favorite Vietnamese dishes, Gỏi Cuốn always appears on the answer list. These light and healthy rolls are brilliant escapes when you have tried too much fried food.
Each roll is transparent from the outside, thanks to the slightly wet rice paper (bánh tráng). Inside, you can see fresh greens (basil, coriander, lettuce), meat, shrimp, and bits of rice vermicelli noodles.
They are neatly folded into rolls of varying sizes, with a stalk of garlic chive peeking out. Dip them in fish sauce or nutty hoisin sauce to enjoy their flavor like a native.
19. Cà Phê Trứng (Vietnamese Egg Coffee)
Let's switch things up with some unique Vietnamese desserts. You may find the dish name weird, as who would want to mix an egg with coffee, right? However, this one-of-a-kind Hanoian treat will make you think again!
First introduced in 1946 by a bartender named Giang, working at the Metropole Hotel. When a milk shortage hit Vietnam at the time, his improvisation of using egg yolks and sugar to replace milk turned out to be a huge success!
Nowadays, its standard recipe features egg yolk combined with sweetened condensed milk and hot espresso coffee. The meringue-like and eggy layer atop offsets wonderfully with the strong coffee underneath, resulting in a very balanced flavor.
20. Sâm Bổ Lượng (Ching Bo Leung)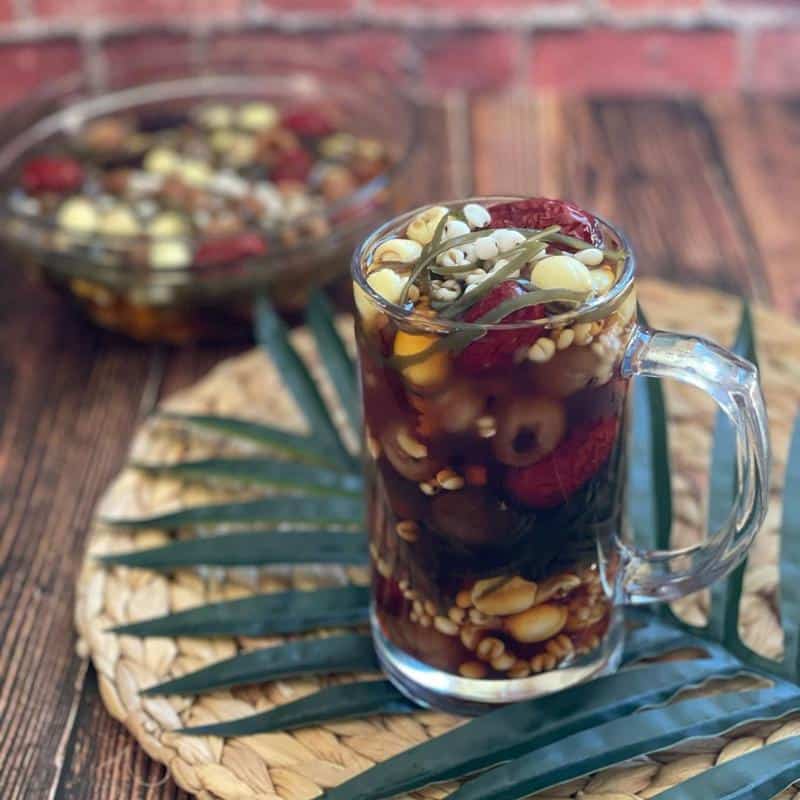 Another dessert suggestion for you is Ching Bo Leung or Sâm Bổ Lượng. You don't need to worry about health issues when consuming this Vietnamese treat, as it is not overly sweet or rich.
On the contrary, Ching Bo Leung is a wonderful option for those having sleep difficulties. It contains various ingredients, from sliced seaweed to lotus seeds, longans, and red jujubes.
Ching Bo Leung is usually served in a tall glass with a straw and a spoon. That way, you can easily enjoy both the water and its solid ingredients.
Read More:
More Vietnamese Marvels Await!
My recommendations above are all astonishing and balanced in many aspects, including flavors, textures, sounds, and colors. However, they are just a glimpse of what Vietnamese cuisine can offer.
There are many other marvels you can experience. You could spend a lifetime sampling Vietnamese food and never run out of options . Let's share your favorite Vietnamese dish below. I bet there are tons of new ideas there!