The Sin City offers a wide range of entertainment options. From swanky hotels with casinos to chic bars and elegant restaurants, Las Vegas in Nevada has it all.
An adult Disneyland for people with a sweet tooth, Candy Martini Bar is one of the most unique in places Las Vegas.
At this iconic candy store/bar in the middle of the Strip, you can enjoy refreshing drinks and feast on extravagant sweet treats at the same time. The blend of house-made cotton candy and alcoholic beverages is a match made in heaven.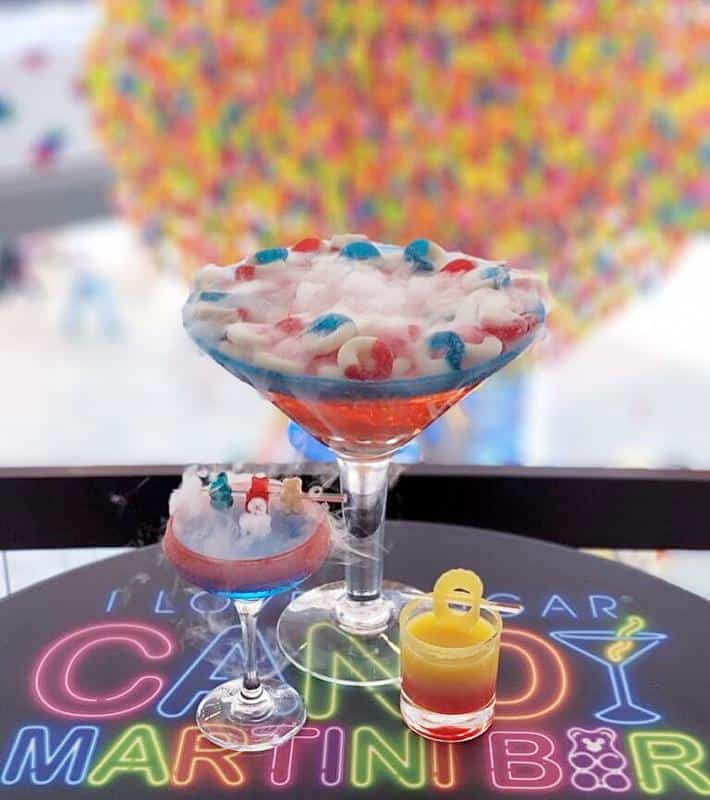 Candy Martini Bar is situated inside the world-famous Linq Hotel & Casino. I Love Sugar is actually the shop that houses the Candy Martini Bar.
The 14,000-square feet I Love Sugar offers a wide range of candy options including everything from gummy pickles and gummy bears to candy sushi and candy pizza. Just step inside the I Love Sugar shop and you will find the Candy Martini Bar on the second floor.
Candy Martini Bar Décor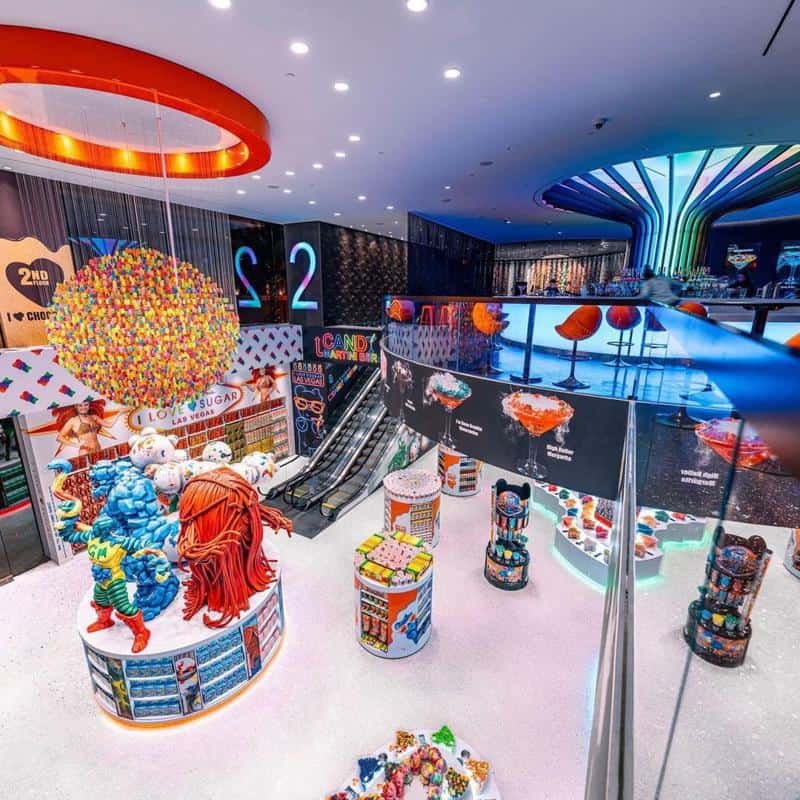 Candy Martini Bar has a rather unique and stylish interior. Falling in love with its décor is guaranteed. Expect to see beautiful lighting fixtures, as well as an Instagram-worthy selection of sweets on display.
The good news is that the owners allow visitors to take photos of the bar/shop, so make sure to bring your camera.
Candy Martini Bar Menu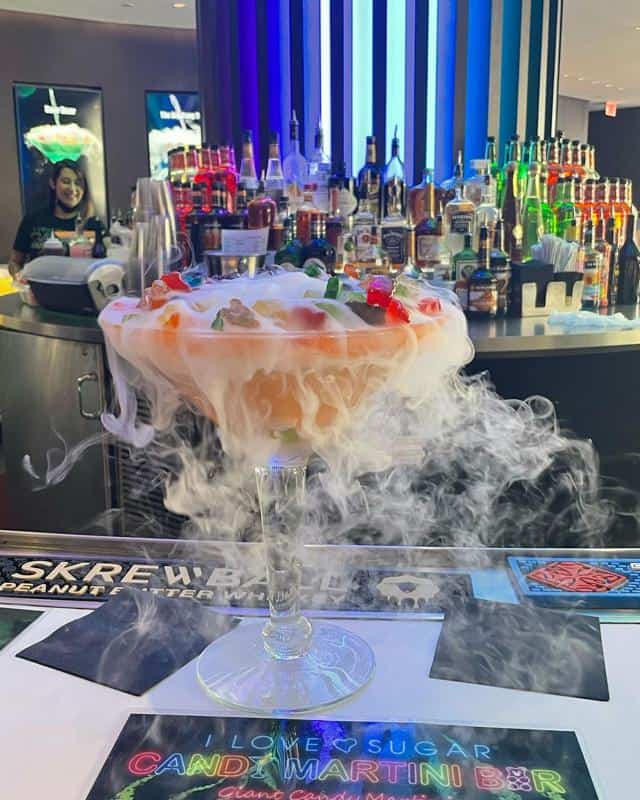 The menu at Candy Martini Bar in I Love Sugar is extensive, to say the least, offering something for everyone with a sweet tooth. Whether you are in the mood for candy cocktails or you wish to try sugar shots, all drinks here are perfectly tailored for visitors.
The menu at the Candy Martini Bar is divided into two sections. You have the regular drink menu and the to-go menu which includes drinks served in to-go cups. These are just some of the offerings available to order at this swanky bar in Las Vegas:
Giant Candy Martinis
Candy Cocktails
Drunkin' Bears
Sugar Shots
Giant Candy Martinis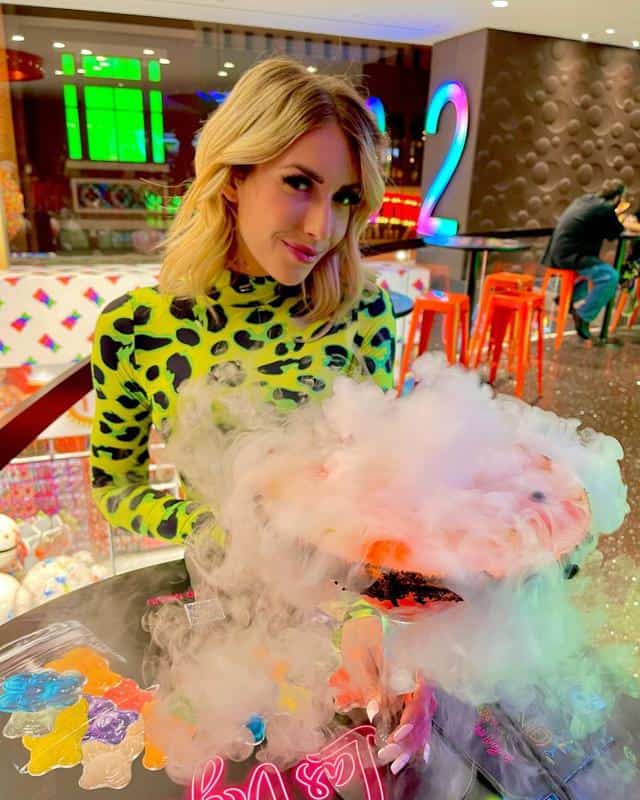 Giant Candy Martinis is without a doubt one of the most popular options on the menu. It is actually what the martini bar is known for.
Order the signature Don't Be Fooled By The Rocks That I Got candy martini. This refreshing drink comes with peach schnapps, apple liquor, sprite, vodka, and melon liqueur. It is topped with a variety of candy including candy necklaces, and pink, blue, and green rock candy.
Not-to-be-missed is the In Love With The Coco giant candy martini. This exquisite martini includes coffee liquor, vanilla vodka, coffee liquor, and Hazelnut liquor. It is topped with malt balls, chocolate gummy bears, milk chocolate, and pretzels.
There is also the Cotton Candy Mule made from lime, fresh mint, vodka, and ginger beer. Cotton Candy Mule is topped with I Love Sugar house-made cotton candy. We should also mention that many of the giant candy martinis are topped with different gummy bear flavors.
Try the Thee Gummy Bear martini which is a mix of sprite, green melon liqueur, grape liquor, apple vodka, and strawberry, and topped with more than 10 flavors of gummy bears.
The go-to menu doesn't have all of the drinks available and only includes 3 three options: I've Been Drinking Watermelon', High Roller Margherita, and Thee Gummy Bear.
Keep in mind that all of these giant candy martinis are designed to be shared between like 2 to 3 people.
Candy Cocktails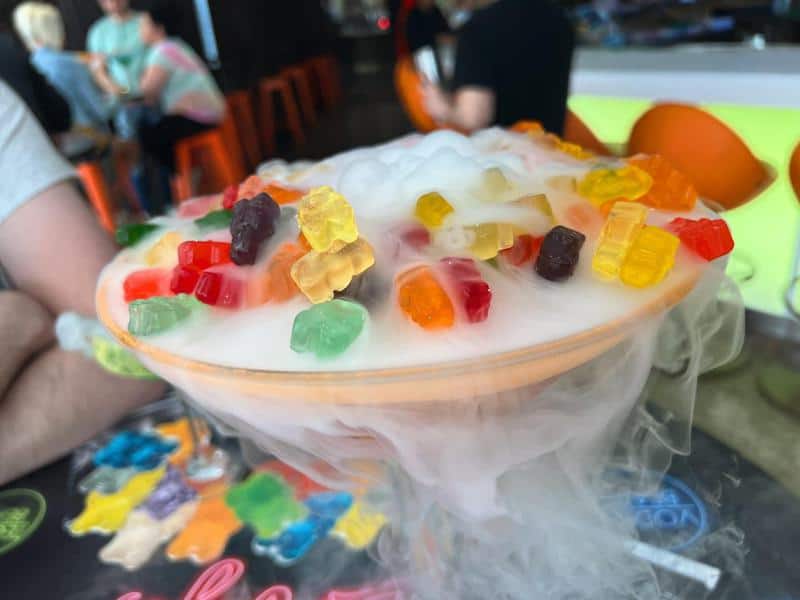 No visit to the Candy Martini Bar in Las Vegas is complete without trying the tasty candy cocktails. Equally delicious as the giant martinis, these cocktails are a lot smaller and include a variety of spirits.
The candy cocktails menu offers a list of 10 drinks ranging from whiskey-infused candy cocktails to things like Lil Miss Salty Candy Margarita. All candy cocktails have massive dry ice fogs.
Order Chocolate Butter Cup Blitz and you won't be disappointed. This drink with Hershey's syrup, peanut butter cups, and chocolate graham crackers is absolutely stunning.
If you are a fan of coca cola and whiskey, we recommend the Whiskey Baller which is topped with small and big gummy cola bottles. It's a whiskey and coke drink for those with a sweet tooth.
Lil Miss Salty Candy Margarita is one of the most popular candy cocktails. This sweet margarita comes with house-made cotton candy, pucker powder, and salt.
Then you have the Jackpot Dirty Shirley which is rimmed with triple cherry gummies and cherry pucker powder. Visitors who like raspberry flavor will want to try the Boulevard Tease (orange pucker powder and blue raspberry flavors). The drink is tipped with belt candies.
As for the Candy Cocktails to-go menu, it includes 3 options: Jolly Paradise (blue raspberry gummy bears and candy rings), Watermelon Sugar (gummy watermelon rings and gummy watermelon wedges), and Kiss The Frog (gummy frog and grapefruit candy).
Drunkin' Bears & Sugar Shots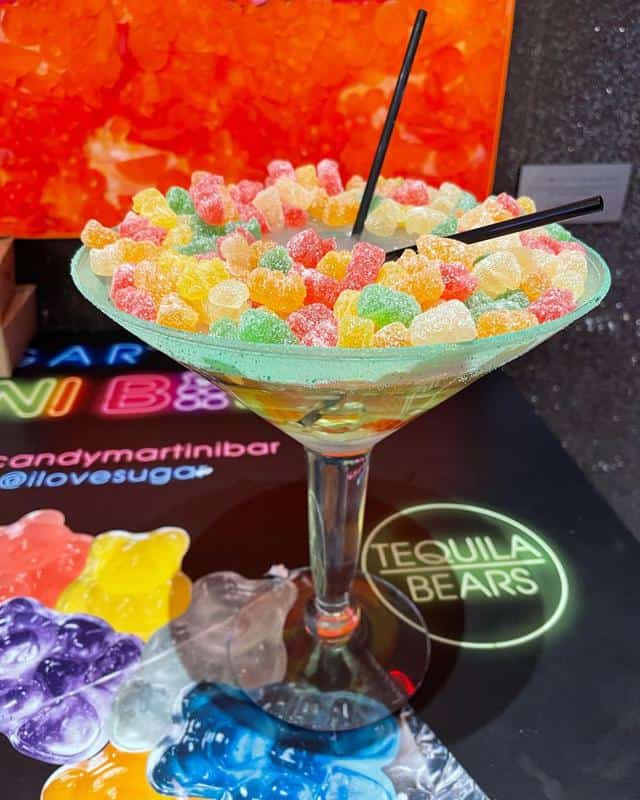 The menu at Candy Martini Bar in Las Vegas also includes Drunkin' Bears & Sugar Shots. Choose from 2 types of bear drinks: Tequila Bears and Vodka Bears. These Drunkin' Bears are infused with the liquor that you choose. Evert order comes with 10 bears!
As for the Sugar Shots, there are 3 options to choose from. Try the Funky Pink Flamingo, order the Rainbow Burst, or go for the Pop it Likes It's Hot.
Funky Pink Flamingo (2-ounce shot of Pink Starburst infused vodka rimmed with pina colada Pucker Powder served with 3 Pink starburst candies.)
Pop It Like It's Hot (2 ounces of original flavored Blow Pop infused vodka with blue raspberry and strawberry Pucker Powder)
If you are not a fan of the sweet stuff, the candy martini bar has a short beer and wine list with options like Blue Moon and Coors Light (beers) and Cabernet Sauvignon and Sparkling Moscato (wines). The pink lemonade is a great option for those who don't wish to consume alcoholic beverages.
Candy Martini Bar Prices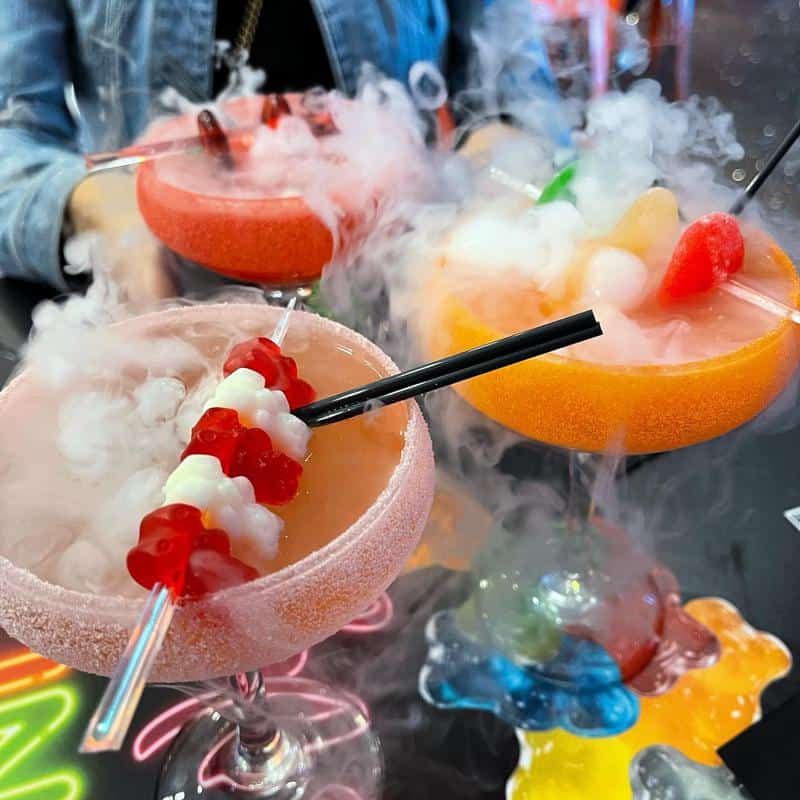 It's quite easy to figure out the pricing structure at this unique bar in Las Vegas. For instance, the giant candy martinis will set you back $42. Although these drinks are a bit on the expensive side, they are huge and meant to share between 2 and 3 people.
Candy cocktails cost $19, while Drunkin' Bears come in at $12 for ten bears. There are also the popular Sugar Shots that cost $14. Beers can be purchased for $8, while a glass of wine will set you back $14. Keep in mind that to-go pricing is the same as the regular menu.
Read More:
Final Thoughts
Whether you wish to try these innovative drinks infused with sweet flavors or just snap a few cool photos for your Instagram account, a visit to Candy Martini Bar is simply a must when staying in Las Vegas.
Address: 3535 S Las Vegas Blvd, Las Vegas, NV 89109
Telephone Number: 702-699-5443
Business Hours: Monday to Thursday from 9 am to 12 am
Friday and Saturday from 9 am to 1 am