As we all know, woodlands are lands covered with trees, so one of the most excellent places you'll ever have the honor of living in is The Woodlands. The Woodlands—a picturesque oasis of eateries and houses surrounded by plants and trees—is located on Houston's north side.
The area boasts, including Italian and New Orleans cuisine. Hipster hangouts, live music events, and surprisingly good sushi is also a great find in this location.
There are little new and old eateries in The Woodlands, located about 40 minutes north of Houston, going straight up Interstate 45.
Because it can be challenging to find anything in The Woodlands, it's comparable to the island in Pirates of the Caribbean that "can only be found by those who already know where it is."
Top 12 Best Restaurants in The Woodlands
Here's our selection of the top spots to dine and wine in The Woodlands.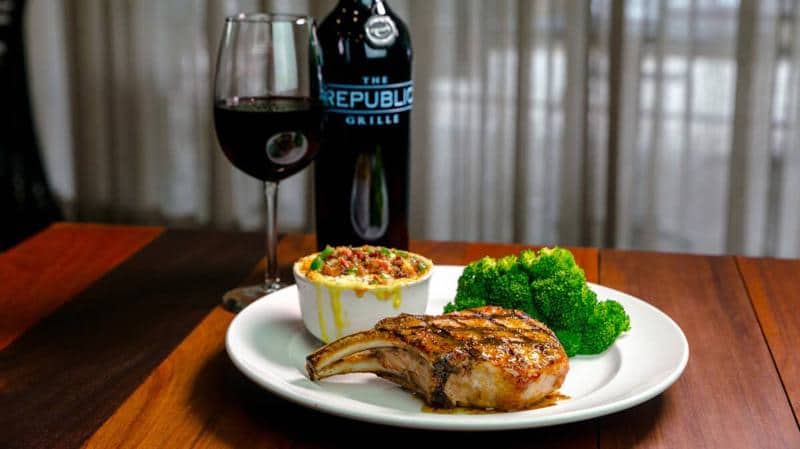 Address: 4775 W Panther Creek Dr. Ste 490, The Woodlands, TX 77381.
Phone Number: +1 281-719-5895
Known For: Serving high-quality cuisine at a reasonable price
Terry McBurney founded The Republic Grille, inaugurated in 2014 in The Woodlands Panther Creek Shopping Center. Locals were already highly familiar with the place because it had previously been a long-standing Chinese restaurant.
The Republic Grille is well known for offering delicious food at affordable pricing, including their prize-winning Wagyu Chicken Fried Steak.
Aside from the well-known Chicken Woodlands and Certified Angus Burgers, there are also many healthy but filling salads, appetizers, and delectable scratch-made desserts on the menu.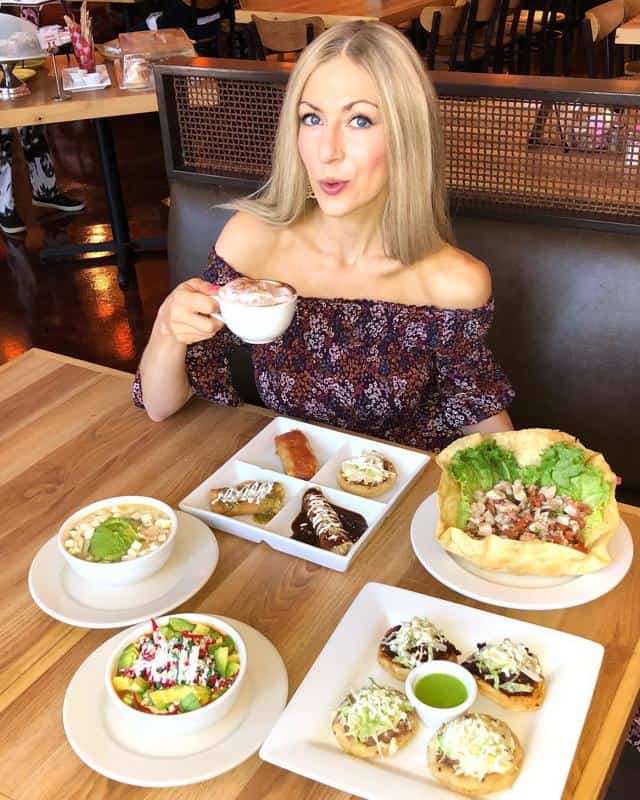 Address: 10110 Woodlands Pkwy STE. 900, The Woodlands, TX 77382.
Phone Number: +1 281-298-8091
Known For: Mexican specialties, American fare, or gourmet cakes and cookies
Arturo and Lucy Calderon are the owners of Caffe Di Fiore. Arturo's family has a long history in the food-service sector, from the restaurant his grandfather operated to his mother's catering company.
Caffe Di Fiore only uses handcrafted products and fresh ingredients. Authentic Mexican, gourmet cakes and cookies, and beverages are some of the items on the outstanding menu. It's difficult to choose, but the Tres Leches is widely regarded as the "Best Tres Leches in Texas," and the Mole Enchiladas are a favorite.
In 2017, 2018, 2019, and 2020, Caffé di Fiore received a Certificate of Excellence from TripAdvisor. It most recently won the Travelers' Choice Award for 2021.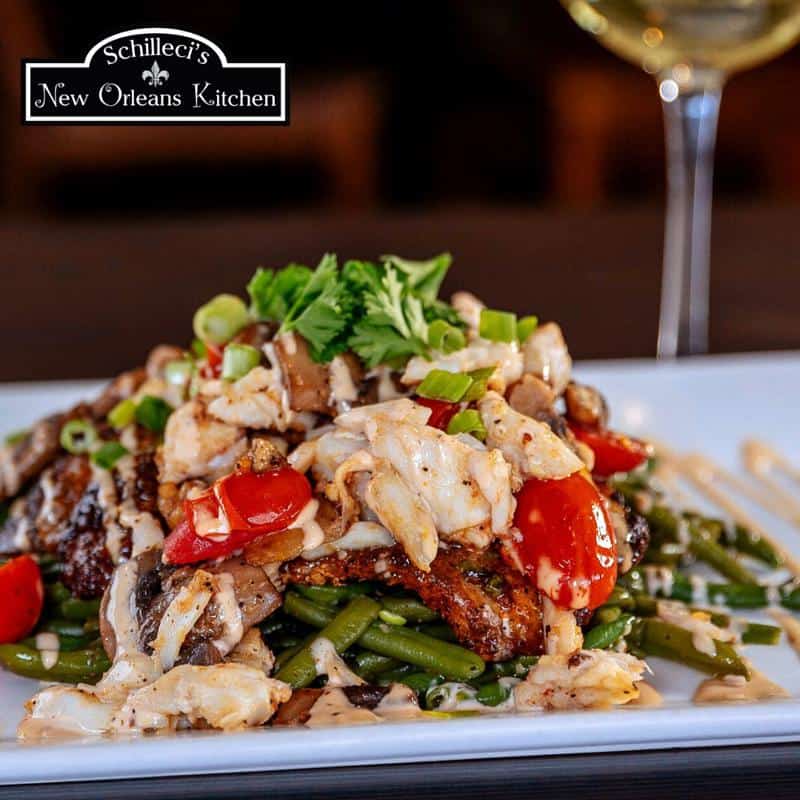 Address: 9595 Six Pines Dr. Ste 1120, The Woodlands, TX 77380
Phone Number: +1 281-419-4242
Known For: Louisiana classics like bread pudding and seafood gumbo, in addition to a mix of fresh fish sourced globally, lamb chops, and steak
Even though Wayne Schilleci Sr. and his son Zachary share ownership of the establishment, the whole family participates in its management. Schilleci's is delighted to provide Louisiana favorites, including seafood gumbo, and has numerous family recipes on the menu.
Additionally, traditional New Orleans fare such as Gambino's Bread and beignets baked using Café Du Monde's renowned recipe are available.
What's more, Schilleci's is renowned for its New Orleans Bread Pudding, duck and sausage gumbo, and critically-acclaimed smoked crawfish dip.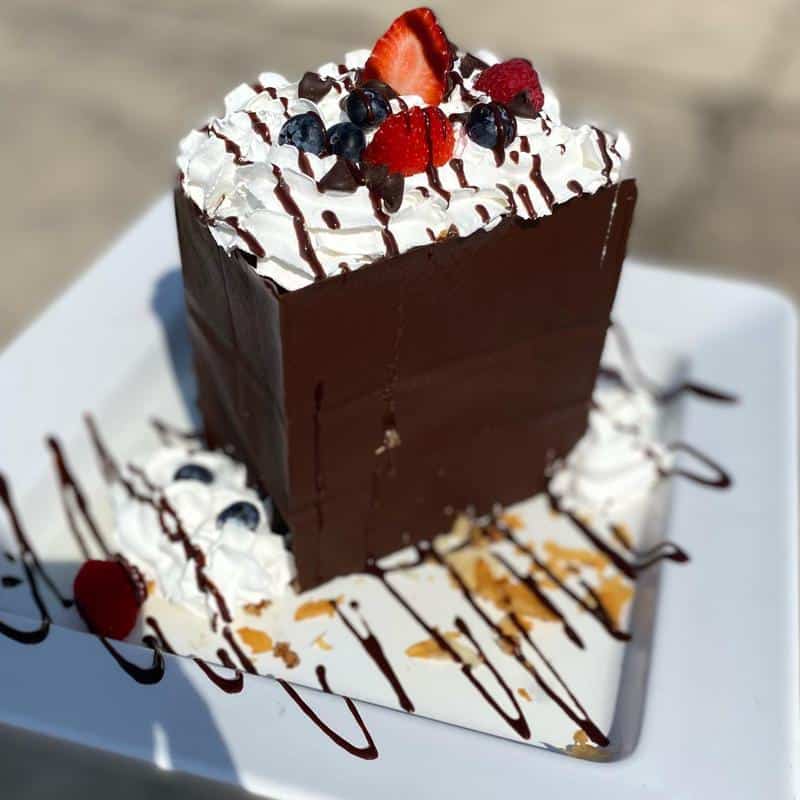 Address: 373 Sawdust Rd, Spring, TX 77380
Phone Number: +1 281-367-0114
Known For: Desserts like sweet baklava, galaktoboureko, and various cakes, keftedes, baked tiropita, fried zucchini, and pita bread
Within the Woodwind Shopping Center is the Olive Oil Restaurant.
Whether you go for lunch or dinner, you're in for a treat with their extensive menu. On Friday and Saturday nights, The Olive Oil hosts a belly dancer, Greek dancing, and plate-smashing performances. A calm atmosphere makes this an excellent place for a casual family supper or even a date night.
On their menu, they offer a variety of dishes like dolmades, keftedes, baked tiropita, fried zucchini, fried eggplant, pita bread, saganaki, and others.
Address: 777 Brickell Ave, Miami, FL 33131
Phone Number: +1 305-579-0035
Known For: Serving exceptional seafood and fresh Florida Stone crab
At Truluck's, customers can anticipate a hospitality organization at its core, offering exceptional dining experiences. In addition, there's an emphasis on sustainably sourced products and a commitment to service both inside the restaurant and the community, under the supervision of industry-experienced General Manager Bond Davis.
Davis—who has more than 15 years of experience—rejoins the premium restaurants where he previously served as general manager of Clyde's at Gallery Place.
Chef Laurence Cohen, who'll lead the new and sustainable seafood selections with top-notch ingredients, expert execution, and traditional presentation, has been brought on board by Truluck's culinary program.
The menu of seafood dishes features a variety of textures and flavors, including Dutch Yellowtail frizzled with grape, tomato, mint, lime, and dill.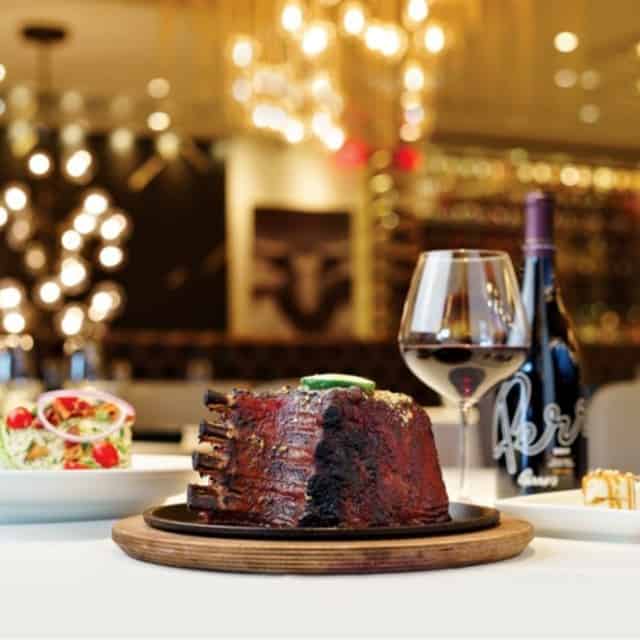 Address: 4251 Salzedo St, Coral Gables, FL 33146.
Phone Number: +1 786-703-9094
Known For: Pork chop, prime beef, and more
The family-owned steakhouse chain, Perry's, has expanded over the past 35 years to currently include nine locations throughout Texas.
Perry's is dedicated to helping the communities it serves even as it expands. The collection of restaurants is constantly looking for ways to say "thank you" to its neighbors, whether by providing a Pork Chop lunch every Friday for $11.95 or by getting involved with neighborhood organizations and supporting restaurant weeks.
With USDA Prime steak, tableside carvings, signature dishes, and delicious desserts, Perry's has developed into a recognized chain of award-winning restaurants.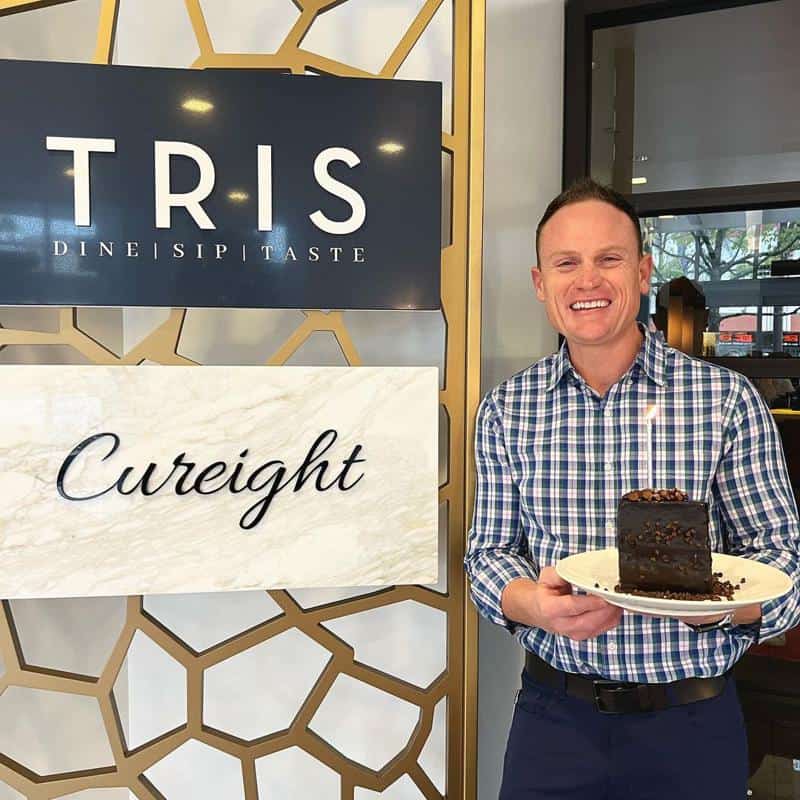 Address: 24 Waterway Ave #125, The Woodlands, TX 77380.
Phone Number: +1 281-203-5641
Known For: Great wine collection and signature cocktails
Born and raised in Texas, Le Cordon Bleu College of Culinary Arts graduate Chef Austin Simmons is the executive chef at TRIS, Cureight, and The Kitchen in The Woodlands.
Family is essential to Chef Austin Simmons, as stated on the TRIS website. Chef Simmons cherishes his staff and the restaurant at TRIS as if they were his own family. Thus, it's only fitting that his cherished daughter, TRIS, bears her name.
Chef Austin's trips to countries like France, Italy, and Thailand impact the menu at TRIS. His inspirations may be observed in one of his hallmark appetizers, like Korean Butter Poached Crab, a Pan Asian meal prepared using traditional French methods.
The Woodlands Area Foodies' 2018 Woodlands Culinary Awards nominated TRIS, Chef Austin Simmons, and his staff for eight awards.
Address: 1900 Hughes Landing Blvd #400, The Woodlands, Texas 77380.
Phone Number: +1 281-298-4200
Known For: Fire-roasting, high-quality meats.
Fogo de Chão Brazilian Steakhouse is one of the best restaurants in the Woodlands for those who love red meats. Although its name suggests it's exclusively a steak restaurant, Fogo de Chão Brazilian Steakhouse flawlessly serves steaks, desserts, and seafood under one roof.
Since Arri and Jair Coser established it in 1997, this beautiful product of architecture has given Americans an unforgettable taste of Southern Brazil. Its chefs' mastery of churrasco grilling techniques has also enthralled meat lovers over the years.
If you want a meal other than its traditional steak or delectable desserts, you may settle for its chicken, lamb, and pork menu category.
Its Market Table menu also offers meals inspired by the local farmlands, recipes, and staples of Southern Brazil. You could go for the restaurant's Speciality Salads, smoked salmon, Fogo Feijoada, or Black Pepper Candied Bacon.
Address: 551 5th Ave, New York, NY 10176.
Phone Number: +1 212-537-0956
Known For: Local cuisine, American, Bar, seafood, and vegetarian-friendly and vegan options.
A new retail-restaurant combination from Tommy Bahama is being introduced, with a more laid-back approach to dining.
The retailer just built a location with a restaurant and bar next door in Dania Pointe, Dania Beach, Florida. Tommy Bahama Marlin Bar is a casual-hybrid restaurant with a full-service bar that displays the brand's men's and women's clothes, swimwear, accessories, and home décor collections.
In February, Douglas B. Wood—the CEO of Tommy Bahama—unveiled plans to open a second store on Las Olas Boulevard in Greater Fort Lauderdale. Las Vegas and San Diego are two more cities that should debut this year.
Tommy Bahama Restaurants offers regional cuisines, American fare, a bar, seafood, vegetarian options, and vegan meals.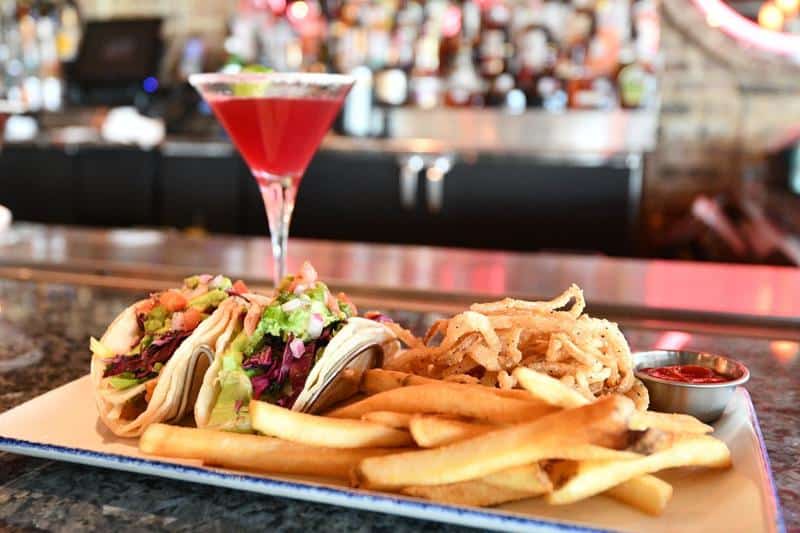 Address: 8800 Vineland Ave, Orlando, FL 32821.
Phone Number: +1 407-827-6466
Known For: Gulf Coast cuisine
If your taste buds always long for seafood, Landry's Seafood House is the right restaurant for you in the Woodlands. This comfortable, well-aerated eatery virtually performs all types of magic with seafood to come up with its mouthwatering seafood-rich menu.
You can blissfully help yourself to its crab, spinach & artichoke dip, lobster tail, or even its jumbo grilled shrimp. If you crave a garden-inspired meal, we recommend you try its Caesar Salad, house salad, or Iceberg Wedge salad.
Landry's Seafood House has also received 154 awards in the wine industry: 105 awards of excellence, 47 best of award winners, and two grand award winners. What's more, this is one of the most decent restaurants in the Woodlands for people who love Gulf Coast cuisine.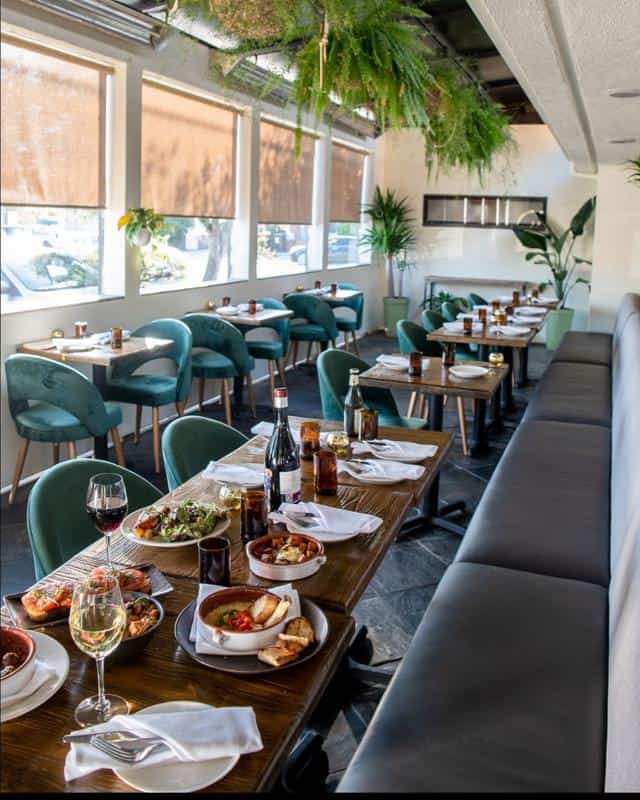 Address: 2720 McKinney Ave, Dallas, TX 75204
Phone Number: +1 214-871-4955
Known For: Intimate dining room with a sleek
Executive Chef Luis Gutierrez, a Chef Campus Culinary Institute graduate who traveled the globe in quest of expertise and practical training, is in charge of the culinary crew. He's now committed to developing infused flavors and textures that always put the restaurant guests' unique experiences first.
The Avanti restaurant is a proud winner of the wine spectator "Award of Excellence." Apart from an Italian-Mediterranean-inspired menu that includes seafood, steaks, veal, and homemade pasta, Vini d'Amicizia, a wine collection recognized by Wine Spectator, is also available at the restaurant.
Address: 1201 Lake Woodlands Dr. Suite 305, The Woodlands, TX 77380
Phone Number: +1 281-362-0103
Known For: Continuing gala of fantastic food and wine
Since the original Fleming's debuted fourteen years ago in Newport Beach, the Steakhouse has spread to several other sites across 28 states. Paul Fleming and Bill Allen founded the first Fleming's to offer a distinctive steakhouse dining experience that focuses on exceptional food, service, and atmosphere.
You can find a never-ending gala of fantastic cuisine and wine at Fleming's Prime Steakhouse & Wine Bar. Customers can indulge their cravings with the finest aged prime steak and discover new tastes with its award-winning wine list, which has 100 wines by the glass and an excellent Reserve List.
Fleming's Prime Steakhouse & Wine Bar is famous for its warm, alluring atmosphere and meticulous attention to detail. It has a luxurious dining area centered around an exhibition kitchen and a large bar.
Read More:
Final Thoughts
No matter their dietary needs or curiosities, patrons should be able to find a meal (and drink) they like at the best restaurants in The Woodlands that ideally provide a wide selection of foods.
Our list of the top 12 restaurants will enable you to find the most delightful spots serving international seafood and steakhouse classics before you go bicycling or hiking around the city's many parks and trails.