Uptown Charlotte is a compact little world of its own that beautifully captures the spirit of Queen City. With towering buildings and glamorous hotels, you will find a lot of restaurants dispersed along the way.
Offering class and variety, you can find laid-back cozy spots to hang out with friends after a day of exploration or an upscale fine-dining with a client while staying in town on business.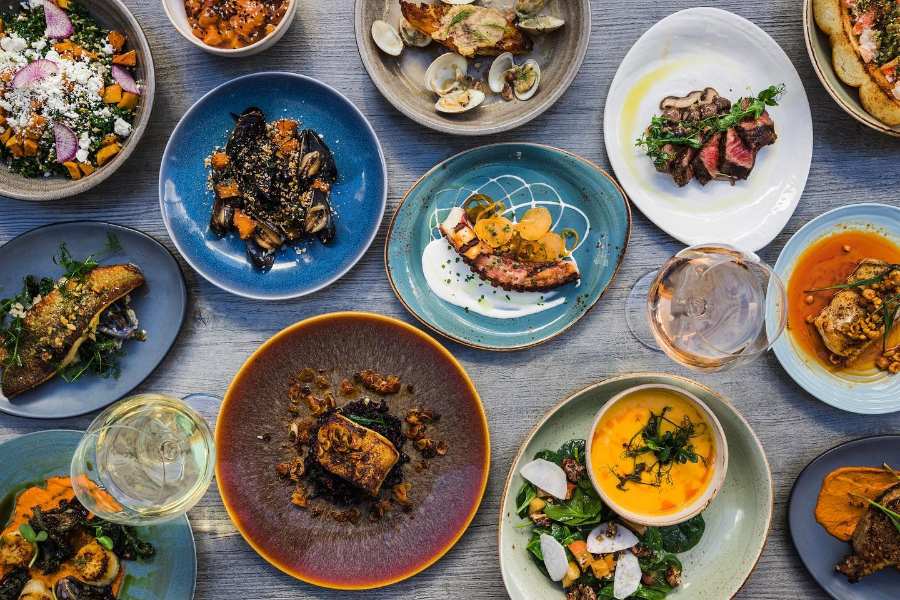 Here are our best picks of dining options in the charming Uptown Charlotte, NC.
Best Overall Uptown Restaurant: Fin & Fino
Best Romantic Uptown Restaurant: Rooster's Wood-fired Kitchen
Best Uptown Restaurant with a View: Haymaker
Best Restaurants Uptown Charlotte, NC
Fin & Fino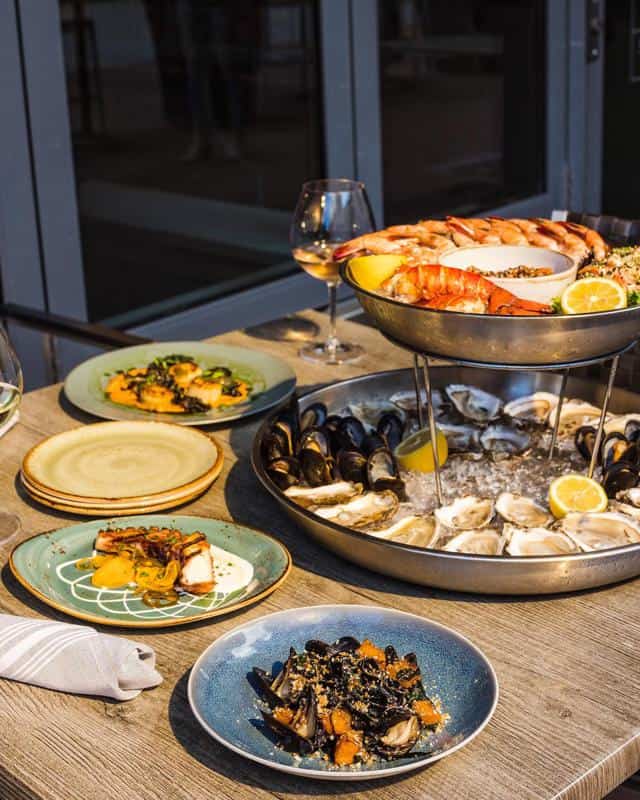 Address: 135 Levine Avenue of the Arts #100, Charlotte, NC 28202
Known for: The best seafood in Uptown Charlotte in a breezy, nautical-themed setting.
The laid-back and elegant Fin & Fino is a perfect spot in Uptown for seafood lovers. The restaurant has a calming vibe with idyllic blue and white hues reminiscent of the ocean and shores, and the seashell chandeliers reinforce the nautical theme as a perfect centerpiece.
Fin & Fino gives a wholesome Uptown experience as it is located at a great spot at the tail-end of Tryon Street so that you can enjoy fresh seafood after a cruise inside Romare Bearden Park or an insightful exploration of the galleries at the Mint.
Holding to its title of "Charlotte's Best Seafood" the offerings include fresh fish and shellfish dishes with 12 types of oysters on their raw bar menu.
"The Treatment" is a unique seafood experience where the chef prepared several sampler courses highlighting the best of their appetizers, entrée, and desserts. To get a taste of their best preparations, get the "Tower of Power" loaded with shrimp, mussels, oysters, lobster tails, blue crab, tuna, and salmon poke.
Rooster's Wood-fired Kitchen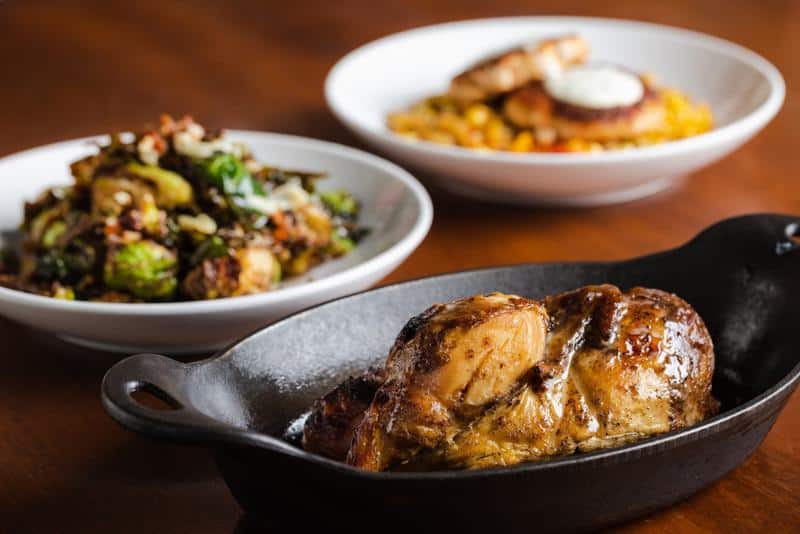 Address: 150 N College St, Charlotte, NC 28202
Known for: Intimate and classy setting, delicious roasted chicken, and seasonal varieties.
With a dreamy dim-lit ambiance and a rustic layout, Rooster's is a beautiful fine-dining restaurant in Uptown Charlotte.
The low-mood lighting and classy seating set the ideal atmosphere for date nights and celebrations. The ambitiously crafted menu takes its inspiration from classic Italian, Spanish, and French cuisine.
Keeping the name of the restaurant in mind, you simply can't skip their succulent Roasted Chicken. A generous serving of Half-Roasted Chicken with unique, seasonal vegetables is excellent to share with your beau.
If you are not in the mood for chicken, they also have scrumptious Beef Short Ribs and Grilled Pork Chops along with an impressive selection of wine.
The dishes are made fresh from locally-sourced ingredients. Some specific "heirloom varieties" are grown specifically for Rooster's, making its seasonal delights all the more special and one-of-a-kind.
Haymaker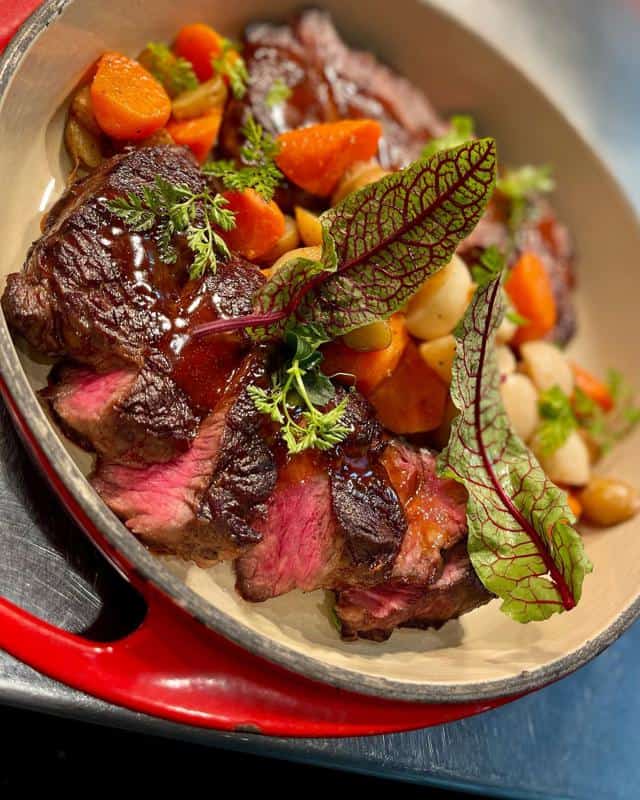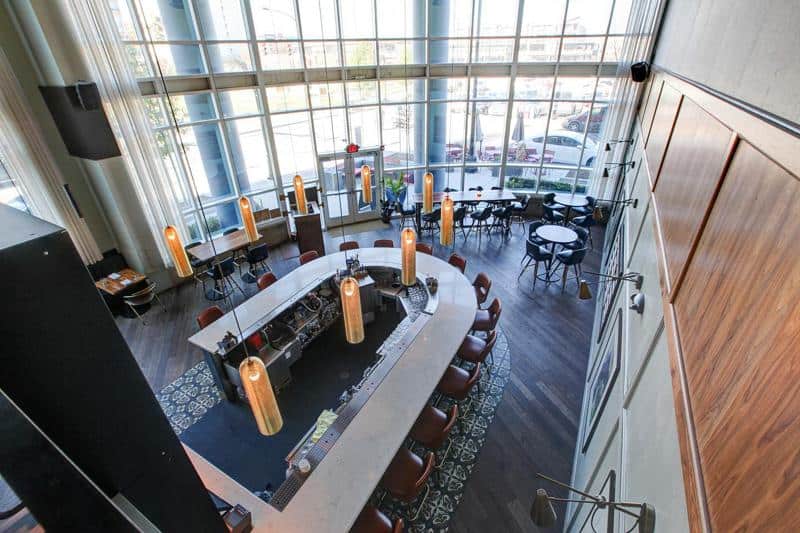 Address: 225 S Poplar St, Charlotte, NC 28202
Known for: Fresh and seasonal menu with views of the Romare Bearden Park.
"Make Hay While the Sun Shines."
Serving farm-fresh fare with heirloom ingredients and sustainable meats, Haymaker is a stylish restaurant centrally located in Uptown Charlotte.
Chef William Dissen has poured his heart and soul into the creation of the restaurant's southern-leaning menu with local inspirations and seasonal varieties.
The restaurant overlooks Romare Bearden Park, and diners get to enjoy the best views from the floor-to-ceiling windows on every wall. The healthy and fresh dishes range from small plates to generously served large plates.
The main attractions are Pan-roasted Bone-in Pork Chop, Crispy Pork Belly, and Juicy Ribeye Steak. All the dishes are served with seasonal roasted vegetables and farm-fresh potatoes.
The restaurant has a handsomely crafted horseshoe-shaped bar as well. Brunch is hosted over the weekends with innovative twists to local dishes like the classic Cinnamon French Toast adorned with bourbon-infused raspberries.
Sea Level NC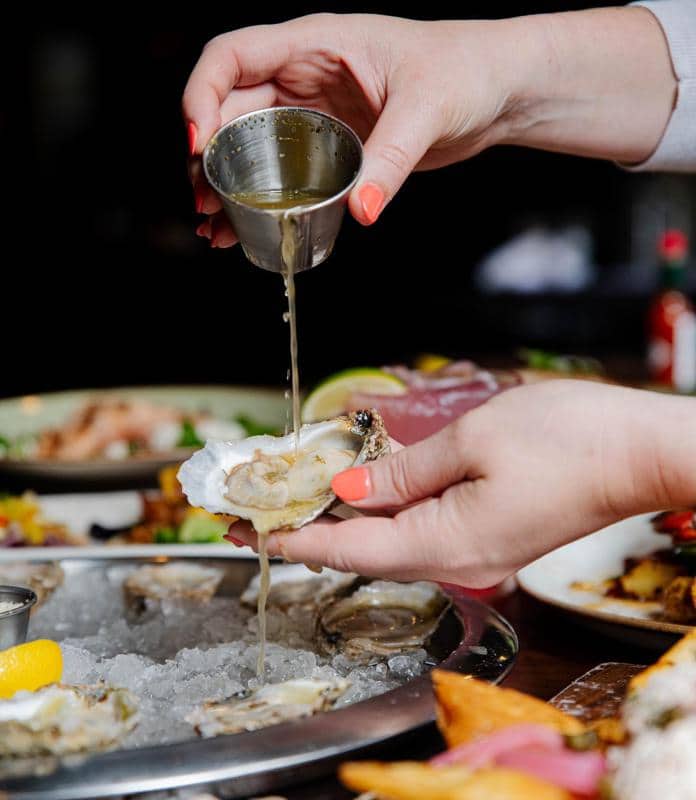 Address: 129 E 5th St, Charlotte, NC 28202
Known for: Happy Hour with $1 house oysters and freshest seafood variety.
Charlotte Magazine has voted Sea Level NC as the "Best Seafood" In Charlotte 4 years in a row, and we are here to prove the claims right! The chic and classy seafood restaurant in uptown prepares delectable servings of Carolina-caught seafood with amazing variety.
The farm-to-fork oysters are the main attraction on their menu, as the owner has partnered up with several local NC oyster and clam farmers in the town.
The Happy Hour special is held daily with house oysters for only $1. Pair it with your favorite cocktails from their extensive menu from classic varieties to fruity concoctions.
Freshest ingredients call for a rotational menu with day by day variety of hearty dishes like the Catfish Reuben, Shrimp and Grits, and Juicy Lobster Rolls.
Angeline's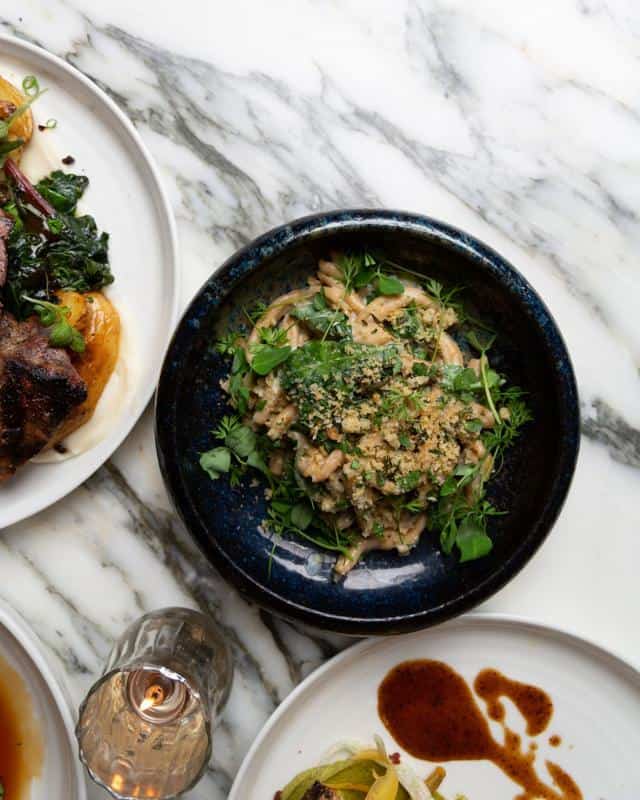 Address: 303 S Church St, Charlotte, NC 28202
Known for: Classic Italian fare in an upscale and modern setting.
The sleek and innovative Angeline's is an Italian-influenced restaurant nestled in the heart of Uptown Charlotte in the Kempton Tryon Park Hotel.
The modern eatery heavily focuses on Traditional Italian dishes with a southern twist for an elevated dining experience. The restaurant has a comfortable setting and a welcoming ambiance whether you stop by for a morning caffeine boost, a quick afternoon lunch, or a delightful dinner feast.
Besides their flavorful small plates, the house-made pasta and wood-fired pizzas are the main attraction on the menu.
The heavenly rich Cream di Ricotta is the perfect comfort food with house-made strozzapreti seasoned with classic Italian flavors and seared salmon, rosemary breadcrumbs, and spinach.
Also, try their wood-fired pizzas – the mighty Sausage Pizza being the star dish on the menu. Local craft beer, cocktails, and wines are served in a stylish bar to pair with your meals.
Aria Tuscan Grill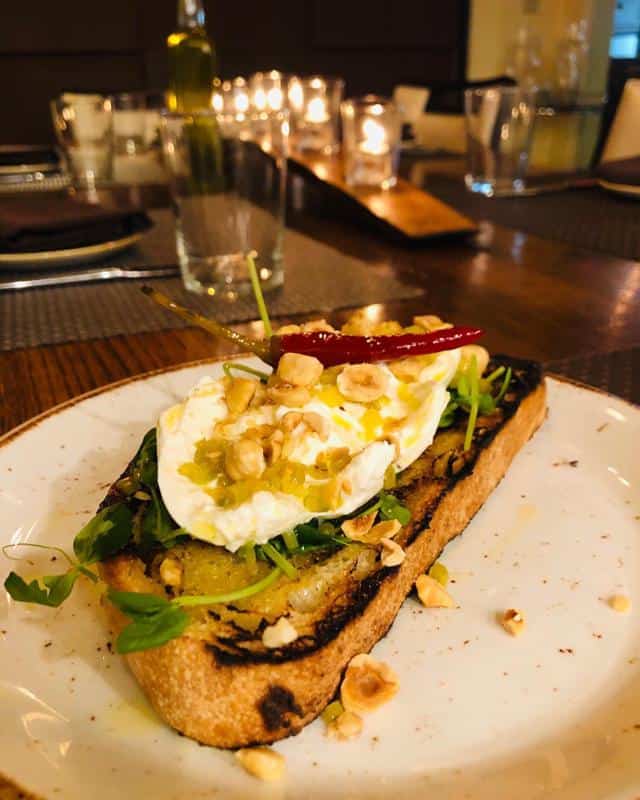 Address: 100 N Tryon St, Charlotte, NC 28202
Known for: Authentic Italian meals in a warmly lit, fashionable setting.
Bringing the best of Italy to the heart of Charlotte, Aria Tuscan Grill is a lovely little spot in Uptown.
Capturing the indulgent flavors of Tuscany with its exquisitely crafted comfort food, the restaurant welcomes you in its upscale and contemporary setting with warm lights and comfortable seating.
Getting you in the mood for the delectable feast ahead, complimentary freshly-baked Ciabatta Bread with White Bean Dip is served on every table.
Classic dishes like Penne a la Vodka, Carbonara, and Chicken Parmigiana are doused with Italian sauces and flavored with in-house handmade pasta.
Try the light and flavorful Burrata or wood-fired pizza, fresh seafood, and braised meats, or head to the bar for small bites and happy-hour specials.
The Asbury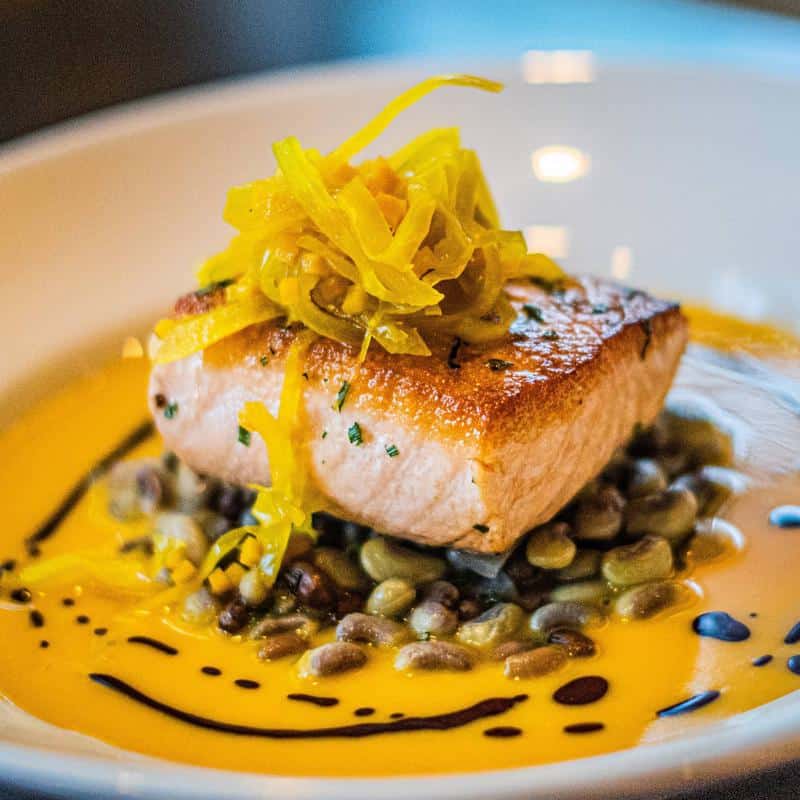 Address: 235 N Tryon St, Charlotte, NC 28202
Known for: Traditional Southern delights with seasonal variety and decadent desserts.
Celebrating the culture and flavors of the South with a modern twist, The Asbury captivates its diners with beautifully presented dishes in a refined ambiance.
Situated in Dunhill Hotel, it pays tribute to the Southern roots of Charlotte with unique Carolinian concoctions and heirloom ingredients.
The small menu rotates seasonally with local favorites such as Braised Lamb, Pan-Roasted Salmon, Home-made Pimento Cheese Biscuits, and freshest seafood doused in the pumpkin-spiked sauce.
The restaurant also has a fine selection of desserts, from delectable Peaches and Cream delicately presented by Pastry Chef Jamie; to rich and indulgent Fried Banana Cheesecake drenched in warm butterscotch sauce and shortbread crumbs.
McNinch House Restaurant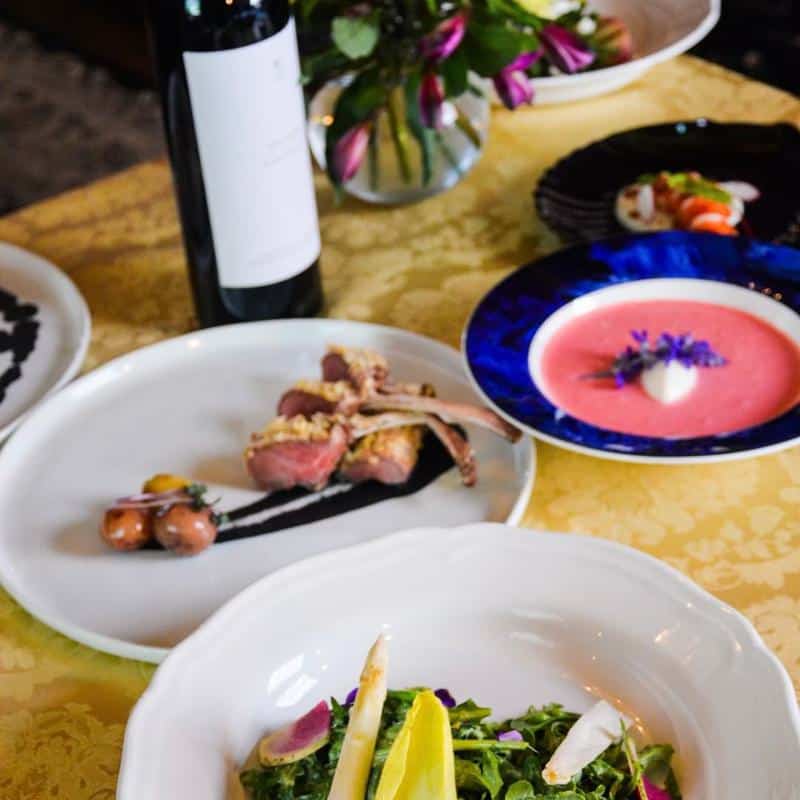 Address: 511 N Church St, Charlotte, NC 28202
Known for: A royal dining experience in a restored Victorian house and top-quality Continental dishes.
Set in a 129-year-old Victorian mansion, McNinch House Restaurant offers a unique dining experience in Uptown Charlotte. The house belonged to Samuel McNinch who was the mayor of Charlotte in 1905.
It is a perfect spot for intimate dining and celebrations. Reservations have to be made in advance and the entire experience makes one feel like royalty.
There are set menus and tasting menus of top-class Continental fare. Guests can order from a daily prix fixe menu consisting of five to nine courses, choose their entrees and wine, and the staff takes over from there to provide the best service and hospitality.
The Rosemary and Dijon Crusted Rack of NZ Lamb is the best thing on their menu. They have also received amazing reviews for the Lobster Bisque and Filet Mignon.
Alexander Michael's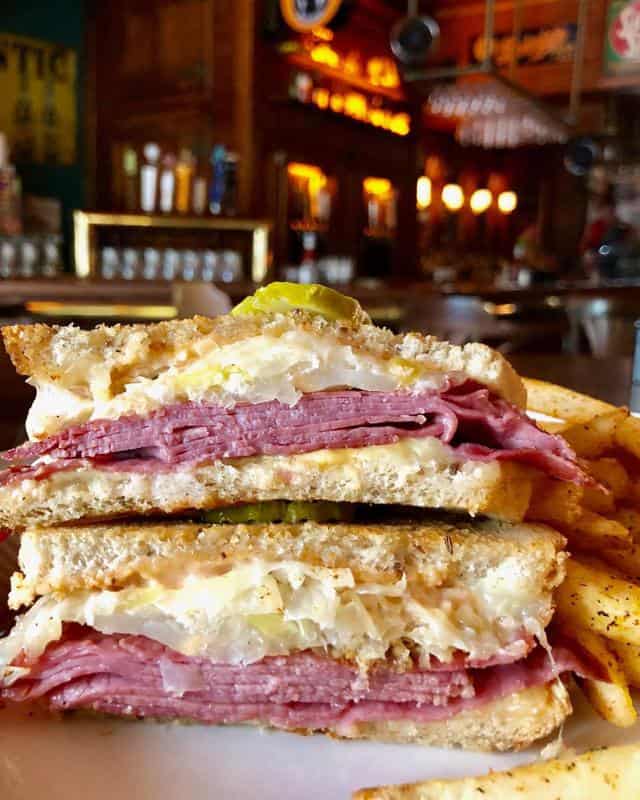 Address: 401 W 9th St, Charlotte, NC 28202
Known for: A humble pub setting with classic American fare.
Fondly known as Al Mike's, Alexander Michael's is a relaxed restaurant and tavern in Uptown Charlotte. It is well-loved by locals and is a Charlotte staple since 1983.
The restaurant offers unpretentious classic American fare in a cozy and warm ambiance. There are a lot of affordable choices on the menu, but their sandwiches, in particular, are quite a hit.
The fresh Quinoa Black Bean Vegetable Burger is a popular choice on the menu, but a juicy Half Pound Burger is equally good to satiate your carnivorous cravings.
The dinner menu includes Entrees with more variety and a 'Build Your Own Pasta' option. However, we'll save you the hassle and recommend the mouth-watering Honey Chicken Pasta with perfectly cooked honey-glazed chicken in a rich and creamy bacon and tomato sauce.
Que Onda Tacos + Tequila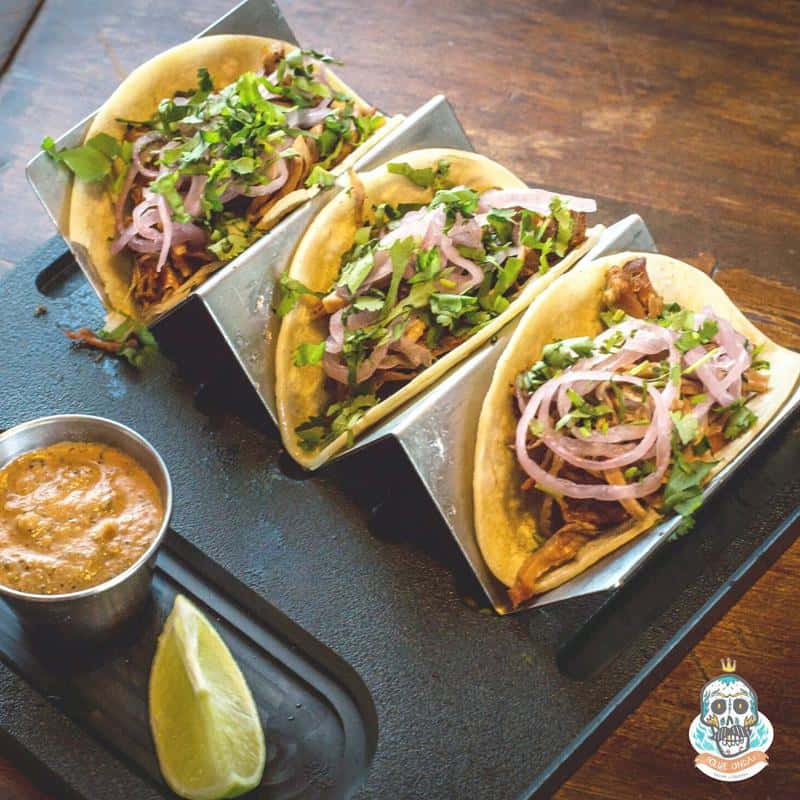 Address: 333 W Trade St #101, Charlotte, NC 28202
Known for: Taco Tuesdays and a huge variety of Mexican cuisines and tequila.
The vibrant and upbeat Que Onda Tacos + Tequila is one of the best Mexican restaurants in Uptown Charlotte. Its interior is tastefully decorated with Mexican murals, and there is a huge bar with a noteworthy selection of tequila and Latin-inspired cocktails.
The restaurant boasts a fun-filled party vibe, but the ambiance is especially electrifying on Taco Tuesdays. For only $2, you can get your favorite tacos throughout the day.
The menu covers all the Mexican delights with some dishes taking influence from Latin flavors. The tacos and burritos have over 13 varieties, and the Skillet Fajitas sell out like hot cakes.
For a wholesome Mexican experience, finish your meal the right way with their famous Loaded Churros doused with Nutella and chocolate sauce, and topped with ice cream.
Church and Union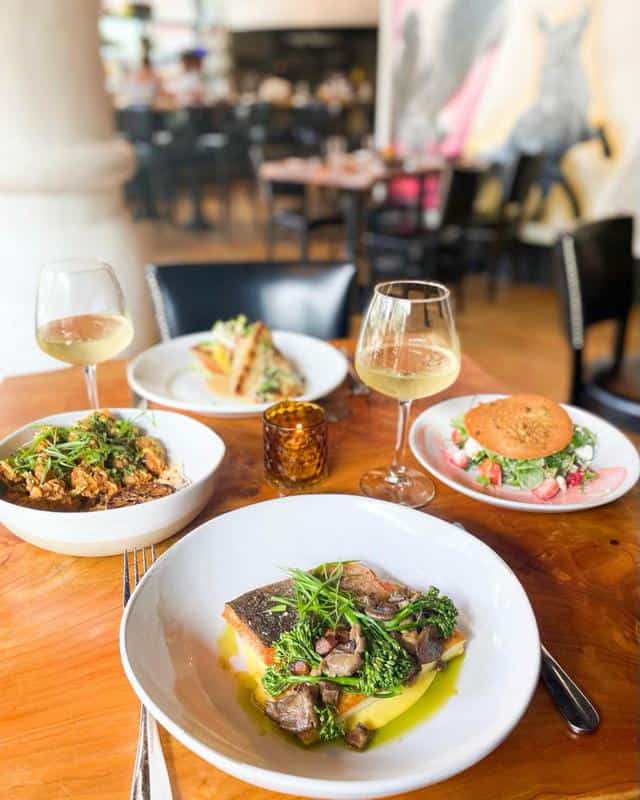 Address: 127 N Tryon St #8, Charlotte, NC 28202
Known for: Classic steakhouse ambiance with good variety and Sunday brunch.
Previously known as 5Church, Church and Union is a hip spot in the heart of Uptown Charlotte. The vibrant ambiance and classy décor make this upscale steakhouse a great dine-in spot.
Before delving into the menu, let's take a moment to admire the stunning interior of the restaurant with regal feathered lamps and a subtle play with textures and patterns. The eccentric light fixtures, modern artwork, and black leather couches are worth admiring.
The restaurant is famous for its 3-course meals and brunches. The dishes have bold flavors and popular items include Pan-seared Red Snapper, Lamb Burger, Charred Octopus, and Yellowfin Tuna Tater Tots.
Sunday brunch is a big hit and includes a huge variety of classic staples and 4 different flavors of mimosa rotating seasonally.
Green's Lunch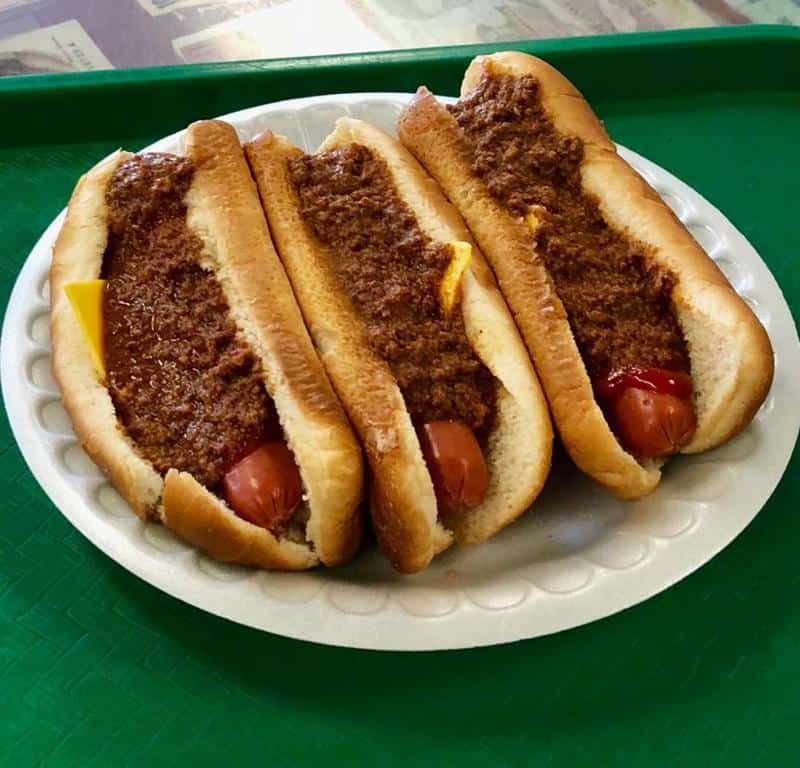 Address: 309 W 4th St, Charlotte, NC 28202
Known for: A timeless nostalgic setup with the best hot dogs in town.
We are finishing strong with a Charlotte staple in Uptown – Green's Lunch. Running strong since 1926, the restaurant has withstood the test of time.
Setup like a typical American diner, the restaurant transports you to the gold old times with traditional dining booths, old awards and wallpapers, newspaper clippings, and familiar touches for a classic nostalgic feel.
The hot dogs are served in huge varieties, with the "All the Way" Hotdog being the most famous one on the menu. It is served with homemade chili, slaw, and onions.
The restaurant also has a full breakfast menu and serves a good variety of burgers and sandwiches with cheese crinkle-cut fries.
Read More:
Conclusion
Uptown Charlotte has a lot of great restaurants to try out. From laid-back hangout spots with friends to classier business-casual or date night options, our list highlights the local favorites and hidden gems offering the best value and quality.
Map of Best Restaurants Uptown Charlotte