The charming Queen City of North Carolina has a lot to offer to its visitors. Owing to its captivating skyline and awe-inspiring scenic beauty, the rooftop restaurants and bars offer a one-of-a-kind dining experience. Not to mention the delectable cuisine with range and quality to suit all palates.
In our list, we mention upscale rooftop restaurants in Charlotte, NC, with the best rooftop views to pair with your drinks.
Best Overall Rooftop Restaurant: Aura Rooftop
Best Romantic Rooftop Restaurant: Fahrenheit
Best Rooftop Restaurant with Brunch: The Waterman Fish Bar
Best Luxurious Rooftop Restaurant: RH Rooftop Restaurant
Best Rooftop Restaurants in Charlotte, NC
Aura Rooftop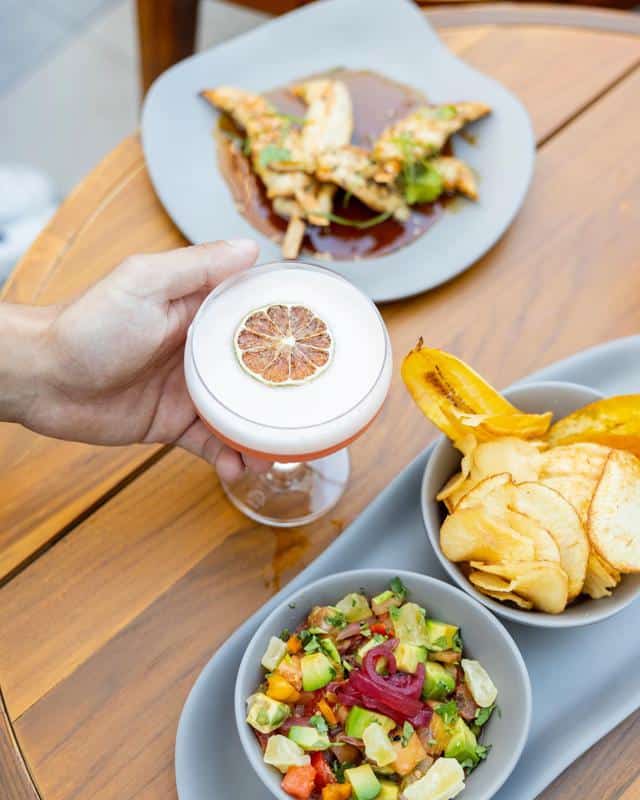 Address: 124 E Brooklyn Vlg Ave, Charlotte, NC 28202
Known for: Elevated restaurant and bar with unique cocktails and city views.
Aura is a relatively new establishment in Charlotte but has quickly risen to the top for its unique aesthetics and signature botanical cocktails. Pair it with the mesmerizing views of the city's skyline from the 5th floor and you've got yourself a perfect evening in this urban oasis.
The "Magnetic Vibes Up High" tagline fits this lovely downtown restaurant perfectly. You are welcomed by idyllic pastel hues, hanging egg chairs, and panoramic city views to instantly set the mind at ease. The comfortable seating makes the dining experience all the more enjoyable.
While the drinks menu is quite extensive, the food is served on small plates and hand rolls. The most ordered items include Ahi Tuna Tacos and Chicken Satay with the perfect taste of umami and a fragrant Teriyaki Glaze.
The 'Find your Vibe' drinks menu is inventive and brilliantly grasps attention with concoctions like 'Lovesick', 'Intrigue' and 'The Perfectionist' with personality traits and vibe mentioned under it.
Fahrenheit
Address: 222 S Caldwell St 21st Floor, Charlotte, NC 28202
Known for: Romantic fine-dining ambiance with an upscale layout, new American cuisine, and views from the 21st
Turn up the heat and enjoy a fine-dining experience at the posh and luxurious Fahrenheit atop the Hyatt Place Hotel. Dress your best to dazzle the clients or impress your beau, and the striking Queen City views from the 21st floor will do the rest!
Chef Rocco Whalen intricately prepares each dish, staying true to new American flavors with innovative twits. The rooftop is embellished with linear fire pits, a seasonal herb garden, and a social pool.
The views pair exceptionally well with the succulent steaks, the freshest seafood, and fantastic Chef Specials. For a hearty seafood feast, get the Poke Trio with Hamachi, Sweet Soy Tuna, and Lobster Ceviche.
They also have an extensive wine list, a selection of crafted local beers, and specialty cocktails. A backdrop of the city's skyline paired with a starry sky and a blazing fire pit will surely turn up the heat on date nights!
The Waterman Fish Bar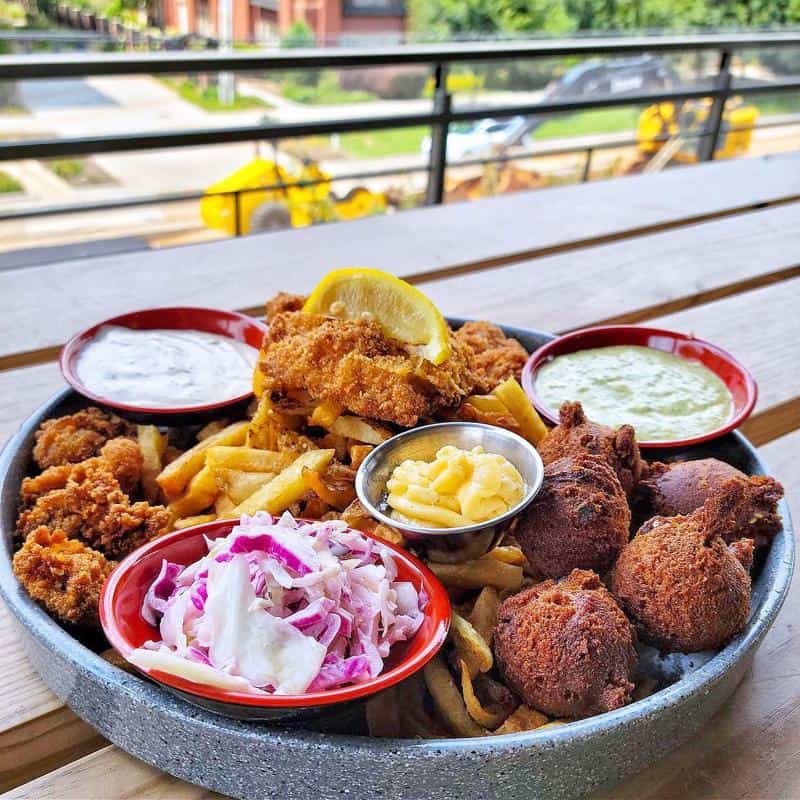 Address: 2729 South Blvd suite d, Charlotte, NC 28209
Known for: Best Brunch, Fresh seafood variety, boat drinks, and Uptown views from the rooftop bar.
Voted "Best Brunch" in Charlotte in 2021 by QC Nerve, the Waterman Fish Bar is a quaint seafood joint with a Topside Rooftop.
Famous for its 'boat drinks' and fresh seafood, the restaurant is well-loved amongst locals and offers sweeping views of the Uptown from its rooftop bar.
This crown jewel in South End has a laidback ambiance with a simple layout, largely keeping the focus on their food. The menu has classic seafood dishes with hints of Southern inspiration. Incorporating old favorites and nostalgic flavors, their mighty Waterman Platter is the ultimate dish for seafood lovers.
If you are looking to get a little tipsy, try their 'Oyster Happy Hour' with Deep Eddy Vodka, Clamato juice, horseradish, and oysters.
The Boat-Drinks are also a big hit and pair well with the beautiful rooftop views. Some of the best-selling ones on the list include the famous 'Deck Hand', Strawberry Rose' Martini, Old Rumantic, and Smooth Hennesea.
RH Rooftop Restaurant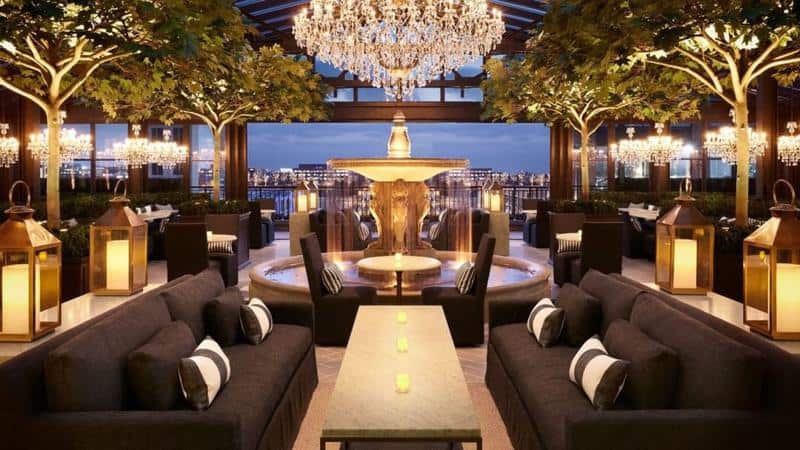 Address: 6903 Phillips Pl Ct, Charlotte, NC 28210
Known for: Breathtaking sky-lit garden escape with an upscale wine bar.
Step inside a world of luxurious serenity and fascinating views at RH Rooftop Restaurant.
Designed like a garden with an imperial touch, the sky-lit venue welcomes you to enjoy a night of luxury in the company of trickling fountains, sparkling chandeliers, and heritage olive trees within its glass-and steel façade.
It's hard to find a setup quite like this anywhere else, as the magical ambiance created on the rooftop truly transports you to another world.
The gorgeous venue is nestled within the Gallery at Phillips Place. It is further beautified with mesmeric city views and an ingredient-driven menu. Start the night with a delectable serving of Shrimp Cocktail and carry it further with a succulent Lobster Roll or Roasted Half Chicken with garlic confit and potato puree.
They also have an extensive brunch menu, and the RH Wine Bar has a prized list highlighting 60 wines from esteemed vintners from around the world
Lincoln Street Kitchen and Cocktails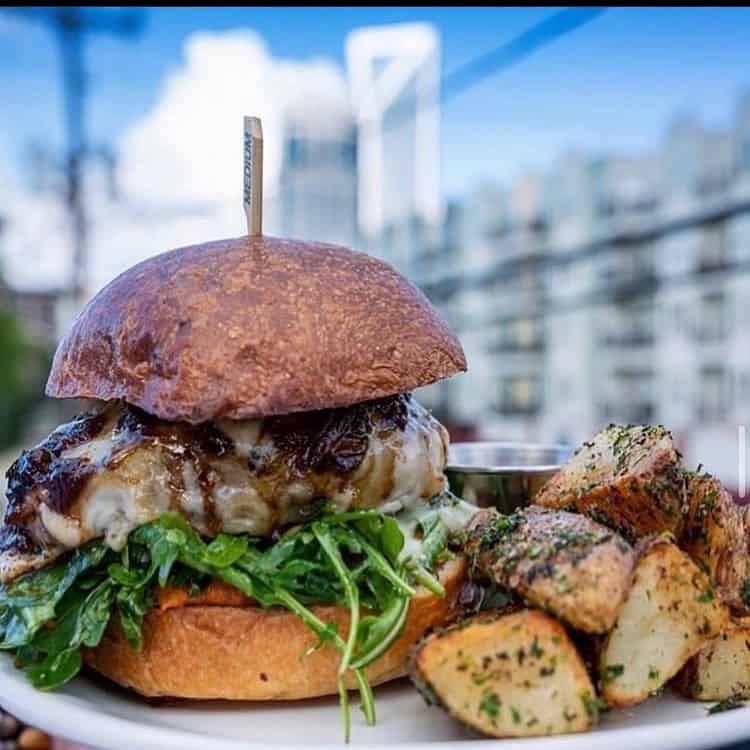 Address: 1320 S Church St Suite 400, Charlotte, NC 28203
Known for: Upscale dining with seasonal small plates and innovative cocktails.
Delicately balancing the modern and the rustic, Lincoln Street Kitchen and Cocktails has a 30-seat rooftop deck offering an elevated dining and drinking experience.
The contemporary 'small plates' menu is complimented with distinct cocktails ranging from sodas and curated wine lists to barrel-aged cocktails and house-made shrubs.
The mid-century nostalgic layout of the restaurant is beautified with lime-washed bricks, a moss wall, and a walnut live edge bar. The innovative menu has juicy Lamb Skewers with Crispy Yukon Gold Potato, Wagyu Tartare, and Charbroiled Oysters in Herb Butter as their most selling appetizers.
The small plates feature delights like Harissa Pork Chop, Rainbow Trout, and Stone-Fruit Salad. They also serve succulent burgers from Tuesdays through Thursdays.
We recommend stopping by for brunch with your girlfriends on breezy Sunday mornings to enjoy their heavenly Petite Belgian Waffles and Mimosas with unobstructed views of the skyline.
Mizu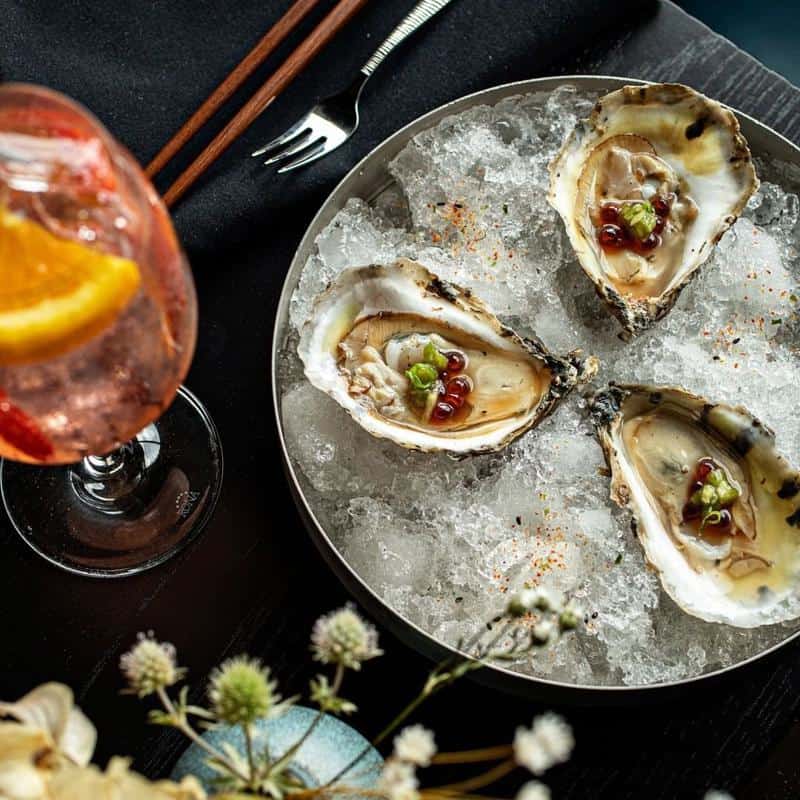 Address: 3100 Apex Dr 9th Floor, Charlotte, NC 28211
Known for: Robota-grill seafood with Japanese influences.
Famous for its classy ambiance and wood-grilled seafood, Mizu is a lovely rooftop restaurant in Charlotte. Taking inspiration from the Japanese culture and cuisine, the restaurant heavily focuses on a Japanese menu with hints of Asian and Southern influences.
The live-fire Robota grill restaurant sits atop the Hyatt Centric and serves seasonal seafood-focused dishes. You will find a lot of variety in their menu with raw, chilled, and wood-fired options.
From the chilled and raw category, we highly suggest the delectable Mizu Oysters served with Pink Peppercorn Mignonette and Pickled Wasabi.
Large plates and shareable options also have some great variety like the Firecracker Shrimp or Wagyu Toban. For a wholesome Japanese experience, get the Kiku Masamuni Junmai Kimoto (Ancient Sword) sake with your order.
Graham St. Pub & Patio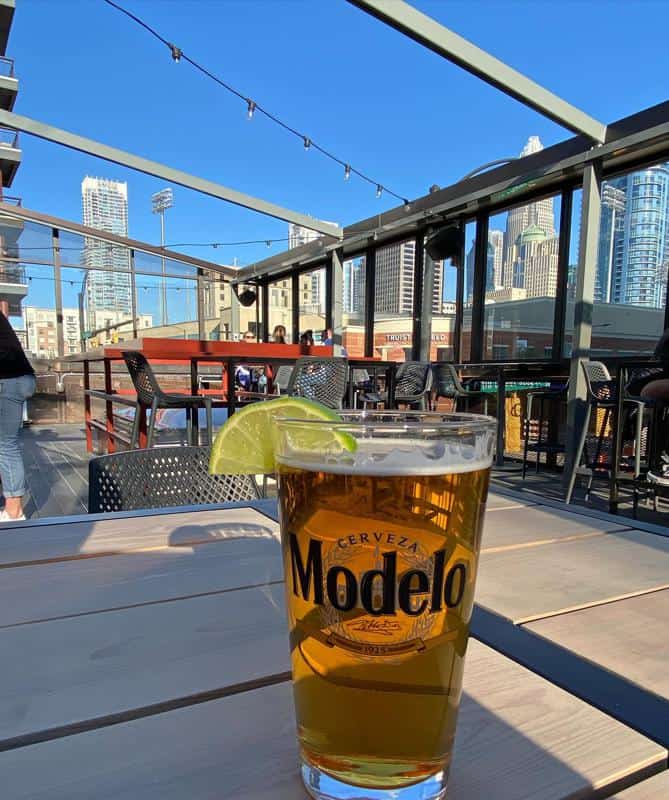 Address: 400 S Graham St, Charlotte, NC 28202
Known for: A laid-back spot for hanging out with friends before or after a game.
Graham St. Pub & Patio is a lively uptown gem that enjoys a prestigious location between the Bank of America Stadium and BB&T Ballpark.
People stop by for a quick bite to eat or cheer on with beers and scenic views after a game. The amicable service paired with a top-notch bar menu makes it a great place to hang out with friends.
There's a huge variety of beers on drafts and specialty cocktails as well. The eclectic menu is crafted with fresh ingredients and ambitious combinations to pair with your drinks.
From hearty plates of Loaded Nachos to tender Buffalo Chicken Dip and Wings, everything is cooked to perfection. They also have a good variety of burgers and tacos loaded with cheese and meats. Try the famous 'Sexy Burger' with the restaurant's signature sexy sauce, bacon, and your choice of cheese.
Whiskey Warehouse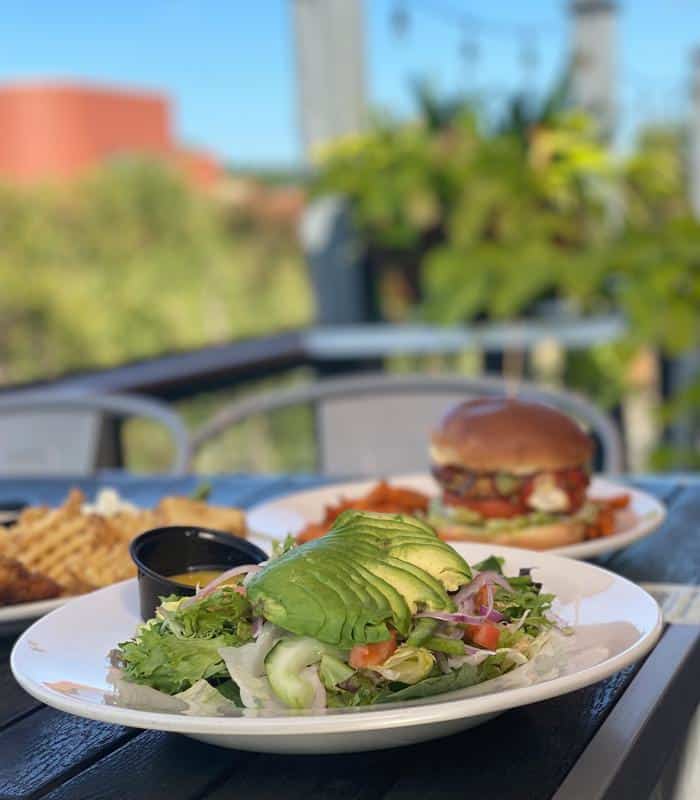 Address: 1221 The Plaza, Charlotte, NC 28205
Known for: An impressive variety of whiskey cocktails with classic bar snacks.
As the name suggests, Whiskey Warehouse is a vibrant rooftop bar with a whiskey-forward cocktail program and top-notch local beers on an endless roster. We love this cozy little spot for its warmth and personality, with an enchanting rooftop setup with string lights and the natural city ambiance.
The restaurant is two-story with an idyllic and rustic setup on the ground floor beautified with antique chandeliers and reclaimed wood. The standard American cuisine like juicy wings, succulent burgers and pretzel bites pair amazingly well with the whiskey cocktails.
If you are looking to mix things up a little, go for one of their creative remixed cocktails. The U-shaped bar has a charming vibe with TVs and umbrellas to enjoy the views in a shaded setting.
Locals flood in on weekends for specials on Sangria, Bloody Mary, Chilled Irish Coffee, and Mimosas. Served with an amazing spread of breakfast and brunch delights, you can pair the delicious drinks with hearty servings of Chicken and Waffles, Shrimp & Grits, or the 'Hangover Helper' platter.
Nuvole Rooftop TwentyTwo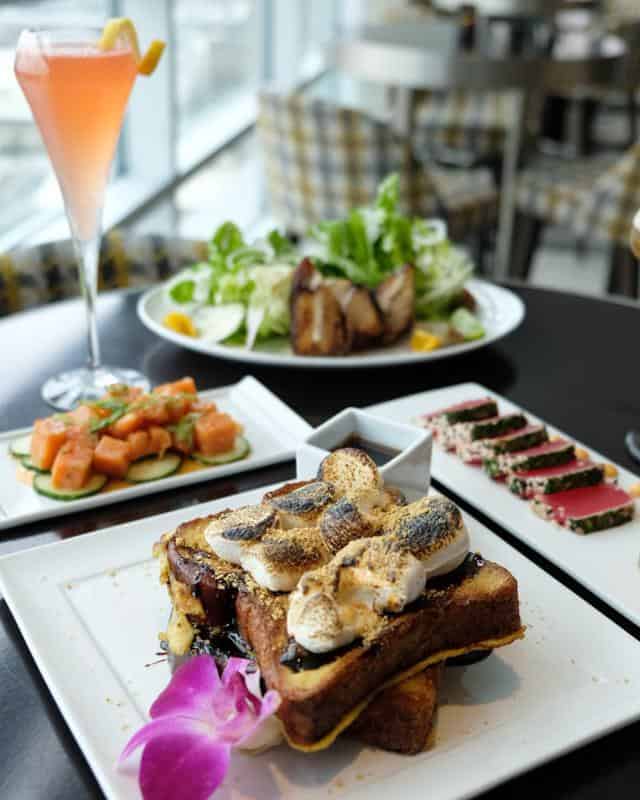 Address: 220 E Trade St Suite 2200, Charlotte, NC 28202
Known for: Striking views from the 22nd floor and bottomless mimosas on Sundays.
Get your heads in the cloud with the sleek and classy Nuvole Rooftop TwentyTwo. Located 22 stories into the skyline of Charlotte, this beautiful gem has the highest rooftop lounge in the city with captivating panoramic views.
The dining experience is unparalleled with a pleasant patio seating equipped with fire pits and outdoor heaters to set the perfect intimate ambiance on a chilly star-lit night.
The unforgettable views of the city pair well with their craft cocktails and small plates. The seafood dishes here are quite famous and include Ahi Tuna Nachos and Gambas Al Ajillo with sautéed garlic saffron shrimp.
Get the hearty Uptown Platter to share with your beau. It has the chef's selection of the finest meat cuts, cheese, and pickled vegetables. On weekends, the fun starts with bottomless mimosas and delectable brunch dishes.
Merchant and Trade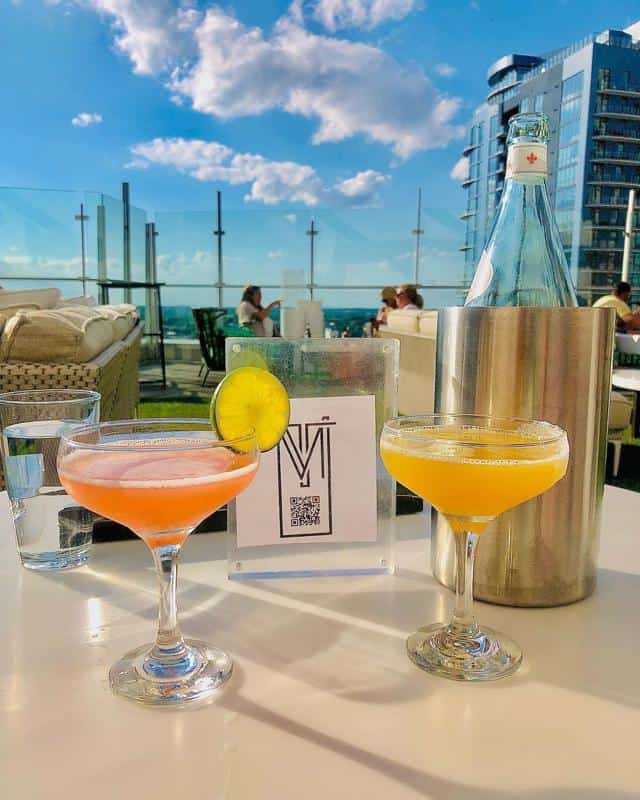 Address: 303 S Church St, Charlotte, NC 28202
Known for: Amazing views from the 19th floor, elevated American dishes, and classic cocktails.
The chic and luxurious Merchant & Trade is a fantastic Uptown rooftop restaurant and bar on the 19h floor. The restaurant is divided into four zones comprising an outdoor terrace, an indoor bar, a private terrace, and a sprawling lawn. Each zone has a distinct charm of its own but the outdoor terrace, in particular, offers the best views of the city.
Indulge in elevated bar bites and classic cocktails with charming North Carolina hospitality. The new American cuisine has Southern influences with a lot of classics on the menu.
Enjoy a bit of everything with Surf and Turf that comes loaded with achiote shrimp, grilled strip steak, pickled Fresno pepper, and chimichurri roasted potato, or get a smashing Epic Burger with two patties and miso pork belly.
Pair it with seasoned cocktails or house favorites like 'Gap in the Clouds' made with Tito's vodka and fresh lemon in earl grey tea.
Read More:
Conclusion
The stunning skyline of Charlotte demands attention and the wonderful selection of rooftop restaurants and bars on our list do full justice to its beauty.
Whether you are looking for a quaint and intimate setup on a star-lit night or a breathtaking panoramic backdrop as you get down on one knee, you will find exactly what you are looking for here! Relish in a huge variety of dishes and cocktails from the aforementioned restaurants for an unforgettable dining experience in Charlotte, NC.
Map of Best Rooftop Restaurants Charlotte, NC