Whether you are looking for a locals' favorite restaurant in Destin, Florida, or just a great seafood restaurant in the area, this article got you covered. It covers all the best restaurants in Destin on the water and also the best beachfront venues.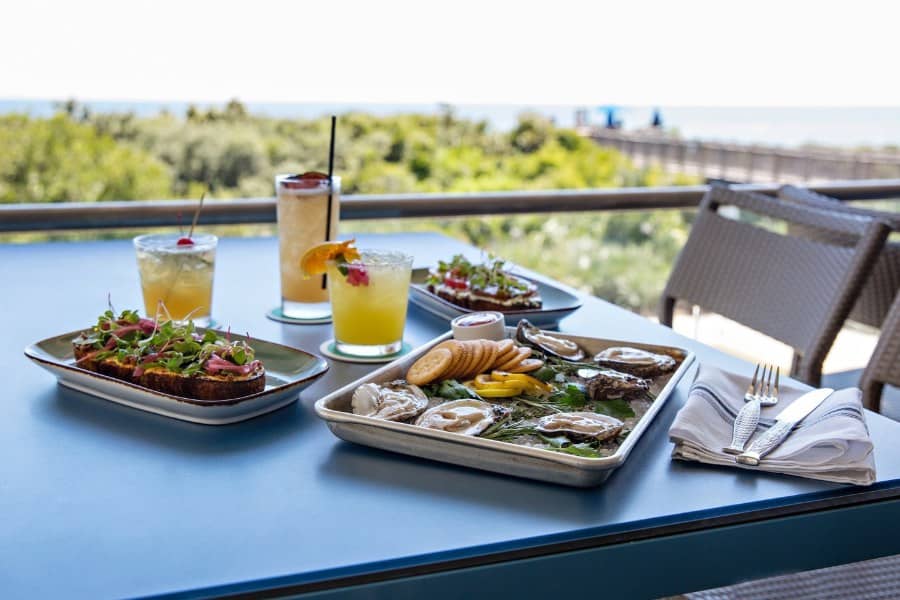 Read on to also know the best restaurants in Destin for family-friendly affairs and celebrations.
Best Restaurants in Destin, Florida
Here are the best and most extravagant places to eat in Destin when on vacation or visiting:
Marina Café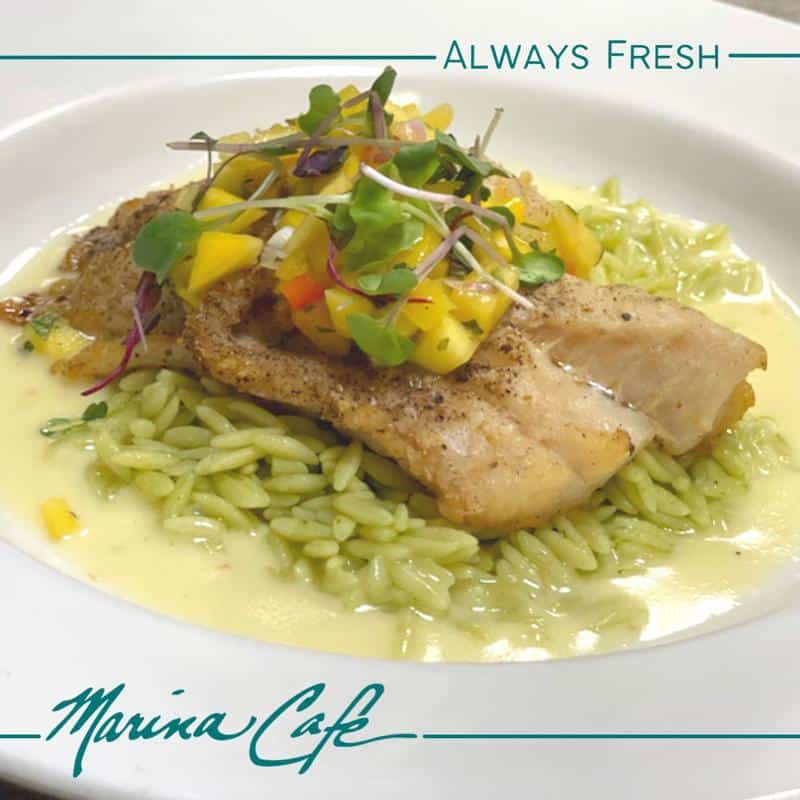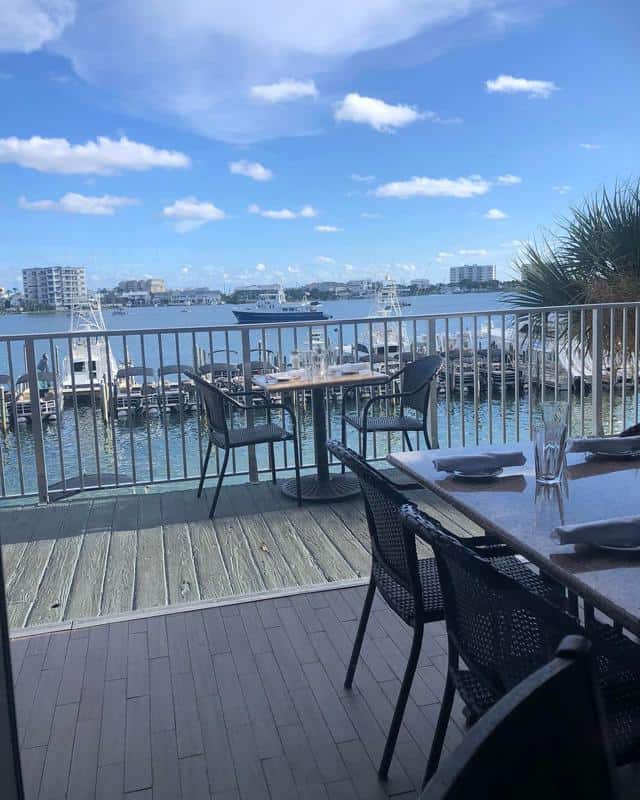 Address: 404 Harbor Boulevard, Destin, Florida, 32541
Phone: 850 837 7960
Atmosphere: Candlelit dining scenery with great views of Destin Harbor
Known for: Restaurant with the largest collection of awards in Destin
Marina Café is Destin's golden child with all the offerings you may want in this coastal region filled with great views and lots of seafood platters. The venue has a stunning view of the Destin Harbor overlooking the Emerald Coast.
It is a serene environment that will make for a great date night with your loved one. The thirty-foot windows ensure you have an unobstructed view of the beautiful bay sunset. Due to its location and world fame, the multi-award-winning venue is a local's favorite and tourist must-visit site.
Marina Café has been in operation for more than 30 years on the Emerald Coast, serving seasonal dishes in progressive styles. Their food selections range from USDA prime steaks to Destin's best seafood items to wood-fried pizzas (currently unavailable) and Asian cuisines from sushi to other delectable items.
Please start with the grilled Maine lobster tail and pair it with a Caesar salad. Try the special menu with sauteed gulf grouper and the pepper-crusted seared yellowfin tuna. If you are in the mood for prime steaks, then the USDA prime ribeye is a great selection. There are also pastas: farfalle for $32 and penne alfredo for $31.
Cocktails are plenty in the bar section with classic mojitos, ranging from $9 to $10. Try their signature cocktails, including the Marina Sunset made from Malibu and mixed with cherry and pineapple. The Marina Old Fashioned is the most expensive cocktail ($13) made from Four Roses Bourbon.
Dewey Destin's Harborside & Seafood Restaurant
Address: 9 Calhoun Avenue, Destin, Florida 32541
Phone: 850 837 7575
Atmosphere: Traditional, airy, and attentive staff
Known for: Leonard Destin
Dewey Destin's Harborside is a true Destin staple since it got founded by the great-great-grandson of Leonard Destin, who is considered the founder of the town. Dewey established the restaurant in memory of Leonard to serve the fishing village with seafood delectable in its two Destin locations.
Dewey Destin's Seafood Restaurant is the original venue along Calhoun Avenue, and Dewey Destin's Harborside is the successor along Harbor Boulevard in Destin. Both locations have a traditional ambiance and serve the usual steaks, salads, and seafood. The harborside location is the most favored since it has a cooler breeze and spectacular views of the Destin harbor.
Try their royal and fried shrimp with oysters, plus the grilled shrimp and snow crab; they all come highly recommended due to their full flavors and enticing presentations. Crab dip with ritz crackers is another great option.
Brotula's Seafood House & Steamer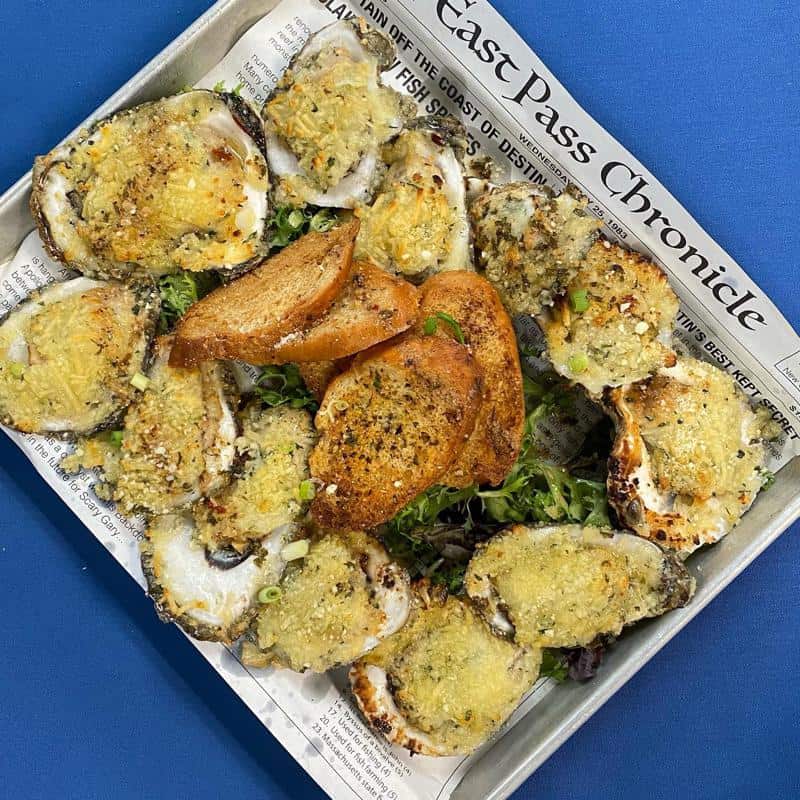 Address: 210D Harbor Boulevard, Destin, Florida
Phone: 850 460 8900
Atmosphere: Relaxed and airy with a view of boats docking on the bay
Known for: Lots of weekly offerings like bottomless mimosas
Brotula's is a great place to start if you want to support locally-owned businesses. This family-friendly Destin restaurant serves popular plates of seafood from mussels to snow crabs and lobsters. The locally caught fish are fished from the Gulf of Mexico and prepared on the same day to create fresh cuisines.
Happy Hour is available every day at the bay with offerings such as half-off on Domestic drafts, $8 on select appetizers, half-off on select wines, and Off Well drinks. Special offerings throughout the week include the Wine-Down Wednesday with 10% Off Captain's List Wines and Sunday Fun Day, where you get to feast on $14.95 bottomless mimosas, and all-you-can-eat crawfish from 10 am to 2 pm.
McGuire's Irish Pub and Brewery
Address: 33 Highway 98 E, Destin, Florida 32541
Phone: 850 650 0000
Atmosphere: Warm but dimly lit environment with a great party ambiance
Known for: House-brewed beers and open till late (usually around 2 am)
There is non like it in Destin; the McGuire Irish Pub and Brewery stand out with its dark wood accented décor and numerous dollar bills plastered on the ceiling. It is located over the pass on the harbor alongside other McGuire-owned places, including shops and liquor stores.
Daily $9.99 specials run from Monday to Friday and include the shepherd's pie on Monday, homemade meatloaf on Tuesday, Hopkins fried chicken on Wednesday, bangers & mash on Thursday, and fish & chips on Friday. Moreover, there is the late-night happy Hour all week from 11 pm till closure, where you can get draft beers, house wine, and well at half the original price.
Louisiana Lagniappe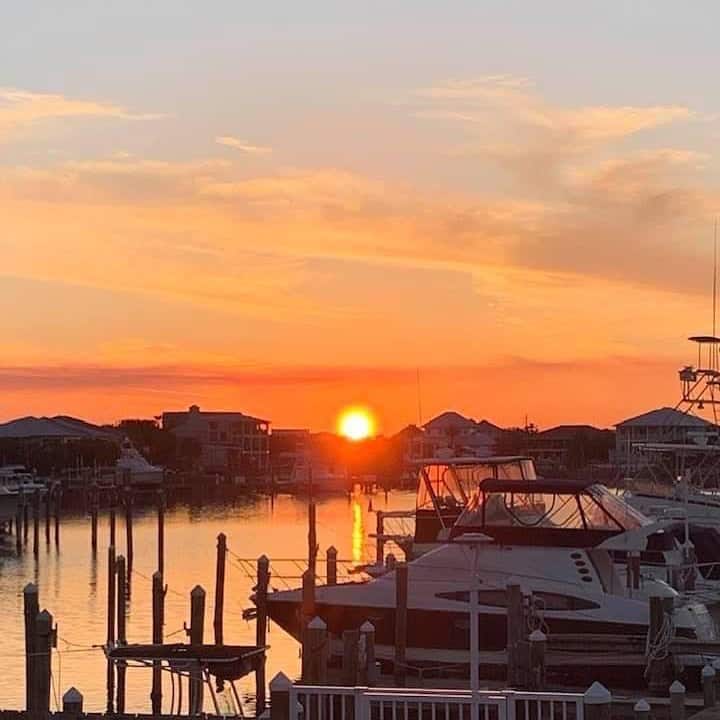 Address: 775 Gulf Shore Drive, Destin, Florida 32541
Phone: 850 837 0881
Atmosphere: Family-friendly with a great view of the sunset sparkling in the water
Known for: Creole cuisine
Another ancient restaurant in Detin is Louisiana Lagniappe which has been open since 1984. Like most great restaurants in Destin, Louisiana Lagniappe is located next to the harbor in Sandpiper Cove condominiums, where you can feel the evening breeze from the shore while basking in the warm lighting of this intimate setting.
The restaurant is an upscale venue that promotes fine seafood dining at its best in Destin. Try their classic jambalaya or the barbecue jumbo shrimp. Most of their foods are paired with baked potatoes, salads, and hushpuppies.
Beach Walk Café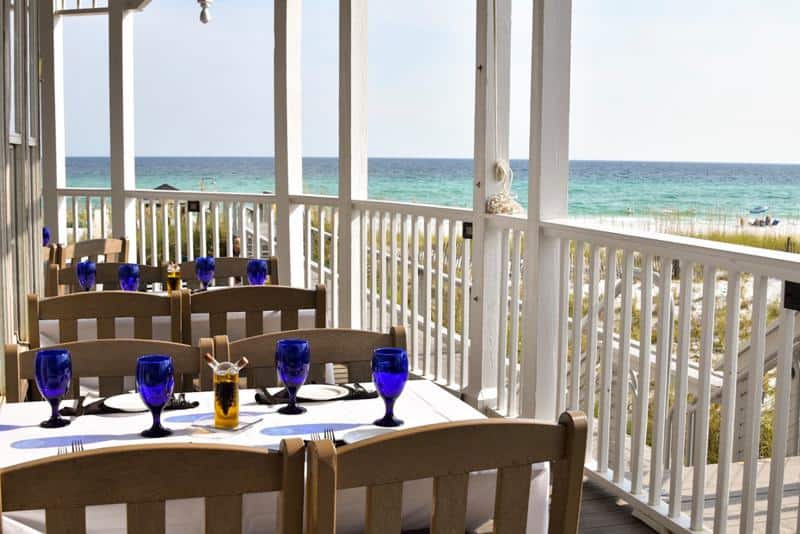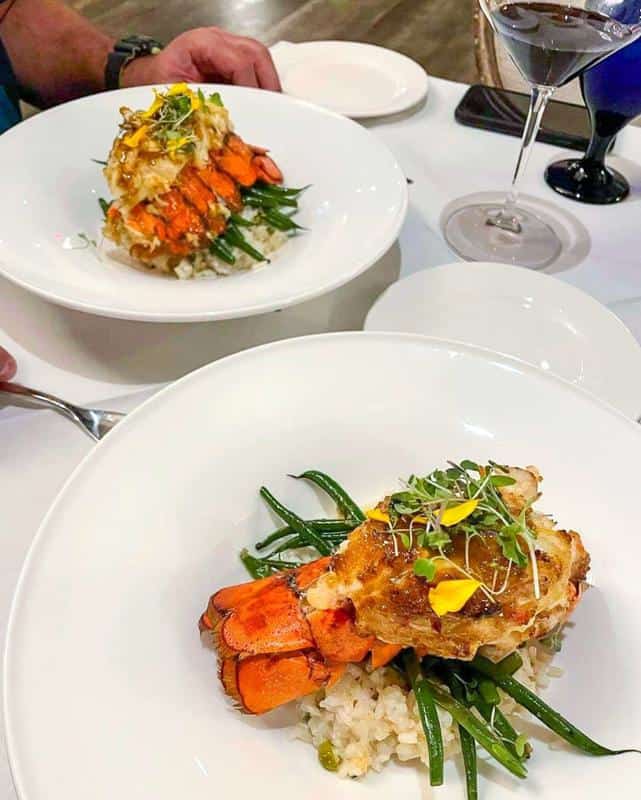 Address: 2700 Scenic Highway 98 Destin, Fl 32541
Phone: 850 650 7100
Atmosphere: Intimate and cozy with a fireplace and great views of the Gulf of Mexico
Known for: American dishes with a twist of Asian and European cuisines
The Executive chef at Beach Walk Café, Tim Creehan, was named one of "the youngest and most accomplished Certified Executive Chefs in the US" in 1992 by the American Culinary Foundation. He brings his creations made from locally sourced seafood to create fresh plates of seafood and sumptuous desserts.
Beach Walk Café is situated in Henderson Park inn. Starters on the menu include the shrimp cocktail and the smoked gulf dip. Try the King's Table farm half-roasted chicken or the 8-ounce certified black Angus filet on the entrees menu.
Jackacuda's Seafood & Sushi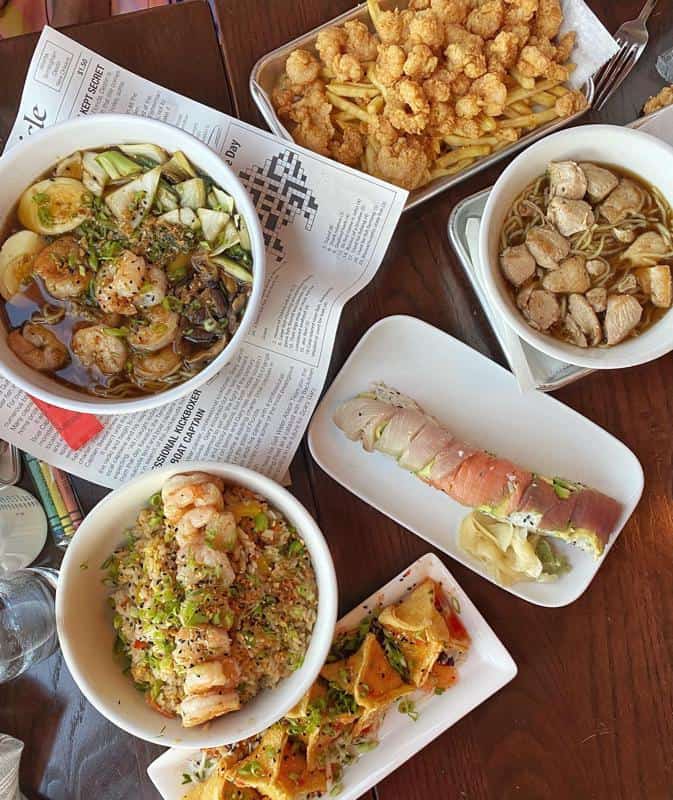 Address: 36120 Emerald Coast Parkway, Destin, Florida 32541
Phone: 850 460 2909
Atmosphere: family-friendly and cozy
Known for: All-you-can-eat sushi from Monday to Friday
Jackacuda serves all-you-can-eat sushi for $29.95 from Monday to Friday between 11:30 am and 4 pm. It is a partner of other great restaurants in Destin, including Brotula's Seafood House and the Bay House. Unlike most of its partners, Jackacuda's seafood & sushi offers lots of offers throughout the week, including Sake Sundays, where you can get 20% off on all bottles of sake.
The Asian-oriented restaurant also has Wine Down Wednesdays, when you can get 15% on select bottles of wine or opt for select glasses at half their original prices. Happy Hour is available every day from 2 pm to 6 pm when you can get wells for $4, house wine BTG for $4, cocktails for $6, and domestic draft beers for $2. The $6 appetizers happy hour offer includes steamed pork dumplings, veggie spring rolls, Edamame, sushi rolls, and fried pickles.
AJ's Seafood & Oyster Bar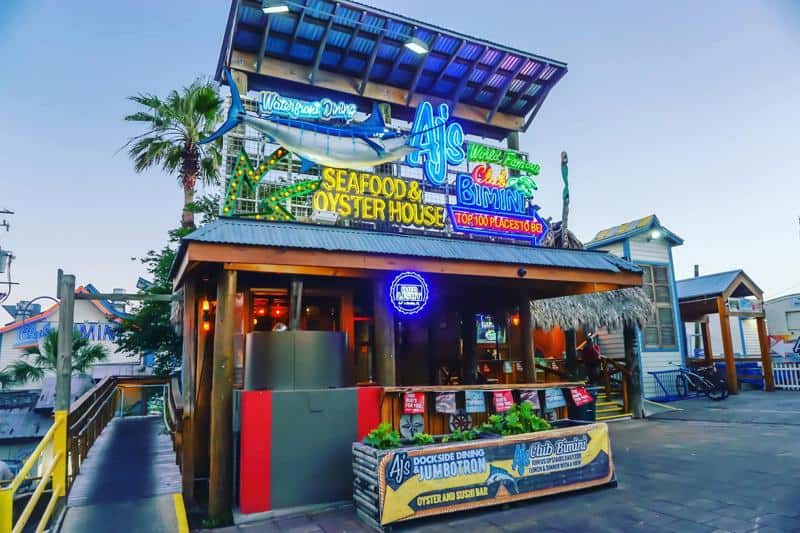 Address: 116 Harbor Boulevard, Destin, Fl 32541
Phone: 850 837 1913
Atmosphere: Lively, family-friendly, great view
Known for: Fresh oysters, great views, and nightlife on the patio
AJ's seafood and oyster bar has been in operation since 1984. The Destin staple venue boasts live music every night, where jazz bands and guitarists fill the area with soulful tunes. AJ's is not just known for its oysters but also the spectacular shore views and a long line of merchandise that include t-shirts, hats, visors, sweatshirts, long sleeves, and gift cards.
The Aj's Water Adventures package takes guests through a premier dolphin cruise at sea. Get to sail and enjoy exciting rides on the restaurant's speedboats, or custom-built schooner dubbed the Daniel Webster Clements.
Boshamps Seafood and Oyster House
Address: 414 Harbor Boulevard, Destin, Fl 32541
Phone: 850 424 7406
Atmosphere: Social and crowded
Known for: Events and tournaments surrounding the fishing and seafood culture
If you are looking for a waterfront restaurant in Destin, then Boshamps Oyster House covers you. Live music gets played regularly in the oyster house, where you can taste the impeccable menu curated by experienced chefs with over 40 years of experience.
Boshamps Oyster House is famous for its tournaments that come with various awards. Get to participate in catching the biggest fishes where you stand the chance of winning up to $2500 in cash prices. Check out their website events schedule for upcoming tournaments you may want to join.
Try the Devil's crab, which features Chef Andi Bell's take on jumbo lump crab. The house-smoked yellowfin tuna dip is a fan favorite alongside the red snapper, grouper sandwich, and oysters Bochamp baked with caramelized Vidalia onion.
Mimmo's Ristorante Italiano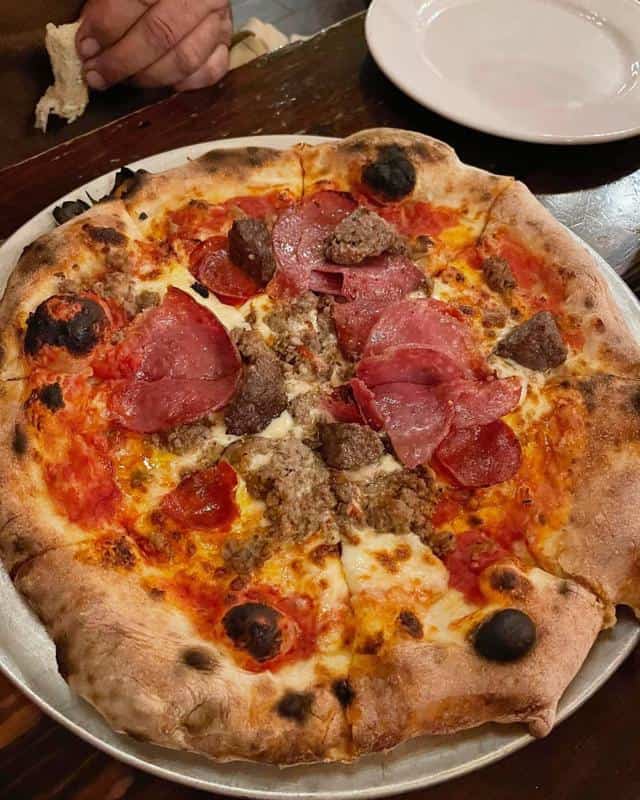 Address: 979 Us Highway, 98 E, Ste 5, Destin, Fl 31541
Phone: 850 460 7353
Atmosphere: Upscale and fine dining ambiance
Known for: Classic Italian cuisines in Destin
No need to look for another authentic Italian restaurant in Destin – Mimmo's offers delicious Italian dishes from classic pizzas to pasta, spaghetti Bolognese, Fettucine alfredo, bruschetta, pasta carbonara, and penne Alla vodka. The full bar offers various drinks, from wines to classic and signature cocktails. The venue is high-class and inviting, perfect for date nights and special occasions with your Italian food lover crowd.
The Local Market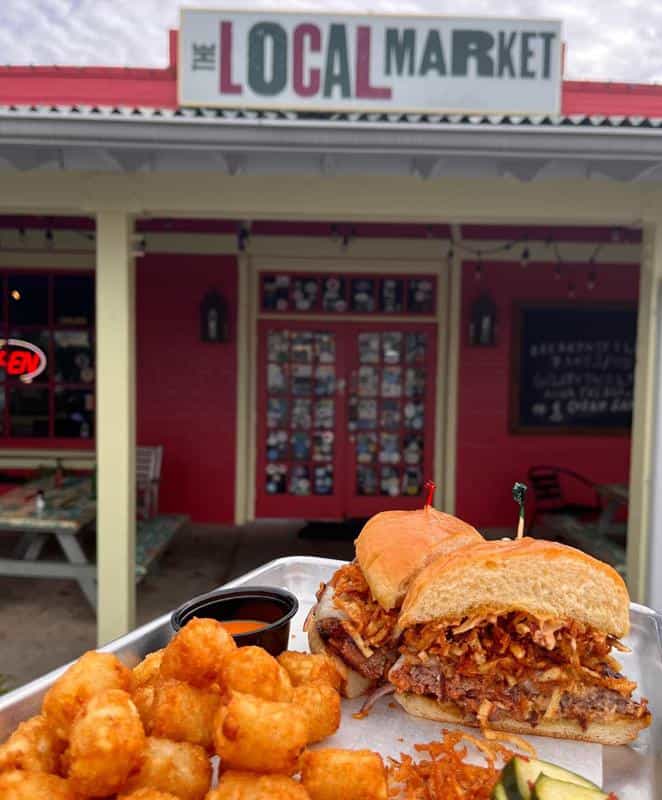 Address: 950 Gold Shore Dr, Destin, Fl 32541
Phone: 850 460 8979
Atmosphere: Social and less crowdy
Known for: short lines for affordable breakfast and lunch
Managed by Matt K, the Local Market offers small dishes and happy meals from donuts to smoothies, sandwiches, and house-made ice creams. This is where you want to go for an affordable yet delicious breakfast and lunch.
It is usually less crowded than the other venues on the list due to its limited food selections. It is also an excellent venue for those who love pinball machines. Catch up with your friends over the craft beers served cold on site.
The Back Porch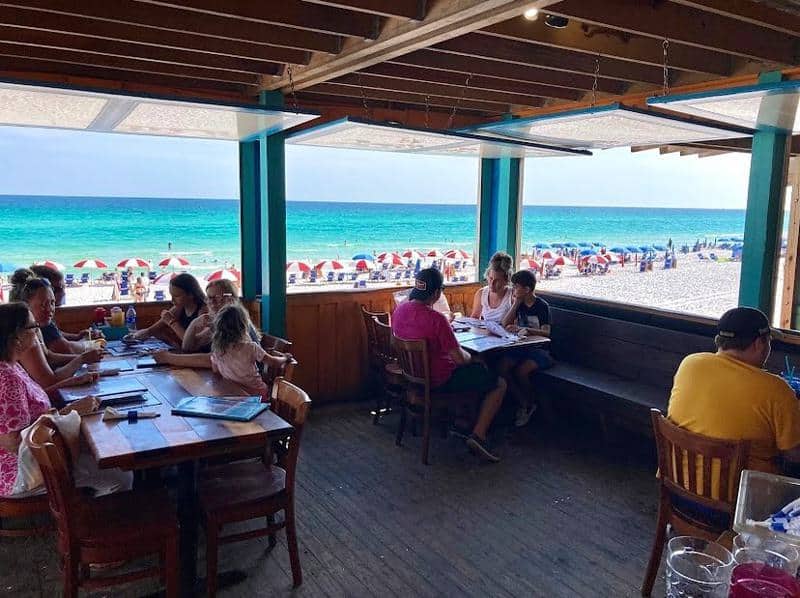 Address: 1740 Scenic Highway 98, Destin, Fl 32541
Phone: 850 837 2022
Atmosphere: Relaxed environment with a good view
Known for: tasty crab-stuffed shrimp
The Back Porch is a seafood restaurant and oyster house with two locations in Florida: one in Destin and another in Panama City Beach. The establishment was opened in 1974 and has grown to be one of Destin's most beloved seafood places.
House specialties include the grouper Destin with grilled gulf grouper topped off with shrimp and back porch Mahi stuffed with crab mix. Feast on the three oyster offerings: oyster on the half-shell, golden fried & hand breaded oysters and back porch oyster with crabmeat and cheese. The crab stuffed shrimp for $37.99 is a fan favorite.
790 on the Gulf Restaurant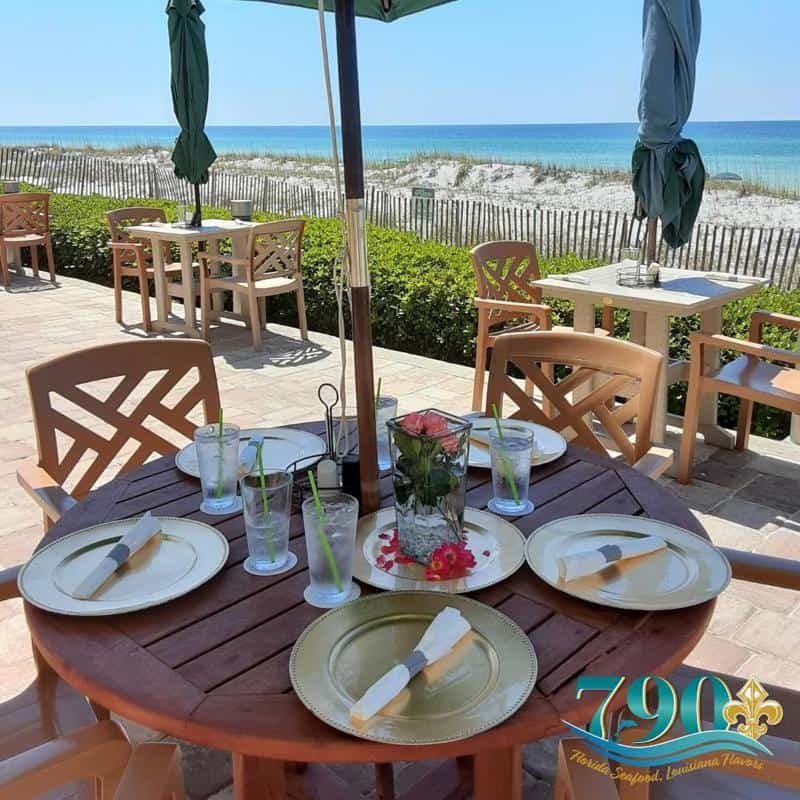 Address: 14073 Emerald Coast Parkway, Destin, Fl 32541
Phone: 860 650 4853
Atmosphere: Close to the beach with a cool breeze and enough seating space
Known for: daily bottomless mimosa
790 on the Gulf will have you scrambling for a reservation with its many perks, including unlimited parking in the area, daily Happy Hour from 11 am (Monday to Saturday), $9.99 lunch specials Monday to Saturday, and a fan favorite – the endless champagne offers from 11 am to 3 pm every day.
Open from 11 am to 9:30 pm every day, the 790 on the Gulf restaurant includes a Sunday champagne brunch and bottomless mimosas every day from 11 am to 3 pm. You won't miss a spot in the vast seating area that consists of two floors and an outdoor terrace right next to the beach.
Ruth's Chris Steak House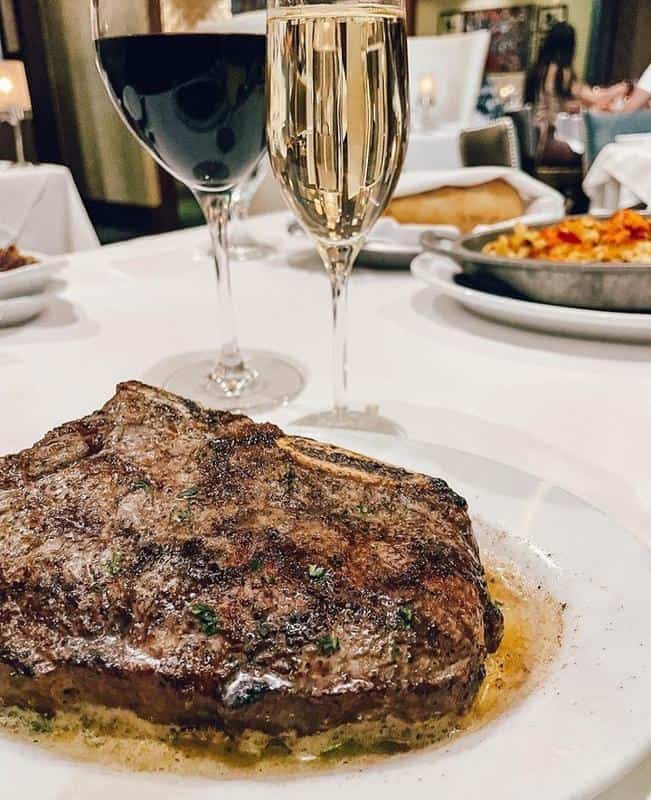 Address: 15000 Emerald Coast Parkway, Silver Shells Resort, Destin, Fl 32541
Phone: 850 837 7884
Atmosphere: Upscale fine dining in an intimate setting
Known for: Great steaks & chops in Destin
Complimentary valet parking is one thing that will draw you to Ruth's Chris Steakhouse. The casual business restaurant is less than three miles from Destin Commons and a few minutes from Henderson Beach State Park.
It is a beloved steakhouse with multiple awards, including Emerald Coast Magazine's Best of Emerald Coast Award from 2013 to 2019. It is also the receiver of Wine Spectator's Best Award of Excellence between 2013 and 2017.
The USDA prime beef served in Ruth's Chris Steakhouse is broiled in an oven that goes up to 1800 degrees. Expect an incredible hot steak on your plate as the platters are heated to 500 degrees before arrival at the table. Plates of seafood are also a staple in Ruth's Chris Steakhouse, with options like the crusted sea bass, crab cake entrees, and classic surf & turf.
Sarah K's Gourmet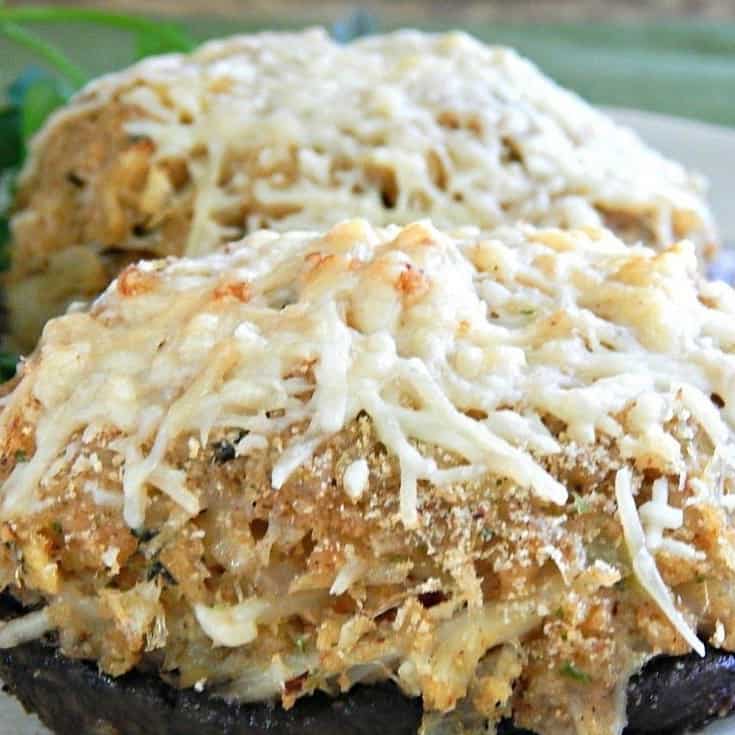 Address: 34940 Emerald Coast Pkwy #183, Destin, FL 32541
Phone: 850 269 0044
Atmosphere: Quiet and cozy
Known for: world-class and flavorful jumbo lump crab cakes
The Jumbo lump crab cakes full of crab meat and with no fillers in Sarah K's have earned the restaurant many awards in a span of about 16 plus years. The lobster bisque, crab-stuffed chicken and chicken tenders are some of the fan favorites.
Display cases of the delicious meal great you on your way into the restaurant. There is a freezer that houses the take and bake items. The 'Best of the Emerald Coast' restaurant serves lunch all day with three main items: miniature chicken salad sandwiches, main lunch package of two mini chicken sandwiches and bag of chips, plus the regular made of salad and honey wheat roll.
Read More:
Final Thoughts
Destin is filled with many dining options that even the best of lists cannot exhaust. Here are some of our honorable mentions you may want to check out:
Harry T's Lighthouse
Stewby's Seafood Shanty
Bud and Alley's
Donut Hole
The Harbor Tavern
Seagar's
Café Thirty-A
Callahan's Restaurant & Deli
Slick Lips Seafood and Oyster House
Mama's Clemenza's
Vinny McGuire's Pizza – next to McGuire Irish Pub
Map of Best Restaurants in Destin, FL