Wilmington is a lovely coastal city in North Carolina with small-town vibes and many beautiful touristic attractions. It is well-known for its long Broadwalk, historic downtown, and stunning coastal beaches.
But besides being home to some of the best beaches in North Carolina, the town of Wilmington, North Carolina, is a haven for culinary hotspots. As a coastal city, expect to find abundant seafood restaurants along the Riverwalk and Downtown.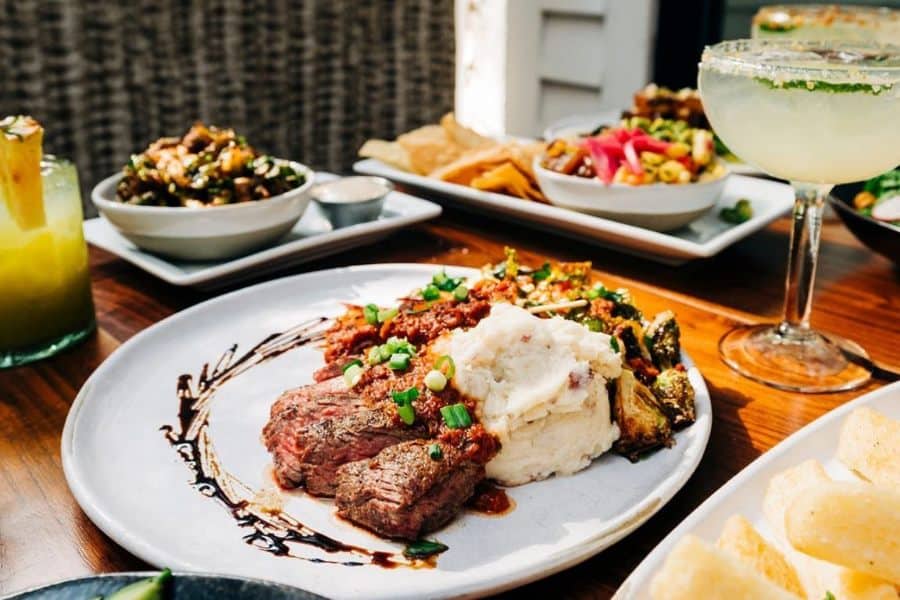 However, that's not all there is in Wilmington. You can also find traditional Asian Italian and Mexican cuisines. And, of course, a taste of the Southern classics.
Keep reading to find out the best 15 restaurants in Wilmington to taste rich, savory flavors from across the globe.
Best restaurants in Wilmington
Indochine Restaurant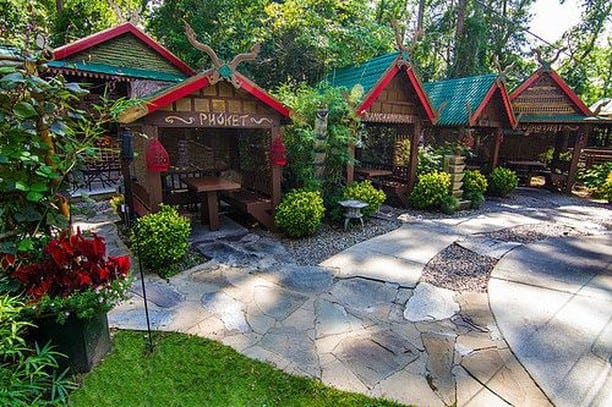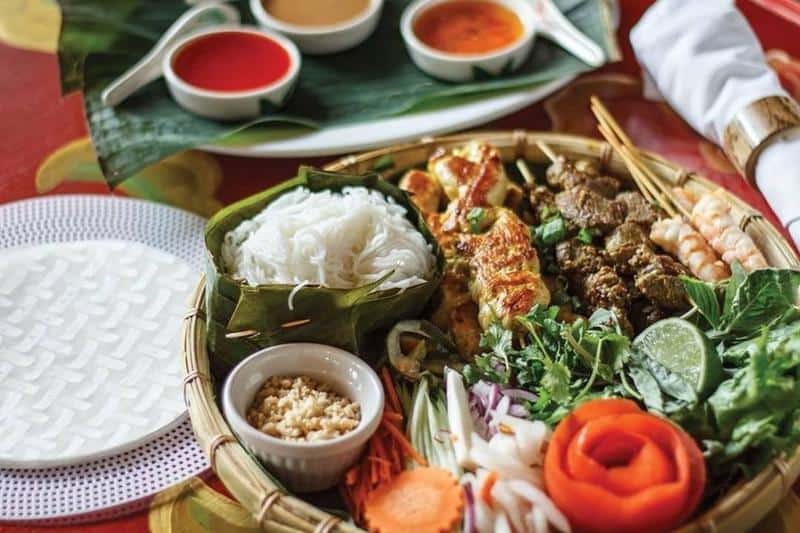 Address: 7 Wayne Dr, Wilmington, NC 28403
Phone: +1 910 251 9229
Known For: authentic South-East Asian cuisine experience
Indochine Restaurant offers a memorable experience transporting you to South-East Asia with its authentic Vietnamese and Thai cuisine and oriental ambiance.
The lush setting of oriental antiques, a wooden bar, as well as a jungle-like garden with unique decor. It is no wonder it is the most popular restaurant in Wilmington.
Sit under the giant tropical palms for the most oriental culinary experience. You can choose from staples like Pho, Pad Thai, and Papaya Salad.
Or, go for other exotic dishes such as bun bo hue, spicy Vietnamese beef, Cambodian-style steamed mussels, and braised Vietnamese-style catfish. Otherwise, you can choose sushi from classic California and Rainbow Rolls to Unagi and Spider Rolls.
Lastly, enjoy an evening by a lotus pond filled with colorful koi with sweets like Mango with Sticky Rice and Key Lime Mousse with delicious cocktails. This is perfect for an alternative night at Wilmington with your partner.
The Copper Penny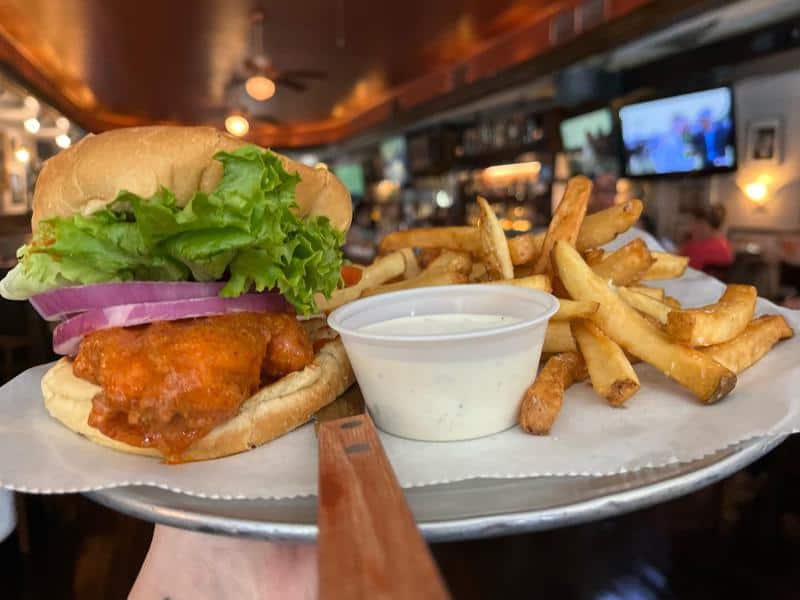 Address: 109 Chestnut St, Wilmington, NC 28401
Phone: +1 910 762 1373
Known For: pub food and a relaxed environment
Located in historic downtown Wilmington, Copper Penny serves an innovative, eclectic mix of lunch and dinner dishes. Along with its relaxed and casual ambiance, it is an ideal spot for a quick meal or a lazy afternoon with friends.
Copper Penny offers a wide selection of dishes. From homemade soups, salads, and starters of nachos, spring rolls, quesadillas, and sweet potato fries to towering burgers and handmade sandwiches served with fries or other flavorful sides.
Additionally, Copper Penny has an impressive selection of drinks. You can select from beers to wine and specialty cocktails to pair with your meal.
With local beer, delicious pub food, and a warm environment, it is guaranteed that at Copper Penny, you will have a fun outing with friends and family.
Tarantelli's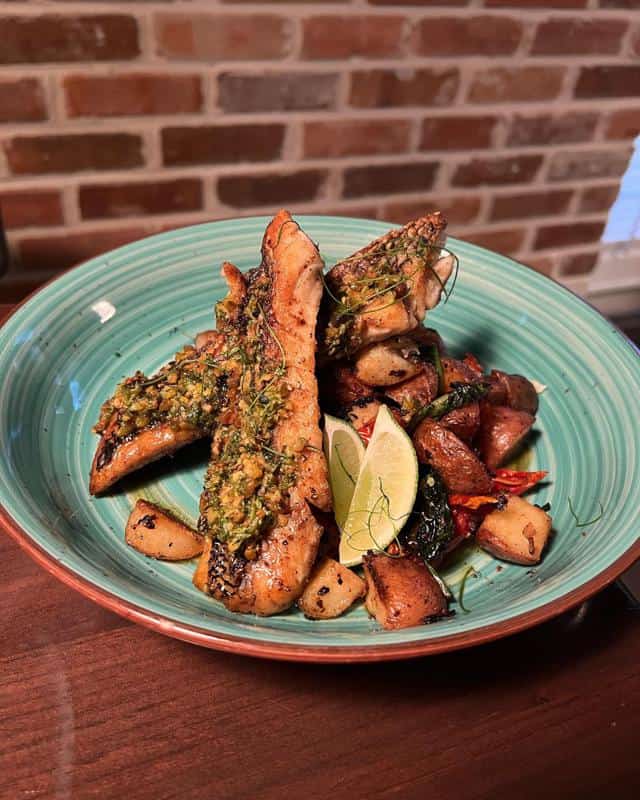 Address: 102 S 2nd St, Wilmington, NC 28401
Phone: +1 910 763 3806
Known For: authentic Italian family recipes
Tarantelli's menu will take you on a trip to Tuscany, Italy. It is a family-owned restaurant using original family recipes, and they promise the best Italian dining experience you'll ever have.
Tarantelli's serves meals family-style in a warm and cozy environment. Specifically, they stay true to their origins and offer welcoming hospitality you only encounter in Italy. Additionally, they serve authentic handmade classic Italian dishes that will definitely delight your taste buds.
The menu consists of wood-fired pizza, handmade pasta, and several fresh desserts made daily by the pastry chef. Some of the favorite dishes are Spaghetti al Formaggio, Gnocchi Ricotta, Raviolis, and Lasagne Rollatini. Add the 24-month aged Parmigiano-Reggiano cheese to your pasta to complete your Italian dining experience.
Catch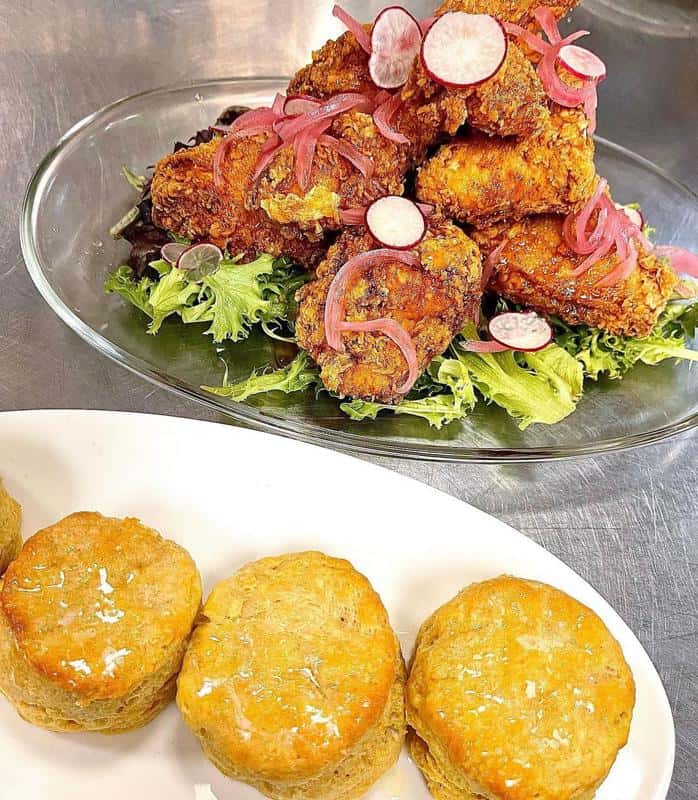 Address: 6623 Market St, Wilmington, NC 28405
Phone: +1 910 799 3847
Known For: fresh coastal seafood
Located on Market Street, Catch restaurant serves fresh coastal seafood by award-winning chef Keith Rhodes. Striving to serve only the best, the restaurant uses ingredients sourced from organic growers and local fisheries harvested sustainably from the iconic Cape Fear Coast.
The crab cakes are award-winning, and the Cajun fried North Carolina Oysters are favored among seafood lovers. First-timers should be sure to try the award-winning Catch Signature N.C. Lump Crab Cakes or the N.C. Sweet Potato Salad.
The ambiance is contemporary with nautical decor. This makes it perfect for a fun night out with your friends. Pair your plate with local beer from the best breweries in Wilmington, boutique wine, or a craft cocktail. And keep a lookout for the Catch the Food Truck.
Savorez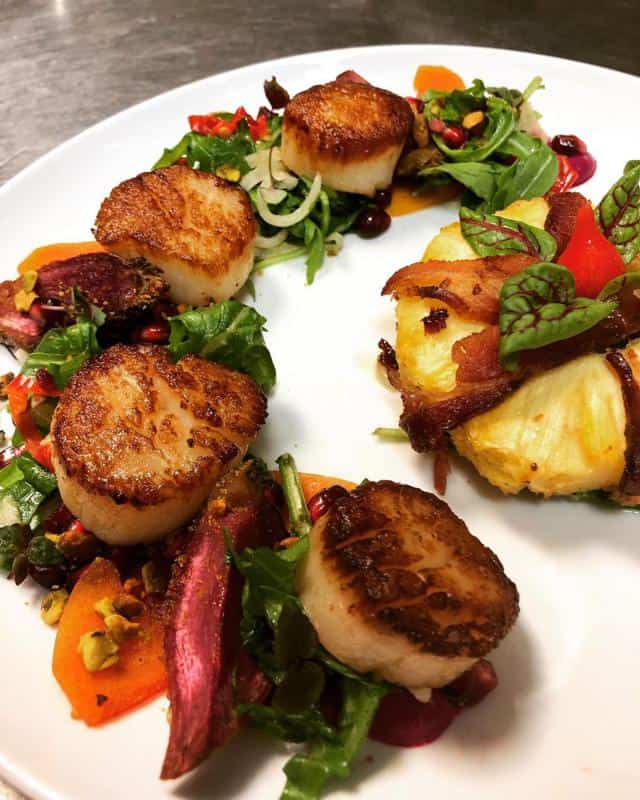 Address: 402 Chestnut St #4026, Wilmington, NC 28401
Phone: +1 910 833 8894
Known For: Spanish and Latin flavorful cuisine
Located in downtown Wilmington, Savorez is a laid-back, Spanish-inspired restaurant serving Latin, vibrant flavors. It is only a small establishment with room for only a handful of guests, but it is undoubtedly one of the best restaurants in the city.
Savorez comes from the Spanish word Sabores, meaning flavors. And this is what will make you love the restaurant. They strive to create delectable dishes with vibrant and unique flavors that you won't be able to ever forget.
Their menu consists of simple yet mouthwatering traditional and fusion dishes. For appetizers, they serve from tapas to empanadas. While for dinner, some of the most popular dishes are Carne Con Ancho and Caliente Tuna. No matter what you choose, all their dishes and flavors are incredible.
The Basics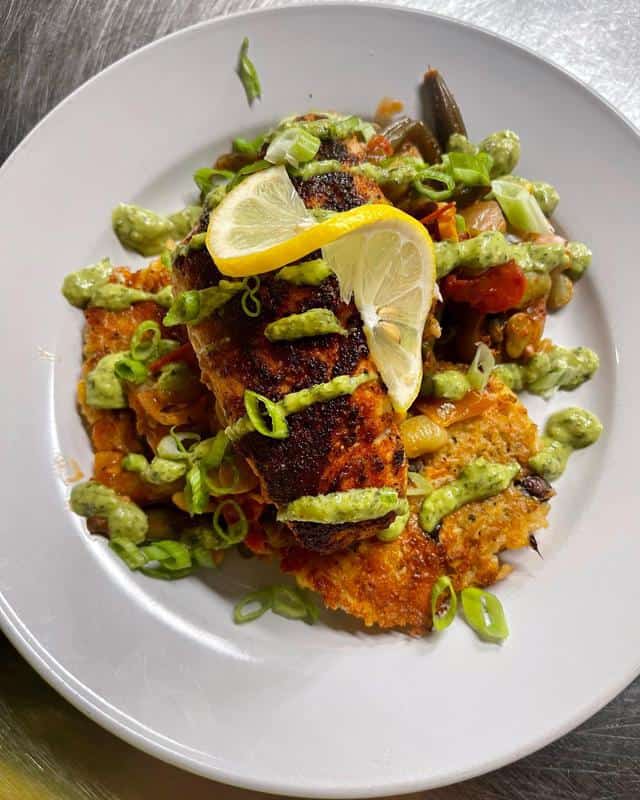 Address: 319 N Front St, Wilmington, NC 28401
Phone: +1 910 343 1050
Known For: best brunch in the city
The Basics is a homey brick bistro, serving delicious breakfast, brunch, lunch, and dinner. It's nestled right near the Riverwalk and inside the Cotton Exchange. With its scenic views, the restaurant is perfect for an enjoyable day with comfort food.
Although called the Basics, it serves more than just that. It boasts a diverse menu of classic staple food and contemporary creations.
You can choose from traditional American dishes such as meatloaf, shrimp, and grits with a southern twist. Every dish will leave you satisfied and wishing to have more.
Apart from its delectable meals, the Basics offers a cozy and casual atmosphere for a pleasant outing. It features ample seating and an album lining the walls of Historic Downtown Wilmington. It is the perfect spot for tasting a true Wilmington culinary experience.
Ceviche's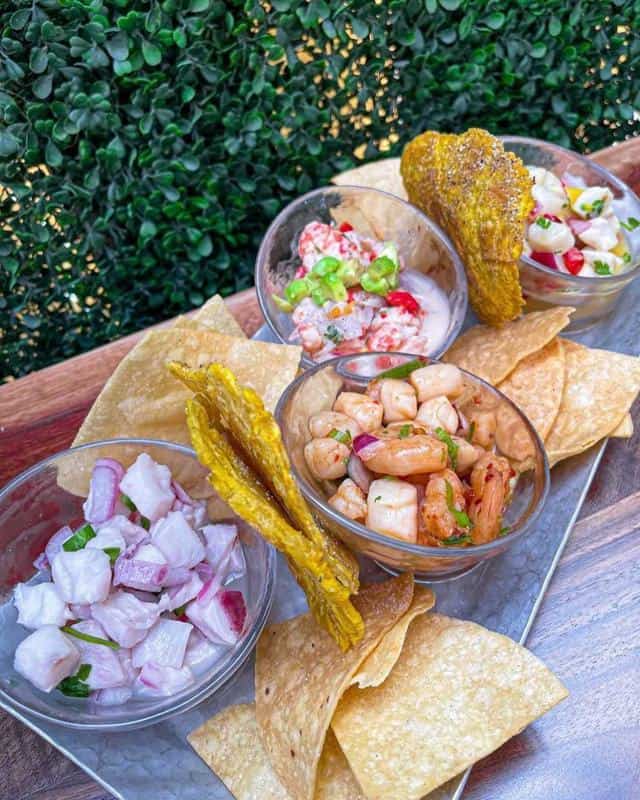 Address: 7210 Wrightsville Ave, Wilmington, NC 28403
Phone: +1 910 256 3131
Known For: panama-inspired cuisine
For those craving Latin American cuisine, Ceviche's offers diverse and flavorful Panama-inspired flavors you shouldn't miss. Similarly, the restaurant's interior consists of a bar constructed of reclaimed wood from Panama, and its courtyard presents a charming vibe perfect for immersing in a tropical atmosphere.
Its signature course is none other than ceviche, and they offer a variety to choose from. For instance, langoustine de coco and the mango mahi. Other dishes include Tuna Poke Wraps, Jerk Camarones and Tres Queso Empanada, Caribbean Fried Oysters, and Panamanian Paella.
Ceviche's also strives to bring awareness about sustainability. They partner with local producers and create many sustainable efforts in the community to bring earth-conscious cuisine to the table. It is their goal to only use local ingredients and serve the freshest food.
Shuckin' Shack Oyster Bar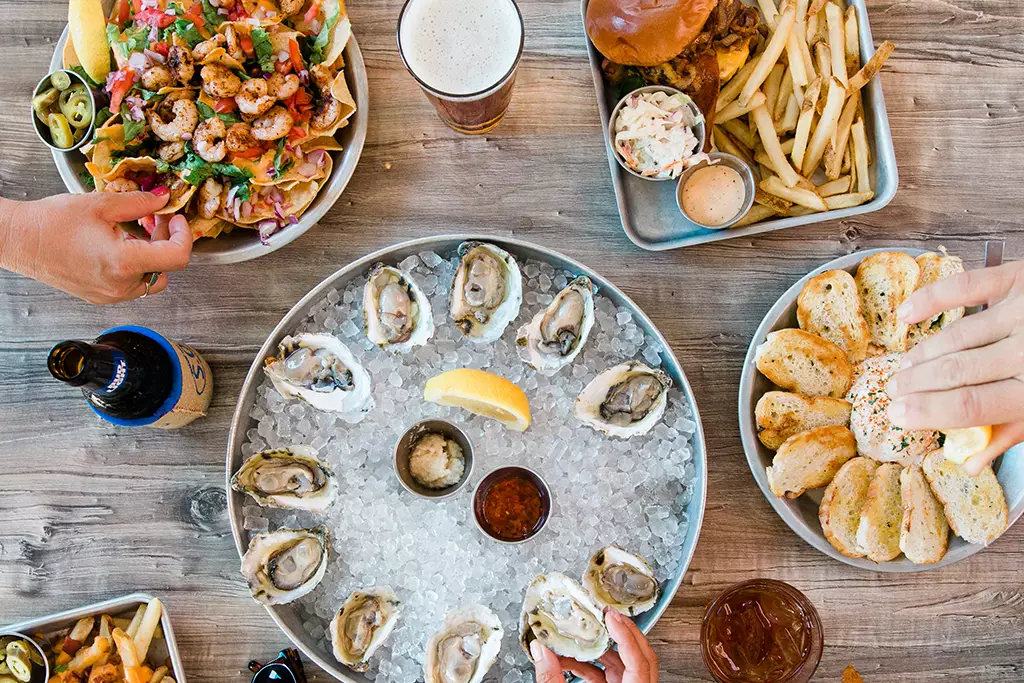 Address: 127 N Front St, Wilmington, NC 28401
Phone: +1 910 833 8622
Known For: authentic Carolina seafood cuisine
Shuckin' Shack is a local favorite serving fresh seafood in a casual and fun environment. Today, it has many locations in the Southeast. But the very first Suchin Shack was in Carolina Beach, making it an authentic North Carolina restaurant.
The restaurant's motto is "responsible sourced and seriously fun." And indeed, Shuckin' Shack is committed to delivering the freshest and most delicious seafood in the city. Its most popular dishes are crab balls, calamari, and clams, all fresh and perfect for a delicious meal while gazing over the river.
However, a traditional coastal Carolina meal you will surely love is the Lowcountry boil. It is a pot of succulent shrimp, sausage, potato, and corn seasoned with Old Bay. In other words, it is a pot full of tasty and vibrant flavors that will make you want more.
Benny's Big Time Pizzeria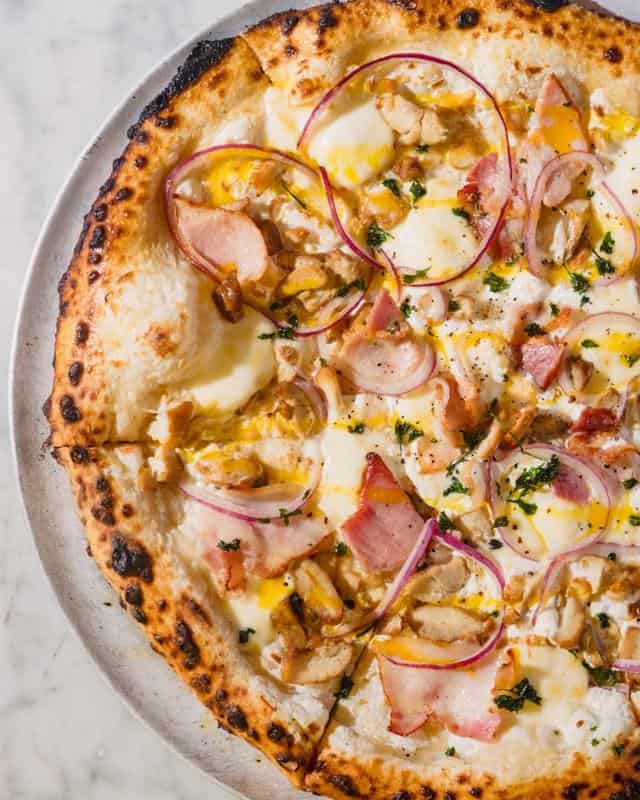 Address: 206 Greenfield St, Wilmington, NC 28401
Phone: +1 910 550 2525
Known For: owned by Chef Vivian Howard
Benny's Big Time Pizzeria is a local spot for delicious pizza and a fun atmosphere. It is owned by celebrity chef Vivian Howard who specializes in authentic Italian pizza with a Southern coastal twist. This means no matter what you choose to eat, you will surely have a very satisfying meal.
Benny's specializes in authentic wood-fired pizza with a thin crust and fresh cheese. Furthermore, the menu also features other Italian dishes such as pasta, sandwiches, and salads. But overall, the pizzeria strives to offer healthy and delectable farm- and sea-to-fork Italian meals.
Along with its delectable meals, Benny's offers a funky and hip environment. The restaurant is in the charming, renovated South Front District near the historic downtown. It is the perfect spot for a relaxing evening with friends and family.
Genki Sushi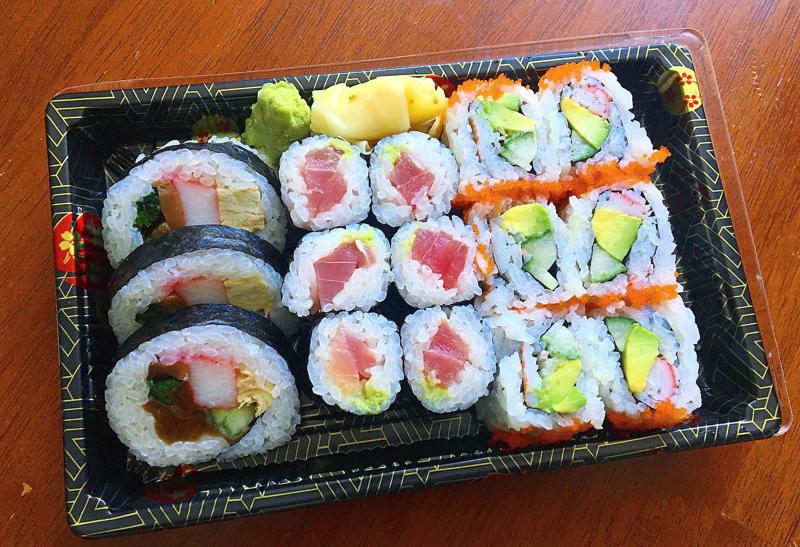 Address: 4724 New Centre Dr #5, Wilmington, NC 28405
Phone: +1 910 796 8687
Known For: providing an authentic Japanese dining experience
Genki Sushi is a family-owned sushi bar and restaurant in the heart of Wilmington. It offers classic authentic Japanese dishes, as well as award-winning freshly made sushi, sashimi, and rolls made from the finest high-quality ingredients.
Overall, Genki serves an authentic Japanese dining experience. From its interior to its menu, the restaurant brings a taste of Asia to Wilmington. Its interior is clean and minimalist with a bamboo forest theme, making it a unique and relaxing place to eat.
The menu consists of creative rolls such as Salmon Skin Roll, California Roll, and Rainbow Roll. Appetizers include the usual offerings of spring rolls, tempura, Buri Kama, and yakitori and main dishes include Grilled Teriyaki, Lemon Salmon, and Tonkatsu.
However, if you want to try an original Japanese tradition, go for an obento, a popular entrée that is a set meal.
Circa 1922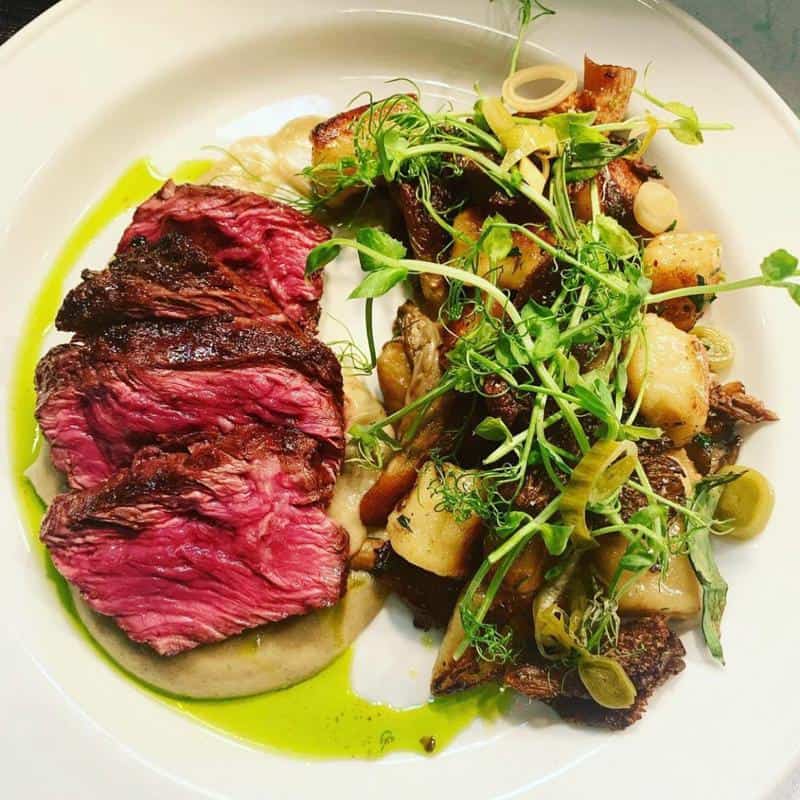 Address: 8 N Front St, Wilmington, NC 28401
Phone: +1 910 762 1922
Known For: diverse flavors from several cuisines across the world
Located in the heart of Wilmington's historic downtown, Circa 1922 is set in a refurbished bank. The restaurant serves diverse, delectable dishes from both the land and the seas, and it is known for its rich flavors and selective ingredients.
Their menu features renowned global dishes such as tapas, sushi, and charcuterie. You can mix and match for a perfect meal. For instance, pair roasted bone marrow with burrata and oyster mushrooms or mussels mariniere with grilled artichokes. No matter what you choose, you will surely have a unique and delicious meal.
Circa 1922 also has a fantastic ambiance. On the weekends, you can enjoy live piano music while the brick walls, the white tablecloths, and the soft lightning give a nostalgic vibe. It is a quaint restaurant, perfect for a romantic date.
Casey's Buffet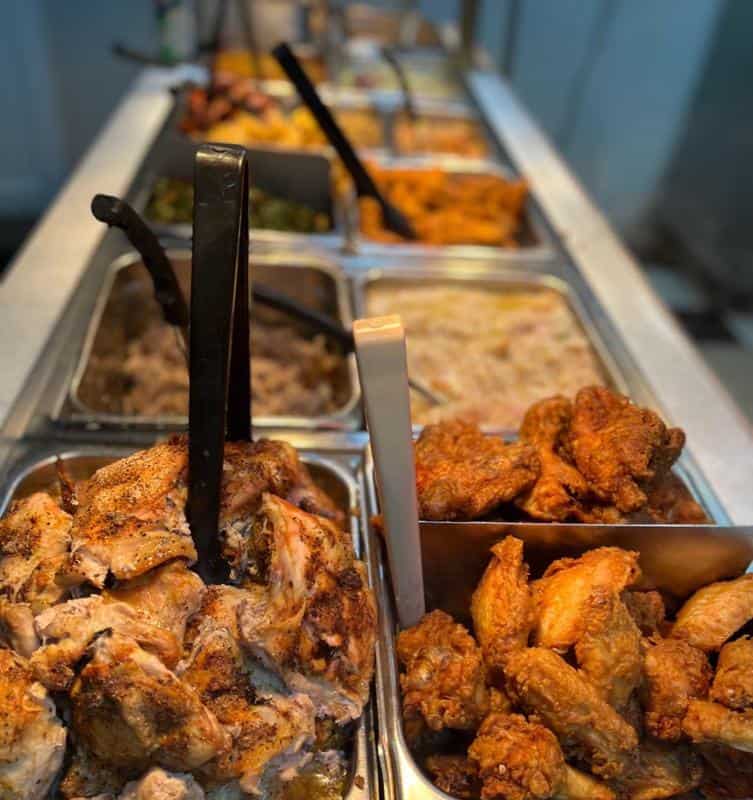 Address: 5559 Oleander Dr, Wilmington, NC 28403
Phone: +1 910 798 2913
Known For: classic southern cuisine
Casey's Buffet promises classic Southern food and an all-you-can-eat barbecue that will soothe your soul. Established in 2005 by Larry Casey, Casey's Buffet is a family-friendly eatery committed to elevating the southern tradition and creating delicious meals and a cozy ambiance.
Casey's lunch and dinner buffet menu offer mouthwatering dishes of meats, vegetables, salads, and bread. It includes fried chicken, clam strips, rutabagas, black-eyed peas, pan-fried okra, sweet potato soufflé, chitlins, and mac-n-cheese.
If you have a sweet tooth, try their delicious desserts such as apple and blueberry cobbler, cherry cheesecake, and banana and bread pudding.
The restaurant is comfortable and cozy with classic diner décor. The walls are adorned with framed photographs and articles, giving a retro, vibrant ambiance.
The Fork N Cork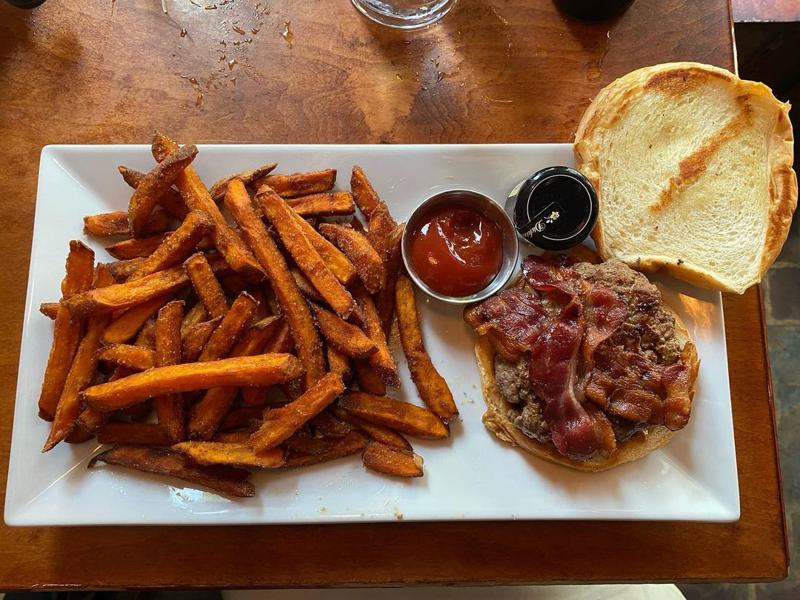 Address: 122 Market St, Wilmington, NC 28401
Phone: +1 910 228 5247
Known For: started as the famous The Paddy Wagon food truck
Set in historic downtown,The Fork 'N' Cork is a casual restaurant serving comfort food and drinks. It only started as a food truck but gained significant popularity among locals, and it is now a cozy and stylish restaurant.
Fork N Cork is known for its intriguing burgers, brisket, gourmet pot pies, and macaroni and cheese. You can either dine indoors or in the dog-friendly outdoor café seating area. Dig into Toasted Crab Bread, a Duck Duck Goose Burger, or Brisket Biscuit and enjoy a lovely, relaxing time with friends and family.
To make things even more unique and exciting, Fork N Cork has a constantly changing menu. This means you have the opportunity to try chef and owner Hames Smith's inventive creations and dive into a world of delicious flavors.
Elijah's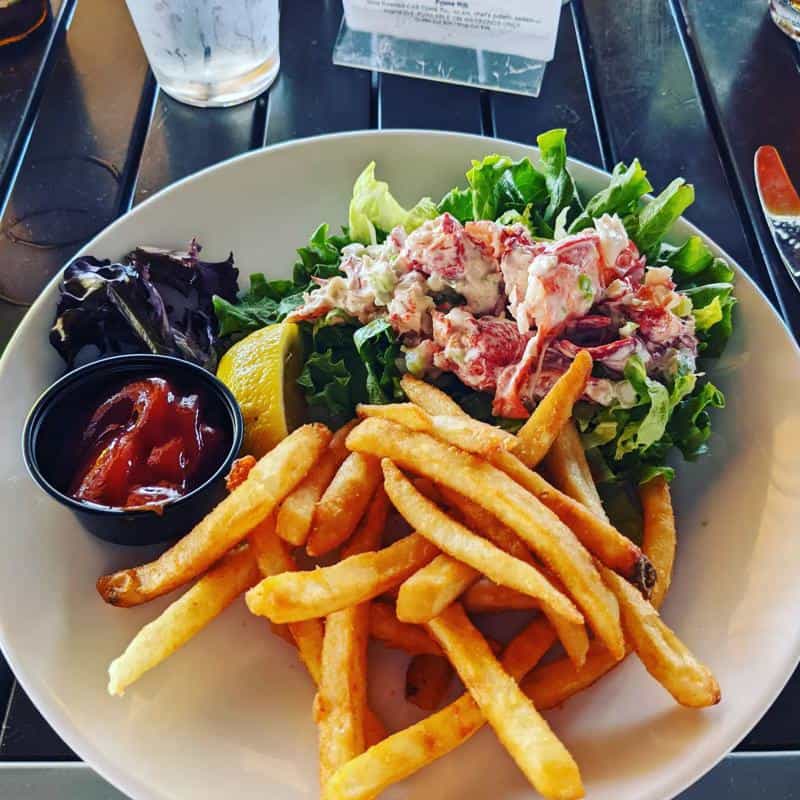 Address: 2 Ann St, Wilmington, NC 28401
Phone: +1 910 343 1448
Known For: casual fine-dining experience
Elijah's has been serving delectable fresh southern-inspired seafood dishes to the locals since 1984, making it one of the oldest restaurants in the area.
Elijah's has been dubbed as a casual American grill and oyster bar. However, you will be surprised that this is not the case. All their plates are presented like any fine-dining establishment.
Furthermore, they are accompanied by an impressive selection of beers and wines. Some of their delectable dishes include crabcakes and shrimp, and grits.
Along with its upscale dishes, Elijah's serves an unforgettable experience. Located along the scenic banks of Cape Fear River, Elijah's offers a waterfront atmosphere like no other restaurant in Wilmington.
You can choose a table outside and enjoy a romantic sunset while sharing delicious meals such as Goat Cheese and Bacon Stuffed Oysters.
Flaming Amy's Burrito Barn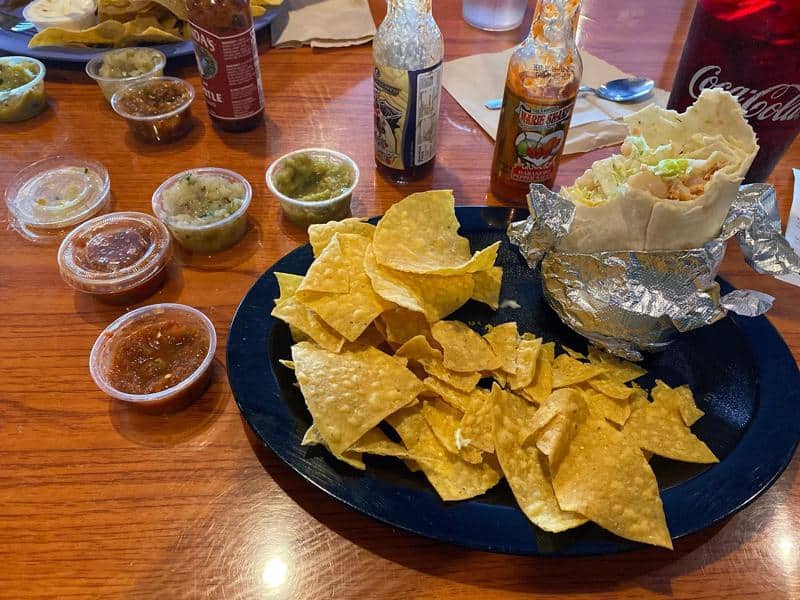 Address: 4002 Oleander Dr, Wilmington, NC 28403
Phone: +1 910 799 2919
Known For: delicious, innovative and filling burritos
Flaming Amy's Burrito Barn is a casual Mexican restaurant serving classic authentic scrumptious meals. Serving Wilmington since 2000, Flaming Amy's Burrito Barn is now a local favorite.
The restaurant offers an extensive menu that promises the best burrito experience. They have a wide selection, including vegetarian and vegan options. Some of their most popular burritos are the Churkeychanga and the Godzilladilla.
If you prefer something lighter than spicy, then try the Big Fat Greek Burrito.
Additionally to its fantastic menu, Flaming Amy's offers a funky ambiance making it the ideal spot for hanging out with friends. Its casual and chill vibe is perfect for gatherings during a beach vacation.
Read More:
Final Thoughts
Wilmington offers a variety of foods to fit your tastes and desires after a relaxing day at the beach. Restaurants range from popular national chains to unique local eateries of traditional Carolina and Southern dishes and alternative or international cuisines.
Map of Best Restaurants Wilmington NC