A bustling business metropolis with a mounting population has made Charlotte the place to be in America for decades. While it's known for its banking economy and NASCAR, Charlotte hosts many unique and dynamic attractions that sway from museums to cuisine!
Of course, being a bit of a college town helps because there is rarely a better combination in the world than a University student's obsession with all things sushi. Not to mention how great this global favorite goes down over high-intensity business lunches.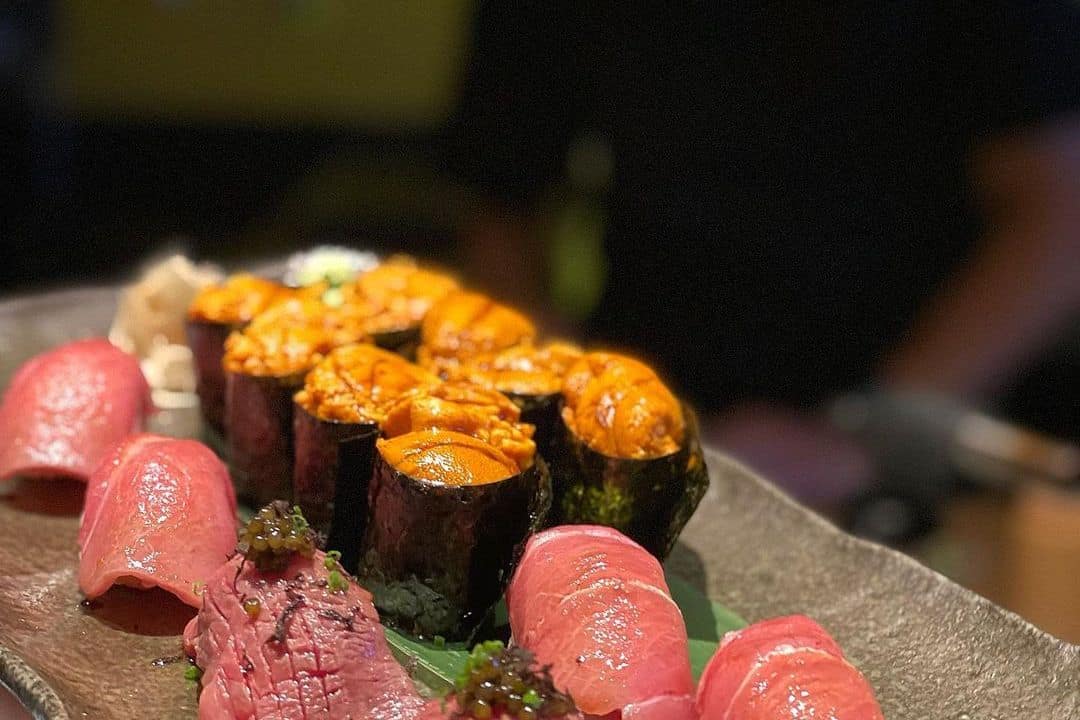 While they're a far swing from the nearest ocean, they aren't out of the game and host some of the most delightful sushi eateries in the central states.
So grab your chopsticks and get ready to explore an ocean of taste!
Our Top Picks
Best visual experience: Baku
Most innovative menu: The Cowfish Sushi Burger Bar
Best atmosphere: Nikko
Best value for money: Ru Sans
Best Sushi in Charlotte, NC
Baku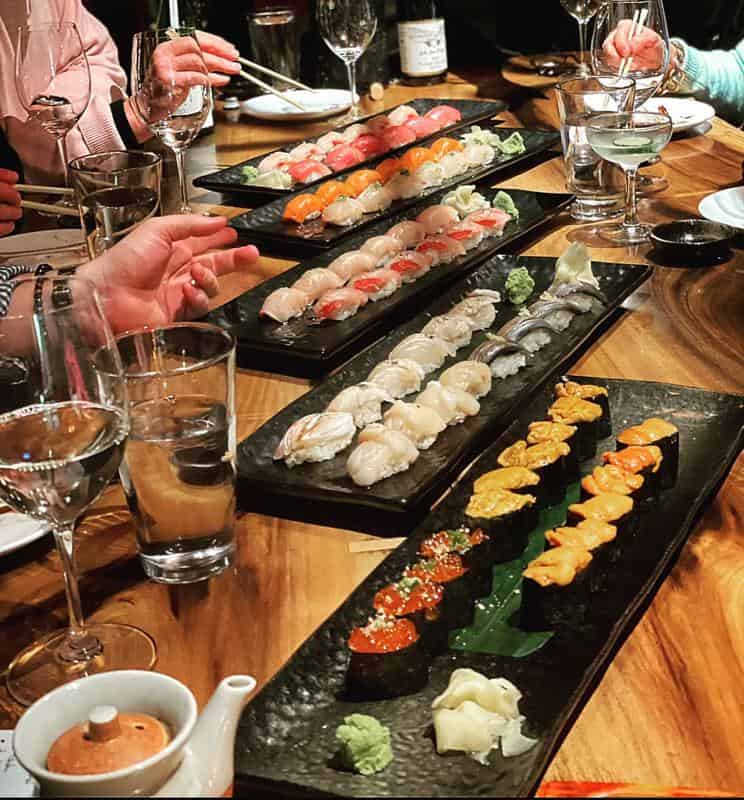 Location: 4515 Sharon Rd, Charlotte, NC 28211
Hours: 5:00 pm to 10:00 pm (Closes 11:00 pm Friday and Saturday), Closed on Sunday
Price: $$$$
Baku is a high-class eatery catering incredible Asian cuisine that is so delicately and pridefully prepared. It exudes excellence in every way. With the talented and passionate Birdie Yang keeping a watchful eye on the restaurant, you can expect nothing less than the best flow from the kitchen to your table.
The menu is a dynamic feast of Asian small plates and sushi selections expertly crafted from meticulously selected fresh ingredients. Each fusion sushi dish contains the best of both worlds and has been designed to make flavors sing as you add that drop of soy sauce. With ingredients like torched salmon and yuzu creme, there are a lot of unique and truly delectable options sported on their highly-rated menu.
Dress up and walk into a different world, with a unique twist in bold and eye-catching scenery. It's extravagant and luxurious in every modern sense of the word, hosting an industrial and almost street-art style that brings the atmosphere to life. The brilliant reds, the dark-stained wood, it's broody and oddly appealing.
The Cowfish Sushi Burger Bar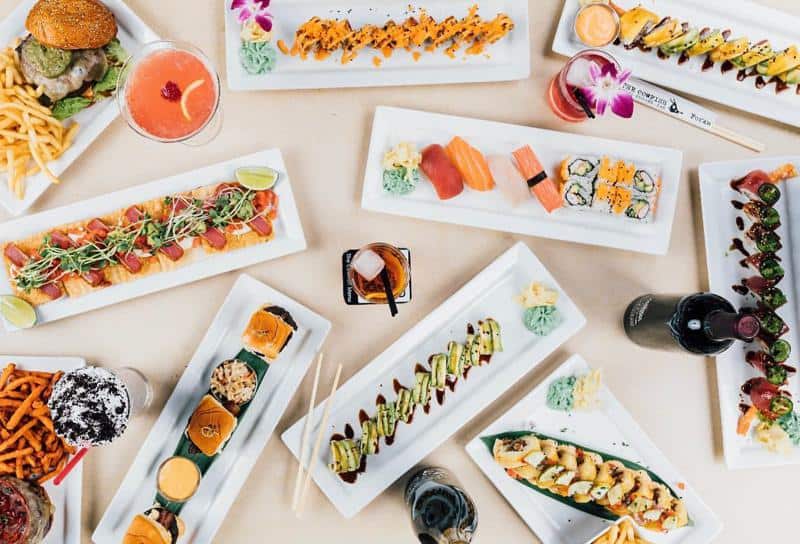 Location: 4310 Sharon Rd, Charlotte, NC 28211
Hours: 11:00 am to 9:30 pm (Closes 10:30 Friday and Saturday)
Price: $$
The Cowfish was a crazy, and innovative concept drummed up by the brilliance of Marcus Hall and Alan Springate. It was a fusion nobody ever dreamed of, but it became something they never knew they wanted once it was created.
Sushi and burgers are a bit of a strange combo, but it gets better. How? The Cowfish is the proud innovator behind Burgushi. Yes, burger-sushi. Eccentric as it may seem, it has become a pinnacle dish of The Cowfish and something that has its patrons raving. They specialize in weird and wonderful non-traditional sushi, with Mark's Roll and the All-American Double Bacon Cheeseburgooshi being an absolute must-have!
They're quirky, with bright, vibrant colors and staff as eccentric and fun as the idea itself. Seat yourself at their sleek sushi bar, or park off in a booth framing their unique art. There's plenty of space. It's an experience you won't want to miss out on.
Nikko Sushi Bar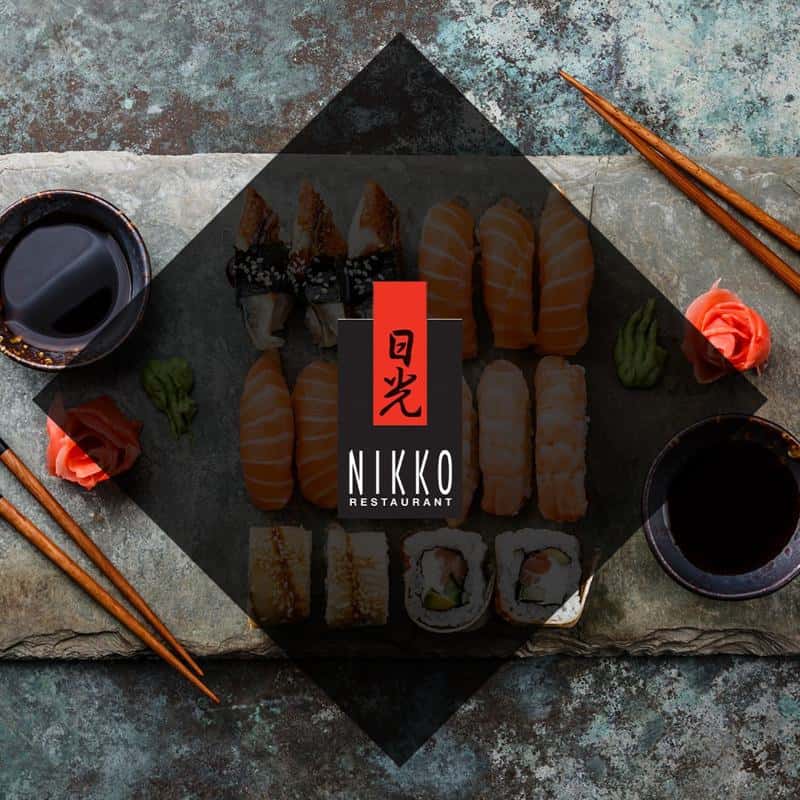 Location: 325 Arlington Ave #108, Charlotte, NC 28203
Price: $$$
Infamous might be the wrong word to describe Nikko Sushi Bar, but you'll understand what I mean. This lively sushi spot is fun-filled and an event to attend every time. Fusing good food with good times, you'll find a throbbing crowd pulsing to the DJs that grace its halls, all egging on the owner, whose eccentricity has become a drawing point for anyone curious enough.
Before joining the weekend festivities, make sure to have a long browse through their sushi menu. It's unapologetically overwhelming at times, with the plethora of unique and creative options adding to its diversity. From drunken salmon, meticulously basted in a secret boozy sauce, to a dragon roll that adds a spice you never knew you needed.
Nikko's sushi is incurably delicious, down to the last sesame seed. It's vibey and boisterous, definitely not the type of place for a quiet night out, but well worth the fun.
Ru Sans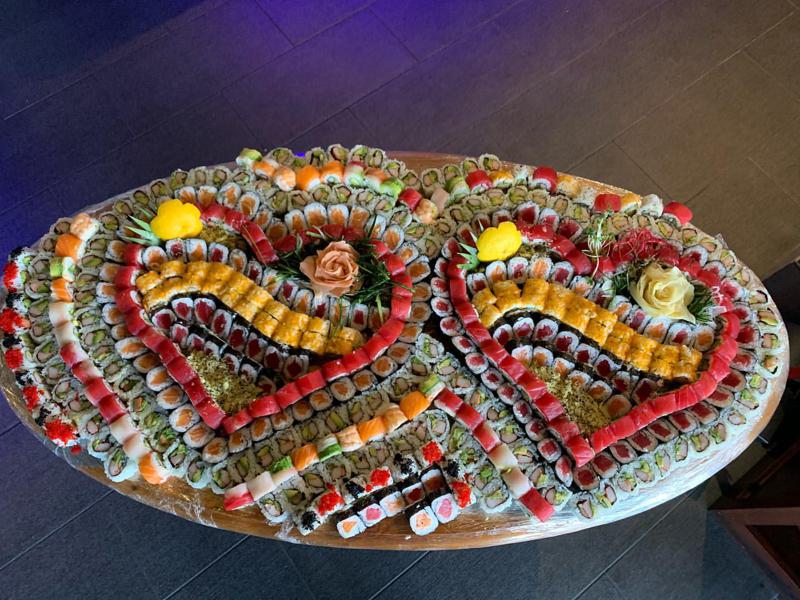 Location: 2440 Park Rd, Charlotte, NC 28203
Hours: 11:00 am to 9:30 pm, 3:00 pm to 9:30 pm (Sunday)
Price: $$
With a solid 20 years under their belts, Ru Sans has topped Charlotte's favorites for as long as they can remember. They're a passionate and dedicated Japanese eatery, dealing in freshness and flavor. You'll be scrawling their name on your top 10 list between mouthfuls.
The best thing? They know what you're here for, and they deliver with a lunchtime sushi buffet that'll lighten your wallet by less than $15. But fret not if you can't make the lunchtime extravaganza. They have a sushi menu that is host to dozens of different rolls, sashimis, and nigiri, with platters for those who struggle to choose. An absolute must-try is their Firecracker roll, but don't be shy to tuck into the sashimi selection.
They may not win a prize for the fanciest restaurant, it's down-to-earth, simplistic, and with a focus that remains solely on the food they put before their patrons.
O-Ku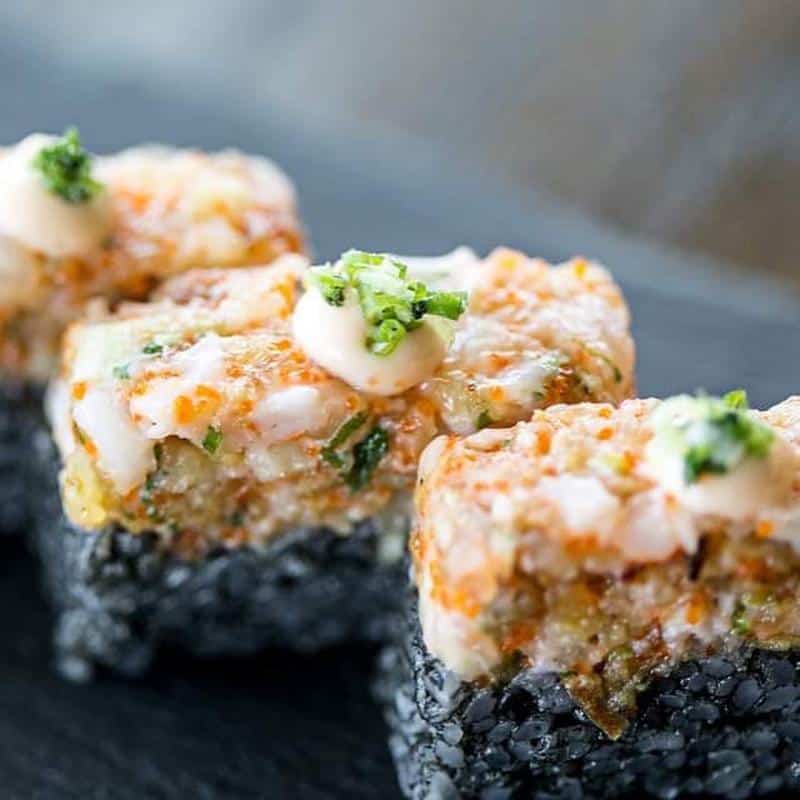 Location: 2000 South Blvd Suite 510, Charlotte, NC 28203
Price: $$$
O-Ku is a common feature in press releases about good wholesome sushi and must-eat places in America. That's quite a reputation to uphold, but O-Ku has never batted an eyelid and continues to provide the service and quality that gave them their reputation in the first place.
The menu sports Asian cuisine that is flavorsome and whole. Everything in its entirety is a sensational tribute to the culinary spectrum. With delights embedded in their menu ranging from traditional-styled nigiri and some colorful fusion additions in the form of Dragon rolls and King Cali rolls. It's imaginative and fantastic, each ingredient hand-picked for quality and freshness with something on the menu to suit everyone's needs.
If a visual experience means just as much to you as the food, you will never go wrong walking into O-Ku. It's a beautiful environment to sit and dine in, with decorative trees dotting the dining area and a low-light comfort that makes it almost romantic.
CO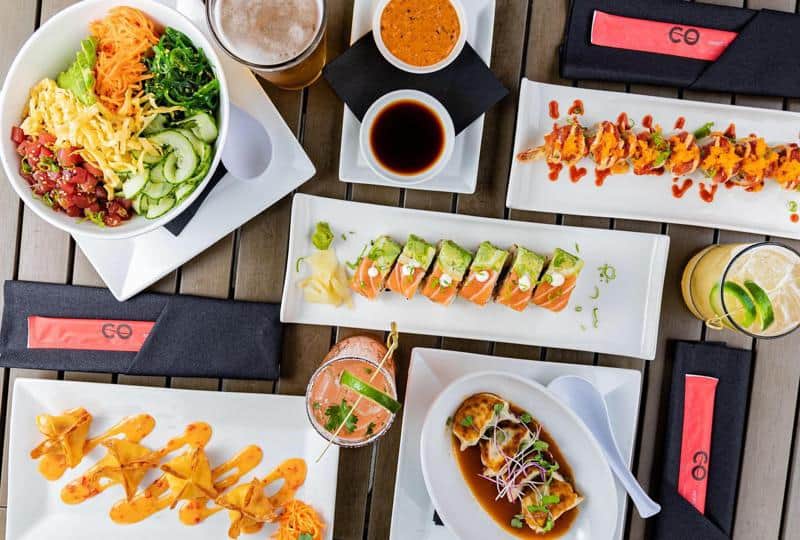 Location: 4201 Park Rd D, Charlotte, NC 28209
Hours: 11:00 am-10:00 pm (Closes 11:00 pm on Friday and Saturday)
Price: $$
From the moment you enter the door, CO opens into a completely different world. You'd be surprised to experience the best in affordable upmarket eating here for the fair prices. Chef Masanori Shiraishi is the culinary mastermind behind the CO brand, and he has been a commodity to behold since 2014.
Their flavors border Southeast Asia and blend fresh and robust, expertly sourced ingredients to create each dish. Putting heart, soul, and heritage into their meals, everything has that quality of excellence critics dream of. With a Fiji Salmon roll that leaves no space for rice (or complaints) and crunch rolls that make your mouth water, their sushi menu is a journey I encourage everyone to take.
You'll find a visual masterpiece in the form of an abstract tree-like structure that centers their sushi bar, branching out to every corner of the room and leading everyone to look at the delights on display. They have plenty of seating, and while they seem high-end, they allow for a casual and comfortable experience.
Pisces Sushi Bar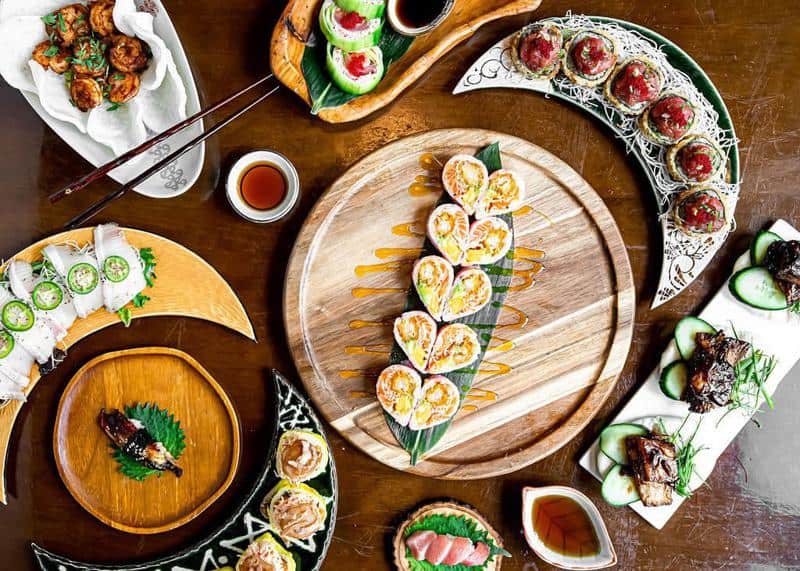 Location: 1100E Metropolitan Ave Suite 120, Charlotte, NC 28204
Price: $$$
For such a quaint little sushi spot, you walk in completely underestimating the punch they can pack. Winners of the Diner's choice award in 2017, it becomes apparent where the fuss is coming from. They scream metropolitan and, in excess of this, offer a pleasant array of foods that'll definitely have your stomach bursting at the seams.
Being a bit on the pricier side, they provide for their fare, fresh, sustainable seafood that is delicately prepared and served with pride. Knowing their audience, they feature an all-you-can-eat option as well for a price that's well within the means of everyone.
Using ingredients ranging from salmon to eel, you can find a mixture of sushi types that fuse modern with traditional. Their Screaming 'O' roll will have you doing just that as you experience the masterful crunch.
It's all about that laid-back kind of atmosphere, so sit back and lounge on their sofa seats and keep that sushi coming.
Yamazaru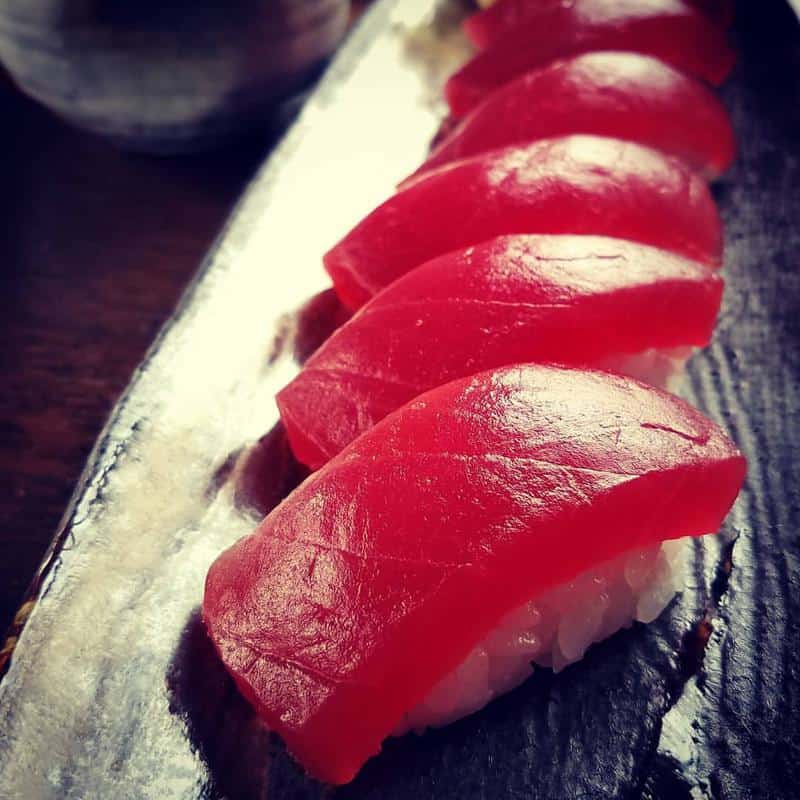 Location: 2173 Hawkins St A, Charlotte, NC 28203
Price: $$
Yamazaru has been a hit in Charlotte since its opening in 2017. Fresh-faced and eager to indulge to tasteful desires of their diners, they've been providing delicious sushi to the masses for half a decade and show no signs of slowing down.
They're as fusion as they can get but have never lost that traditional luster that's made sushi such a cultural hit across the globe. With a sushi menu boasting classic nigiri, they've tucked some unique and robust specialty roll choices in there too, that are bound to get your tastebuds tingling. Of course, you can't go wrong with their gladiator rolls, or even their Zootopia roll, amongst others nestled in their menu's maki and classics sections.
It's industrial and chic, with a new-school feeling that suits the atmosphere anyone is looking for. Friendly and welcoming, you'll find all kinds here and won't feel any pressure to dress fancy or keep the kids at home.
Also Read: Best Sushi Spots in Asheville, NC
New Zealand Cafe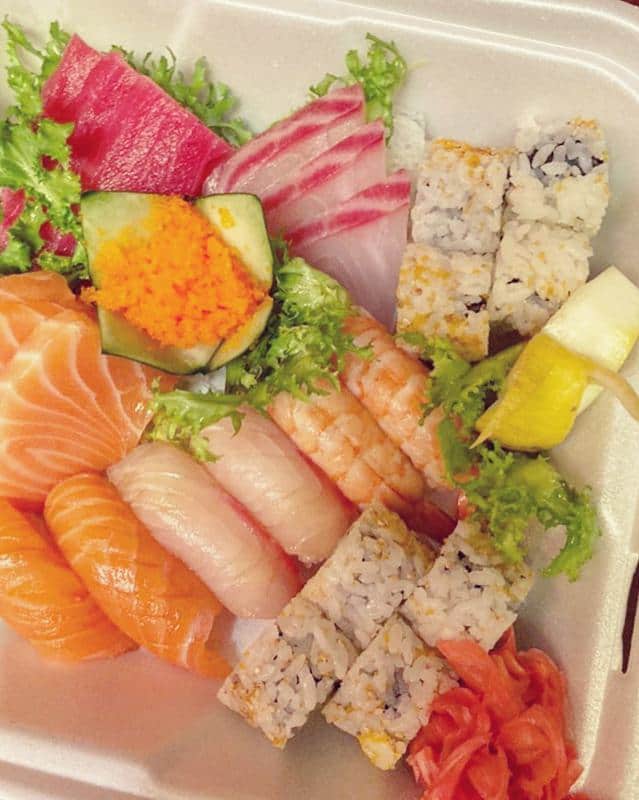 Location: 1717 Sardis Rd N #6-A, Charlotte, NC 28270
Price: $$
If unassuming has a face, New Zealand Cafe would be it. Everything from the name to the location can be extremely misleading if you don't know what lies behind the doors. But, if you do manage to find yourself inside this little spot, be prepared to have your doubts blown away.
They serve gourmet Asian cuisine and have quickly spread their influence across oceans, from New Zealand to America, bringing fresh, delicious sushi closer to home. Their menu boasts the usual suspects, and tucked between the lines are some fusion options you've probably never heard of. So treat yourself to their daily special of $1 sushi. It's definitely worth it, especially for the classics.
It's a small venue, casual and popular, and perhaps it's the odd decor choice that makes it so. With wood, plants, and glittering fish, it's an experience just to sit there. As cozy and comfortable as a hug from your grandmother, you'll feel nothing but welcome here.
Soul Gastrolounge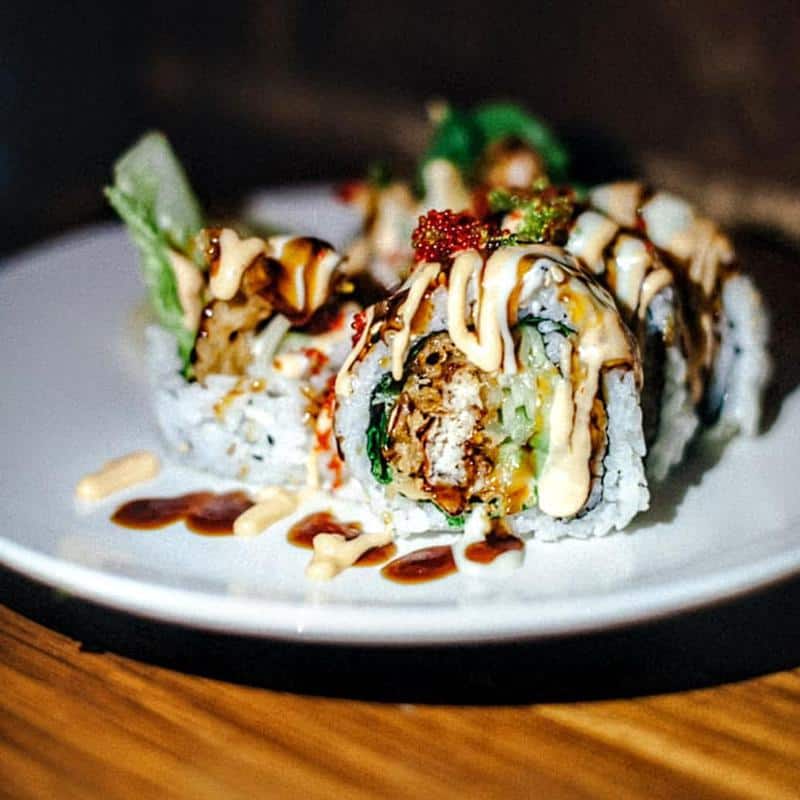 Location: 1500 B Central Ave, Charlotte, NC 28205
Hours: 5:00 pm to 12:00 am
Price: $$$
Here at Soul Gastrolounge, you'll find yourself in for an incredible treat. Soul Gastrolounge is a perfectly collaborated venue that sports both incredible food and an excellent atmosphere that thrives on weekend nightlife. Opened by Chefs and DJs Andy Kastanas and James Fedele, they have found a way to profit from their passions.
They serve delectable dishes that range in cuisine type and inspiration, with delightful appetizers and mains that have diners raving. But it's the sushi menu that really gets hearts racing, with starters in the form of seaweed salad down to the main event, which could be anything classic.
For those more adventurous, skip all else and go right to Soul Originals. You'll find fusion sushi there with flavor combinations to blow all expectations clear out of the water. It's an epic tribute to excellent food, from their Supernova roll to their sushi fondue.
They host DJs on weekends to dance the night away and bustle the rest of the week. Their efficient turn-around on tables means you won't be left wanting. They've managed to juggle their popularity without sacrificing quality.
Read More:
Conclusion
Charlotte is a city that thrives on diversity in cultures, all flocking over one shared passion. Whether it be NASCAR or sushi, Charlotte has passionate locals who are even more passionate about bringing people together. They strive for excellence in their daily lives.
Being one of America's business capitals, it's no questioning why their restaurants strive for the same. And for a place nowhere near the ocean, restaurants here have managed to ease their way onto the wishlists of other states. If that doesn't tell you enough about how great the sushi here is, I don't know what will.