A landlocked city offering freshest sushi and seafood, what sorcery is this?
Sushi is a popular and beloved food item in America. While coastal cities hold a special place for seafood lovers, the mesmeric mountain-clad Salt Lake City also makes its place with top-class sushi restaurants.
We are not talking about the sad and lumpy grocery store sushi, but the deliciously prepared and flavorful sushi with fresh produce shipped the same day to the city.
So if you are wandering around Salt Lake City looking to satisfy your sushi cravings, look no further, our list has got you covered.
Our Top Picks:
Best Overall Sushi Restaurant: Takashi
Best Affordable Sushi Restaurant: Itto Sushi
Best Sushi Restaurant with Outdoor Dining: Sapa
Best Sushi in Salt Lake City
Takashi: Best Overall Sushi Restaurant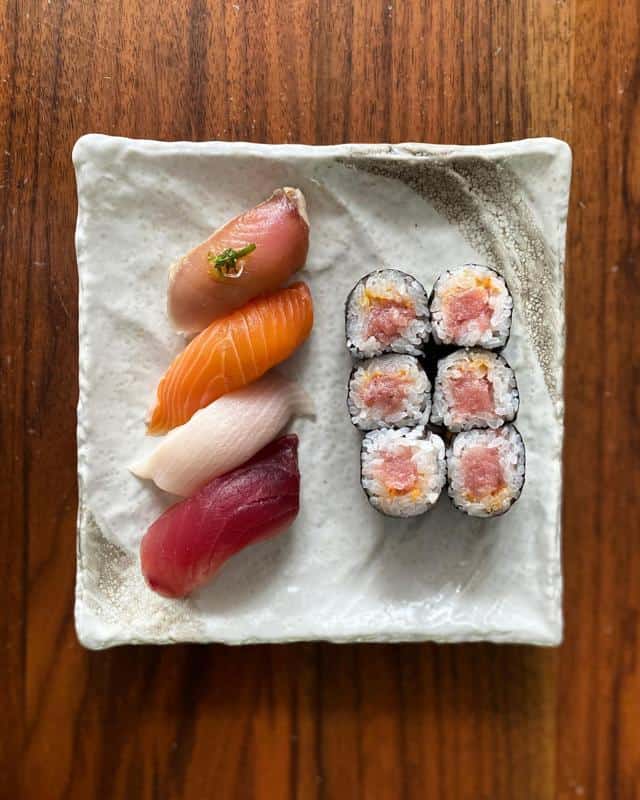 Location: 18 W Market St, Salt Lake City, UT 84101
Enjoy the best sushi served in Salt Lake City with a light-hearted, laidback atmosphere and a pleasing layout at Takashi. Staying true to its Japanese traditions, the food is meticulously prepared to give you authentic and classic sushi.
To add variety, they have some themed items on their menu as well. These include the Yellow Submarine and Strawberry fields.
From their tantalizing Salmon Skin roll to Crunch Ebi Roll and steamed gyoza, everything has the traditional taste we all know and love. The reasonable pricing and delicious variety make the place worth a visit even during peak rush hours.
They also serve a range of Japanese specialty drinks to pair with sushi. Finish your meal with a hearty bowl of their house-made panna cotta. We highly recommend getting there early and reserving your spot.
Highlights
Wide range of classic sushi varieties.
Reasonably priced food.
Comfy ambiance with Japanese specialty drinks.
Itto Sushi: Best Affordable Sushi Restaurant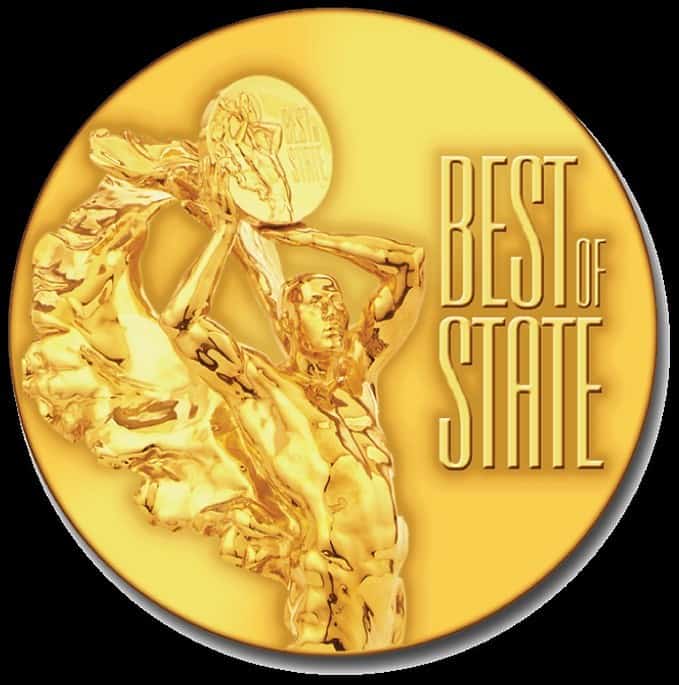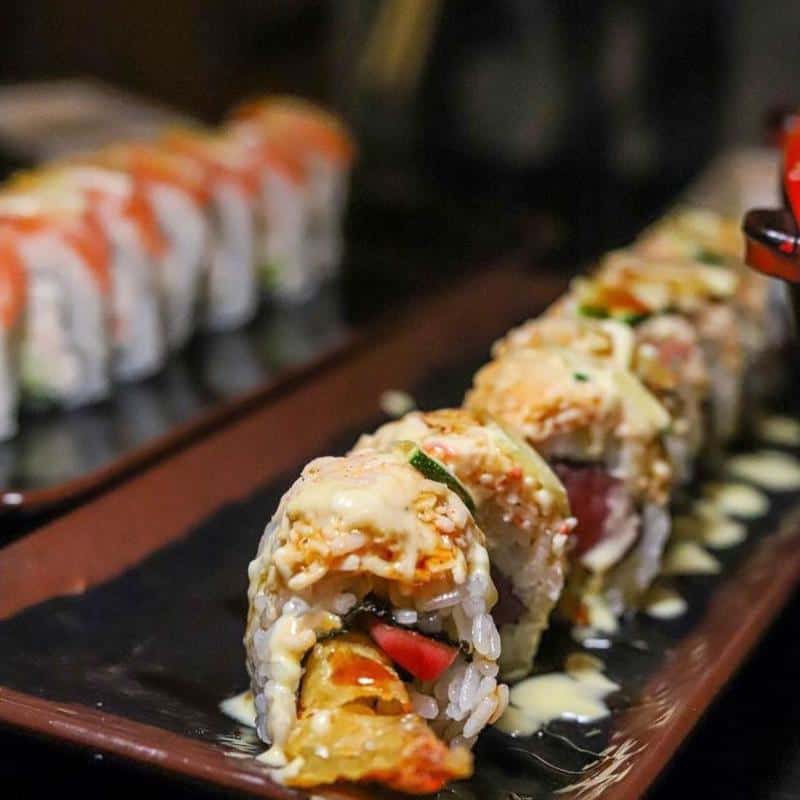 Location: 12 W Broadway, Salt Lake City, UT 84101
Itto Sushi was voted 'Best Sushi in Salt Lake City'. With a minimalistic setup and budget-friendly options, Itto Sushi is a perfect place to hang out with friends or enjoy a delicious spread with family.
They serve all the homely delights you'll wish to find in an Asian restaurant. From standard sushi rolls with traditional flavors to specialty rolls, house rolls, and special hand rolls, they have a huge variety. You will also find cutesy bento boxes to share.
The restaurant is quite inviting and tempts the guests with names like the Titanic Roll, Sushi Vampire, and Lion King. The Romeo and Juliet roll is perfect for sharing with your beau and satiating your sweet tooth.
We love their unbelievably tangy and rich eel sauce served with most of their sushi rolls. Relish their classic staples and ambitious sashimi platters at very reasonable rates and special discounts on selected days.
Highlights
Huge variety of traditional and specialty sushi.
Minimalistic and family-friendly setup.
Affordable rates with discounts available.
Sapa Sushi Bar and Asian Grill: Best Sushi Restaurant with Outdoor Dining
Location: 722 State St, Salt Lake City, UT 84111
Take your love for sushi to the next level by trying the mouth-watering fusion varieties at Sapa. Taking its inspiration from Thai, Vietnamese and Chinese culture, Sapa takes pride in its ingenious selection of sushi rolls and other Japanese dishes. They also have an exclusive and secret menu for their loyal customers.
We highly suggest indulging in their modern variety of sushi rolls. Wok n' Roll is one of their signature sushi rolls made with filet mignon, tuna, string beans, chili, and ginger.
We also find their Luscious Lover roll irresistible. Playing with sweet and salty flavors, the roll has tempura shrimp heightened with flavors of cucumber, avocado, and unagi, and sweetened with strawberries. They host an all-you-can-eat special so make sure you bring your appetite.
Besides the food, the restaurant goes an extra mile to bring you a wholesome Asian experience by transporting you to a tranquil Japanese teahouse with special antiques and a beautiful koi fish pond in their outdoor courtyard.
Highlights
Traditional and modern sushi rolls and non-sushi items.
Beautiful outdoor courtyard.
Specialty cocktails and all-you-can-eat specials.
Kyoto Japanese Restaurant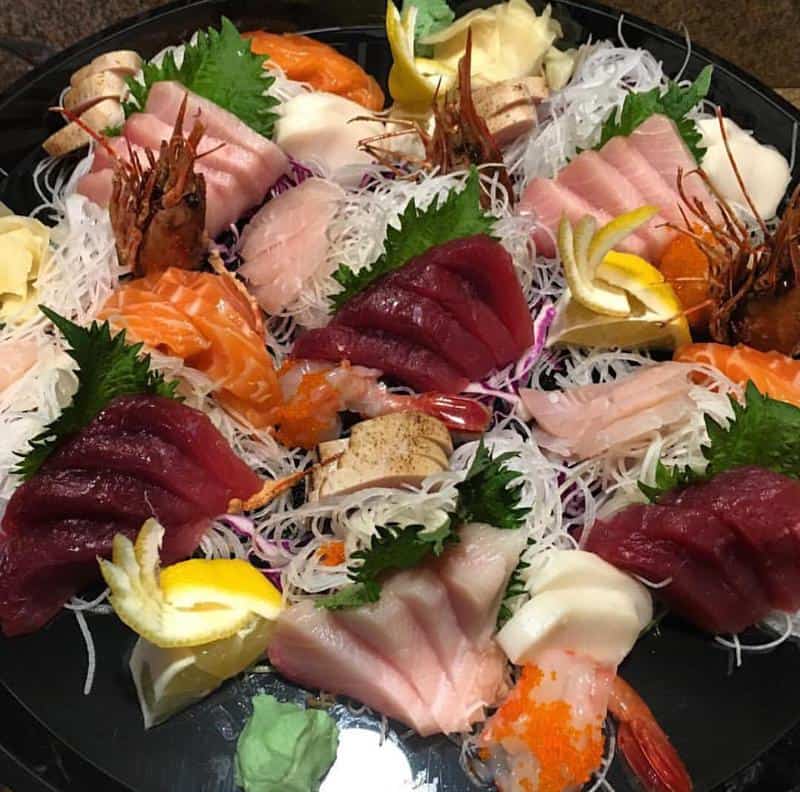 Location: 1080 E 1300 S, Salt Lake City, UT 84105
With a history of success and a touch of familiar goodness, Peggi's love for Japanese cuisine makes its way to Kyoto, and by extension, to the hearts of every sushi lover. Playing with flavors and spices, the restaurant has made its name as one of the best sushi restaurants in Salt Lake City.
Get their perfectly crunchy and sizzling hot tempura, or indulge in classics like nigiri and sashimi. We love how the restaurant plays with themes to highlight important issues.
For instance, the Pink Power Roll is power packed with strong flavors of shrimp tempura, avocado asparagus, and cucumber, and tied together perfectly with a kick of spicy mayo in a dainty pink tofu paper. Other verities include the flavorful Rainbow Roll and the indulgent X96 Roll named after the local radio station.
The overall Japanese dining experience is enhanced by thoughtful touches and traditional accents like classic privacy screens and tall booths that are common in Japan.
Highlights
A Classic and modern selection of sushi rolls.
Beautiful set up with Japanese accents.
Personalized touches and variety in the menu.
Sushi Burrito on 8th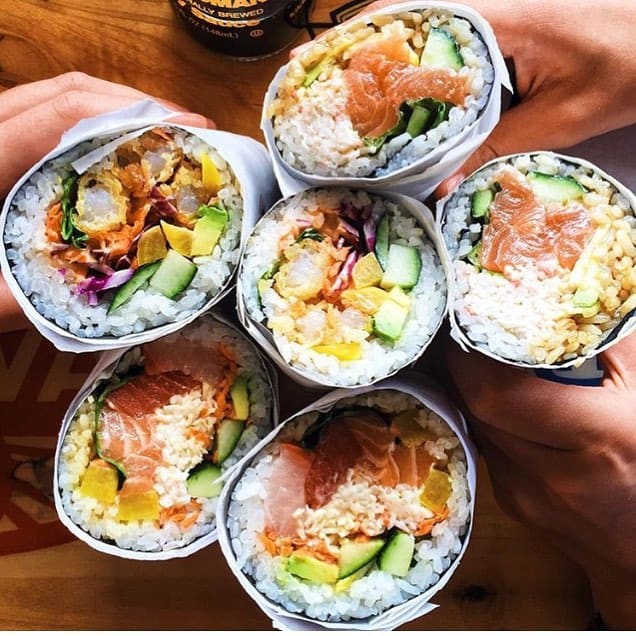 Location: 180 E 800 S, Salt Lake City, UT 84111
While it may not sound as elegant and classy as the contemporary sushi bars and restaurants, Sushi Burrito is a hit amongst locals and visitors in Utah. The ambitious and unique menu is what draws people to the restaurant, and it pleasantly surprises.
Taking the idea of a sushi roll and combining it with a stuffed burrito, the restaurant comes up with scrumptious burrito-sized sushi rolls that are quite filling and packed with strong flavors.
They also have other Japanese delicacies on their menu, including a variety of starters, soups, and adorable bento boxes that are perfect for sharing.
The affordable menu has delicious sushi burritos like California Sumo, Salmon Bomb, Phoenix, Utes, Typhoon, and our personal favorite – Yummy Chef's Burrito with grilled teriyaki beef. Enjoy the simplistic counter-serving for a hassle-free lunch on the go.
Highlights
Unique and delicious sushi burritos.
Affordable rates and casual counter-serve style.
Non-sushi Japanese menu is available.
Fat Fish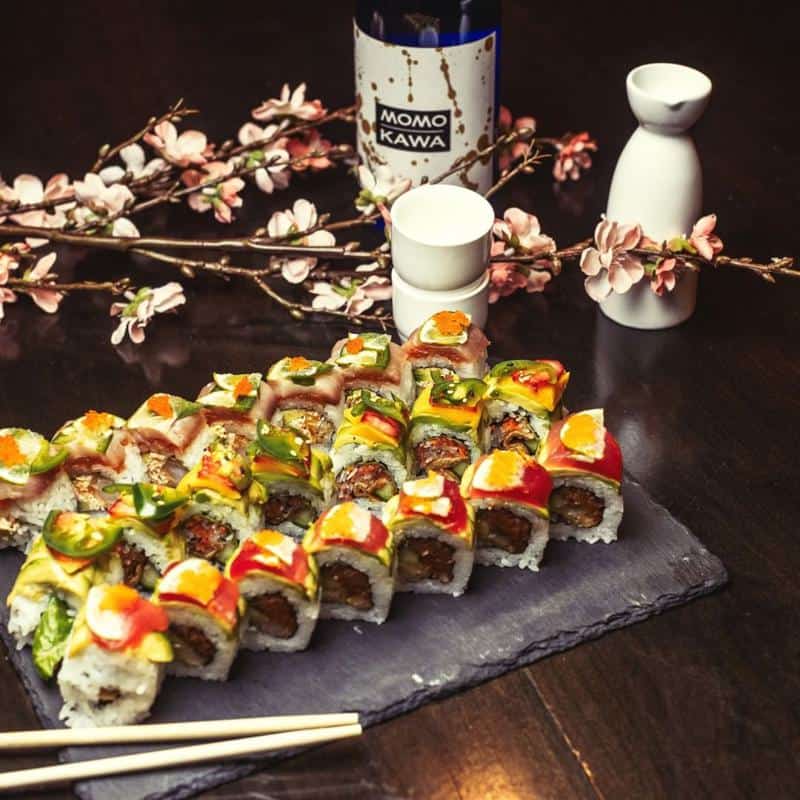 Location: 1980 W 3500 S, West Valley City, UT 84119
Bringing you the best of Japanese and Vietnamese cuisines, Fat Fish has slowly but surely made its place as one of our favorite sushi places in Utah.
They are quite famous for their fusion of sushi rolls and sashimi bombs. We recommend getting at least a small sashimi platter for the table to try the different varieties of fish prepared in Japanese spices.
Apart from the delectable Squid Salad and Firecracker Calamari, we are a huge fan of their flavorful Albacore Garlic Roll.
They are also quite famous for their Pho. It is unmatched in its supremacy and flavors, presenting you with both traditional and modern servings with meatballs, briskets, steak, and vegetarian variety.
Order your favorites from a wide selection of Sake and Beer to pair with their tempting menu at an affordable price.
Highlights
Classic and modern variety of sushi.
Delicious Pho and soups.
Affordable prices.
Hamachi Sushi Bar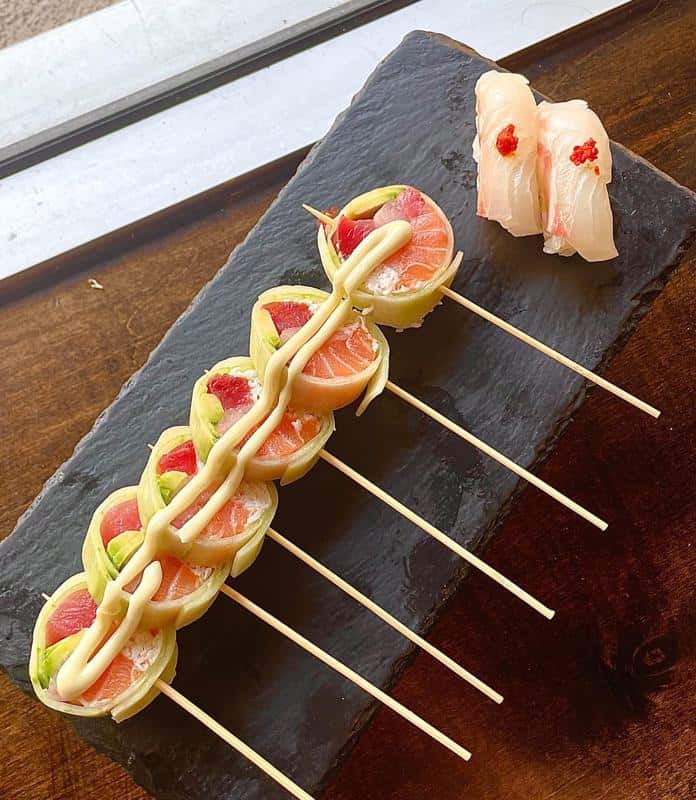 Location: 488 E 100 S, Salt Lake City, UT 84111
Hamachi Sushi Bar gets a 10 for their sushi and a 100 for their presentation! The vibrant and lively space is bright and inviting, offering you a selection of traditional sushi with a modern flair.
The new-age Japanese cuisine is served with just as much love and attention as their classic menu. We love the presentation of their food; the Lollipops in particular steals the show with neatly sliced and wrapped rolls.
They have a huge variety of Maki Roll and special Maki and are particularly famous for their Hamachi in Nigiri and Sashimi. Get a combo of both to enjoy the chef's special selection.
Their economical lunch option has 2 sushi rolls served with miso soup. They also have a variety of ramen, bento boxes, and poke bowls on their menu.
Highlights
Affordable sushi and ramen.
Amazing presentation skills.
Generous serving and special lunch offers.
Chopfuku Sushi and Asian Cuisine
Location: 4546 S 815 W Suite 107, Taylorsville, UT 84123
Delicately served with floral accents and dainty colors, Chopfuku is an ideal spot for sushi lovers in Salt Lake City.
While their presentation is quite elegant and refined, their flavors are rather bold and adventurous. For instance, who would have thought deep-fried bacon will make its way into a sushi roll and be lip-smacking good?
We love the daring choices and risks that Chopfuku takes to stand apart from other sushi spots in the area, and highly commend executive chef Ty Hoang for all the creativity and passion poured into the dishes.
From crunchy red snapper topped on California Roll to smoky hot Angry Bird Shrimp Tempura, the ingenious variety invites you to order more.
If you are in the mood for a surprise, order their Best in the Box Roll which features a surprise roll revealed during serving. Chopfuku surely knows how to mix it up and keep things fun!
Highlights
Bold and powerful flavors.
Unique variety in sushi rolls with beautiful presentation.
Wholesome Pan Asian experience.
Ozora Izakaya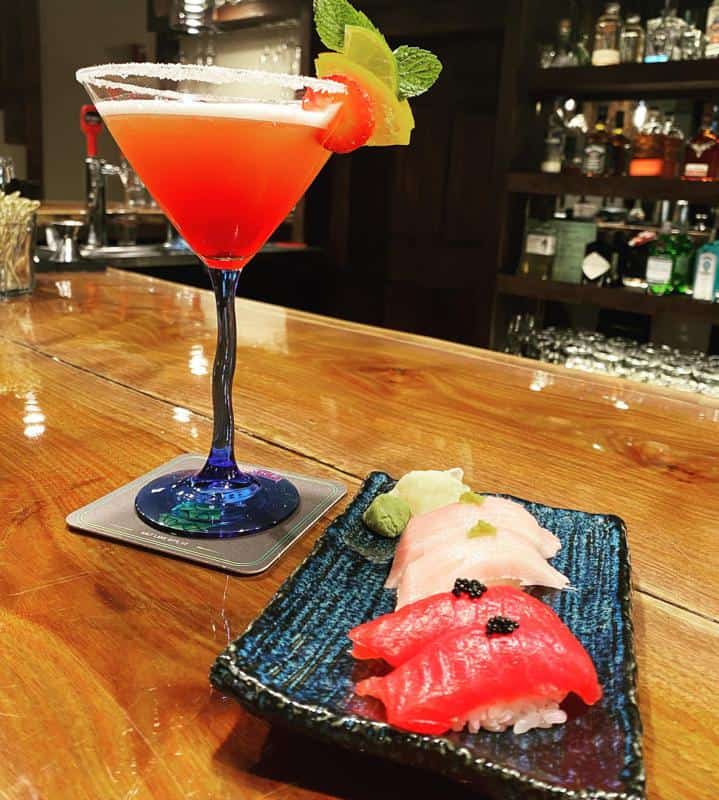 Location: 1078 E 2100 S, Salt Lake City, UT 84106
If you are a picky eater and find it difficult to select what you like, Ozora Izakaya will make your life easy. With small plates serving a bit of everything, you will get to taste their thoughtfully prepared sushi rolls without having to choose.
Ozara Izakaya is relatively new. While not widely popular, it still receives a lot of love from locals and visitors and is one of the hidden gems of Salt Lake City.
Labeled as 'Izakaya' which is essentially a Japanese bar-restaurant where friends gather to meet and blow off some steam, Ozara sets the perfect atmosphere with a sprawling bar to go with your meals.
Enjoy a variety of meats and sushi, with small plates alongside your favorite drink.
Highlights
Delicious sushi and non-sushi delights.
Huge bar with a wide selection of drinks.
Laid back and contemporary ambiance.
Also Read: Best Restaurants in Salt Lake City
Conclusion
We bring you a carefully curated list of the best sushi restaurants in Salt Lake City for your next visit. All the restaurants mentioned above have something unique to offer to not only satiate your cravings, but also provide an Asian experience that's immersive and memorable.
Whether you are a solo traveler, hanging out with friends or spending wholesome vacation with the family, you will love these highly popular sushi spots.