When it comes to the natural wonders of the United States, you can't steer wrong by finding yourself in Colorado. The incredible scenery of the Rocky Mountains enfolds most of the cities, with Colorado Springs sitting on the eastern face of the mountain. The locals are extremely friendly, and the relaxed and casual vibrance of the city is so encapsulating that you'll never want to leave.
They are known for hosting some incredible restaurants, and sushi spots around Colorado Springs clearly fit the bill. They have a menagerie of unique sushi restaurants that pour their heart and soul into their craft. From unique and interesting takes on atmosphere to robust menus that feature everything and anything you could possibly dream of. You'll be spoiled for choice.
Luckily, we've made a little list to help you decide!
Best Sushi in Colorado Springs
Chiba Bar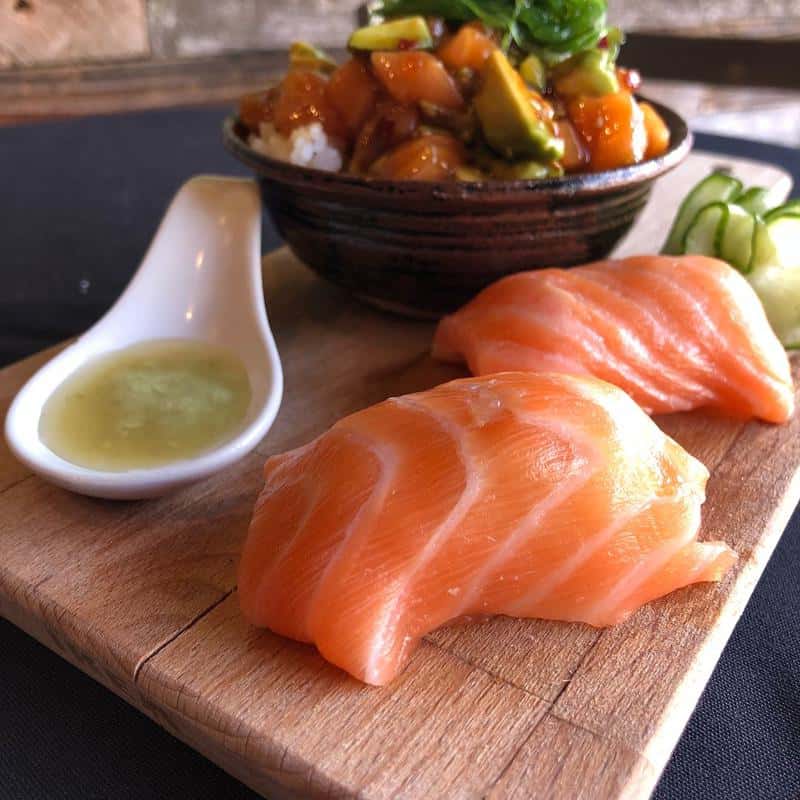 Location: 19 E Kiowa St, Colorado Springs, CO 80903
Price: $$
Chiba Bar is just the venue for you if you're a fan of eccentricities. It's a collaborative approach to Japanese meets Cyberpunk fusion. It certainly fits the bill for being a new and unusual take on the dining experience. They pride themselves on their atypical approach to food and offer a versatile menu. It's unlike anything you've ever experienced!
The ingredients are freshly sourced and comfortably serve a limited number of patrons daily. The meals are quality and refreshingly tasty, offering everything from sushi to poke bowls. The daily specials vary as well, so there's always something new to try!
Uri Sushi & Grill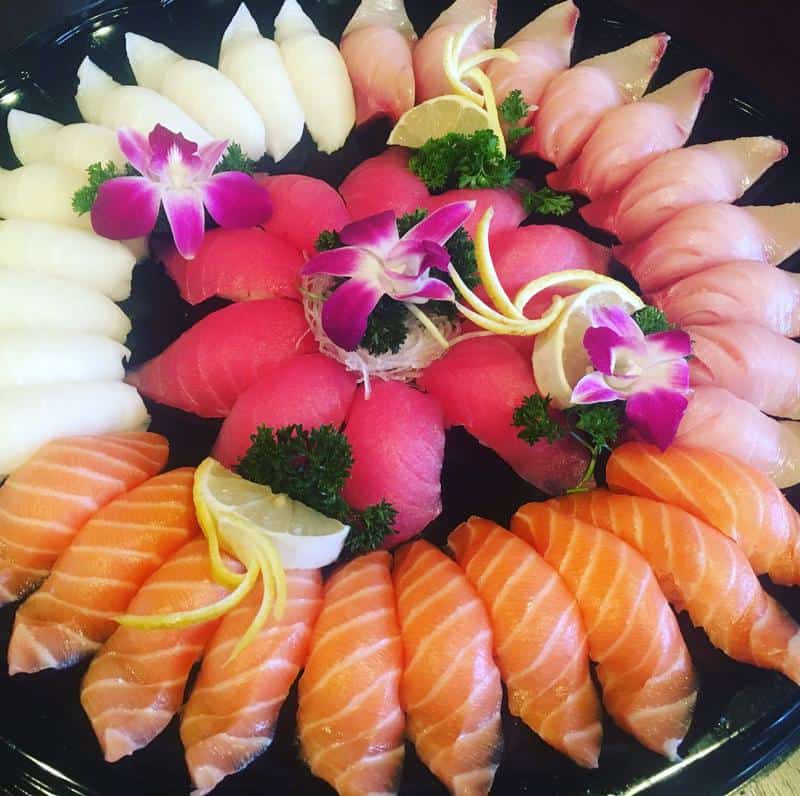 Location: 3322 E Fountain Blvd, Colorado Springs, CO 80910
Price: $$
Uri Sushi & Grill has mastered the art of bringing color to the plate. This unassuming neighborhood spot perfectly embodies Colorado chill. It's casual and doesn't express too much flash and frill! They simply adore bringing joy through a celebration of incredible Japanese Cuisine.
There's barely any fault to find with their rich and enticing sushi rolls. They have a variety of fusion combinations that truly harbor the best of both worlds. The ingredients are refreshingly indulgent for a steal. They'll have you hooked! The welcoming and ambient venue is best for intimate and casual gatherings. We'd highly recommend reservations, as the venue is small and very popular!
Bada Japanese Restaurant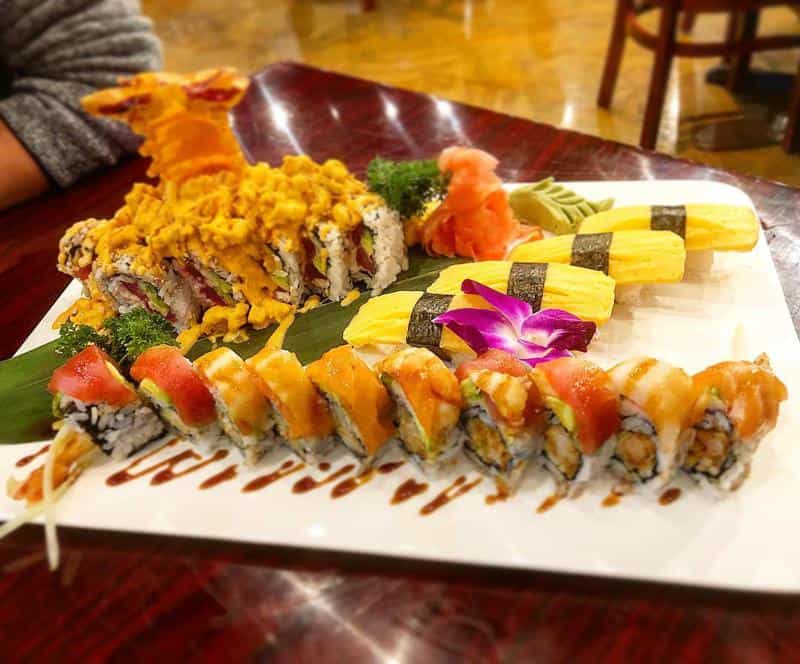 Location: 2777 Janitell Rd, Colorado Springs, CO, 80906
Price: $$
Bada Japanese Restaurant is not your typical sushi spot. Fusion is always the flavor of the day, and in ways you wouldn't expect. Their unique array of sushi rolls pays tribute to global flavors, not just Japanese.
The expert chefs create dishes ala carte or for indecisive diners. Let them spoil you with a rich taste of omakase! Aside from sushi, the menu also sports delicious hot plates from the kitchen. There are years of experience around this restaurant, and the quality and service certainly reflect it! Be sure to reserve a seat, and bring your loosest pair of pants. You'll need it.
Dozo Sushi and Bar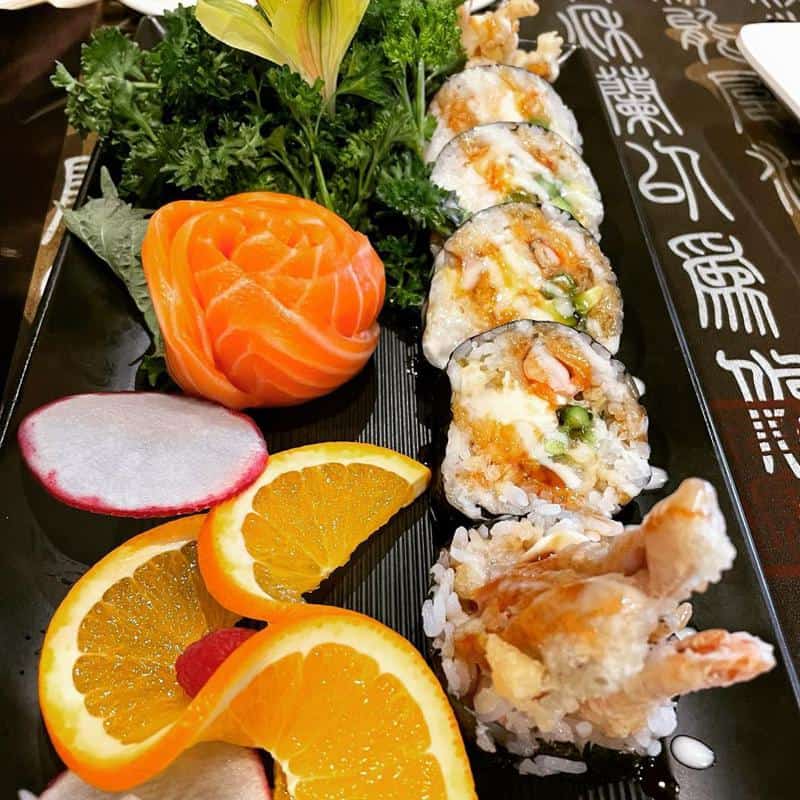 Location: 1606 S 8th St, Colorado Springs, CO 80905
Price: $$$
Dozo had a rocky start, opening in 2020 before the global pandemic hit. But, surprisingly, the owners have kept their heads. From this devastating start, Dozo has risen from the ashes. They've developed a surprising reputation amongst locals, and this is slowly spreading further afield.
The meals they prepare are nothing short of spectacular. And the menu, much to our delight, is extremely sushi-orientated. The usual suspects trim the pages, from sashimi to nigiri, before a tantalizing selection of rolls joins the pages. They are well known for their decadent desserts, which perfectly marry American taste with Japanese culture.
Sushi Ato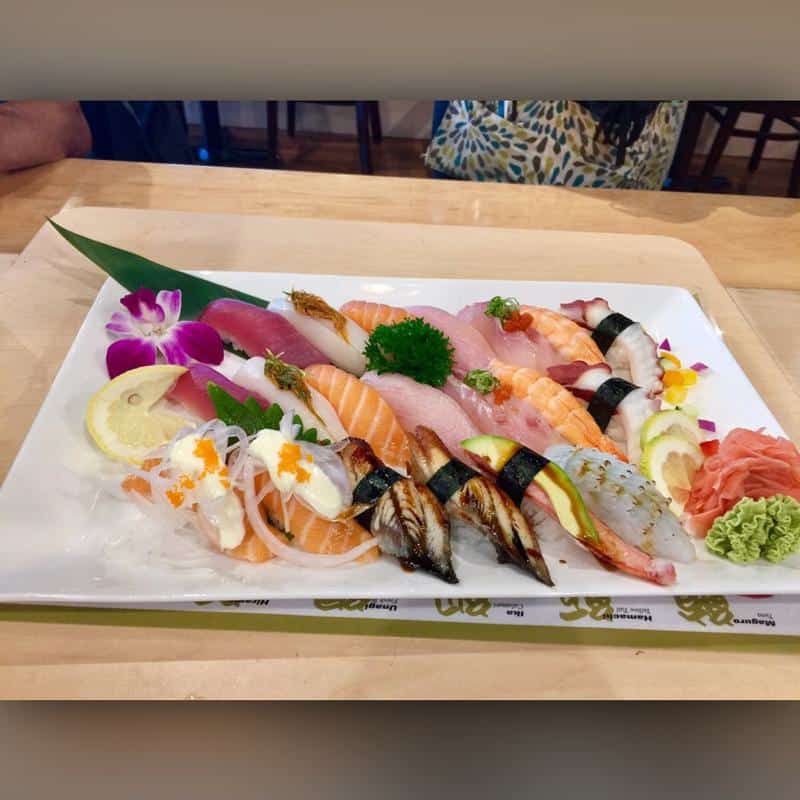 Location: 12245 Voyager Pkwy #148, Colorado Springs, CO 80921
Price: $$
If rainbows could be served on a platter, Sushi Ato has refined the art of it. The restaurant serves up some impeccable arrangements. The natural color of the ingredients seems more deserving of an art gallery than a restaurant. Not only does the food look good, but tastes even better.
The ingredients are hand-selected, fresh, and perfectly embody Japanese cuisine. From the ample sushi choices to the hot plates that fly from the kitchen, you won't be sorry you came. The venue offers plentiful seating under a sunset color scheme. There is a sense of celebration throughout the entire room, making this a wonderful setting for special occasions!
O'sae Sushi Ramen Bistro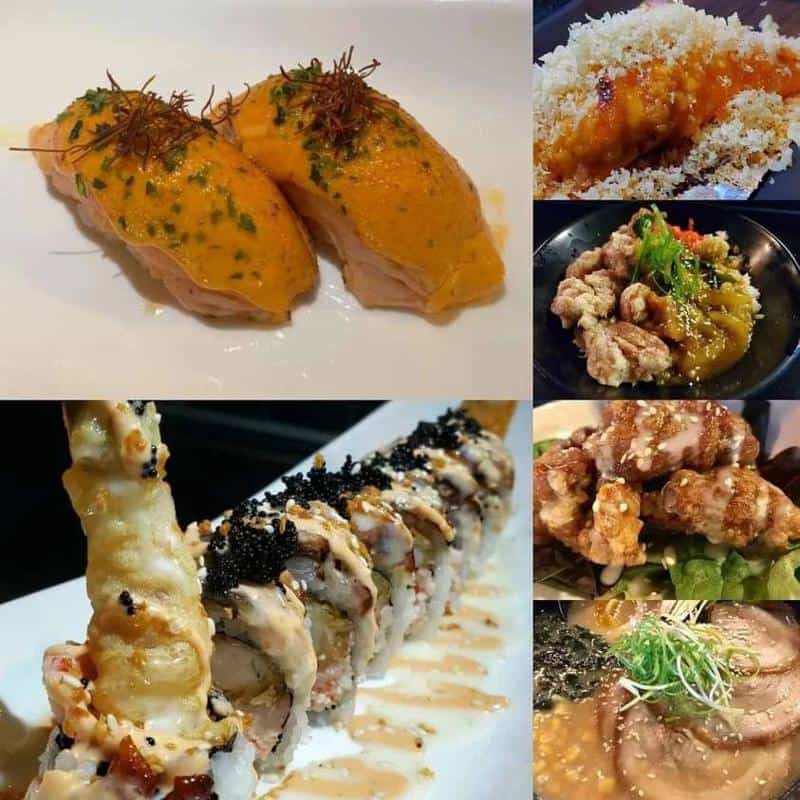 Location: 1825 Peterson Rd, Colorado Springs, CO 80915
Price: $$$
At a glance, O'sae Sushi Ramen Bistro might not seem like much. But we beg you to reconsider giving it a skip. You'll be pleasantly surprised to find that O'sae provides some of the most delicious sushi in Colorado Springs despite what outward appearances may be.
The menu comprises the freshest, locally sourced ingredients making it both sustainable and delicious. They serve a variety of Pan-Asian dishes, including Thai cuisine. This mixture of flavors has favorably infused itself into the sushi they serve, of which we cannot recommend the maki rolls highly enough! They're a collaboration of cuisines, all wrapped into a perfectly crafted bundle!
Jei Sushi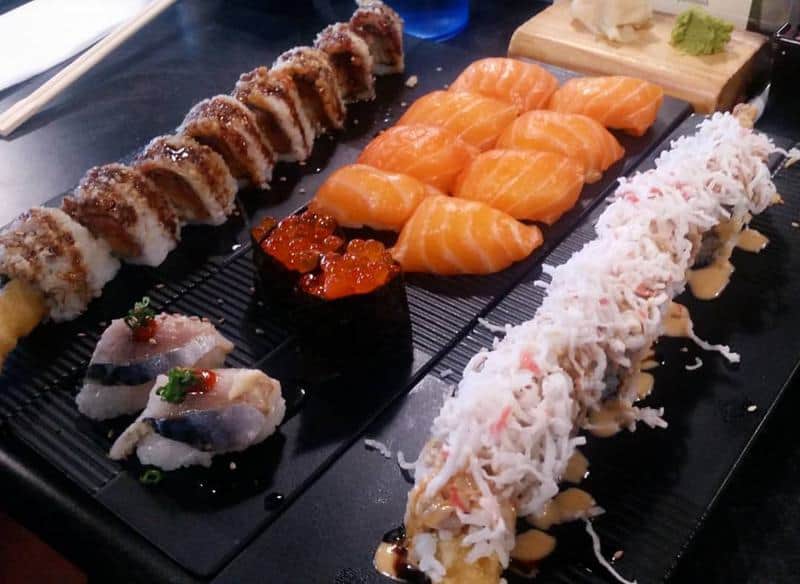 Location: 5490 Powers Center Point, Colorado Springs, CO 80920
Price: $$
All-you-can-eat times: Lunch – 11:00 am to 2:30 pm, Dinner – 5:00 pm to 8:30 pm, Weekends – All Day
The best thing about Japanese cuisine is it's meant to be shared. Jei Sushi is family-owned and run and entirely focuses on sharing good moments with people you love. It's a welcoming spot with a cozy interior and the friendliest staff on the block. The place bleeds passion, passion for food, and passionate for people!
Japanese cuisine is a specialty, and the quality is exceptional, with fresh seafood being used to create their intricate sushi. They are continuously up to something; year-round, you'll find quirky additions to their menu to reflect the season. But, what's better, is at select times during lunch and dinner, you can indulge in all-you-can-eat bliss for under $30! For the quality you're getting, this is an absolute bargain!
Fuji Bistro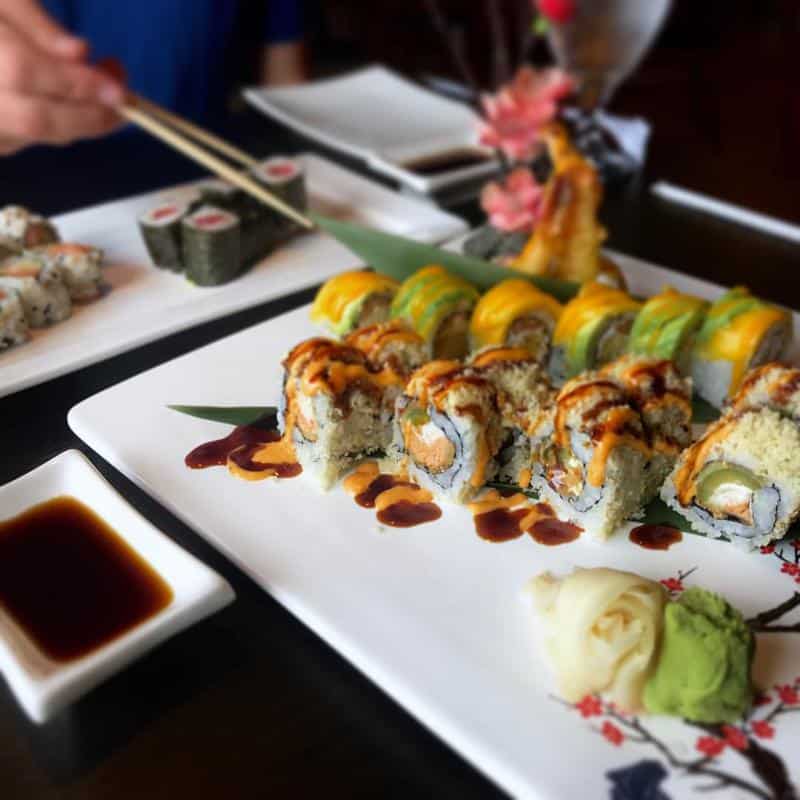 Location: 6995 Lexington Dr, Colorado Springs, CO 80918
Price: $$
For one of the best Pan-Asian experiences in Colorado Springs, look no further than Fuji Bistro. This modern eatery has taken inspiration from across the globe and created something wonderful. The neo-traditional flavors are a fully incorporated taste explosion! If you love fusion sushi, you'll find no fault here.
The menu is extensive, covering a broad range of dishes. The sushi itself could be separated into a whole separate menu. There's just that much to choose from. The chefs are incredible, and their food reflects an undeniable passion. With delectable ingredients, they craft each roll with love, and the intensity of flavors is undeniably addictive.
Yoo Mae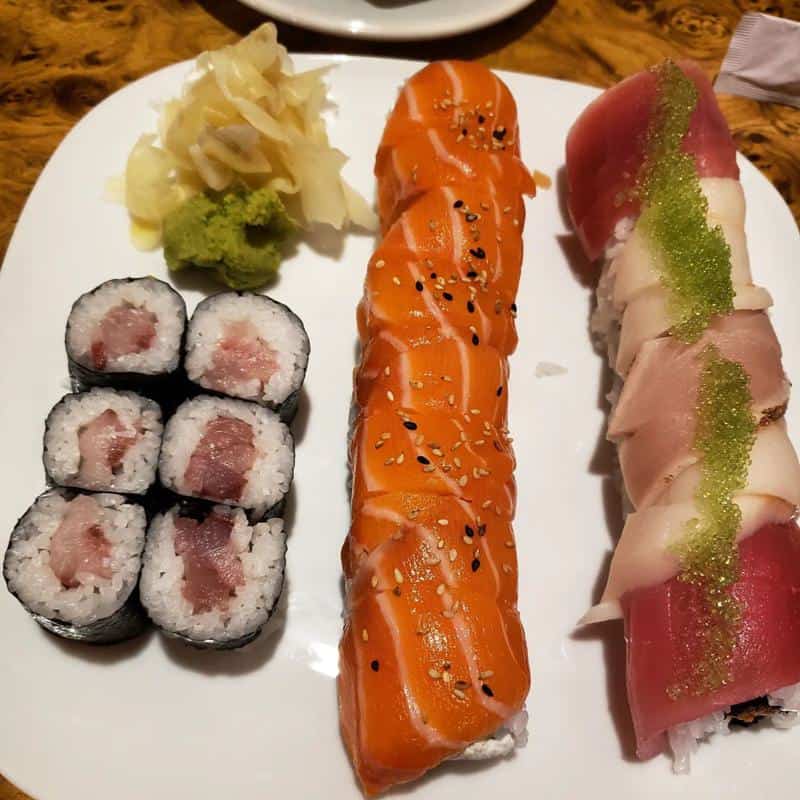 Location: 21 E Kiowa St, Colorado Springs, CO 80903
Price: $$
It's no lie that every state seems to have its own signature sushi roll, but what would happen if you could find them all in one convenient spot? Yoo Mae is known for this one distinct feature to its menu and the other landslide of specialty sushi you won't find elsewhere.
They truly have gone above and beyond for such a quaint local spot! From the quirky characters that litter the venue to the extensive menu that covers everything from sushi to hot plates, Yoo Mae has left no stone unturned. They've brought an unbeatable sushi experience right to the US shore. It's family-run and family orientated, making it an excellent choice for a good get-together.
Kohnami Sushi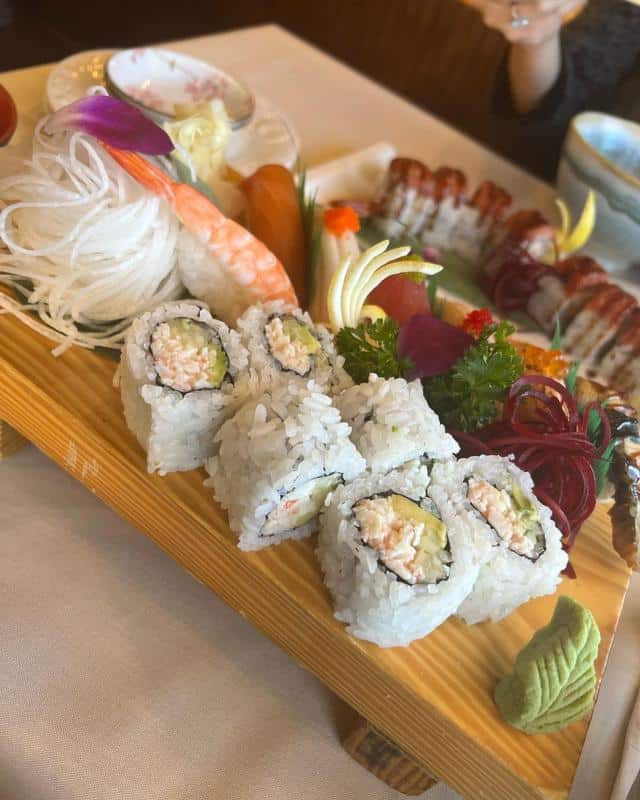 Location: 7673 N Union Blvd, Colorado Springs, CO 80920
Price: $$
Kohnami Sushi is one of Colorado Spring's best. With an innovative and modern approach to sushi, they deserve the title. They dedicate themselves to a passionate approach to their dishes. Sushi is not the only thing on the menu, with traditional Korean dishes working their way onto the pages too.
The ingenious minds of dedicated sushi chefs have cooked up some undeniably tasty combinations. For those who enjoy a more traditional approach, you'll find an ample supply of nigiri and sashimi. But, if you're more adventurous, delve into the world of specialty rolls that fuse ingredients to create out-of-this-world flavors. We promise you'll find taste sensations that are never to be repeated.
Sushi O Sushi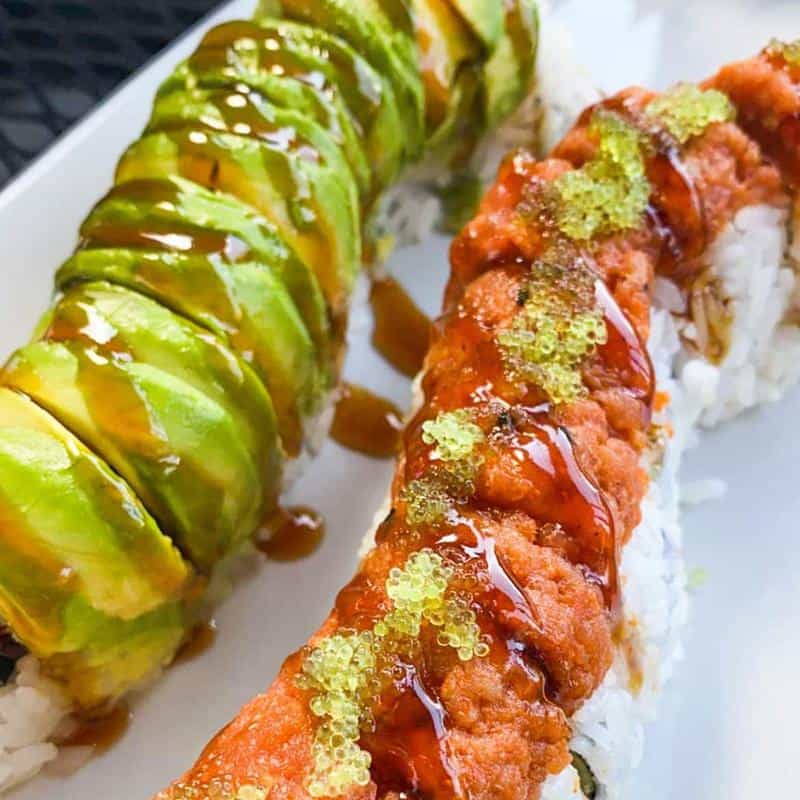 Location: 3643 Star Ranch Rd, Colorado Springs, CO 80906
Price: $$
Opened in 2012, Sushi O Sushi has since made quite the name for itself. Expanding over the years to build a larger dining area with a tatami section. They truly have created an experience where you can truly indulge in another culture. The best part is the laid-back nature of Colorado is not lost in this no-frills restaurant.
Each chef has had a hand in creating some truly interesting combinations. The menu seems reminiscent of gibberish, with oddly named sushi rolls scattered across the pages. We feel no shame in ordering a Crouching Tiger roll and pigging out on exorbitant portion sizes. The flavors are incredibly matched! If choosing isn't for you, they offer Omasake as well! And platters to feed the whole family.
Ai Sushi & Grill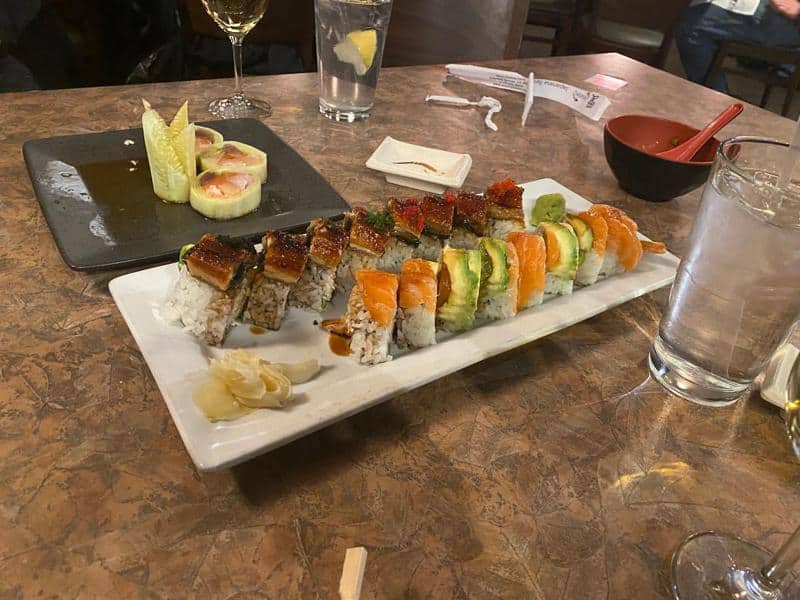 Location: 4655 Centennial Blvd, Colorado Springs, CO 80919
Price: $$$
A dining experience is lost without some kind of entertainment for the night. So while Ai Sushi & Grill skipped on having karaoke or live bands, they instead hired a chef, Ramon, who does the entertaining while he cooks! The owner is a Korean local and prides himself on providing excellent pan-Asian cuisine.
The menu is densely populated with a series of hot dishes, specials, and sushi. Each is a refined and beautifully prepared meal that tastes great and plates beautifully too! The spacious venue offers some intimacy for those who want it and plenty of seating for large groups to enjoy a raucous meal together!
Read More:
What is Colorado's Signature Sushi Roll?
That would be the Colorado roll, which combines yellowtail tuna and salmon, snuggled in sushi rice with spicy aioli and the delicious crunch of cucumber. All wrapped up perfectly in Tobiko, which is flying fish roe. Some restaurants take their own twist to it and make small additions to truly make the roll their own.
Conclusion
Colorado Springs has a lot to offer for a small city, from its incredible scenery, hiking trails, and more. Down to the delectable dishes offered by their local restaurants. It's a naturally appealing place that leaves nothing to the imagination and can be considered a paradise in its own right.
Of course, no paradise would be complete without Japanese cuisine. Colorado Springs offers some incredible sushi spots if you know where to look, with delightful menus that will surely have you hooked!