From the simple cheese and ham on plain white bread to the delicious lobster roll of New England or the Vietnamese bánh mì, the humble sandwich comes in a bewildering range of forms and with almost limitless possible fillings.
To introduce you to this all-conquering and enduringly popular snack, here's our guide to the different types of sandwich, the various breads and styles used in making them and all the most deliciously irresistible fillings.
What Is a Sandwich?
When most people picture a sandwich, they imagine two pieces of bread enclosing some kind of filling, although there are almost infinite variations on how this can be done.
According to legend, the concept was created by John Montagu, the 4th Earl of Sandwich, in 18th-century England.
As the story goes, the Earl used to have his servants prepare him a meal consisting of meat held between two pieces of bread – possibly so that he could eat while playing cards without getting the cards dirty.
However, although this may be the origins of the modern sandwich, bread served alongside other ingredients has been a staple meal in unnumerable cultures for millennia.
Nowadays, definitions vary, and there is some debate over what constitutes a true sandwich. For example, does an "open sandwich" with only one slice of bread count or does a sandwich need a slice above and below the ingredients to be called such?
Similarly, can a hamburger or a hotdog be considered a sandwich? In this case, American usage considers a hamburger a type of sandwich while British does not – but both would usually discount a hotdog.
In any case, semantics aside, sandwiches are now among the most popular snacks and light meals in the world, so now let's have a look at some of the many variations.
Part 1: Different Types of Bread and Styles of Presentation
One way to categorize sandwiches is by the type of bread used and how they are presented, and here are some of the most common possibilities.
If you're more interested in popular fillings, you can also scroll down to Part 2 below.
Classic Sandwich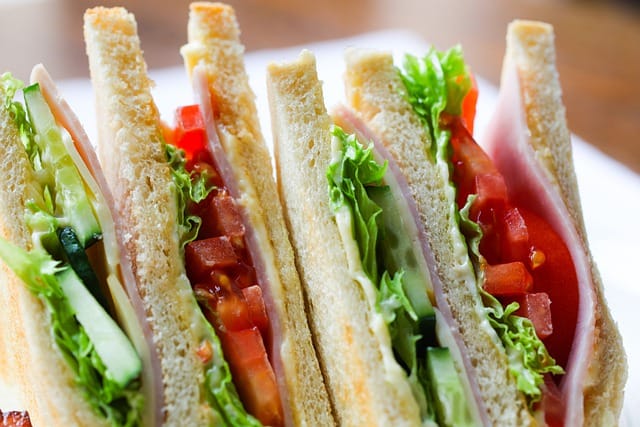 The classic sandwich consists of two slices of buttered bread and a filling. The bread can be cut from a loaf of white bread, brown bread, rye bread or any other type of loaf. Nowadays, people also commonly make sandwiches from pre-sliced bread.
The fillings that can be used are almost infinite, but we'll mention a few of the most popular in Part 2 below. Whether you cut the crusts off or leave them on is a matter of preference.
Roll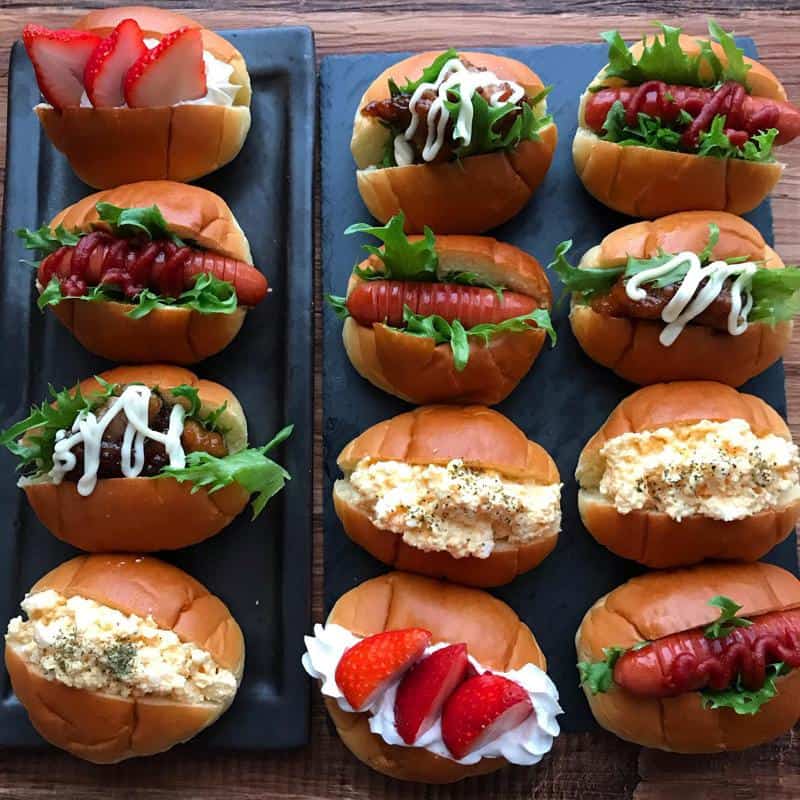 A roll is a round or oblong individual piece of bread, and if you cut one in half horizontally and put a filling inside, it becomes a sandwich – although some people still prefer to call it a roll.
Baguette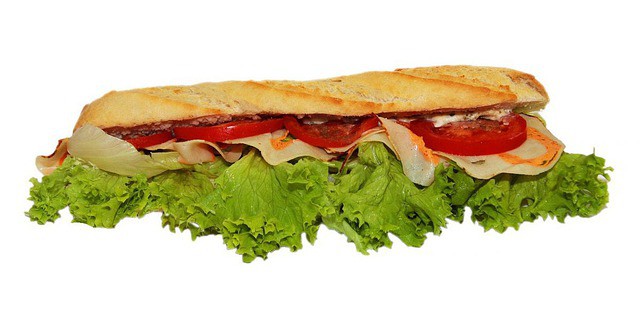 Originally from France, the baguette is a long stick of usually crusty bread. You can slice it down one side and fill it to make a tasty sandwich.
One legend tells that the baguette was invented by Napoleon so that his soldiers could carry their rations more easily – although this story is likely to be apocryphal.
Sub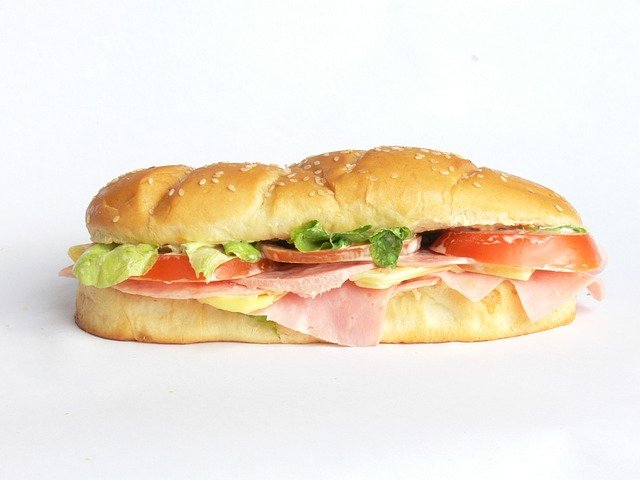 The sub – or submarine sandwich – is any long type of sandwich that resembles a submarine in shape. The term is popular in the US, and a baguette can be considered a type of sub – but subs can also be made of other types of softer bread that wouldn't usually be called baguettes.
Bánh mì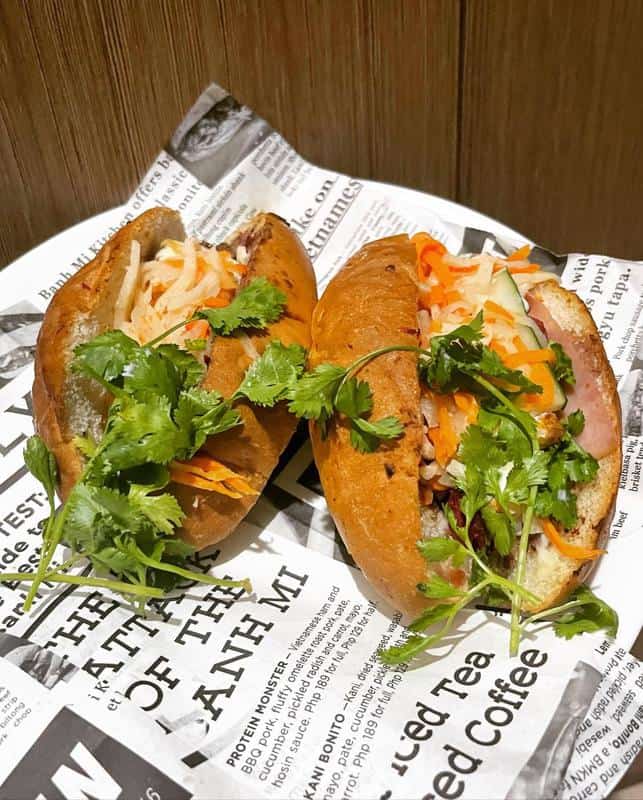 Bánh mì is the Vietnamese word for "bread", but it is also used to refer to the delicious baguette sandwiches that are sold as street food throughout Vietnam, a remnant of the French colonial period.
They are usually served with all kinds of delectable fillings like meat and pickles and come bursting with exotic Southeast Asian flavors. Sometimes they are also sold with fillings such as pig ears, which some Western visitors to Vietnam might be less accustomed to.
In neighboring Laos, a similar type of sandwich can be found – the traditional filling is pork liver pâté and Lao sausage.
Bagel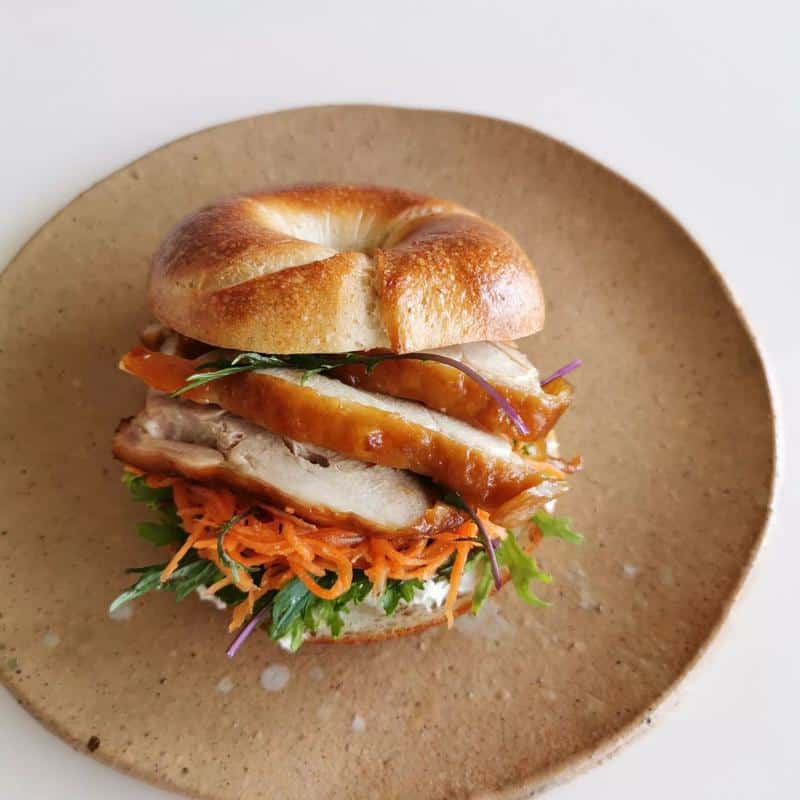 Bagels are round buns with a hole in the middle that was originally probably used for displaying them on sticks. They are made from yeasted wheat dough and are traditionally boiled for a short time before baking, which gives them their distinctive texture.
The bagel – sometimes also spelled "beigel" – was originally baked by the Jewish population in Poland, but nowadays they are popular around the world.
Toastie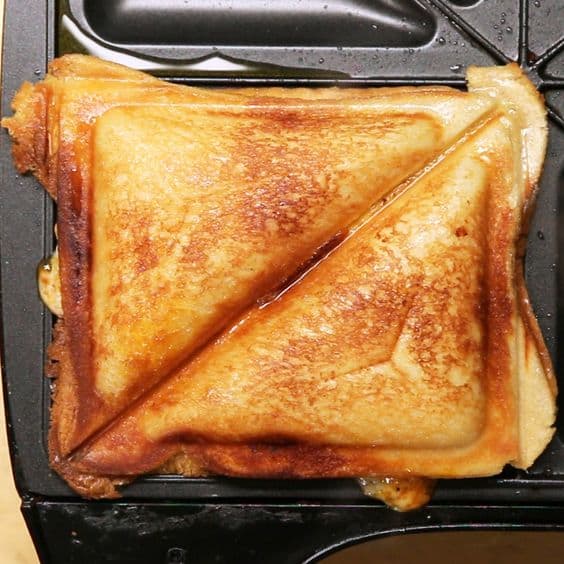 The toastie is a type of cooked sandwich that includes cheese and sometimes other fillings. The cheese is placed between two slices of bread, which are then pressed together and cooked in a toastie maker.
This melts the cheese and seals it between the bread – and it then oozes out when you bite into it.
Panini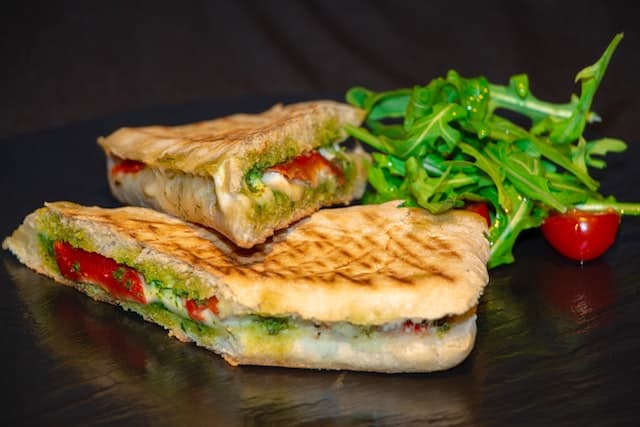 Similar to toasties, the panini is a type of hot sandwich where the ingredients are placed between two slices of bread and then the whole thing is pressed between two hot metal plates.
The essential ingredient is cheese – this is because it melts during cooking, holding the whole thing together. Beyond this, all kinds of fillings are possible, but things like Italian-style cold meats, chicken, tuna or vegetables are popular.
Technically, the Italian word panini means "sandwiches" in the plural, with the singular version being panino. However, in English, the word "panini" has come to refer to this type of heated, pressed sandwich – even though it is grammatically incorrect.
Open Sandwich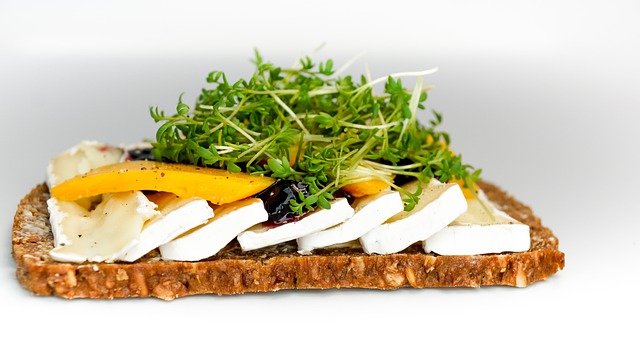 There is some debate about whether open sandwiches consisting of a single slice of bread and a topping are truly sandwiches since, for some, the definition of a sandwich means a filling held between two slices of bread.
However, whether a true sandwich or not, this variation is particularly popular in the Scandinavian countries and can be served with a whole range of toppings including smoked salmon, meat, cheese or charcuterie.
Croissant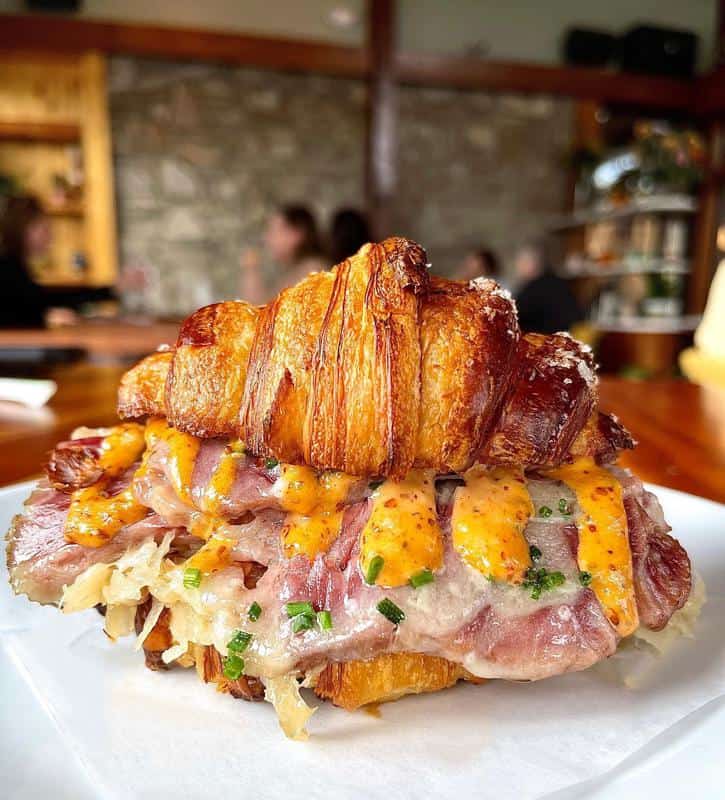 Croissants are a well-known type of sweet breakfast food that is commonly eaten with a coffee or hot chocolate.
However, they can also be eaten as savory sandwiches with fillings like ham and cheese.
Can they be called sandwiches? We're not sure – but they certainly taste delicious!
Breakfast Muffin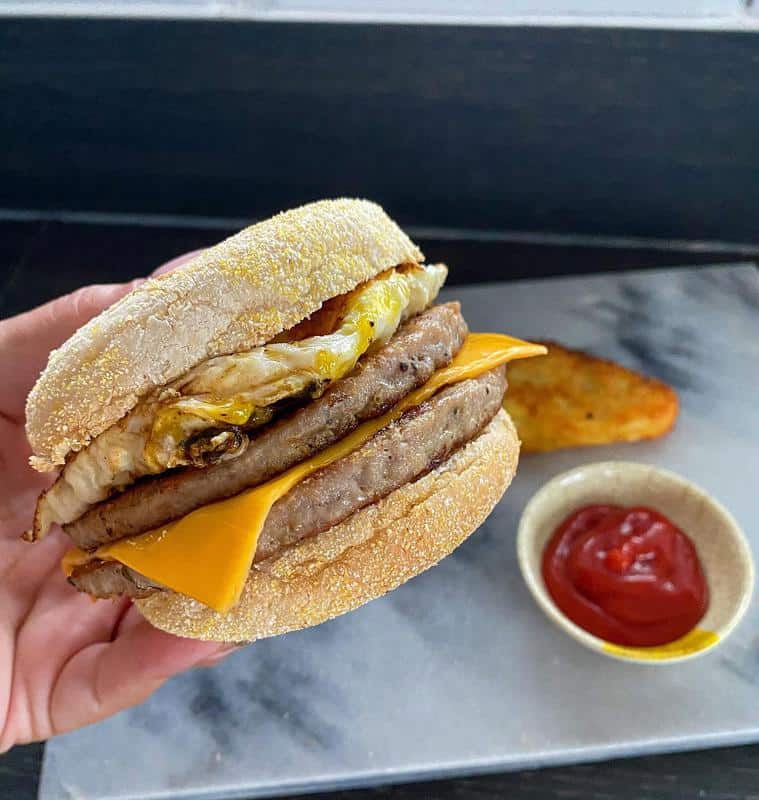 Here, we don't mean the "cupcake" style of muffin that's often made with chocolate chips or blueberries – we're talking about the flatbread type that can be sliced in two and made into a sandwich by adding a filling.
They are commonly eaten for breakfast and are delicious with an egg and some pork sausage.
Bao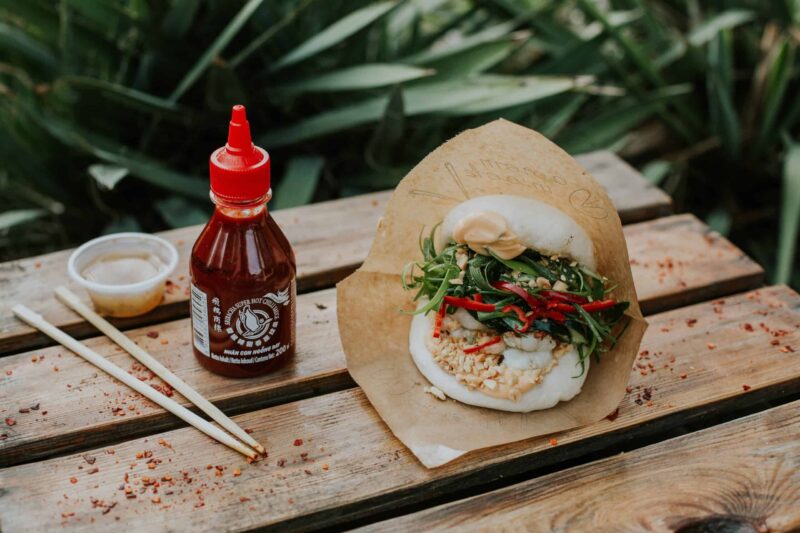 The bao was originally a type of Chinese stuffed bun, but a modified version has become popular in Western countries in recent years. They are made with Chinese-style steamed bread and can contain all kinds of fillings, especially with Asian-inspired or fusion flavors.
Melt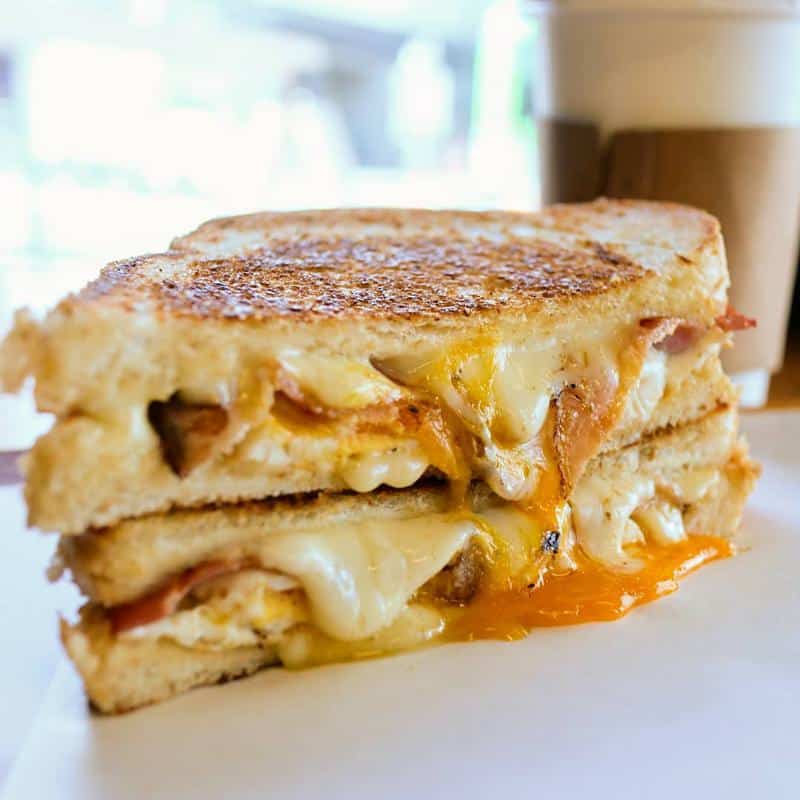 A melt can be made on a range of bread types and the key ingredient is a slice of cheese. The sandwich is then heated, causing the cheese to melt – hence the name.
Pinwheel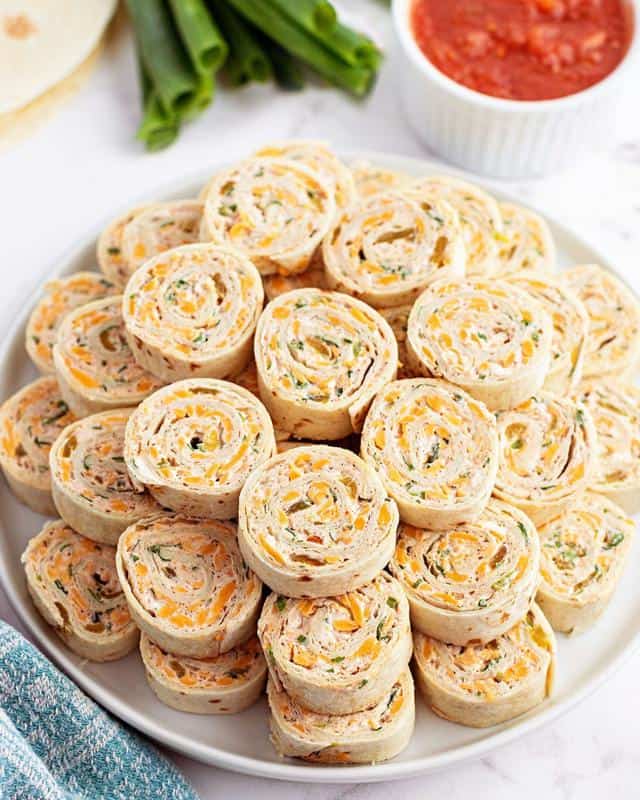 Similar to wraps, pinwheel sandwiches are made by placing your chosen filling on flattened bread or tortillas, rolling them up and then slicing along the length of the roll, leaving with you with bite-sized mini-sandwiches.
You can use any classic sandwich filling or you can get as creative as you like coming up with your own recipes. They're ideal for serving at parties, and since they're small, cute and easy to eat, they're usually extremely popular with kids too.
Hamburger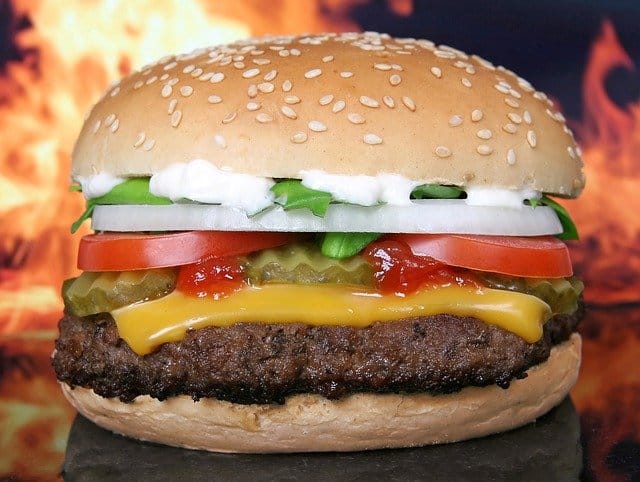 The origins of the hamburger are uncertain, but nowadays it has become one of the most quintessentially American foods. In the US, they are commonly referred to as "sandwiches" although the British would never refer to them as such.
The traditional filling is beef, but they can also be made with a whole range of other meat fillings – or even plant-based patties in the case of the veggie burger.
The word "hamburger" has nothing to do with "ham" but is derived from the name of the German city Hamburg. However, nowadays, people often refer to things like "chickenburgers", "beefburgers", "fishburgers" and so on, depending on what they have inside them.
Part 2: Classic Sandwich Fillings
Here's a list of some of the most popular sandwich fillings from around the world, although the possibilities and variations are endless.
Cheese and Ham
One of the all-time classics, this staple consists of bread, butter, a slice or two of cheese and some sliced ham. You can also add lettuce along with salt and pepper to taste.
Cheese and ham sandwiches can be made on all kinds of bread. The most standard uses sliced white or brown bread, but you can also make cheese and ham bagels, baguettes, panini, toasties or just about anything else you care to think of.
BLT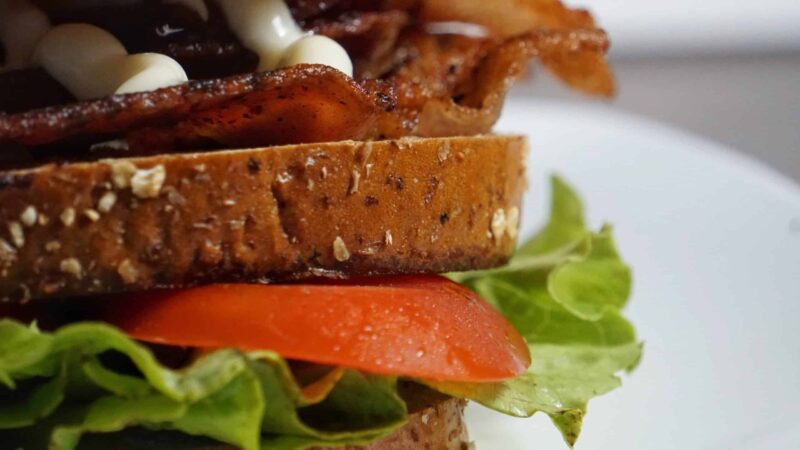 BLT stands for bacon, lettuce and tomato, and this refers to the principal three ingredients. It was originally invented in the US but is now popular in many countries around the world.
It's usually best when made with two thick slices of fresh white or brown bread, and you can also add condiments like mayonnaise or mustard to give it even more flavor.
Club Sandwich
The club – or "clubhouse" – sandwich is another American invention and is made with slices of chicken or turkey, bacon, tomato and lettuce. It usually has three or more layers of bread and is commonly toasted.
Often, the bread needs to be held together by cocktail sticks to prevent everything from falling apart due to the amount of ingredients packed into it.
Egg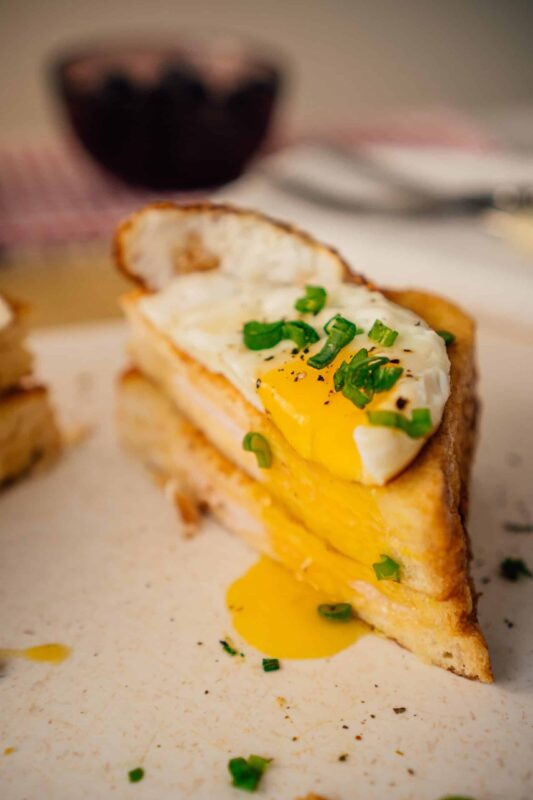 Another of the best-known sandwich fillings, egg has been eaten between two slices of bread for almost as long as the concept of the sandwich has existed.
They are typically made with boiled egg, often mashed with mayonnaise or other similar sauce. A traditional British version also includes watercress.
Other possibilities also exist, however, such as omelet sandwiches and fried egg sandwiches, the latter sometimes being eaten for breakfast as a hangover cure!
Bacon Sarnie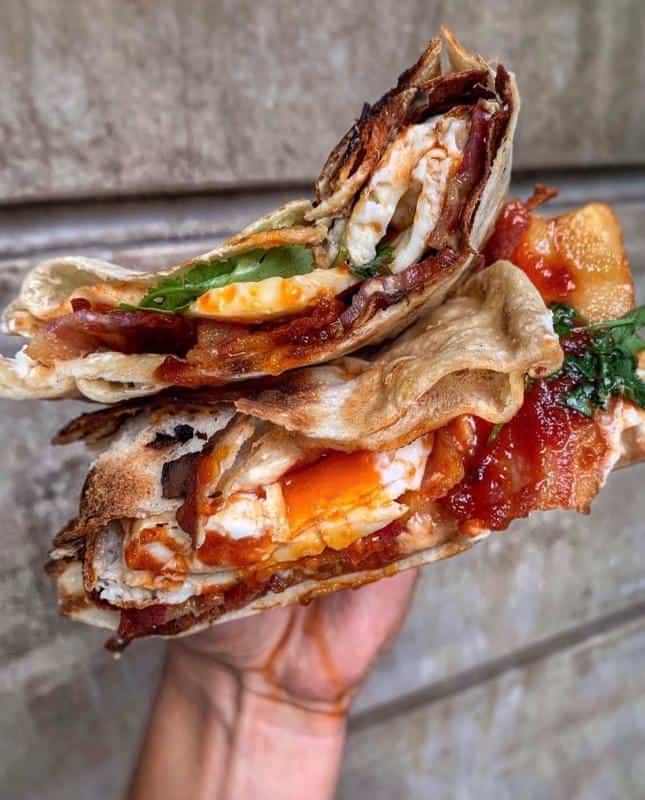 A typical British sandwich, the bacon sarnie ("sarnie" is a colloquial British word for sandwich) is a popular breakfast food but can also be eaten at any time of the day.
For the perfect bacon sarnie, the bacon should be cooked until crisp but not burnt and served on well-buttered bread along with brown sauce, a typical British condiment that gives the sandwich a tart, acidic flavor.
Bacon sarnies can be made with pre-sliced bread, bread sliced from a loaf, bread rolls or baguettes.
Chip butty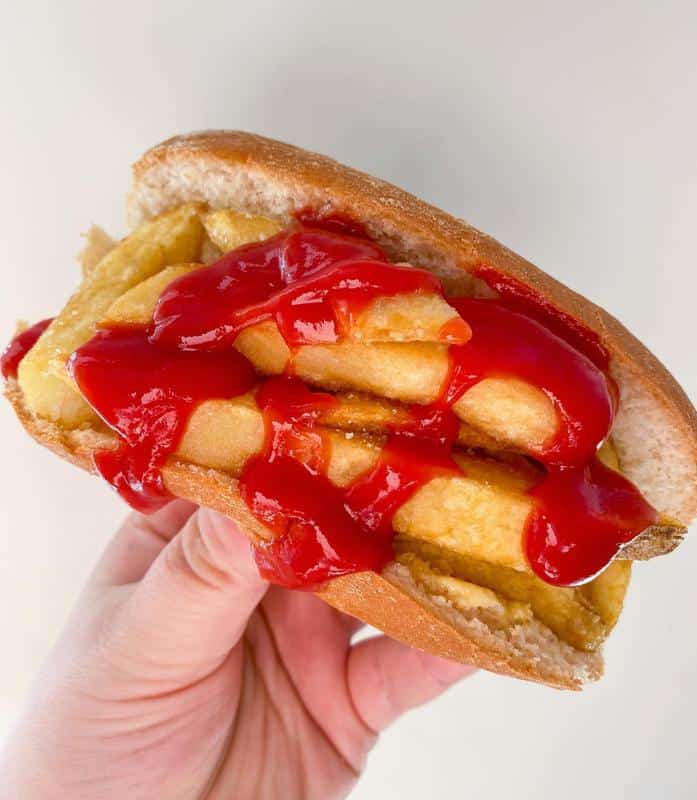 Another British invention, the chip butty is a type of sandwich that includes British chips (similar to American fries) sandwiched between two slices of buttered bread. Tomato ketchup or brown sauce are commonly added for extra flavor.
Peanut Butter and Jelly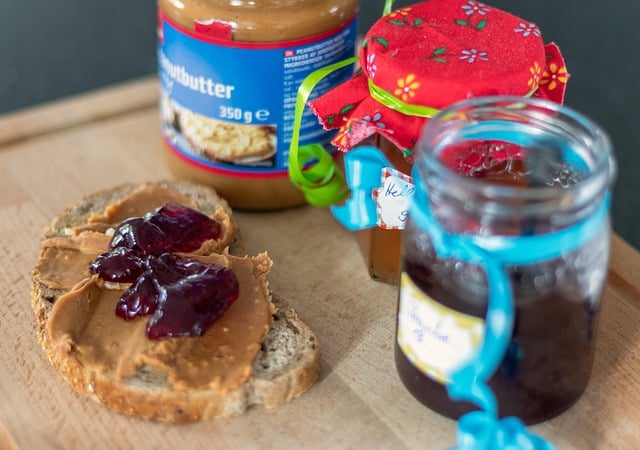 About as American as you can get, the peanut butter and jelly sandwich, also affectionately referred to simply as the PB & J, is a comfort food beloved by kids throughout the US.
The Elvis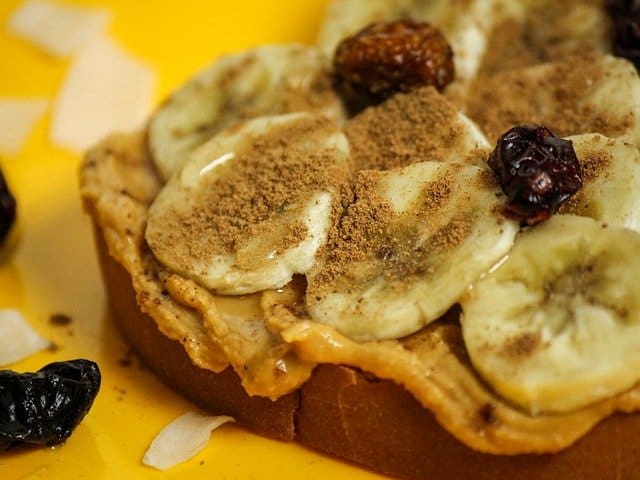 Famously – or perhaps notoriously – Elvis Presley was particularly fond of a sandwich filled with peanut butter and banana, which he devoured in great quantities.
There are also accounts of him eating this sandwich with the addition of slices of bacon, and this is the version that now bears his name.
If you want to try it, by all means, go ahead – but eat them in moderation, unless you want to go the same way as The King.
Cucumber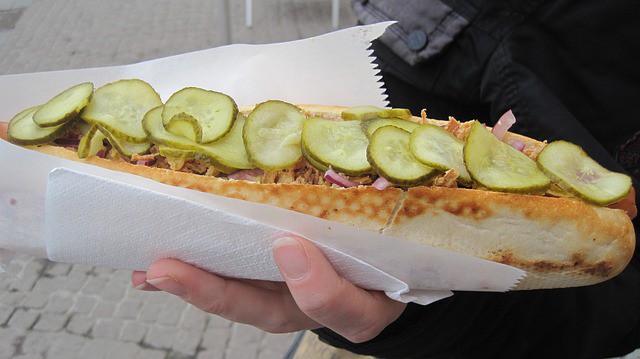 A traditional sandwich served at tea in the UK, the classic cucumber sandwich consists of two pieces of lightly buttered white bread with the crusts removed and containing thin slices of cucumber.
This sandwich was once extremely popular with the British upper classes, but it is less commonly eaten nowadays since the concept of "tea" as a meal is no longer widespread.
Salmon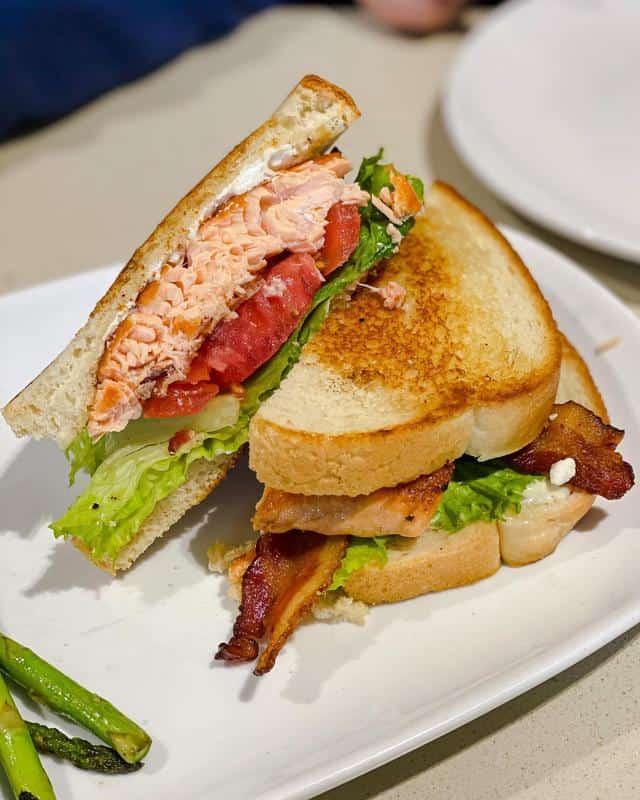 Smoked salmon is an ideal filling for a sandwich and is also perfect for Scandinavian-style open sandwiches. It is often served with wedges of lemon so that lemon juice can be squeezed over it according to taste, sometimes along with capers.
Another popular option is to eat smoked salmon in lightly toasted bagels, and these may be accompanied by a touch of sour cream along with the lemon.
Reuben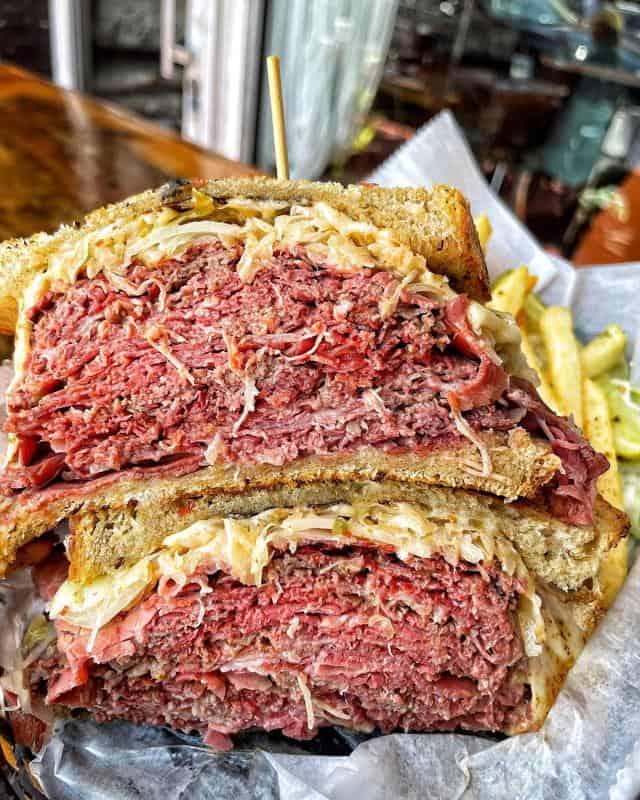 The Reuben is an American sandwich most closely associated with the states of New York, Omaha and Nebraska.
It is made with corned beef, sauerkraut and Swiss cheese and is usually topped with thousand island or Russian dressing. The most traditional version is made with rye bread, and it is usually grilled to melt the cheese.
Several variations on this sandwich exist, including adding egg or replacing the corned beef with fish. However, the classic version above is one of the most distinctively American sandwiches around.
Philly cheese steak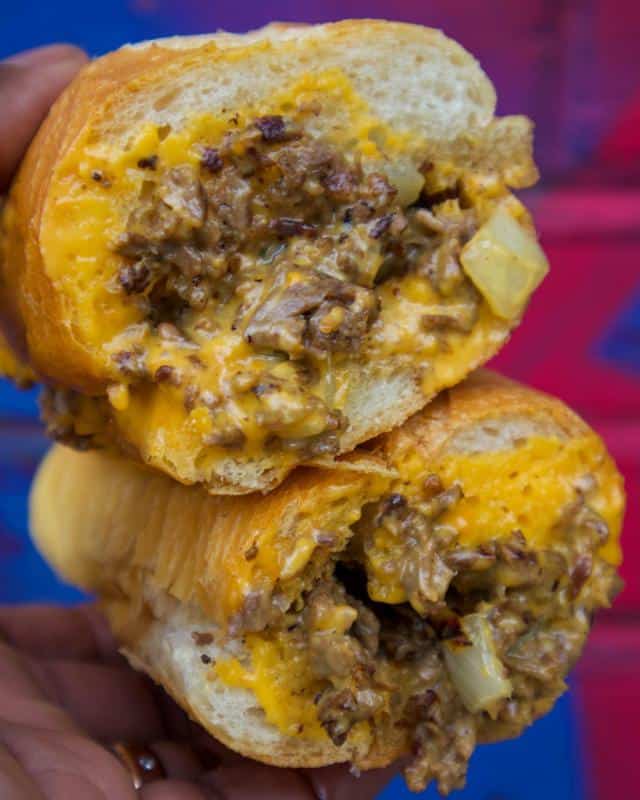 For a more consistent meal, a steak sandwich is always likely to hit the spot, and many variations exist.
However, arguably the most iconic of all American sandwiches is the Philly cheese steak sandwich, first created in Philadelphia and consisting of thin slices of beef steak combined with delicious melted cheese and served in a hoagie roll.
Optional additions include ingredients such as onions, peppers and mushrooms, and it's fair to say that you haven't truly sampled American cuisine unless you've had one, ideally in the city where it was invented.
Roast Beef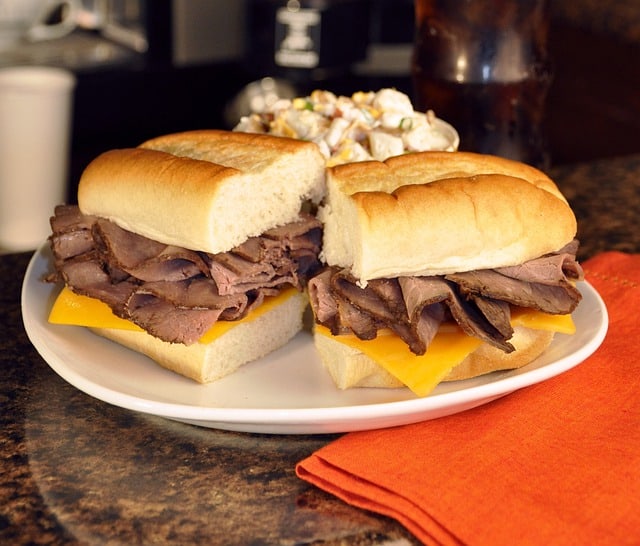 As well as steak, roast beef is a popular ingredient in sandwiches, and one option is to pair it with horseradish for a simple yet delicious snack.
A more specific version of this is what's known as the "beef on weck", an American take on the roast beef sandwich that uses a Kummelweck roll and is usually topped with horseradish.
Chicken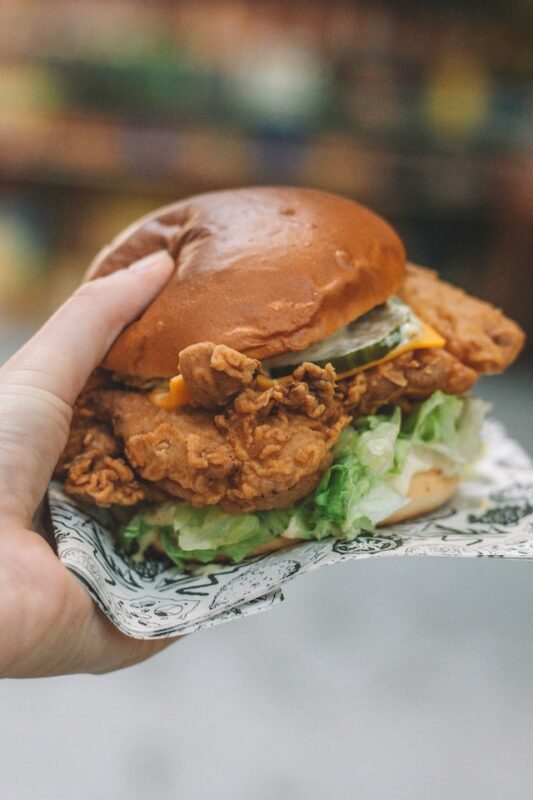 Chicken is an extremely versatile sandwich ingredient, and it can be used in a variety of ways.
For us, one of the best recipes is to take some pieces of leftover cold rotisserie chicken and put them into a sandwich with nothing other than a dollop of mayonnaise and a little salt and pepper to taste.
Croque-monsieur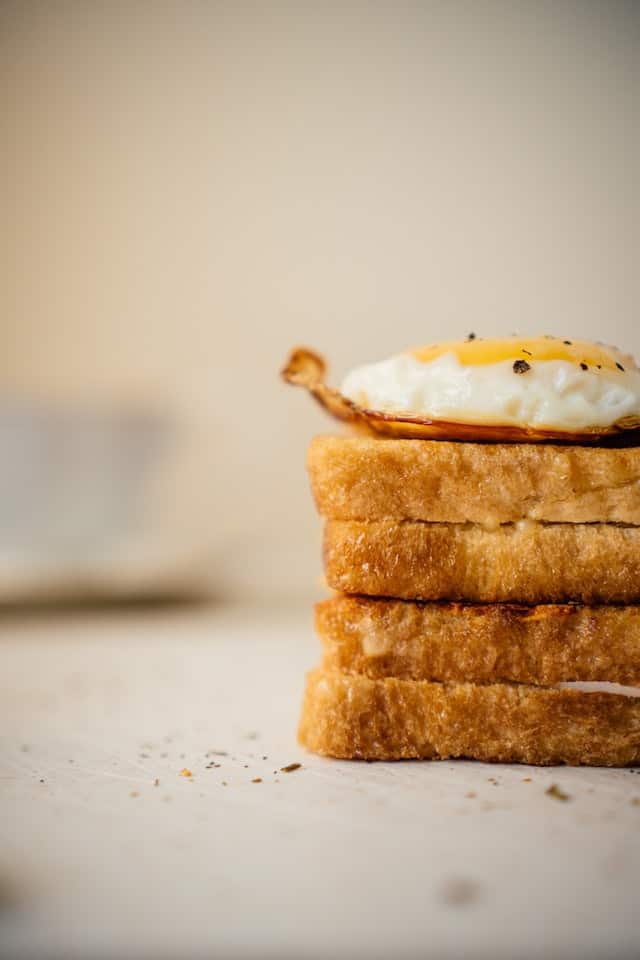 The croque-monsieur is a renowned French take on the toastie. It's made by placing ham and cheese inside two slices of brioche-style bread – often with a helping of béchamel sauce. Cheese is also grated on top, and it is then baked until the cheese melts.
The croque-monsieur is a popular café snack throughout France. For a more filling version, order a croque-madame, which is the same but with a fried egg on top.
Tuna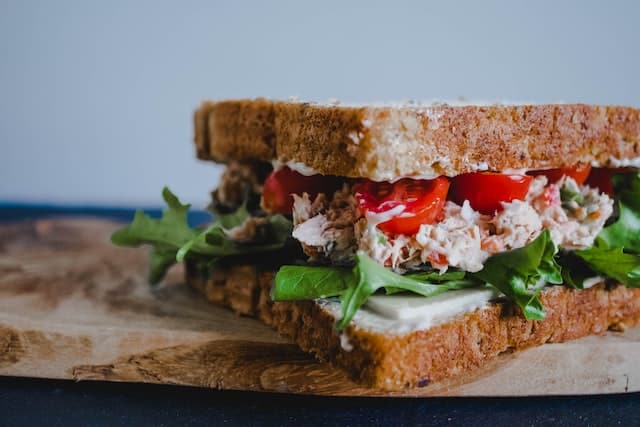 No list of sandwiches is complete with the tuna sandwich. It consists of canned tuna, usually mixed with mayonnaise and often paired with slices of cucumber.
Along with staples like ham and cheese, it's the kind of sandwich that's mass-produced and found on sale in convenience stores around the world. However, when done properly, either at home or in a café, it's up there with the very best.
Cheese and Pickle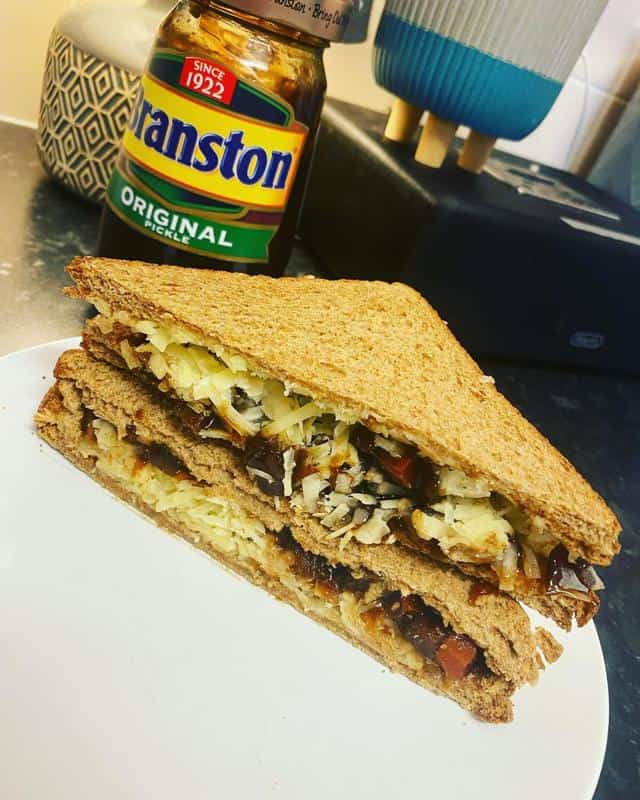 The cheese and pickle sandwich is as British as it comes. The two ingredients are cheese, usually mature cheddar, and "pickle", a kind of sweet and vinegary chutney that pairs perfectly with the strong flavor of the cheese.
It's a classic pub-style sandwich that pairs well with a pint of beer, and it can be found throughout the UK whenever you need a bite to eat.
Monte Cristo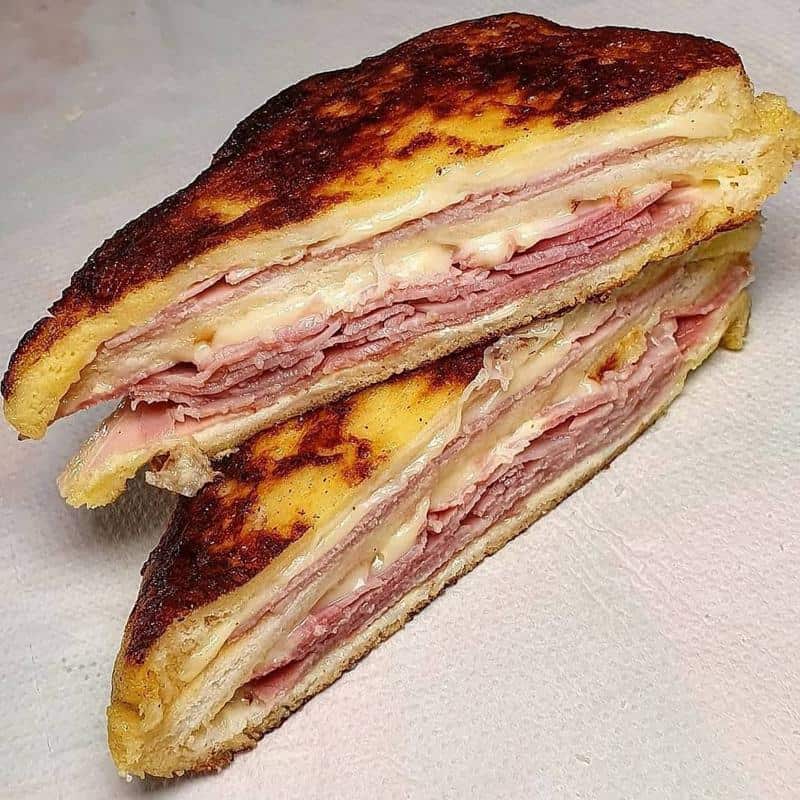 The Monte Cristo is a popular choice in the United States, and it can also be found in France and Switzerland. In some ways, it's a little like a savory version of French toast, and it can also be considered a variation of the croque-monsieur.
To make one, first, you dip the bread in beaten egg and then pan-fry it – although some people may deep-fry it instead. The filling is then added, which, traditionally, is sliced ham and sliced cheese like Emmental or gruyere.
Sloppy Joe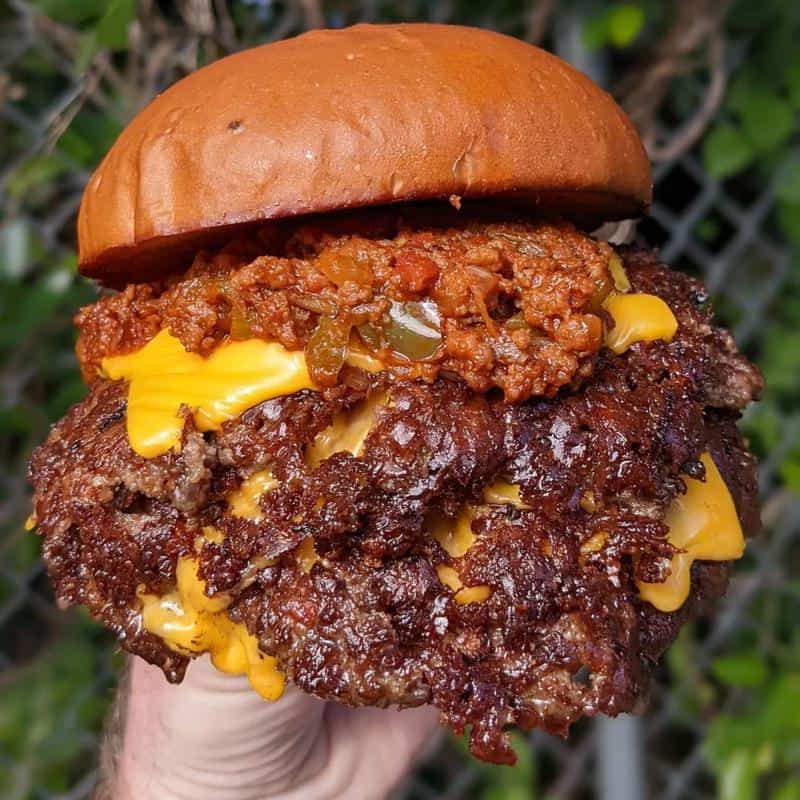 The sloppy Joe is a particularly American invention and consists of ground meat served in a bun of the kind usually used for hamburgers. It is most commonly made with ground beef, to which is often added tomato sauce along with other condiments and seasonings.
Po' boy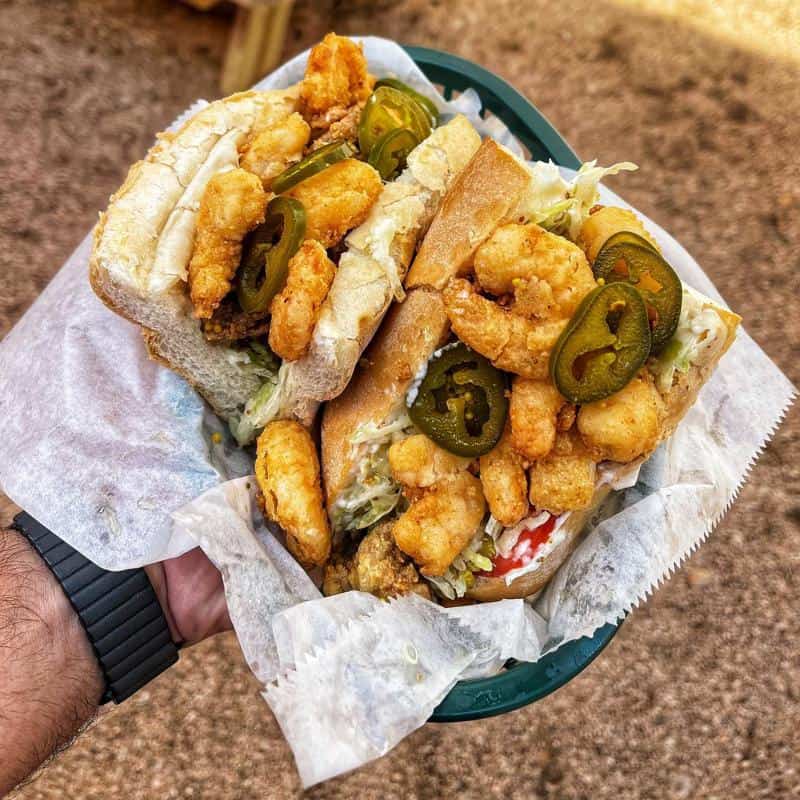 If you go to Louisiana – and more specifically New Orleans – the one sandwich you must try is the po' boy, the city's most iconic snack.
The most essential part of the po' boy is the bread, which must be New Orleans-style French bread. Fillings are mostly meat or seafood, with options such as fried shrimp or fried crab being especially popular.
Muffuletta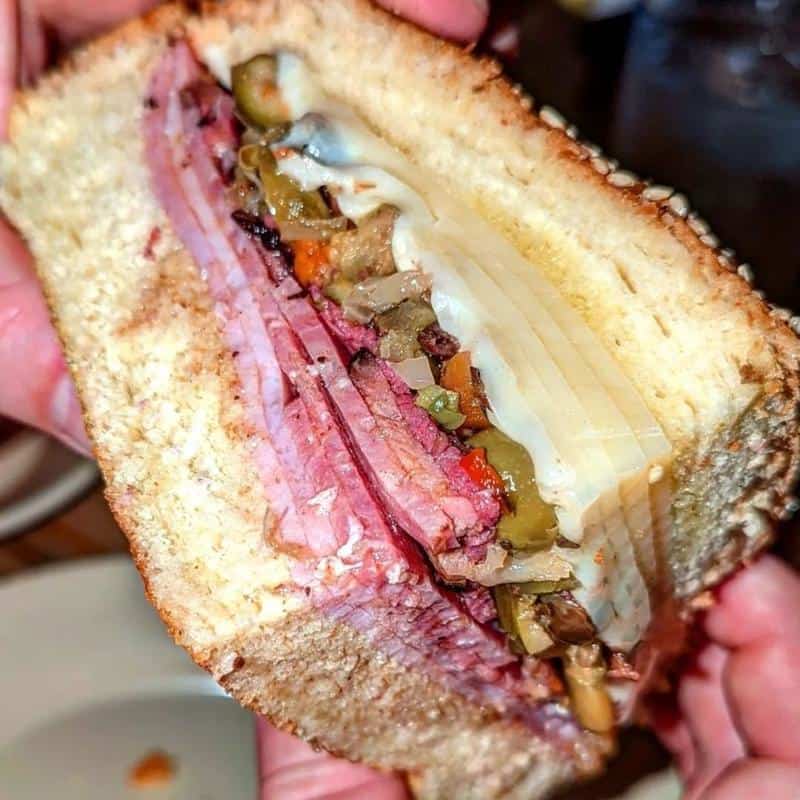 New Orleans' "other" sandwich is the muffuletta, an Italian-inspired creation that comprises olive salad (prepared 24 hours in advance), salami, ham, Swiss cheese, provolone and mortadella, all served in a type of Sicilian-style bread.
Lobster roll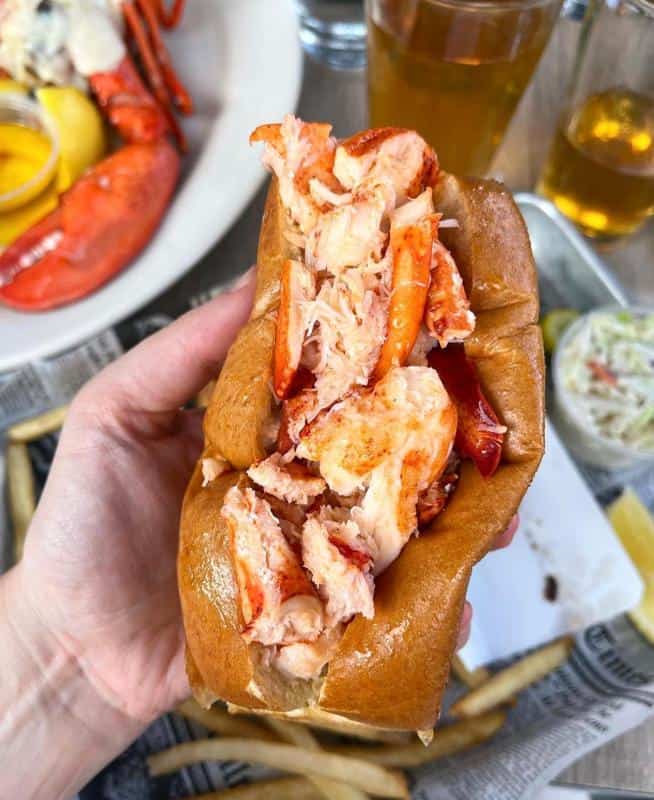 A New England favorite, the lobster roll includes lobster meat mixed with mayonnaise and served in a hotdog-style bun. Another option is to replace the mayonnaise with drawn butter and to serve the roll hot.
Meatball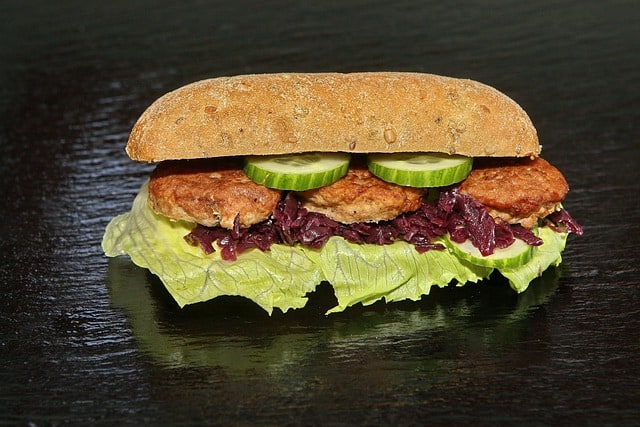 Meatballs in sauce are a classic of Italian cuisine, but then someone somewhere decided to serve them on bread as a sandwich – and an enduring American favorite was born.
The meatballs are usually cooked in a tomato sauce, and cheese like provolone or mozzarella is often added, which then melts over the hot meatballs, making the resulting sandwich even more decadent and irresistible.
Cuban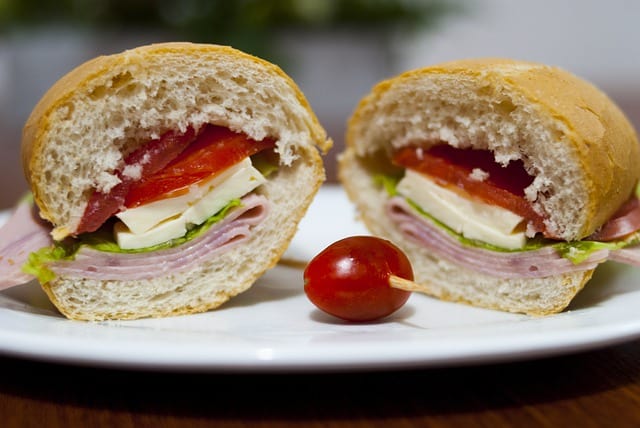 The Cuban sandwich is a creation that was brought to Florida by Cuban immigrants.
The main ingredients are sliced ham and roast pork combined with mustard, pickles and cheese. In a way, it could be considered a more elaborate version of the humble cheese and ham – but it's also so much more than that.
Lox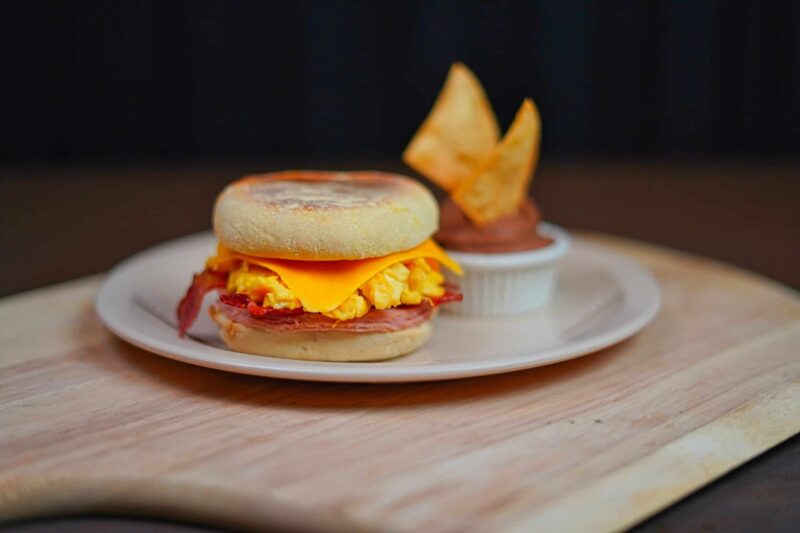 A popular choice for brunch and often served at hotel breakfast and brunch buffets, the lox sandwich consists of lox served on a bagel with cream cheese. Other key ingredients include onion and capers, and some people also like to add extras such as tomato.
Read More:
So Many Options to Try
Sandwiches are usually quick and easy to make, and you can find them everywhere – from roadside gas stations and convenience stores to diners, cafés, coffee shops and even fancy restaurants.
Although the concept of a couple of slices of bread with some kind of filling could hardly be simpler, there is a huge range of elaborate variations to sample – and with this post, now you have some idea of where to start.