Nestled at the base of Colorado's Rocky Mountains, Breckenridge is a charming mountain town well known for its scenic hiking trails and ski resorts.
This former mining town in Colorado is also famous for its delectable dining scene.
Whether you wish to enjoy farm to table cuisine with seasonally focused menus or want to sample innovative flavors, Breckenridge offers something for every foodie out there.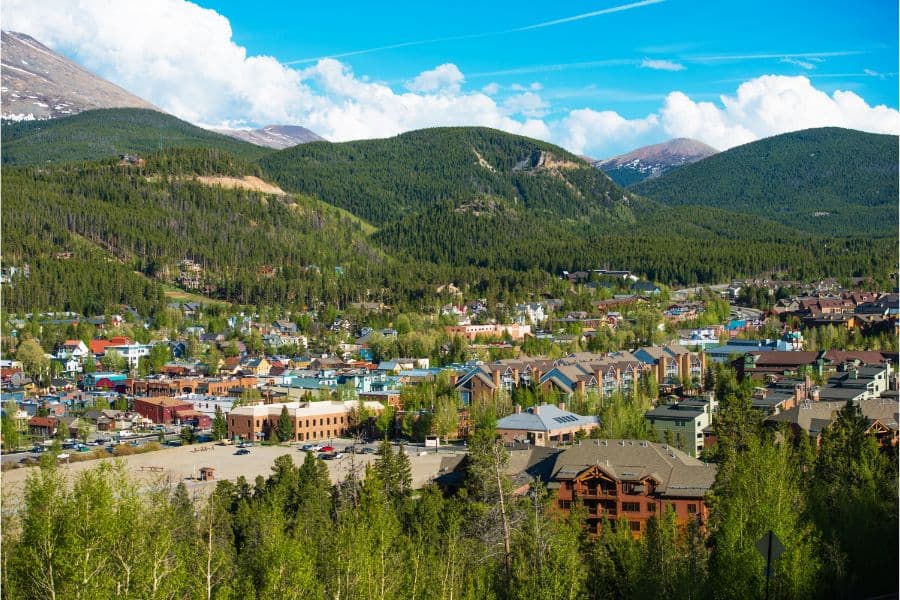 To help you find your favorite spot, here is the list of the best restaurants in Breckenridge, Colorado.
13 Best Restaurants in Breckenridge, Colorado
Semplice Cafe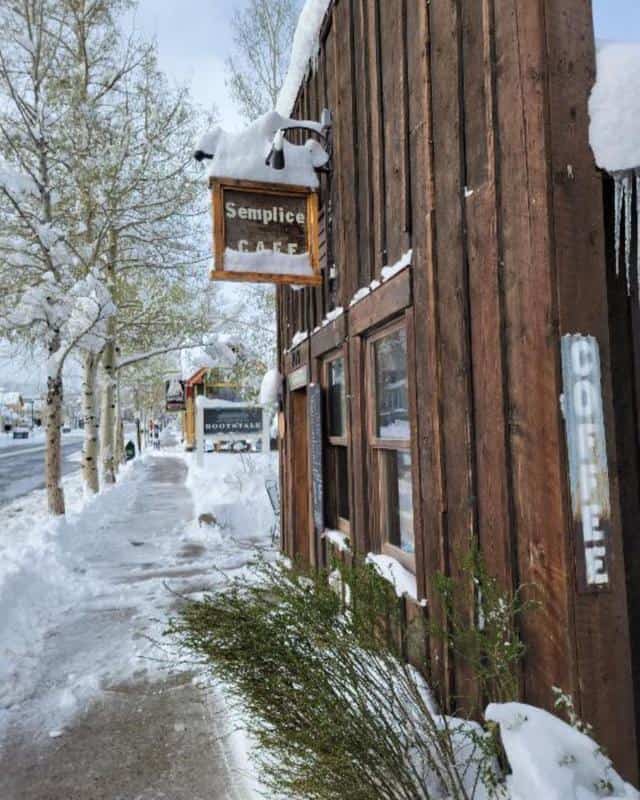 Address: 209 N Main St, Breckenridge, CO 80424
Phone: +1 970-423-6407
Enjoy your first meal of the day in Breckenridge at the Semplice Café. This casual café focuses on a variety of breakfast and brunch foods. On the menu, you will find plenty of meat, vegetarian and even vegan dishes.
From burritos to toasts and smoothies, there are plenty of breakfast and brunch options to choose from at the Semplice Café.
Try their signature Skiers Right breakfast which includes egg, cheddar cheese, bacon, and sweet potato hash. If you prefer toast, go for the Spicy Baby (bacon, butter, and maple shiracha).
Although there is some outdoor seating, this is largely a take-out only café.
Twist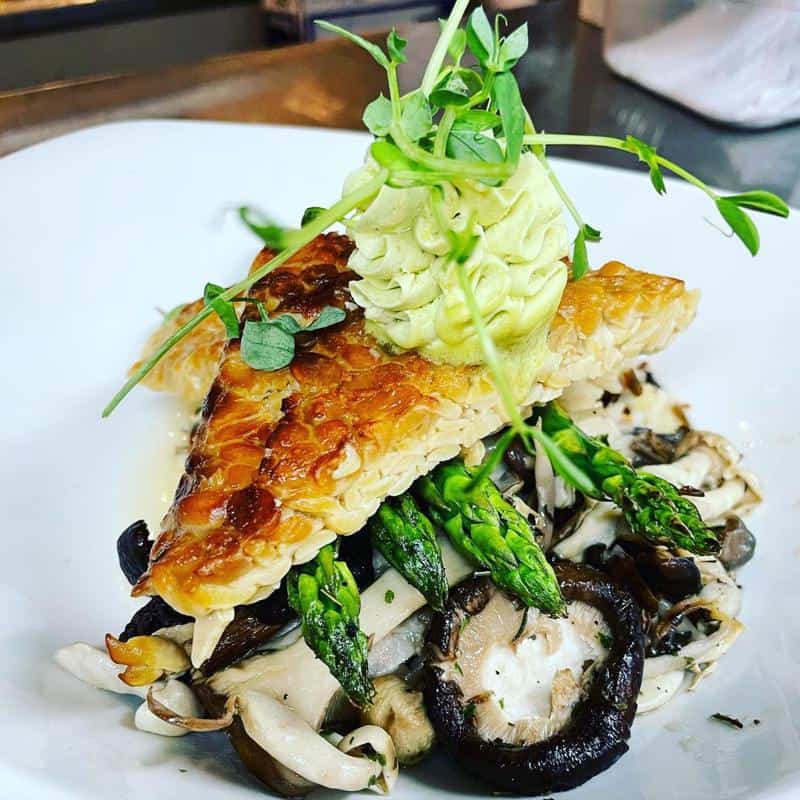 Address: 200 S Ridge St, Breckenridge, CO 80424,
Phone: +1 970-547-7100
Twist is one of the newest additions to the foodie scene in Breckenridge, Colorado. This classy dining establishment focuses on traditional comfort food and International dishes.
Situated in a luxury cottage, Twist is known for its huge windows and offers mesmerizing views of the Rockies.
The signature Bone In House Smoked Pork Chop is to die for, as well as the NY Strip Steak. If you wish to have something from their International food menu, try the Pad Thai.
The dessert list is also impressive with options like Peach Cobbler Creme Fraiche Ala Mode.
The drinks list menu is extensive and includes a variety of creative cocktails.
Rootstalk Breckenridge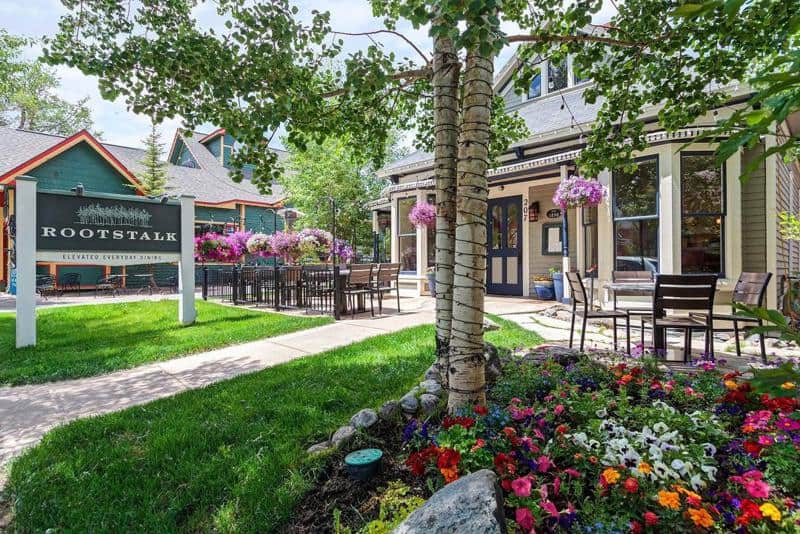 Address: 207 N Main St, Breckenridge, CO 80424
Phone: +1 970-453-9124
Situated inside a beautiful Victorian house in Breckenridge, Rootstalk is a wonderful dining establishment run by the famous Chef, Matt Vawter.
It's all about upscale dining here at Rootstalk. Start with pasta filled with goat cheese that will melt in your mouth. The Rigatoni with Pork is also one of their signature starters.
Whether you wish to try the Braised Rabbit Pot Pie, feast on pan-fried Romanesco, or enjoy vegetarian options such as cauliflower schnitzel, the main entrée menu at this restaurant in Breckenridge is innovative and offers something for everyone.
Visitors with a sweet tooth can order a slice of cheesecake or try the chocolate torte.
The Hearthstone Restaurant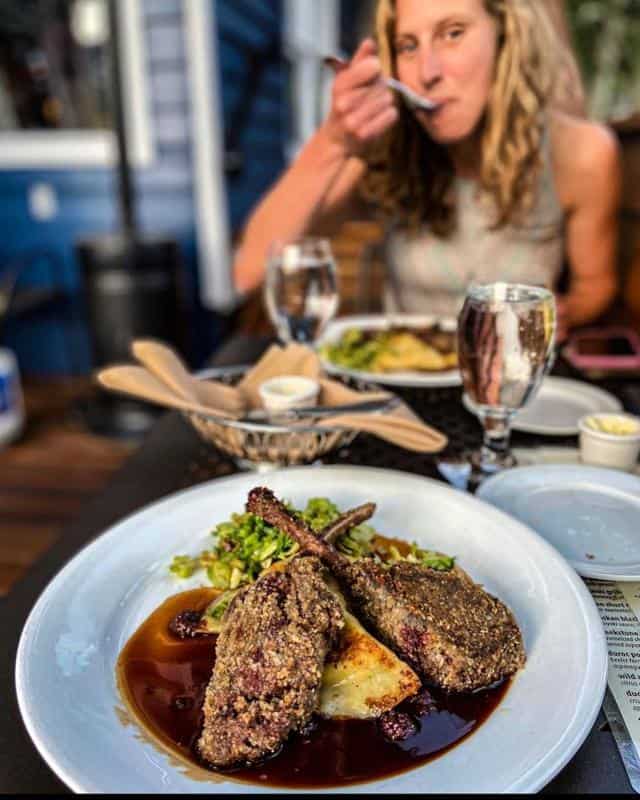 Address: 130 S Ridge St, Breckenridge, CO 80424
Phone: +1 970-453-1148
Located just off Main Street in Breckenridge, the Hearthstone Restaurant is all about delicious New American cuisine.
This sophisticated dining establishment is situated inside an old Victorian house and offers spectacular views across the Tenmile Mountain Range and Breckenridge ski resort.
Thanks to its classy décor, the Hearthstone Restaurant is an ideal place for an intimate dinner with that special someone.
What's on the menu? The signature Pork Osso Bucco is an excellent choice, as well as the Blackberry Elk served with housemade smoked bacon Brussels sprouts.
Travelers with a sweet tooth should not leave this place before trying the traditional English Sticky Toffee Pudding. Feel free to compliment your meal with something from the restaurant's extensive wine list.
Cabin Juice
Address: 605 South Park Avenue, Breckenridge, CO 80424
Phone: +1 970-423-2299
You will find Cabin Juice inside the posh hotel called the Gravity House. With natural wood tables and comfortable grey booths, the décor of this modern restaurant in Breckenridge is superb. The views of the mountains are also something worth mentioning.
Cabin Juice is a place that focuses on healthy dining. They source ingredients from small farms in Colorado and have a small, yet carefully curated food menu. For starters, order the tasty battered and fried Zucchini fritters which are complimented with honey and Parmesan cheese.
If you are visiting for breakfast, order the mouthwatering avocado toast with arugula, brioche French toast, or breakfast burrito. Meat lovers can go for the grass-fed cheeseburger or try the fried chicken sandwich with house-made hot sauce, apple cider slaw, honey
In addition to tasty foods, this lodge-style eatery in Breckenridge does amazing smoothies like chocolate almond, turmeric ginger, and strawberry banana. If you are in the mood for some cocktails, Cabin Juice offers options like the Old Fashioned, Hot Toddy, and Ranch Water.
South Ridge Street Seafood Grill
Address: 500 S Main St #2B, Breckenridge, CO 80424,
Phone: +1 970-547-0063
Seafood lovers visiting Breckenridge will want to make a reservation at the legendary South Ridge Street Seafood Grill. This chic seafood restaurant is located in La Cima Mall and offers tasty seafood delicacies.
Yes, you are in the middle of the continent with no sea at sight, but you can still look forward to enjoying fish and seafood dishes. The appetizers at South Ridge Street Seafood Grill are delicious. Start with the house smoked trout dip and the warm seafood salad bruschetta.
Their large menu is also impressive with options like Canadian slow crab legs, lobster tails, grilled Rocky Mountain trout, and Alaskan cod fish and chips.
South Ridge Street Seafood Grill has a few delicious meat dishes available. There is the Grilled 12oz. N.Y. Steak with French fry salad, green veg, and brandy peppercorn sauce, as well as the hearty Snake River Farms Wagyu Burger (grilled onion, white cheddar, garlic mayo, French fry salad).
Ember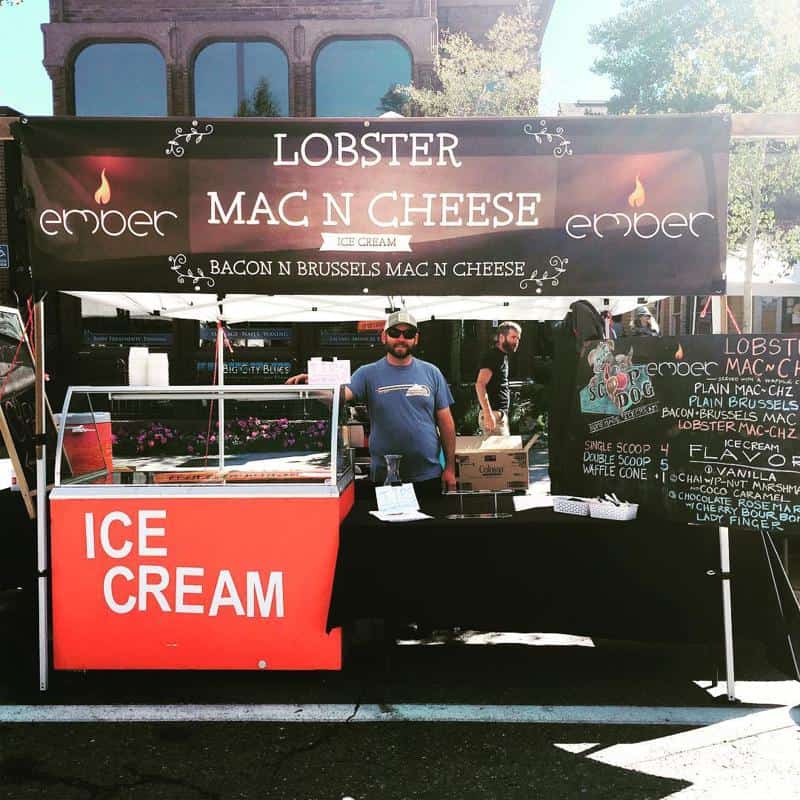 Address: 106 E Adams Ave, Breckenridge, CO 80424
Phone: +1 970-547-9595
Welcome to Ember, an upscale dining establishment in Breckenridge run by the legendary chef, Scott Boshaw. Satisfy your taste buds with something from Scotty B's creative list of dishes and seasonally spurred food offerings.
The list of starters is small, but impressive. Seafood lovers can feast on Scallops with cucumber tapioca shrimp eggroll, pickled maitake mushroom, fermented wakame, and carrot-sambal hollandaise. There is also the delicious pork belly starter with choclo corn pancake, guasacaca guacamole, lychee salsa, cotija cheese, and al pastor syrup.
Ember also offers set menu options. For instance, you can get a 2 course meal for just $50. The entrees at Ember are lovely with options like Jidori Chicken, Lamb Rack, and Wagyu New York Steak.
Save some room for dessert and order a slice of matcha apple pie.
The Canteen
Address: 208 N Main St, Breckenridge, CO 80424
Phone: +1 970-453-0063
Wish to enjoy tasty American comfort dishes and local beer brews while visiting Breckenridge, Colorado? Pay a visit to the Canteen, a local tavern located right on the Main Street in the city.
The Canteen is one of the most popular restaurants in Breckenridge and attracts large crowds of both locals and tourists. Guests love the laid-back outdoor setting and add that the food is delicious and reasonably priced.
This is actually one of the best places in Breckenridge to enjoy American comfort foods like mac & cheese and burgers.
The mac & cheese is amazing with noodles in a conchiglie shape and high-quality cheeses (fontina, gruyere, cheddar, and jack). Add Cheez-it crumbles to your mac & cheese and get that perfect crunch.
The Canteen also offers other tasty finger foods like the Reuben sammies, chicken tenders, and fries.
Briar Rose Chophouse & Saloon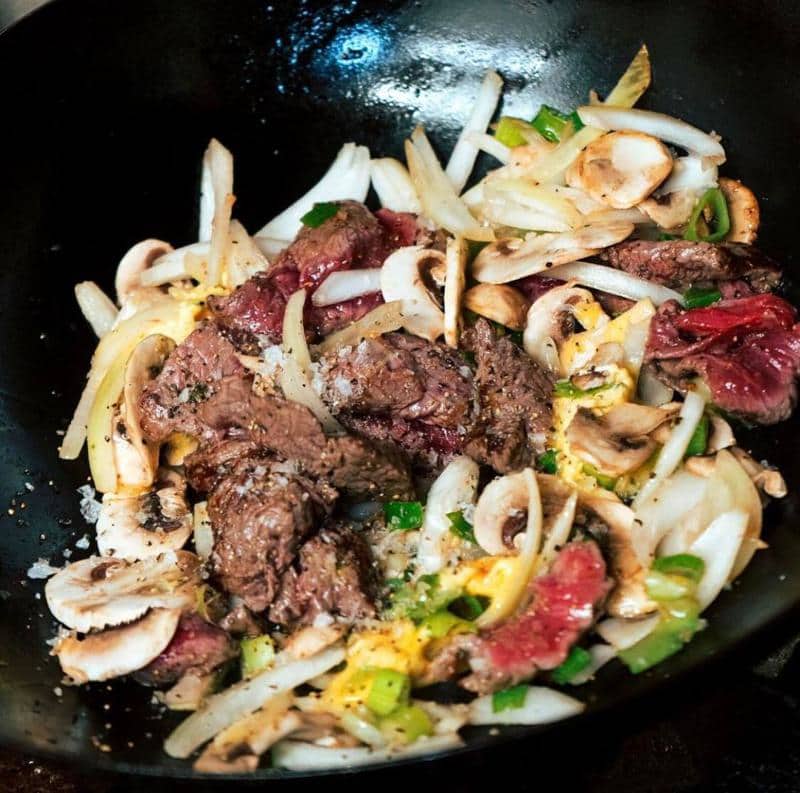 Address: 109 Lincoln Ave, Breckenridge, CO 80424
Phone: +1 970-453-9948
Located just off the Main Street in Breckenridge, Briar Rose Chophouse & Saloon is an iconic steakhouse that serves everything from prime rib and USDA steak to a variety of sides and desserts. Opened back in 1963, the restaurant is actually one of the oldest dining establishments in the area.
Briar Rose Chophouse & Saloon sources premium meats from local meat suppliers, which means that everything you order here is extremely fresh.
Try the Colorado double-cut lamb chops and you won't be disappointed. Guests can also order the signature Cervena elk medallions or try the sauteed Rocky Mountain trout.
On the menu, guests will also find a bunch of family-style classic sides like mac & cheese and creamed spinach. Wash down all these tasty foods with something from their extensive wine list.
Craving something sweet? Have a slice of Briar's 4-Layer Chocolate Cake.
The décor is lovely with dark wood furniture and comfortable chairs. Don't leave before having a drink at their back bar saloon.
Breckenridge Distillery Restaurant
Address: 1925 Airport Rd, Breckenridge, CO 80424
Phone: +1 970-547-9759
No visit to the city is complete without stopping by the famous Breckenridge Distillery Restaurant. Located right on Airport Road, this open concept contemporary steakhouse and distillery is run by James Beard award-winning Chef David Burke.
Guests can go on a tour of the distillery and try things like bourbon, cherry syrup, and Mexican Coke. The menu changes regularly depending on what's in season. Meat lovers can look forward to trying the dry-aged steaks! You can also choose from a wide range of Asian meals and Ramen specialties.
The dessert list is impressive and changes daily. If they have chocolate mouse infused with vodka, make sure you order a slice.
After your meal, feel free to visit their back patio with fire pit and unwind with a refreshing drink or two.
Blue River Bistro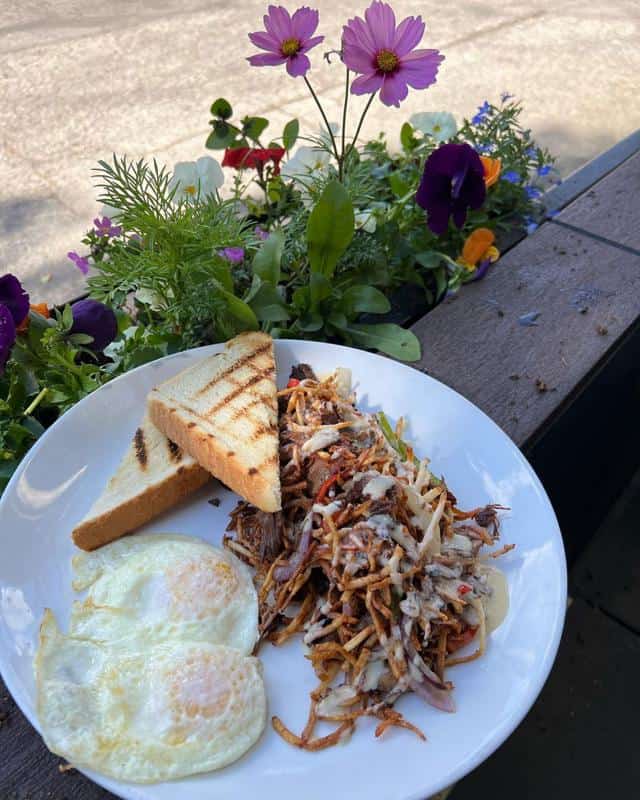 Address: 305 N Main St, Breckenridge, CO 80424,
Phone: +1 970-453-6974
Serving brunch, lunch, and dinner, the Blue River Bistro on Main Street offers American farm-to-fork dining in an elegant setting. In addition to an extensive food menu, the restaurant also hosts live music performances on Mondays and Tuesdays. The music here ranges from blues to jazz and rock and roll.
The menu offers something for everyone. Whether you wish to try pasta with shrimp and brie crostinis, go for meat focused dishes such as slow-roasted buffalo short ribs, or get seafood delicacies like scallops and mussels, there is so much to choose from here at the Blue River Bistro.
In addition to tasty meat and seafood dishes, the restaurant is also known for its vegetarian offerings. Try the slow-cooked lentils also known as keema. This tasty dish is served with tofu, red curry, tomatoes, and chilies.
Empire Burger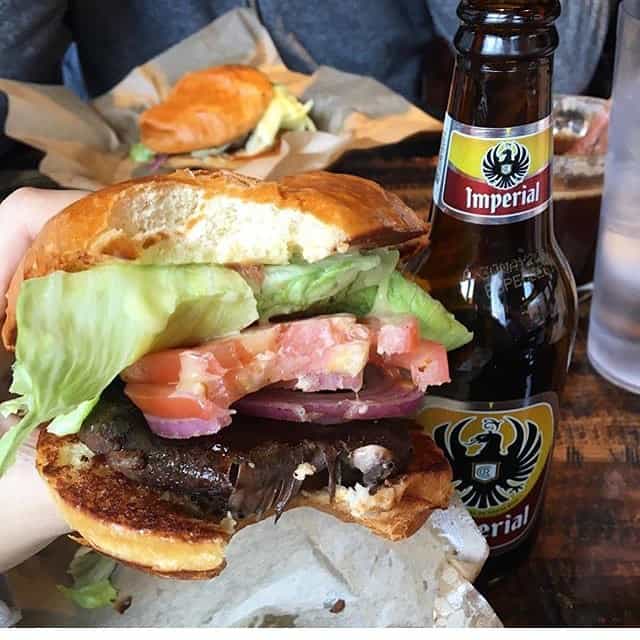 Address: La Cima Mall, 500 S Main St, Breckenridge,
Phone: +1 970-453-2329
If you wish to enjoy classic American dishes while vacationing in Breckenridge, book a table at the Empire Burger. Located right on Main Street, this casual burger joint offers hearty and reasonably priced dishes like tacos, tortillas, and burgers.
The buns here are homemade daily and there are plenty of burger options to choose from. Burgers come with the usual fare like mustard, pickles, tomato, and lettuce. The signature Empire cheeseburger with pepper jack is extremely tasty. Hungry patrons can also go for the fried fish or get tortillas with Alaskan Pollack.
Some of the other options on their menu include lightly battered buffalo style wings, fried mozzarella, cheddar fries, fried mushrooms, cheesesteak sandwich, and beef hot dogs. Pair your meal with a bottled Root bear.
Tin Plate Pizza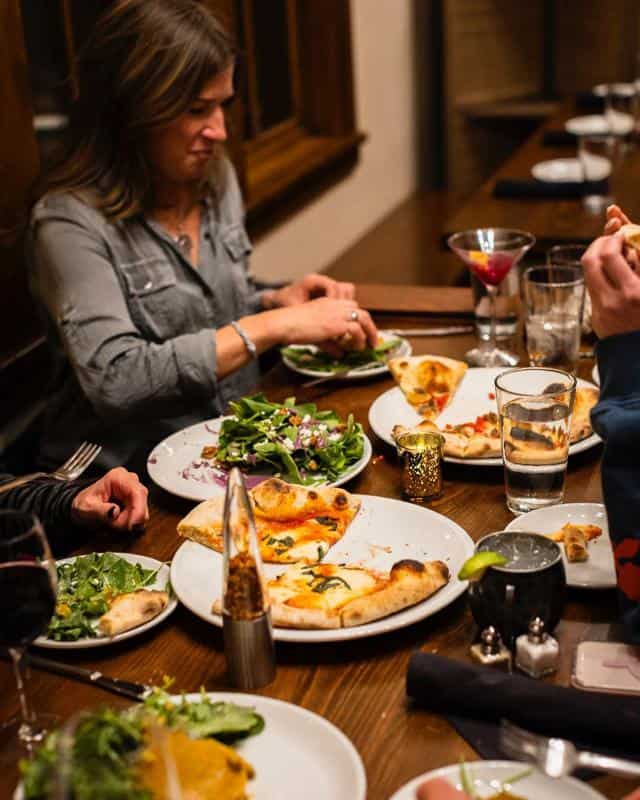 Address: 110 S Ridge St, Breckenridge, CO 80424
Phone: +1 970-922-3392
Last on our list of the best restaurants in Breckenridge is Tin Plate Pizza. Expect to find exciting pizza flavors at this nicely decorated dining establishment in Breckenridge. The restaurant is situated inside a stylishly renovated 138-year-old mining cabin with both indoor and outdoor seating.
From classics to innovative pizza, the menu is extensive with plenty to choose from. The classic pepperoni and cheese pizza with a sourdough crust is simply amazing. If you wish to have a more elevated pizza experience, go for the Elote Pizza that comes with lime pickled onions, goat cheese, peppers, and corn.
Tin Plate Pizza does like to experiment with their menu. We think that the most bizarre option is the peaches and prosciutto pizza, but people seem to like it a lot.
Not in the mood for pizza? No worries! Tin Plate also has a superb seasonal menu with options like steak sliders, parmesan crisps, meatballs, and braised buffalo short rib sliders. If you get thirsty, order one of their specialty cocktails like cucumber gin gimlet, gold rush, or miners old fashioned.
Read More:
Conclusion
To sum it all up, Breckenridge is a great place to enjoy hearty American cuisine and farm-to-table dining. Most restaurants in Breckenridge source their ingredients from nearby farms. That means everything you try here will be super fresh.
The only downside is that you won't find many International dining establishments in the area.