The beautiful city of Denver offers a wide array of breakfast and brunch choices for early risers.
While breakfasts have all the classic American staples to enjoy on a sunny morning, brunch is an out-of-control party with Bloody Marys and mimosas awaiting your welcome.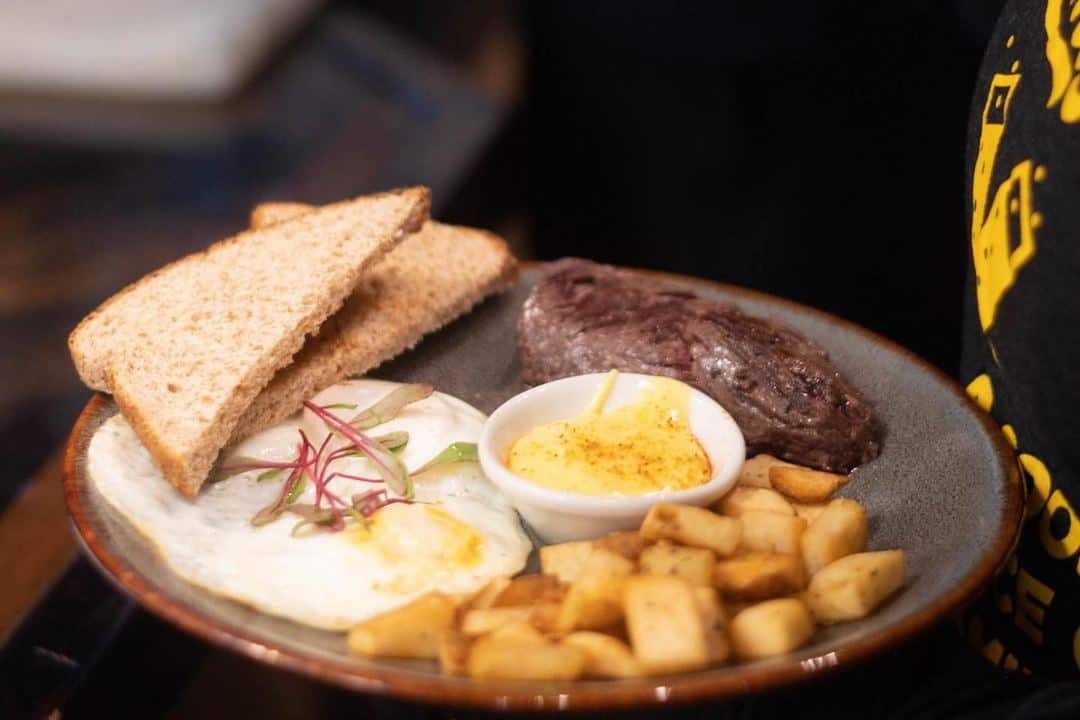 If you are looking to ditch the cereal bowl and indulge in a hearty breakfast meal or planning to have an exciting weekend brunch with your girlfriends, try one of the restaurants on our list for the best Denver has to offer!
Best Overall Restaurant: Four Friends Kitchen
Best Affordable Restaurant: Onefold
Best Restaurant with Brunch Cocktails: Mimosas
Best Breakfast and Brunch in Denver
Four Friends Kitchen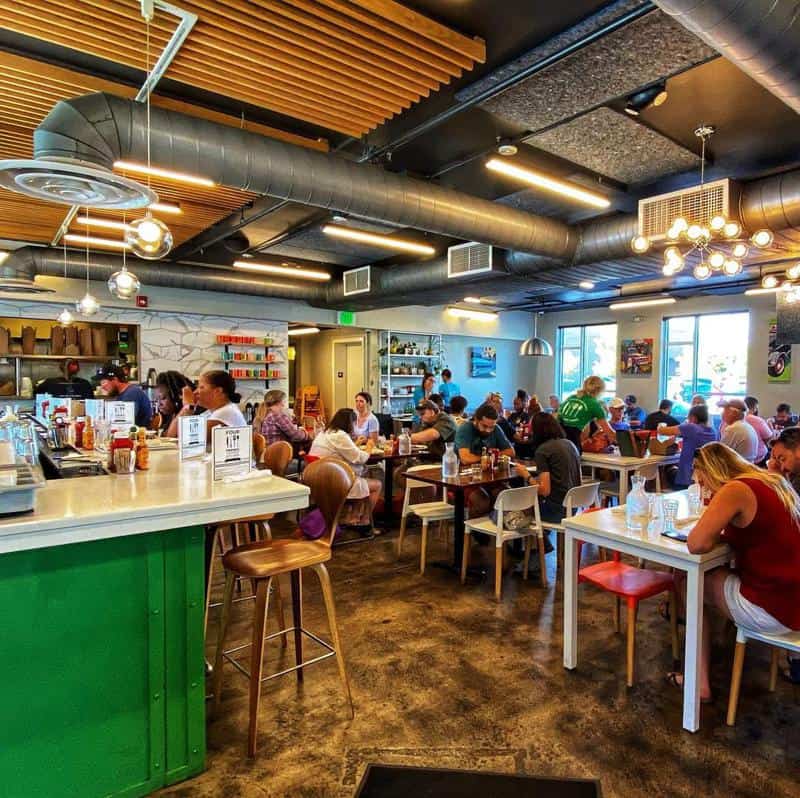 Address: East 29th Avenue Town Center, 2893 Roslyn St, Denver, CO 80238
Known for: Lovely southern spot with delicious breakfast and brunch staples and breakfast cocktails
Overflowing with seamless Southern charm and impeccable hospitality, Four Friends Kitchen is THE place to be for brunch on the weekends. The quaint little spot in Central Park offers the best brunch in Denver with a lot of Southwest delights on the menu.
From indulgent Egg Benedicts to fluffy Omelets and stuffed Breakfast burritos, they have it all! Try their soft and delicious buttermilk pancakes with a rich and heavy bourbon pecan praline topper or a mix of all their classy delights in a platter named Kitchen Sink.
Of course, the brunch isn't complete without a round of boozy drinks. Pair your favorite dish with their breakfast cocktails, mimosas, or Bloody Marys.
Onefold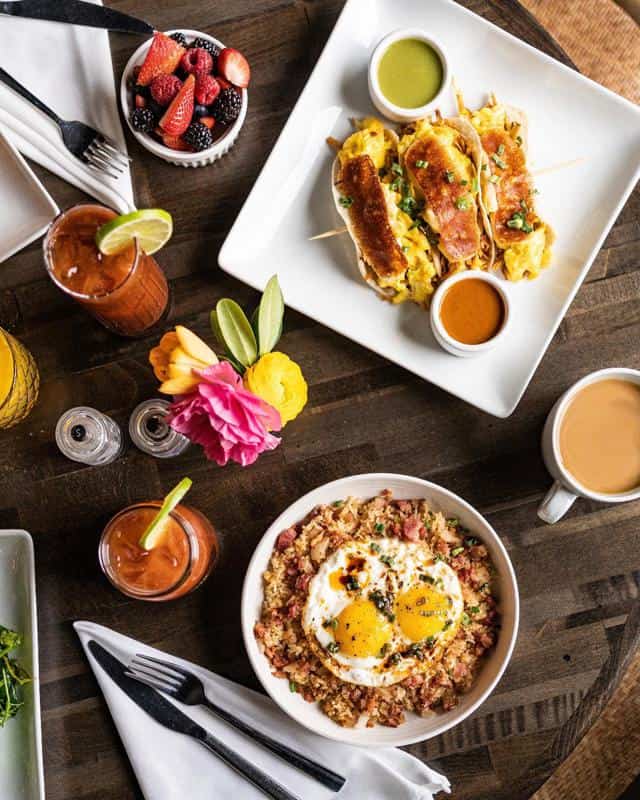 Address: 1139, 1420 E 18th Ave, Denver, CO 80218
Known for: Affordable and hearty breakfast bowls including egg fried in duck fat, congee, and Breakfast tacos and burritos
Onefold offers a complete breakfast experience with dishes you probably haven't tried before but will love. Enjoying a charming little post in Uptown, this breakfast eatery adds an unexpected twist to all the classic breakfast delights, making them all the more enjoyable and delicious.
For instance, try their Breakfast Burrito loaded with generic stuffing, but then you taste that soft and greasy duck-fat fried potatoes and it takes the dish to a whole new level! Another great item is their Breakfast Tacos doused in generous amounts of griddled mozzarella.
All the dishes are affordable and filling, with the Egg Fried in Duck Fat being the star dish on their menu. Also try their Congee which is an Asian variety of porridge served with poached egg, duck confit, salted ginger and chili, tamari soy sauce, and green onions.
Mimosas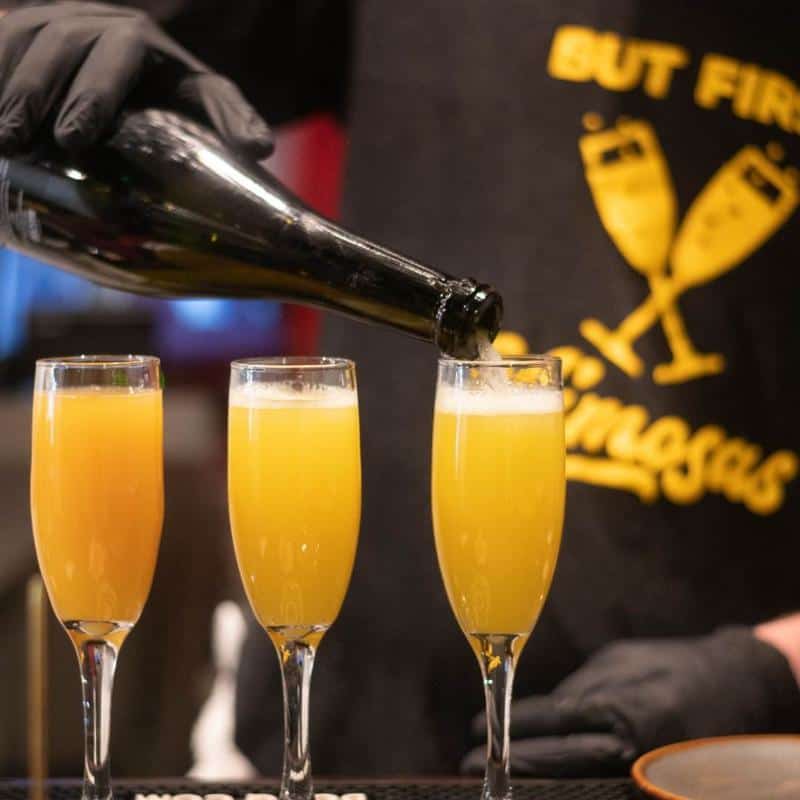 Address: 27th & Welton Station, 2752 Welton St, Denver, CO 80205
Known for: A huge variety of mimosas and classic American breakfast in an elegant ambiance
Mimosas is a lively spot in Five Points making your brunch dreams come true since 2020. The relatively new brunch spot gets a lot of love for its variety and service, with mimosa being the star item on its brunch drinks menu.
The dining area is quite elegant and has views of the open kitchen, but you can also opt for outdoor dining on a nice sunny morning with lovely shaded patio seating available.
The Bello Sandwich is a delectable brunch entrée with marinated Portobello mushroom, roasted red peppers, arugula, burrata, and balsamic with home-style potatoes and of course – a classic mimosa.
Also, try their vivacious Margarita Mimosa and shots with a snack featuring bacon bites!
Sassafras American Eatery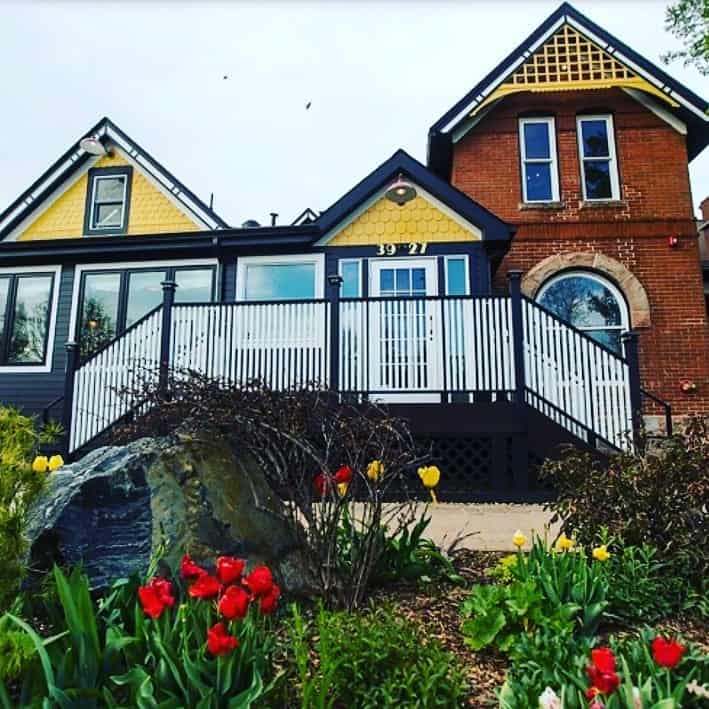 Address: 3927 W 32nd Ave, Denver, CO 80212
Known for: Gorgeous Victorian Dunwoody House with morning cocktails, beignets, and fried steaks
Have your breakfast like royalty at a quintessential Victorian Dunwoody House at Sassafras American Eatery. Tucked in the heart of West highland, this lovely Southern American breakfast spot holds immense historic beauty and old-world charm with a gorgeously restored interior and dining area.
The morning breakfast and brunch are incomplete without their signature Beignets doused in powdered sugar. Also, making day drinking all the more fun, they have an extensive morning cocktail menu to keep you afloat with the Harmony Mimosa being their most popular drink.
Brunch has an even wider menu with choices like tender Ribeye Cap, Chicken Fried Steak, and other meaty delights drenched in bacon fat, country gravy, and a side of potato casserole and jalapeno cornbread.
Lucile's Creole Café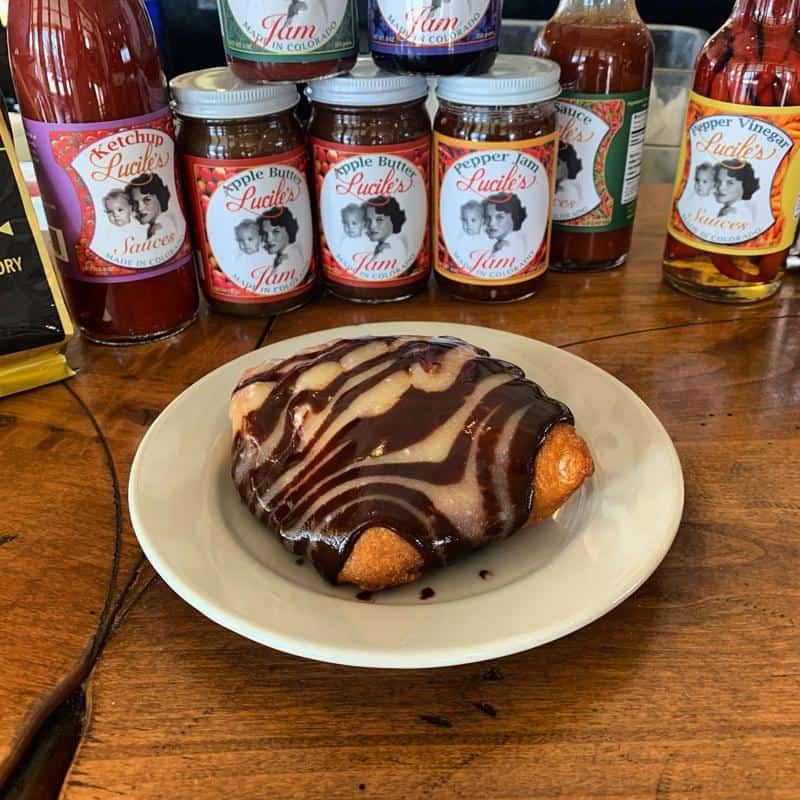 Address: 2095 S Ogden St Denver, CO 80210
Known for: House-made jams and hot sauce, classic and special beignets, and Lucile's chicory coffee
Lucile's is a beloved breakfast and lunch spot in Denver with a quaint and comfortable setup. The restaurant serves Louisiana-inspired breakfast and brunch delights with a touch of Creole country flavors.
The restaurant is quite popular for its delectable beignets doused in powdered sugar with a side of Lucile's chicory coffee to invigorate your senses. Special edition beignets are also available from time to time, including holiday specials and indulgent Chocolate Éclair Beignets.
Another popular item is a huge serving of buttery biscuits smothered in delectably rich and delicious house-made jams in a lot of varieties like Apple Butter, Marmalade, and Pepper Jam. Other breakfast entrees include Half Grits, Half Potatoes, and Egg Benedicts with house-made hot sauce.
Jelly Café 13th Ave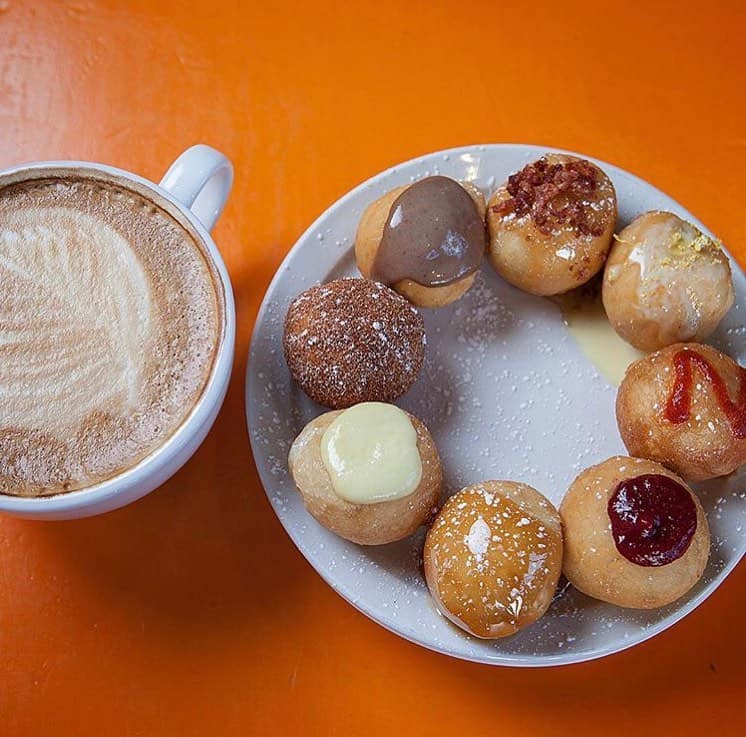 Address: 600 East 13th Avenue, Pearl St, Denver, CO 80203
Known for: Delicious doughnut holes, house-made jams and jellies, and strong coffee
Doughnut Holes is a breakfast craving you didn't know you had, and Jelly at 13th Ave is there to deliver the best doughnut holes you'll ever have in your life! Famous for its breakfast-all-day menu, this charming local brunch spot has a cozy, vintage décor that reminds one of old-world classics.
The jams and jellies are made from scratch and the deliciously sweet and indulgent treats pair perfectly with their strong coffee. They have a lot of great items on their menu but we can't recommend the doughnut holes enough.
They are available in eight flavors including cinnamon sugar, maple bacon, lemon-filled, and crème anglaise. Stop by during the holiday season and you might just find a special edition in there!
Snooze, an A.M Eatery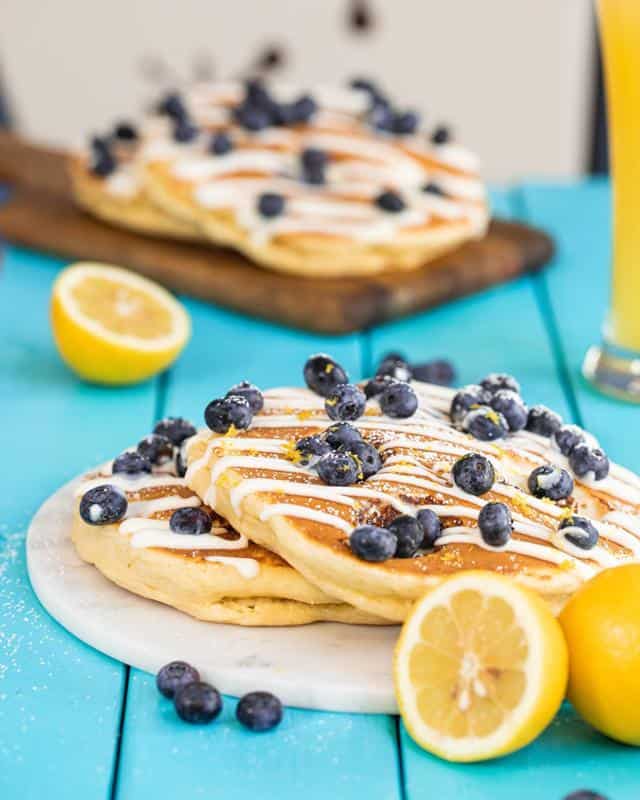 Address: 2262 Larimer St, Denver, CO 80205
Known for: Family-friendly classic American breakfast and brunch spot
Snooze has several locations around the country, and the one in Denver is quite well-loved by locals and visitors alike. The place opens early morning and offers a huge variety of traditional American dishes to satiate your cravings.
The homely and comforting vibe of the restaurant is ideal for family-friendly brunches. The relaxed seating and trendy layout add to the uplifting ambiance that's ideal to surround yourself with in the mornings.
The menu has all the classic breakfast and brunch dishes to fill your tummy and warm your soul. Try their upside-down pineapple cake pancakes, breakfast sandwiches and burritos, tacos and wraps, or the popular OMG French Toast.
For lighter options, they have Quinoa Breakfast Bowls, Egg White Frittatas, Greek Yoghurt with Granola, and a variety of fresh Salads.
Café Miriam at City Park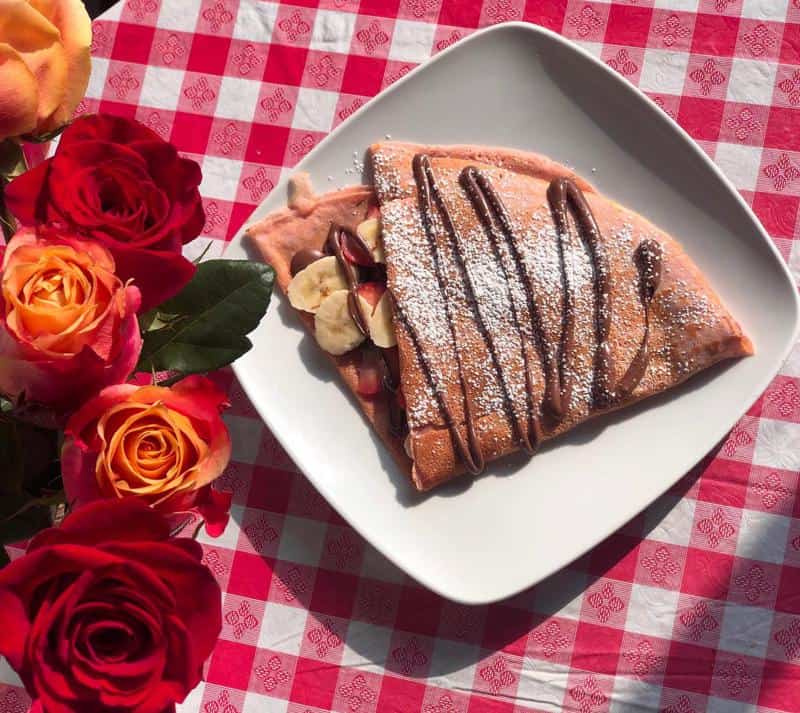 Address: 2217 E 21st Ave, Denver, CO 80205
Known for: Dainty little spot in City Park with the best crepes in town and a full espresso bar
Café Miriam is a charming café in City Park with a dainty setup that's ideal for breakfast with friends. The beautiful little spot is famous for sweet and savory crepes in a huge variety.
From classic crepes to delicately presented pink crepes, they all taste amazing and make you feel like you're living your Parisian dream! Feel like royalty while feasting on The Royale Crepe with a generous stuffing of cheese including prosciutto and brie, fig jam, and balsamic vinegar.
For the ultimate sweet treat, get their Dulce de Leche drenched in caramel, Nutella, and French vanilla ice cream. They also have a full espresso bar with pastries, croissants, and hot chocolate.
Olive and Finch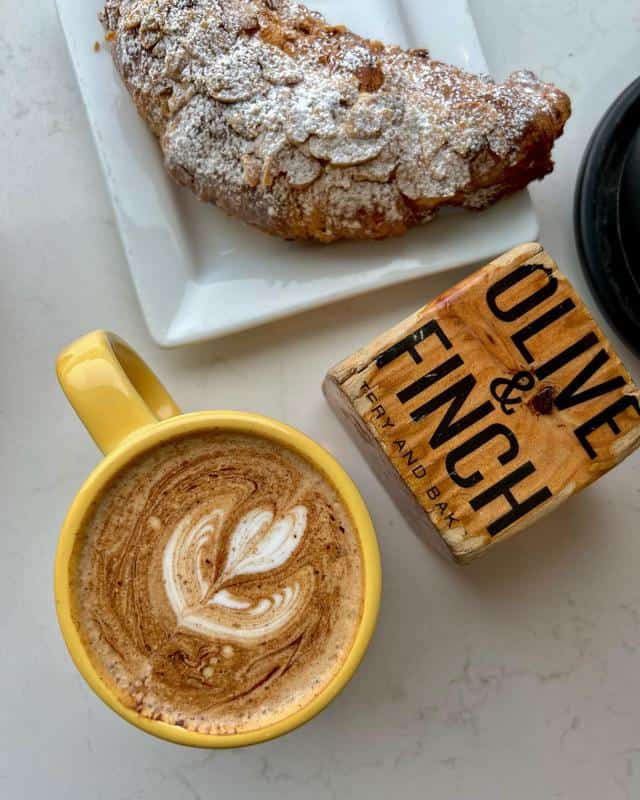 Address: 1552 E 17th Ave, Denver, CO 80218
Known for: Quaint breakfast café with popular breakfast sandwiches and freshly-baked bakery items
Olive and Finch is a cheery breakfast spot serving fast-casual dishes like Skillet Hashes, Sandwiches, Tartines, and classic café items. The place is beautifully decorated with rustic yet contemporary accents and an airy ambiance.
Try one f their breakfast sandwiches like the Broseph which has scrambled eggs and pastrami flavored with jalapenos, caramelized onions, Swiss cheese, and horseradish aioli.
They also have a lot of freshly-baked bakery items like croissants, muffins, sticky buns, tarts, and cakes.
Stowaway Kitchen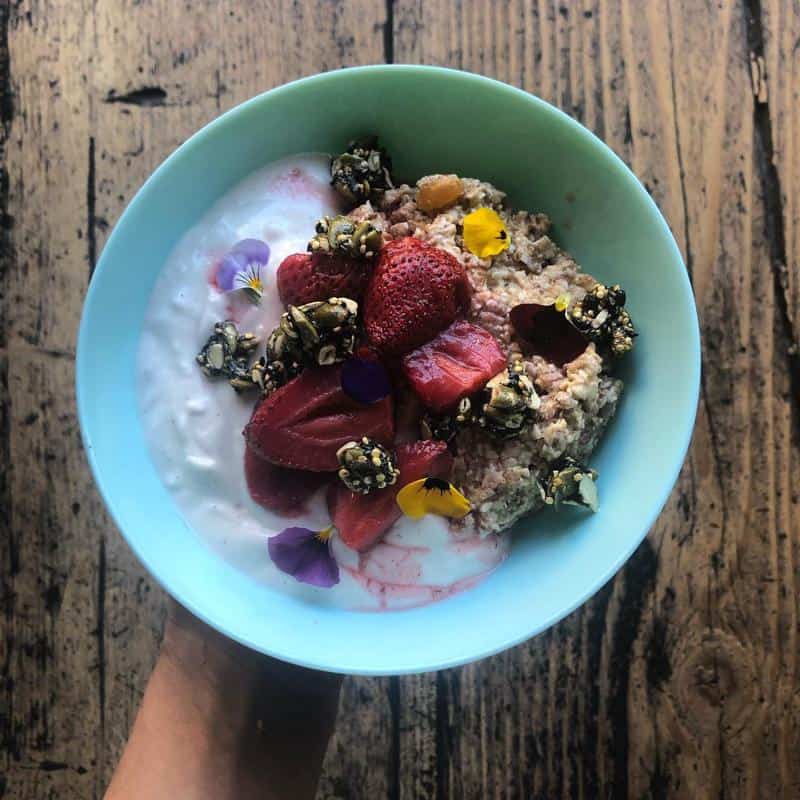 Address: 2528 Walnut St #104, Denver, CO 80205
Known for: Delicious healthy breakfast bowls and seasonal toast toppings
Stowaway is a great breakfast spot for light breakfast in an airy and unpretentious ambiance. Beautified with wooden accents, plants, and hanging lamps, the place has a bohemian vibe for a refreshing start to your day.
Try one of their healthy breakfast bowls like a colorful Bircher Muesli loaded with healthy grains, seeds, and freeze-dried fruits with coconut yogurt, pepita, sesame clusters, and roasted strawberries.
They also have a lot of seasonal and rotating delights like their toasts with creative toppings including sardine-topped Beans and 'Dines, beetroot hummus, oyster fungi, and a variety of eggs.
The restaurant also has gluten-free brownies and cookies so make sure to grab some on your way out.
Denver Biscuit Company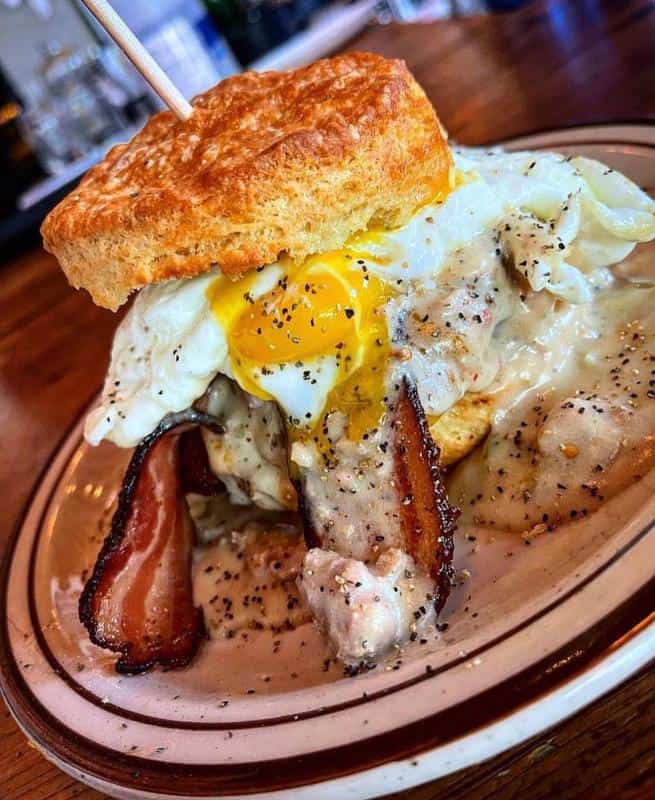 Address: 4275 Tennyson St, Denver, CO 80212
Known for: Best buttermilk biscuit breakfast sandwiches in town
Denver Biscuit Company has come a long way since its humble beginnings in a food truck known as the Biscuit Bus. Nominated as the best brunch spot in the city, the delectable breakfast and brunch restaurant has several locations.
The Buttermilk Biscuit Sandwiches are the most popular item on their menu and come in a huge variety. Get your hands on the cheesy Cordon Bleu with ham, cheese, fried chicken, and heavenly rich local Colorado honey butter.
Another popular breakfast biscuit is the Sherman with bacon, tomato, lettuce, and egg. The Biscuit Plates include de-constructed sandwiches, and they also have a good-old classic Biscuit and Gravy and Giant Biscuit Cinnamon Rolls.
Bacon Social House – Sunnyside
Address: 2434 W 44th Ave, Denver, CO 80211
Known for: Everything bacon in a peaceful ambiance with an outdoor patio
Bacon Social House is a lovely brunch spot in Denver with multiple locations, but the Sunnyside branch is its first one that started in 2014 – and the best one so far. As its name suggests, there's a lot of bacon to eat here!
With range and variety, you can have dishes like Bacon Flights, Bacon and Chocolate Pancakes, Bacon Shrimp and Grits, Bacon Tots, Bacon-infused vodka in Bloody Mary, and even a vegetarian variation of bacon!
After eating all the bacon to your hearts' fill, move to their outdoor patio to enjoy the morning breeze with your favorite cocktails.
Fox Run Café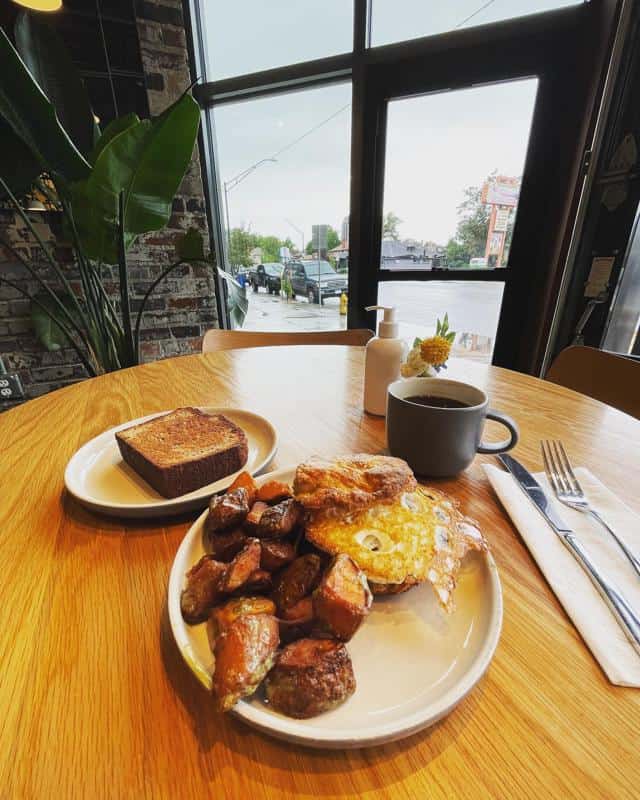 Address: 3550 E Colfax Ave, Denver, CO 80206
Known for: Homely café with comfort breakfast dishes and house-made bread
Fox Run Café offers a cozy and relaxed ambiance with traditional breakfast and lunch delights and house-made bread and pastries. The simple café is a local's favorite as it offers a laidback and unpretentious environment.
The house buns and hearth-bread challah and sourdoughs make an appearance on most of their breakfast dishes like Strawberry Shortcake French Toast, Chicken Salad Sandwich, Pork and Egg Breakfast Sandwich, and Sourdough BLT.
The house-made sides include classic FoxRun Potatoes, Mixed Berry Coffee Cake, and Grilled Banana Bread among other things.
Corinne Restaurant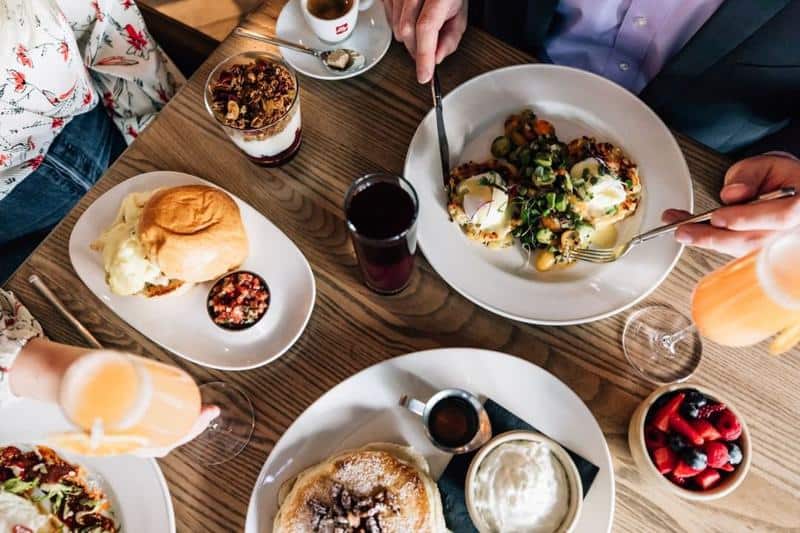 Address: 1455 California St, Denver, CO 80202
Known for: Upscale breakfast spot in Le Meridien Hotel with a seasonal menu
Discover creative and innovative American fare in a chic, upscale ambiance at Corinne. The delightful American restaurant is located in Le Meridien Hotel and has a seasonal menu of breakfast and brunch delights.
The hearty and healthy neighborhood restaurant is known for its contemporary layout and delicious seasonal offerings. The locally-sourced ingredients and ever-changing menus make it a great place for breakfasts.
Try classic American dishes like Eggs Benedict, Pancakes, Waffles, Breakfast Sandwiches, or a healthy breakfast bowl of Greek yogurt and granola with boozy cocktails or a strong coffee.
Root Down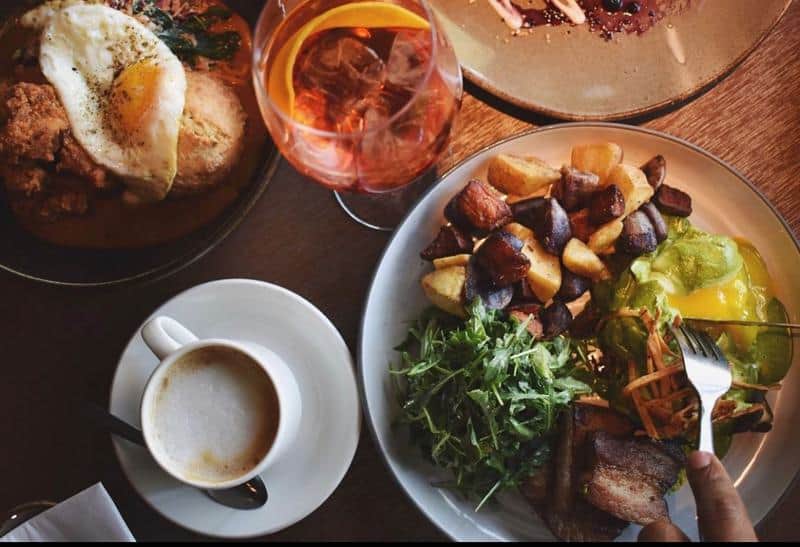 Address: Concourse C, 8500 Peña Blvd, Denver, CO 80249
Known for: Locally sourced, organic, and seasonal menu with bottomless mimosas
The cozy and friendly Root Down is a neighborhood café with a warm and welcoming layout. The interiors are bright and cheerful, giving you a great start to the day with their full breakfast and brunch menu.
The globally-influenced seasonal dishes are made with locally-sourced, organic, and healthy ingredients. Enjoy classic brunch dishes like Fried Chicken Steak, Biscuits and Gravy, Eggs Benedict, and Open-faced Smoked Brisket Sandwich.
They also make fantastic Herb Omelet and Vietnamese Almond Pancakes along with specialty cocktails, beers, and bottomless mimosas.
Sam's No. 3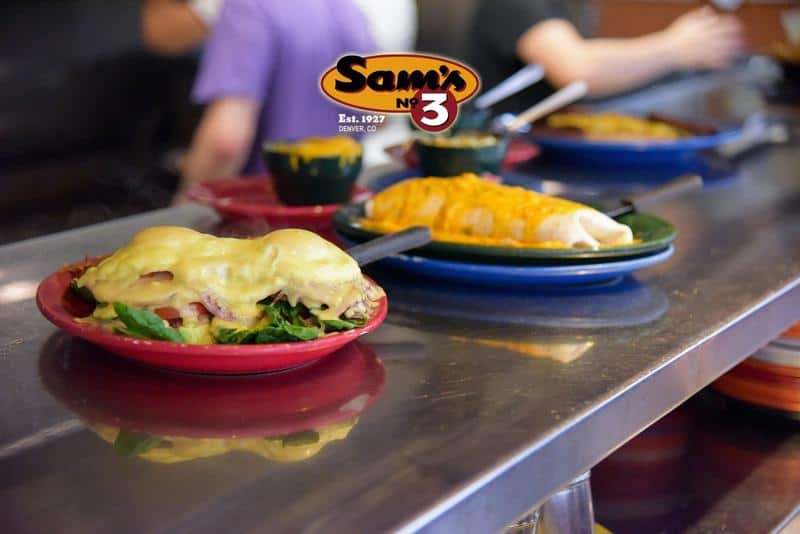 Address: 1500 Curtis Street, Denver, CO 80202
Known for: Classic American diner setting with traditional breakfast
Sam's No. 3 is a circa-1927 kitschy diner with a down-to-earth ambiance and three Denver locations. If you are recovering from a hangover, this is the place to be to fill up on some American diner classics.
Besides classic breakfast staples, the place also serve Mexican and Greek delights. Try an overstuffed Breakfast Burrito or dig into a plate of classic Eggs Benedict drenched in cheesy goodness.
Read More:
Conclusion
Start your day right with one of the top breakfast and brunch spots in Denver on our list. You will find everything from organic and healthy breakfast bowls to cheese-drenched sinfully good breakfast staples with breakfast cocktails and bottomless drinks.