Fayetteville is known for its rich culture and history, food, and hospitality. The vibrant city is loaded with fun activities and a multicultural environment, and the culinary scene is equally diverse and noteworthy.
At first glance, you might be overwhelmed by a swarm of chain restaurants, but there are a lot of remarkable gems with the highest service and quality that are well worth your time.
In our list, you will find the best dining options in the city offering a wide range of cuisines.
Best Overall Restaurant: Circa 1800
Best Romantic Restaurant: Luigi's Italian Chophouse and Bar
Best Seafood Restaurant: 316 Oyster Bar
Best Restaurant with Outdoor Seating: Antonella's Italian Ristorante
Best Restaurants in Fayetteville, NC
Circa 1800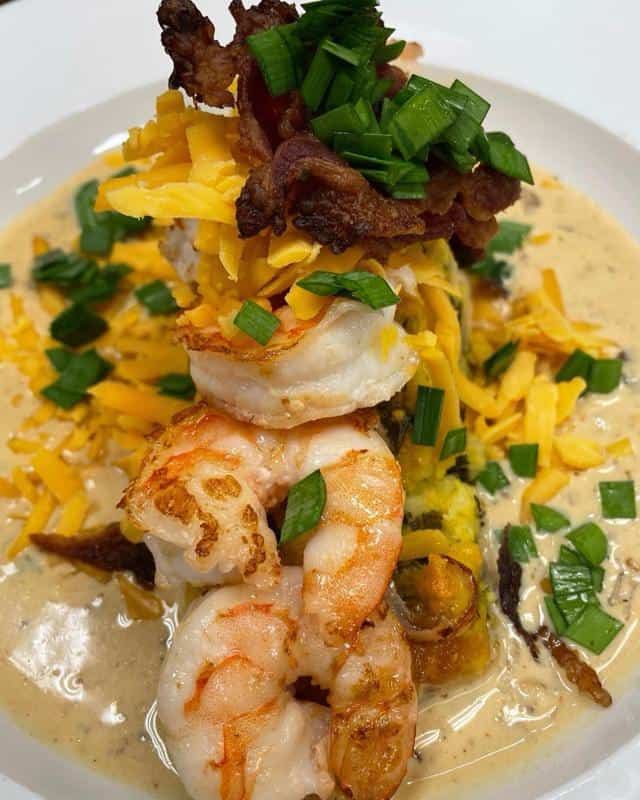 Address: 108 Person St, Fayetteville, NC 28301
Known for: Locally sourced ingredients and drinks, weekend brunch with build-your-own Bloody Mary bar.
Immersed with local charm and flavors, Circa 1800 is one of the best Downtown Fayetteville restaurants. Every ingredient used for their dish is locally sourced and grown in North Carolina.
Even the beers on tap are exclusively from North Carolina. Paired with the trendy and relaxed ambiance, it is a lovely spot to catch up with friends and enjoy local delights.
The restaurant is famous for its weekend brunch, with the make-your-own Bloody Mary bar being its main attraction. Visitors also enjoy the decadent Sweet Tea French Toast with a tangy lemon cream cheese filling.
Another signature Circa delight is the Shrimp and Grits served with scallions and creamy sauce as a warm hug in a bowl. Try one of their innovative cocktails with your meals – like the Jalapeno Bourbon Julep.
Luigi's Italian Chophouse and Bar
Address: 528 N McPherson Church Rd, Fayetteville, NC 28303
Known for: Homemade spaghetti and dry-aged steaks in a romantic setup.
With humble beginnings as a spaghetti house in 1950, Luigi's has come a long way to make its name as the best restaurant in Fayetteville. The upscale and modern layout invites you to fine-dining with lip-smacking signature dishes and an award-winning wine list of over 300 varieties.
The tranquil country cottage ambiance is ideal for date nights and celebrations. The huge brick fireplace sets an intimate and romantic atmosphere.
The family recipes have passed down over generations, so you can expect wholesome and impeccable taste with every bite. The homemade spaghetti and dry-aged steaks stand out in flavors and textures.
Try the innovative Steak Shish kebab with Risotto in Mediterranean style with fresh mushrooms and seasonal vegetables char-grilled to perfection. For authentic Italian flavors, get the good-old Spaghetti with Meatballs and have a passionate Lady and the Tramp moment with your beau.
316 Oyster Bar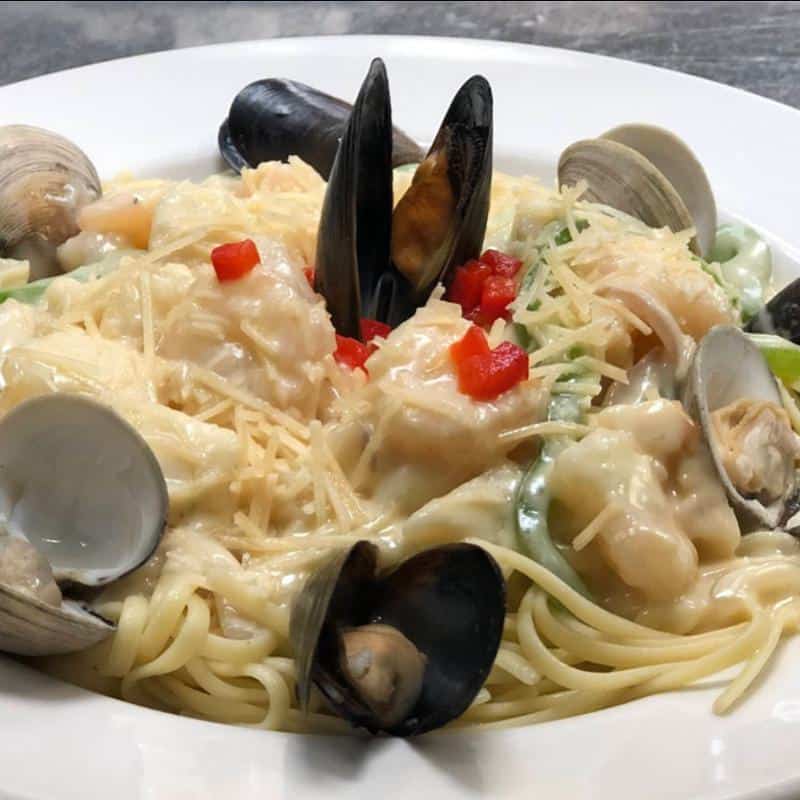 Address: 316 Owen Dr, Fayetteville, NC 28304
Known for: Rooster Shooter with raw oysters and a huge variety of seafood dishes.
Known for its fresh and delicious seafood, 316 Oyster Bar is a casual restaurant with tasty oyster dishes and a wide range of drinks at a brightly lit bar. The neon signs add a perfect touch of vibrancy to the otherwise dimly lit indoor dining area.
Enjoy your meals with an upbeat ambiance and great seafood dishes. Start with a traditional New England Clam Chowder or buttery Snow Crab Legs, and try a variety of steamed or fried entrees in combinations.
The Seafood Linguine is a famous main course with clams, scallops, shrimp, mussels, and vegetables in a white sauce. They also have a few BBQ varieties with chicken and ribs, and a hearty selection of Lobsters and Steaks.
The Rooster Menu includes the famous Rooster Shooter with Raw Oyster, beer, and horseradish. For an added kick, try the Super Shooter which has Raw Oysters with vodka, hot sauce, and cocktail sauce.
Antonella's Italian Ristorante
Address: 300 Hay St, Fayetteville, NC 28301
Known for: Authentic Italian fare, creative cocktails, and a lovely outdoor patio.
If you are craving authentic Italian food in Fayetteville, head to Antonella's for traditional classics. Experience a true Tuscany ambiance in the indoor dining, or soak up the welcoming Carolina sunshine in the quaint outdoor patio as you enjoy your food.
The charming restaurant is one of the best downtown spots for Italian food. There's a good variety to satiate your cravings, including delectable Filet Mignon, Lobster and Mushroom Ravioli, and the Frutti del Mare.
The handmade pasta is the main attraction on their menu and you simply can't go wrong with it. There's a good selection of vegan dishes as well.
Pair your meals with a carefully curated wine from their selection. The creative cocktails also stand out for the crispness of freshly blended herbs.
Mission BBQ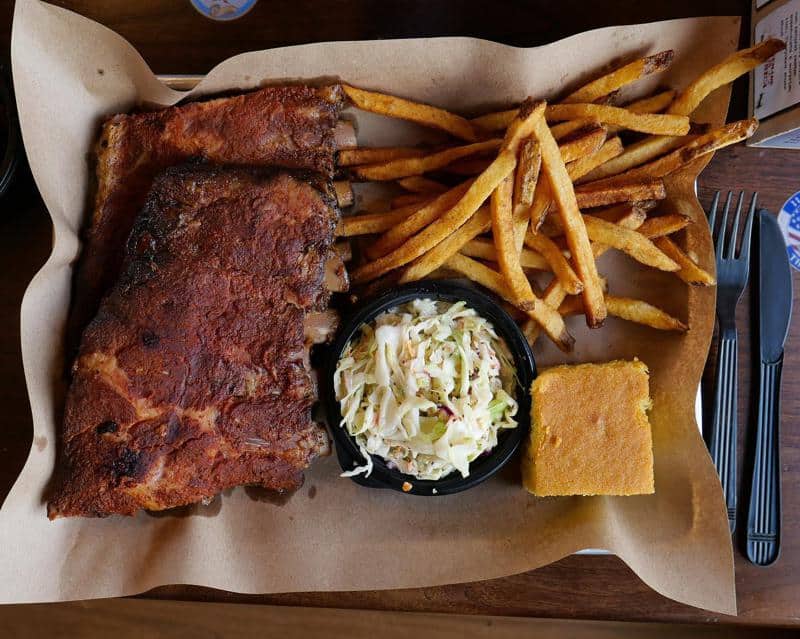 Address: 1932 Skibo Rd, Fayetteville, NC 28314
Known for: Casual setting with patriotic memorabilia and traditional barbecue.
Head to the hip and casual Mission BBQ for melt-in-your-mouth barbecue and classic side dishes. The interiors ignite a patriotic spirit with memorabilia honoring first responders and soldiers.
The National Anthem is played every noon and diners are encouraged to join in to pay tributes to the national heroes.
The restaurant is well-loved for its traditional barbecue delights, and you must taste them all with their generously served Meat Sampler. It features juicy sausages with pulled chicken and pork, turkey, and brisket.
The classic sides compliment each meal perfectly and include Cold Slaw, Maggie's Mac-n-Cheese, and Baked Beans.
The Smokehouse Signatures include the fall-off-the-bone Spareribs prepared St. Louis Style, juicy Bay-b-Back Ribs, and delectably prepared Salmon and Chicken. For lighter options, they also have a range of sandwiches and salads with meat.
Pharoah's Village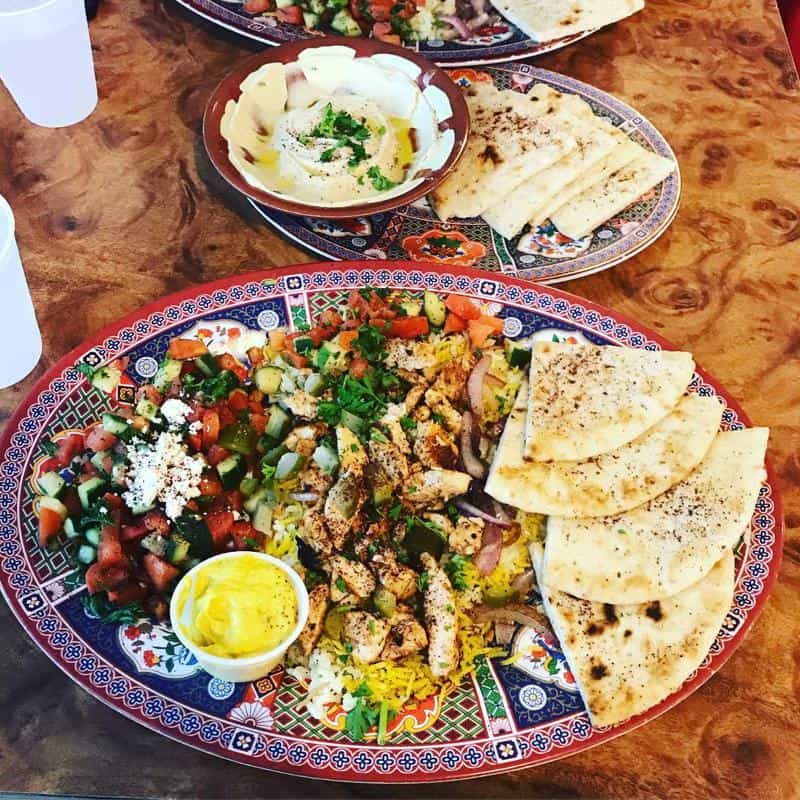 Address: 2425 Hope Mills Rd, Fayetteville, NC 28304
Known for: Freshly prepared Egyptian cuisines in huge platters.
Tantalize your taste buds with a mesmeric Arabian Night experience at the Pharoah's Village. The counter-served eatery is owned by an Egyptian family and it is a great spot for family-friendly dinners.
The humble interiors set a laidback and relaxed ambiance to enjoy your food. The meals are prepared in-house from scratch with traditional recipes passed down from generations and perfected to cater to every palate.
The biggest attraction of the restaurant is the portion size – making sure nobody goes home hungry! The huge portion of freshly prepared food is enough to share with family and friends.
Get the Mixed Kofta Kebab Platter with lip-smacking charred taste served with fresh tabbouleh salad and heaps of hummus. Also, try their gyros and shawarmas made with tender meat and crisp vegetables.
Gaston Brewing Company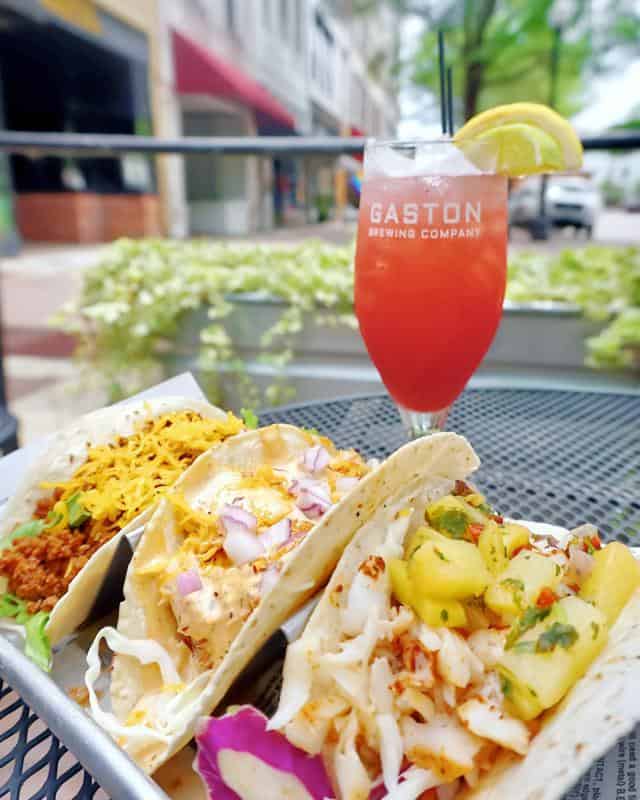 Address: 124 Hay St, Fayetteville, NC 28301
Known for: Chilled beer on tap with mouth-watering burgers and tacos.
The friendly and welcoming Gaston Brewing Company invites you to kick back and relax with scrumptious pub food and chilled beers. Whether you choose the intimate and cozy indoor seating or the breezy outdoor area, you will get the perfect ambiance to enjoy a delicious meal with friends and family.
People gather with friends for catching up and chatting over a plate of burgers and chicken wings. The shareables include Cheese Curds, Pretzel Sticks, Jalapeño Popper Balls, and Chicken Strips with a wide range of sauces.
Go for the juicy Gaston Burger made with certified Angus Beef and smoked bacon with heaps of cheddar cheese, or enjoy Taco Tuesdays with Chicken Tinga Tacos stuffed with pulled slow-roasted chicken in a chipotle sauce.
Pair your meals with craft beer on tap, ciders & sours, craft cocktails, or seasonal brews. Their taproom is located next to the brewery and is well-stocked with unique brews.
Bubba's 33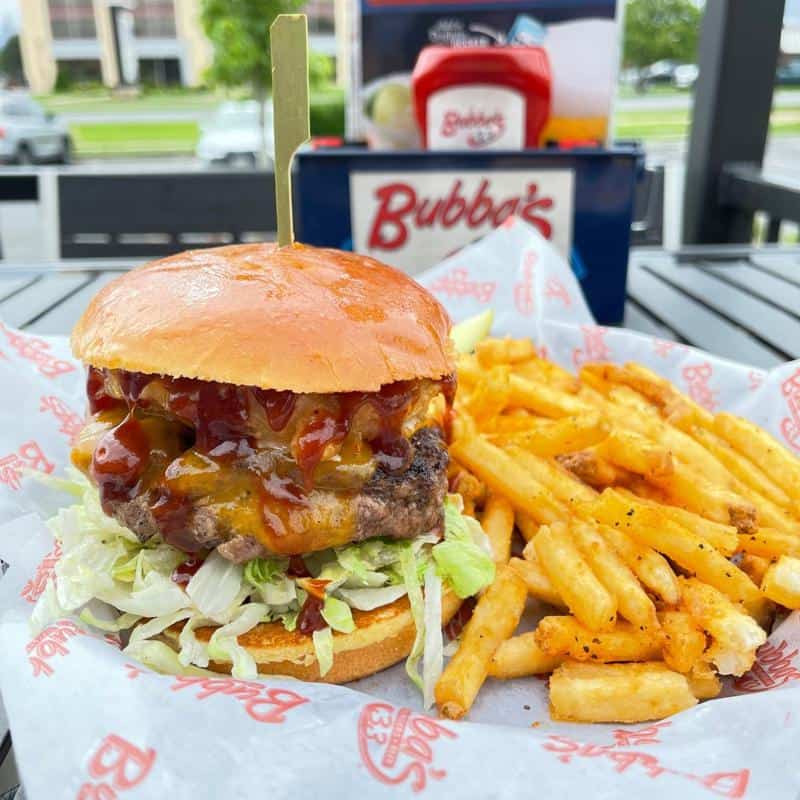 Address: 500 Westwood Shopping Center, Fayetteville, NC 28314
Known for: A trendy American eatery with fresh-ground burgers and hand-tossed pizzas.
Located in Westwood Shopping Center, Bubba's 33 is a laidback American restaurant with a special appeal for sports fanatics. The restaurant has a sleek and modern layout with large-screen TVs showing sports and music videos.
The vibrant signs pair well with comfortable booths to bring you a lighthearted atmosphere. The food is prepared fresh every day and includes fresh-ground burgers and hand-crafted pizzas with a variety of sides.
The burger variety includes the good-old Classic Cheeseburger, Wild Shroomin', Blackened Bleu, Bacon Guacamole, and South of the Border Burger. Try the build-your-own pizza option for customized varieties, or have a classic American dinner with their Signature Ribeye or Bacon Mac n' Cheese.
They also have a variety of Salads and Sandwiches for a light lunch. The well-stocked bar has a great selection of ice-cold beers to enjoy with your meals.
Blue Moon Café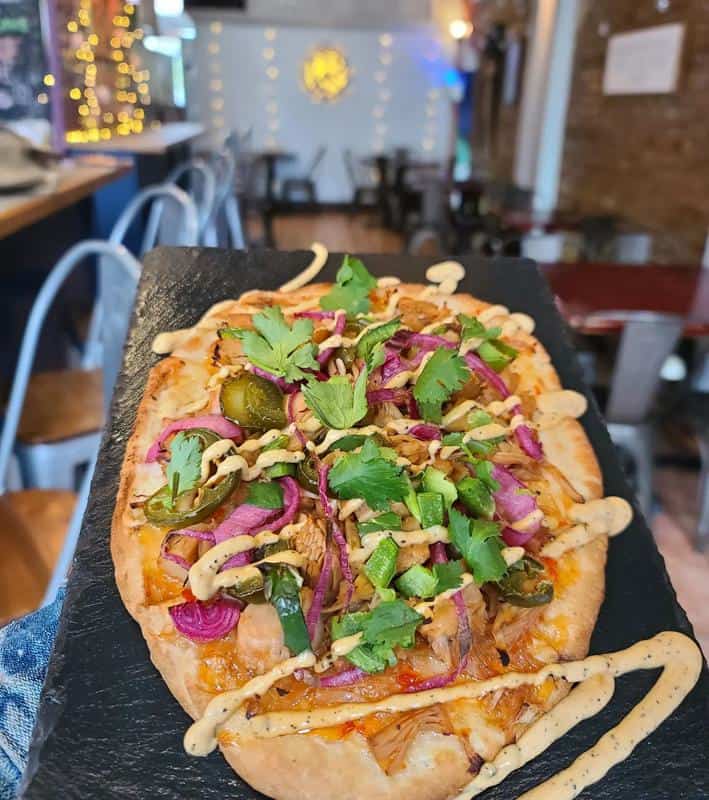 Address: 310 Hay St, Fayetteville, NC 28301
Known for: Hip and artistic vibe with healthy options, Lunar Libations, and weekend brunch.
With a refreshingly trendy vibe and hip ambiance, the Blue Moon Café is a downtown favorite for over a decade. Besides the ever-expanding menu, music and art also play a big role in creating a modern atmosphere imbued with originality and creativity.
Stop by for a light lunch in the afternoons or try healthier options like Lemon Dull Hummus, a variety of Flatbreads, or the Vegan Lobster Roll.
Sit by the patio and enjoy the beautifully presented food with a side of the café's signature 'Lunar Libations'. These are specialty-infused liquors and liqueurs handcrafted with selected ingredients, including Cucumber Coconut Rum, Peach Basil Tequila, Apple-Rosemary Sweet Vermouth, and Tajin Aperol.
The café is famous for weekend brunches with seasonal plates and classic varieties. From Breakfast Tacos and Vegan Tostada to a variety of Greens and Hash brown Casserole, there's something for everyone.
Olea Mediterranean Kitchen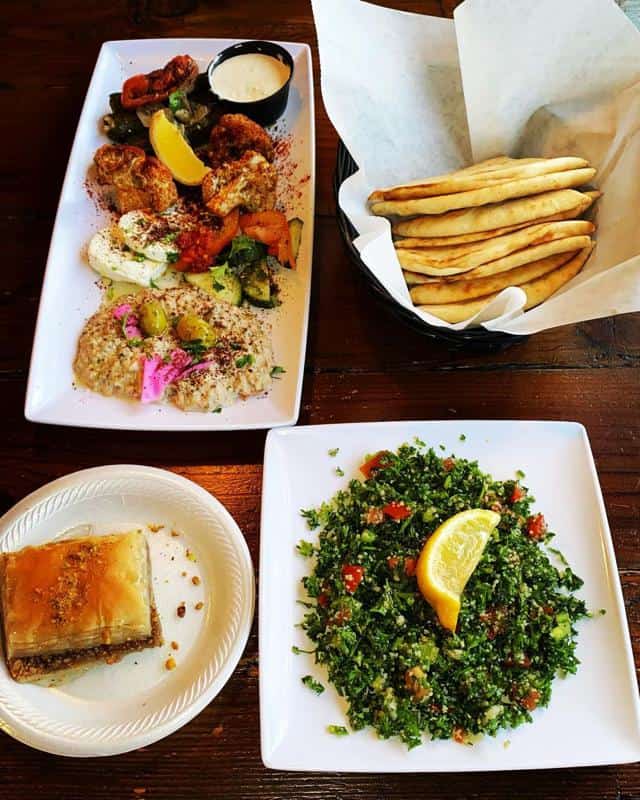 Address: 1992 Skibo Rd, Fayetteville, NC 28314
Known for: Greek-Mediterranean-inspired cuisine with healthy options.
If you have an acquired taste for Mediterranean cuisines, we highly recommend stopping by Olea Mediterranean Kitchen. The Greek-Mediterranean-inspired flavors offer an exciting dining experience for a refreshing change from the norm.
The ingredients are fresh with healthy varieties available and a side of lip-smacking house-made dressings and spreads. Get a dish you love from their menu or experiment with build-your-own service to try something new.
A variety of healthy and gluten-free salads are freshly made every day. We recommend the traditional Tabouleh or Village Salad with a savory Feta and the Greek dressing.
The Falafel Hummus combo and Baba Ghanouj made from roasted eggplants are a perfect treat for vegetarians.
The hearty platters include Chicken Tawook, Shawarma, Lamb Souvlaki, and Lamb Chops as the most selling items. They also have a kids' menu and family platters for large families.
Grilled Ginger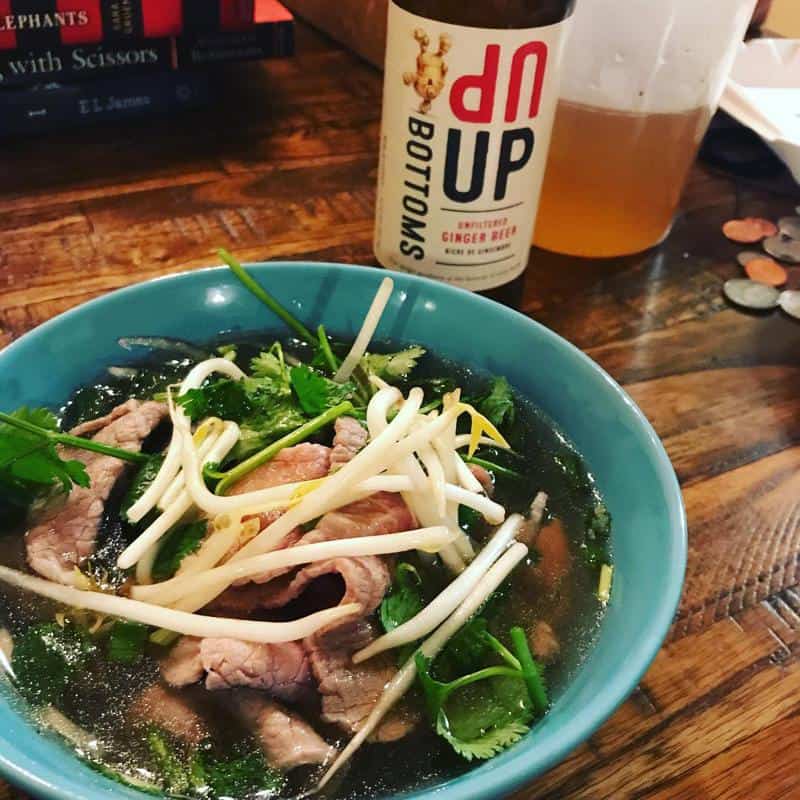 Address: 5052 Yadkin Rd #101, Fayetteville, NC 28303
Known for: The only authentic Vietnamese restaurant serving native dishes.
Have a pho-tastic time at Grilled Ginger while slurping on some pho and bubble tea. With a humble setting and tasteful décor displaying native artwork, it is the only authentic Vietnamese restaurant in the city.
The restaurant is a part of Fayetteville's International cuisine Trail and is well worth your visit. Guests are welcomed by colorful flowers and dainty umbrellas with a lovely outdoor seating area.
The tantalizing aroma of calamari, clay pot seafood, and pho is enough to fill the senses and get the stomach rumbling. Start with some light spring rolls or fried egg rolls with a Vietnamese iced coffee or bubble tea.
The small menu keeps things simple and allows you to try different combinations, like the Grilled Pork and Eggroll Vermicelli, or Combination Pho.
Fowler's Southern Gourmet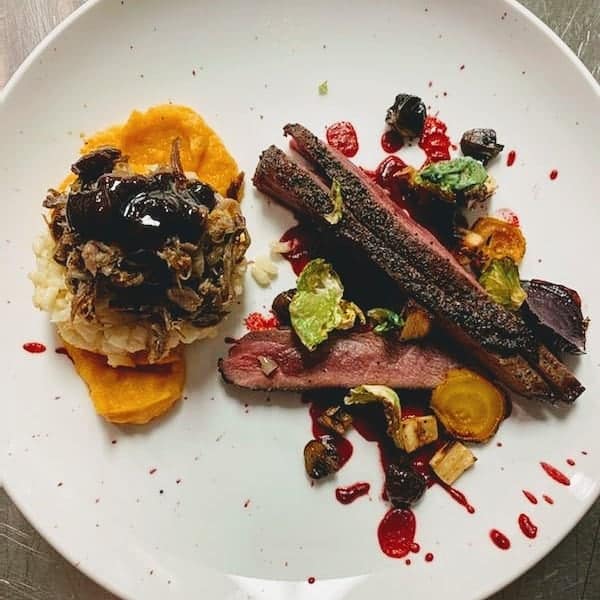 Address: 723 W Rowan St, Fayetteville, NC 28301
Known for: Appetizing smoked meats and classic Carolina-style pulled pork.
With humble beginnings in a food truck, Fowler's has come a long way to make its name and emerge as a local favorite. The restaurant was featured in the state magazine as well and flaunts an upscale industrial vibe.
Everything on their menu is made fresh and on-site, even the condiments! The owner Wade Fowler uses locally sourced ingredients, and even the oak used for smoking comes from the owner's personal property in Fayetteville.
The most famous dish on their menu is the authentic Carolina-style pulled pork. However, all the smoked varieties are worth a try, including pork belly, brisket, and chicken.
For a refreshing twist on classics, try the 'Angry Hawaiian' barbecue sandwich topped with spicy-sweet grilled pineapple relish. For a fine-dining experience, get the Muscovy duck two ways paired with Mouvedre and GSM.
Read More:
Conclusion
With so much variety in menu and cuisines, you can't go wrong with these restaurants in Fayetteville, NC. From traditional American delights to an exotic selection of Greek, Egyptian and Vietnamese spots, you'll be taking your taste buds on an exciting journey of their own.
Enjoy the rustic vibes of the city with laidback cafés ideal for meeting friends over sharing platters and bonding over the love of food, or indulge in a fine-dining affair with classic food and your favorite wine.
Map of Best Restaurants in Fayetteville NC