The humble city of Cary is fast-paced and ever-changing, with new restaurants sprouting up now and then.
The vibrant culinary scene is noteworthy and calls for a list of the top restaurants in the area that are worth trying out.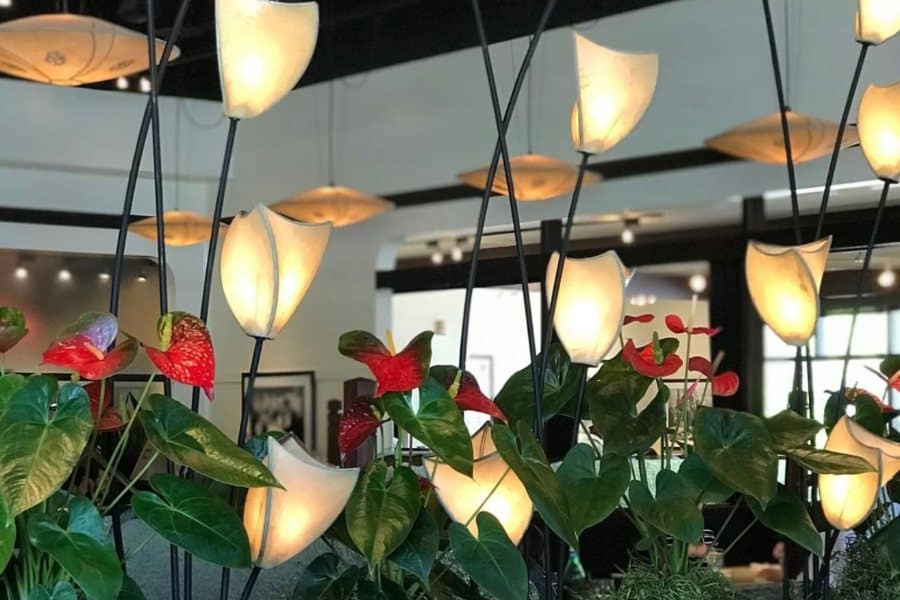 Hop on this scrumptious journey with us to discover the best eateries and upscale spots in town ranging from grab-and-go burgers and tacos to regal four-course meals.
Best Overall Restaurant: Lucky 32 Southern Kitchen
Best Downtown Restaurant: Kababish Café
Best Romantic Restaurant: Lugano Ristorante
Best Luxury Restaurant: Herons
Best Restaurants in Cary, NC
Lucky 32 Southern Kitchen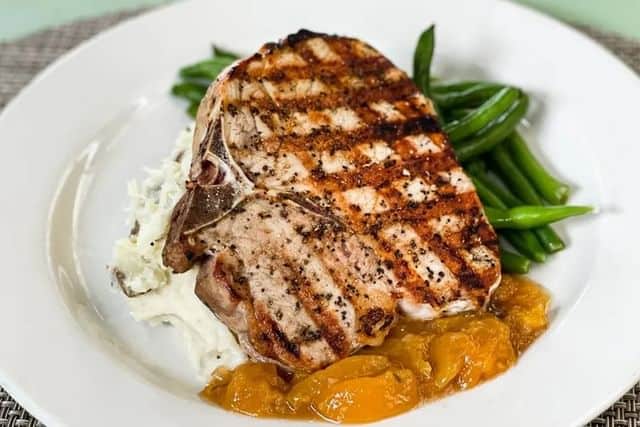 Address: 7307 Tryon Rd, Cary, NC 27518
Known for: Classic farm-to-table Southern fare with comfort meals and laidback ambiance.
The polished and upscale Lucky 32 Southern Kitchen offer incomparable renderings of authentic Southern dishes we all know and love.
The relaxed atmosphere with craft beers and wines and laidback outdoor seating makes their farm-to-table Southern fare all the more enjoyable.
The menu incorporates seasonal delights and creative twists on local dishes while keeping some beloved staples unaltered like black bean cakes, meatloaf, and fried chicken. For a light lunch, you can opt for their sandwiches and salads with a locally sourced craft beer.
For a wholesome Southern feel, try one of their local dishes like a good-old hamburger steak and eggs, or the Grit Cakes drenched in a heavenly rich country ham cream sauce.
Kababish Café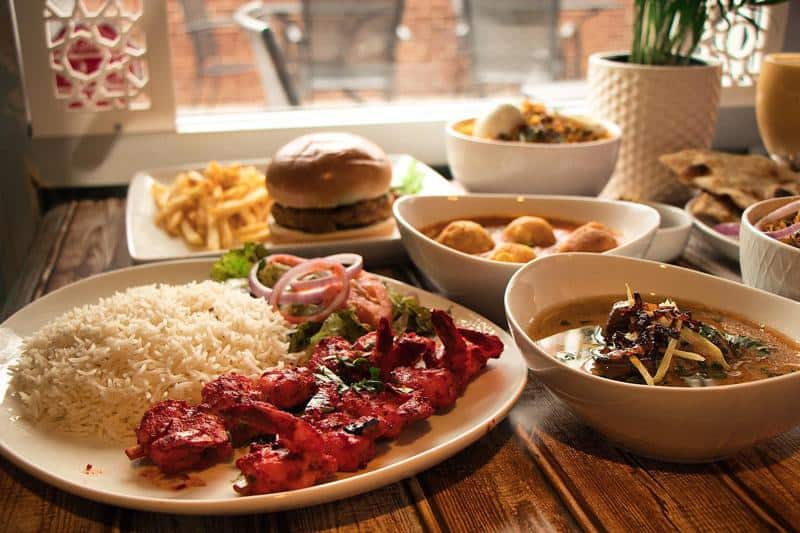 Address: 201 W Chatham St #103, Cary, NC 27511
Known for: Famous Kababish Biryani and a variety of Eastern delights.
Run by the couple Samreen Nawaz and Syed Yousuf, the Kababish Café is an award-winning spot famous for its Asian cuisines. These include Indian, Pakistani, and Mediterranean delights.
The café rules the streets of Downtown Cary, luring in customers with its aromatic concoctions. The lovely patio area is small and intimate, ideal for romantic dinners on a star-lit night.
Whether you are craving some fragrant meaty biryani or a juicy platter of kabobs and hummus, Kababish has got you covered! A plethora of indulgent Eastern food awaits your welcome, with fluffy homemade naans complimenting it beautifully.
Try the scrumptious tikka masala or tandoori chicken, or opt for veggie-and-hummus wraps for a lighter lunch. Don't forget to get a refreshing Lassi to wash it all down!
Lugano Ristorante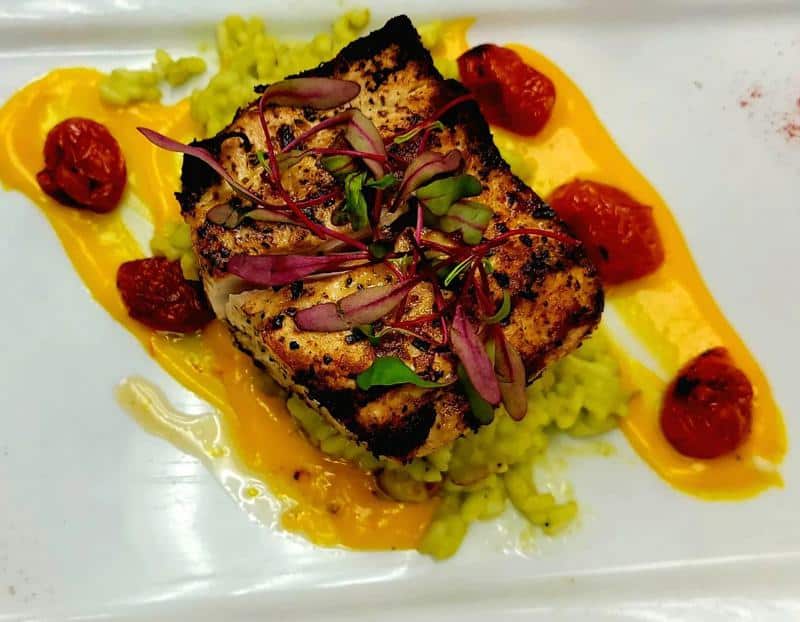 Address: 1060 Darrington Dr, Cary, NC 27513
Known for: An intimate and romantic atmosphere with elegant Italian dishes.
Taking its culinary aspirations from Lugano city in Switzerland, Lugano Ristorante is an elegant Italian restaurant with an impressive layout. The rustic feel with high ceilings, soft-brick walls, and warm spotlighting imparts a seamless romantic ambiance.
The formal set up with white fabric-clad tables invites you for a date night filled with good food and classy martinis. There's a wide range on their Italian menu and they also serve some beloved American dishes.
The classic pasta variety includes staples like Spaghetti Marinara, Fettuccini, Penne Sardi and Tortellini Ala Panna. For special preparations, try the weekend variety with delectable treats like the Pan-seared Mahi with pancetta risotto and champagne saffron cream sauce.
Herons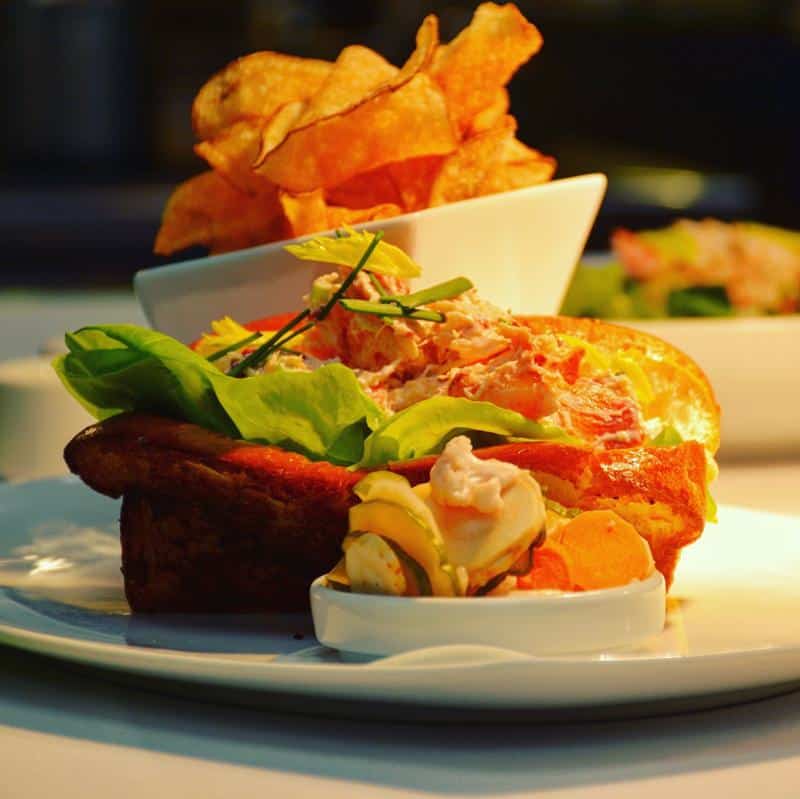 Address: The Umstead Hotel and Spa, 100 Woodland Pond Dr, Cary, NC 27513
Known for: Luxurious fine dining with elevated American dishes, art display, and stunning views of the garden.
As one of only 64 Forbes Five-Star restaurants in the world, Herons promises you an out-of-the-world dining experience.
Serving breakfast, lunch, dinner, and weekend brunch, the intimate and elegant restaurant features a majestic dining room with a marvelous art display and floor-to-ceiling windows.
The restaurant is tucked within Umstead Hotel and Spa and offers contemporary fine dining. Delicately presented dishes incorporate elements of nature that flawlessly match the views of the surrounding grounds and gardens.
The American cuisine has subtle Southern twists and includes locally grown vegetables, herbs, and fruits. Enjoy the three or four-course prix fixe menu with dishes like the Alaskan King Crab, Quail with Kaffir Lime Sausage, and Tartare of Japanese Hirame.
Bosphorous Restaurant
Address: 329 N Harrison Ave, Cary, NC 27513
Known for: Traditional Turkish and Mediterranean cuisine with range and quality.
The unique and exotic Bosphorous is a hidden gem in Cary, NC. The restaurant specializes in traditional Turkish and Mediterranean cuisine and has elegant indoor dining perfect for families and large gatherings.
The halal meats are prepared with authentic herbs and spices, delivering the perfect punch of flavors for those with an acquired eastern taste. The grilled varieties are quite a hit, but people also enjoy getting the 'Mezze' which is a tasting platter of grilled lamb, Doner, chicken, and vegetarian dishes.
Reviving the good-old Turkish tradition, you will get a wholesome eastern experience with energizing Turkish coffee and a delightful serving of baklava and rice pudding.
Bonefish Grill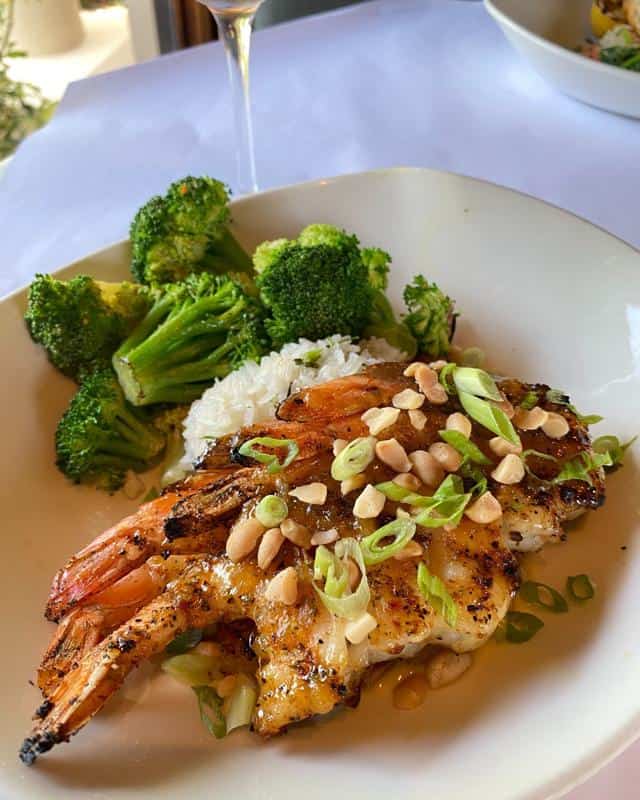 Address: 2060 Renaissance Park Pl, Cary, NC 27513
Known for: A wide range of delectable seafood dishes and a combination menu with steaks.
Luring all the seafood lovers with its fresh and delicious seafood-centric menu, Bonefish Grill offers ambitious dishes with a special focus on taste and presentation. The quaint neighborhood location with dimly-lit indoor seating offers a relaxed dining experience.
Besides the extensive seafood menu, the restaurant also serves high-quality steaks and cocktails. With fancy items like Mussels Josephine and Tempura Crunch Sashimi Tuna, you will never be short of options when placing your order.
For a perfectly paired meal, get a combo of steak and seafood. These include Filet & Lobster Tail, Sirloin and Shrimp, Sirloin and crab Cake, and the newly added Chicken and Shrimp.
Try one of their hand-crafted cocktails, or choose from Signature Martinis, Red or White Sangria, or wines.
Sassool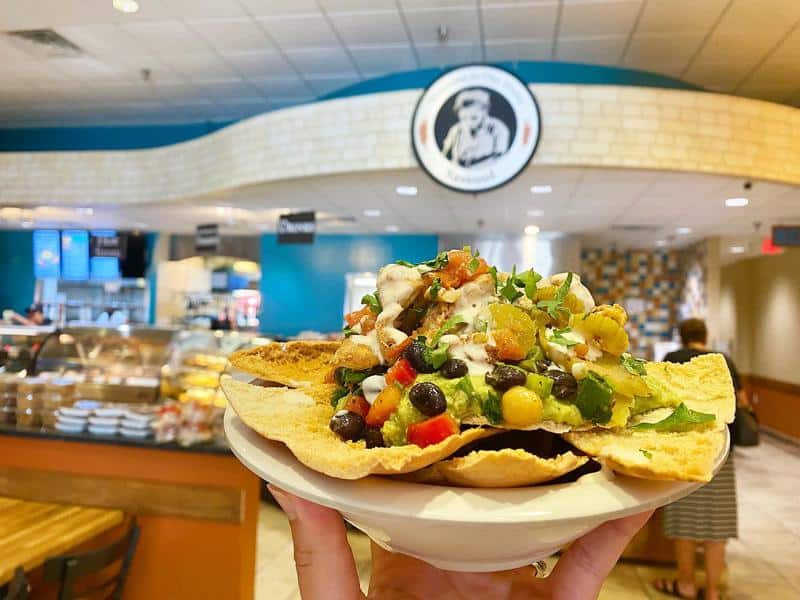 Address: 1347 Kildaire Farm Rd, Cary, NC 27511
Known for: Family-friendly restaurant with classic Lebanese dishes.
With a warm family history and recipes passed down from generations, Sassool is a hidden gem in Cary, NC, serving traditional Mediterranean/ Lebanese food. Mounir Saleh lovingly named the restaurant after his mother and follows in her footsteps with hearty family-style dishes.
The menu comprises Sharing Platters, Sandwiches, Pizzettes, Salads, and Daily Specials. To sample a bit of everything, try the four-side Deli Platter with choices like Kabob Skewers, Sandwiches, Shawarma, Burgers, and Wraps.
The Large Kabob Platter is perfect for families and has a juicy Mixed Grill with kafta, beef, and chicken. The pita dough Pizzettes are essentially pies served with hummus or baba ghanouj and are available in a large variety.
Doherty's Irish Pub & Restaurant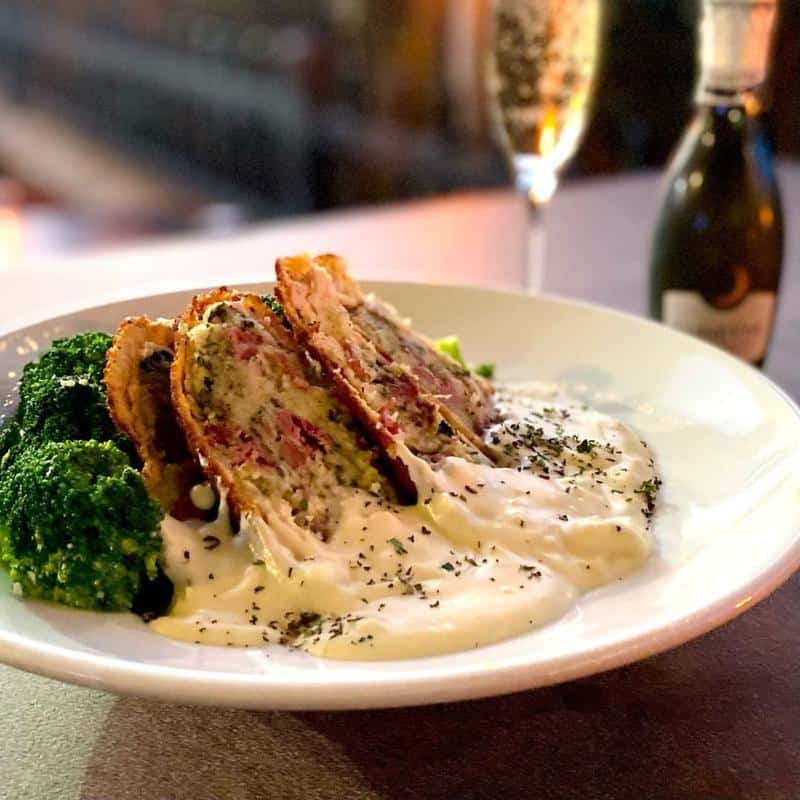 Address: 1979 High House Rd, Cary, NC 27519
Known for: Relaxed pub famous for its Beef and Guinness Stew, live music, and beers on tap.
Kick back and relax with music, beers, and TV at Doherty's Irish Pub and Restaurant. The friendly neighborhood spot is open till late at night, offering a wide range of elevated Irish dishes with multiple beers on tap.
The restaurant creates the perfect ambiance to make you warm and cozy as you enjoy seamless Irish hospitality. Setup like a typical pub, the restaurant also has an outside patio and live music to enjoy with your food.
While it's open till 11 pm, we highly suggest stopping by for a regal spread of Traditional Irish Breakfast and a side of Bloody Mary.
The restaurant is also famous for its hearty and rich Beef and Guinness Stew, Shepherd's Pie, Corned Beef and Cabbage, and the traditional Bread Pudding.
Tribeca Tavern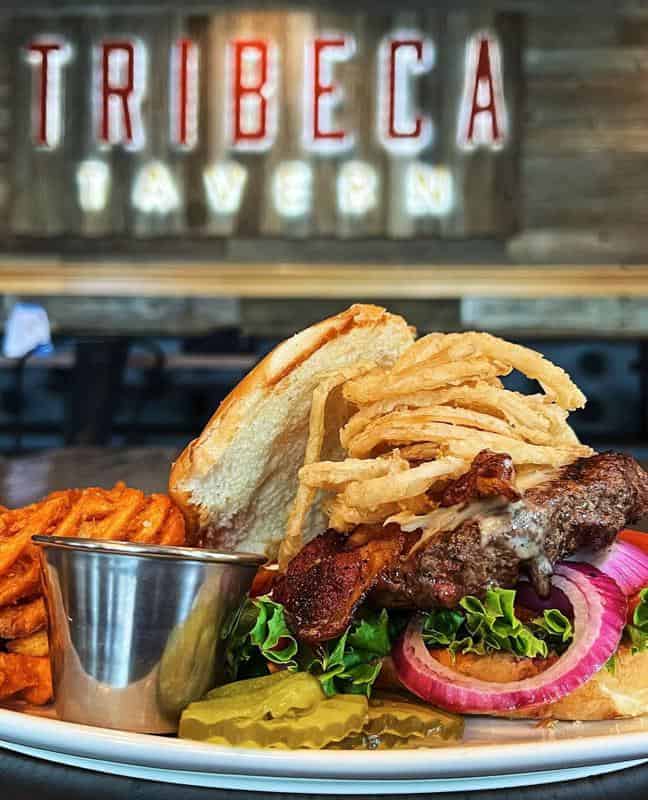 Address: 500 Ledgestone Way, Cary, NC 27519
Known for: Scrumptious and reasonably priced hand-crafted burgers and local beer.
With a lot of local charm and unmatched quality, Tribeca Tavern is the perfect family-style spot to enjoy affordable American dishes. Focusing heavily on a traditional family-friendly setting, the restaurant offers a private dining experience for large gatherings in the Lodge, Fireplace Room, and Mezzanine.
The restaurant is famous for its hand-crafted burgers with choices of chuck and short rib, sirloin, or a heavenly combination of both. Wolfpack is the most highly-selling burger made with Peppered Bacon and hand-crafted BBQ sauce, Ashe Co. Pepper Jack, and crispy onion straws.
The homegrown brews include the Mash House beer from a custom-designed brew house, and there are several beers on tap as well.
La Farm Bakery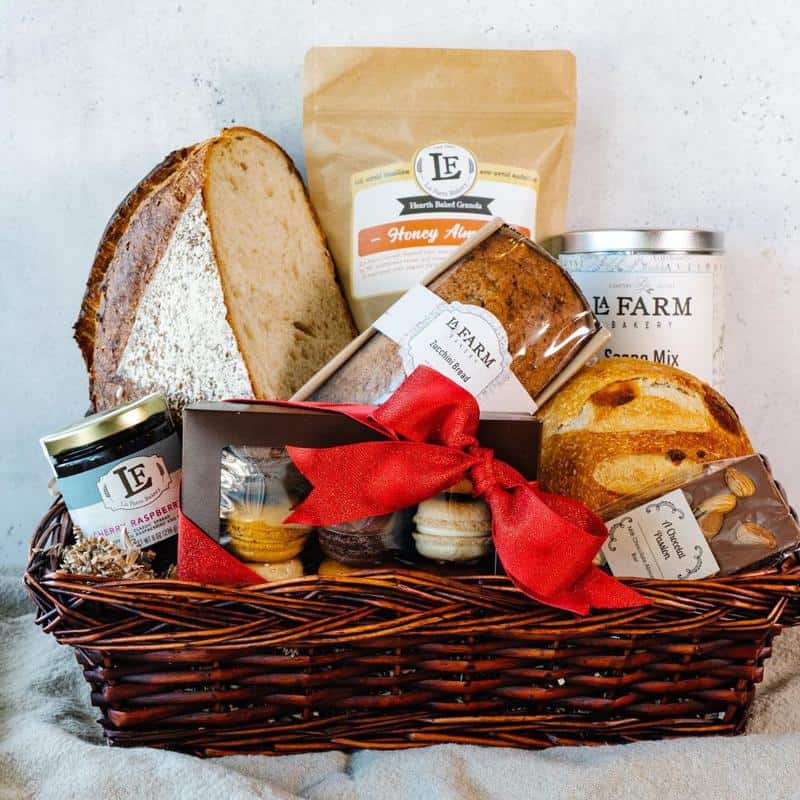 Address: 4248 NW Cary Pkwy, Cary, NC 27513
Known for: Traditional French Baguettes, freshly baked goods, and brunch.
Wafting with the aroma of freshly baked artisan French bread, La Farm Bakery ensnares customers with its rustic French charm. Following the century-old techniques and traditions, the bakery offers a huge range of baked goods and seasonal delights.
La Farm is widely popular for its breakfasts offering an authentic French experience with light and airy Baguettes, decadent pastries, and flaky croissants. Eat to your heart's content with reasonably priced items in a rustic French setting.
Some of the café's signature items include Scandinavian ryes, hand-crafted loaves of Sourdough, Almond and Chocolate Croissant, and a variety of sandwiches.
Stop by for brunch and indulge in Le Grande BLT, Crème Brulee French Toast, Croque Madame, and Brunch Potatoes.
City Barbecue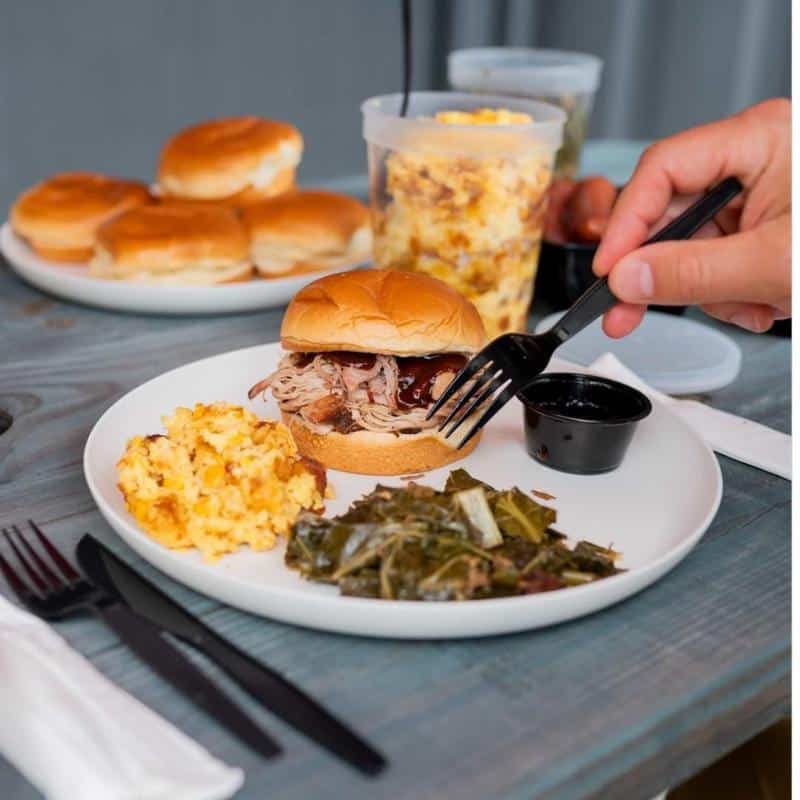 Address: 1305 Kildaire Farm Rd, Cary, NC 27511
Known for: Classic barbecue fare with award-winning Beef Brisket.
Stop by at the City Barbeque to indulge in classic barbecue offerings in a laidback setting. The counter-serve smokehouse-style restaurant has three on-site smokers running around the clock so that you are welcomed with that characteristic charred smell we all know and love.
The pit masters make use of local hickory, and years of experience go into creating the perfectly balanced and flavorful barbecue varieties. Beef Brisket is its award-winning menu item, and aptly so, as the meat is smoked for up to 18 hours, leaving it thoroughly juicy and tender.
Other signature barbecue items include Bone-in Chicken, Pulled Pork, Turkey Breast, St. Louis-Cut Ribs, Smoked Sausage, and burgers with homemade sides.
Academy Street Bistro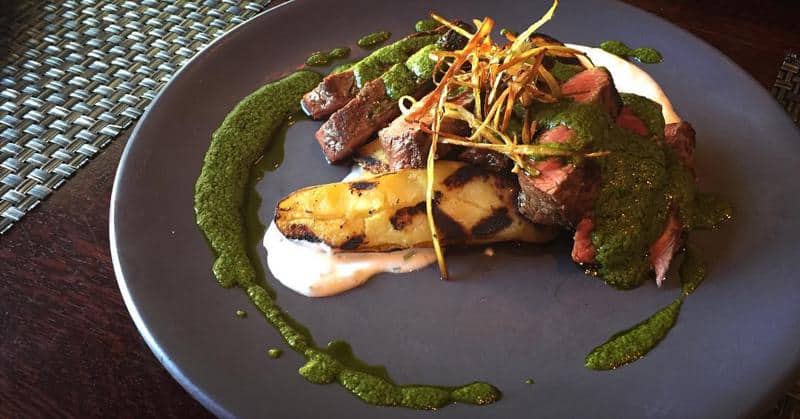 Address: 200 S Academy St, Cary, NC 27511
Known for: Beautiful outdoor patio with Italian-American cuisine in the heart of historic downtown.
Nestled in the heart of downtown Cary, Academy Street Bistro is a casual dining spot with a great location. The menu is inspired by Italian and American cuisine, and the lovely outdoor patio with market umbrellas is a perfect spot to enjoy your food on a sunny day.
The affordable pricing also works in its favor, and the landmark building adds to the local charm of the restaurant. People love to visit this trendy spot for lunches, but it's a disservice to its outdoor seating to not use it during sunsets and star-lit nights.
The steaks are quite good here, especially Ribeye with Scallops. With plentiful seafood variety, guests thoroughly enjoy the Crab Cakes and buttery Shrimp and Grits.
Chef's Palette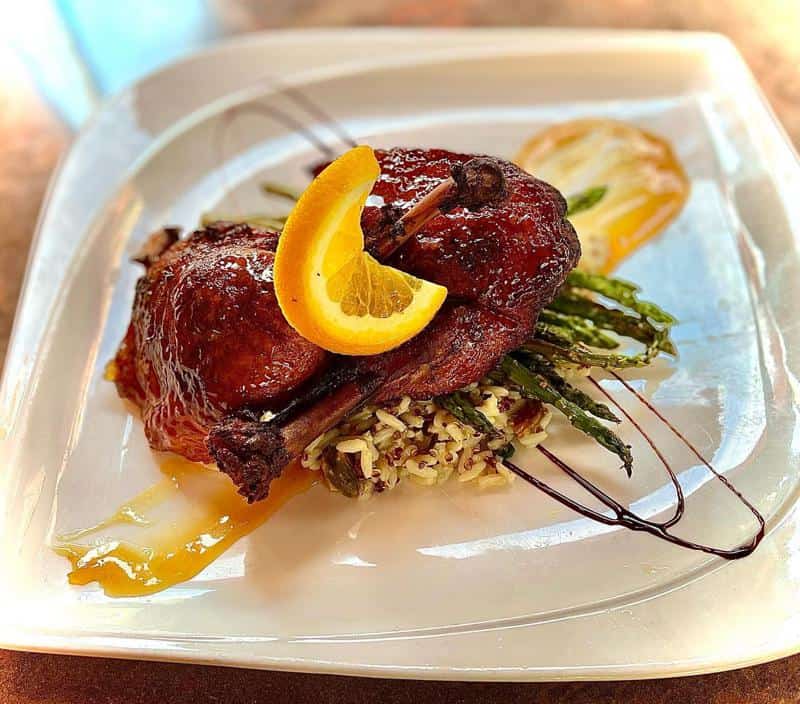 Address: 3460 Ten-Ten Rd Suite #118, Cary, NC 27518
Known for: Southern flavors and elevated American dishes.
Enjoy updated versions of classic American dishes in a warm and bright space at Chef's Palette. With a sleek bar, beautiful food presentations, and creative Southern flavors, the casual eatery boasts an artistic vibe.
The menu is loaded with classic staples and innovative dishes. The mighty 18-ounce Ribeye is the star dish on the menu and tastes diving with a rosemary demi glaze and perfectly crisp sweet potato fries.
Another great entrée is the Southwestern Mixed Grilled with a 6-ounce filet mignon and three blackened shrimps in salsa verde and avocado-corn relish. For a vegetarian option, try the lentil cake with eggplant purée and white bean.
Maximillians Grill & Wine Bar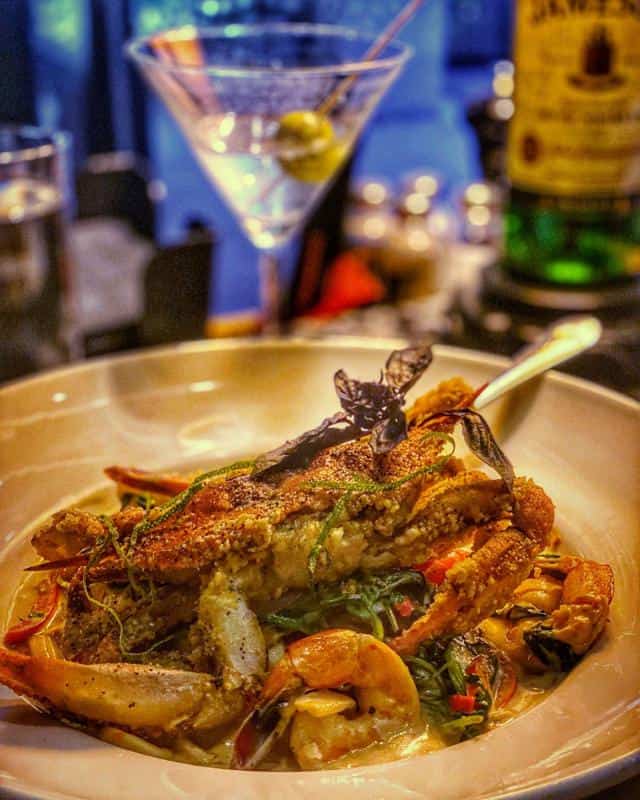 Address: 8314 Chapel Hill Rd, Cary, NC 27513
Known for: Globally-inspired menu with locally sourced ingredients and a wine bar.
Combine the warm hospitality of a homely setup with a well-crafted menu of a high-end spot, and you've got Maximillians Grill and Wine Bar. Serving globally-inspired dishes heightened with Asian accents, the restaurant invites you to try ambitious concoctions in a simple yet classy setting.
The food is prepared with locally sourced ingredients and includes locally-caught seafood variety and plenty of meaty delights. Some of the famous items include the succulent Slow-braised Pork, Soft-Shell Crab, Painted Hills Beef Ribeye in Gorgonzola Butter, and Korean BBQ Beef.
Some distinct choices include 'Voodoo of the Day' featuring seafood fishes, and 'Homage to the Pig' with a variety of pork dishes. Pair your food with their list of over 15 fine wines.
Catalan Tapas Bar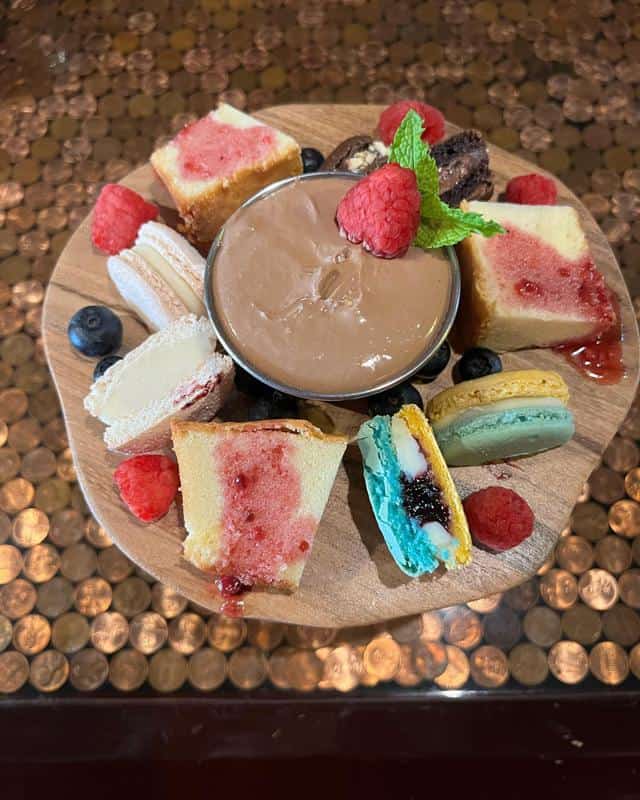 Address: 4214 NW Cary Pkwy, Cary, NC 27513
Known for: Spanish Tapas, small plates, and tacos.
The locally owned and highly popular Catalan Tapas Bar is a perfect little spot to hang out with friends over finger foods and craft cocktails. The restaurant is famous for its lip-smacking Mediterranean cuisine with small plates and sharing platters.
The Spanish Tapas come with a creative twist, and the small plate menu has dishes inspired from all around the world. They have Beef, Chicken, and Pork Tapas, Seafood Tapas, and Vegetarian and Vegan Tapas.
The Harrison-fried Chicken Tacos are quite delicious, and the loaded Charcuterie board is loaded with domestic and imported meat and cheese varieties. The bar has over 40 wines, craft beer, and 12 draft taps, as well as mocktails and craft cocktails.
Totopos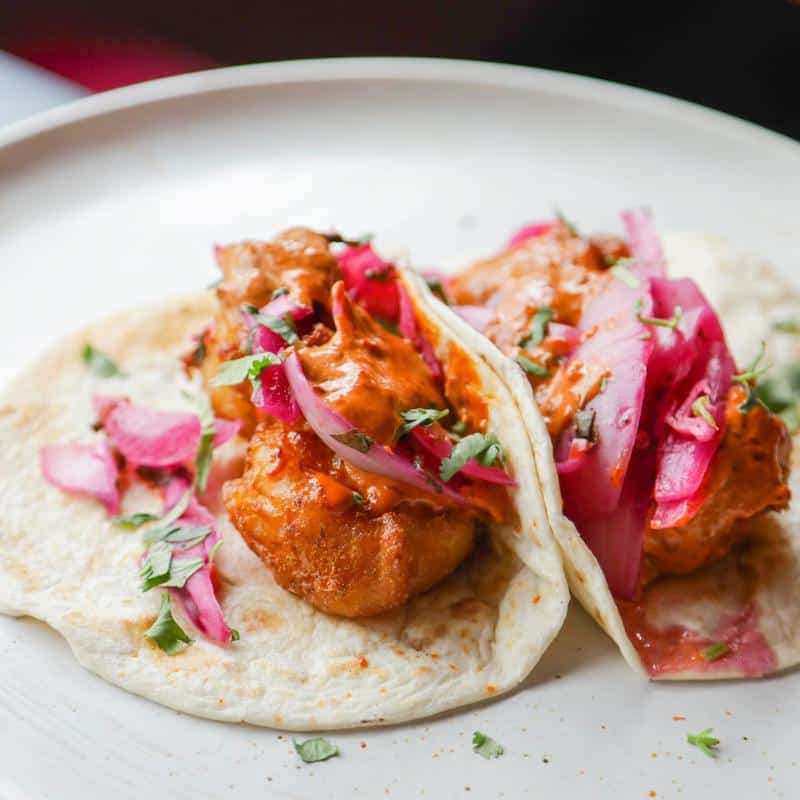 Address: 1388 Kildaire Farm Rd, Cary, NC 27511
Known for: Beautiful setup, authentic Mexican dishes, and tequila.
The hip and casual Totopos has a rustic setup serving Mexican street food and tequilas. The massive menu is loaded with Mexican delights including quesadillas, plantains, tacos, enchiladas, carne asada, and fried beans.
The soothing hues of yellow and white with an open garden setup is lovely for outdoor dining, but the interior layout is one-of-a-kind with fairy lights, lamps, glowing paper stars, traditional lanterns, and beautiful décor.
No matter what you order, you are guaranteed authentic taste and satisfaction. Start with Carnitas Enchiladas, Chilaquiles, Queso Fundido, and try a variety of Tacos from their list.
Make sure to bring some company along as you won't be able to finish the substantial portions alone!
Read More:
Conclusion
You will find a lot of variety in the charming town of Cary. From prime locations in the heart of historic downtown to strip-mall finds, there's something to suit every mood and palette on our list.