Blowing Rock restaurants in North Carolina Mountain town create exemplary mouth-watering Southern culinary.
When planning a trip to the beautiful countryside, chasing waterfalls, picking a restaurant should be the least of your concerns, because we have lined up the best spots to find healthy, tasty and fun foods for your entire family.
Here's a list of top-rated restaurants in Blowing Rock.
15 Best
Blowing Rock Restaurants
The Restaurant at Gideon Ridge
Address: 202 Gideon Ridge Rd, Blowing Rock, NC 28605-6400
Known for: fine dining, scallops, stunning long mountain views
Located on top of Gideon Ridge, this fantastic dining spot offers breathtaking views – best to go in the evening to catch a glimpse of spectacular sunsets during summer. They have indoor/outdoor sitting and offer intimate dinners from Tuesday through Saturday by reservation.
The menu includes delightful cuisines from local favorites to international flavors in a most enticing foodie platter.
Breakfast is also available – with more spectacular views of the horizon. All the dishes are prepared on order, so you chill while staring at the Gideon Ridge Inn and come to eat later or stay on sight as you drink one of their flavorful coffees and an array of fresh juices.
The cuisine includes an extensive blend of fresh mountain ingredients, prepared delicately to create an unforgettable dining experience for the guests.
Try their star duck breast, a perfect blend of sumptuous meat and salads presented in a delightful sight.
You will definitely enjoy your dining experience at this intimate restaurant. Seating is limited, and service is impeccable.
Best Cellar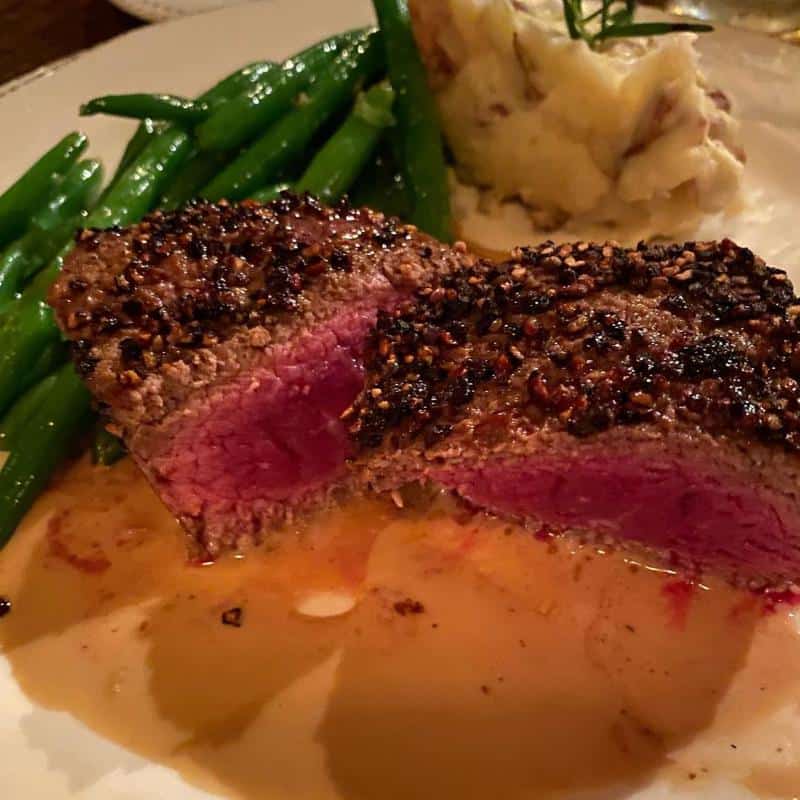 Address: 203 Sunset Dr, Blowing Rock, NC 28605-7206
Known for: seafood, special steak made on request
Best Cellar is a popular dining spot located at The Inn at Ragged Gardens. Serving locals and visiting guests since 1975, it started with simple sandwiches, soup, and books. Today the establishment has modern décor, offering the most delicious Oysters, lobsters, salmon, veal, and a variety of fresh meat – from lamb to fresh beef steak.
This is a sure bet if you're looking for a cozy place in the High Country. For an uninterrupted dining experience, make your reservation in advance, and mention a special occasion if you've got one for personalized attention.
Try some of their excellent signature dishes; the Alaskan halibut filet is a favorite among most diners; served with mashed potatoes and zucchini cheese, outstanding scallops, and a variety of yummy seafood prepared perfectly. The steaks are made on request, and you can ask the chef to make your preferences subject to availability.
The desserts are also fanciful – try the flourless chocolate tart. It's huge and can be shared by two people.
The menu hasn't changed much, but the cooking has enriched ingredients and delicious desserts, wine, and beer.
Timberlake's Restaurant at Chetola Resort
Address: 185 Chetola Lake Dr, Blowing Rock, NC 28605-6037
Known for: Seafood, short ribs, lovely patio overlooking the lake
Timberlake's at Chetola Resort serves the best buffets in Blowing Rock! They have a beautiful terrace overlooking Chetola Lake – a stunning setting for a quiet meal, comfortable ambiance, and live music.
They serve all meals so you can pick a fresh morning breakfast, make a lazy lunch, or cozy up late in the evening for a romantic or fun group dinner – you have to make early reservations. The expertly crafted menu includes items like Korean steamed short ribs, seared duck, and incredible cheesecake, chiffon cake for dessert, among other options.
Great meals are served here like the outstanding elk dinner, which has received numerous reviews from satisfied guests. Excellent service as well, but on busy days you can walk a long distance from the parking lot since parking is limited – on the positive side, this can help you step off a high-calorie meal!
Moon Thai Sushi (Japanese/Thai)
Address: 7179 Valley Blvd, NC 828-414-9905
Known for: Sushi, Japanese/Thai/Chinese cuisines
This restaurant is the best place to eat Japanese Style Sushi. Located near Blue Ridge Parkway on Valley boulevard, this lovely gem is THE only Asian restaurant in Blowing Rock, so take your best shot with seafood because they guarantee you will return for more.
At Moon Thai, you'll enjoy Japanese and Thai cuisine from their diverse contemporary menu featuring some of the best East Asian & South East Asian seafood delicacies in Blowing Rock, NC.
Begin your meal with their range of tempting appetizers like Fried Calamari, Shrimp Shumai, Crab Rangoon, and tasty Pork Gyoza. The mains are the highlight of every meal and what we love about this restaurant is the combination of the entrees, where you can order a few of your favorite dishes since the servings are manageable.
Try their assortments, beginning with the famous Thai fried rice, Pho or Pad Thai. If you prefer to dive right into the Sushi delicacies, go to the Sushi bar! The options are endless, ranging from the black Dragon and Rainbow roll to Captain Crunch Roll – a crazy delicious blend of salmon, tuna, and veggies topped with the mind-blowing eel sauce and many more.
For a magnificent dining experience, visit Moon Than Sushi in Blowing Rock earlier than usual for an impromptu dinner, or make your reservations well in advance. You will love this fantastic place.
The Speckled Trout Restaurant and Bottle Shop
Address: 922 Main St, Blowing Rock, NC 28605-8279
Known for: Trout, pork chops – chef's specialty
The Speckled Trout on Main Street supports local NC farmers and majorly cooks regional cuisines. The bottle shop specializes in an extensive collection of local and international wines and beers.
You can have your drinks in-house or take them out. The restaurant serves incredible meals ranging from Cracker Mountain trout, smoked trout toast and Chicken 'n' Dumplings, among other multiple choices.
The Speckled Trout's bottle shop in Blowing Rock also boasts an impressive wine and beer selection for dine-in or take-out. The Staff are versed in the menu choices and quite helpful. To get the best dining experience, always go with the chef's daily specials – in this case, the finger-licking Pork chop and NY Strip. For entrees, sample the cilantro trout with Gouda grits and baked veggies.
You'll be spoilt for choice with the menu items, give it a try.
Storie Street Grille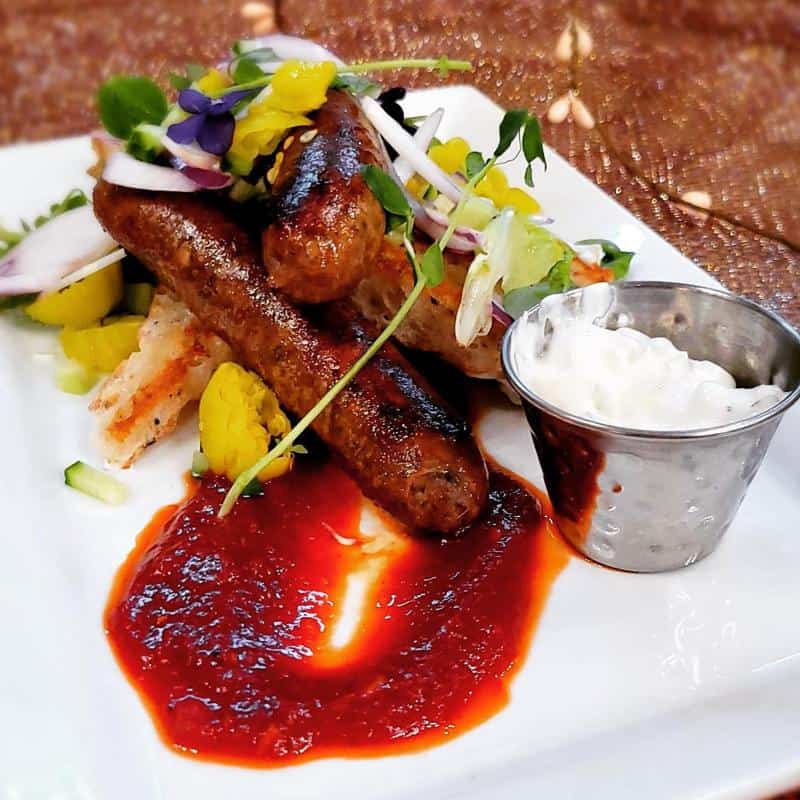 Address: 1167 Main St, Blowing Rock, NC 28605-8280
Known for: Seafood, steak, best Bloody Mary
Located on Main Street, Storie Street Grille sits at the tail end of a magnificent stone walkway – one of the finest upscale restaurants in Blowing Rock. Enjoy some of the best Southern classics with a blend of unique Mediterranean flavors.
They have indoor/outdoor seating, a beautiful patio, and very comfy chairs. The tables are set relatively far apart, so you don't have to worry about space or privacy. It's pretty adequate.
They have an interesting wine list and cocktails with NC legendary Spirits.
The menu has creative, eclectic dishes ranging from Thai coconut curry mussels, Thai BBQ mushroom Sausage/Trout, and Penne Pasta with Stuffed Pork; to Italian shrimp and polenta among other options.
The dessert menu offers sweet Chocolate Torte and Bloody Mary, banana split bread pudding and pumpkin custard, and tasty ice cream flavors.
You'll love the food! Guaranteed, plus yummy desserts and excellent wine and beer choices.
Town Tavern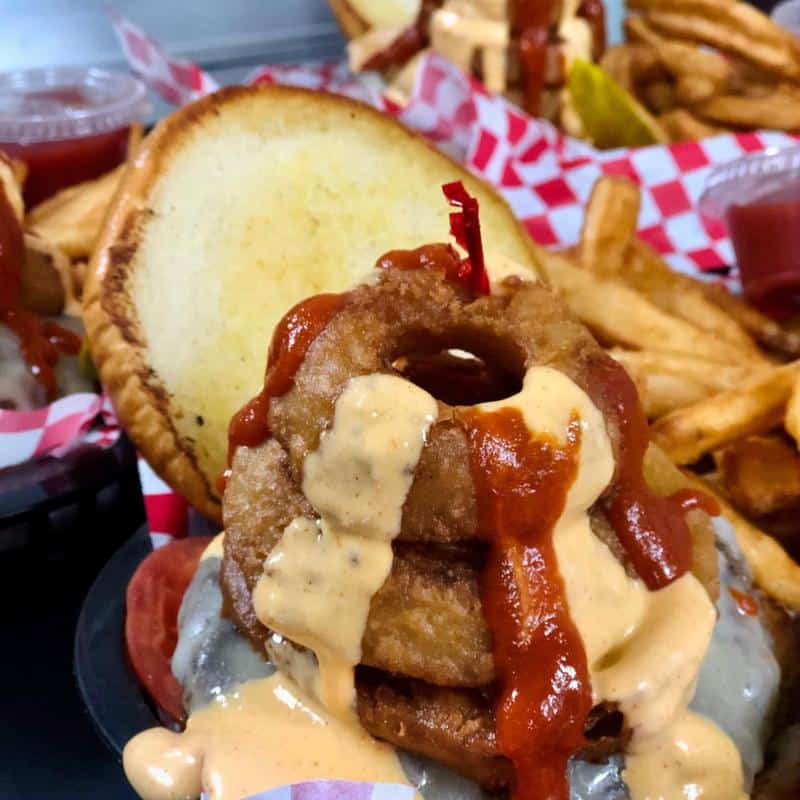 Address: 1182 Main St, Blowing Rock, NC 28605-8280
Known for: Best sandwiches and Hamburgers, fresh brew, draft beer
Town Tavern on the main street has this charming outdoor patio that exudes a classic mixed feel with live music to set the mood right for a beautiful dining experience. The weather is always perfect for outdoor seating in the summer/fall, so patio seating is a must.
The menu offers impressive, varied choices, regular sandwiches, burgers, and delicious steak choices over the refreshing brew. The appetizers are unique: perfectly diced onion Rings, Nachos with pork BBQ sauce splashed on the delightful plate.
You can try the huge fish & chips hamburgers or Cuban sandwich made just right and taste heavenly!
The service staff is polite and attentive. Great music too. Town Tavern is a simple yet great place to have casual lunch over the fresh brew.
This spot has a warm, casual atmosphere with friendly Staff. They have the best microbrews on draft – you can get samples since they have various brews so that you can pick your preferred beer.
The Village Café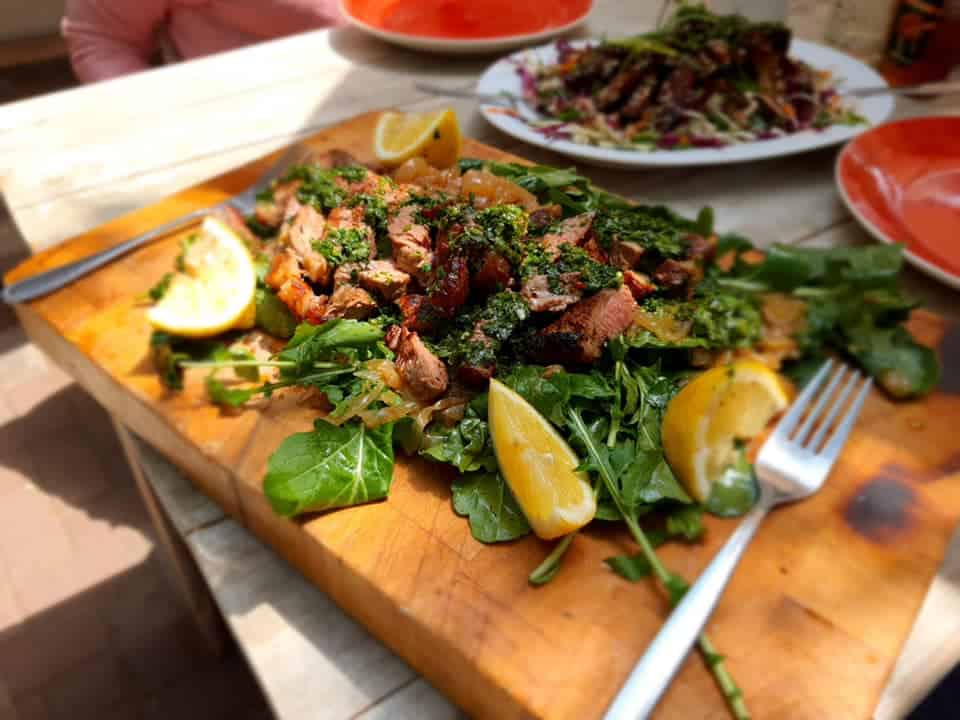 Address: Main Street, Blowing Rock, NC 28605
Known for: fine dining, egg combos
The Village Café is a beautiful restaurant in Blowing Rock, a couple of blocks from Main Street. It's a rustic house that was once a craftsman's workshop and turned into a cozy little restaurant serving delicious meals and treats for breakfast and lunch.
Delight yourself with yummy airy crepes, Fugasa Toast, or a pecan-crusted Montrachet Cheese Salad. Make reservations early in advance for the best breaky experience because the place fills up pretty fast.
This place is an absolute joy for those who love high-end meals. Sample their delicately prepared Benedicts, crepes, delightful egg combos, and crème brûlée for dessert.
This is a must-try spot to eat in Blowing Rock. The beautiful atmosphere and food are exceptionally great! The wait staff is excellent, friendly, and attentive.
The Village Café is a wonderful spot, and the service is top notch.
The Chestnut Grille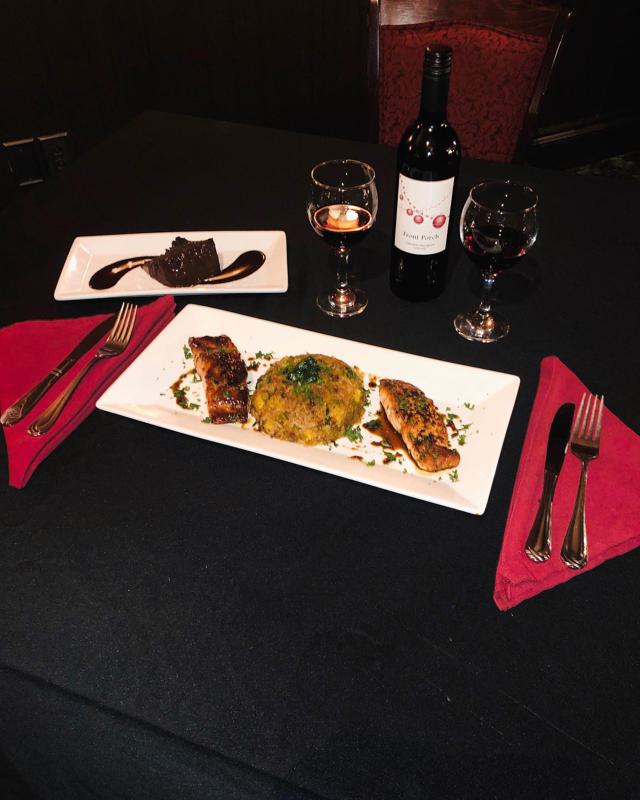 Address: 9239 Valley Blvd, Blowing Rock, NC 28605-6338
Known for: grilled meat
Located inside The Green Park Inn, The Chestnut Grille is a beautiful place to indulge in High Country fare. It is a casual fine dining place with fantastic service – the wait staff greets you at the front door and delightfully escorts you to your waiting table.
Their seasonal menu highlights local produce and international cuisines. The menu provides diverse choices of steak, salads, and fish delicacies.
The Staff is engaging, attentive, and pleasant. Start with manor and arugula salads or salmon on fresh veggies, including asparagus, mushroom, and risotto. Try the medium rare grilled lamb with lime-thyme grits, fried al dente Brussels; or Braised Pork Osso Bucco with pasta and blackberry jus for the main dishes. The food portions are plentiful, so go while hungry.
The Chestnut Grille is ideal for romantic dinners or small groups for the occasional celebrations. They also accept large groups subject to early reservations.
Foggy Rock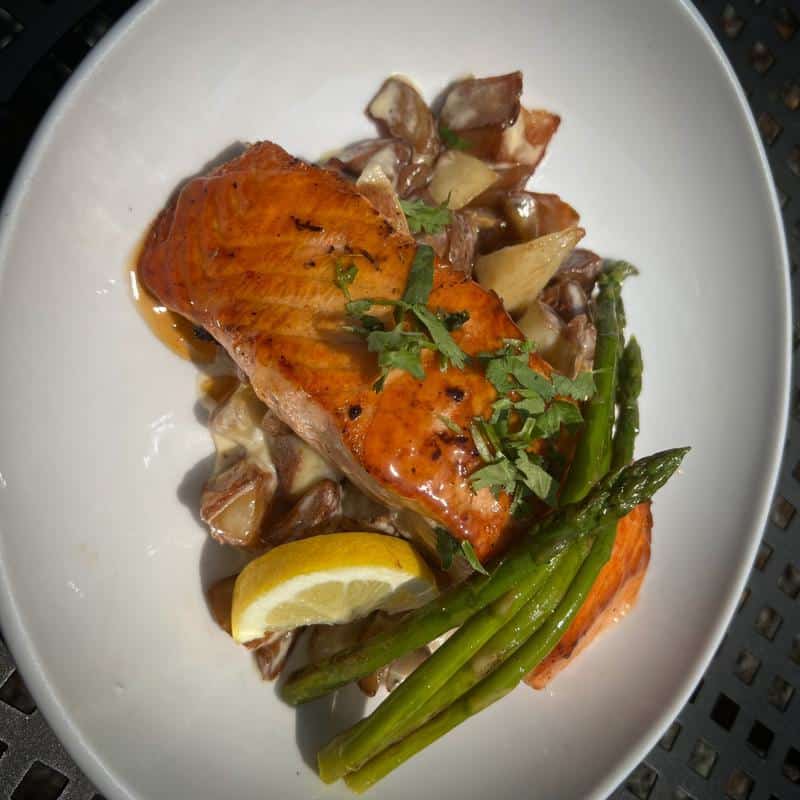 Address: 8180 Valley Blvd, Blowing Rock, NC 28605-9261
Known for: Trout, grilled chicken, and lots of beer
Foggy Rock is a fabulous foodie space partnered with yet another excellent breakfast joint – Sunny Rock Eggs and Things. If you are visiting blowing Rock and love comfort food, this is the place to eat.
The outdoor seating is perfect on warm summer days/evenings – the ideal atmosphere to enjoy great food and drinks. True foodies will enjoy the creativity and love poured out in delicacies like the Voodoo Mama Juju Pizza and the Bang Bang Shrimp.
Those with a flair for regular casual food get the Appalachian Smoked Trout Dip as a starter, followed by either; their grilled chicken with beet & walnut salad, outstanding burgers with crispy, crunchy fries, fried, blackened, or parmesan-crusted Trout.
Foggy Rock's a great place to eat in Blowing Rock. Amazing food and quality craft beer. The atmosphere was cozy and quiet.
Sunny Rock Eggs and Things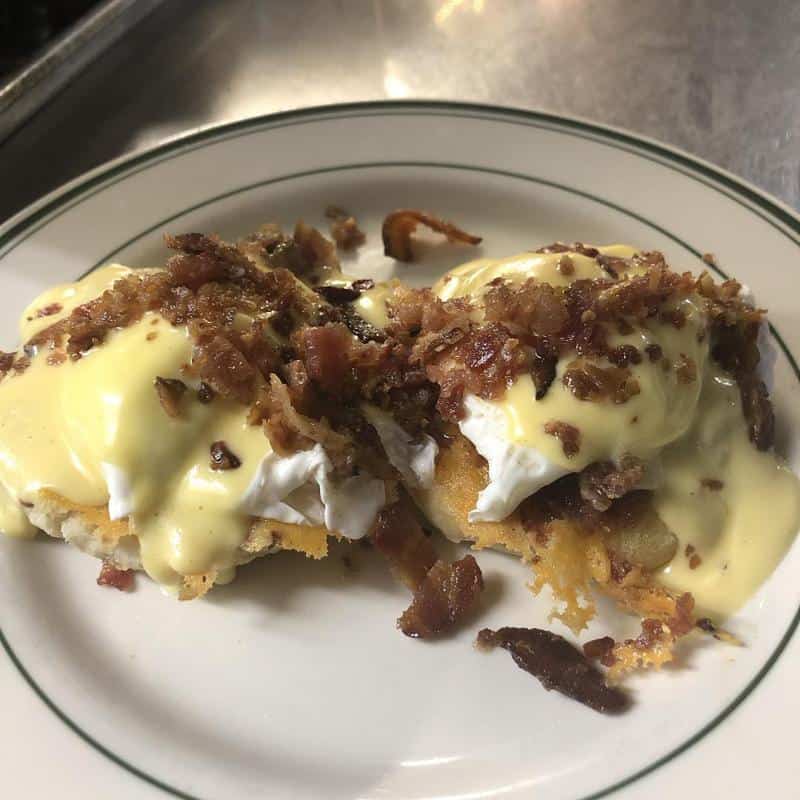 Address: 8146 Valley Blvd, Blowing Rock, NC 28605-9261
Known for: Creatively made omelets, sausage patties
Get your old-style breakfast favorites or something special. If you love eggs, particularly the eggs Benedict, this is the place to have breakfast in Blowing Rock, NC.
They excellently make whites and runny yolks. Great country-style cooking, with everything all delicious. They serve coffee in LARGE cups, the yummiest fat omelet, or The Cobblette (thin omelet) with bleu cheese, tomato, bacon, and avocado.
If you prefer a hearty meaty breaky try the delectable pork BBQ with cheese, wine BBQ sauce or their large sausage patties, biscuit, and a giant serving of hash browns. Elvis Presley is something else! It's bacon-encrusted French toast with bananas and peanut butter. Pure heaven!
They also serve you coffee as you wait in line to get in. So courteous!
Outstanding Breakfast restaurant with a mountain atmosphere, great food, and a clean environment.
Blowing Rock Ale House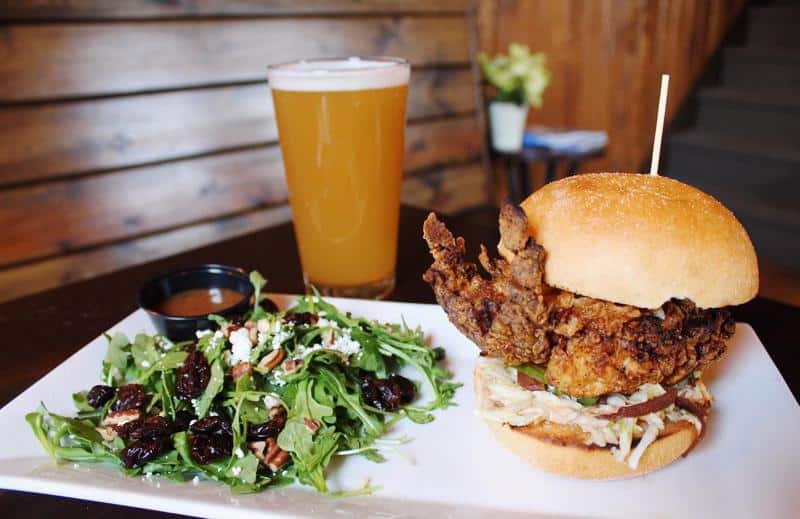 Address: 152 Sunset Dr, Blowing Rock, NC 28605-7205
Known for: Locally brewed ale, best burgers
The BR Ale House and Inn feature a microbrewery and a private 5- room inn just a block from Main Street. Enjoy all-day dining and tap beers while staying in the guest room. If not, savor their delicious burgers topped with glazy burns and dripping with an awesome tasty sauce.
Famous for its high-quality country ale, BR Ale House ale pairs incredibly well with their tasty Pretzels. Try their juicy Carolina Bison Burger, exceptional fried chicken sandwich, and chips on the side (fried potatoes).
You can try the green beans and fried cheese curds – they taste so good! Combined with humus or bison chili, these will really blow your mind! Savage good.
They serve local beers on draft and a great selection of canned beverages, including ciders. The beer flights will drive you crazy; you're going to love it!
This is the perfect spot to eat and have beers with friends if you fancy casual dining in a social environment.
Woodland's Barbeque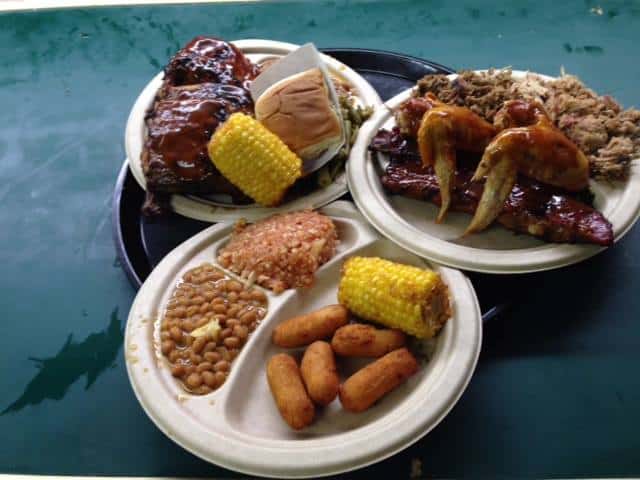 Address: 8304 Valley Blvd, Blowing Rock, NC 28605
Known for: BBQ and live music
Woodland's Barbeque is an eccentric little spot bursting with Southern BBQ and Mexican flavors. Located off the main street, guests enjoy titillating pulled pork and ribs, huge wings, and spicy hot Mexican delicacies.
With live music and amazing food, a meal at Woodland's BBQ will have you returning to this addictive spot every day. The meats are always moist and succulent, and the side dishes are fresh and delicious.
The place changed ownership, but still very good with improved service and several new exciting food items on the menu.
Try the signature dish- the "Peddling Pig," which the new owners decided to keep, which drips with flavorful pork juices – smoky and tasty – less vinegar sauce, perfect! Other sumptuous dishes include; fried Okra, and collards.
Such a nice spot for lunch and dinner, the service is awesome too.
Twigs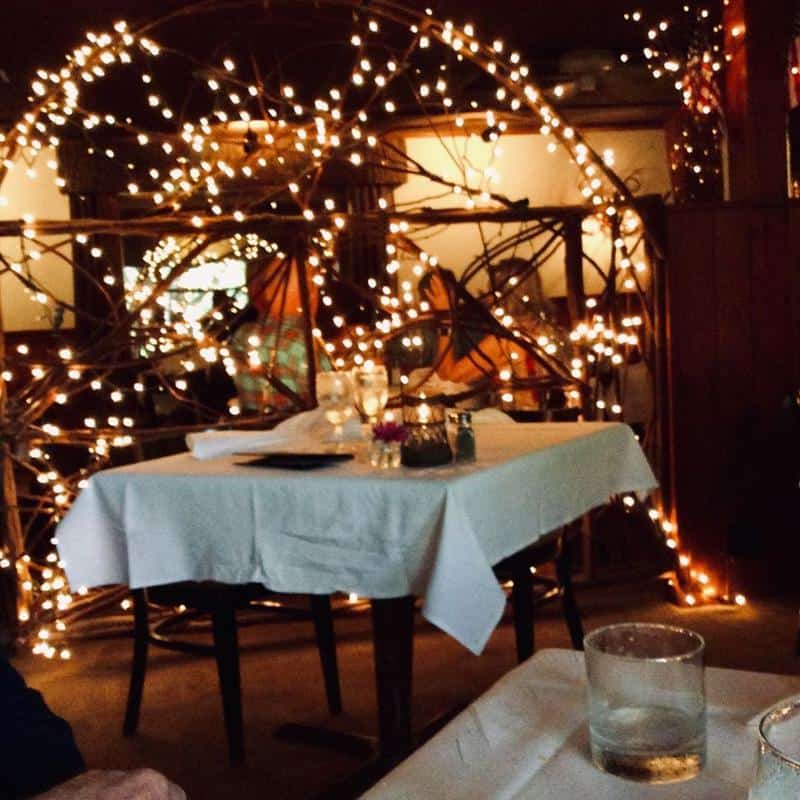 Address: 7956 Valley Blvd, Blowing Rock, NC 28605-9157
Known for: Special occasions, Romantic, best filet steaks
This restaurant's location is convenient, with plenty of on-site parking. The ambiance is warm and glows with sparkling outdoor lights, candlelit dinner tables, and a red rose on each table! A perfect setting for an intimate dinner.
The food is the best part! They serve warm bread and fresh salad as accompaniments for all meals. Let down your taste buds here and go full-blown on the shrimp, perfectly made filet steaks – medium rare, succulent with tasty sauce served with delightful mashed potatoes and sautéed spinach.
You can also go for the sumptuous lamb chops, Trout, and spectacular salmon. Overall, expect excellent service for a divine dining experience in Blowing Rock. You'll love it!
Cafe Violette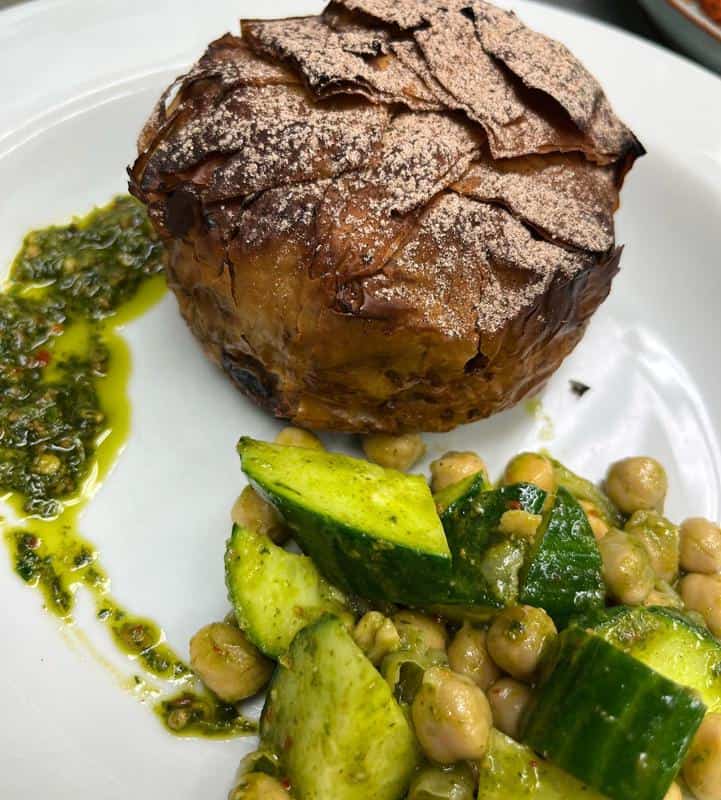 Address: 1132 Main St Suite 102, Blowing Rock, NC 28605-6179
Known for: Seafood, French cuisines
This charming little restaurant and bar on Main Street in downtown Blocking Rock is a must-visit. They are open for dinner all week except Sunday, Monday and Tuesday.
The interior atmosphere has beautiful soft colors of cream and bold red painting on the wall. The chairs have varied shades of blue, some patterned and some plain – giving them a lovely appearance.
Outdoor sitting is available but not for large parties. It's ideal for an intimate meal, and you will no doubt enjoy a quiet evening at this spot. On chilly nights, they provide portable heaters to keep you warm and cozy.
The menu has exciting choices, ranging from beautiful starters; to hummus or the Moules au Pastis. Mains include seafood; yummy oysters with blackberries to palatable steaks; the High-Country strip steak with mushrooms, Duck breast, served with sunchokes among others.
For dessert, you can try the sweet chocolate tart or cheesecake and a glass of pinot noir wine or cocktail.
The Cafe Violette menu changes seasonally as the local chef likes to prepare meals with fresh seasonal ingredients sourced from the local farmer's market.
Read More:
Final Thoughts
Hope these amazing restaurants give you a head start on where to eat while visiting Blowing Rock. Most of them are hurdled up on Main Street so you can easily find your way as you tour the town. Let us know your experience with either one/ or multiple restaurants in the comments section.
Map of Best Restaurants in Blowing Rock NC