Boston is booming with some of the hottest restaurants Massachusetts has to offer, from trendy venues to cute Instagram-worthy locations.
There is a little bit for everyone, whether you are looking for the best upcoming restaurant, a great diner with skyline views, or a unique restaurant with special meals you won't find anywhere.
This list of the most fun and must-visit restaurants in Boston combines all the best the region offers, including hidden gems and upscale venues.
Get to know which Michelin Starred chefs have booming restaurants in Boston and where you can go to have bottomless all-you-can-eat brunches during the weekend.
Fun Restaurants in Boston
The Saltie Girl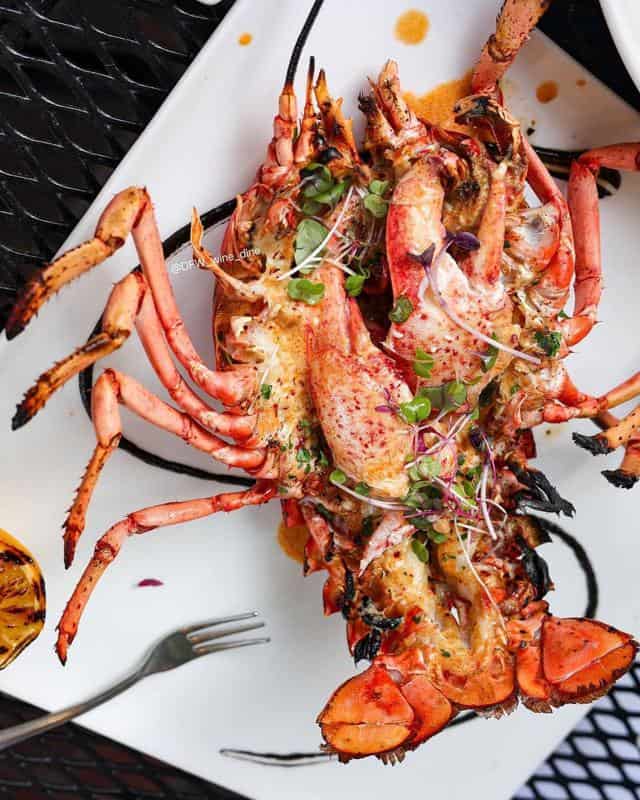 Address: 279 Dartmouth Street, Boston, MA 02116
Atmosphere: Loud and always packed
Known for: Best seafood in Boston
Located in Back Bay, the Saltie Girl serves all seafood goodies from lobster rolls to shellfish platters, fried clams, caviar, tinned fish, and a raw bar.
It is a fun restaurant due to its innovative dishes from Executive chef Kyle McClelland. Whimsical creations by the chef include classic New England dishes, raw & Crudo options, and fried coastal dishes.
I recommend you try the Boston famous clam chowder and King Salmon Crudo with a blend of pistachios, jalapeno, and apple.
The innovative Saltie Girl Burger is a great option but beware, it is not a burger per se but an assortment of pork belly, fried lobster, and avocado alongside veggies stuffed with a bun and beef patty.
Lookout Rooftop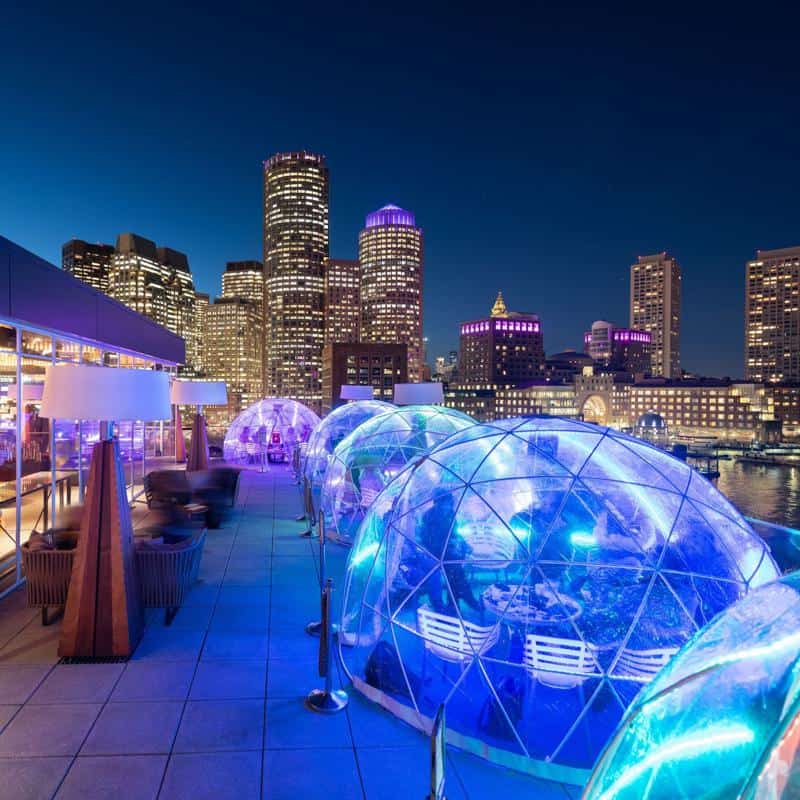 Address: 70 Sleeper Street, Boston, MA 02210
Atmosphere: Airy, comfy, and romantic
Known for: Great panoramic skyline and harbor views
Lookout Rooftop is the most fun rooftop dining destination in Boston, with its great views of the skyline and Boston harbor.
Named as one of the best rooftop bars in America by U.S. News and Departures Magazines, the Lookout Rooftop is located in Envoy Hotel, where it serves as a nightlife destination in Boston.
This premier outdoor destination is a favorite among the locals due to its plush décor and serene atmosphere. It is a loud and club-like atmosphere at night but becomes a relaxed venue for lunches and brunches.
It is a strictly casual and classy destination where you can't enter with sweatpants, sleeveless shirts, or baseball hats.
Contessa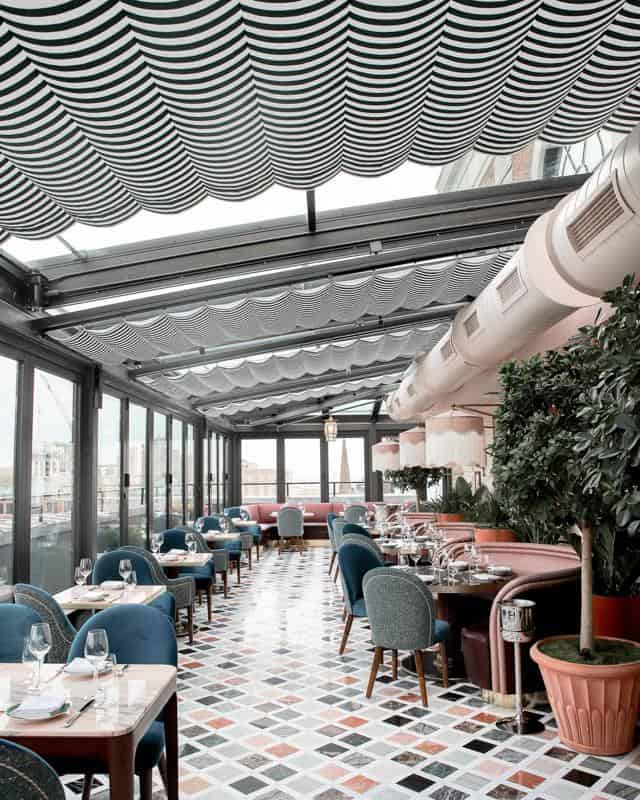 Address: 3 Newbury Street, Boston, MA 02116
Atmosphere: Airy, high-end, and breathtaking
Known for: Great views of Boston and elegant Northern Italy dishes
Contessa is another rooftop dining venue in Boston that offers impeccable views of the Boston Public Garden and Back Bay.
Ken Fulk is this restaurant's lead designer, bringing a mixture of Italian and American heritage to create a Northern Italy-reminiscent restaurant. The décor is natural and unpretentious, with the terrace being the show's star.
Major Food Group is the restaurant owner and operator, ensuring guests get the best of the classic trattoria dishes that Contessa is known for. Fan-favorite dishes include the salumi. Negroni and fresh kinds of pasta dishes.
Ramsay's Kitchen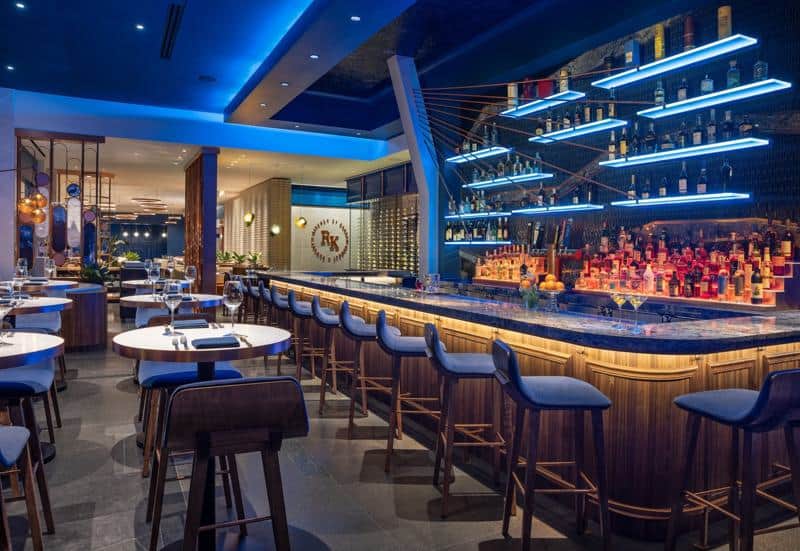 Address: 774 Boylston Street, Boston, MA 02199
Atmosphere: Upscale
Known for: Ramsay's Beef Wellington
Ramsay's Kitchen is the latest Boston restaurant under Chef Gordon Ramsay's name. The plush destination is always packed with bookings being made a month or more in advance for either lunch or dinner.
The Michelin Starred chef opened the restaurant inside the Mandarin Oriental in early 2022 in a bright and airy venue with white furniture and shelves of his books.
It is a fun restaurant that brings the chef's whimsical and highly beloved Beef Wellington. The menu is filled with local items, from Bouillabaisse to special twists on local dishes.
The perfect combination of hand-crafted cocktails complements the extensive wine list. I recommend the Beef Wellington and Jumbo lump crab cake if you are stuck on what to have.
Also Read: Gordon Ramsay Restaurants in Las Vegas
Citrus & Salt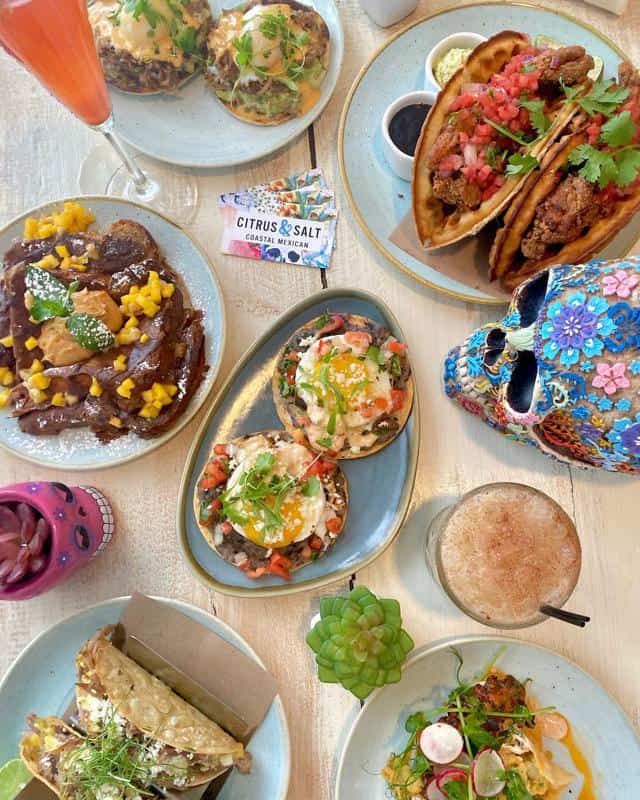 Address: 142 Berkeley Street, Boston, MA 02116
Atmosphere: fun and bright
Known for: Instagrammable foods and drinks
How the food and drinks are presented makes Citrus & Salt fun and unique. This coastal Mexican restaurant & tequila bar is beloved by the locals because of its beautifully decorated environment and thematic settings, including Day of the Dead murals and memorabilia.
It is a fun and bright restaurant with a vast assortment of mezcal and tequila.
Main dishes include selections of tacos like the beer-battered fish tacos with Salsa Fresca and the pulled pork carnitas crunchy tacos with jalapeno honey-mustard and lime cabbage slaw.
Have a taste of the shareable dishes like the grilled street corn and golden beef poke tostada.
Bootleg Special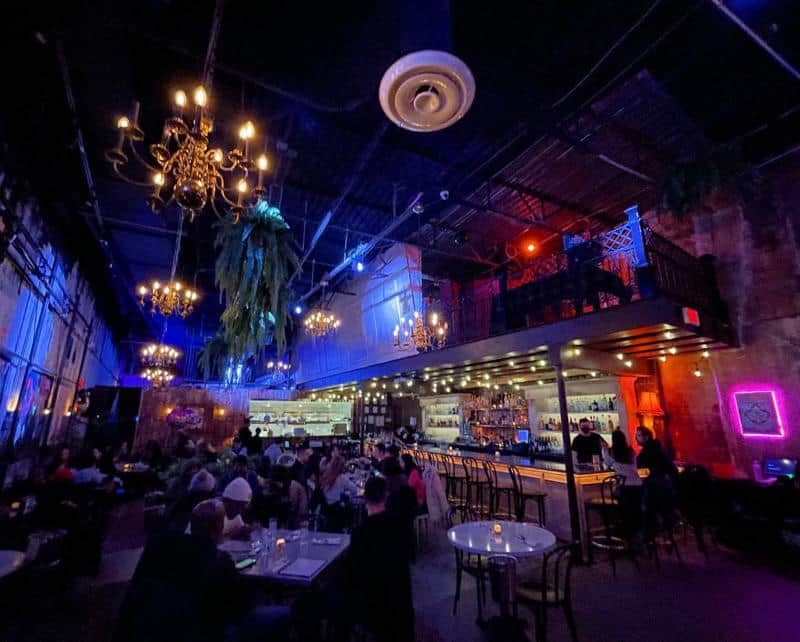 Address: 400 Tremont Street, Boston, MA
Atmosphere: Beautiful, loud, and eclectic
Known for: Stunning décor and $1 oysters all day on Thursdays
Another Instagrammable gem in Boston. The stunning views of this fancy restaurant offer elegant and modern French-style décor. It is an inner-city speakeasy with rich attention to eclectic dining and a plush lifestyle.
The quintessential destination serves New American dishes that blend both Southern and Asian flavors to make up the fresh seafood menu.
Bootleg Special offers a unique Boston dining experience in a serene environment filled with unique meals like the special oysters.
Feast on the $1 oysters on Thursdays while listening to the live music from the onstage D.J.s. Another unique part of the restaurant is that the bathrooms are single stalls and gender-neutral.
Tiki Rock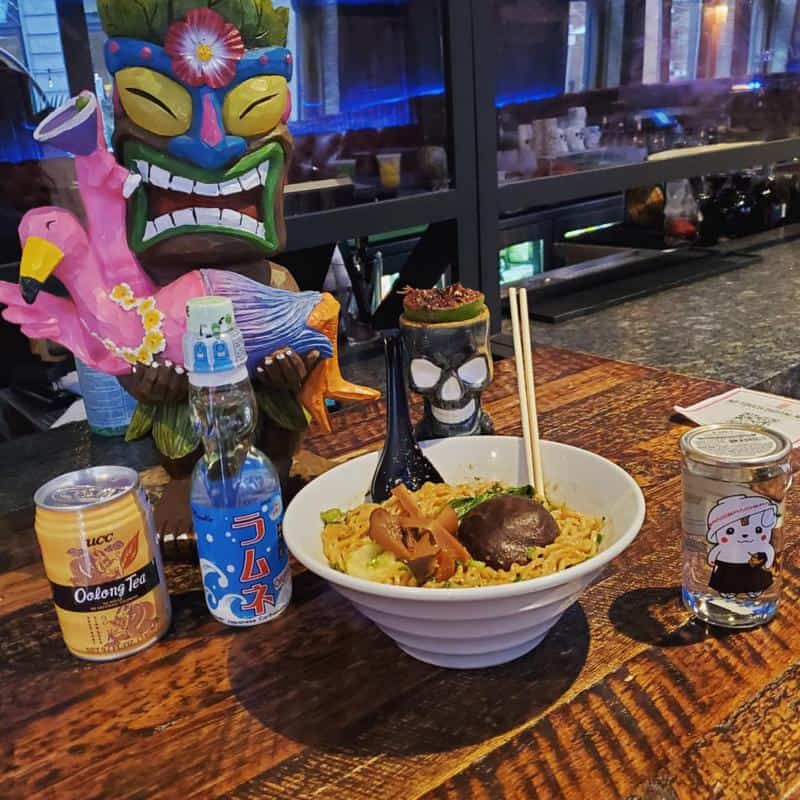 Address: 2 Broad Street, Boston, MA 02109
Atmosphere: Upbeat and high energy
Known for: Tiki cocktails
Tiki Rock ranks as one of the Very Best Restaurants in Boston right now, according to Thrillist. The restaurant is next to Bostonia Public House and just a few minutes from the New England Aquarium.
Decorated with inviting island décor, Tiki Rock offers indoor dining and patio seating where you can enjoy their unique Polynesian-inspired foods.
Fan-favorite dishes include coconut shrimp, poke bowls and crab Rangoon. Well-crafted tiki cocktails are the order of the night. The flavorful cocktails are presented in quirky and whimsical designs to create a modern twist vibe to traditional 1930s Tiki Bars.
Fire + Ice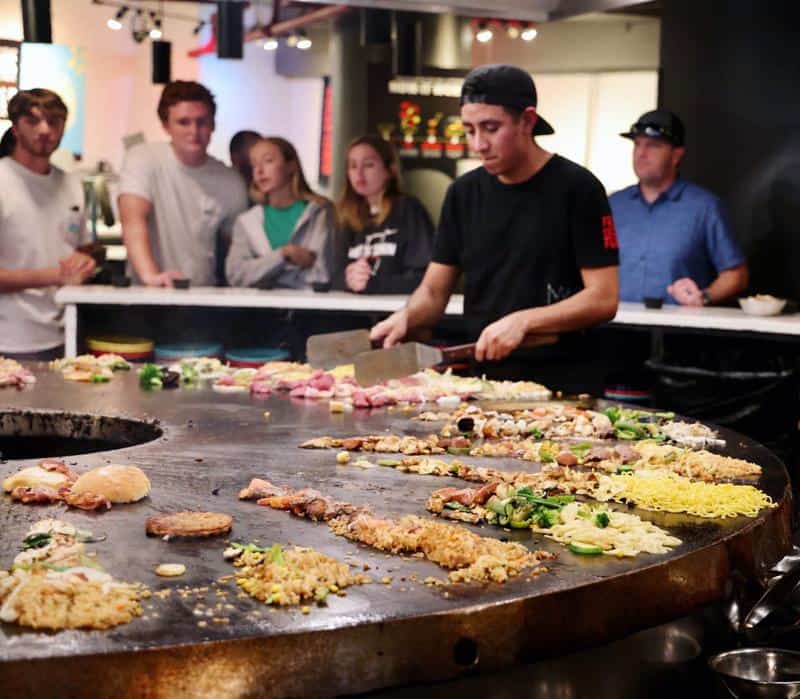 Address: 205 Berkeley Street, Boston, MA
Atmosphere: Social with excellent service
Known for: Endless all-you-can-eat breakfast meals on Saturday and Sunday mornings
Fire + Ice is the perfect destination for significant group events, from bachelor/bachelorette parties to school group events, birthdays, and any event for more than 20 people.
The restaurant is known for its Mongolian B.B.Q. Style entails guests having a pick of several types of meat, veggies, and seafood which are then put into a bowl.
The bowl is then sent to the grill section, where the chefs prepare you a personalized meal based on the choices.
There are plenty of options, and you can tell the chefs how to prepare the dish to your liking. If that wasn't enough, Fire + Ice offers $3 mimosa during the weekend brunches.
Burro Bar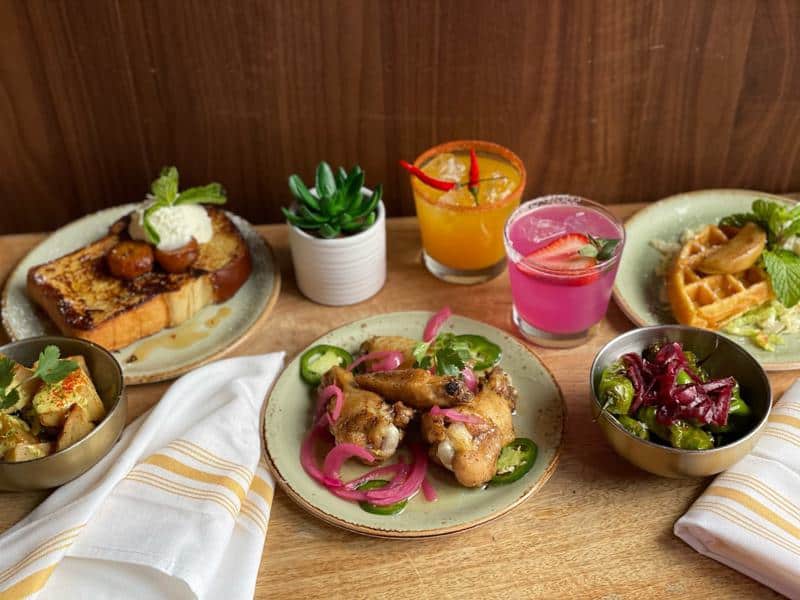 Address: 1357 Washington Street, Boston, MA 02118
Atmosphere: Laid back and fun
Known for: $25 all-you-can-eat bottomless brunch
Burro Bar at South End brings Boston bottomless brunch where you can have endless tapas-style dishes, including fan favorites like the morning tacos, papas bravas, huevos rancheros, and benedicts. The Mexican Kitchen also serves as a tequila bar with over 100 tequila bottles that make up the six types of cocktails.
Burro bar is a great place to be with friends with enticing deals like the pitchers that serve two to four people.
Try the de la casa margarita 64 oz. Pitcher for $45 or the beloved red sangria, mango, or strawberry pitchers. Try the blackened swordfish that comes with avocado plus jalapeno puree alongside frisée radish salad.
Estragon Tapas Bar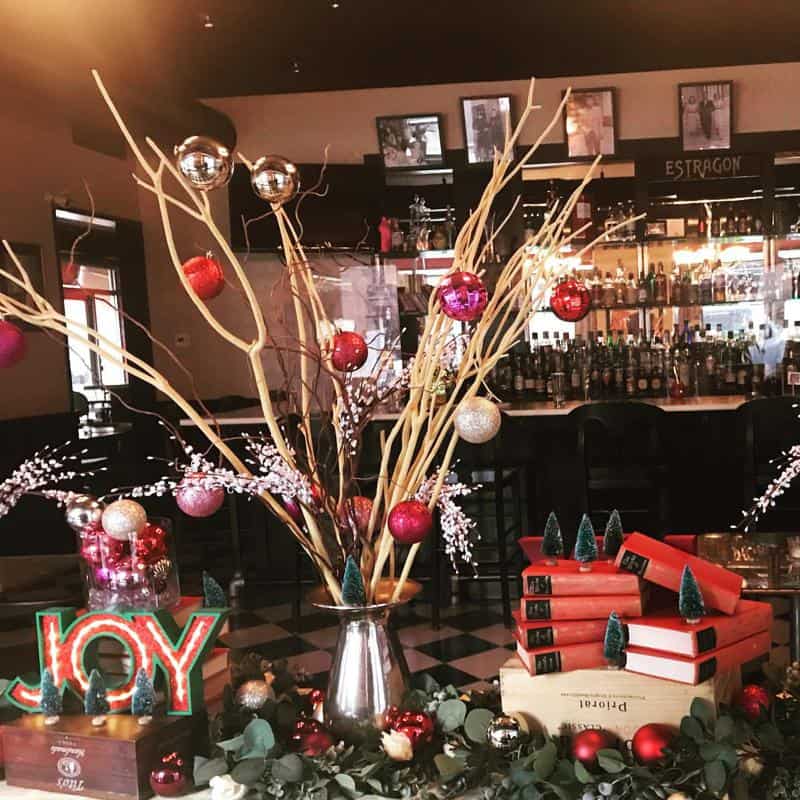 Address: 700 Harrison Avenue, Boston, MA 02118
Atmosphere: Cute, art deco with a blend of retro and great service
Known for: authentic Spanish tapas
Estragon Tapas Bar is the place to be for a fun, unique, authentic Spanish tapas experience in Boston. Julie de Haro, the only native Spanish chef in Boston, is the owner of Estragon, where he brings his traditional Spanish fare made from local fresh ingredients.
Hand-crafted cocktails greatly complement the flavorful dishes from the pulpit a la Parilla to the piquillos Rellenos, patatas bravas, and croquetas.
Estragon Tapas Bar has served Boston since 2008 with a sizeable collection of original and creative cocktails. The wine list comprises all Spanish wines sourced from the best wine regions of Spain.
Visit the venue to have a meal in the main dining room or relax in the lounge area. You may also book a private event area with a dining room and secluded space.
Dona Habana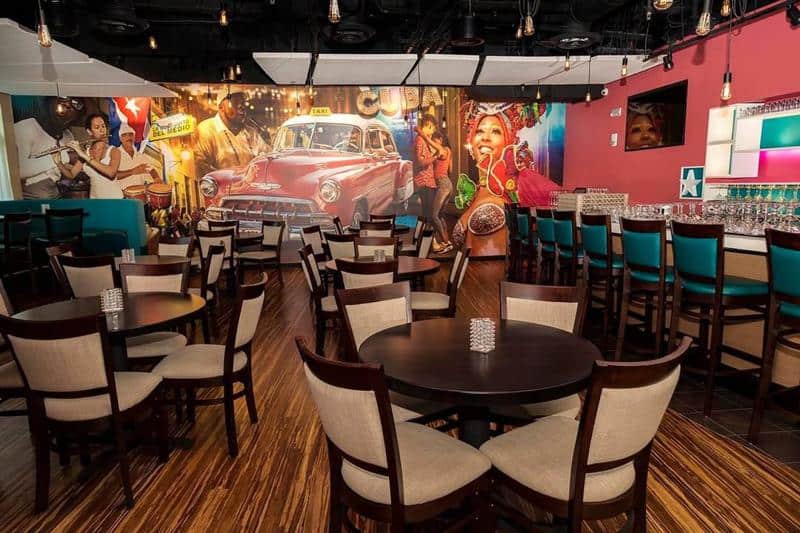 Address: 11 Melnea Cass Boulevard, Boston, MA 02119
Atmosphere: Inviting and casual
Known for: Cuban-style foods
Dona Habana is an authentic Cuban restaurant that celebrates the role of women in Cuban culture. It is named after a character in the Cuban santeria dressed in red attire, sometimes white, and has a red flower in her hair.
The restaurant aims to promote the role of women in Cuba and the Cuban culture as a whole through their unique Cuban dishes infused with a bit of African, Caribbean, Spanish, and Taino dishes.
I recommend you visit Dona Habana with your friends for a more fun experience. Try the Cuban-style slow-roasted pork accompanied by plantains, cassava, and rice.
Lolita Cocina & Tequila Bar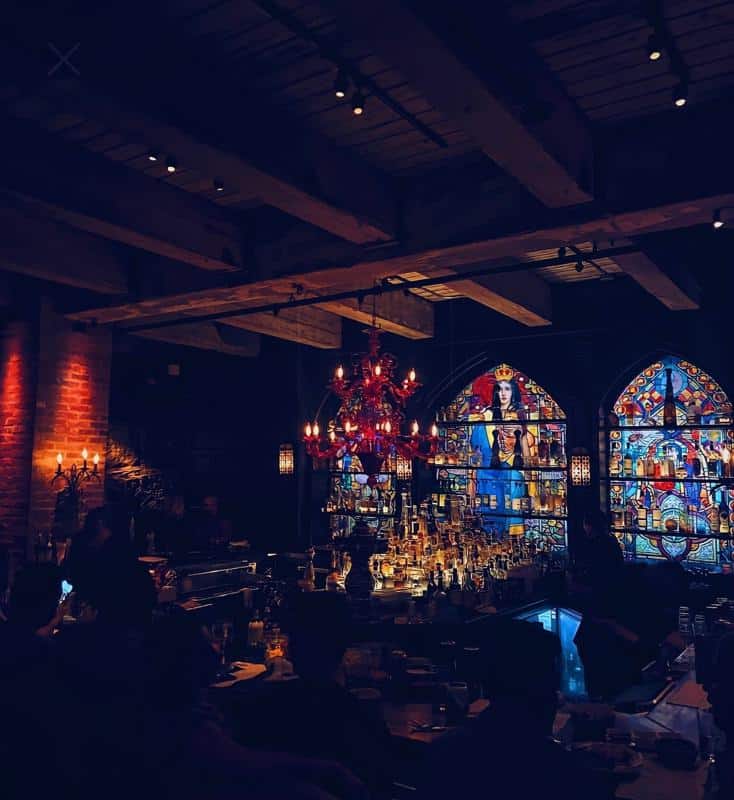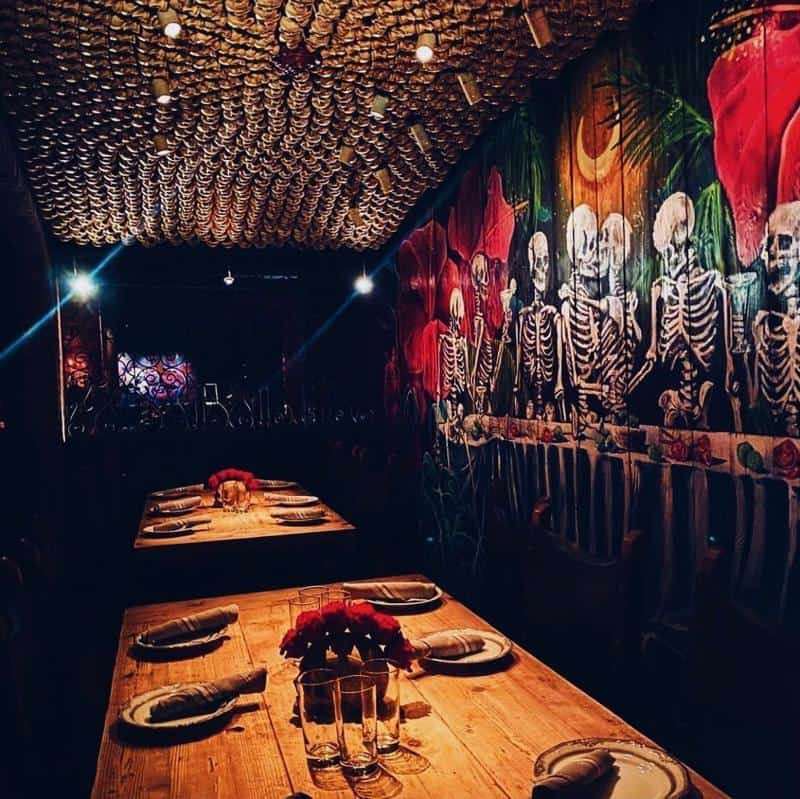 Address: 253 Summer Street, Boston, MA
Atmosphere: Gothic, charming, and seductive
Known for: Mexican-inspired eats in an art décor environment.
Lolita Mexicana is a big venue that can host more than 300 guests in its personalized group dining package.
The seductive charm of the fancy restaurant is perfect for significant events, celebrations, parties, and corporate events.
It is fun and unique based on its Gothic design and an outdoor patio that ventures you into an upscale dining experience filled with Mexican dishes like the crispy cauliflower tacos.
O Ya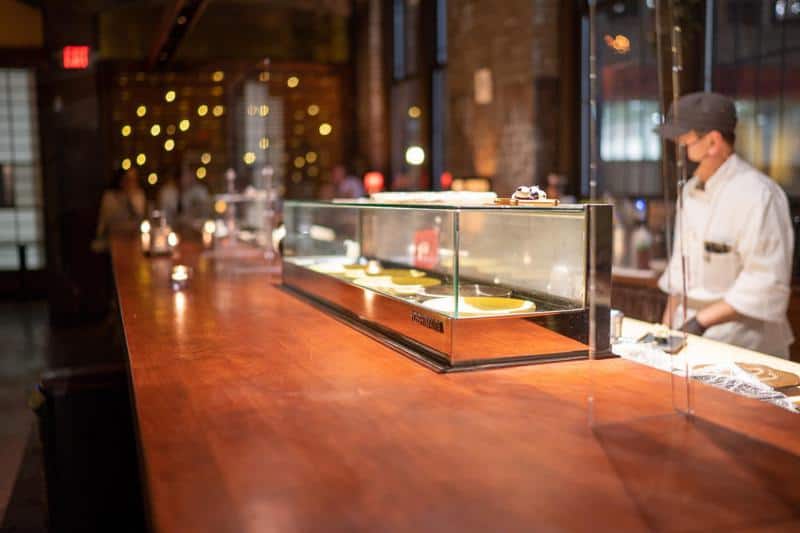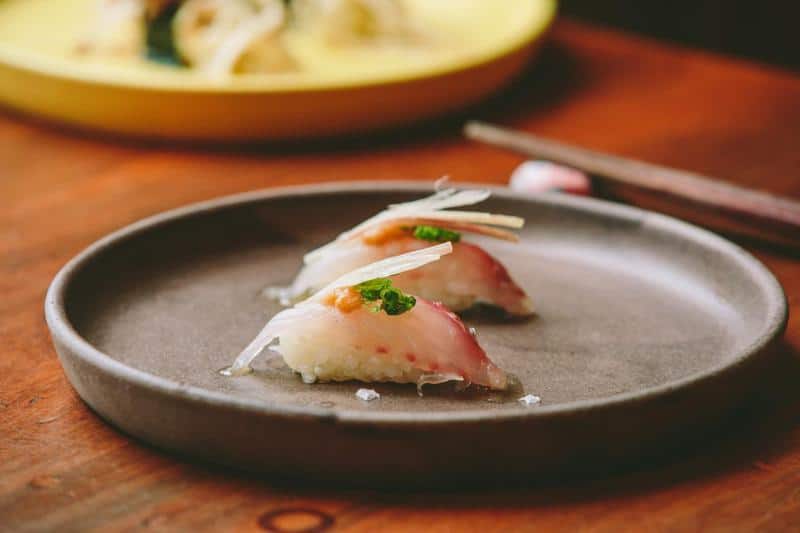 Address: 9 East Street, Boston, MA 02111
Atmosphere: Luxurious and world-class service
Known for: 20 courses omakase
O Ya is an Omakase Japanese restaurant that is a bit tiny but very popular. Moreover, you should try your best not to get tempted by its offerings if you want to save a buck or two. Dining at O Ya will set you back at least $250 for the best experience.
The must-try omakase meal for $250 comprises 20 courses with various cooked dishes, sashimi, and nigiri. Seasonal supplemental dishes are also included, and you can add $150 for beverage pairings.
This unique offering is one you won't find anywhere else in Boston, and in case you reserve and choose to cancel, it is advisable you do it 24 hours prior as you will be otherwise deducted $100.
Shaking Crab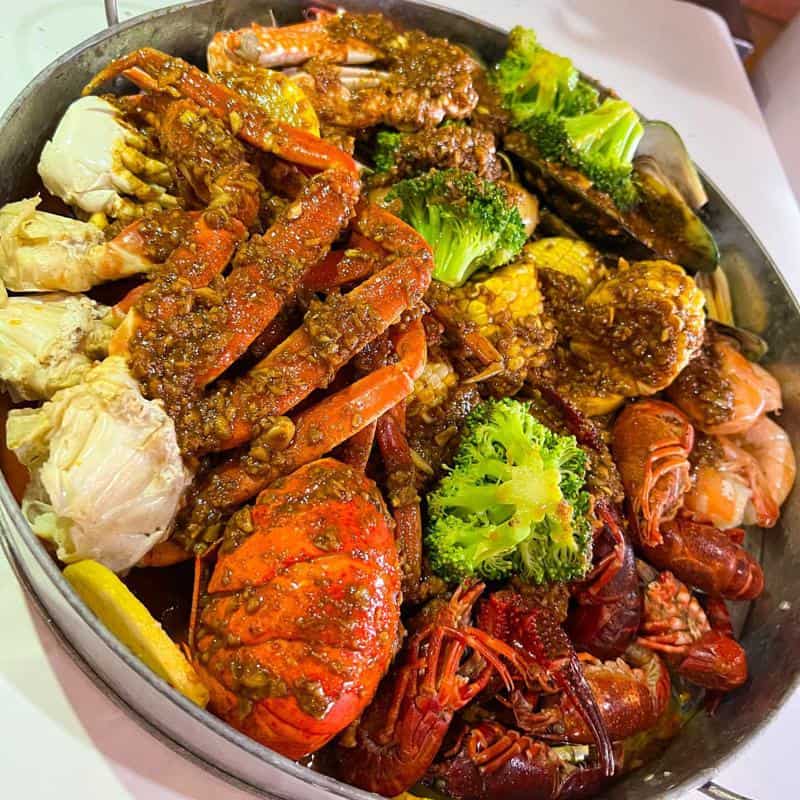 Address: 140 Boylston Street, Boston, MA 02116
Atmosphere: casual and usually filled
Known for: bags of seafood shaken in signature spices.
Shaking Crab is a fun place to eat, and a must-visit for their signature crab boils. Shaking Crab started off as a joke among two friends, Kevin and Nick, who were fans of experimenting.
In 2015, the friends turned their love of various mixtures of flavors into a booming restaurant in the heart of Boston. The menu is divided into the shaking and regular menus with assortments of sides and sandwiches.
The shaking menu is where the goodies lie; the food comes in plastic bags with several cuisines from meats to crabs, lobster, fish, and veggies, and all topped off with spices and other toppings.
Plastic gloves are handed to the guests, so they don't get their hands greasy while ravaging through the delicious bag of treats.
Lenox Sophia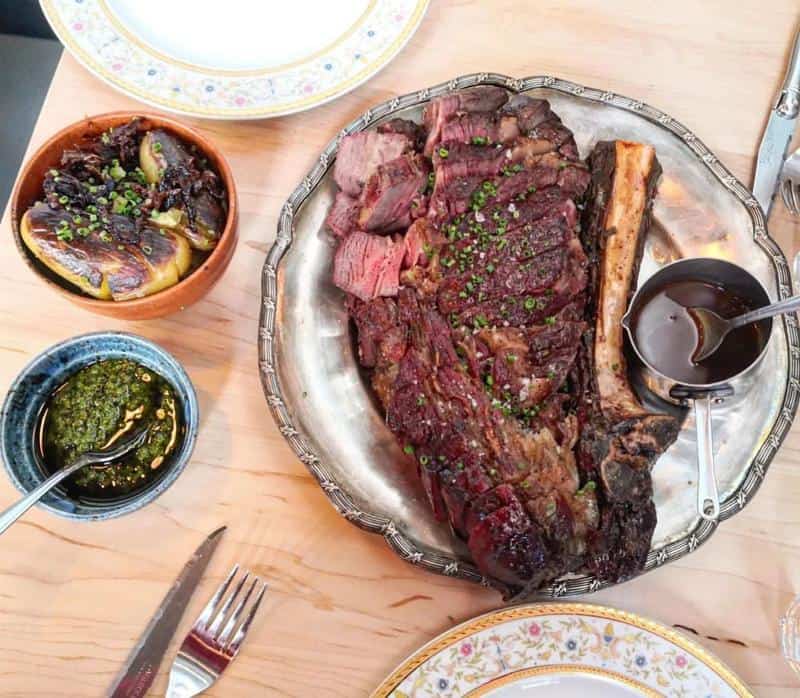 Address: 87 A Street, Boston, MA 02127
Atmosphere: Intimate and lively
Known for: Y.O.B. offers and five-course prix-fixe menu
Did you know you can Lenox Sophia in Boston allows you to bring your beverage? The recent development in the venue has seen the introduction of B.Y.O.B., where patrons are allowed to enter the restaurant with a choice of wine or malt beverages.
However, as you may have suspected, there is a catch, you can only enter with malt drinks in containers less than 64 oz. and not more than 64 oz. Per person. You also can't bring other alcoholic beverages like liqueurs, cordials, or spirits.
Despite the restriction, Lenox Sophia offers a unique, intimate small space dining scene with their unique five-course prix-fixe menu that costs $98 per seat.
Get to enjoy the tantalizing dishes from the vegetarian options, including chickpea Panisse (zucchini, romesco, and ramp vinaigrette) to the omnivore dishes like the King Trumpet and dry-aged Rohan duck.
Also Read:
Final Thoughts
For more engaging and fun-filled dining experiences in Boston, feel free to check the next best contenders, including Eataly, Liuyishou hot pot, Saus, Sweet Cheeks, and The Clink.