As one of the most popular attractions of the city, San Antonio Riverwalk gets a lot of tourists around the year. The river offers a myriad of activities to indulge in, but the best one so far is the line of restaurants you'll find here with wonderful views.
However, as with all top attractions, there are many mediocre spots to lure tourists and trap them. We are here to highlight the cream of the crop and help you dine in the best restaurants on San Antonio Riverwalk. Enjoy our top picks and satiate your cravings without any regrets.
Best Overall Riverwalk Restaurant: Biga on the Banks
Best Romantic Riverwalk Restaurant: Supper
Best Riverwalk Restaurant with Cruise: Casa Rio
Best Affordable Riverwalk Restaurant: Schilo's
Best San Antonio Riverwalk Restaurants
Biga on the Banks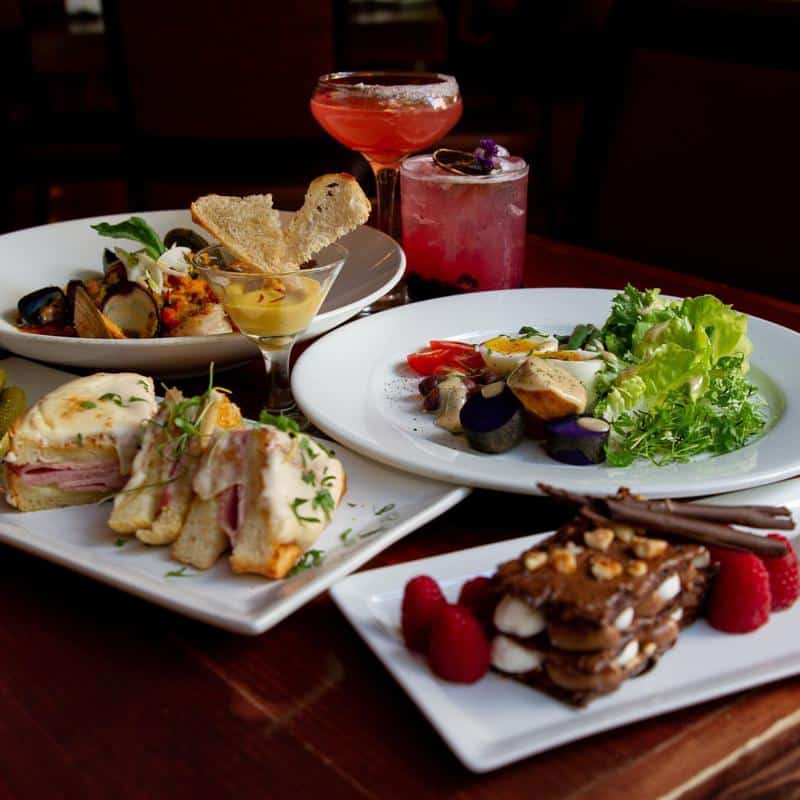 Location: 203 S St Mary's St, San Antonio, TX 78205
Say hello to the 11-time nominee of the James Beard Foundation for 'Bets Chef Southwest' – Bruce Auden, who also happens to be the owner and executive chef of Biga on the Banks.
The quaint and lavish restaurant is one of the first fine dining spots downtown. It is situated within the International Centre on the 1st floor and offers beautiful views of the river with divine New American cuisine.
The chef pays special attention to the menu, crafting unique concoctions while incorporating seasonal delights to bring something truly unique to the table. While the menu keeps changing, the quality and taste are never compromised so that you can always expect to find the best.
We love the restaurant for its simplicity and class, giving you the best of the Riverwalk and American cuisines.
Highlights
Heavenly New American cuisine and seasonal delights.
Stunning views of Riverwalk.
Fine dining experience.
Supper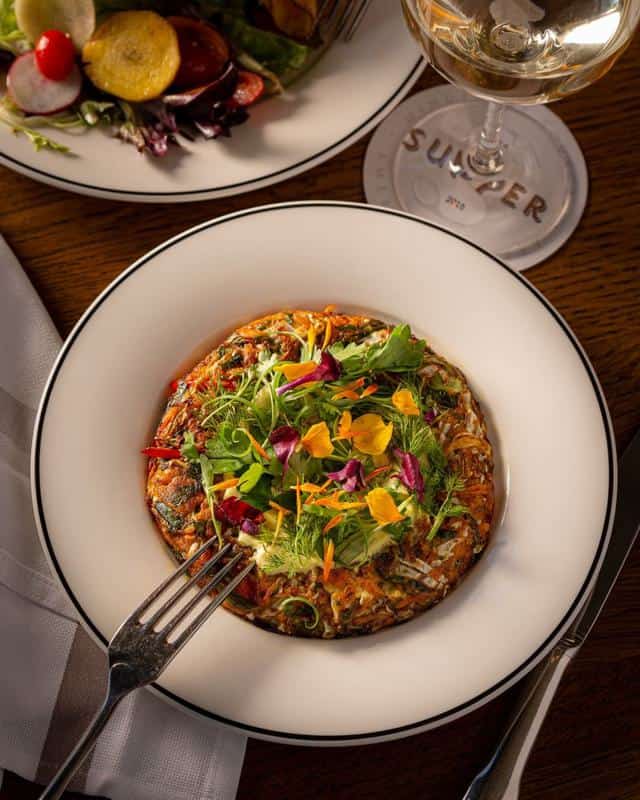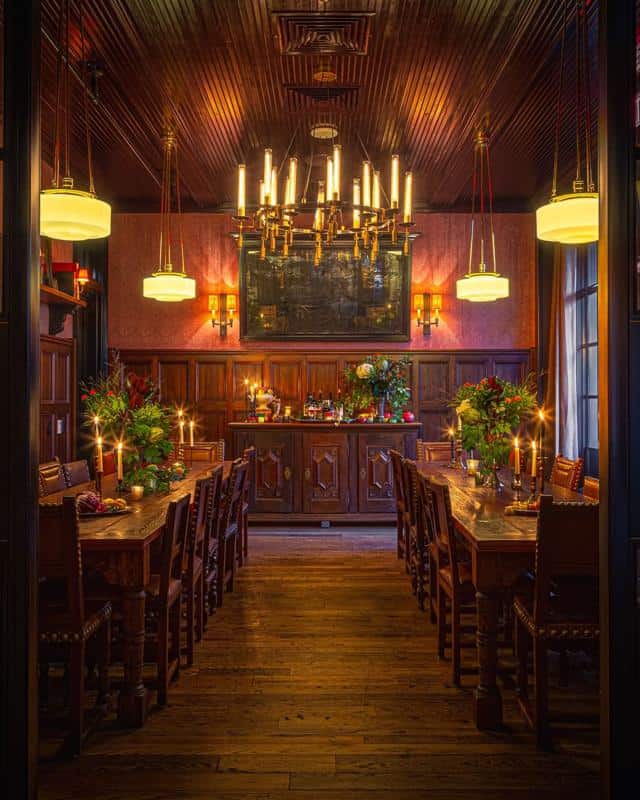 Location: 136 E Grayson St, San Antonio, TX 78215
If you are looking for a quieter spot away from the crowd while still enjoying everything the Riverwalk has to offer, head down to Supper.
Offering an unmatched fine dining experience in San Antonio Riverwalk, the restaurant is tucked in the historic Hotel Emma in the Pearl District. It opens up to a truly stunning view of the river and can be reached by taking a river taxi from downtown.
The upscale fine dining farm-to-table restaurant serves authentic American cuisines with simple and comforting flavors by Chef John Brand. A lot of locally sourced and seasonal ingredients are used with a special focus on vegetarian varieties.
However, you will find a good range of hearty proteins like the charming Duck Confit with a side of cocktails. Enjoy your meal on the outdoor patio for views and sounds of the babbling river in an intimate setting perfect for date night.
Highlights
Lovely views along the northern extension of the river walk.
Authentic locally sourced American cuisine.
Intimate outdoor patio ideal for romantic dates.
Casa Rio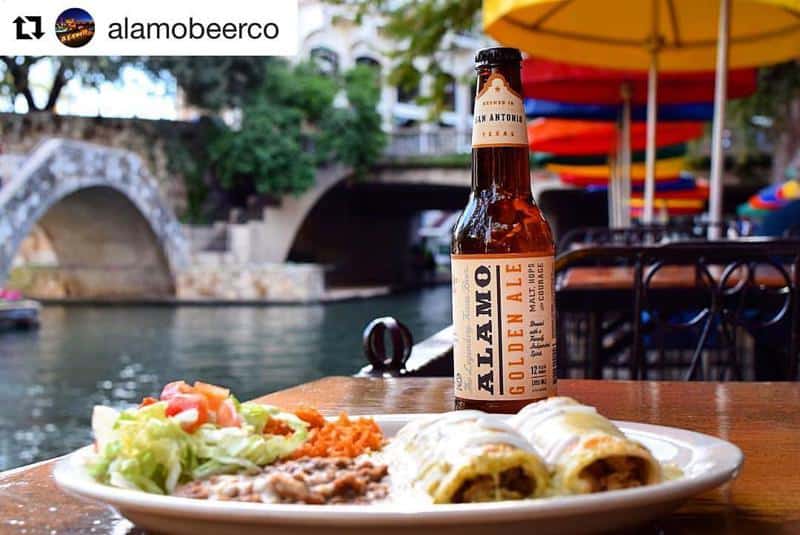 Location: 430 E Commerce St, San Antonio, TX 78205, United States
As one of the oldest Riverwalk restaurants, Casa Rio upholds a standard only a few can match. Serving its loyal customers since 1946, the restaurant has stood through a lot and still holds the same charisma and allure. The iconic restaurant is also one of the most Instagram-worthy spots along the Riverwalk.
Colorful umbrellas and a fun-filled ambiance welcome you to try their traditional Tex-Mex dishes with a serving of the river itself. Indulge in authentic Mexican cuisine with delicious burritos, enchiladas, and tacos. They also have a lively Mariachi band that can play your special requests.
Another great thing about Casa Rio is their lunch cruises, taking you along the scenic routes as you enjoy food and drinks.
Highlights
Charming Mexican restaurant on the river walk.
Oldest restaurant with iconic signs and a picturesque setting.
Lunch cruises.
Mariachi band performances.
Schilo's Delicatessan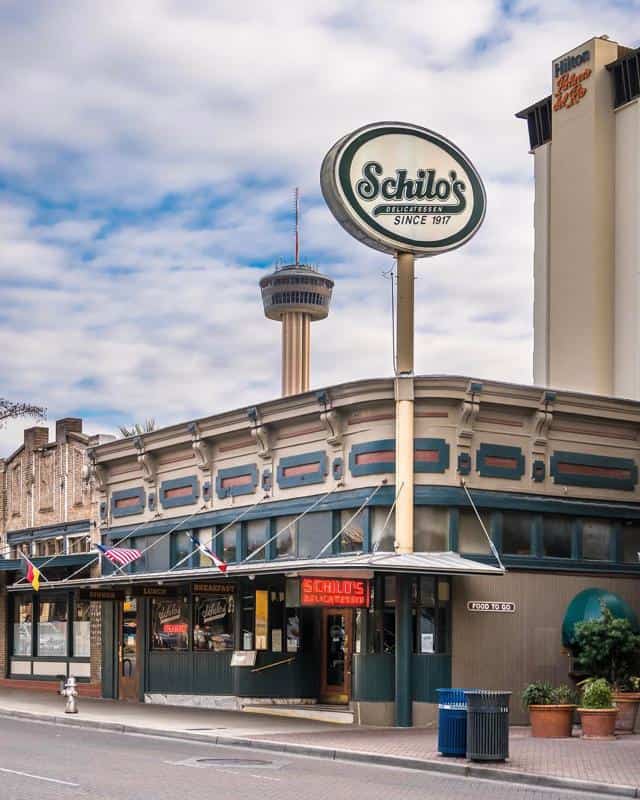 Location: 424 E Commerce St, San Antonio, TX 78205
Owned by the same family who runs Casa Rio, Schilo's is also one of the oldest restaurants on Riverwalk and loved by locals and tourists alike. The street level gives access to their regal dining room area with a hearty yet light menu that's ideal for grabbing a quick bite.
It is also one of the more budget-friendly options on the Riverwalk. The menu takes inspiration from German cuisine and gives it a Texan twist.
People stop by for a quick lunch and relish the rich and delicious split pea soup. The classic meatloaf sells out like hot cakes and one can't so no to an indulgent Reuben sandwich either.
They are open for breakfast with the aroma of freshly baked bread, biscuits, and cinnamon rolls filling up the air (and our senses).
Try their homemade Schilo's family root beer with your order. It is said to be legendary!
Highlights
Affordable and filling breakfast and lunch.
German-Texan fusion meals.
Homemade family root beer.
Boudros on the Riverwalk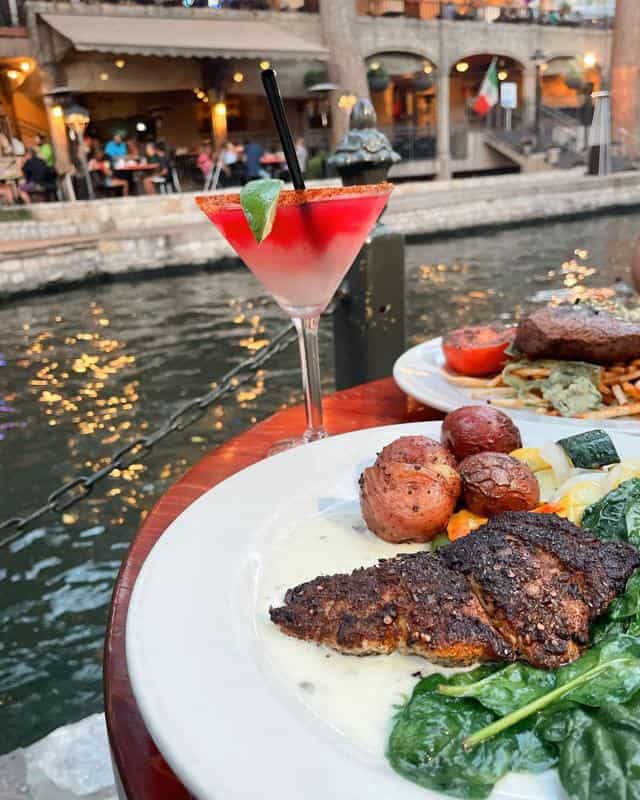 Location: On The Riverwalk Level, 421 E Commerce St, San Antonio, TX 78205
Enjoying a prime location in the downtown Riverwalk area, Boudros serves Mexican cuisines with breathtaking views of the river.
The refreshingly breezy outdoor area allows you to indulge in your surroundings while enjoying great food. They also have cozy and intimate indoor seating for a more private affair.
Lunches are usually not that busy but dinners require a reservation. Also, we highly recommend reserving a table right beside the amazing river views to make the most out of your visit.
As it is a Mexican restaurant, you simply can't pass on the loaded nachos and table-side guacamole made fresh on the table. Their seafood platters are a game changer, but the wood-grilled steaks are an ideal choice for fellow carnivores.
Pair your food with chilled margaritas available in exciting varieties like serrano chile or prickly pear tequila.
Highlights
Wonderful views of the river.
Delicious Mexican cuisine.
Good variety of margarita.
Bier Garten Riverwalk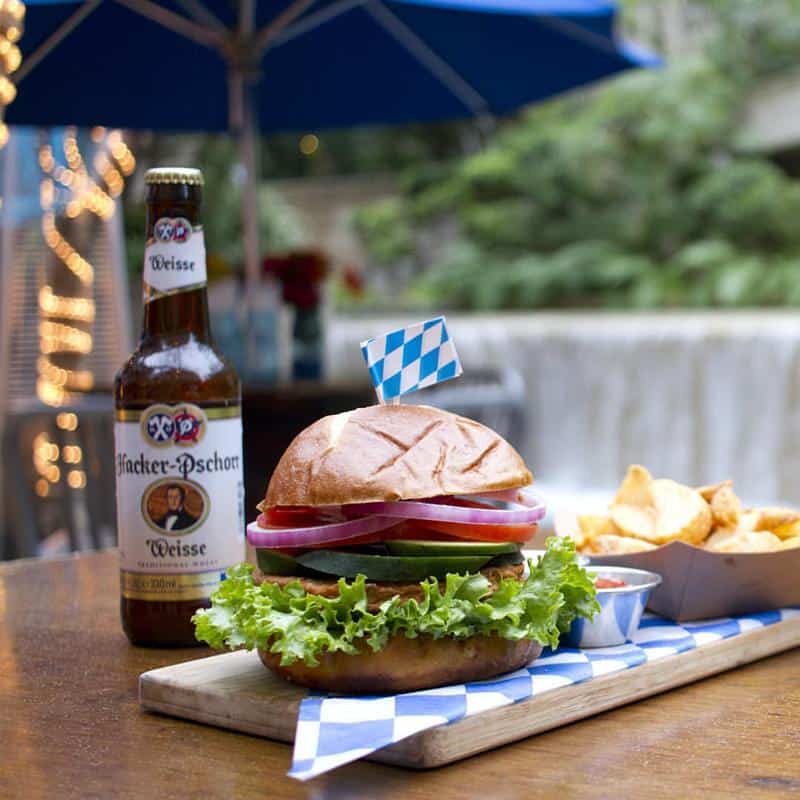 Location: 126 Losoya St, San Antonio, TX 78205
Paying homage to the colorful German heritage, Bier Garten Riverwalk celebrates German cuisine in all its glory while also giving you a taste of German hospitality.
Shaded by the might live oak trees native to the area, locals and tourists are invited to indulge in traditional Bavarian fare. The outdoor seating area is beautified with multi-hued foliage, umbrellas, and waterfalls with the sounds of the trickling river.
From a variety of pretzels to sausages and kraut all served with a side of chilled beer, you will leave fully satiated.
Bier Garten has one of the largest selections of craft and imported beer on Riverwalk so if you are looking to get a little tipsy with views of the river; this is the perfect spot for you. We love the festive vibes and exciting Oktoberfest experience.
Highlights
Traditional Bavarian cuisine.
Largest variety of imported and craft beer in the area.
Beautiful outdoor seating.
The Esquire Tavern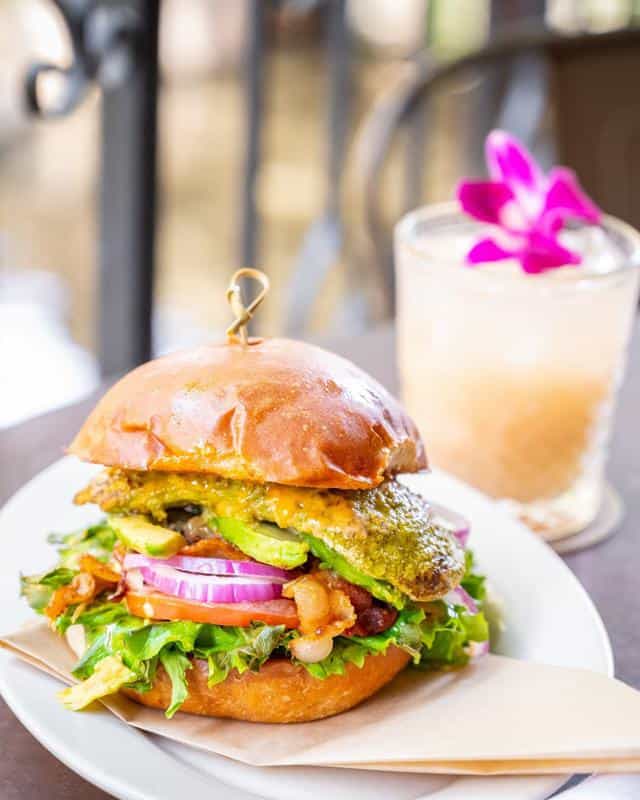 Location: 155 E Commerce St, San Antonio, TX 78205
The rustic and charming beauty of The Esquire Tavern holds a special place along the Riverwalk. It is the oldest bar in the area running strong since 1933 and is also known as the longest wooden bar in Texas.
People love to visit the Esquire Tavern for its cozy and relaxed ambiance with hearty pub food and a lot of delicious cocktails.
You have to try one of their chilled beers or you are missing out big time! The 100-foot-long bar awaits your welcome to get a little tipsy while enjoying the wondrous beauty of Riverwalk.
Paired with lightly grilled cheese or deviled eggs with homemade chips, you will instantly feel at home here.
Highlights
Friendly pub serving snacks and drinks.
Longest wooden bar in Texas.
Rustic setting with a large variety of cocktails.
Tre Trattoria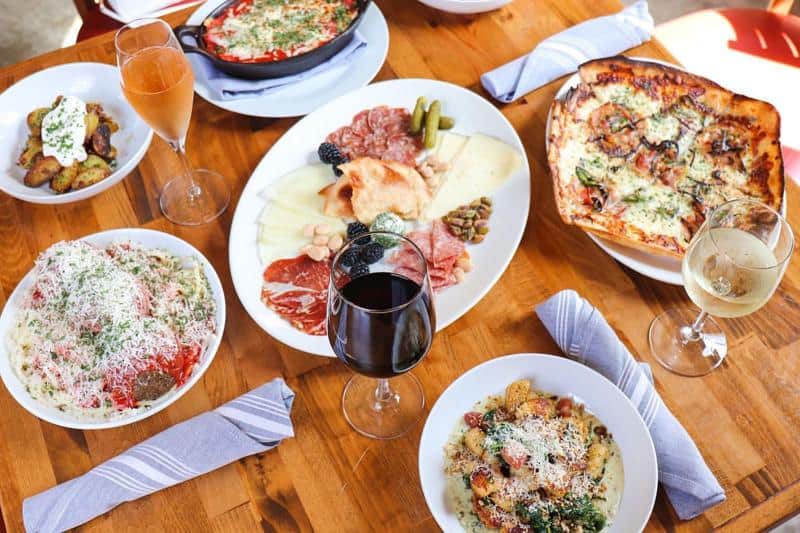 Location: 200 W Jones Ave #501, San Antonio, TX 78205
Get a taste of Tuscany at the refined and quaint Tre Trattoria. Tucked in the San Antonio Museum of Art, the Italian restaurant features a lovely patio opening up to views of the river with shaded dining spots.
The intimate interior space showcases the best of the historic building. The layout takes its inspiration from Tuscan Hillsides and flaunts cozy family-style dining. The latest renovation highlights the space beautifully with accents of stag leaf ferns and wine vines climbing along its idyllic brick walls.
You will find all the best Italian delights at your disposal, from cast iron pizzas drenched in cheese to delectable house-made pasta and heavenly Italian desserts.
We highly recommend the indulgent Goat Cheese Pizza or the hearty Wild Mushroom Risotto. Chef seasonal selections are also available.
Highlights
Spacious outdoor patio with views of the river.
Gorgeous interior layout with rustic details.
Great variety of Italian cuisine.
Iron Cactus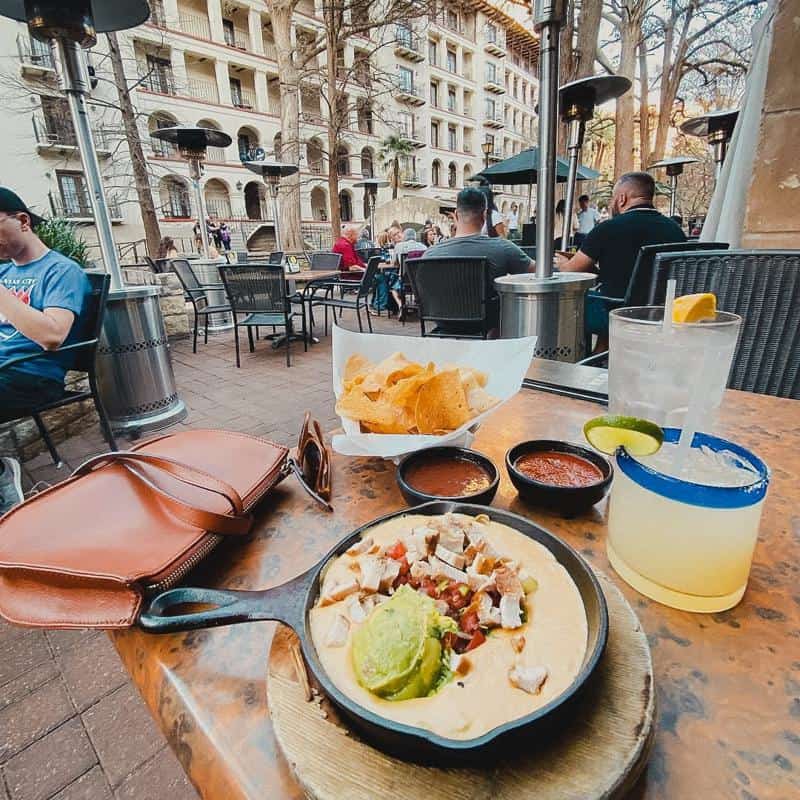 Location: 200 River Walk Suite 100, San Antonio, TX 78205
With tables lined up right on the Riverwalk and an amazing fine dining experience, Iron Cactus is a perfect little spot for romantic dinners. The fancy and luxurious vibe of the restaurant is reflected in its award-winning menu and selection of tequila.
Lose yourself in the intimate, easy-going ambiance with the babbling sounds of the river keeping you in excellent company. The hearty meals hit just the right spot to satiate your cravings for Mexican cuisine.
The divine Mexican meatloaf has a generous serving and is quite filling, while the brisket enchiladas and Southwest paella give you the traditional flavors we all know and love. If you want to try something from their seafood menu, we suggest the delicious Cactus Filet loaded with crabmeat.
The restaurant is one of the top 10 tequila bars in the country so make sure you get one for yourself from over 100 different varieties!
Highlights
Beautiful outdoor seating.
Good variety of Mexican cuisine.
Amazing selection of tequila.
Acenar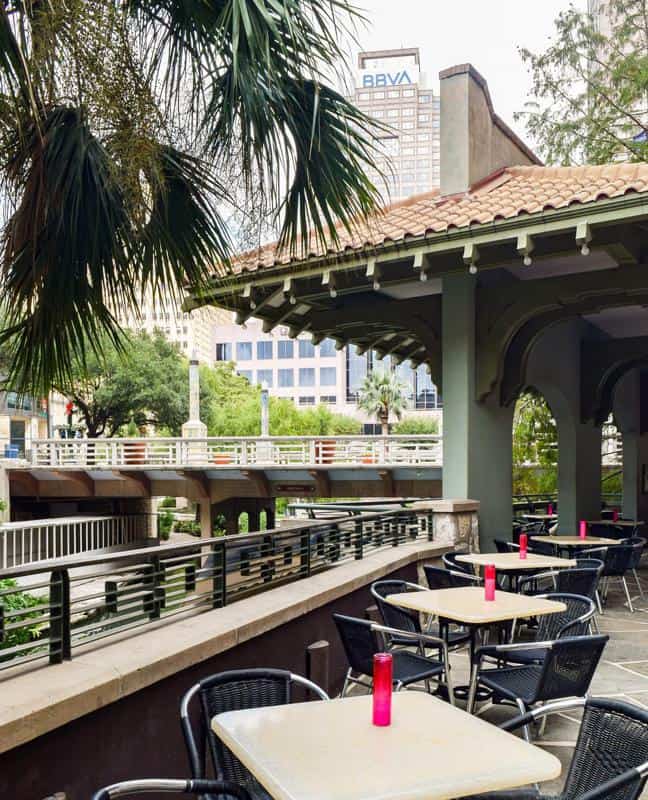 Location: 146 E Houston St, San Antonio, TX 78205
Slow down and take in the beauty of the historic San Antonio Riverwalk bit by bit with a relaxing lunch at Acenar.
The tranquil and picturesque Mexican eatery is beside the historic hotel Valencia in a multi-level building with a spectacular riverside balcony to enjoy wonderful views. We love the innovative menu offering a contemporary twist to classic meals.
The familiar flavors are heightening with modern concoctions to bring you dishes like short rib tacos and Alambres skewers. The succulent melt-in-your-mouth meat tastes divine when wrapped in their light corn tortilla and topped with salsa and tangy slaw.
For sharing, try their small taster plates for the table and finish strong with your favorite tacos and delectable bread pudding.
Highlights
Aesthetically pleasing multi-level setup.
Beautiful outdoor seating with balcony.
Contemporary Mexican feast.
Dorrego's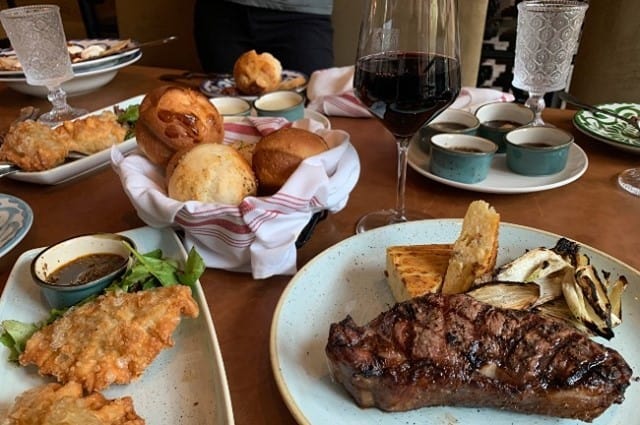 Location: 150 E Houston St, San Antonio, TX 78205
Try something different on your San Antonio Riverwalk and head down to Dorrego's located inside Hotel Valencia.
Serving a mouthwatering fusion of Latin American and Argentine fare, the restaurant does pretty well for itself. Not only the food, but the décor itself is very eye-catching and offers a unique dining experience.
Go through the menu thoroughly for hidden gems and tasty treats. We can vouch for their grilled baby lobster when it comes to heavenly delicious seafood delights. The shrimp ceviche also makes for one mean appetizer, and some grilled street corn with pisco sour perfectly ties up your meal.
Don't forget to order something from their drinks and dessert menu to enjoy on the lovely outdoor patio with views of the river.
Highlights
Vibrant décor and layout.
Delectable Argentine and Latin American fusion cuisine.
Idyllic outdoor patio.
Domingo Restaurant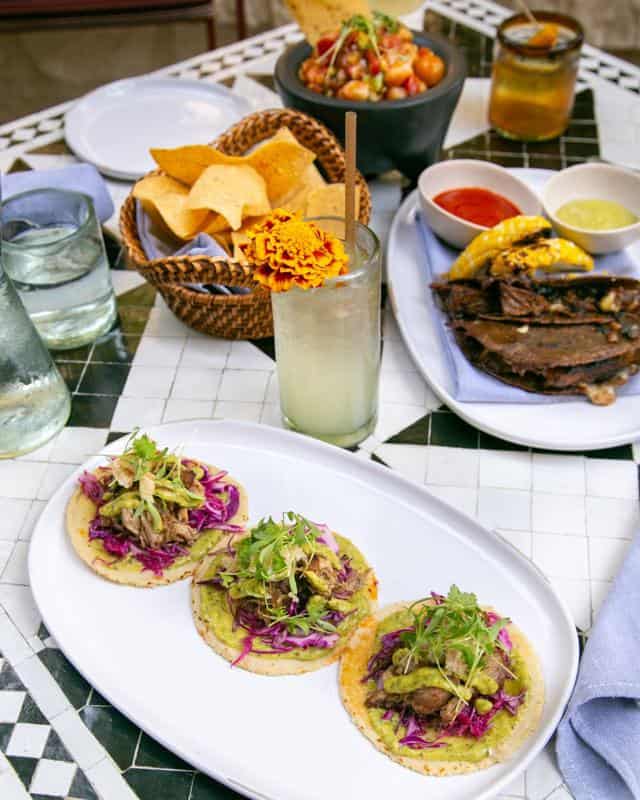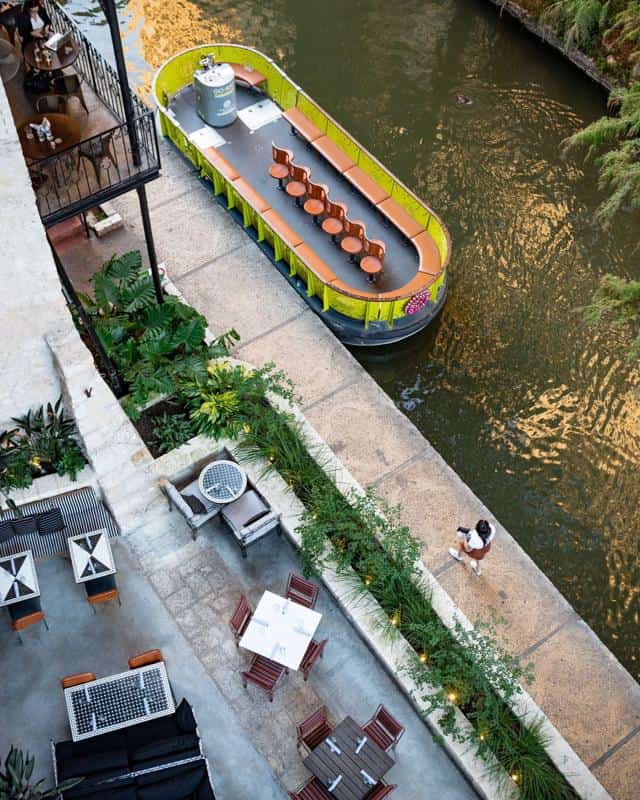 Location: 123 N St Mary's St, San Antonio, TX 78205
Tucked under the Canopy by Hilton, Domingo deserves a spot on our list. The vibrant and lively spot serves hearty Mexican cuisine with views of the Riverwalk.
The outdoor seating on the terrace is spacious and airy, but on hot summer days, their indoor space also makes for an excellent family-friendly ambiance.
People love their tacos and burgers for a lighthearted quick lunch. They have a great variety of cocktails to go with your meal. When stopping by with friends, order some chips and guacamole for the table and relish the lovely views with your favorite drinks.
Highlights
Spacious outdoor terrace with views.
Intimate indoor seating.
Delicious Mexican fare and drinks.
Also Read:
Conclusion
The tranquil and gorgeous Riverwalk deserves to be explored with all the wonderful things it has to offer. While enjoying the striking views of the river, don't settle for less and make it a perfect trip with delicious food and drinks to complement its beauty.
Whether you are in the mood for Italian, American, Mexican, or even Argentinean, our list has got you covered with the best restaurants on San Antonio Riverwalk.