The good old Beantown pays homage to American cuisines by being home to some of the best steakhouses in the country. While many restaurants serve steak in Boston, our list covers the cream of the crop where getting a scrumptiously juicy steak is a holy experience that'll stay with you for life.
In the words of Ron Swanson from Parks and Recreation: "They'll have been taken by the grill and delicately and tenderly been shown the ways of flavorful meat love. The first time is so beautiful."
Eat through our dedicated list of steakhouses to truly experience the food scene of Boston in all its glory.
Best Overall Steakhouse: Abe & Louise
Best Steakhouse with a View: Morton's The Steakhouse
Best Family-Friendly Steakhouse: The Stockyard
Best Steakhouse in Boston
Abe & Louise's: Best Overall Steakhouse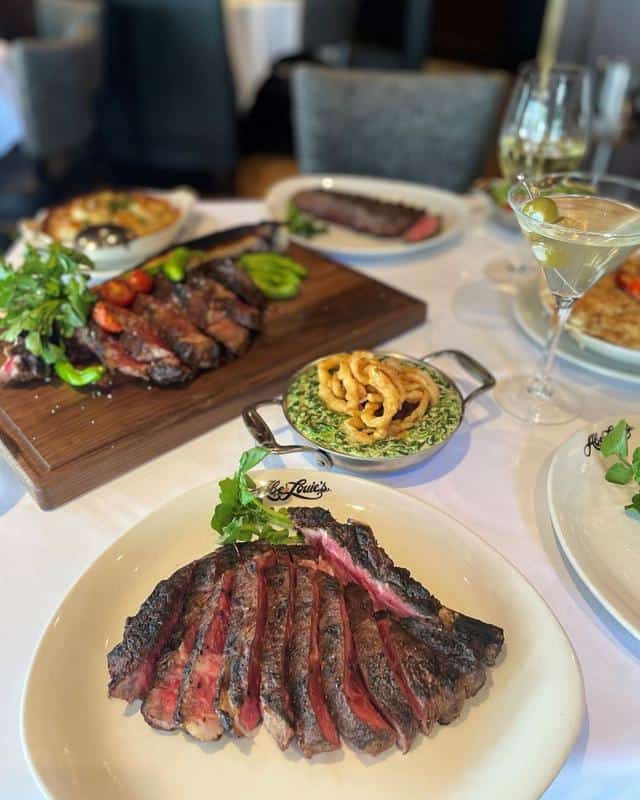 Location: 793 Boylston St, Boston, MA 02116
Abe & Louise's has set a standard of steakhouses in Boston only a few can match. They offer everything you need in a steakhouse, with hearty servings of traditional steaks and dollops of mashed potatoes on the side that fill up the belly and warm the heart. It is an authentic American steakhouse experience at its best.
The comforting dark wood paneling, red banquette booths, and soft lighting invite you to indulge in prime cuts of steaks aged at least 6 weeks on the bone. Amongst their corn-fed Midwestern signature prime steaks, the 40 oz Porterhouse is a crowd pleaser.
We also recommend the tantalizing 50-Day Dry Aged New York Strip and 22oz Bone-In Ribeye. The seafood menu also stays true to classics with Abe's Seafood Tower offering a custom-built selection of all your favorites, and the hearty Lobster Savannah loaded with parmesan and sherry cream sauce.
Pair your steaks with a wine from their award-winning wine list comprising 200+ high-in-demand bottles and premium seasonal cocktail programs.
Highlights
Traditional American steakhouse.
Cozy décor with aged steaks and nostalgic sides.
Award-winning wine list.
Morton's The Steakhouse: Best Steakhouse with a View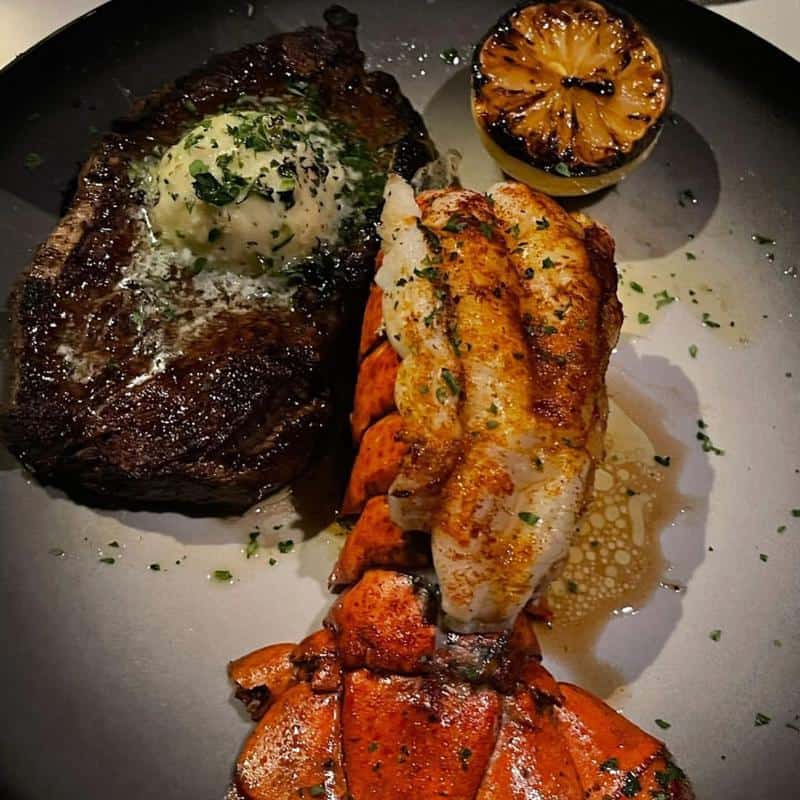 Location: 2 Seaport Ln, Boston, MA 02210
With a beautiful waterfront location at Seaport, Morton's wins heart with delicious food and amazing views.
Bringing you the best of Boston Harbor, Morton's restaurant and bar offer comfortable and upscale seating with panoramic views of the water. The seasonal patio sets the perfect mood for a romantic date with the waterfront breeze filling up your lungs.
When it comes to steak, have no doubt that Morton's has just the best formula for success. They have used the same suppliers since they started so that their quality of aged prime beef stays consistent through and through.
Get the delicious New York strip with a side of Lyonnais potatoes and everyone's favorite – creamed corn. To mix things up, order something from their extensive entrees of chicken and fresh seafood. Pair the main courses with your favorite wine from their exceptional list.
Highlights
Beautiful waterfront location with panoramic views.
Seasonal patio with outdoor seating.
Delicious steaks, chicken, and seafood variety.
Stockyard Restaurant: Best Family-Friendly Steakhouse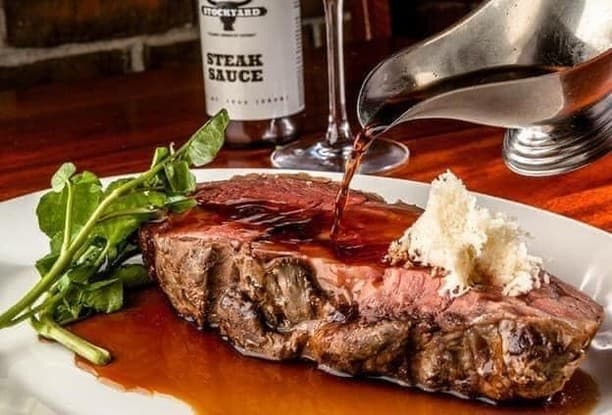 Location: 135 Market St, Brighton, MA 02135
Re-live the good old days with a classic steakhouse atmosphere and decades of experience at Stockyard. It has become a Brighton landmark with a loyal customer base and a cozy family-friendly ambiance.
They have a very creative menu, where you are given the option to 'crown your meal' with sides that take every meal to the next level. To truly satiate your meaty cravings, we recommend the 32oz Prime Tomahawk Ribeye aged for 42 days, with a 'crown' of lobster Oscar and Jumbo Baked Shrimps.
Another must-try item on their menu is the Stockyard Burger made with fresh ground sirloin, aged vermon cheddar, veggies, and a pickle spear. You can upgrade the meal by adding applewood smoked bacon, fried egg, sautéed mushrooms, or caramelized onions.
To keep everyone in the family happy, they have a cheap draft beer with a large pour for adults and a dedicated kid's menu complete with scoops of vanilla and chocolate ice cream. Cozy up next to a fireplace and order everyone's favorite for a perfect family dinner.
Highlights
Family-friendly atmosphere with an old-school steakhouse setup.
Huge variety of steaks and other main courses with affordable draft beer.
Kids menu available.
Grill 23 & Bar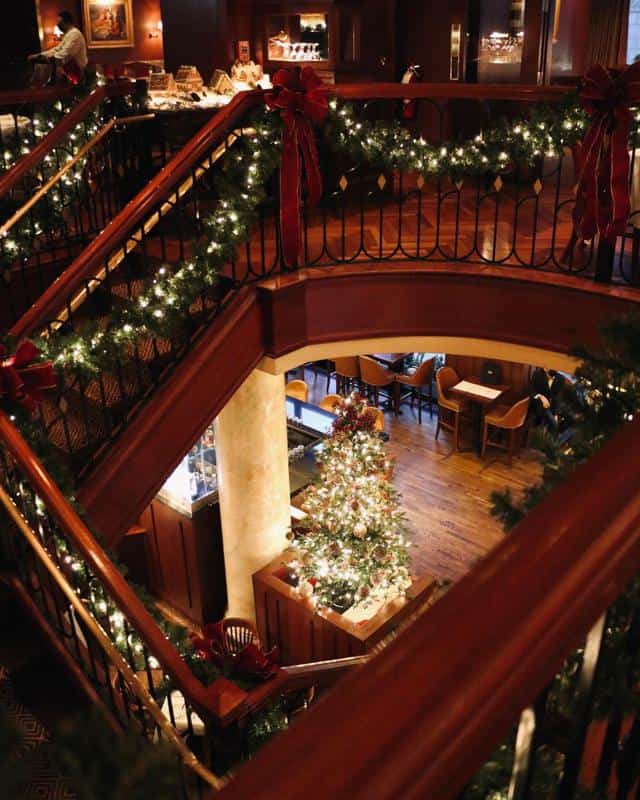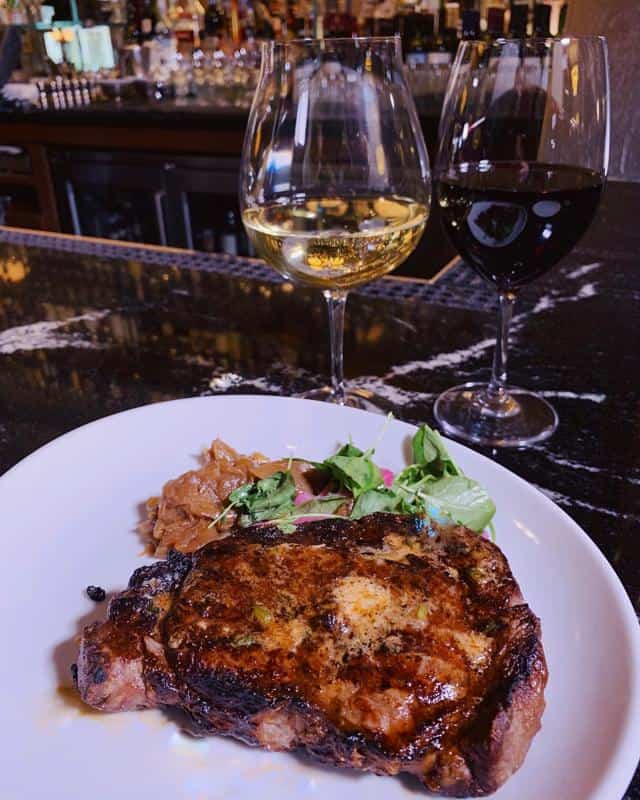 Location: 161 Berkeley St, Boston, MA 02116
Treating you like royalty with top-class service and excellent steaks, Grill 23 & Bar is ideal for business meetings and elegant date nights to impress your beau. Smartly uniformed servers, lavish marble columns with high ceilings, and regal tapestries set the perfect ambiance for fine dining.
The restaurant is famous for its 32-ounce Prime Porterhouse and highest-grade Japanese Wagyu, but one can't say no to their Grand Sampler seafood tower either! The wine collection is also spectacular, and the restaurant has received Wine Spectator's Grand Award for its wine list.
Furthermore, they also have a cigar corner. After a delectably juicy and perfectly seasoned steak with a side of your favorite wine, post-meal cigar service is just what you need to tie up your evening.
Highlights
Elegant and refined ambiance.
High-quality steak.
Amazing wine selection and post-dinner cigar corner.
Bogie's Place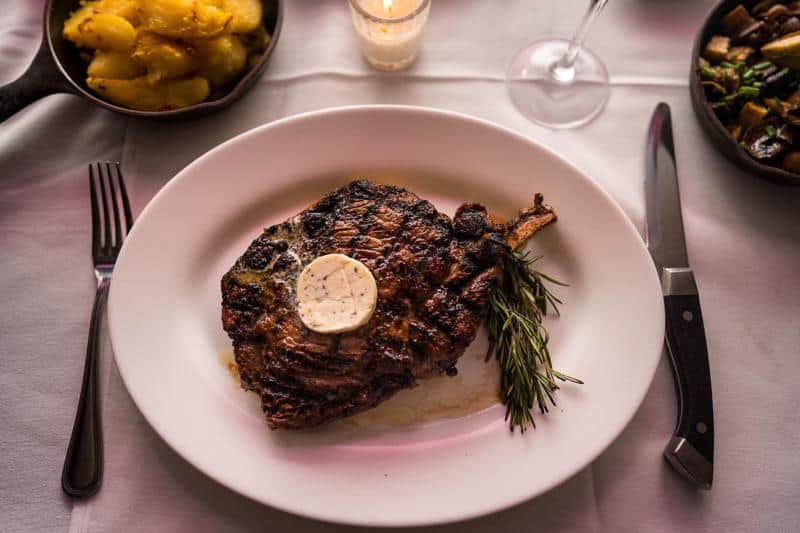 Location: 21 Temple Pl, Boston, MA 02111
The humble and homely Bogie's Place is loved by locals and sought out by visitors. With a coveted yet obscure location within jm Curley, Bogie's Place offers an intimate steakhouse setting with only 18 seats open for reservations.
Hid behind the curtains is a world of scrumptious goodness and aged prime cuts of steak oozing with foie gras butter and bone marrow. The classy touches of blackout curtains, wine-colored velvet walls, and an 'Adults Only' sign makes dining here a unique experience.
Indulge in carnivorous goodness with the limited-cut massive Tomahawk with a side of your favorite cocktail from their upscale bar. They also have delectable New York Strip, Bone-in Ribeye, Filet Mignon, and Lamb Steak on their a la carte menu.
Visitors define it as a sacred experience to start with Shrimp Cocktail and enjoy their certified Angus with loaded baked potato and creamed Brussels sprouts.
Highlights
Exclusive steakhouse with an intimate setting.
Finest selection of aged steaks and sides.
Exceptional cocktail bar.
The Capital Grille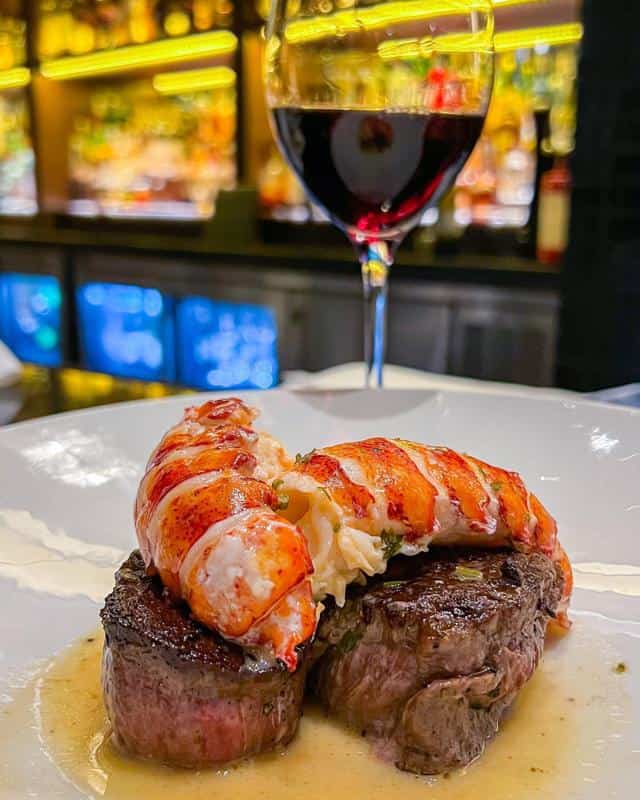 Location: 900 Boylston St, Boston, MA 02115
You can never go wrong with your order at The Capital Grille. Exuding an upscale, corporate charm that compels you to splurge and treat yourself to fine dining, the restaurant is ideal for impressing the clients and charming your beau.
With a wide range of soups and appetizers to accompany the finest cuts of steaks, you can combine classic orders with a bit of experimentation.
However, to be on the safe side and assure a wholesome meal, we highly suggest the chef's specials including the heavenly Porcini Rubbed Bone-In Rib eye bathed in 15-Year aged Balsamic with a delicate mushroom crust.
To combine the best of both worlds, get the delectable Seared Tenderloin with Butter Poached Lobster Tails. Even the most basic orders like a Filet Mignon are spiced up with fig essence, wild mushrooms, and cipollini onions making all other filet mignons in Boston substandard in comparison.
Get a Lobster Bisque, Bueske's Cherry wood Double Cut Smoked Bacon with Tomato Jam, and wine with your steak, and finish it off with a Classic Crème Brulee. We promise you will close the deal by the time you light up your cigar.
Highlights
Classic steakhouse setup.
Scrumptious steaks and sides with seasonal desserts.
Great selection of wine.
Ocean Prime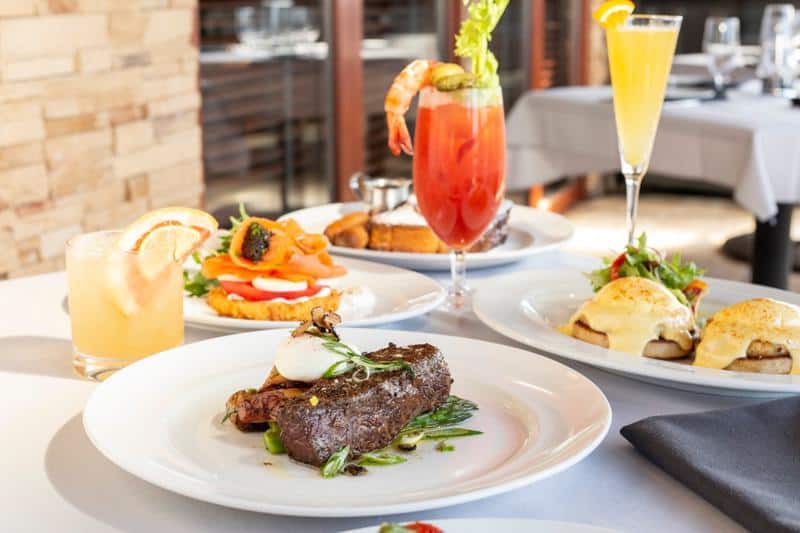 Location: 140 Seaport Blvd, Boston, MA 02210
Offering a perfect amalgamation of traditional favorites with contemporary allure, Ocean Prime brings you nostalgic flavors with a modern layout. The upscale interiors are refreshing and match the breezy Seaport vibes.
Carefully prepared dry-aged steaks are seared at 1200 degrees and accompanied with sides of blue cheese crust and black truffle butter. Try classics like Rib Eye and Bone-In Filet with a side of asparagus with hollandaise or creamed spinach.
We also urge you to try their sushi and seafood. The Prime Roll, Spicy Tuna, Ahi Tuna Tartare and Hamachi Crudo are a crowd-pleaser, while the Surf n Turf is the best appetizer to order to enjoy the best of both worlds.
Highlights
Contemporary and modern layout.
Traditional steaks seared at 1200 degrees.
Great selection of sushi and seafood.
Mooo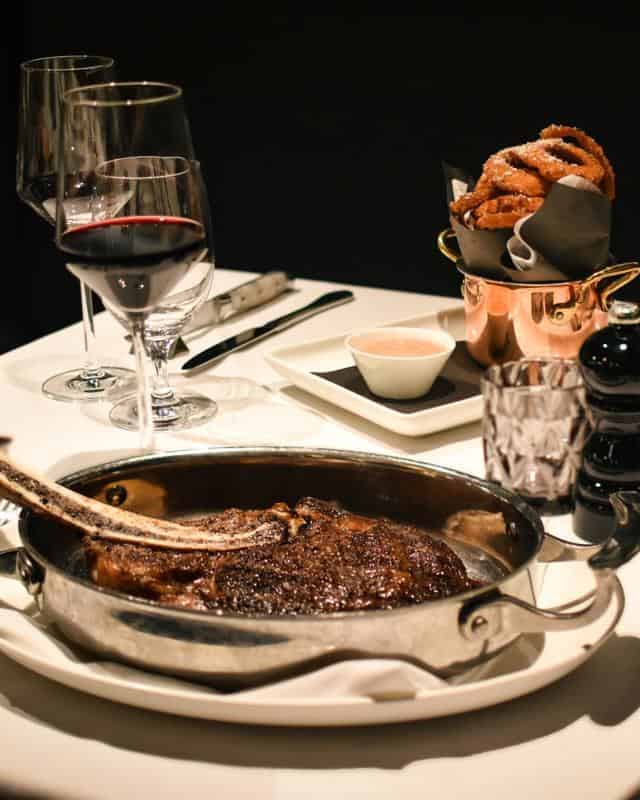 Location: 49 Melcher St, Boston, MA 02210
Making its mark in Boston with multiple locations, Mooo is a great place for steak lovers. The name of the restaurant itself gears one up for delectably divine meaty goodness. We are impressed by their Seaport branch in particular, offering a warm and upscale décor with a comfortable and relaxed ambiance.
They have ample seating and a private dining area. Hearty meat varieties start right from breakfast, where you get a range of Breakfast meats from ham steak, applewood smoked bacon, and chicken sausage to juicy pork sausages.
The main attraction of Mooo, however, is their entrée loaded with hearty steak varieties. Get the indulgent grass-fed Australian rib eye or the good old Japanese Wagyu drenched in bone marrow and vincotto.
Add on some jumbo shrimp and select a wine from their award-winning collection and you've got yourself a perfect comfort meal.
Highlights
Upscale ambiance with contemporary décor.
Huge variety of steaks with traditional sides.
Good seafood options.
Boston Chops South End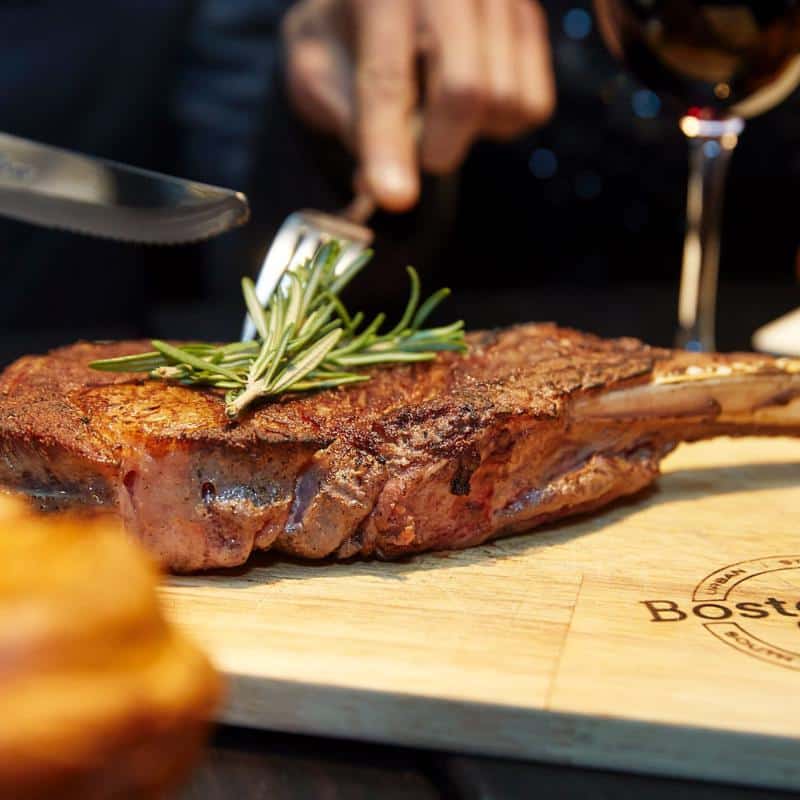 Location: 1375 Washington St, Boston, MA 02118
Boston Chops is the crown jewel of the greater Boston area. With reviews from Conde Nast Traveler, The Boston Globe, Good & Wine, and Forbes, the restaurant has made its name with two popular locations in the city.
The layout of Boston Chops is contemporary and welcoming. We love the elegant, chic vibe with so many classics on the menu to satiate your meat cravings with a kick of nostalgia.
The 8oz Steak Frites sell out like hot cakes all day long, with options like Roasted Filet Mignon, Roasted Club Eye NY Strip, Grilled Wagyu Bavette, and Grilled Hanger Steak.
All orders come with generous fries, arugula salad, and your favorite sauce from chimichurri butter, bordelaise, and béarnaise. The towering stack of onion rings, bottomless fries bowl, and roasted bone marrow goes perfectly with the Chateaubriand for large gatherings.
Highlights
Highly popular steakhouse in Boston with great reviews.
A Large variety of steaks.
Huge serving size with sides and appetizers.
Ruth's Chris Steak House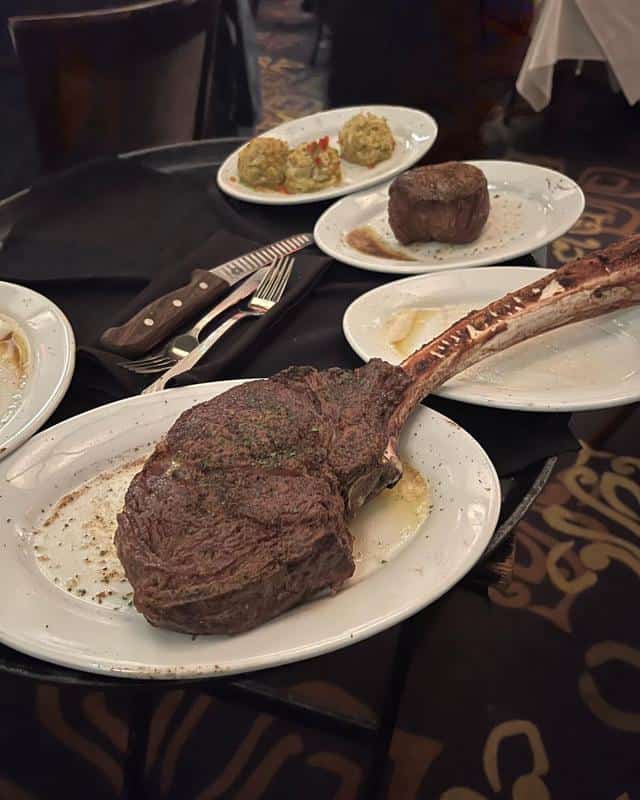 Location: 45 School St, Boston, MA 02108
Ruth's Chris Steak House has built quite an empire in America, with one of its most elegant fine dining branches in Boston's Downtown Crossing. They take pride in their signature steaks and hand-crafted cocktails, and visitors take comfort in homely flavors and generous portions.
The steaks are prepared from USDA prime beef and broiled at 1800 degrees. Loaded with dollops of butter and fresh parsley, the main course is served on hot plates. Private diners can enjoy a mighty full-flavored T-Bone or rich and indulgent 40oz Porterhouse in the Old City Halls' original vault.
Pair hearty portions of your favorite steak or seafood with fine beverages from Ruth's award-winning wine list featuring vintage-inspired cocktails and hand-crafted delights.
Highlights
Elegant fine dining with a modern layout and private dining.
Delicious prime cut of steaks.
Hand-crafted and vintage-inspired cocktails and an award-winning wine list.
Read More:
Conclusion
Boston has made its mark as being home to the finest steakhouses in the county. From nationally known chains to humble local setups, you will find the best of the best in our list. Satisfy the extreme carnivorous cravings with a classic old-school steakhouse feel for a truly wholesome experience.