There is no shortage of top-quality waterfront bars and restaurants in Boston.
Think of classy seafood dining establishments with fabulous harbor views, elegant steakhouses with open-air patios, and casual joints serving New England's finest local dishes and offering magnificent water views.
To help you choose where to go, we've put together a list of the best waterfront restaurants in Boston.
Best Waterfront Restaurants in Boston
Bay Pointe Waterfront Restaurant
Address: 64 Washington Ct, Quincy, MA 02169
Phone: +1 617-472-3200
Located on Quincy's beautiful waterfront, Bay Pointe Waterfront Restaurant is one of the finest spots for the freshest seafood in Boston. The state-of-the-art waterfront deck with comfortable and stylish new furniture provides an ideal setting for a memorable dining experience.
Fans of coastal Mediterranean fare can look forward to enjoying a variety of fresh fish and exotic seafood. Try the Valencian seafood paella or order the restaurant's signature New England Fried Platter which includes scrod, scallops, clam strips, and crispy fries.
Meat lovers can try perfectly grilled steaks and chops or order chicken pappardelle.
The Barking Crab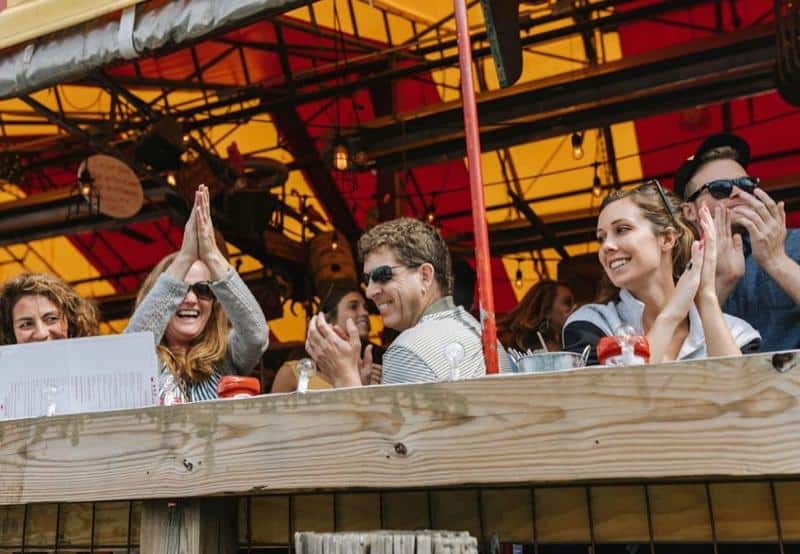 Address: 88 Sleeper St, Boston, MA 02210
Phone: +1 617-426-2722
Boston is packed with seafood restaurants and the legendary Barking Crab is one of them. Situated on Fort Point Channel, this waterfront dining joint is a great place to enjoy fresh seafood with family and friends.
The food menu is extensive with something for everyone. The crab leg platters are definitely the highlight of the restaurant's menu. Guests can also feast on oyster shooters, lobster rolls, and New England clambakes.
This red-shingled seafood shack in Boston also offers delicious fish and chips. If you are looking for a reasonably priced waterfront eatery in Boston, you've definitely come to the right place.
Lookout Rooftop and Bar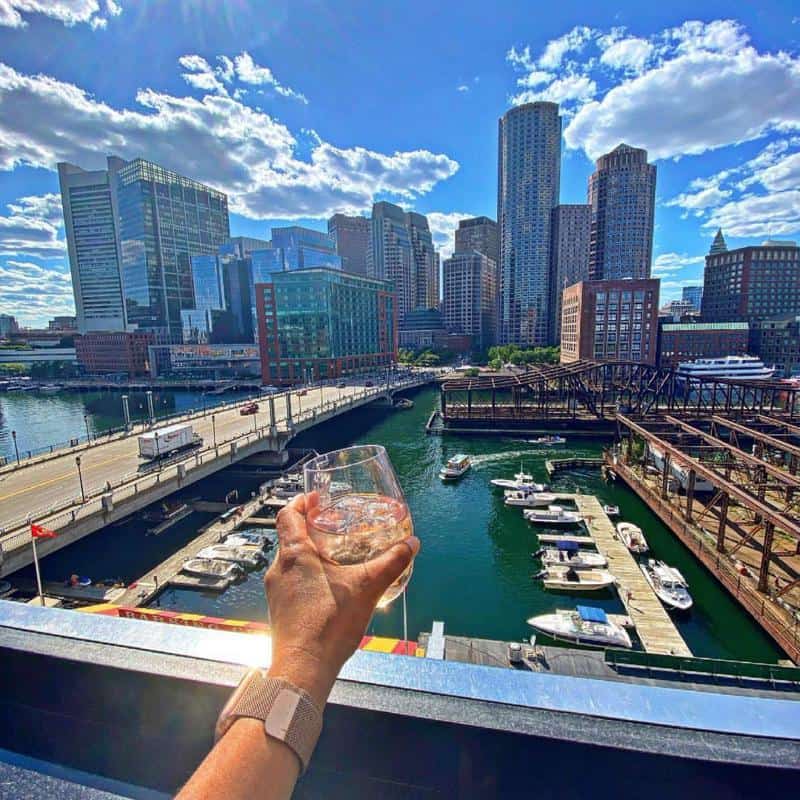 Address: 70 Sleeper St, Boston, MA 02210
Phone: +1 617-530-1538
Pay a visit to the Lookout Rooftop and Bar, a seventh-story lounge nestled on top of the Envoy Hotel in Boston. With expansive views of the Boston skyline and waterfront, this charming restaurant is a perfect place for travelers who wish to have a slightly elevated waterfront experience and enjoy delicious foods.
The menu includes everything from bar bites to sandwiches. Order tostones with guacamole, beer battered fish sandwich, or lobster rolls. In addition to tasty foods and breathtaking views of the Harbor and the Skyline, Lookout Rooftop and Bar offers a creative cocktail selection, a bunch of beers on draft, and an extensive wine list.
Get the Bee Line cocktail and you won't be disappointed. We should mention that this chic waterfront restaurant and bar has a contemporary/classy dress code. No sleeveless shirts, flip flops, and swimwear.
Also Read: Best Rooftop Bars and Restaurants in Boston
Legal Harborside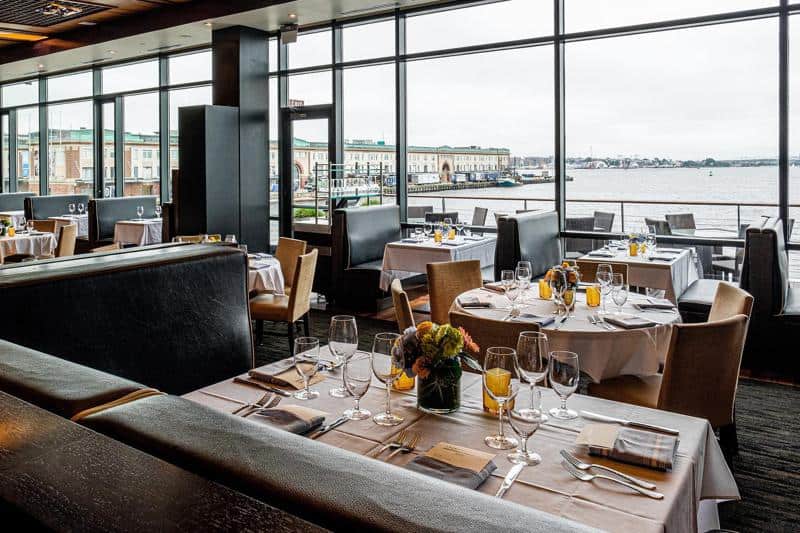 Address: 270 Northern Ave, Boston, MA 02210
Phone: +1 617-477-2900
Legal Harborside is definitely one of the largest waterfront restaurants on this list. With three floors and sweeping views of the Boston skyline, this lovely restaurant offers plenty of dining options. The first floor is reserved for a more casual fare and boasts a superb raw bar.
On the second floor, you will find a classy dining room with a posh décor. Legal Harborside also has an amazing rooftop bar where guests can enjoy bar foods, artisan cocktails, and magnificent harbor views.
Try the Legal's classic New England clam chowder or order some fresh lobster rolls. Meat Lovers will be pleased to hear that this Boston waterfront restaurant offers an amazing steak selection.
Boston Sail Loft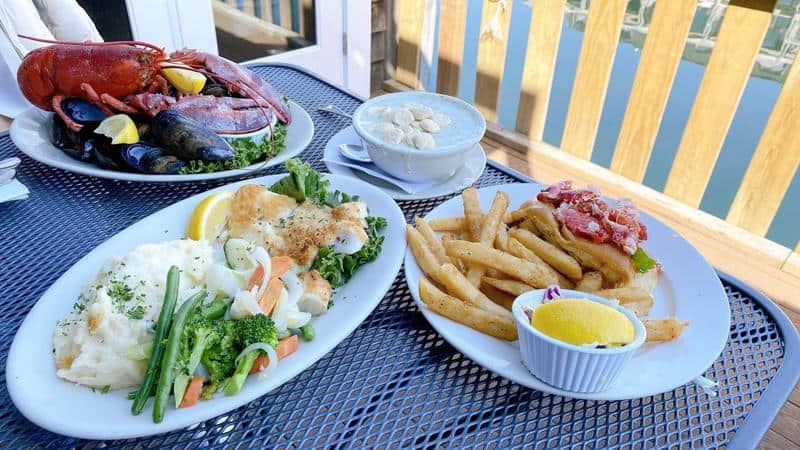 Address: 80 Atlantic Ave, Boston, MA 02110
Phone: +1 617-227-7280
With both indoor and outdoor seating, Boston Sail Loft is known for its clam chowders and phenomenal water views. It's a casual place with first serve basis (no reservations).
However, the food is simply amazing and New England clam chowder is the restaurant's signature dish. This clam chowder has won the "Best of Boston" award from Boston Magazine in 2018 and 2019!
The family-owned restaurant has been in the business since 1994 and is one of the most popular seafood joints among the locals. We definitely recommend getting there early to grab a table at the deck and enjoy fresh seafood and spectacular water views.
Alcove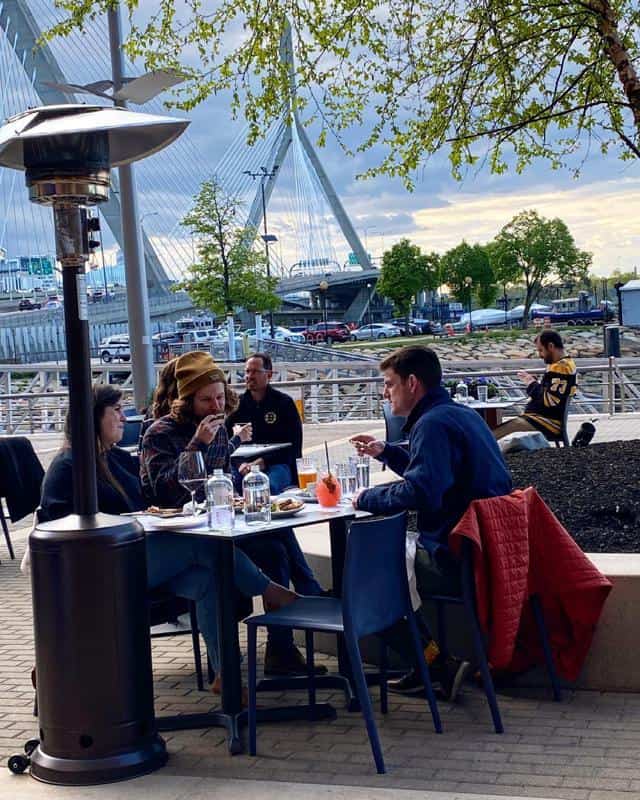 Address: 50 Lovejoy Wharf, Boston, MA 02114
Phone: +1 617-248-0050
Welcome to Alcove, a modern neighborhood restaurant with farm coast cuisine by Chef Brian Paszko and incredible views of the Zakim Bridge and the calm waters of Boston harbor. It's a great place to grab a drink and some tasty foods before the Celtic's game.
Will Piquette, the famous mixologist, is in charge of the restaurant's ever-changing menu of craft cocktails. As for the food menu, it includes everything from snacks and salads to exotic seafood.
The outdoor space really looks impressive and offers one of the best water views in all of Boston.
Belle Isle Seafood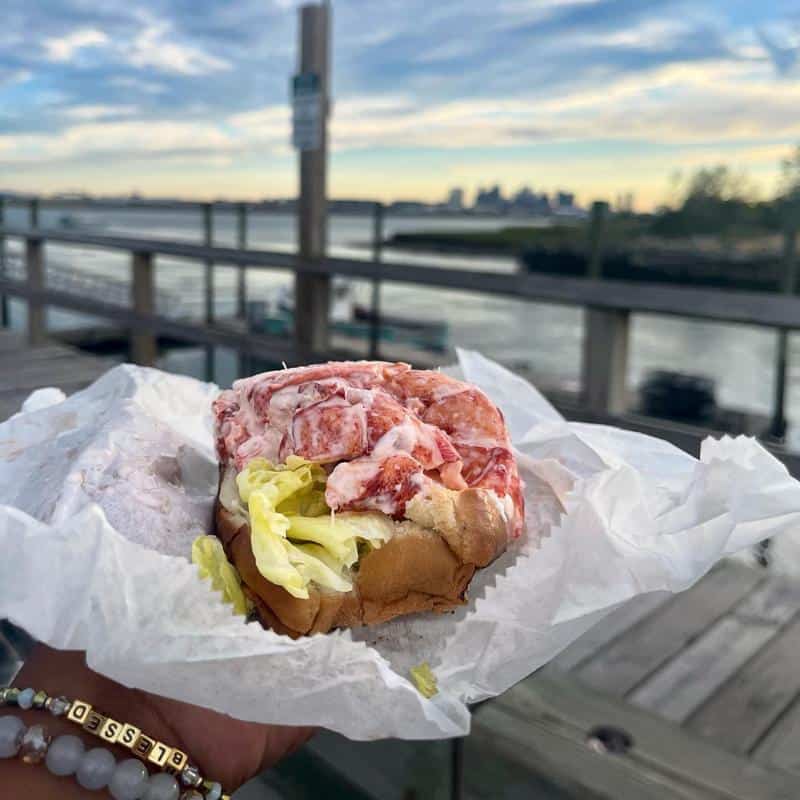 Address: 1 Main St, Winthrop, MA 02152
Phone: +1 617-567-1619
A cafeteria-like restaurant with superb views of the harbor, Belle Isle Seafood is a lovely place to feast on fresh seafood. Order the lobster roll that is packed with claw meat and tender tail or go for their signature fried seafood platter.
Here, pulled right out of the ocean seafood delicacies come in different forms. From fried and stuffed to battered, there is something for everyone.
The restaurant's waterside deck is located right across from the runways at the Logan Airport, which means that you can enjoy both seafood and views of planes taking off.
Temazcal Tequila Cantina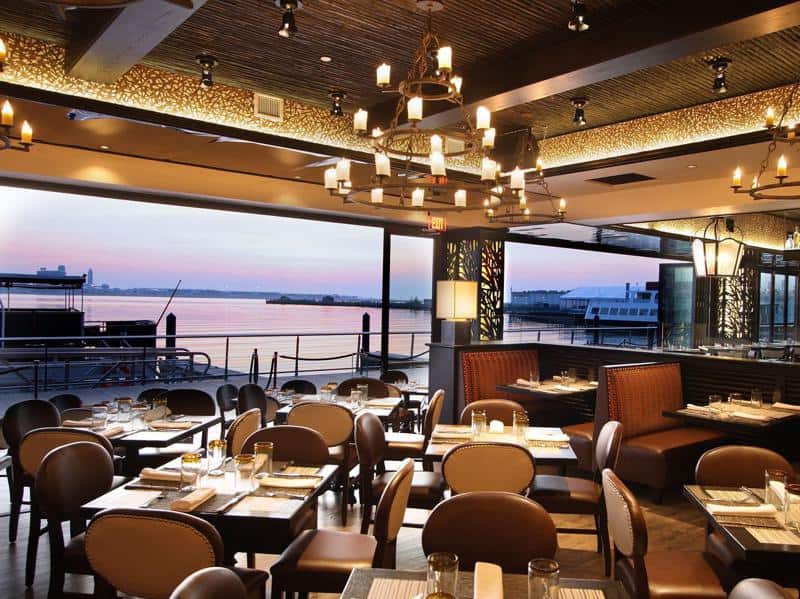 Address: 250 Northern Ave #2, Boston, MA 02210
Phone: +1 617-439-3502
Temazcal Tequila Cantina is a small chain of Mexican restaurants. Their Seaport branch in Boston has an amazing patio that offers impressive eye-level views of the water.
Here, you can enjoy Mexican food and tequila. With nearly 260 varieties of tequila, Temazcal Tequila Cantina probably has the best selection of this world-famous Mexican drink in all of Boston.
The food menu is impressive to say the least with options such as lobster guacamole with nachos, grilled skirt steak tampiquena, and short rib empanadas.
Order some lobster guacamole with nachos to soak things up. The sunset views over Liberty Wharf are spectacular and piña picante margarita from the restaurant's bar is simply divine.
Pier 6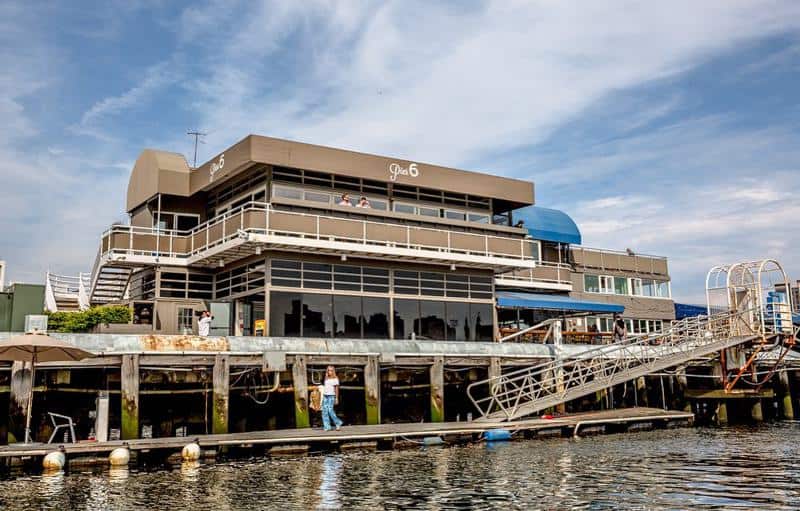 Address: 18th St, Charlestown, MA 02129
Phone: +1 617-337-0054
If you wish to enjoy seafood and fabulous views of the historic Charlestown Navy Yard and the USS Constitution, book a table at the roof deck at the Pier 6 Restaurant in Charlestown, Boston. The food menu is seafood-focused and includes everything from lobster rolls and clams baked haddock.
Travelers who wish to enjoy meat dishes should try their burgers or go for the NY strip steak. Downstairs, you will find a lovely outdoor bar that offers an impressive list of artisan cocktails.
You won't go wrong with their signature Pier 6 Sunset cocktail which includes ginger beer, lemon juice, bourbon, and white vermouth. The jalapeño-infused Knotty Nauti cocktail is also a big crowd pleaser among the customers here at Pier 6.
Sullivan's Castle Island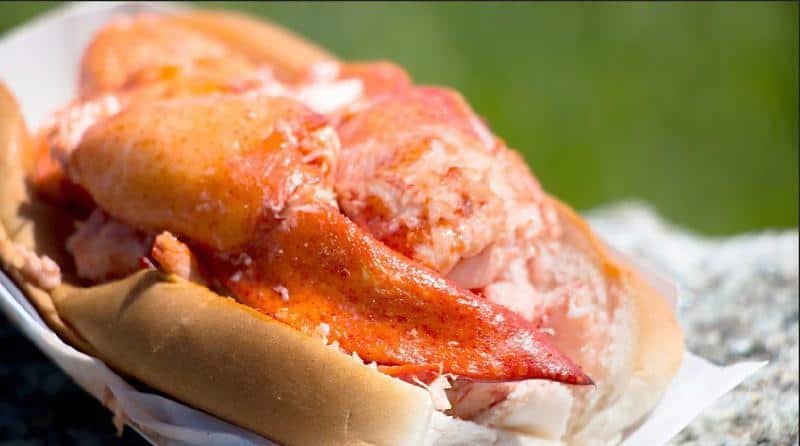 Address: 2080 William J Day Blvd, South Boston, MA 02127
Phone: +1 617-268-5685
With an impressive selection of locally sourced meat and seafood and panoramic views of Pleasure Bay, Sullivan's Castle Island has everything you need for an unforgettable dining experience. This food joint has been in the business for over 70 years!
The food menu is diverse. They have plenty of seafood options like New England Clam Chowder, clam strips, and baked haddock. There are also delicious burgers on the menu, as well as hotdogs and salads.
After your meal, you can visit the nearby Fort Independence and learn more about the history of Boston.
ReelHouse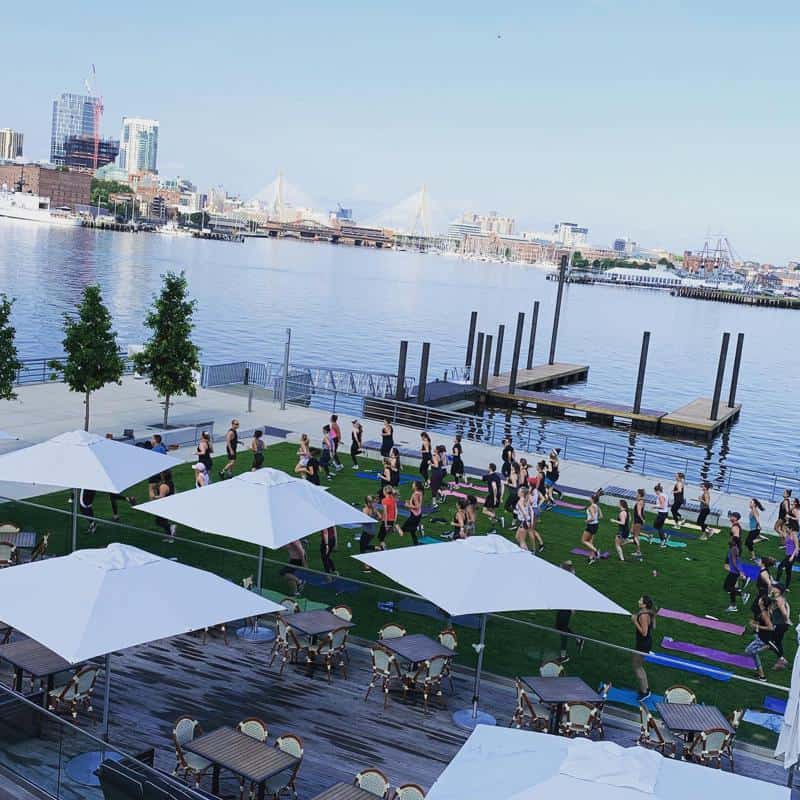 Address: 6 New St, Boston, MA 02128
Phone: +1 617-895-4075
Located in East Boston, ReelHouse is an iconic harborfront dining establishment with a lovely outdoor patio. The décor is cute with plenty of authentic nautical vibes and a gorgeous interior bar where you can enjoy crafty cocktails. We heard that the Reelhouse Painkiller cures even the worst hangover.
As for the cuisine, ReelHouse is all about sharing plates and trying a bit of everything available on the menu. Get the Grand Shellfish Tower to try well pretty much everything from their seafood offering (steamed mussels, lobster, shrimp cocktail, and oysters).
Guests can also opt for meals like fried calamari, tuna poke, and brioche French toast with cream and berry compote. For dessert, go for the chocolate cake.
Lolita Fort Point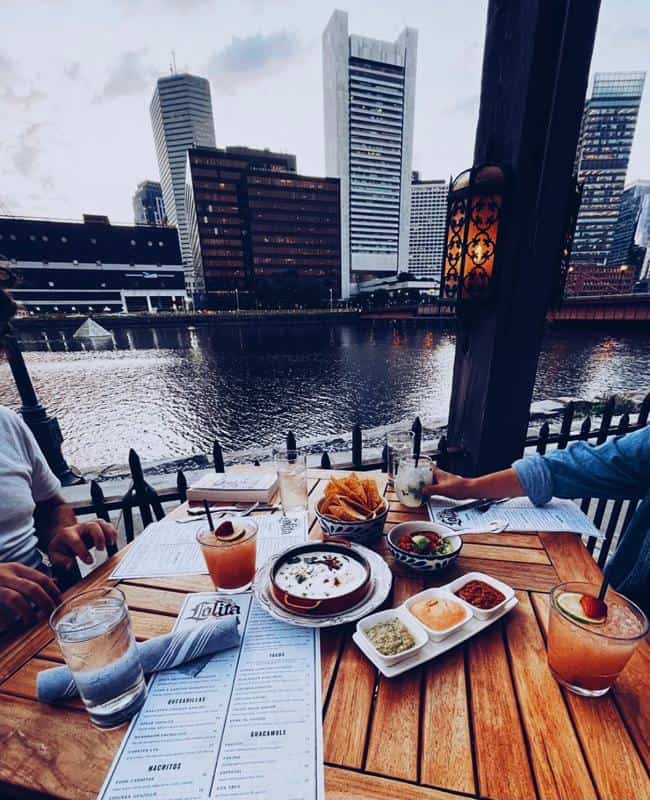 Address: 253 Summer St, Boston, MA 02210
Phone: +1 617-369-0931
Lolita is a cozy Mexican eatery located on Summer Street in Boston. Thanks to its tasty foods and a classy waterfront location, the restaurant seems to be always packed with locals and tourists alike. The views of Fort Point Channel are breathtaking.
Ordering the Mexican fried rice plate is simply a must. This signature dish is loaded with spicy sofriti, sour cream, beans, and salsa. Mexican-inspired plates such as crispy rock shrimp tacos and chilaquiles are also quite popular items on the menu.
Lolita boasts a tequila bar where you can unwind with a drink or two. Order the liqueur-soaked Frolita or get the Diablo if you like it spicy. Both local and Mexican brews are also available to order here at Lolita.
Venezia Restaurant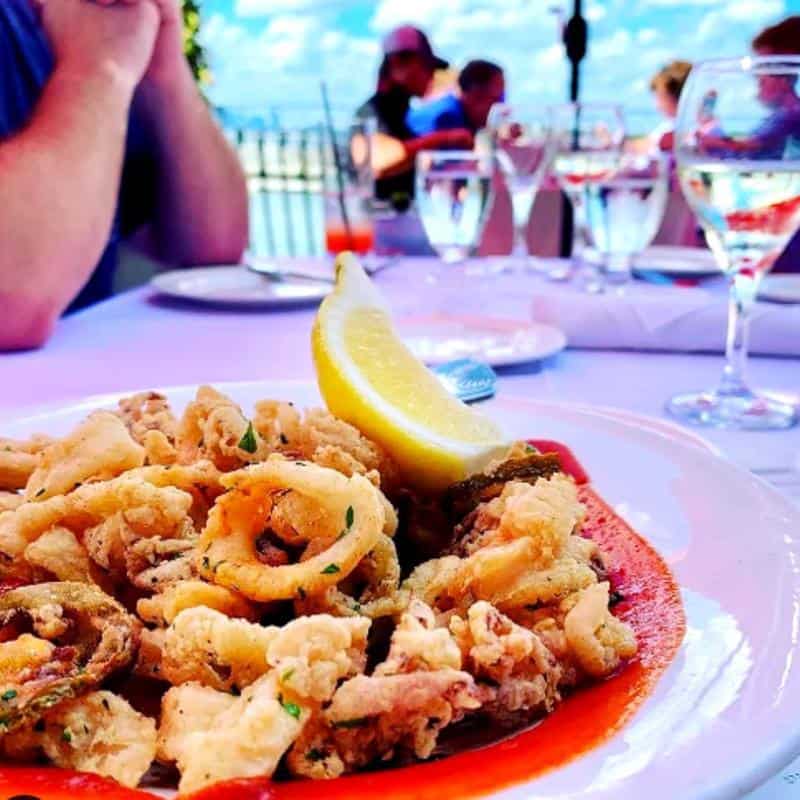 Address: 20 Ericsson St, Boston, MA 02122
Phone: +1 617-436-3120
Travelers in the mood for some Italian cuisine should make a reservation at the popular Venezia Restaurant. Offering a memorable waterfront dining experience in Dorchester, Venezia Restaurant is an ideal place to visit with a group of friends. In addition to spectacular views of the Boston Skyline, this authentic Italian dining establishment offers an innovative menu.
Zucchini blossoms stuffed with ricotta are a great starter, as well as zuppa de pesce. Hungry patrons visit the restaurant for signature mains such as veal parmigiana and chicken risotto. Seafood lovers will want to get the fisherman's platter which is packed with a massive array of local seafood delicacies.
If you wish to sample local wines and enjoy wine tasting, Boston Winery is just across the street.
Woods Hill Pier 4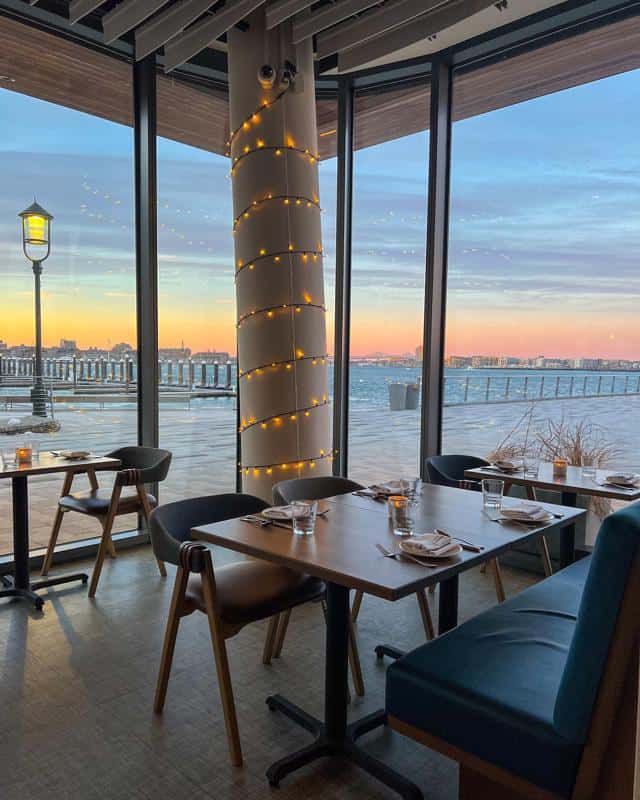 Address: 300 Pier 4 Blvd., Boston, MA 02210
Phone: +1 617-981-4577
Kristin Canty's chic Woods Hill Pier 4 is one of the best restaurants in Seaport, Boston. From a tastefully decorated patio with magnificent harbor views to the upscale cuisine with New England-grown ingredients, this place has it all.
The menu curated by chef Charlie Foster has a bit of everything. Try the grilled summer squash to satisfy your taste buds. Meat lovers can look forward to trying perfectly-cooked meat dishes such as the dry-aged duck breast and rack of lamb which is grilled to perfection.
Most of the ingredients are sourced from the sibling Woods Hill Farm in New Hampshire, which means that everything you eat here will be super fresh. We also have to mention the restaurant's fabulous cocktail list
Read More:
Conclusion
Foodies visiting Boston are in for a real treat. This New England City is packed with a variety of spectacular dining establishments ranging from cozy family owned eateries to chic and upscale restaurants.
Whether you are craving seafood or wish to enjoy premium meats, there is plenty to choose from. The good news is that some of the most popular restaurants in Boston come with sprawling patios and fabulous water views.
Map of Best Waterfront Restaurants Boston