Did you know that Hoboken is approximately more than 30% cheaper than NYC? Since NYC is just four miles (less than 20 minutes' drive) from Hoboken, many love to take their night adventures to New York City when residing in Hoboken.
Well, not anymore; this list of the best, amazing, and fun bars in Hoboken will get you sorted the next time you want a great night at affordable prices.
Hoboken is not only home to the first-ever recorded baseball game but also great nightlife locations with spectacular views like Pier 13. The suburb area in New Jersey is the birthplace of Frank Sinatra, which speaks a bit about its culture, love of music, and sense of community.
You won't miss great bars where you can meet up with friends after work or just pop in for a solo night. The love music and performances are abundant, and the food in some of the bars will not leave you wanting to go elsewhere. Read on to know the best bars for young adults in Hoboken and where older folks can go for a more laid-back experience.
Best Bars in Hoboken
Pier 13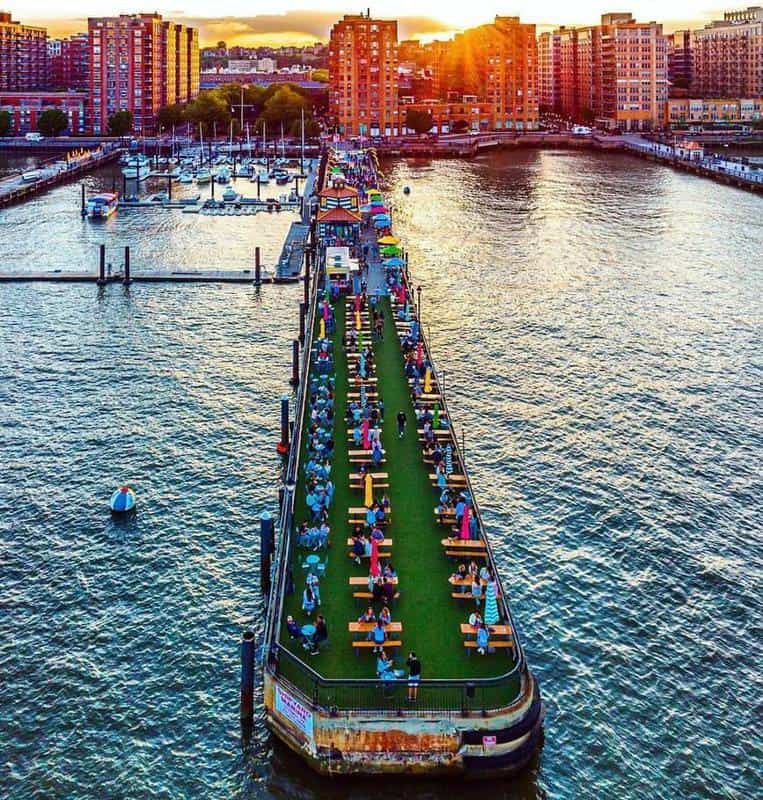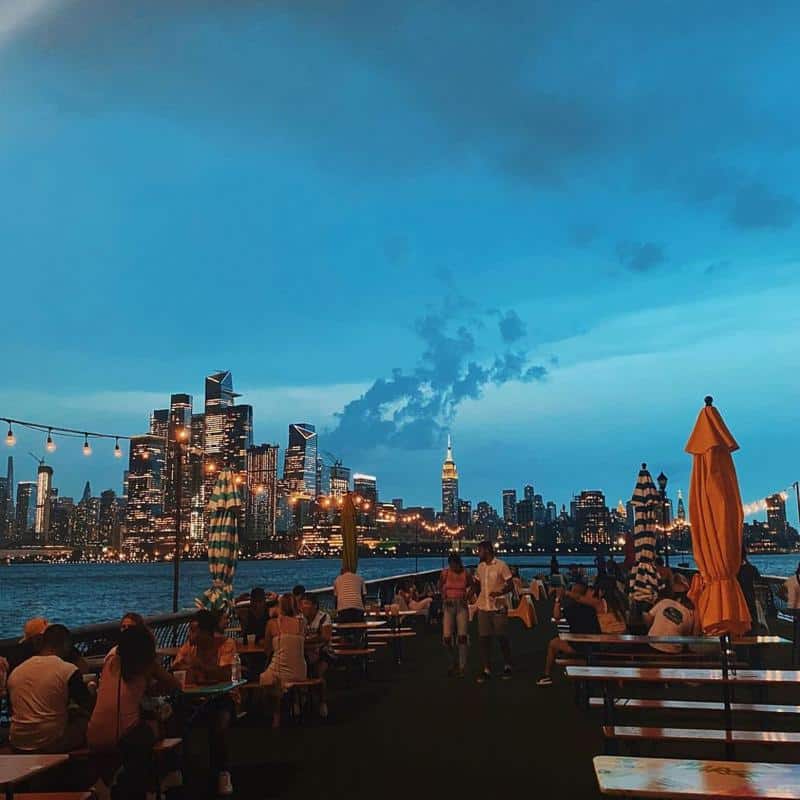 Address: 1301 Sinatra Dr, N, Hoboken, NJ 07030
Food: YES
Specials:
Atmosphere: open, airy, and impressive views of the NYC skyline
Known for: its colorful décor and open atmosphere for various outdoor activities on the Hudson
Pier 13 is a unique bar that cannot be compared to any other. It is a well-decorated pier that was voted Top 5 places to visit in Hoboken by USA Today. Pier 13 is located in the extended section into the Hudson and gives its guests an unobstructed view of the NYC skyline. There is a family-friendly beer garden with many food selections, drinks, and a wide range of activities throughout the week.
Foods are served from the food trucks, all of which are brightly decorated with striking colors and artful paintings. Some of the daily activities include kayaking, paddle boarding, and jet skiing. It is a great place for a movie night as well as a fun night of live music and impressive performances from the regular DJs. Sadly, Pier 13 is only open in the summer and end of September.
Madd Hatter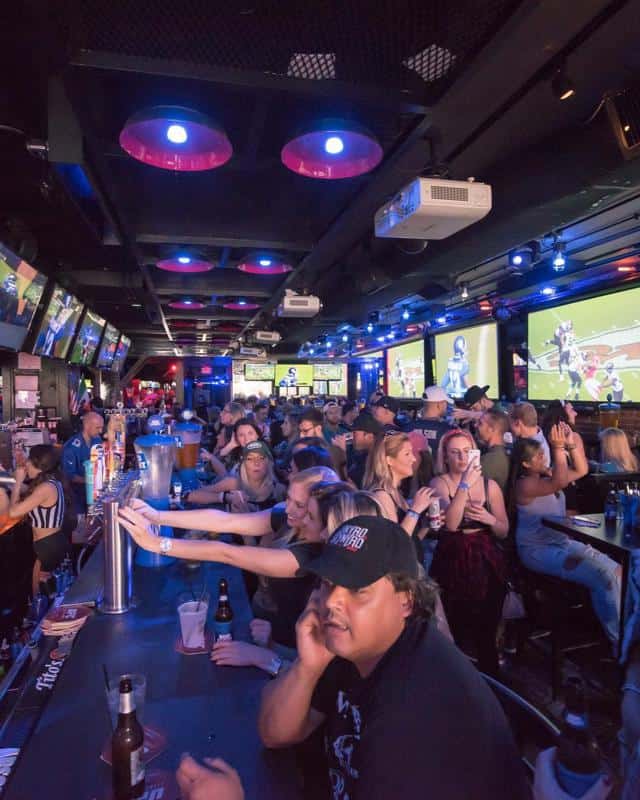 Address: 221 Washington Street, Hoboken, NJ 07030
Food: YES
Specials: 50% cocktails on Wednesdays
Atmosphere: Club vibe with enough indoor and outdoor seating
Known for: Great fishbowls and attractive outdoor patio
With more than 40 flat-screen TVs, Madd Hatter is a great sports bar to see your favorite team play. The attractive waitresses in tights and hats will keep you buying drinks all night. The venue is lively and engaging with its huge island bar and over 80 different types of beers. There is the Wine Down Wednesdays, where you can get different types of cocktails at 50% off, and the $3 Tacos on Tuesdays.
It is important to note that the sports bar transitions into a nightclub after around 10 pm, where the bottle service starts at $250. Madd Hatter is where you want to be for a crazy club experience filled with loud music, beautiful waitresses, great DJs, and a great crowd that is most adults between 21 and 35.
The nachos are highly recommended; they come in large portions and have enticing flavors that will go well with your assortment of drinks. Feast on the highly craved juicy burger or the fat sandwich, smoking wings, or the tasty paninis.
Green Rock Tap & Grill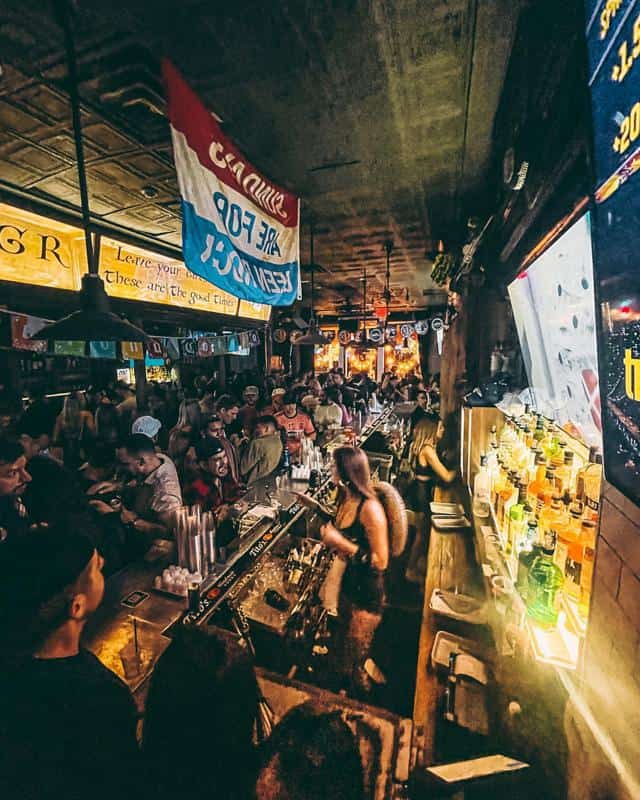 Address: 70 Hudson Street, Hoboken, NJ 07030
Food: YES
Specials: $1 domestic mugs
Atmosphere: Clean, welcoming, and eclectic
Known for: $1 beers
The Green Rock Tap & Grill is closed on Sunday and Monday. It is a popular location in Hoboken that is usually crowded, especially on Fridays and Saturdays. Please enter the venue before 10 pm as the bar is usually full.
There are very many special offers during the week, starting with the half-priced drinks on Thursday and the half-priced Tacos on Taco Tuesdays. Happy hour is available on weekdays and includes $1 domestic mugs, $7 Jumbo Pretzels, and $6 Buffalo chicken dip from 5 pm to 8 pm.
Wicked Wolf Tavern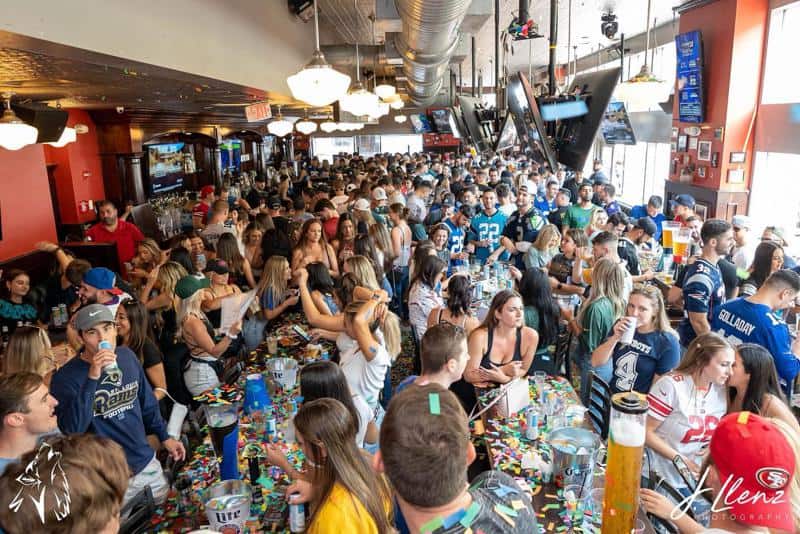 Address: 120 Sinatra Dr, Hoboken, NJ 07030
Food: YES
Specials: $3 Beers
Atmosphere: Well-lit, loud, and sporty
Known for: Lively and loud sports bar scene
The Wicked Wolf Tavern is popular among the locals for providing the essentials of a great sports bar: a good crowd, great football games on Sundays, a knowledgeable DJ, and a few beloved fast bites like sandwiches, fries, and wings.
Signature cocktails cost $13 and include the Friends with Benefits with Casamigos Blanco tequila and the Sinatra's Mule made with Hendricks gin and topped with ginger beer.
There is floor to ceiling glass walls on the entrance side that gives you a great view of the happenings on the streets. TVs are not many, but the crowds are lively, and you won't get bored on any game night at this venue.
Tally Ho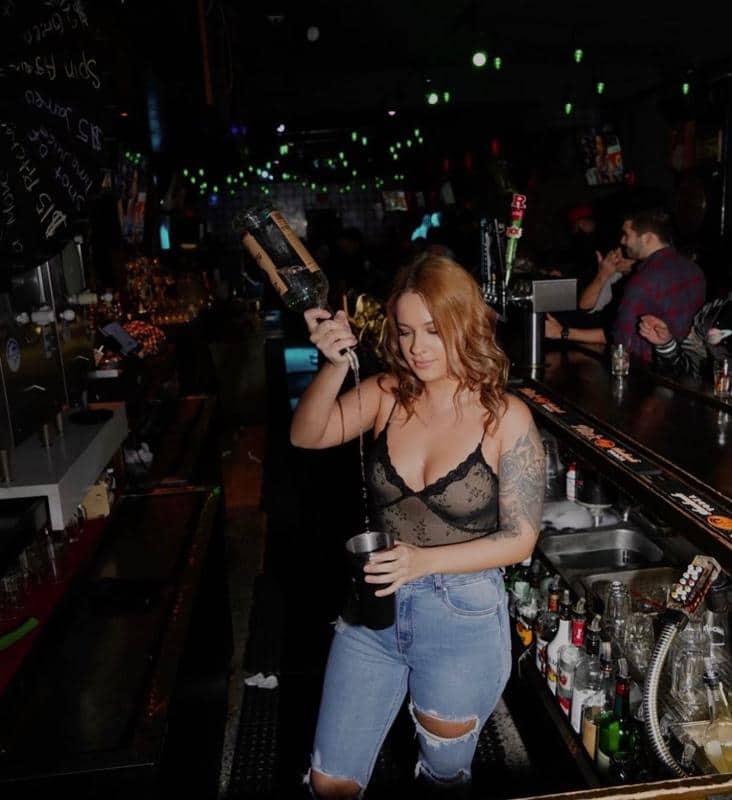 Address: 215 Washington Street, Hoboken, NJ07030
Food: YES
Specials: $19.99 Bottomless Wings every Thursday
Atmosphere: Lively, upbeat, and loud
Known for: Electric atmosphere and a great place to watch a game
Tally Ho has a bit of everything you need for a great night. Live loud music? Check. Cheap drinks? Check. Intoxicating atmosphere? Check. Huge crowds? Check. Tally Ho is very popular among the locals as a great place to pregame, catch up on the games, and have cheap drinks. There are daily $5 drink specials and various weekly food discounts.
The bar & game hall has 40 HD TVs and enough viewing space for a great game night. It is a dive bar that won't offer you any fancy options, but you will have a great time in the highly cramped and social atmosphere.
Black Bear Bar & Grill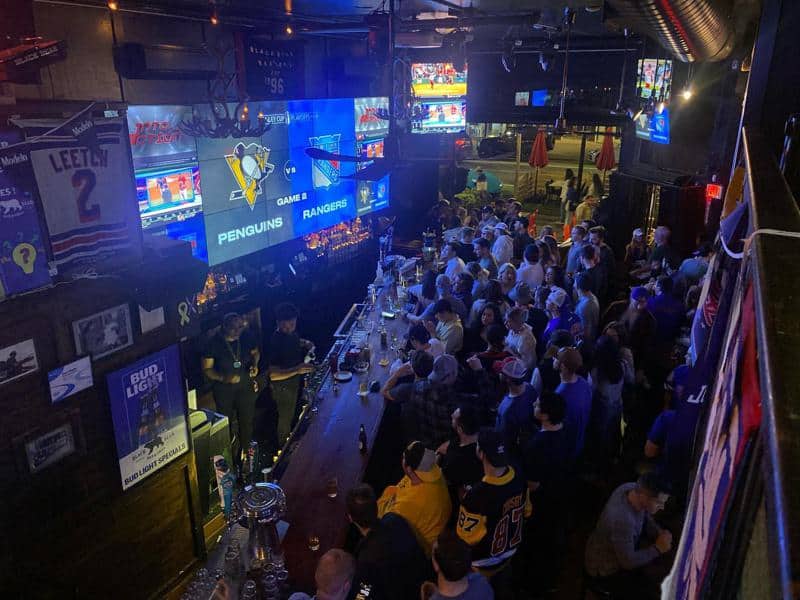 Address: 205 Washington Street, Hoboken, NJ 07030
Food: YES
Specials: $5 Margaritas on Thursdays
Atmosphere: Fun and inviting to young adults
Known for: Great place to watch a football game and have cheap drinks
The 50 HD TVs make the Black Bear a great contender to Tally Ho for watching games, especially considering they are located along the same street.
Black Bear is a classic sports bar with the usual offerings from cheap beer to basic foods. It has been open for more than two decades in which it has become a locals' favorite sporting venue and special cocktails.
Appetizers include Buffalo Mac N Cheese and signature Black Bear Wings. Enjoy entrees like the wraps and burgers that greatly accompany the margaritas. Every Wednesday is Trivia Night, and every Thursday is Tacos N Tequila nights with $5 margaritas.
The Madison Bar & Grill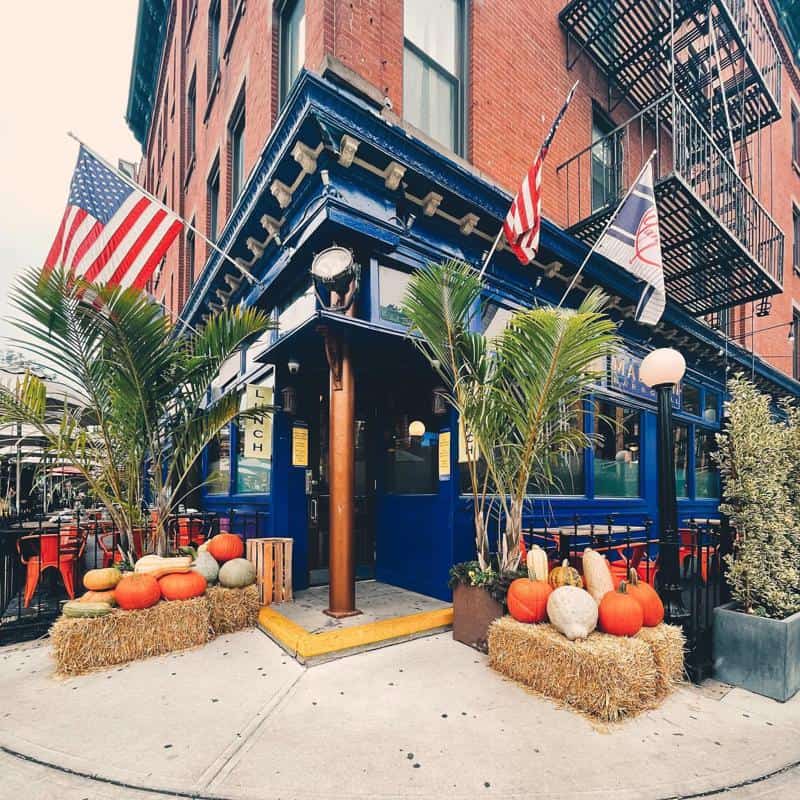 Address: 1316 Washington Street Hoboken, NJ 07030
Food: YES
Specials: $7 craft beers
Atmosphere: Calm, breezy, and elegant
Known for: Great outdoor seating with a cool breeze and good food
Another venue along Washington Street is The Madison Bar & Grill, which is highly recommended for older individuals above 30. It is an elegant dining and drinking venue with great attention to service and clientele.
Expect to pay more than you would at a regular classic bar as the food is great and attention is given to an eclectic experience rather than loud music and party scene. The Turkey burger and the Chicken Raphael are highly recommended.
Madison also has a sizeable selection of craft beers, including the Dogfish Head and the Ithaca Apricot Wheat Ale.
80 River Bar & Kitchen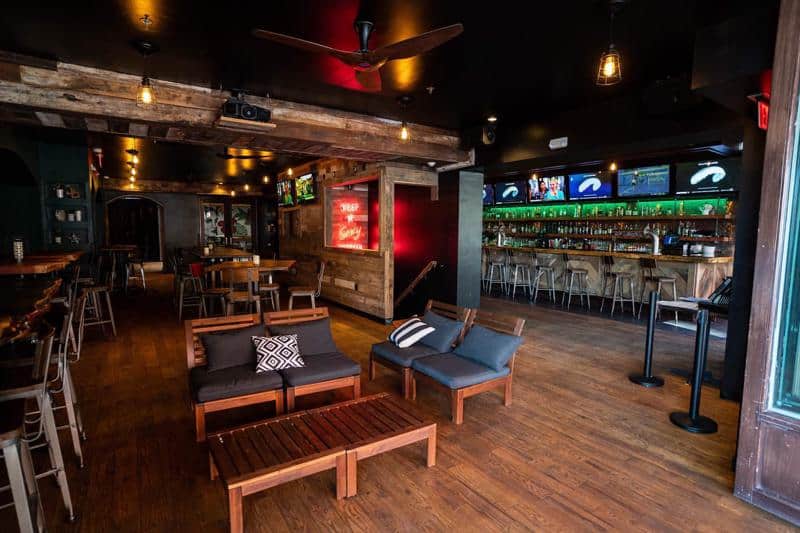 Address: 80 River Street, Hoboken, NJ 07030
Food: YES
Specials: N/A
Atmosphere: Roomy despite its small size, and the crowd is older adults, which makes for a more relaxed setting
Known for: delicious chicken quesadillas, special squared pizza
80 River Bar & Kitchen is open from Wednesday to Saturday. It is a popular Hoboken bar with DJs who make appearances every Saturday and Friday.
There is an outdoor pallet seating area next to the street with limited seating, and the indoors are accented with wooden finishes and flowery paintings on one side of the wall.
The menu is sizeable as the bar also serves as a Kitchen in Downtown Hoboken. Some of their menu options include grilled chicken salads, sandwiches, wraps, burgers, and tacos. Local NJ craft beers on tap include the 80 River Lager brewed by Ghost Hawk 5% and the 6.6% ABV Kane Head High.
Texas Arizona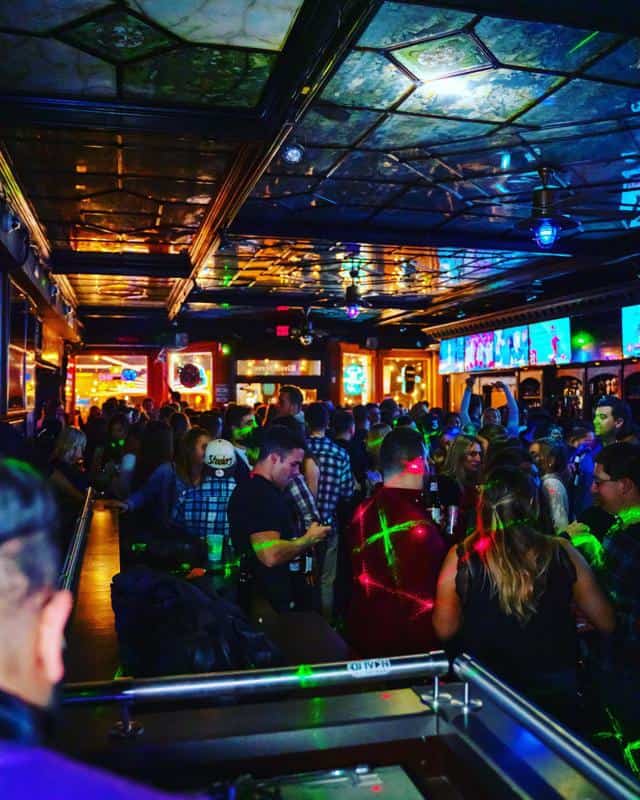 Address: 76 River Street, Hoboken, NJ 07030
Food: YES
Specials: $3 beers
Atmosphere: Laid back with ample lighting and a mature crowd
Known for: Great sports bar near the PATH and NJ Transit
Texas Arizona Bar & Grill is another popular destination that is typically full past 10 pm. It is strategically located in a great spot close to NJ Transit, Ferry, the PATH, and Light Rail.
It is a more mature sports bar that airs all the games of your favorite teams in the NFL, NBA, NCAA, MLB, and NHL. The 30-plus TV screens fill the venue that is decorated with sports jerseys, football memorabilia, and other mementos.
The Shannon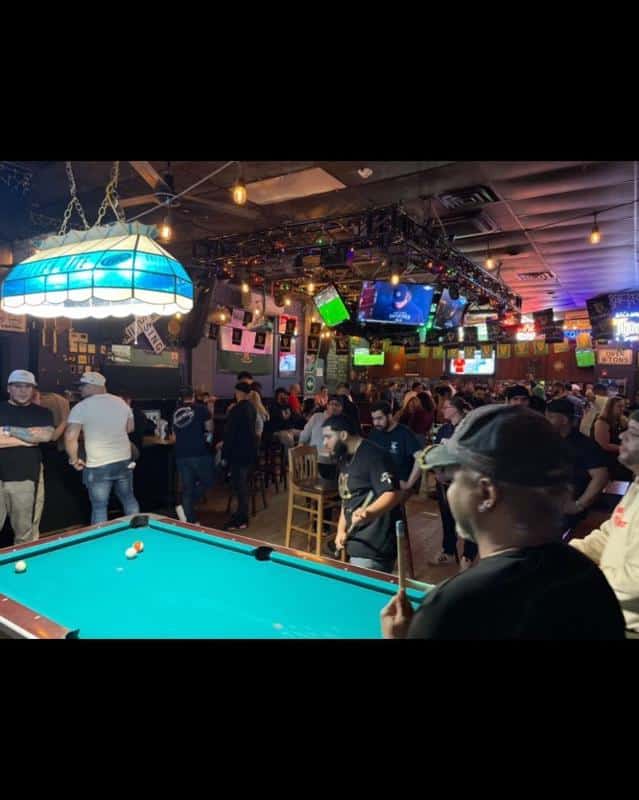 Address: 106 1st Street, Hoboken, NJ 07030
Food: NO
Specials: $5 shots from 8 pm to 10 pm every Thursday to Saturday
Atmosphere: Mellow ambiance in the front section and lively fun vibe in the back section
Known for: One of the oldest bars in Hoboken with competitive game nights
The Shannon is not just a premier sports bar; there are also two pool tables, a giant Jenga set, foosball, darts, and Connect four games to pass the time with your friends.
There are two sections; the back room for the communal games & large dance floor, and the front room for the Irish Pub Style drinking area. DJs make appearances on Friday and Saturday, whereas Sunday has the popular Industry Night.
The Shannon is an old sports bar that has been open since 1956. It is a family-owned and operated business that was started by an Irish family dedicated to bringing Irish-style experience to New Jersey. Even though it has withstood many generations, the venue is still reminiscent of its original design.
Belo Bar
Address: 104 Hudson Street, Hoboken, NJ 07030
Food: YES
Specials: Daily happy hour
Atmosphere: Cute
Known for: nice drink selection with a great brunch and daily menu
Belo is a full-service bar and restaurant that has been operational since 2019. The beautiful long bar invites you to the entrance, and the cute small design of the venue keeps you in an intimate setting.
Brunch Sundays are popular at Belo Bar with delicious items on the menu like steak & eggs with NY-style steak and the Veggie Pritata with spinach, mushrooms, and artichoke. There are $15 cocktails in enticing presentations and sizeable portions.
Read More:
Map of Best Bars in Hoboken
Final Thoughts
Another great bar you may want to check out is Zack's Oak Bar & Restaurant, which is famous for its crisp and flavorful stuffed chicken.
It is also a great venue to have various parties and occasions, including birthdays, chilling with family and friends, or for solo hangouts after work