Boston is home to some of the most vivacious souls who are ready to put on a show to lighten your mood as you slurp on mimosas and leave your troubles behind.
These drag brunches in Boston offer a delectable spread of your favorite breakfast food with performances that make your soul dance. Lose yourself in glittery feather boas and curly lashes paired with indulgent French toasts and bacon strips.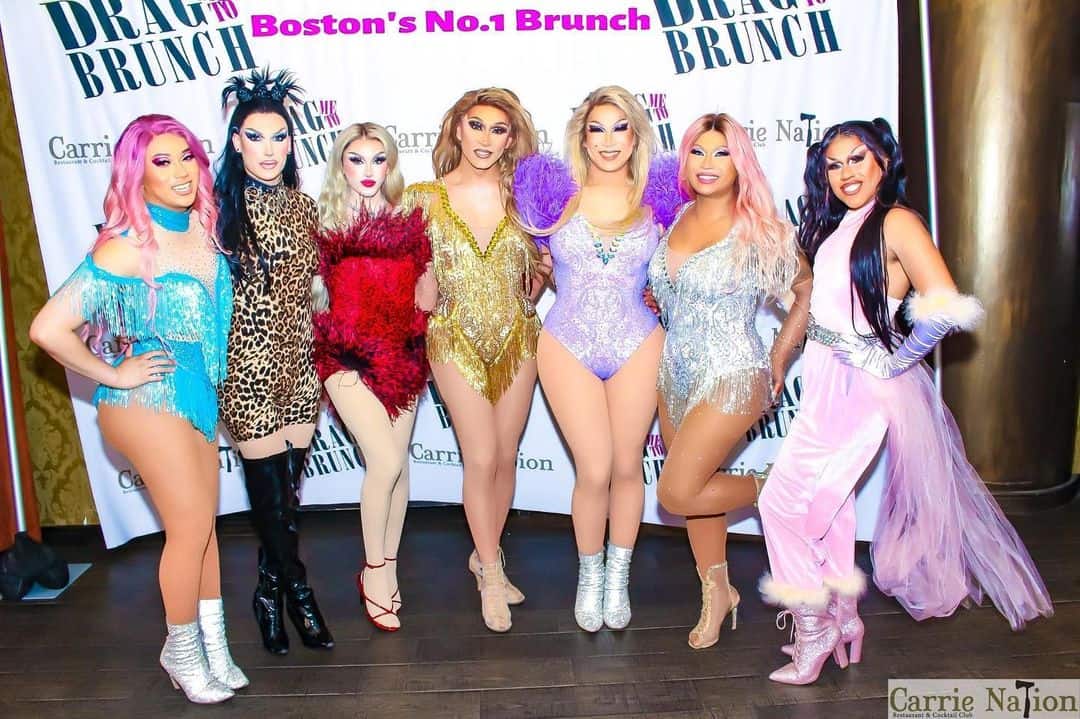 Enjoy fabulous entertainment and a lot of good food at one of these amazing drag brunch spots in Boston.
Carrie Nation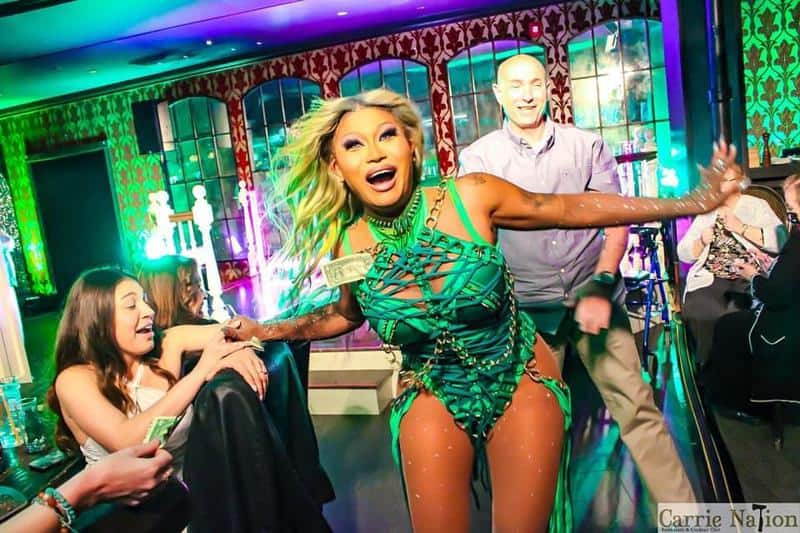 Address: 11 Beacon St, Boston, MA 02108
Phone: +1 617 227 3100
Time: Sundays from 12pm to 4pm
Tickets: #25 per person, additional #20 per person for buffet brunch
Known For: Exhilarating performances by Destiny Boston and Dee Dee de Ray.
Named after the historic radical leader Carrie Nation who headed the temperance movement, Carrie Nation is a famous brunch spot with regular drag brunches. Cleverly named 'Drag Me to Brunch', the series is running strong since 2017 and is loved for its electrifying energy and delicious brunch spread.
Every Sunday, visitors get to be in the glorious company of Dee Dee de Ray and Destiny Boston. You will also find vivacious guest performances that make the whole restaurant light up with pizzazz and glamour.
You can either get a ticket to the drag performances or purchase it along the buffet. While it is a bit towards the pricey end, you will regret it if you don't get the drinks with phenomenal brunch options.
Apart from the standard options of waffles and sausages, there is a variety of chicken dishes and a dedicated cereal station, but of course, bacon is there to complete your experience with a side of top-class entertainment.
The show features choreographed routines and proceeds with performances of our beloved drag queens. They are also kind enough to pose for photos at the end of the show so you can remember the afternoon that swiped you off your feet vividly!
Club Café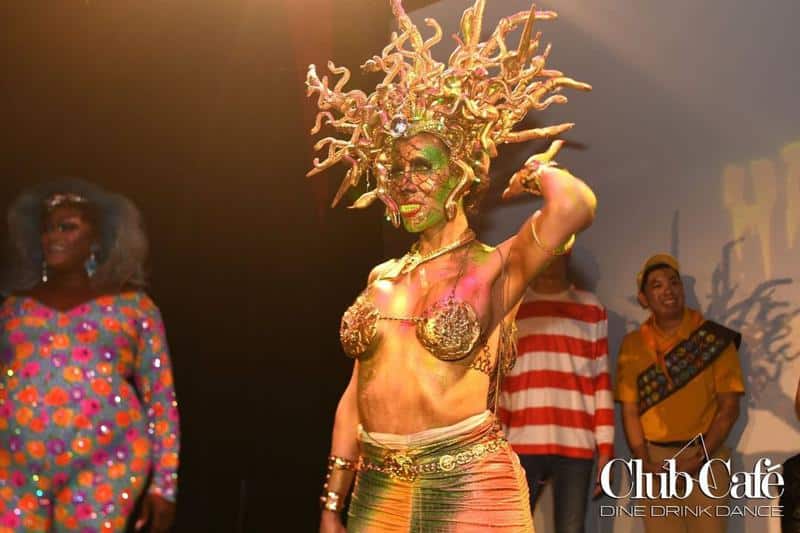 Address: 209 Columbus Ave, Boston, MA 02116
Phone: +1 617 536 0966
Time: Select Sundays from 11am to 3pm
Tickets: $25
Known For: Performances at Brunch Baes, extensive brunch menu, and Drag Bingo.
The stirring nightlife and vigorous vibes of Club Café can't be overstated. They recently decided to extend their contagious energy to mornings and afternoons as well by hosting drag brunches frequently through the month.
Their drag brunch is called 'Brunch Baes' and is hosted at least once a month on Sundays. The inaugural brunch had performances by Miranda Wrights, Severity Stone, DJ Coleslaw, and Pristine Christine.
The show was met with much enthusiasm and gusto, given that it featured singing, performances, and fun interactive games. The hilarious drag in the bag and scrumptious doughnut eating contest was a big hit following drag performances that makes one feel truly alive. They update their schedule for drag brunch regularly on the website, so keep your eyes peeled for the next event.
The brunch menu is extensive. Make your way through some delicious appetizers from loaded quesadillas to spiced-up wings, and indulge in an assortment of delectably prepared eggs, sandwiches, salads, and soups.
Apart from drag bunch, people also love the special Monday evenings Drag Bingo featuring Mizery and special guests. With deliciously crafted cocktails, a hearty menu, top-notch performances, and prizes at the end of the night, it's sure to take away your Monday blues.
Blend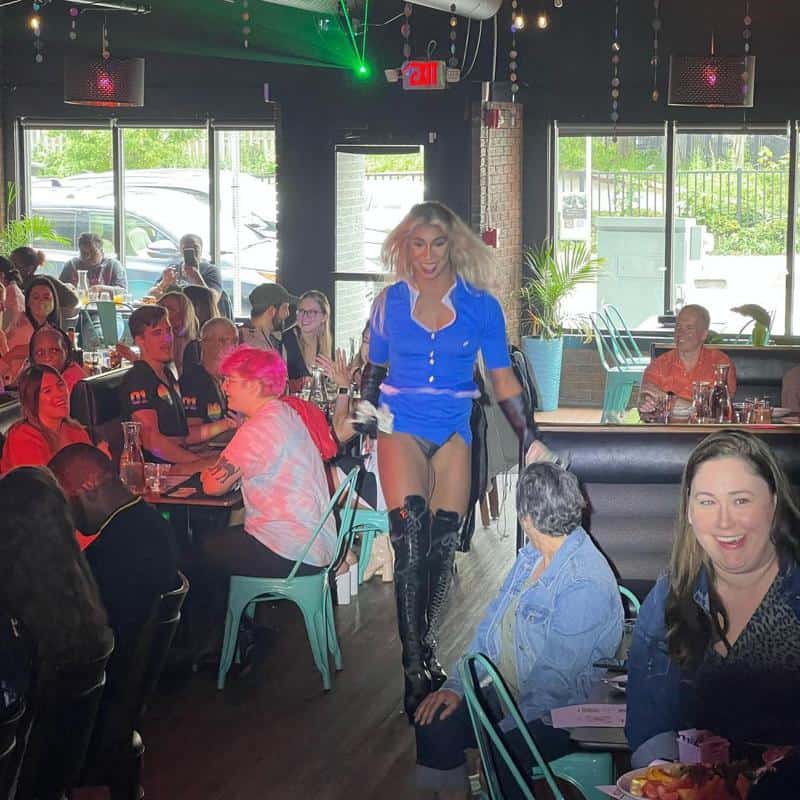 Address: 1310 Dorchester Ave, Dorchester, MA 02122
Phone: +1 617 265 8846
Time: Sundays from 11am to 3pm
Tickets: $20
Known For: Fun-themed Drag Brunch, Disco brunch menu, and scrumptious homemade hollandaise!
With a relaxed and friendly bar vibe, Blend is known for its amazing customer service, and disco brunches and now tops the list for hosting entertaining drag brunches on Sundays as well. While disco still stays the central theme of their brunches, drag brunch runs on different themes depending on the performers and guests.
For instance, 'Mizery loves company' features the famous Queen Mizery, while the Britney Spears-themed Drag Show will have performers in similar getups, props, and décor to match the title.
Apart from the invigorating performances, food is a big highlight at their brunch. Yes, you will have all your basics covered but there's something so exciting about a cereal-flavored donut for brunch that you simply can't pass on it.
Combining the best of both worlds, you will find many varieties to satiate your sweet tooth. They also have the best egg benedicts you'll ever lay hands on, drenched in homemade hollandaise sauce that'll make you sing show tunes all day long.
Their drink menu is also quite a hit. From spiking up your strong and delicious coffee with just a bit of booze, they'll give you a strong kick of caffeine and fun as you absorb all the glitter and glam around you.
Gulu-Gulu Café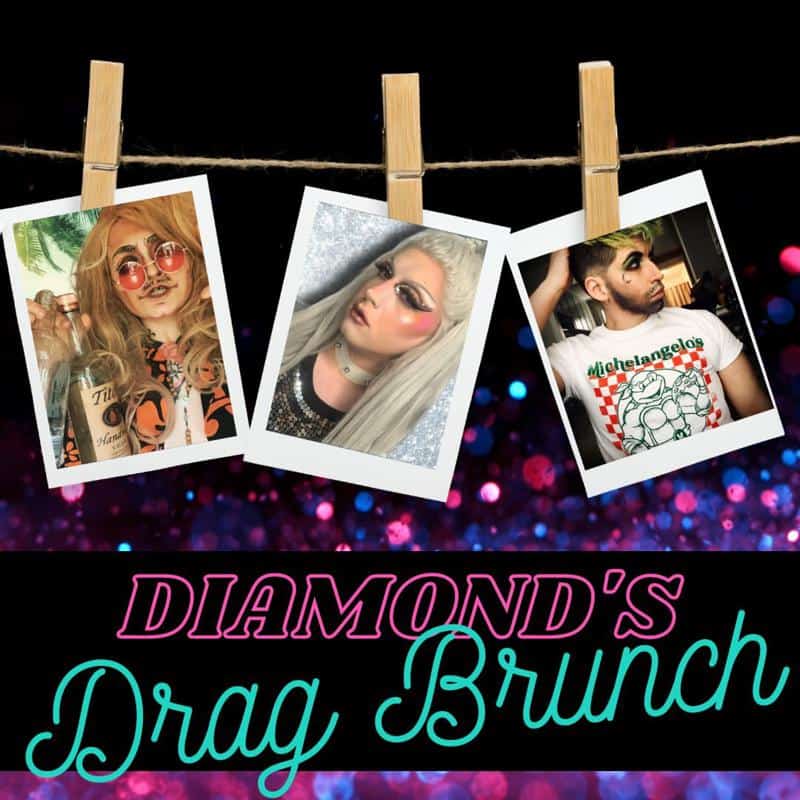 Address: 247 Essex St, Salem, MA 01970
Phone: +1 978 740 8882
Time: Sundays from 3pm to 6pm
Tickets: Starts at $10
Known For: Eclectic bohemian vibe, live music, and local brews.
Founded with a lot of love – for each other and everything quirky, Gulu-Gulu Café is the love child of Marie Feldmannova and her husband Steve Feldmann. Named after the quaint café in Prague where the two met, Gulu Gulu is not so quaint itself, but exudes a rather fun-filled bohemian vibe that attracts people from all over town.
The energy of the café is unlike any other. It serves sandwiches, craft coffee, and beer with live music and performances from guest artists. While the stirring vibe carries on from morning to night, you can particularly catch it in all its glory at their Sunday Diamond's Dine in Drag Brunch.
While other drag brunch starts early, this one gives you room to sleep in on a weekend and join the fun from 3 pm onwards.
With amazing performances from special guests and delightful live music, you will experience a euphoria that will stay with you forever. We love the seating with colorful accents like a bulldog sign or Bewitched statue, adding a lot of personality to the setup.
Order freshly prepared crepe with seasonal berries or a stuffed gourmet sandwich with a side of marinated brie as you enjoy a good drag show. They also have a seasonal cocktail, beer, and wine specials along with local brews.
Diva Royale Drag Queen Show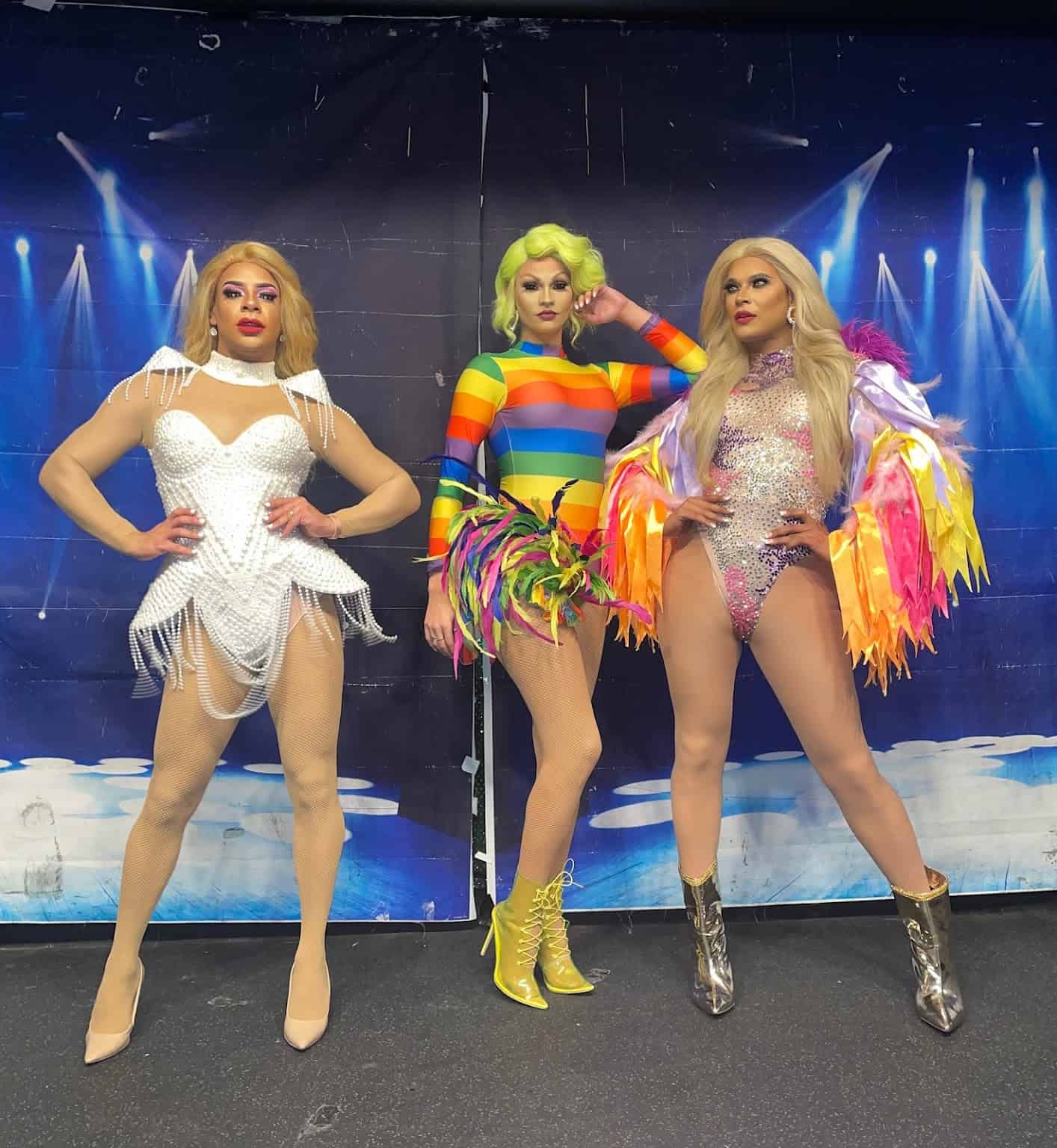 Address: 25 Union Street, Boston, MA
Phone: +1 917 633 4943
Time: Sundays from 1:30pm to 2:30pm
Tickets: Starts at $30
Known For: Drag queen brunch and dinners and celebrity impersonations.
Diva Royale opens its doors to weary travelers and locals in promises of pleasure and thrill with stimulating drag brunch, female celebrity impersonations, drag queen dinner and cabaret. They also have a prized selection of drinks.
The vivacious host sets the stage on fire with amazing performances alongside guest drag queen divas. Specific celebrity getups and impersonations vary on different Sundays but they commonly bring in Dolly Parton, Celia Cruz, Madonna, Celine Dion, Nicki Minaj, Adele, Liza Minnelli, Britney Spears, Sia, Whitney Houston, and of course, the ultimate queen, Beyonce.
People love the lively ambiance and add in their blend of celebrations, as bachelor and bachelorette and birthday parties are a common part of drag queen brunch and dinner.
Brunch starts in the afternoon with a dedicated spread of all your brunch staples as you unwind and party with divas dolled up in million-dollar costumes and wigs.
Loretta's Last Call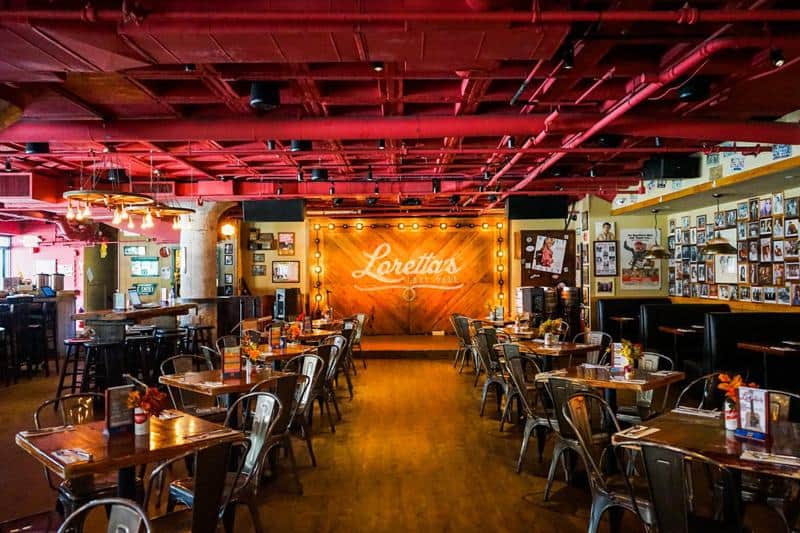 Address: 1 Lansdowne St, Boston, MA 02215
Phone: +1 617 421 9595
Time: Select Saturdays and Sundays from 11am to 4pm
Tickets: Free
Known For: Country vibe, biscuits and gravy, and built-your-own bloody mary.
Last calls for a party with Biscuits and Belles at Loretta's vibrant and colorful drag brunch!
Boasting a youthful country vibe, Loretta's Last call gives you a taste of authentic southern hospitality with a wide spread of traditional cuisines and country music. The restaurant is running strong since 2014 with a dedicated bar, weekly line dancing, and live music.
While they are known for their weekend Bluegrass Brunch, they are grabbing attention with their drag brunches hosted on selected weekends. Besides the amazing performances and exhilarating ambiance, the main attraction of their drag brunch is build-your-own Bloody Mary bar that truly sets the mood for a party.
The highlight of their brunch menu is Biscuits and Gravy. The light and airy melt-in-your-mouth biscuits are made with house-made buttermilk and served with eggs and southern sausage gravy. They also make a mean Chicken Fried Steak and Pulled Pork Benedict with a side of Smoked Brisket Hash.
The cocktails menu is extensive and besides the lip-smacking Bloody Mary, we also recommend their 'Tipsy Tea' tweaked with peach liquor and raspberry syrup.
The Bell in Hand Tavern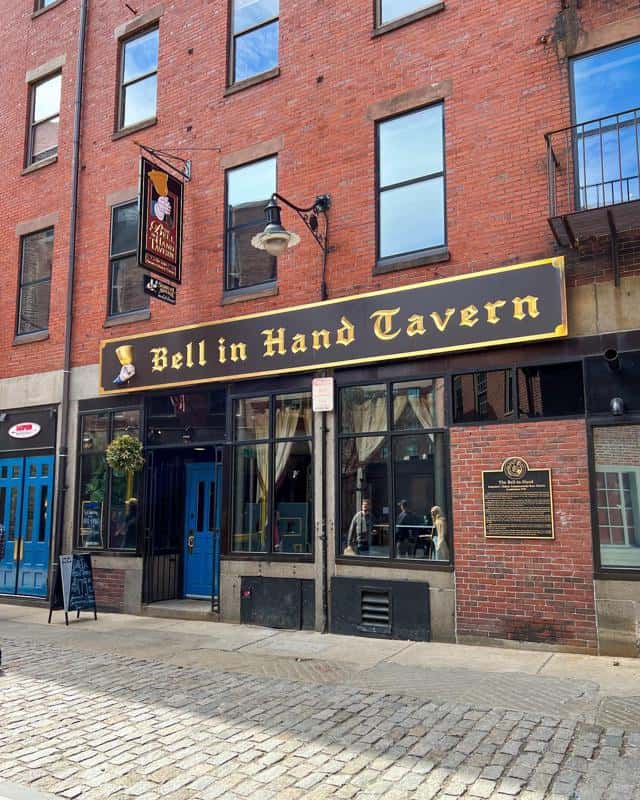 Address: 45 Union St, Boston, MA 02108
Phone: +1 617 855 0061
Time: Sundays from 11am
Tickets: $25 – $40
Known For: Breakfast buffets, monthly Brunch of Queens and live DJ.
Bell in Hand takes pride in being the oldest operating tavern in America. Built in 1795, one can only imagine the events and seasons that had passed with Bell in Hand going strong through it all.
For its rich history, Bell in Hand takes the drag scene by storm by introducing it as 'Brunch of Queens' as a monthly drag brunch event. Safe to say, this too shall go down in history as a highlight of the tavern, and let's play a part in promoting it while we are at it.
Four queens perform in rotating fashion on one Sunday each month, including Karisma Geneva Jackson-Tae and Amanda Playwith. There's also a DJ for company and some excellent tunes to liven up the show.
Tickets for drag brunch also cover a hearty breakfast buffet covering all your basics. As with all buffets, servers don't get in the way of fun as you absorb the eclectic ambiance and feast on breakfast staples.
There's an impressive lineup of eggs, croissants, fruit bowls, and sausages among other things. You can also get one drink included in the ticket's cost.
Read More: