There is nothing better than sipping cocktails, enjoying delicious meals, and taking in panoramic sunset views from rooftop bars and restaurants in Boston.
The good news is that the Cradle of Liberty offers numerous rooftop options, ranging from charming waterfront restaurants and upscale lounges with rooftop pools to cool breweries and swanky cocktail bars with breathtaking birds-eye views.
Below, you'll find a list of our favorite rooftop bars and restaurants in Boston.
Best Rooftop Bars and Restaurants in Boston
Earls Kitchen + Bar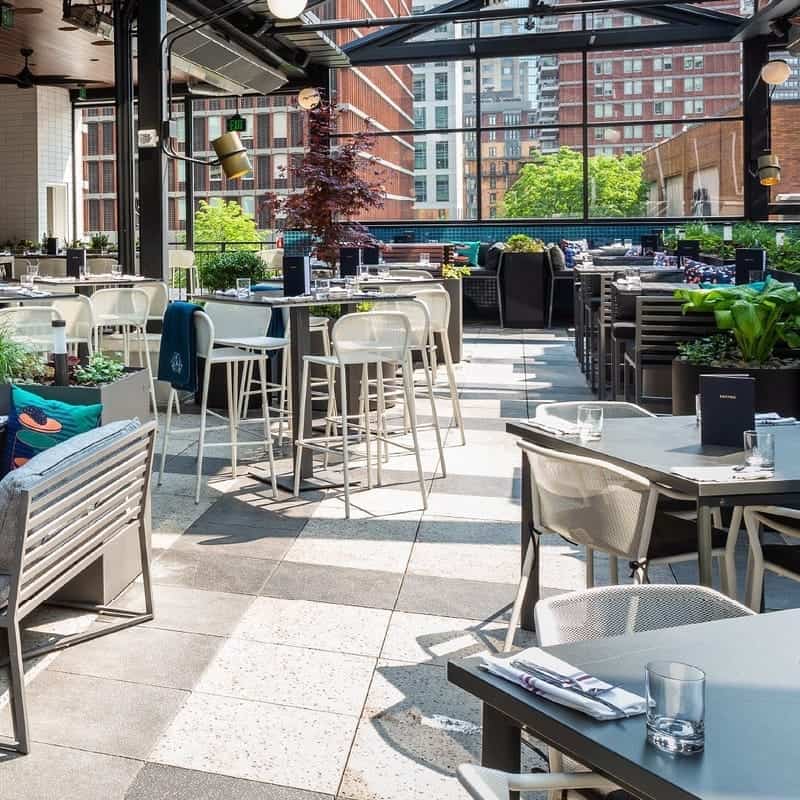 Situated in the Prudential Center, Earls Kitchen + Bar boasts a lovely rooftop garden with a stylish rotating bar, plush leather seating, and patio heaters. It's a perfect place to grab a few drinks with colleagues after work and enjoy made-from-scratch international comfort dishes in a sophisticated setting.
This lovely rooftop garden offers an extensive cocktail list with favorites such as Passion Fruit Moscow Mule, Earls Old Fashioned, and White Negroni. On the food menu, you will find a range of salads, soups, burgers, seafood, and steaks. Meat lovers can order BBQ chicken, prime sirloin, or steak frites. If you wish to enjoy seafood delicacies, get the lobster+ shrimp ravioli or the miso-glazed sea bass.
Address: 800 Boylston St unit 107, Boston, MA 02199
Phone: +1 857-957-0949
See Also: Best Steakhouses in Boston
Lookout Rooftop and Bar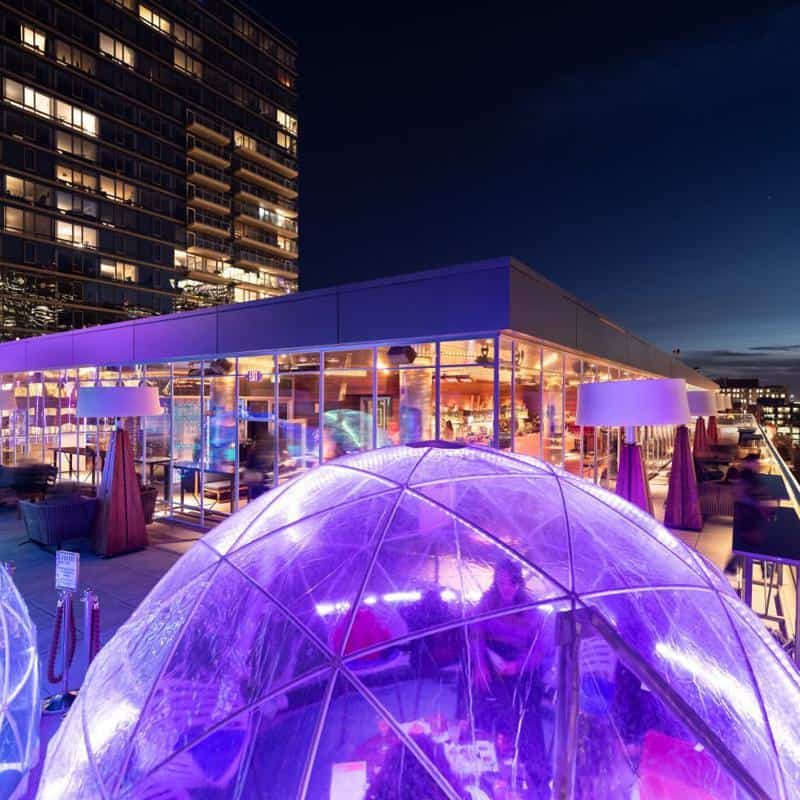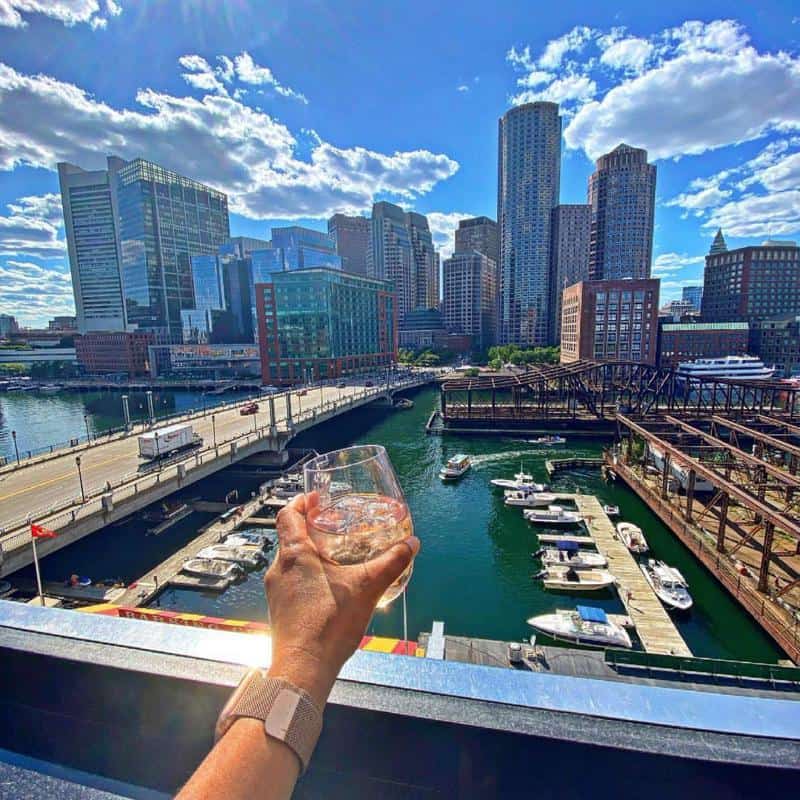 You will find the Lookout Rooftop and Bar on the top of the charming Envoy Hotel in the Seaport District of Boston. Located right on the water, this eighth-floor eatery and rooftop bar offers magnificent views of the Boston Harbor and the city skyline.
The décor is fabulous with comfy lounge sofas and a stylish bar where you will find a wide selection of fine wines, craft beers, and artisan cocktails. If you are not a big drinker, choose something from their mocktail list.
Although Lookout Rooftop and Bar offers a small menu, everything you order here is cooked to perfection. Some of the signature dishes include chicken thighs and truffle parmesan fries. If you wish to get the best seat in the house, we recommend booking the awesome fire pit table.
Address: 70 Sleeper St, Boston, MA 02210
Phone: +1 617-530-1538
Blue Owl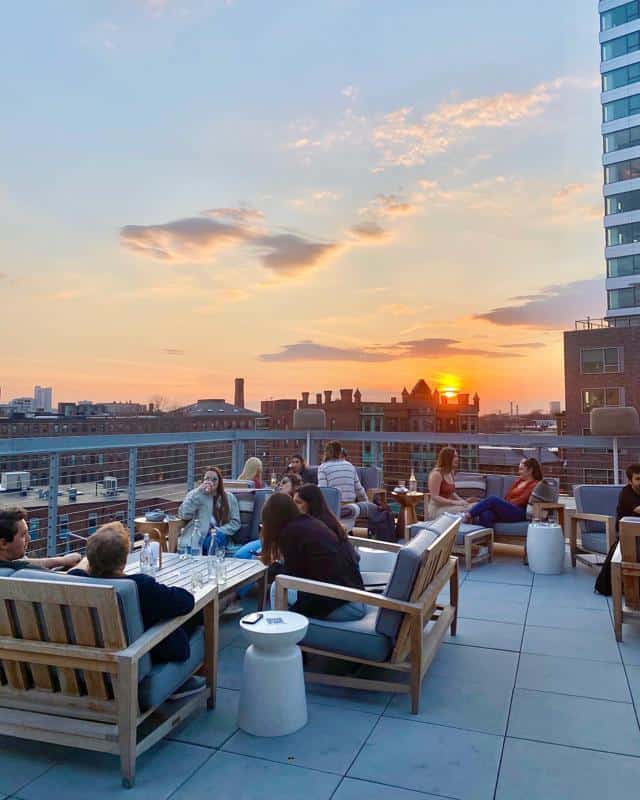 There is no shortage of fabulous rooftop bars and restaurants in Boston and the legendary Blue Owl is one of them. Perched atop the beautiful boutique hotel 907 Main in Cambridge's Central Square, this stylish cocktail lounge is known for its sleek décor with spacious booths, high tops, and stylish lounge chairs. Guests will find both an indoor bar and an outdoor patio where they can enjoy views of the colorful streets of Cambridge.
Chef, Justin Urso is in charge of the kitchen and prepares mouthwatering dishes. Think in the lines of Korean fried chicken wings, shrimp tikka, lamb kofte kebab, and beef teriyaki skewers. In the mood for some tasty cocktails? This rooftop joint offers a variety of artisan cocktails to choose from with popular options such as Dill or No Dill and Blue Owl Signature.
Address: 907 Main St, Cambridge, MA 02139
Phone: +1 617-349-2967
Contessa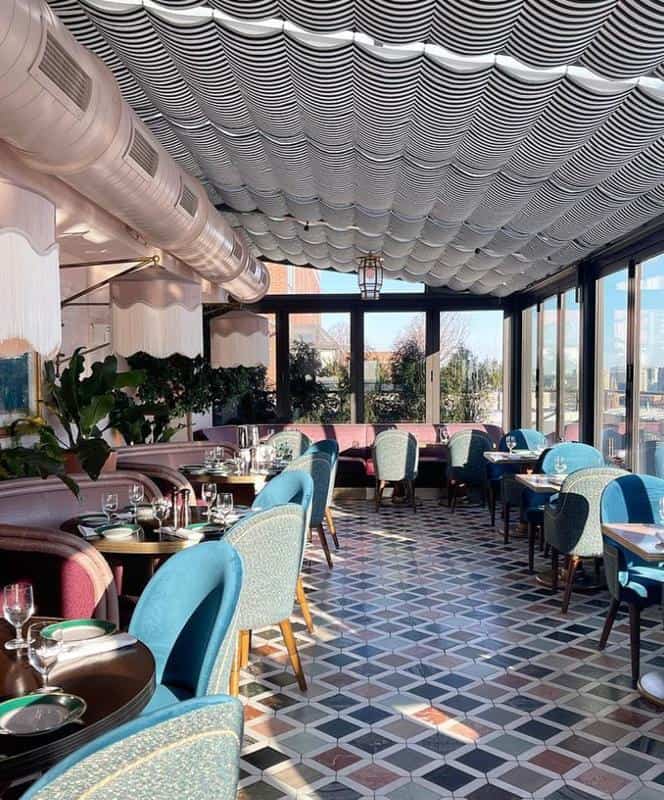 Newbury is one of Boston's most glamorous hotels. It is also home to an elegant rooftop sanctuary called Contessa. Let's start with the interior. With a glass roof and a lush garden patio fitted with plush chairs and luscious plants, this restaurant looks absolutely gorgeous. The view of the surrounding Back Bays is also one of the reasons why Contessa is one of the most popular rooftop places on this list.
The rooftop restaurant is open for brunch, lunch, and dinner and focuses on awesome cocktails and elevated Italian cuisine. The pizza menu includes options like Salumi, Funghi, and Margherita. You can also choose something from their seafood and fish menu. Both grilled Mediterranean Branzino and spicy lobster capellini are must-try dishes here. The cocktails list is superb with options like Bianco negroni, Paradiso Verde, Cardinale, and Boston Sour.
Address: 3 Newbury St Rooftop, Boston, MA 02116
Phone: +1 617-741-3404
The Sinclair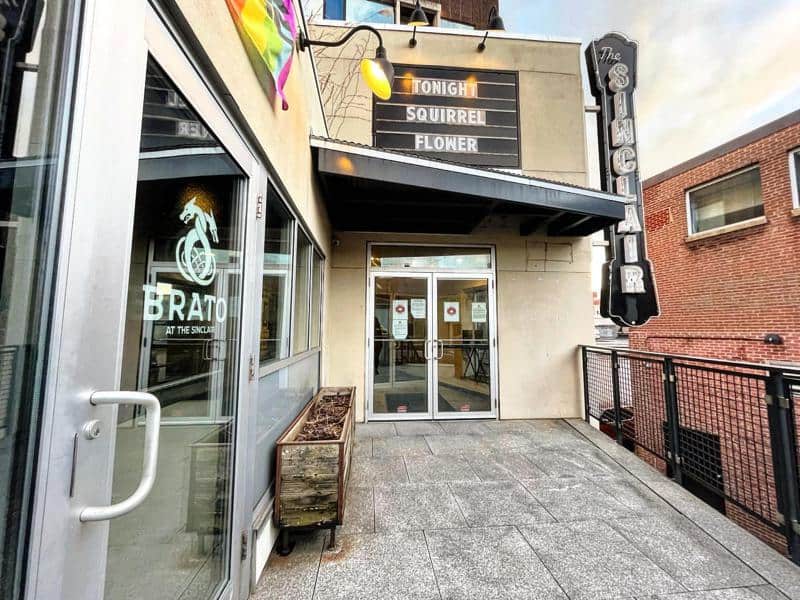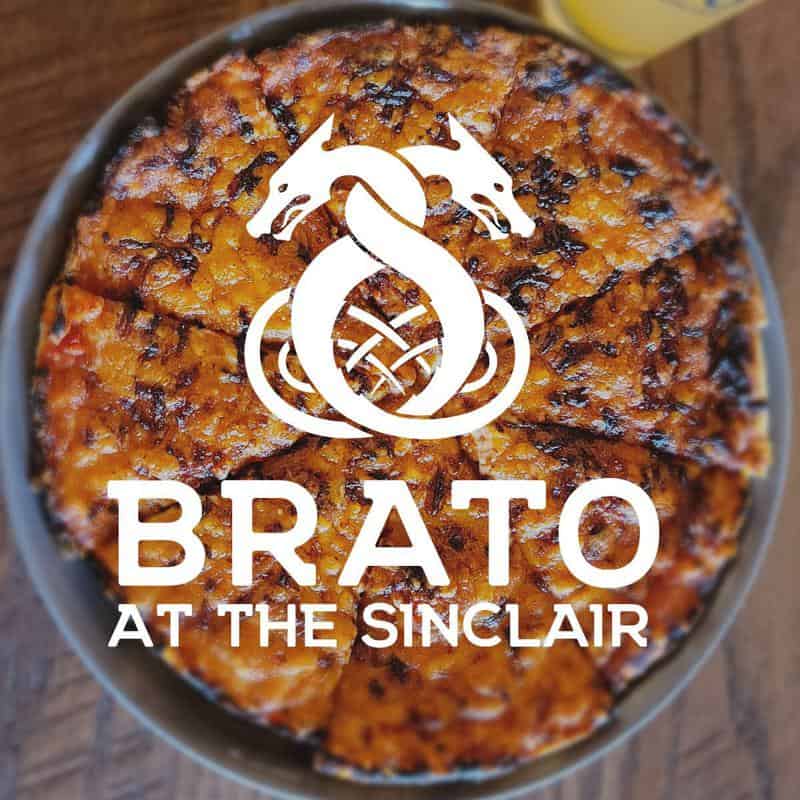 Located at Harvard Square in Cambridge, Sinclair is an absolutely magnificent multi-use rooftop venue. It has a stage with live music performances and a lovely rooftop bar where you can unwind with a drink or two and enjoy magnificent views of Boston's skyline. The venue is an ideal destination for a date with that special someone.
Sinclair offers a crowd-pleasing menu with plenty of burgers, pizza, and vegan options. It's basically American gastro-pub cuisine at its finest. Whether you wish to enjoy crafted signature cocktails, choose something from their selection of IPAs and other beers, or have a glass of wine, we have to admit that the drinks list at The Sinclair is pretty impressive.
Address: 52 Church St, Cambridge, MA 02138
Phone: +1 617-547-5200
Deck 12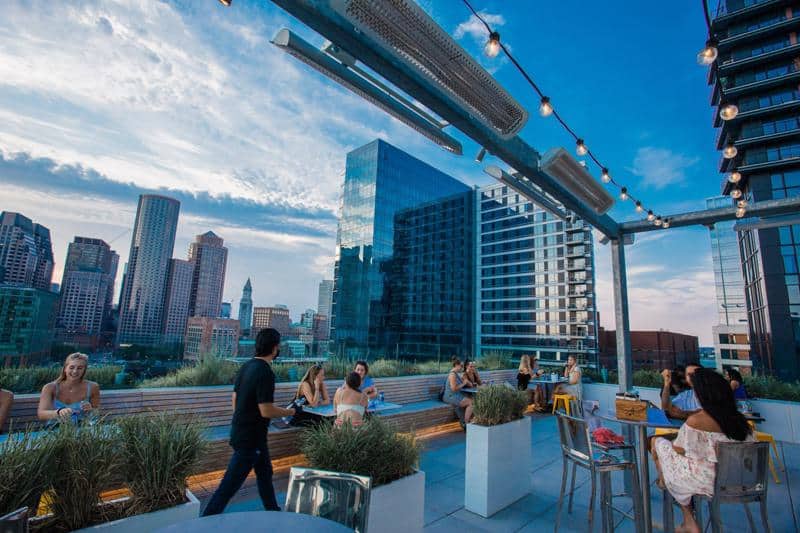 No list of the best rooftop bars and restaurants in Boston would be complete without saving a spot for the iconic Deck 12 (Formerly known as the Sky Lounge). This lovely rooftop located at the top of YOTEL Boston offers both an indoor lounge and a spacious open-air rooftop terrace. We just love the floor-to-ceiling windows that lead out to the terrace where you will find a rooftop bar that serves a variety of house cocktails, wine, and beers.
Ask the bartender to mix you up Summer in Campania (gin, basil, cucumber, lemon) or go for the Slush du jour. As for the food, an internationally influenced food and drink menu includes options such as truffle parmesan popcorn, shakshuka, quiche, jumbo onion rings or the Caribbean, and poke tuna.
Address: YOTEL Boston, 65 Seaport Blvd, Boston, MA 02210
Phone: +1 617-377-4747
Dorchester Brewing Co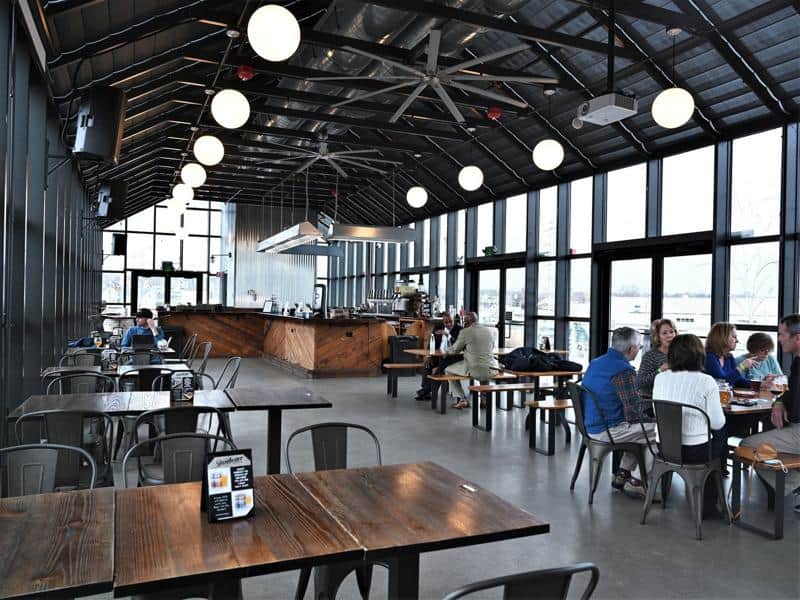 Breweries and rooftop bars simply go together here in Boston. Welcome to Dorchester Brewing Co and its phenomenal rooftop patio. This slice of heaven for craft beer lovers offers a spacious outdoor rooftop terrace and a greenhouse Hopservatory.
Step inside the in-house restaurant M&M BBQ and pair your favorite craft beer with a plate of smoked ribs and a side of coleslaw. Yes, the restaurant is known for its top-notch barbecue! While enjoying fantastic views over the Boston skyline from the all-season rooftop, unwind with a pint of ever-changing brews, wine, or siders.
Address: 1250 Massachusetts Ave, Boston, MA 02125
Phone: +1 617-514-0900
Rooftop at Revere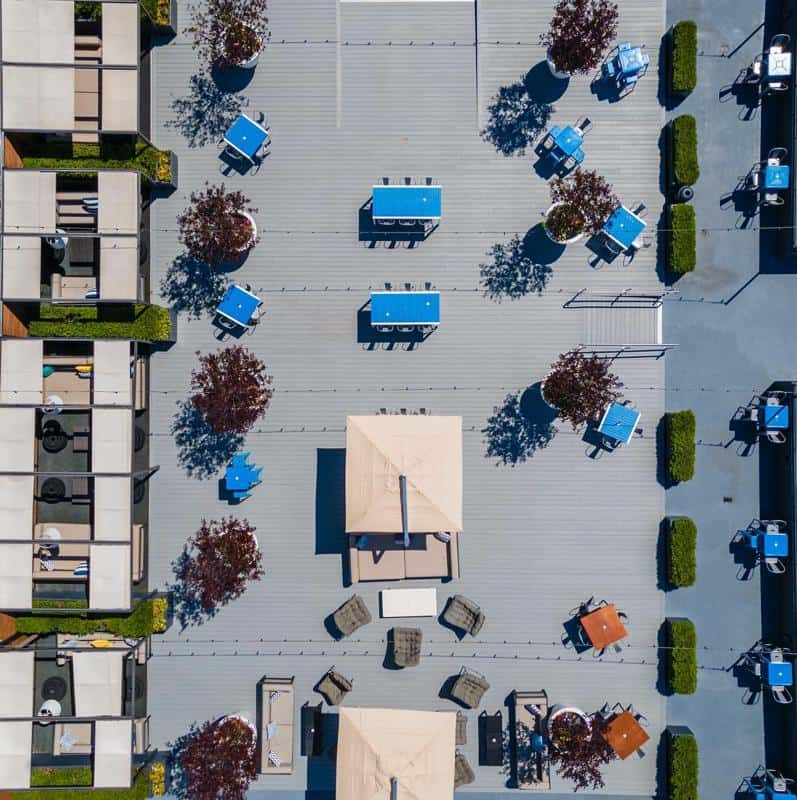 This stylish rooftop bar sits at the top of the Revere Hotel in Boston and attracts large crowds of visitors during the summer season. It is actually one of the largest rooftop spots in the city and offers spectacular views of the Back Bay and the Theater District.
Since this large rooftop deck and bar is extremely popular, we recommend reserving a spot a few days in advance. Guests have access to comfy sun loungers, private cabanas, and an indoor pool.
Yogies will be pleased to hear that Rooftop at Revere offers rooftop yoga events! Modern and luxurious in design, the on-site bar boasts a trendy vibe and offers everything from artisan cocktails and premium wines to a nice set of gastro bites.
Address: 200 Stuart St, Boston, MA 02116
Phone: +1 617-482-1800
Felipe's Taqueria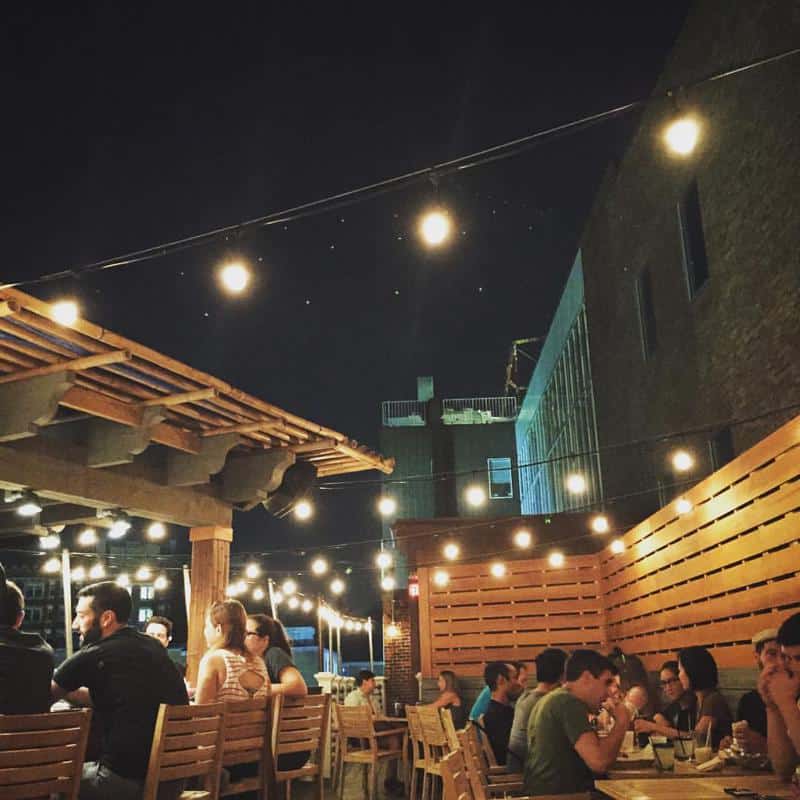 Located in the heart of Harvard Square in Boston, Felipe's Taqueria is an incredible rooftop joint that offers delicious Mexican cuisine in an alfresco setting. If you wish to enjoy a range of authentic Mexican dishes and drinks, you've definitely come to the right place. We should mention that this rooftop restaurant is sometimes closed for private events.
Also, Felipe's doesn't do reservations, which means you should arrive early in the evening to get a free table. The food menu at Felipe's is extensive and includes everything from tacos and burritos to churros and quesadillas. Pair your frozen Margarita with the Baja-style shrimp tacos and you won't be disappointed.
Address: 21 Brattle St, Cambridge, MA 02138
Phone: +1 617-354-9944
Pier 6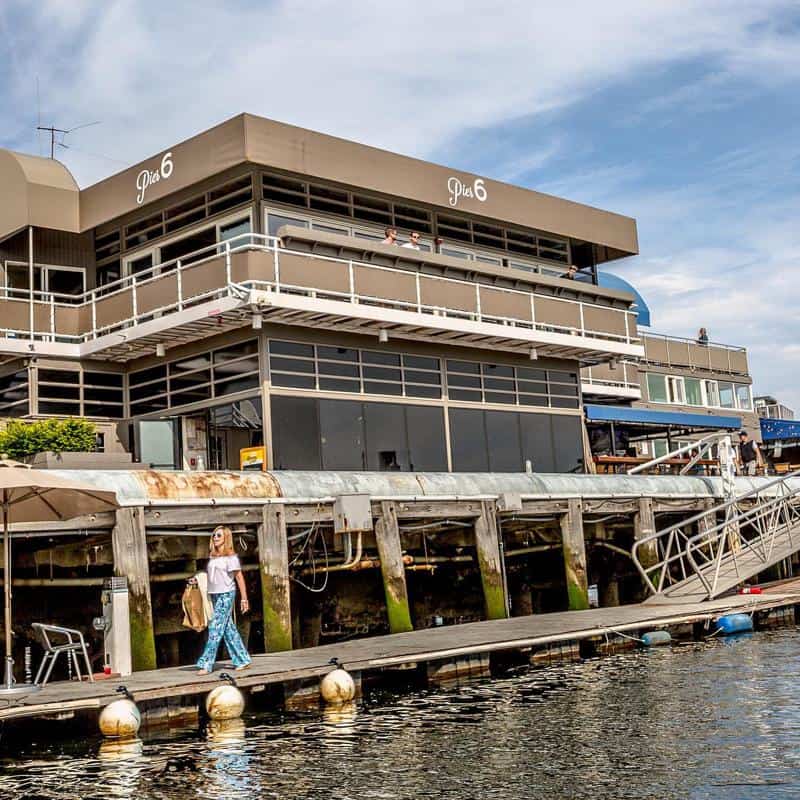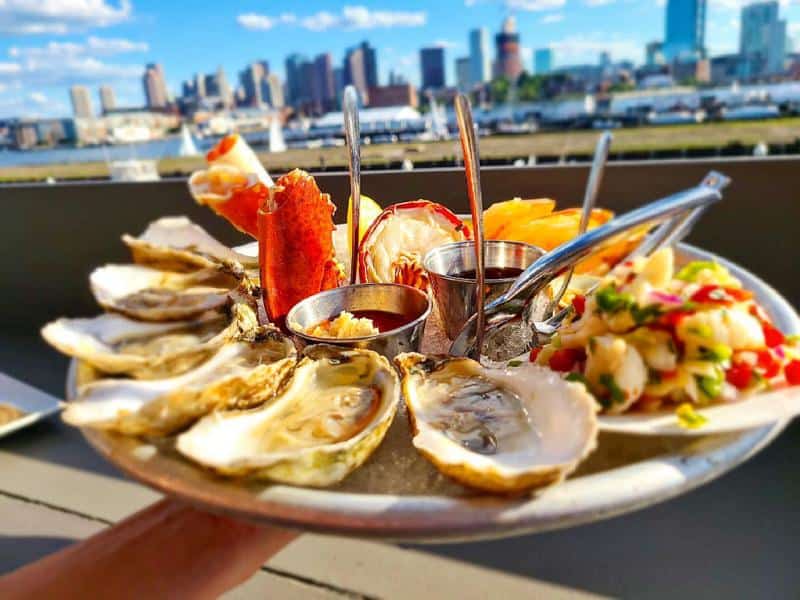 Pier 6 is without a doubt one of the finest rooftop destinations in Boston. Located in the Charlestown neighborhood, this restaurant and rooftop bar offers some of the best views of the city. You will have an opportunity to enjoy views of the harbor waterfront and the Boston skyline at the same time. We recommend arriving in the afternoon to grab a drink or two and enjoy magnificent sunset views.
The restaurant itself focuses on New England cuisine and offers plenty of fresh seafood. Kick off your al fresco dining experience with a round of oysters, order a few shrimp cocktails for the table, and feast on mains like seared scallops and steak frites. The drinks list is impressive and includes cocktails, beers, wine, and champagne.
Address: 1 8th St, Charlestown, MA 02129
Phone: +1 617-337-0054
Legal Sea Foods – Harborside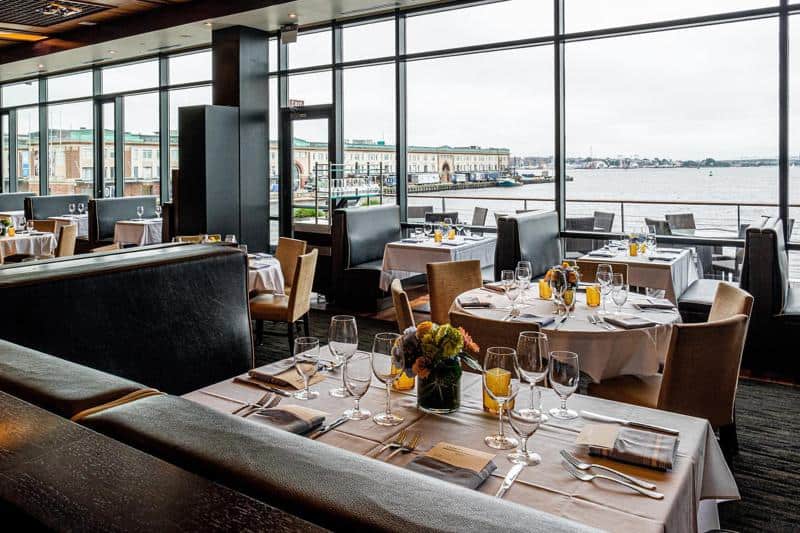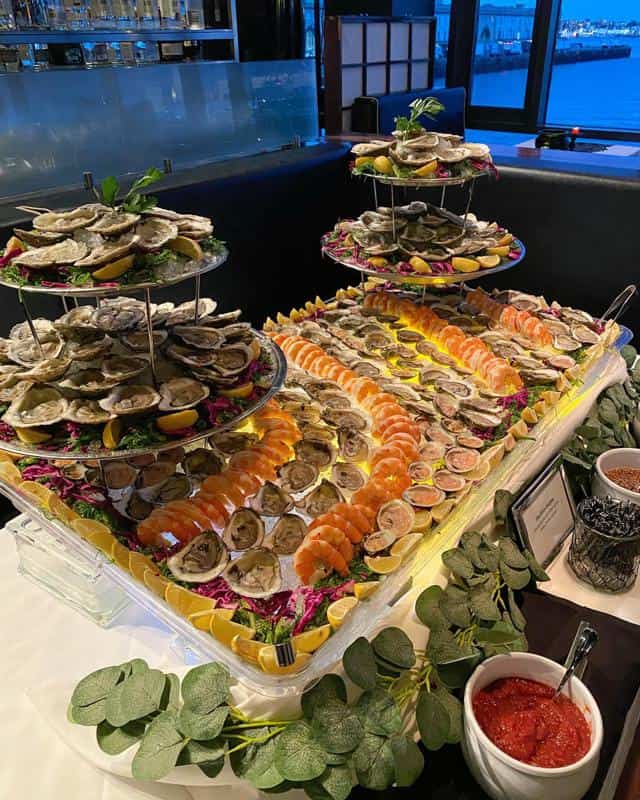 Located right on the Boston Waterfront, Legal Sea Foods – Harborside is a multilevel venue that offers breathtaking views of the water and the harbor. The first floor of this venue is reserved for casual dining throughout the day. On the second floor, you will find a restaurant and a bar for a more sophisticated dining experience. Now, we come to the best part, the Legal's third-floor promenade deck.
Equipped with retractable glass walls and ceiling, this place looks like something you would see in a magazine. Enjoy sushi and sashimi bites, a wide range of handcrafted cocktails, and pitchers of punch. The wine list on the rooftop deck and bar is extensive with imported wines from all over the world. We should also mention the sleek décor with plush lounge seating and a beautiful bar area.
Address: 270 Northern Ave, Boston, MA 02210
Phone: +1 617-477-2900
Also Read: Best All You Can Eat Sushi in Boston
Lifted Pool Bar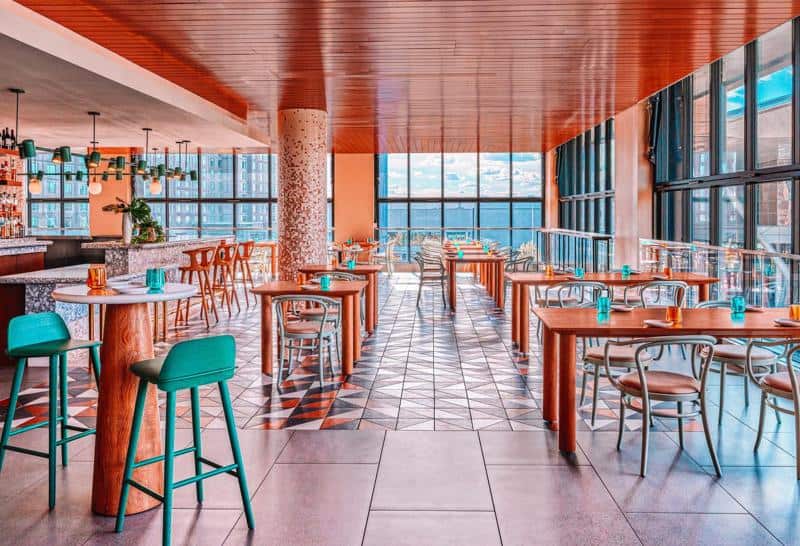 Nestled on the top of the Omni Hotel Boston's Seaport District, the Lifted Pool Bar is an open-air restaurant and bar where guests can enjoy a large menu of eclectic food and drinks. The city views from this vibrant joint are spectacular.
Whether you wish to try light bites that include snacks like roasted olives or you want mains like salted caramel lobster roll, everything you order will be delicious. Other options on the menu include watermelon cocktails and street tacos. Lifted Pool Bar also has a seriously awesome selection of frozen drinks.
Address: 450 Summer St, Boston, MA 02210
Phone: +1 617-476-6664
The Lexington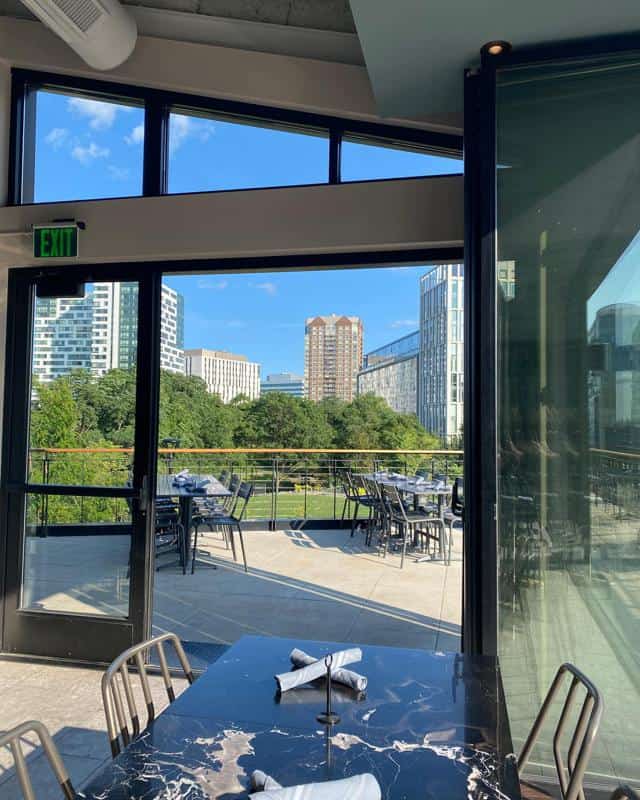 Situated between Charlestown and East Cambridge, Lexington is a modern venue with several dining establishments under one roof. There is a cool greenhouse-like bar and restaurant that opens up to a beautiful roof deck. Downstairs, you will find a cute café and a restaurant serving authentic Italian cuisine.
We will focus on the rooftop patio area that offers spectacular views of the park and insanely delicious food. The comfort food-filled menu is spectacular and includes options like fried chicken, French onion soup grilled cheese, and steak frites. You can also pay a visit to the sister eatery, Café Beatrice while you are in Lexington. In the mood for a drink? Get the Fiasco Deluxe!
Address: 100 N First St, Cambridge, MA 02141
Phone: +1 617-945-1349
Daedalus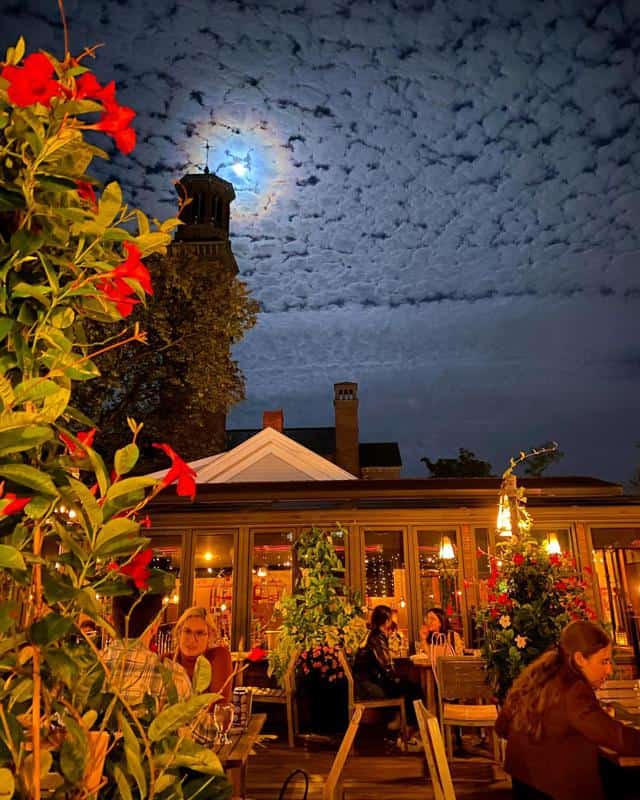 Located just a short walk from Harvard Square in Cambridge, Daedalus is a great place to have lunch and dinner and enjoy views of Boston's historic area. Here, at this multi-level venue with a charming rooftop terrace umbrellas provide shade on sunny days. The good news is that in winter, the restaurant is covered and heated. The food menu focuses on modern American cuisine and has something for everyone.
There are burgers, fish and chips, pasta, quinoa bowls, and everything in between. Try the seafood risotto or order a portion of the mouthwatering burrata spaghetti. Wash it all down with something from their extensive cocktail list or get a bottle of craft beer. If you opt for cocktails, we recommend their Mai Tai.
Address: 45 1/2 Mt Auburn St, Cambridge, MA 02138
Phone: +1 617-349-0071
Six \ West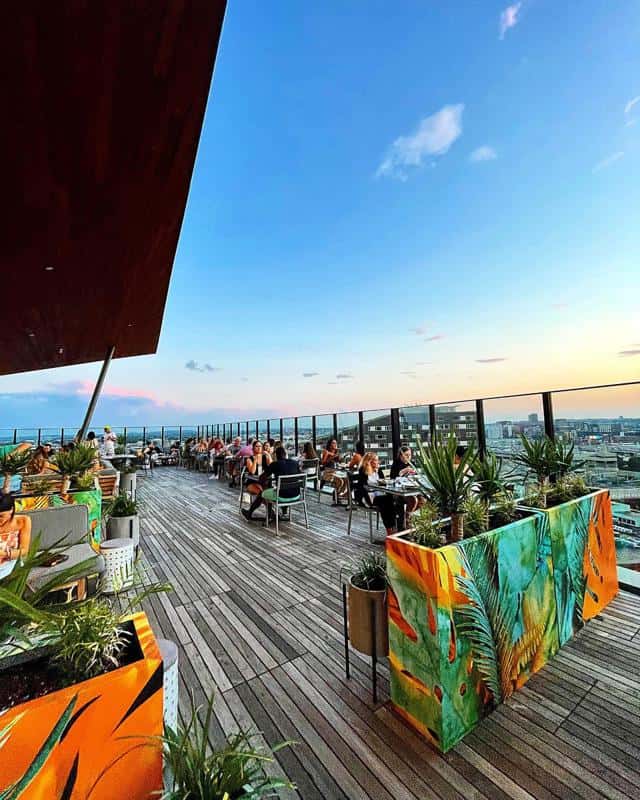 Sleek and stylish, this rooftop bar atop the Cambria Hotel Boston is a great place to visit if you are staying close to South Boston and Broadway Bridge. Six \ West ticks all the boxes! It has an impressive rooftop terrace, offers panoramic views of the Boston skyline, and can be visited even in winter thanks to the rooftop greenhouses.
Open for brunch, lunch, and dinner, the menu at Six \ West is absolutely great. From classic foods like pizza and steak frites to shareable plates of goat cheese and deep-fried calamari, there are definitely plenty of mouthwatering options to choose from.
They also have curated cocktails, beer, and wine. The vibe is casual and there is no dress code here. To sum it all up, this rooftop joint is a great place to enjoy a casual dining experience with family and friends.
Address: 6 W Broadway, Boston, MA 02127
Phone: +1 857-496-0245
Cunard Tavern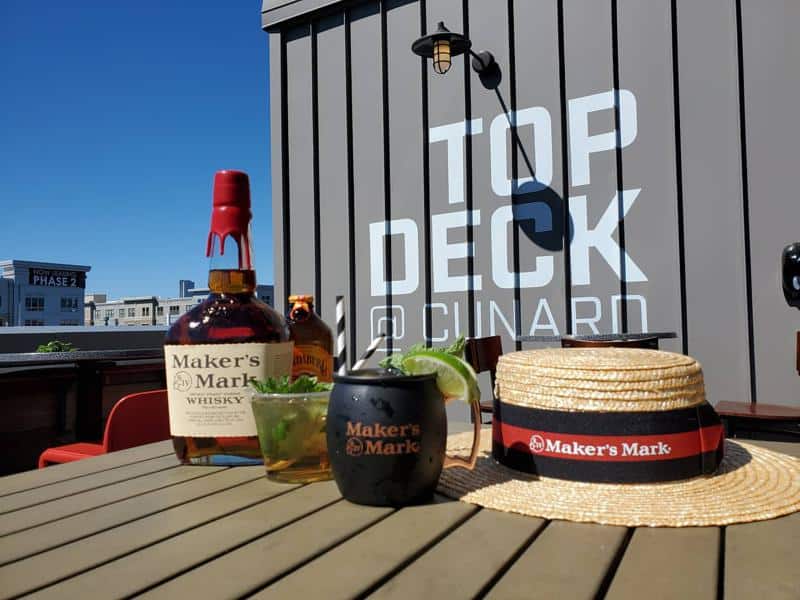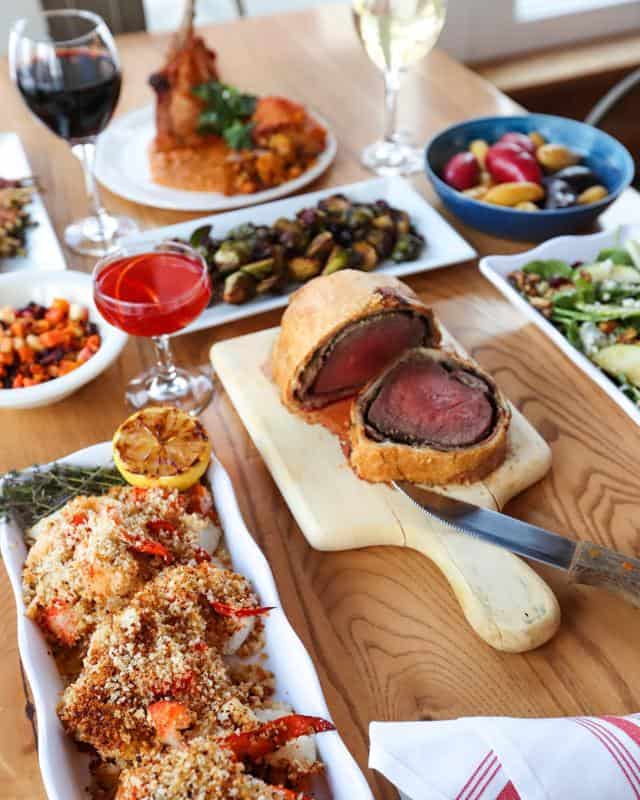 Situated right next to the East Boston Greenway and a short walk from the Harbor, Cunard Tavern is one of the best-hidden gems of East Boston. Their top deck bar is open from Thursdays to Sundays and offers fabulous views over the Boston harbor. We just love the tavern's old shipping container that serves as a bar.
Expect to witness a relaxed vibe and a variety of craft beer options to choose from. The food menu is small and includes foods like fish tacos, oysters, chicken and waffles, and lamb stews. Get the Cuban spring rolls, as they are extremely tasty.
Address: 24 Orleans St, Boston, MA 02128
Phone: +1 617-567-7609
Also Read:
Map of Best Rooftop Bars and Restaurants in Boston
Conclusion
To be honest, Boston is not the famous hotspot for rooftop restaurants and bars in the US. However, this vibrant US city is home to a bunch of cool rooftop joints ranging from swanky hotel rooftop dining establishments and breweries to casual restaurants with panoramic views of the city.