Few Boston neighborhoods are as awesome as Seaport. Stretching along the harbor, this seaside urban settlement is home to some of the best restaurants in Boston.
From glittery dining establishments that offer mouthwatering local dishes to local no-frills seafood joints where you can feast on the freshest, "off the boat" seafood, the Seaport District a bunch of waterfront dining options.
Feel free to check out this ultimate guide to the best restaurants in Seaport Boston.
Best Boston Seaport Restaurants
Yankee Lobster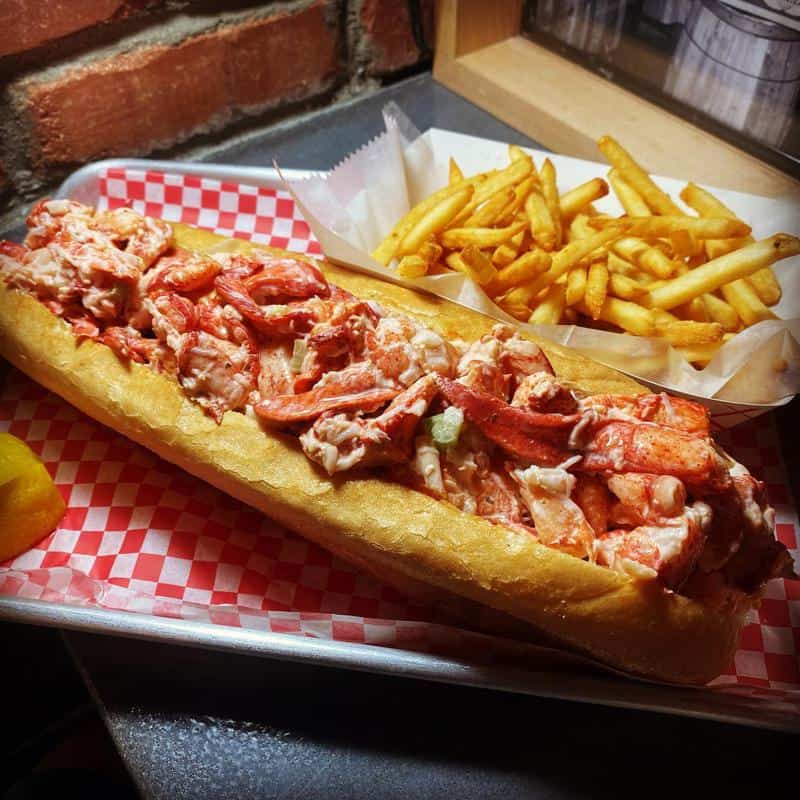 Address: 300 Northern Ave, Boston, MA 02210
Phone: +1 617-345-9799
This seafood shack is an institution here in Seaport. Although this waterfront neighborhood in Boston is known for its swanky restaurants, there are still a few of those old-school eateries to enjoy. Opened way back in 1950, Yankee Lobster is all about lobsters and fresh seafood.
Whether you are craving steamers, want to enjoy clam chowder, or dine on huge buckets of crabs, Yankee Lobster offers the freshest seafood in a casual setting. However, the most popular thing to order here at the Yankee Lobster is the cold mayo-dressed lobster roll which tastes heavenly.
On sunny days, enjoy patio seating with some seriously awesome views of the Seaport.
Legal Harborside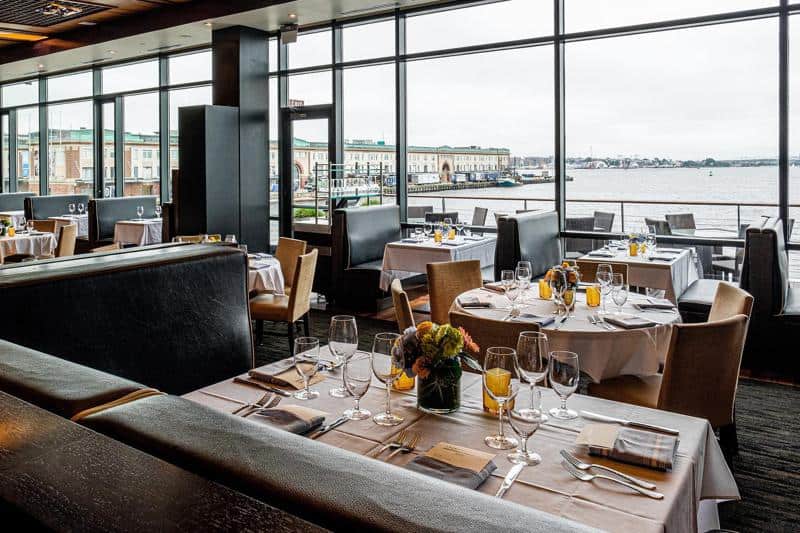 Address: 270 Northern Ave, Boston, MA 02210
Phone: +1 617-477-2900
Legal Harborside definitely has the flagship location within the entire Legal Sea Foods' empire. Situated inside a three-story building that sits on the water, Legal Harborside offers a fabulous fish-focused menu and three floors of dining.
For raw bar foods and a more casual fare, check out the first floor. If you wish to dress to the nines and enjoy classy dining, book a table at the elegant and posh second floor. The Third floor is strictly reserved for private dining.
Legal Harborside also has an amazing rooftop bar where you can unwind with a refreshing drink or two and enjoy magnificent harbor views.
What's on the menu? Order fried clams or get some fresh lobster rolls. Meat lovers will be satisfied with the steak selection at Legal Harborside.
The Barking Crab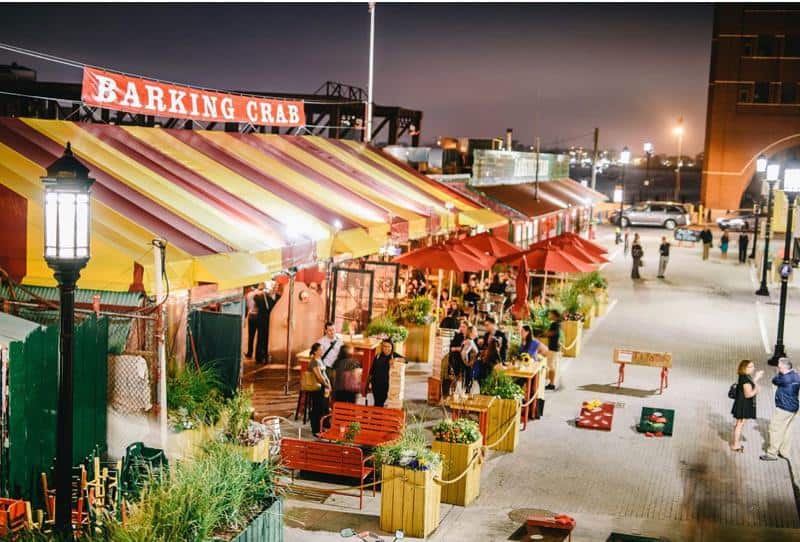 Address: 88 Sleeper St, Boston, MA 02210
Phone: +1 617-426-2722
Welcome to the Barking Crab, a legendary red-shingled seafood shack in Seaport. The neighborhood has changed a lot in the last decade or two, but some things remain the same and the Barking Crab is one of those things.
Opened in 1994, this Old Boston character shack is a real haven for seafood lovers looking for a reasonably priced meal in Seaport.
In summer, join the crowds of locals and tourists alike on the open-air picnic tables to enjoy traditional boils and fried fare. The seafood menu at the Barking Crab is pretty much straight forward and includes fresh delicacies such as lobster rolls, crab claws drenched in butter, and New England clambakes.
Fish lovers will definitely want to try fish and chips here. If the weather is not warm enough, the cozy indoor area with a wood-burning stove is also a great place to some oyster shooters.
Empire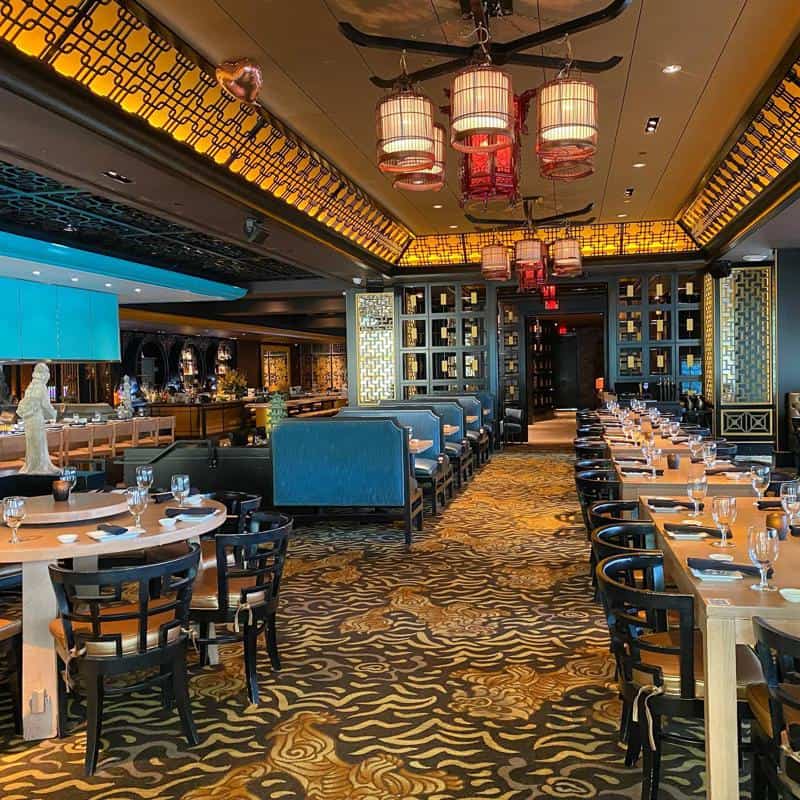 Address: 1 Marina Park Drive, Boston, MA 02210
Phone: +1 617-295-0001
Empire is one of the hottest spots in Seaport Boston. This is actually a restaurant and a nightclub where guests can enjoy delicious food and dance the night away on the full-scale dance floor. Run by Ed Kane's Big Night Entertainment Group, this posh pan-Asian restaurant and nightclub in Seaport is all about fine dining and partying throughout the night.
The Asian-inspired plates at the Empire are to die for. The Korean-style sirloin is crafted to perfection, as well as the finger-licking sushi rolls. On the weekends after dinner, you can enjoy live DJ music performances at their sprawling Seaport nightclub.
Coquette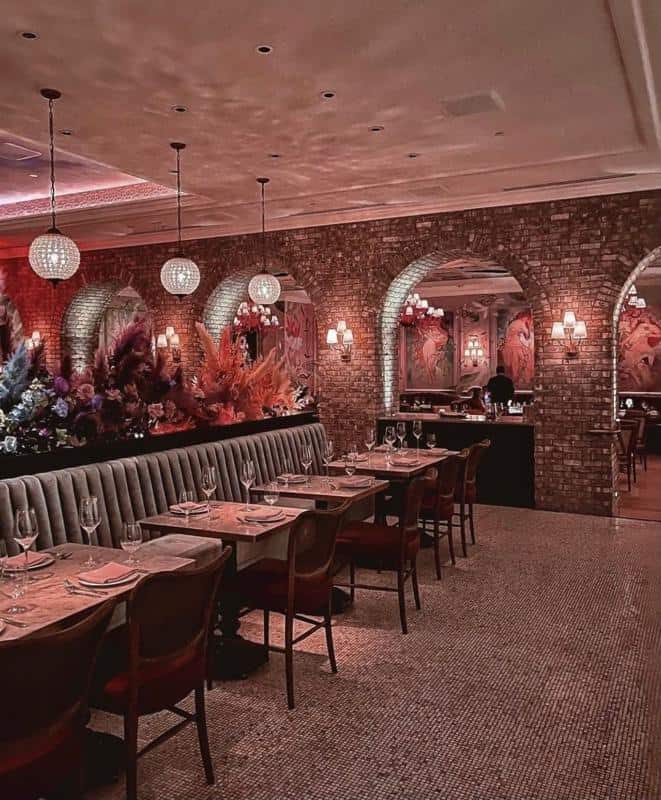 Address: 450 Summer St, Boston, MA 02210
Phone: +1 617-882-0090
Coquette is one of the newest additions to the dining scene in Seaport, Boston. This sophisticated new dining establishment focuses on coastal French cuisine. Check out the raw bar where you will stumble upon delicacies like shrimp cocktails, tuna, and oysters.
The French a la carte menu is extensive with options like butter broiled lobster tail and baked oysters. Sky scraping shellfish towers are definitely the star attraction on the food menu.
If you wish to try a bit of everything, we recommend ordering the shareable small plates like the mouthwatering lamb meatballs and stuffed lobsters served with tasty camembert sauce.
Sportello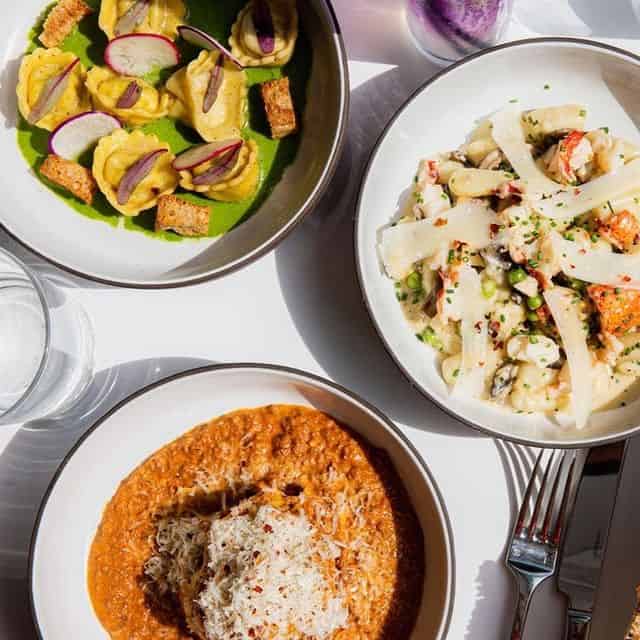 Address: 348 Congress St, Boston, MA 02210
Phone: +1 617-737-1234
Run by esteemed restaurateur Barbara Lynch, Sportello offers authentic Italian cuisine in an intimate setting. Guests can dine at one of the tastefully decorated tables or get their food served on backless stools.
The innovative food menu at Sportello is packed with trattoria-inspired Italian dishes prepared from the freshest seasonal ingredients. We should also mention that all pasta is made in house.
The creamy polenta is extremely delicious. If you are craving fresh pasta, go for classic tagliatelle Bolognese or get the amazing braised rabbit strozzapreti. Pair your Italian-style meal with a drink from their artisanal wine list.
Tuscan Kitchen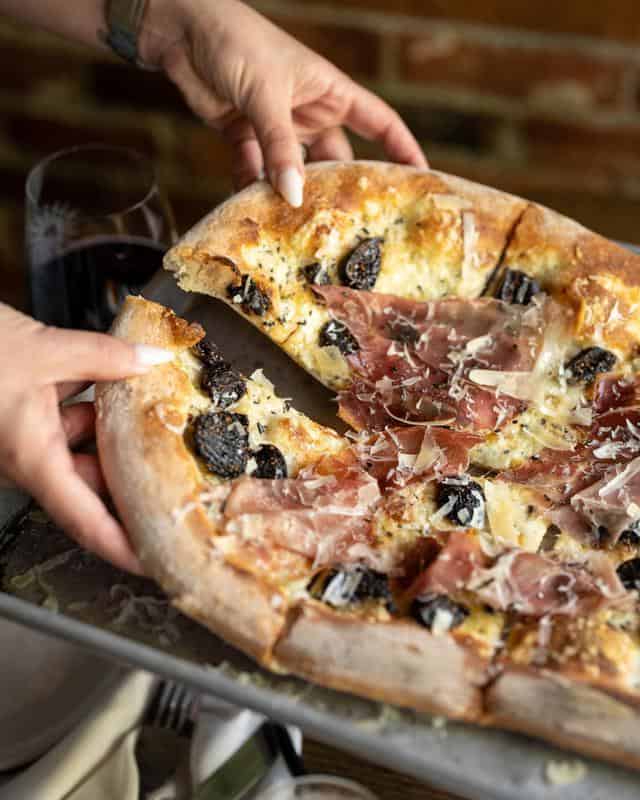 Address: 64 Seaport Blvd, Boston, MA 02210
Phone: +1 617-303-7300
No list of the best restaurants in Seaport would be complete without mentioning the legendary Tuscan Kitchen. If you are searching for an artisan Italian dining experience in Boston, you have come to the right place.
From handmade pastas to fresh salumi and extensive list of imported Italian wines, this place has it all. The beautiful wine bar is located in the atrium area and offers sublime views of the Boston Skyline.
This is a huge restaurant that can accommodate up to 300 guests. The open-plan kitchen and the rustic elegance of the main dining room create a perfect setting for a memorable dining experience.
Start with antipasti such as lemon garlic shrimp or burrata. The giant u-6 shrimp which is covered with a wine butter sauce is also an excellent antipasti dish worth ordering.
The restaurant makes pasta every day, so make sure to try one of their signature pasta dishes like tagliatelle au tartufo and tortelli al brasato. The list of secondi dishes is spectacular with a bunch of steak and chops options. Steak lovers will want to try the mouthwatering bistecca florentina per duo. For dessert, get the in-house made gelato.
Row 34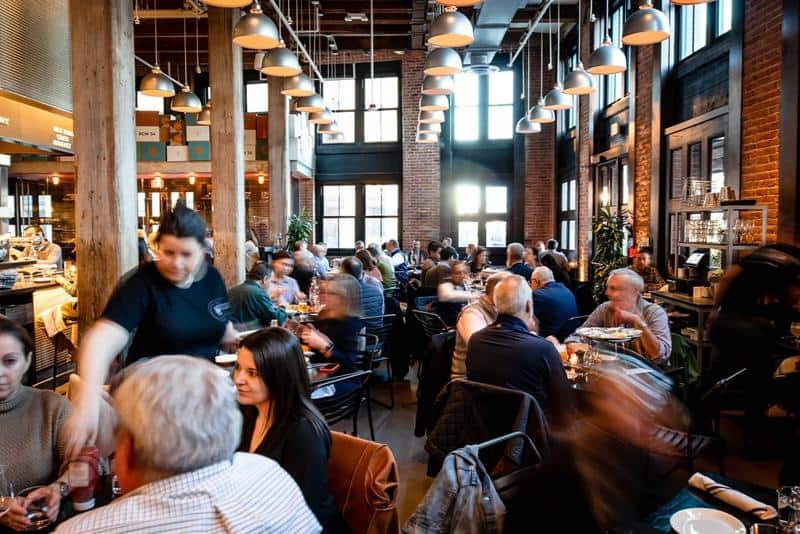 Address: 383 Congress St, Boston, MA 02210
Phone: +1 617-553-5900
Known as the workingman's oyster bar, Row 34 is one of the best seafood joints in Boston's Seaport neighborhood. Guests love the industrial-style décor and say how the rotating beer menu is fabulous. As for the food, chef Jeremy Sewall is in charge of preparing the most delicious seafood and fish meals.
Crispy oysters in lettuce cups is definitely one of the most popular dishes on the menu. Guests can also go for options like lobster rolls and oysters on the half shell. Open from brunch until dinner, Row 34 also offers whole roasted fresh fish of the day. Pair your meal with a pint local or International brew.
Woods Hill Pier 4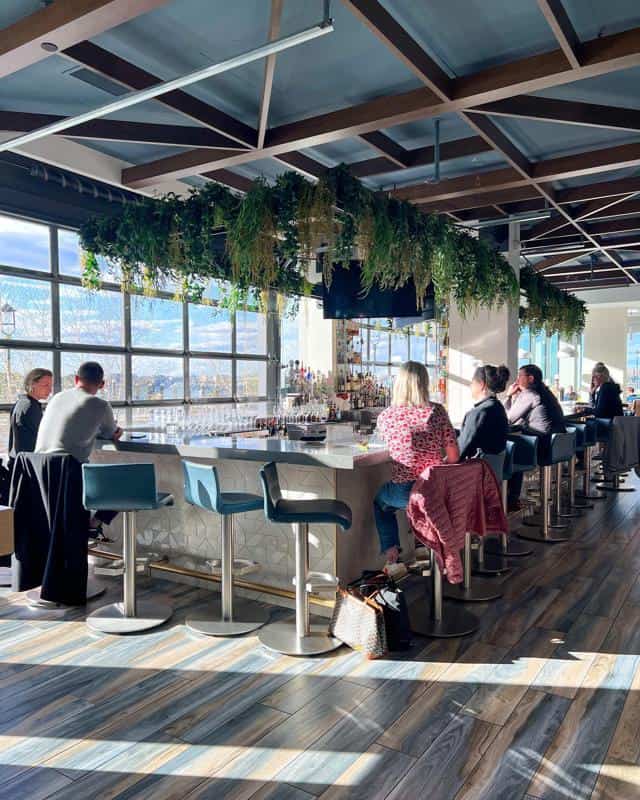 Address: 300 Pier 4 Blvd., Boston, MA 02210
Phone: +1 617-981-4577
If you are a fan of farm-to-table dining, book a table at Woods Hill Pier 4. Run by restaurateur and local-food activist Kristin Canty, this chic restaurant offers modern seasonal dishes prepared with organic ingredients that come from local suppliers and vendors.
The menu is quite extensive with plenty of seafood and meat dishes. Seafood lovers can get oyster and seafood platters for two people. If you are a fan of meat dishes, Woods Hill Pier 4 offers signature dishes like charred beef short rib and Woods Hill's farm pork belly confit.
We almost forgot to mention that this restaurant has its own New Hampshire farm where they grow everything from chestnuts to carrots.
Taiyaki NYC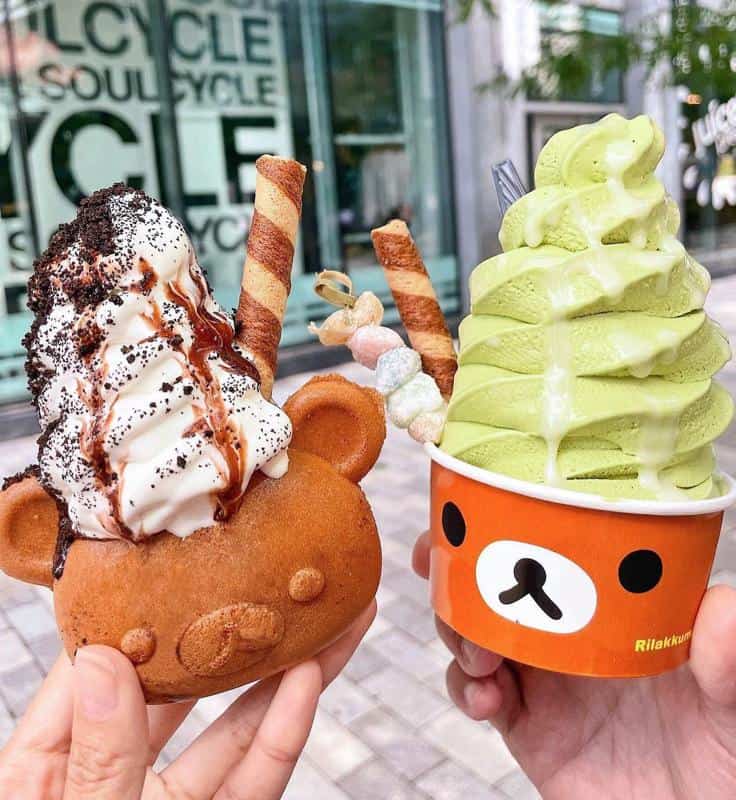 Address: 119 Seaport Blvd Suite B, Boston, MA 02210, Unite
Phone: +1 617-531-3514
Taiyaki NYC is a real haven for ice cream lovers. Their famous fish-shaped ice cream attracts both locals from all across Boston and tourists on vacation in Seaport. The signature dish on the menu of this Manhattan-based company is the soft serve in a fish-shaped cone.
The eatery also offers a bunch of other unique options such as fluffy soufflé pancakes and the Unicorn Float which you will get in a unicorn inflatable tube. Taiyaki NYC is one of the most popular ice cream joints in the area and there always seems to be a line of customers outside the place.
Nautilus Pier 4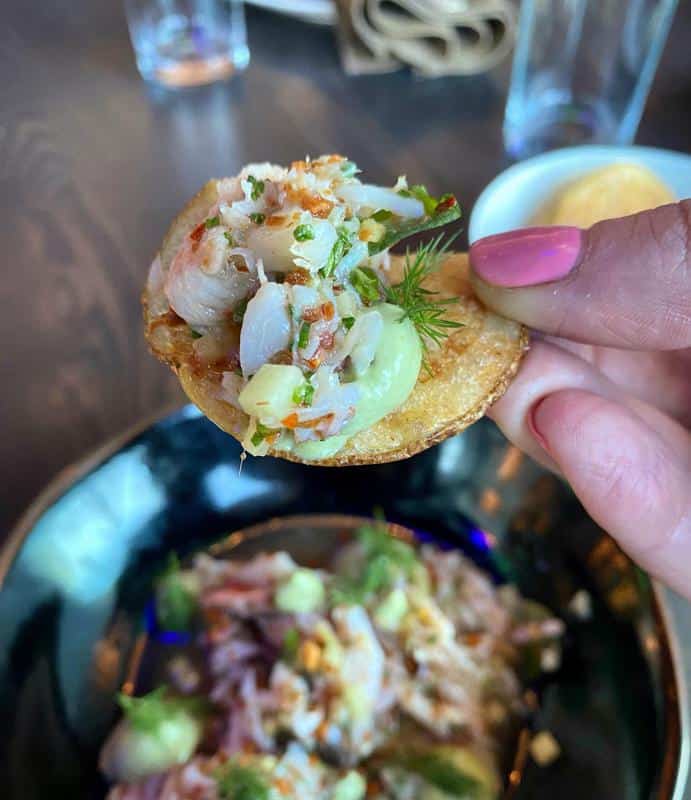 Address: 300 Pier 4 Blvd., Boston, MA 02210
Phone: +1 857-957-0998
Welcome to Nautilus Pier 4, an Asian-inspired seafood restaurant established on Nantucket Island. It's all about global small plates meant for sharing at this brilliant eatery.
Try the charcoal-grilled prawns served with fried garlic, coconut vinaigrette, and chilli paste. The whole roasted Peking duck is also a big crowd pleaser hear at Nautilus Pier 4.
Guests also love the Indonesian chicken drums and add that the spoon tuna chips and dips is also worth ordering. Wash down your delicious meal with a glass of sake or the restaurant's own brand of rose wine. Craft cocktails are also extremely popular at this Asian restaurant.
Morton's The Steakhouse – Boston Seaport
Address: 2 Seaport Ln, Boston, MA 02210
Phone: +1 617-526-0410
Meat lovers visiting Boston's Seaport will want to make a reservation at the iconic Morton's The Steakhouse. With an intimate seaside setting, the restaurant focuses on steaks. On the menu, you will find everything from prime aged beef and signature steakhouse sides to cool desserts and an impressive wine list.
If the weather is nice, book a table at their seasonal patio that offers magnificent harbor views. The indoor dining room is tastefully decorated and resembles a classic steak house that you will find all across the US.
Ocean Prime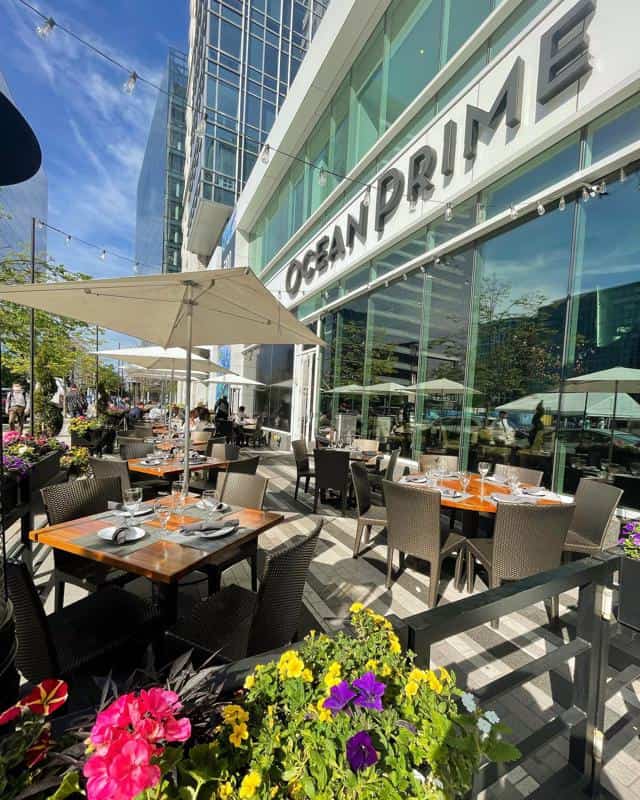 Address: 140 Seaport Blvd, Boston, MA 02210
Phone: +1 617-670-1345
If you can't decide between seafood and steaks, a visit to Ocean Prime should definitely be included on your list of things to do in Seaport, Boston. This seafood-and-steakhouse joint offers something for everyone. They have a raw bar and plenty of sushi offerings, as well as dozens of dry-aged steaks available to order.
Prime filets enhanced with Béarnaise or black truffle butter is without a doubt one of the most popular dishes on the menu. Then, there is the b16-ounce ribeye which is an excellent choice for meat lovers.
All steaks come with cool things such as black truffle butter and blue cheese crust. You will also get traditional sides like creamed spinach and asparagus.
Guests with seafood cravings can order the butter poached lobster tails with red pepper cream. We won't forget to mention the impressive cocktail list curated from seasonal ingredients.
Del Frisco's Double Eagle Steakhouse
Address: 250 Northern Ave Suite 200, Boston, MA 02210
Phone: +1 617-951-1368
Located in Liberty Wharf, Del Frisco's Double Eagle Steakhouse is one of the most popular dining options in Seaport. It's all about USDA Prime beef and fresh seafood at this classy dining establishment.
Their stunning glass walled patio is a great place to enjoy water views and have an unforgettable dining experience with your family and friends or with that special someone.
The food menu at this14,000-square-foot, 400-seat restaurant is impressive to say the least. We should also mention the three distinctive private dining rooms available for booking.
The seafood selection is wonderful with lobsters, oysters, clams, and everything in between.
The steaks here are charred on the outside, while perfectly cooked on the inside. Therefore, steaks at Del Frisco's Double Eagle Steakhouse basically melt in your mouth.
Read More:
Final Thoughts
Seaport is a vibrant neighborhood in Boston that offers a wide range of dining options. Whether you wish to enjoy freshly caught fish and seafood or want to feast on succulent meats, Seaport is home to many amazing restaurants.