The Twin Cities flaunt a colorful personality with a welcoming atmosphere where everyone can find something they love and enjoy.
The theatre and drag scene in Minneapolis is flourishing and thriving as new restaurants and venues open their doors for exciting performances filled with sparkle and drama.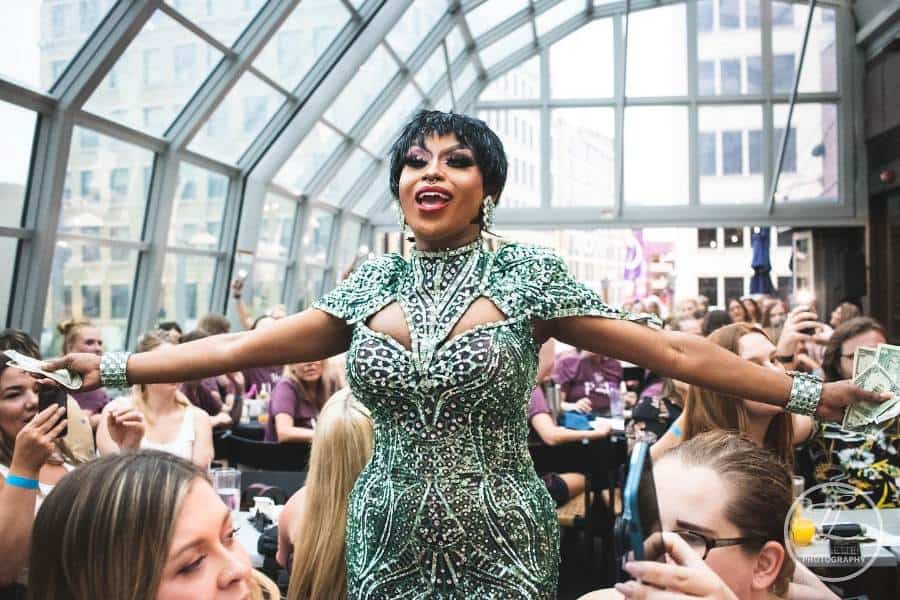 The performances extend to various forms of art with rotating queens ready to entertain you with their immense talent and fabulous hairdos.
If you are interested to join the leading names in the world of drag for brunch and glittering acts, keep reading to know about the best drag brunches in Minneapolis.
5 Best Drag Brunches in Minneapolis
Union Rooftop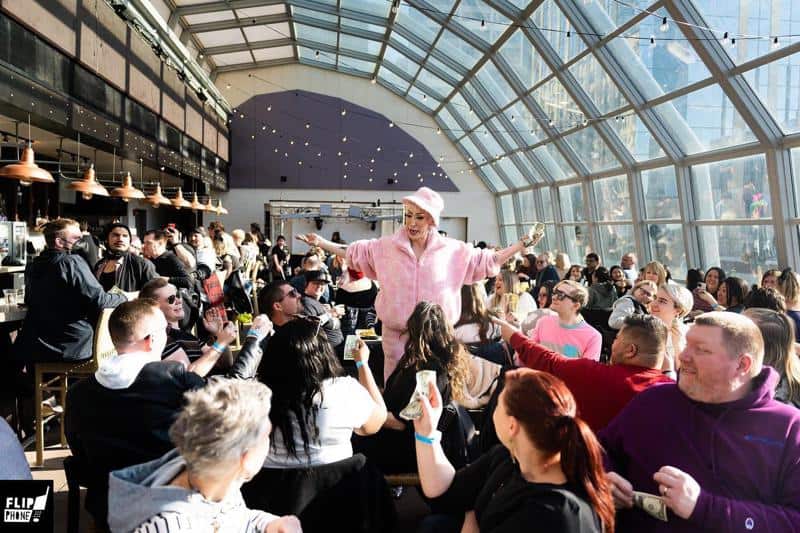 Address: 731 Hennepin Ave Suite 1, Minneapolis, MN 55403
Phone: +1 612-455-6690
Time: Weekly brunch on Saturdays from 10 am
Tickets: $16
Known for: Themed drag shows with delightful breakfast cocktails
Gracing downtown Minneapolis with its imposing presence, Union Rooftop is the most happening place in town! The magnificent retractable glass roof sets a seamlessly classy ambiance and lights up every Saturday with a fun-filled drag brunch.
Guests get to choose the bar, table, or patio seating, but most opt for the latter for its wonderful views. The unique thing about these drag shows is that each has a theme that calls out to the masses.
Whether you are a tech-savvy Gen Z or a 90's kid looking for the perfect punch of nostalgia, you will love the brilliant drag show at the Union Rooftop. For instance, the 'Clueless' drag brunch pays homage to the popular characters of the famous 90s movie.
With eye-catching costumes and amazing hairdos, the performers Onya Deek, Sasha Cassadine, Julia Starr, and Nocturna Lee Mission bedazzle the guests with their moves. Keep checking their official website to learn more about upcoming drag brunch themes – you wouldn't want to miss out on the Harry Potter drag brunch if you are a true Potterhead.
Rotating queens dress perfectly to represent beloved characters while adding a touch of glamor and drama to it to entice the guests. The tickets include the drag show and one entrée from their delicious brunch menu.
Don't forget to order a serving of Truffle fries for the table. Seasoned with delectable garam masala ketchup, bearnaise, and brie fondue, it's a mouth-watering brunch treat you won't soon forget.
Try something from the Skillet or have a light Breakfast Sandwich to pair with breakfast cocktails. The choices include Pineapple Express, Sangria, Mango Mojito, Classic Bloody, and Blueberry Refresher.
LUSH Lounge & Theater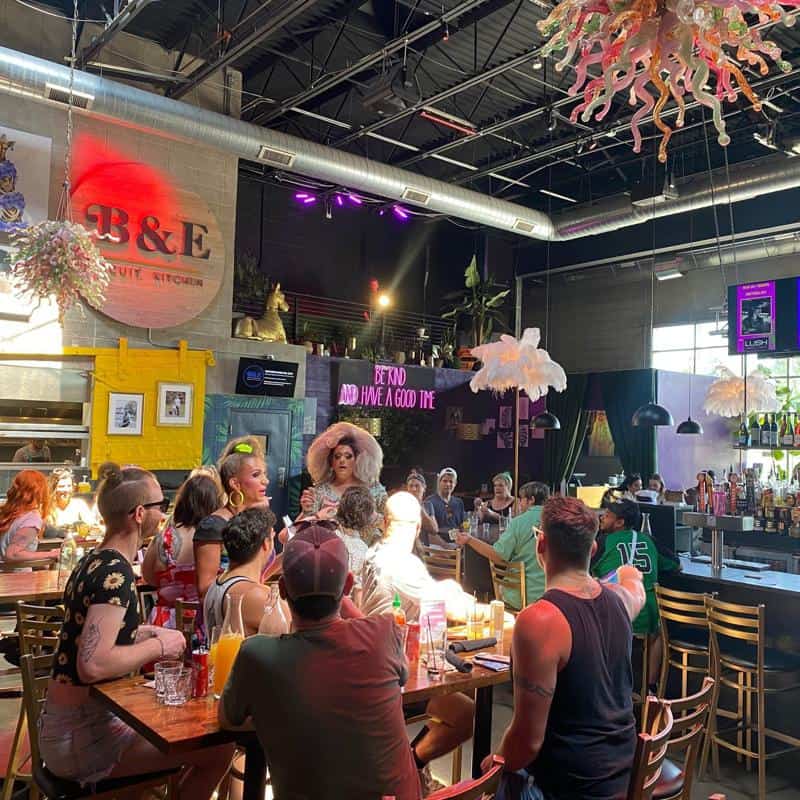 Address: 990 NE Central Ave, Minneapolis, MN 55413
Phone: +1 612-208-0053
Time: Weekly brunch on Saturdays and Sundays from 10 am to 12:30 pm
Tickets: $35
Known for: A wide array of drag shows and brunch by Berry & Earl's
Feast your eyes on the stately Brunch of the Drag at LUSH. With amazing performances and entertainment, the interactive drag brunch experience leaves you wanting more.
That's why LUSH makes sure to deliver two drag brunches every week to liven up your weekend with an excellent show and delicious food. There is a lot of range and changing themes with guest performers to mix things up for regular guests.
The 90-minute show doesn't just revolve around one drag performance, but incorporates a lot of fun-filled games, call-outs to your celebrations, special productions, and much more!
As it is an interactive experience, you won't find a drag brunch like this anywhere else. The brunch from Berry & Earl's includes 3 different meal options with your ticket purchase.
The drinks cost extra and get you just the right amount of tipsy to absorb all the extravagance around. Stay later for a Drag Queen Bingo which starts at 3 pm every Sunday and on Wednesday evenings in the lounge and features a house cast and rotating hosts.
Offering a wide array of shows revolving around drag, some other events that you can catch every week at LUSH include RuPaul's Secret Celebrity Drag Race every Friday night with cocktails, food, and DJs putting up a killer dance party.
Mirage: Drag After Dark is another drag show at LUSH every Saturday night featuring world-class guest performers from around the country including bottle service options and a delicious spread.
CRAVE American Kitchen & Sushi Bar
Address: 825 Hennepin Ave, Minneapolis, MN 55402
Phone: +1 507-512-3800
Time: Monthly brunch on selected Sundays from 10 am
Tickets: $10
Known for: Exciting drag brunch themes with top-notch performers
With a dazzling rooftop location and wonderful performances, CRAVE American Kitchen and Sushi Bar is determined to curb your craving for great brunch and glamorous drag.
Much like the Union Rooftop, Crave also hosts drag brunch with a new theme to keep you on your toes. Enjoy themes like Harry Styles + Elton John, Destiny's Child Drag Brunch, Sat Cher Pride Drag Brunch, Fleetwood Mac Coven, and Beetlejuice.
Both bar and table seating is available, and the show is hosted by rotating queens, including Sasha Cassadine, Domita Sanchez, Genevee Ramona Love, Ken Doll, Priscilla Es Yuicy, Jaidynn Diore Fierce, and Mercedes Iman Diamond from RuPaul's Drag Race, and many more.
Costumes are not mandatory but are encouraged! Check the upcoming theme on the official website of CRAVE and dress up for the occasion to join in on the electrifying ambiance.
The brunch options are quite impressive and include all the traditional American breakfast and brunch staples alongside mouthwatering Breakfast Cocktails.
Flip Phone Events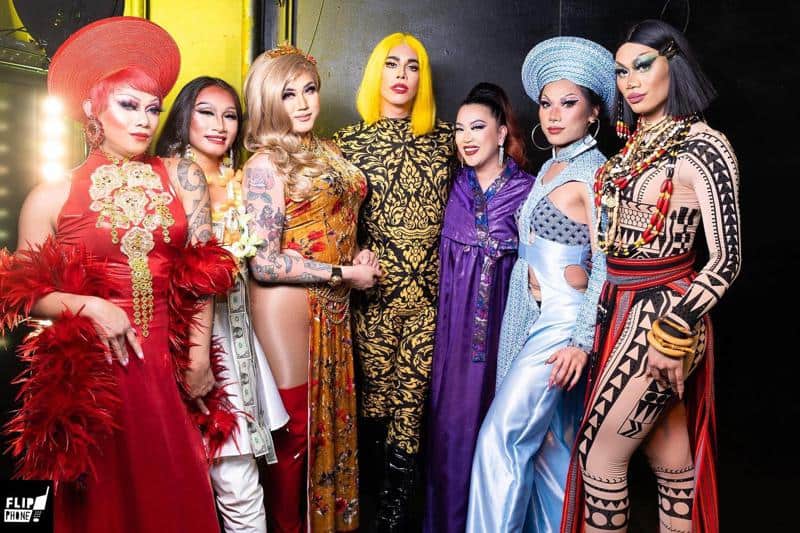 Address: Varies
Phone: N/A
Time: Varies
Tickets: Starting at $16
Known for: A huge variety of drag brunches happening around town
Stay up-to-date about all the Minneapolis Drag Brunch happenings around town with Flip Phone Events. The official website of the event organizers mentions all the upcoming drag brunches, as well as drag shows, parties, and concerts.
The Union Rooftop and Crave drag brunches are also organized by them, and you can find a lot of exciting themes on their website.
Join in for the Queen Beyonce-themed drag brunch, or occult and mysterious Adams family theme, or perhaps the big hair bigger personality of Lizzo as beautifully impersonated by talented drag queens.
Following fandoms to attract the masses, you will find drag shows with the themes of Stranger Things, Disney Villains, and other such series. Special drag events are also organized by them, such as the Ely Christmas Drag Brunch in Grand Ely Lodge expected this holiday season on Saturday, 3rd December 2022.
You will also find theatre performances by your favorite drag queens with tickets available on their website. For instance, the Jinkx & DeLa Holiday Show will be hosted in the Fitzgerald Theatre with the queens of Christmas featuring whip-smart comedy, annual favorites, and brand-new songs.
Mr. Mom's Campground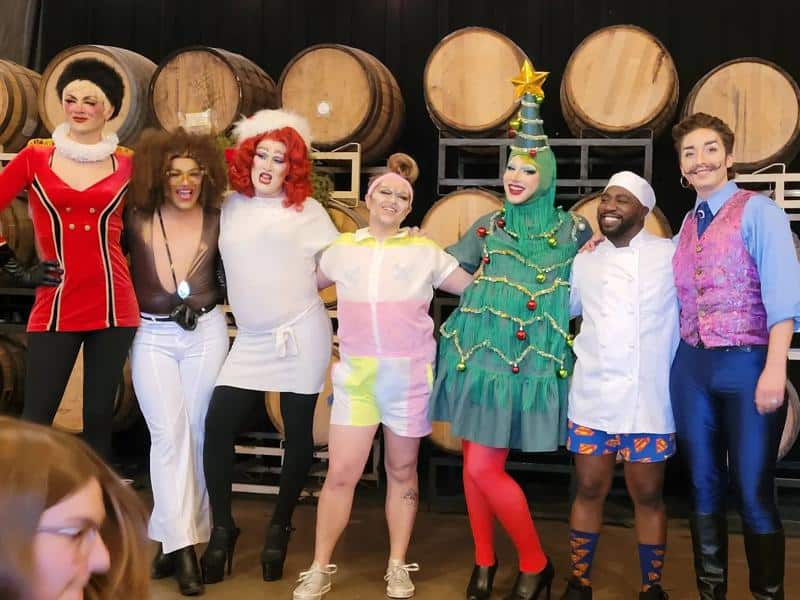 Address: 56 Brewing, 3055 Northeast Columbia Avenue #Suite 102, Minneapolis, MN 55418
Phone: +1 612-404-0056
Time: Select Sundays from 2 pm to 4 pm
Tickets: $15
Known for: Comedy routines by Mr. Mom and her full case of drag performers.
Bringing the campground to 56 brewery, Mr. Mom promises a rib-tickling brunch event with high-comedy drag performers. Mr. Mom and her full cast of performers keep the guests thoroughly entertained with impersonations, comedy routines, and hilarious getups.
The tickets include one free beer and all the ticket sales are donated to Reclaim St. Paul. 56 Brewing offers an impressive range of drinks but nothing beats a good old chilled beer to gulp down as you enjoy the vibrant performances.
Read More:
BONUS: Other Drag Shows Happening in Minneapolis
Gay 90's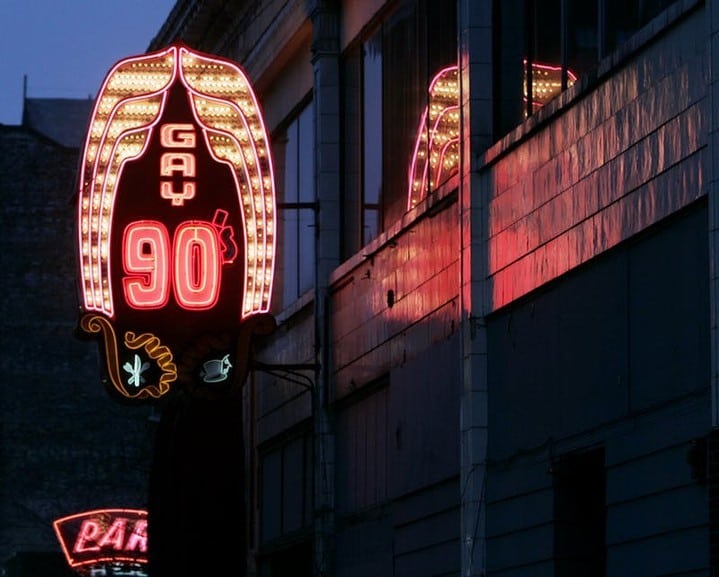 Address: 408 Hennepin Ave, Minneapolis, MN 55401, United States
Website: Gay 90's
Phone: +1 612-333-7755
Time: Thurs – Sun from 9 pm to 1 am
Tickets: Starting at $5
Known for: La femme drag show and burlesque with cocktails
Indulge in a vivacious nightlife unlike any other at this colorful club with a long history of offering amazing food, delightful drinks, and music that will make your soul soar.
The energizing club is rated #1 in Minneapolis and has 7 bars spread over 2 floors with a variety of events happening around the year – including Lafemme Drag Queens.
Make your nights colorful with a touch of glamor and a whole lot of glitter and wigs from Thursday to Sunday at late night. The show includes VIP seating, group bottle service, and specialty cocktails.
For a feathery Burlesque experience, join in on the fun with La Folies Burlesk Chez La Femme at the La Femme Lounge happening on the 1st and 3rd Saturdays of the month from 8:30 pm to 10 pm.
The Saloon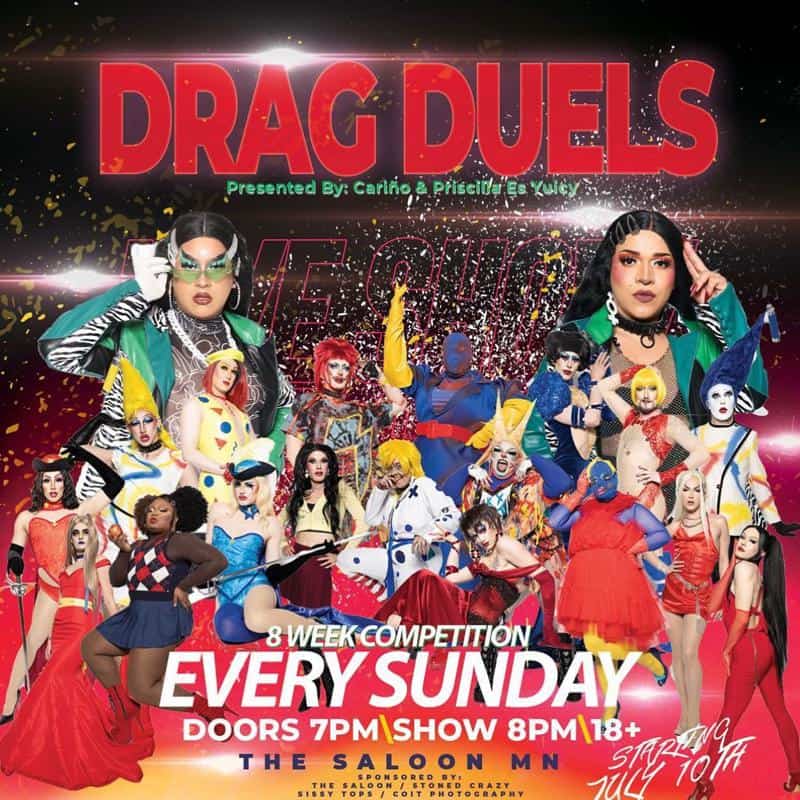 Address: 830 Hennepin Ave, Minneapolis, MN 55403
Phone: +1 612-332-0835
Time: Late night shows till 2 am – 3 am throughout the week
Tickets: Not mentioned
Known for: Hot Pink drag show and drag duels
The long-running, exhilarating, and psychedelic The Saloon is a bar offering an exciting nightlife filled with laughter, drag shows, cocktails, and next-level music and dancing. Drink specials and traditional pub grub await your welcome with rotating queens putting up a variety of shows.
While they have an assortment of drag shows around the week, Hot Pink stands out amongst others. You can catch it every Tuesday and Saturday from 8 pm to 10 pm, followed by DJ performances and drinks.
Fridays are dedicated to performances by RuPaul's drag queens, while Sundays give way to Drag Duels and DJ Queenduin.
Black Hart of Saint Paul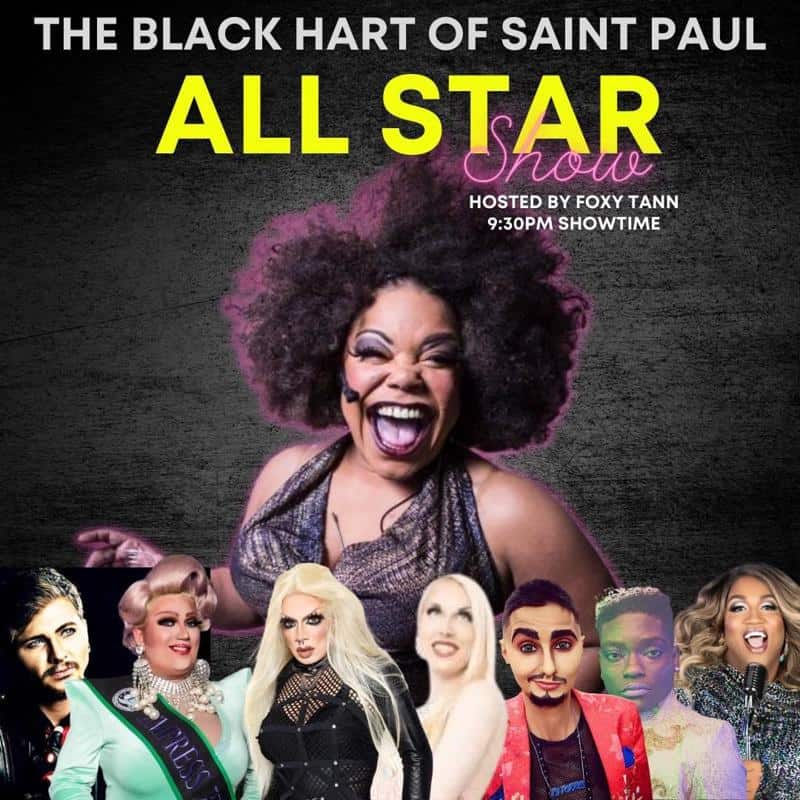 Address: 1415 University Ave W, St Paul, MN 55104
Website: Black Hart of Saint Paul
Phone: +1 651-528-8028
Time: Friday and Saturday at 8 pm
Tickets: Starting at $7
Known for: Night shows by drag queens and annual drag contest
Black Hart has carried the traditions of Townhouse Bar forward by being a consistent venue for drag shows in the city. The lively night shows of drag are hosted by Lily White and the calendar on their official website has all the updates about rotating queens and performances lined up for the week.
There is also an annual drag contest known as the Toast of the Townhouse, and the winner of the contest is framed eternally as a 'saint's icon' behind the bar.
Also Read: Best Restaurants in Stillwater, MN
Frequently Asked Questions
Do We Need to Make Reservations for Drag Brunch in Advance?
While some restaurants allow walk-in, the seats for drag brunch are usually limited as it is organized only once a week or month. Therefore, it is advised to reserve in advance at your preferred time and day through the official website of the restaurant.
Can I Find Other Drag Shows Besides Drag Brunch at These Venues?
Most places that host drag brunch also have other drag shows weekly or monthly. For instance, LUSH has a burlesque show on Friday nights, and you will find an excellent late-night drag show at Gay 90's Minneapolis – even though they don't host drag brunch.
We advise you to stay up-to-date on the latest happenings and drag events on the official websites of these restaurants as they have special events and performances with reservations and tickets available online.
Is There an Age Limit for Drag Brunch?
All the drag brunch spots serve alcoholic beverages during brunch. Some places have an 18+ age limit while others strictly allow 21+ only.
However, you have to check with the restaurant on their official phone number if they allow entry of younger individuals with a guardian or not.
Final Thoughts
Drag brunch is still evolving in the friendly city of Minneapolis. Rotating events by productions like Diva Royale and Illusions are now spreading their wings in the city, with new drag brunch and shows to be expected in the upcoming months.
Stay up-to-date on the latest happenings of the drag world by following the official handles of these restaurants, and keep your eyes peeled for special events held on specific occasions for a shining, shimmering, splendid drag show.