The warm and welcoming Dallas hosts several drag shows, festivals, and celebrations throughout the year. A lot of restaurants and special events and theatre venues host weekly or monthly drag shows, amongst which drag brunches are quite popular.
Filled with entertainment, laughter, and great food, these drag brunches invite people to indulge in a weekend of thrill and glamour. Keep reading to know all about the best drag brunch destinations in the city.
Best Drag Brunches in Dallas
Blüm Dallas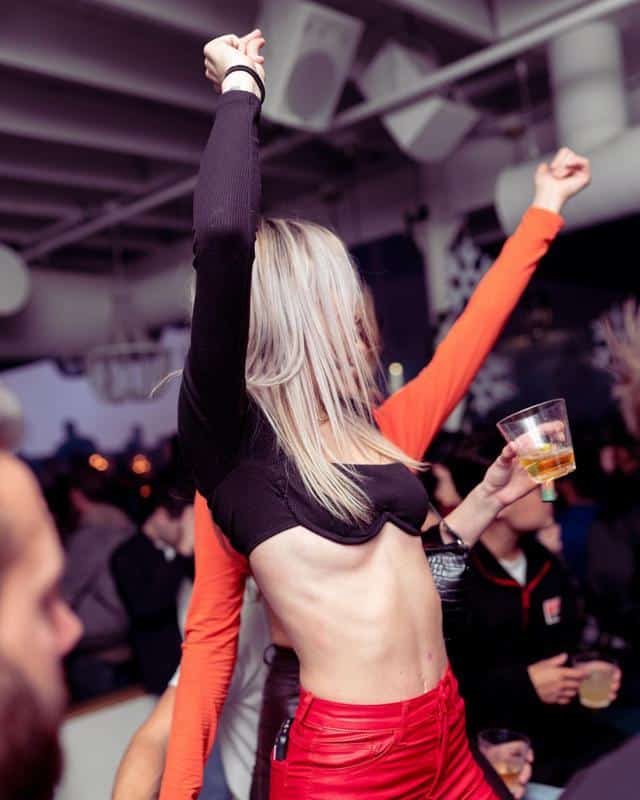 Address: Blüm at the Sporting Club 2516 Florence Street Dallas, TX 75204
Website: Blum Dallas, Reservations
Phone: +1 214-934-1959
Time: Every first, third, and fifth Sunday of the month from 1 pm
Ticket: Starts at $15
Known for: Enjoyable drag shows with mimosa towers
Say goodbye to boring weekend brunches and hop on a wild ride of drag brunch with host Macarena at Blum. Featuring a rotating cast of drag queens along with a fabulous brunch spread, the drag brunch at Blüm is hosted thrice a month with a variety of packages for visitors.
Enjoy the show up-close with front-row table seats, or have a luxury experience at the VIP section with special performances and delicious food. Blüm at the Sporting Club Dallas flaunts an elegant yet chic setting with VIP bottle service, high-end cocktails, and outstanding performances to keep you entertained.
The brunch menu is quite extensive and features all the classic American breakfast delights alongside shareable drinks, bottles of champagne, and a whopping mimosa tower to enjoy the weekend in full swing.
Eggsellent Café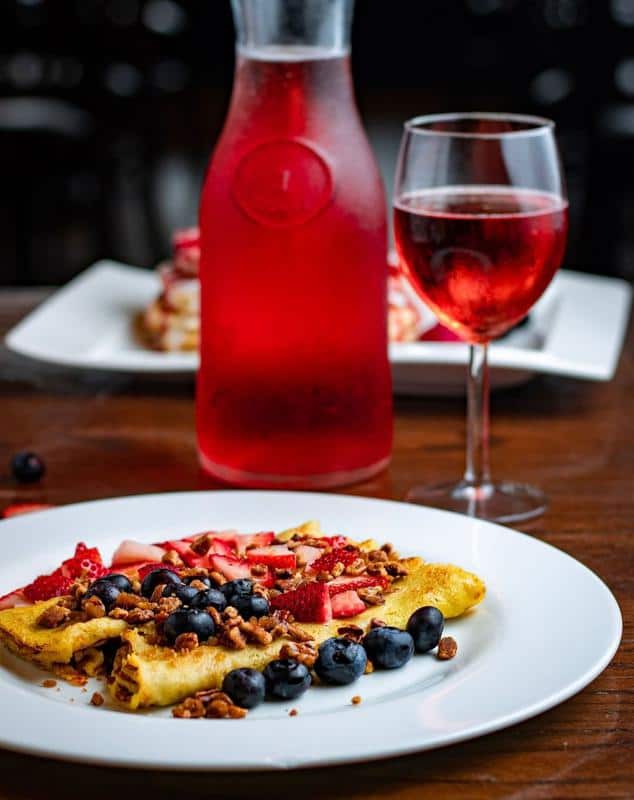 Address: 4218 Lemmon Ave, Dallas, TX 75219
Website: Eggsellent Café, Reservations
Phone: +1 972-773-9411
Time: Selected Saturdays from 12 pm to 3 pm
Ticket: $20
Known for: Famous drag queens and DJ, VIP seats, and bottomless mimosas
Dallas saw the biggest drag brunch in Texas during Pride Month at the Eggsellent Café, and the venue continues to offer fantastic drag brunch for the masses on selected Saturdays of the month. Join in for a delectable brunch spread and performances by the best drag queens of the industry and host Liquor Mini only at Fly Queens Drag Brunch Dallas.
DJ Al Farb makes you dance to the beats as queens Ariel O'Hara, Barbie Davenport Dupree, Tasha Kohl, and many others put on a wonderful show. While general admissions start at $20, there are a variety of VIP experiences in store for you.
For a little extra fee, you can get VIP seats which include bottomless mimosas, or a VIP group table of 8 with a fabulous fruit bar in addition to the bottomless mimosas. Food and beverages for brunch are also available for purchase.
Tequila Delicious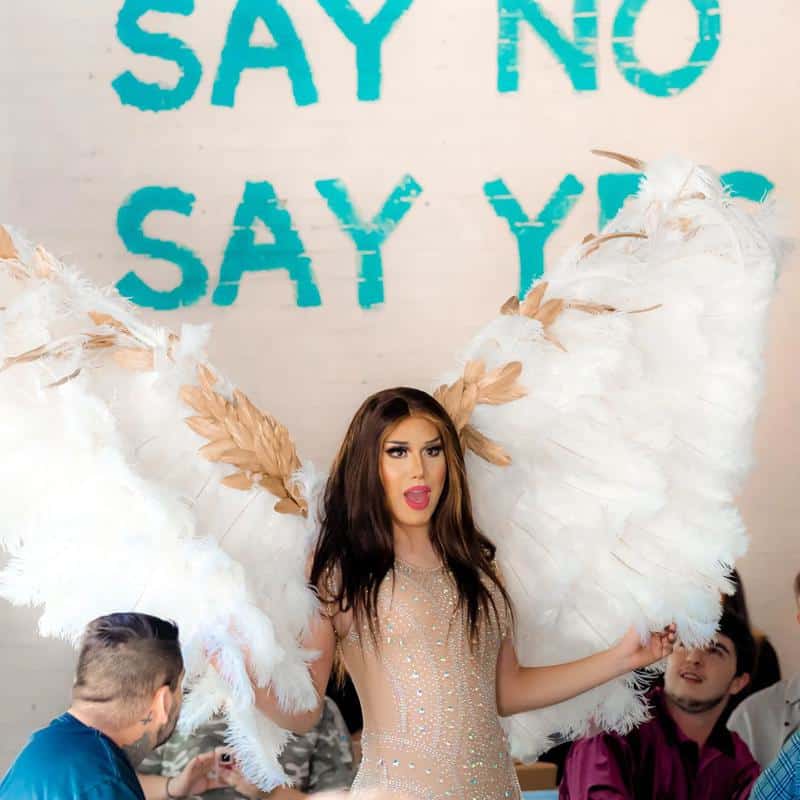 Address: 2901 Thomas Ave, Dallas, TX 75204
Website: Tequila Delicious, Reservations
Phone: +1 214-965-9595
Time: Every Saturday and Sunday from 1 pm to 3 pm
Ticket: $10
Known for: Silver, Gold, and Bachelorette Packages, Mimosa Towers, and a fantastic drag show
Be a part of a grand celebration with host Macarena and Adecia at Tequila Delicious. As the name suggests, the drag brunch gets you just the right amount of tipsy as you feast your eyes on a fantastic performance.
There are a variety of packages to choose from, with General Admissions starting at only $12. The Silver Package of $150 is quite famous and includes 4 tickets and a mighty Mimosa Tower.
For larger groups of 6, get the Gold Package of $350 with front and center seats for 6 guests, a special mimosa tower, and a bottle of Moet or Moet Rose. For a once-in-a-lifetime Bachelorette party extravaganza, get the Bachelorette Package of $600 and treat your girlfriends to front and center seats with a special bottle service presentation for the bride, 2 mimosa towers, and a bottle of Moet or Moet Rose.
The Brewers Arms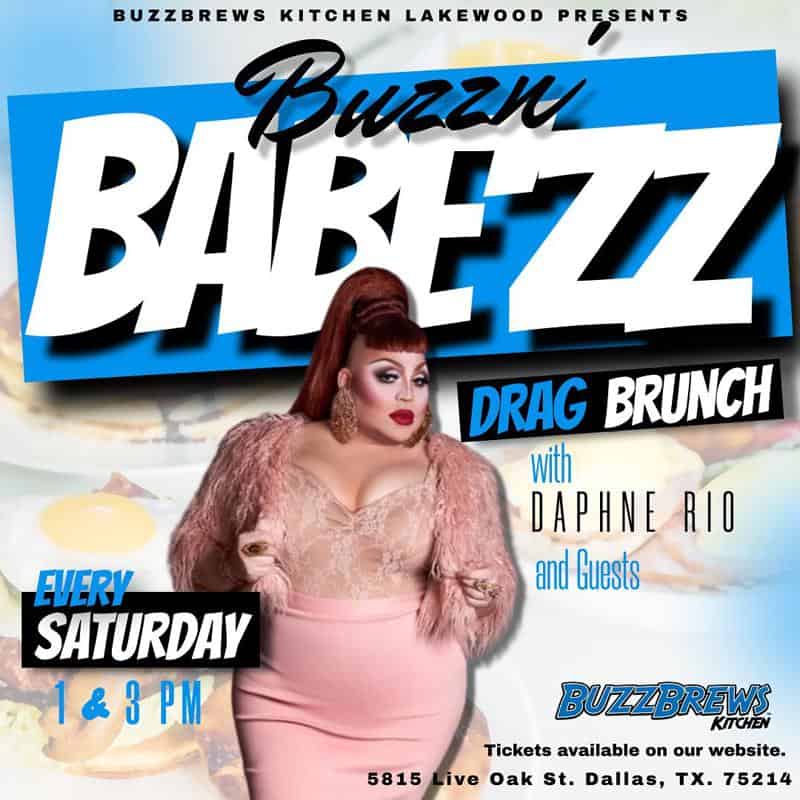 Address: 5815 Live Oak St, Dallas, TX 75214
Website: The Brewers Arms, Reservations
Phone: +1 214-370-5815
Time: Weekly on Saturdays from 12:30 pm
Ticket: $15
Known for: Buzz N' Babe'ZZ drag show with host Daphne Rio
Kick off the weekend with a party, laughter, and classic brunch delights and drinks at Buzz N' Babe'ZZ Drag Brunch hosted at Buzz Brews Kitchen at the Brewers Arms, Dallas. The show is hosted every Saturday with queen Daphne Rio hosting and putting on a rowdy good show with guest performers and famous queens.
The English-style pub setting is quite appealing, with a casual ambiance and welcoming service. Tucked in the heart of Lakewood, the venue invites friends, visitors, and family to enjoy fierce and talented artists putting on a wonderful performance.
The seats are limited so make sure you reserve your spot in advance.
Mr. Misster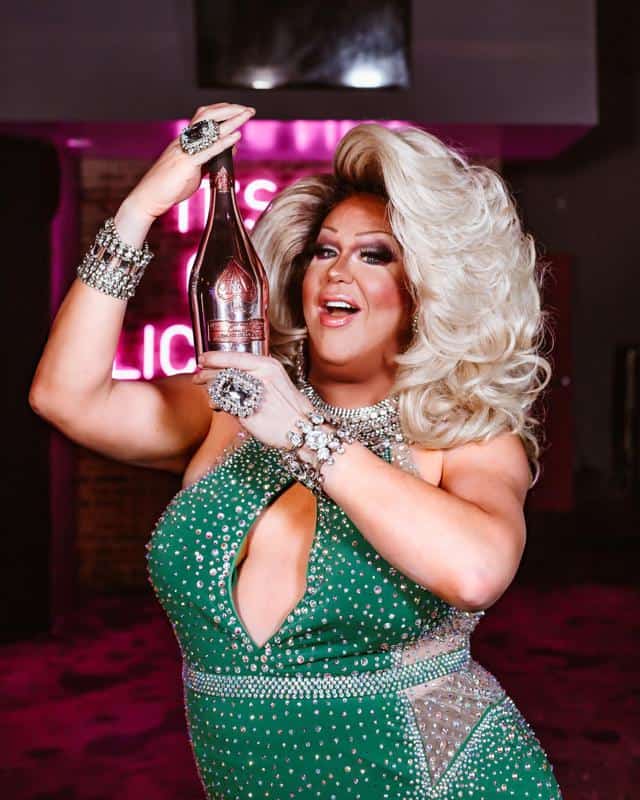 Address: 3900 Cedar Springs Rd, Dallas, TX 75219
Website: Mr. Misster
Phone: +1 972-850-9936
Time: Weekly on Saturdays from 2 pm
Ticket: $40
Known for: Champagne drag brunch and live music by resident DJs
Hosted from summers to winters, the vibrant and lively Champagne Drag Brunch at Mr. Misster's is an ultimate day-life experience. As the name suggests, this special event features an impressive selection of Champagne in various large format bottles, outstanding music by resident DJs, and a sensational drag show.
Hosted by Nicole O'Hara Munro and rotating queens, the drag brunch starts late at 2 pm. The relaxed yet inviting atmosphere soon turns into a ragger with loud music, wild performers, and a bottle-popping extravaganza.
You can also show some moves by dancing to the beats of the DJ, or simply enjoy the show and hang out with the Queens alongside a fantastic brunch spread and cocktails.
TK's Comedy Boomtown Drag Brunch
Address: 14854 Montfort Dr, Dallas, TX 75254
Website: TK's Boomtown, Reservations
Phone: +1 945-800-7668
Time: Bimonthly on Sundays from 11 am
Ticket: $20
Known for: Delilah DuBois and Patrick Mikyles with rotating queens
An unforgettable, rib-tickling drag brunch experience awaits you at TK's Comedy Boomtown. Join Delilah DuBois and Patrick Mikyles along with a rotating cast of A-list performers every other Sunday at Dallas' famous comedy club.
The event is hosted in collaboration with Double D Burlesque Productions and features an immersive experience with interactive live entertainment and tasty bites. To further elevate your experience, get the front-row VIP seats or the one and only VIBB (Brunch Babe) booth.
The talented Delilah DuBois is an international burlesque star and pinup model, fondly called the "Duchess of Debauchery", while Patrick Mikyles offers art and innovation with over 17 years of experience. Joining them for drag shows are names like Blue Valentine, Salem Moon, Bronx D, Davenport, and many more.
Also Read: Most Romantic Restaurants in Dallas
Cedar Springs Tap House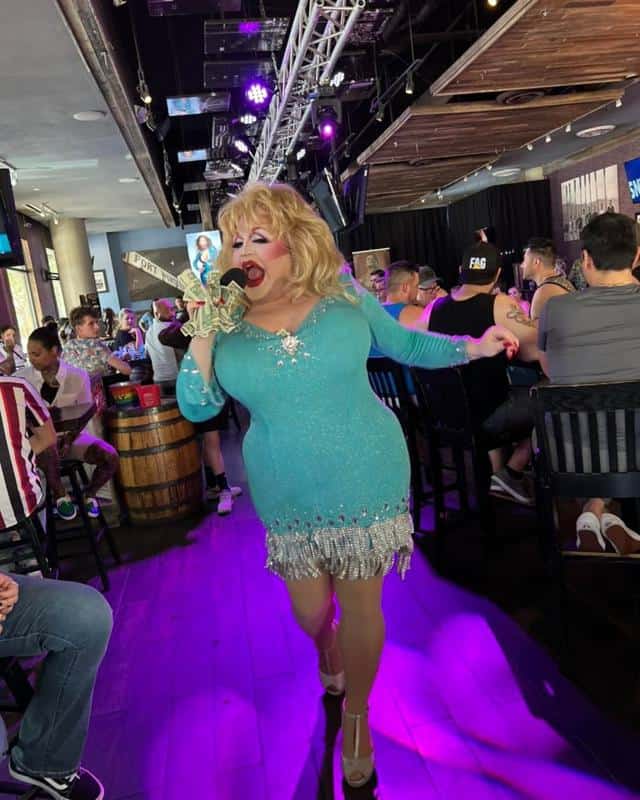 Address: 4123 Cedar Springs Rd #100, Dallas, TX 75219
Website: Cedar Springs
Phone: +1 214-377-7446
Time: Selected Sunday from 12 pm to 2 pm
Ticket: $15
Known for: Performances by Dallas Voice 2022 Best Drag Performer Jenni P and Mimosa flights
Join the glamorous drag team with Dallas Voice 2022 Best Drag Performer Jenni P and rotating queens at Tapped Out Drag Brunch. The Sunday Funday brunch invites you to lip-smacking and drink-guzzling shenanigans in a vibrant, upbeat ambiance.
While the entry to the show is free, you wouldn't want to miss out on the Mimosa Carafe, Bloody Marys, Mimosa Flights, and Monster Bloody Mary/Micheladas, so make sure you have enough for brunch drinks and tipping the drag queens for their astounding performances.
The brunch menu features hearty American delights, with the delicious Tap House Breakfast Platter offering bacon, buttermilk pancakes, eggs, and sausage links with your choice of homemade cheese grits or tater tots.
The Trove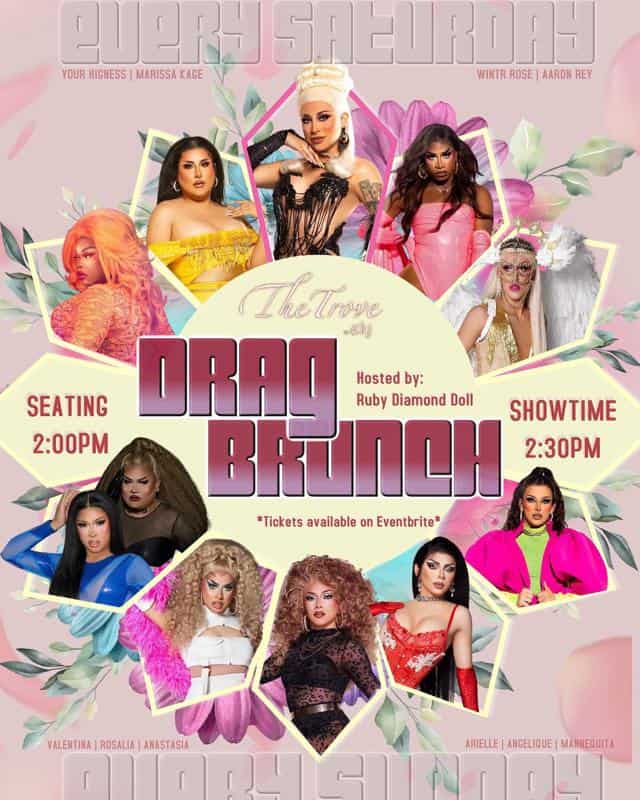 Address: 320 W Seventh St, Dallas, TX 75208
Website: The Trove
Phone: +1 713-870-9888
Time: Every Saturday and Sunday from 2 pm to 5 pm
Ticket: $10
Known for: Mind-blowing drag show and Jewelry Bar with gemstone-themed cocktails
Every weekend on Saturdays and Sundays, the Trove is taken over by Ruby Diamond and her dolls for a tremendous drag brunch. Located in the heart of the Bishop Arts District, you wouldn't want to miss out on this drag brunch.
The show features amazing performances with plenty of flips, kicks, and tricks to keep you hooked.
The Jewelry Bar is a bonus at the venue displaying hand-crafted Silver Jewelry from Mexico, and the gemstone-themed cocktails truly elevate their brunch experience.
Avail their silver or gold packages for large groups with 2 mimosa carafes included in the tickets.
Commons Club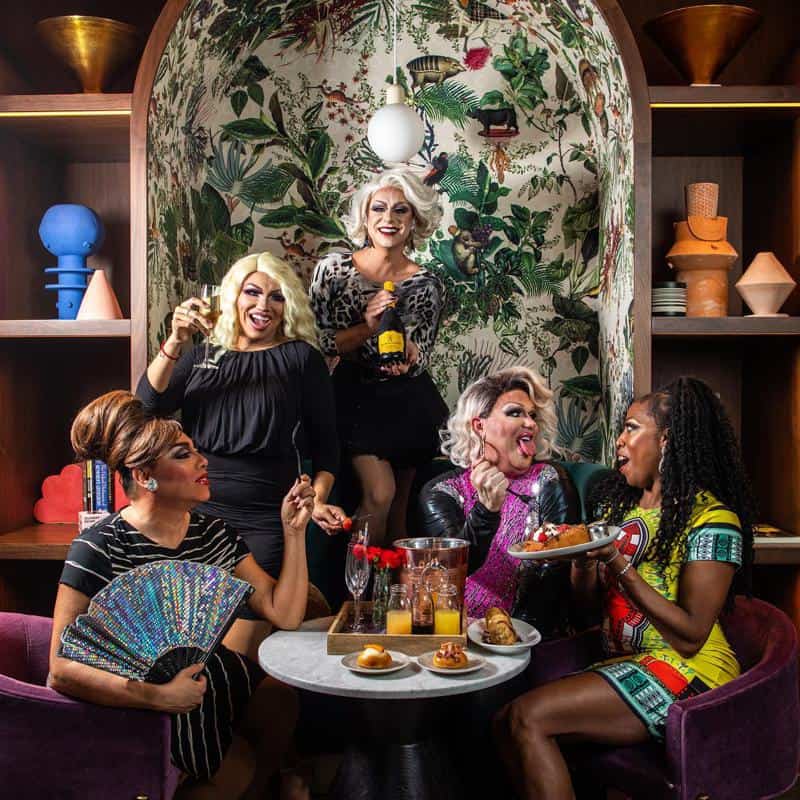 Address: 1445 Turtle Creek Blvd, Dallas, TX 75207
Website: The Commons Club
Phone: +1 469-436-7150
Time: Every 1st and 3rd Sunday from 12 am to 4 pm
Ticket: Starting at $30
Known for: Performances by Jenni P and rotating queens, and delicious American brunch and drinks
Brace yourselves for a wild ride at Common Clubs drag brunch featuring top Dallas drag queens performing for the over-the-top drag brunch series. Hosted by the sensational Jenni P, the drag show is filled with sass and variety.
The glittery show offers brunch bites and boozy brunch drinks to get you in the mood for joining in on all the fun. The family-style brunch is ideal for a group of friends and costs $30/ per person.
The premium view offers a front-row seat to the glittery extravaganza. The brunch menu has all the classic American dishes including Silver Dollar Pancakes, Brisket Hash with Scramble, Egg white Frittata, and Buttermilk Fried Chicken.
The Keep 'em Coming Mimosas are also quite famous, and feature amore di amanti prosecco, and a choice of orange, cranberry, or grapefruit juice.
Illusions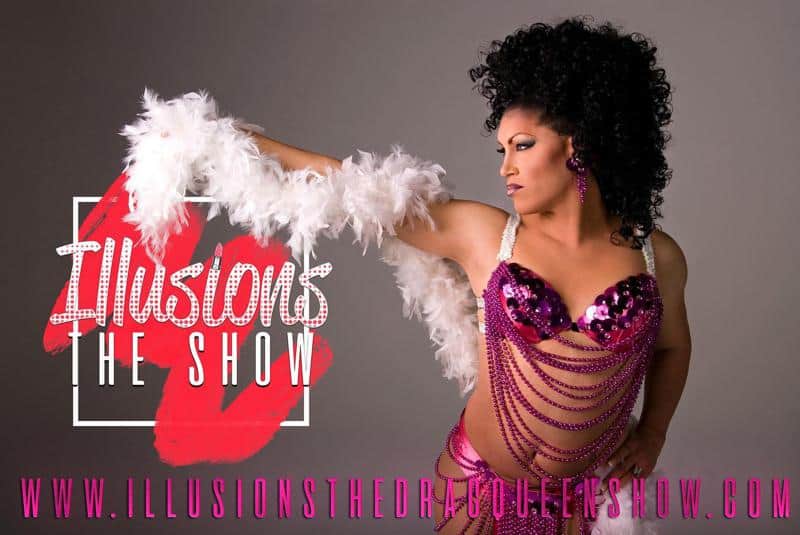 Address: 2714 McKinney Ave, Dallas, TX 75204
Website: Illusions
Phone: +1 713-331-9398
Time: Saturdays and Sundays at 1:30 pm
Ticket: Starts from $30
Known for: Leading drag brunch events with delicious brunch bites
As one of the leading event organizers for drag shows, Illusions the Drag Queen Brunch Show is quite famous in Dallas. The show features the best celebrity impersonators and rotating queens for weekly drag brunches.
Keep your eyes peeled for changing venues from restaurants, clubs, lounges, and bars and delectable brunch spread of eggs, chicken and waffle, pancakes, French toast, bacon, sausage, bagels, and fresh fruit salad. The boozy brunch drinks include Bloody Mary and Mimosas.
Diva Royale
Address: 2404 Cedar Springs Rd, Dallas, TX 75201
Website: Diva Royale Dallas
Phone: +1 917-633-4943
Time: Weekly on Sundays from 1:30 pm
Ticket: $20
Known for: Female celebrity impersonators and drag queens
Diva Royale is another leading drag brunch event organizer spreading the glittery joy in Dallas with their impressive female celebrity impersonators and drag queens. Celebrity impersonations include Madonna, Celine Dion, Liza Minnelli, Dolly Parton, Whitney Houston, Adele, Nicki Minaj, Britney Spears, Sia, Beyonce, and many others.
The event is a bachelorette party haven. Join the Divas for a glamorous celebration and elevate your special occasions with their performances and delicious brunch spread.
Read More:
Final Thoughts
Dallas has a huge number of drag brunches happening around the city in various locations. Besides drag brunch, some nightclubs and bars host late night drag shows including drag bingo and burlesque.
Celebrate your special events or make your weekends a celebratory extravaganza by being part of these exciting drag brunches in Dallas.