The big city vibes of D-Town deserve to be admired in all its glory. The best way to enjoy views of the magnificent crown jewel of Texas is by eating at a restaurant with a view.
Combining the best of the best, we have a dedicated list of restaurants with a view in Dallas that won't disappoint. From enthralling panoramic views to scrumptious meals and cocktails, you will have the time of your life.
Get the best scenery and view at these 15 fancy rooftop restaurants in Dallas.
Best Overall Rooftop Restaurant Dallas: Happiest Hour
Best Romantic Rooftop Restaurant Dallas: Terilli's
Best Rooftop Brunch Dallas: STIRR
Best Healthy Rooftop Restaurant Dallas: HG Sply Co.
Best Rooftop Restaurants & Bars Dallas
Happiest Hour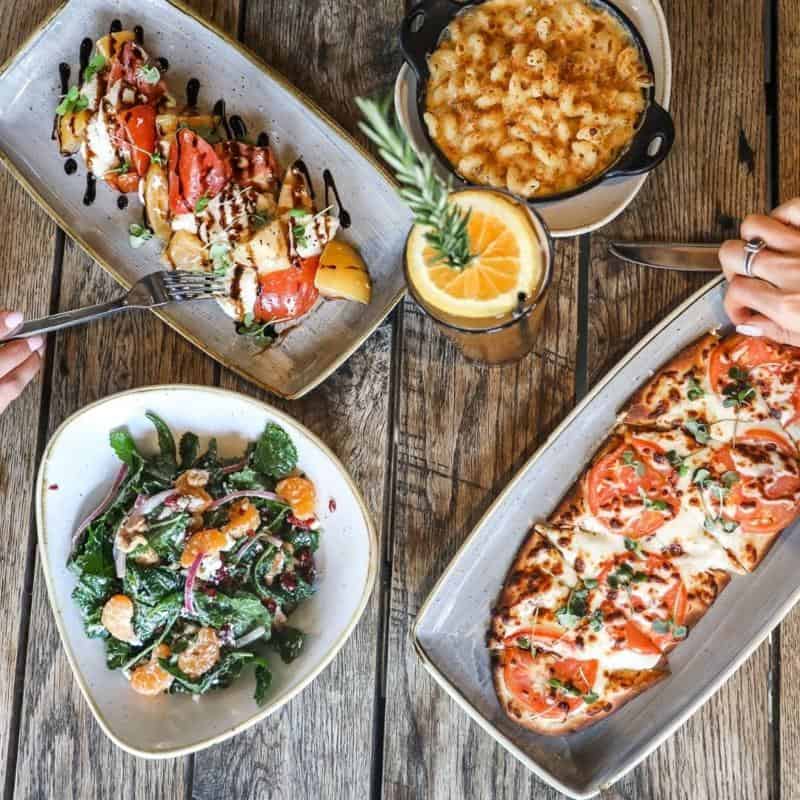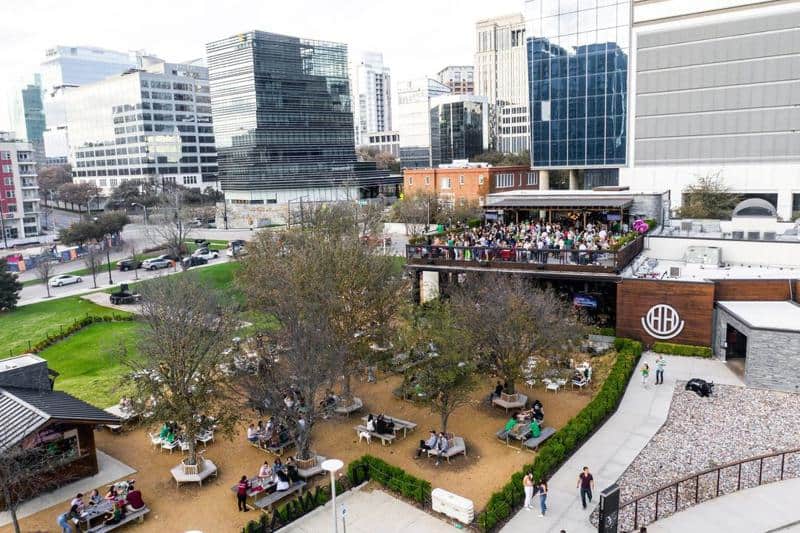 Location: 2616 Olive St, Dallas, TX 75201
Running strong with the motto "Eat, Drink, Happy" – Happiest Hour is one of the best Downtown Dallas Restaurants with a view. Enjoying a central location in the city, it attracts a large number of crowds and opens up the mesmeric skyline of Dallas to them.
Staying true to its name, you will have the time of your life in the hour you give to this wonderful rooftop restaurant with 50 beers on tap waiting to knock your socks off. The atmosphere is quite lighthearted and friendly with board games strategically placed throughout the restaurant.
It is also the biggest patio bar in the city with a huge outdoor patio. If you are looking to indulge in the nightlife of Dallas, you will appreciate the bottle service and DJs inviting you for a splendid night of music and drinks.
Highlights
Huge patio and rooftop.
Prime location in Downtown with splendid views of the skyline.
Over 50 beers on tap and exciting nightlife.
Terilli's
Location: 2815 Greenville Ave, Dallas, TX 75206
Amidst the flashy restaurants and big city vibes, Terilli is a relaxed spot nestled like a hidden gem and dedicated to bringing you a piece of Italy with a Texan twist.
It is one of the best romantic rooftop restaurants in Dallas with dreamy string lights crisscrossed to match the starlit sky, fire pits to keep you warm, and cozy dim lighted indoor dining for an intimate ambiance.
The lovely family-owned restaurant is perfect if you are craving Italian. With staples like the hearty Alfredo, Picattas, and Futtucini to inventive dishes like 'Italchos' which are crispy pizza chips, you will thoroughly enjoy everything on their menu.
Another attraction of Terilli is its ice-cold martinis in 17 varieties. We highly recommend the chocolate martini while you cozy up next to the fire pits on chilly nights.
Highlights
Romantic rooftop set up with string lights and fire pits.
Delicious Italian feasts.
17 variations of ice-cold martinis and other specialty cocktails.
STIRR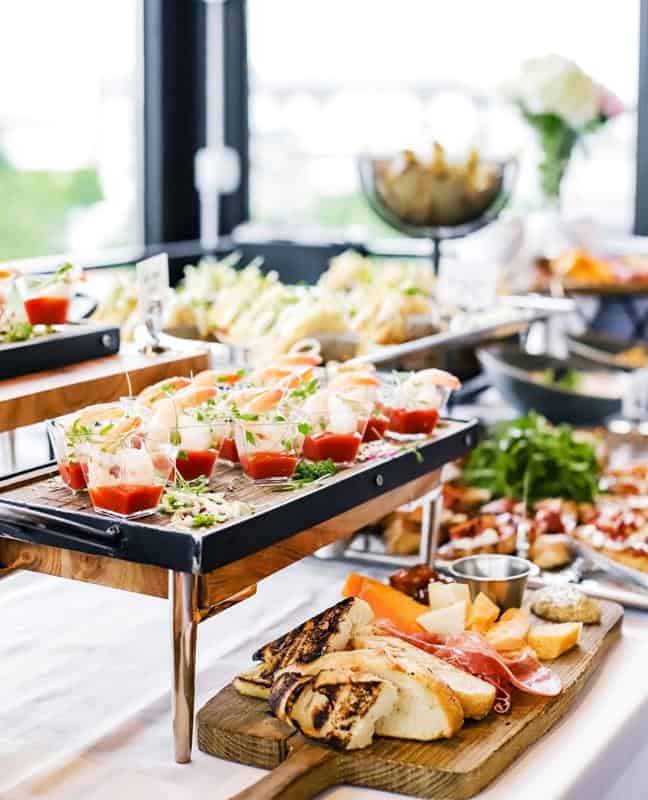 Location: 2803 Main St #110, Dallas, TX 75226
Bringing you the best views from Deep Ellum, Stirr overlooks the magnificent Dallas skyline with a super classy rooftop setting. The retractable roof has a long bar and lounge chairs along with comfortable sofas and of course, amazing food!
Dig in the best of Texan delights from crispy nachos to succulent lamb pitas. They also have an excellent brunch menu on Saturdays with delectable treats like huge doughnut holes stuffed with Crème Anglaise and generous servings of Nutella.
The rooftop is partially shaded with comfortable booths so that you can enjoy the views even on particularly hot days. Their happy hour is quite a hit and attracts people from all over town, so get there early or be prepared to wait.
Highlights
Lovely rooftop setting with retractable roof with booths and bars.
Great brunch menu.
A large variety of American cuisines and drinks.
HG Sply Co.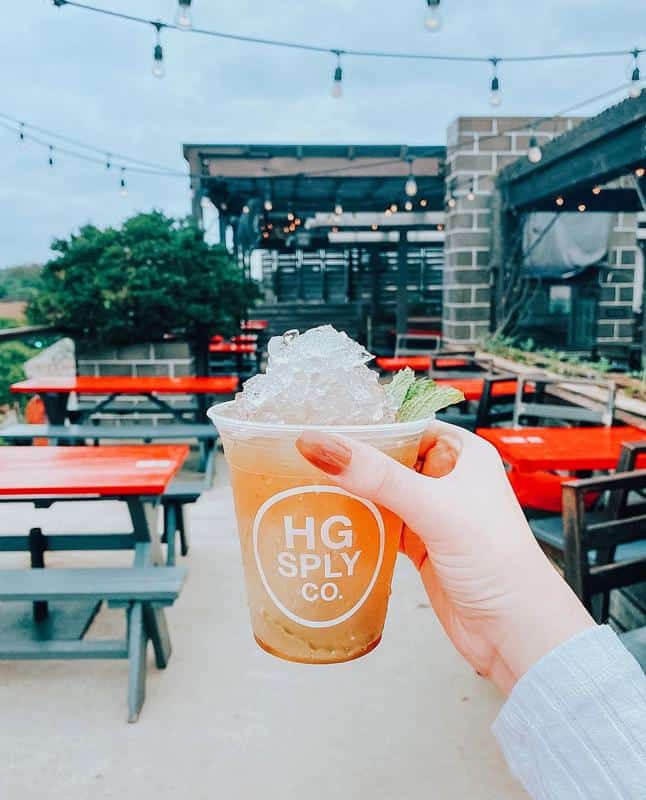 Location: 2008 Greenville Ave, Dallas, TX 75206
Blow off some steam with refreshing cocktails, healthy poke bowls and stellar views at HG Sply Co. The HG in its name stands for hunter and gatherer, where you can select your dishes based on whether they are hunted or gathered.
It is a perfect little spot for people with dietary restrictions and has a range of paleo, vegetarian and vegan-friendly options to accommodate everyone. The rustic patio sets the perfect ambiance to tantalize your taste buds with delicious appetizers like loaded nachos and vegan chips with queso alongside drinks.
For hearty main courses like Wagyu Sirloin, Quinoa Meatballs or Bison Chili, head down to the dining area and make sure to bring your appetite!
The breathtaking skyline of Dallas and weather-proof setup makes it one of the best restaurants with a view in the city.
Highlights
Lovely views of Dallas skyline.
Weather-proof patio serving appetizers and drinks.
Paleo, vegetarian and vegan friendly options.
The Henry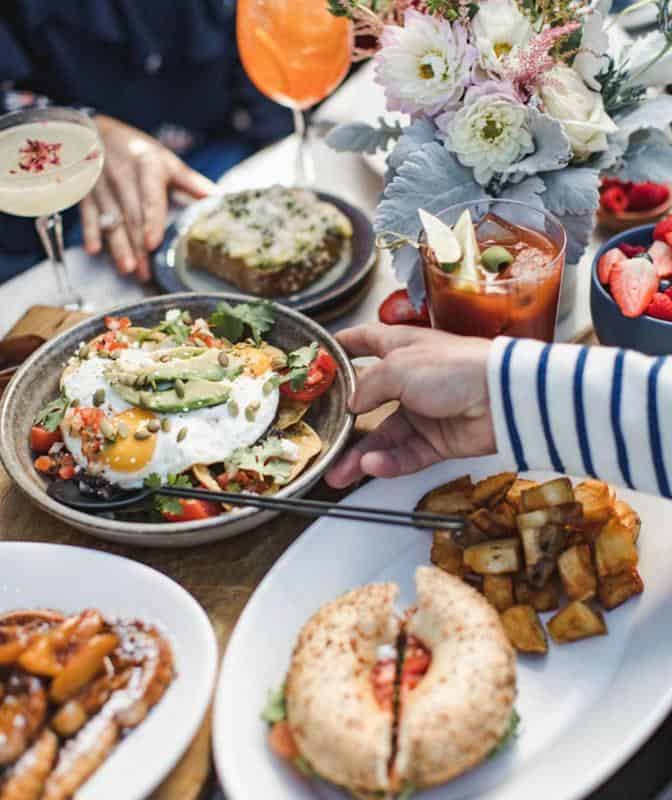 Location: 2301 N Akard St, Dallas, TX 75201
Sitting at the border of uptown and downtown in the vicinity of Victory Park, The Henry is a lovely skyline restaurant in Dallas. The rooftop is airy and spacious, offering sprawling views of the city with relaxed seating. The booths are also quite large and there are high-top bar tables as well.
The all-day menu has something for everyone, and the wide range of cocktails perfectly ties up your meals ranging from the daring Jalapeno Margarita to the sweet Prickly Pear Skinny Margarita. The Short Rib Potstickers are quite a hit, and their burgers are known for being juicy and satiating.
If you are not in the mood for a rooftop setting, they also have a quaint ground-floor patio covered with umbrellas and intimate indoor seating.
Highlights
Beautiful views from the rooftop.
Ground-floor patio seating is available.
Delicious American menu with a range of cocktails and vodka.
Sundown at the Grenada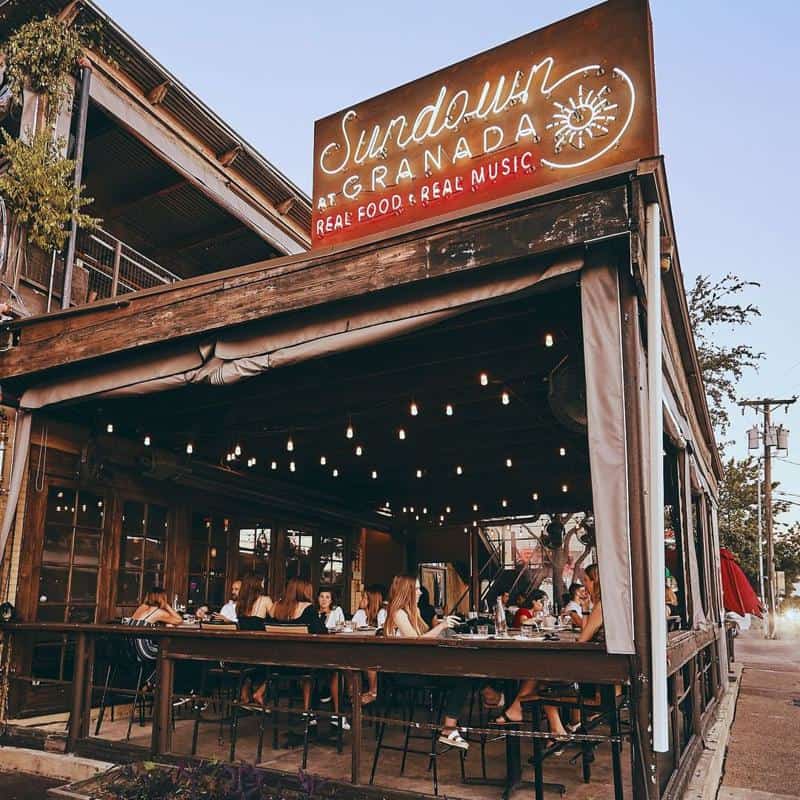 Location: 3520 Greenville Ave, Dallas, TX 75206
Overlooking Greenville Ave in its entire enchanting splendor, Sundown at Granada is a fancy rooftop restaurant in Dallas. Due to its prized location, it is a great spot to hit after a concert at the theatre. However, it very much deserves to be visited on its own as well.
There is a tranquil wood-covered rooftop terrace serving a full menu, as well as an indoor dining area and an exquisite downstairs patio that sets the perfect ambiance on a sunny day.
The menu offers the best southern delights with fresh and local produce, as well as seasonal dishes and options for gluten-free, vegans, and vegetarians.
We love the peaceful setting of the restaurant with a wide selection of drinks to leave your worries behind and soak in the scenic skyline with a soothing evening breeze.
Highlights
Lovely wood covered rooftop, ground floor patio and indoor seating.
Great variety of gluten-free, vegan, and vegetarian options.
Beautiful views and peaceful ambiance.
Waterproof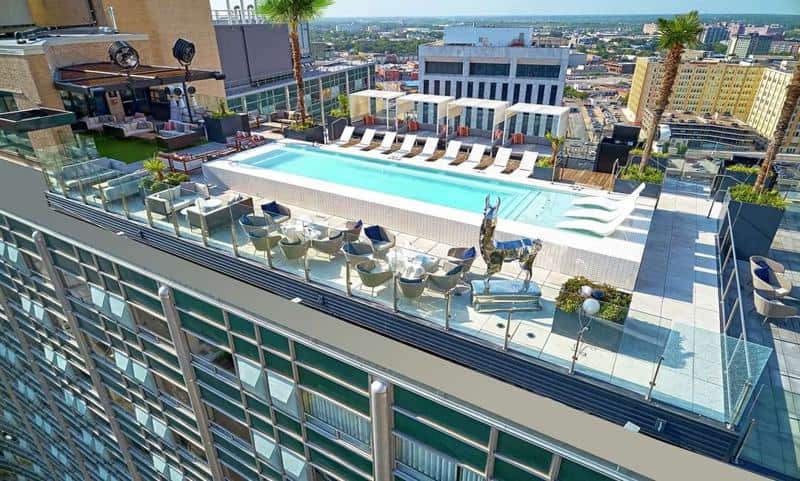 Location: 1914 Commerce St 19th floor, Dallas, TX 75201
Surrounded by towering downtown skyscrapers from all sides, Waterproof sits like a crown jewel with views that even put the NYC skyline to shame.
Only a handful of rooftop bars come equipped with a swimming pool, and we are thankful to the Statler Hotel for giving us one right in D-town. Thanks to its 19th-floor location, you can get the best views while getting a little tipsy!
The classy lounge serves a huge variety of drinks from specialty cocktails to wine and beer that match every mood. Pair your drinks with Italian delights like cheesy pizzas, calzone, and pasta.
Waterproof is likely to get very crowded by nightfall, so make sure you get there early to get the best out of its prestigious location and excellent menu.
Highlights
Amazing views from the 19th floor.
Swimming pool.
Great variety of drinks and food.
Harlowe MXM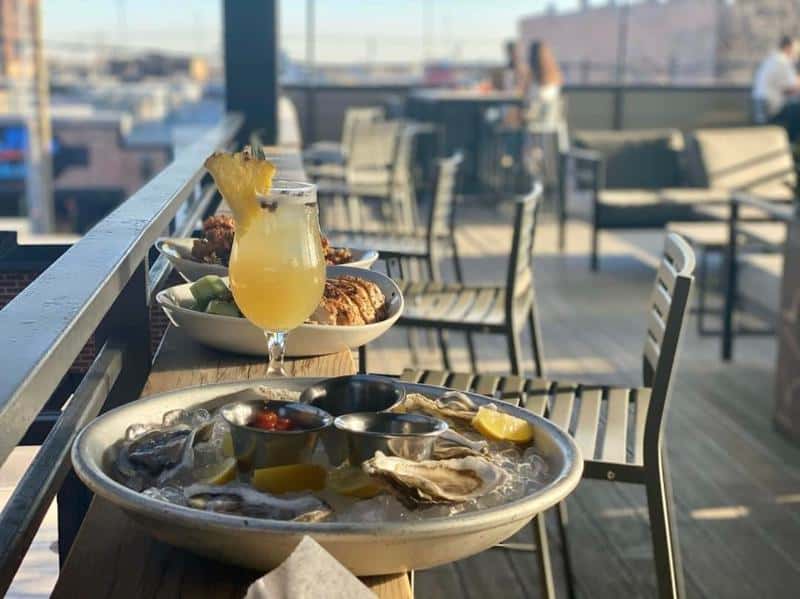 Location: 2823 Main St, Dallas, TX 75226
Bringing you another great rooftop bar of Deep Ellum – Harlowe MXM is a crowd pleaser with spectacular views of the city. The sprawling rooftop area has an energizing vibe ideal for partying with friends.
With communal tables, a huge bar, and comfortable sofas, you can have the perfect gathering over loaded snacks and classy drinks while enjoying the pleasant Dallas breeze.
We love the layout of the restaurant with exposed beams, quaint wood fire ovens, and decking that gives it an industrial look.
From all-time favorites like White Negroni and Palomas to frosty Gin & Tonic and Frose ideal for summer heat, you will love the cocktail selection at the restaurant. Show up early to enjoy happy hour through the week and get a taste of their specialty cocktails at very affordable rates.
Highlights
Classy layout with a large rooftop and bar.
Ideal for large gatherings.
Amazing selection of drinks and cocktails.
Gallery Rooftop Lounge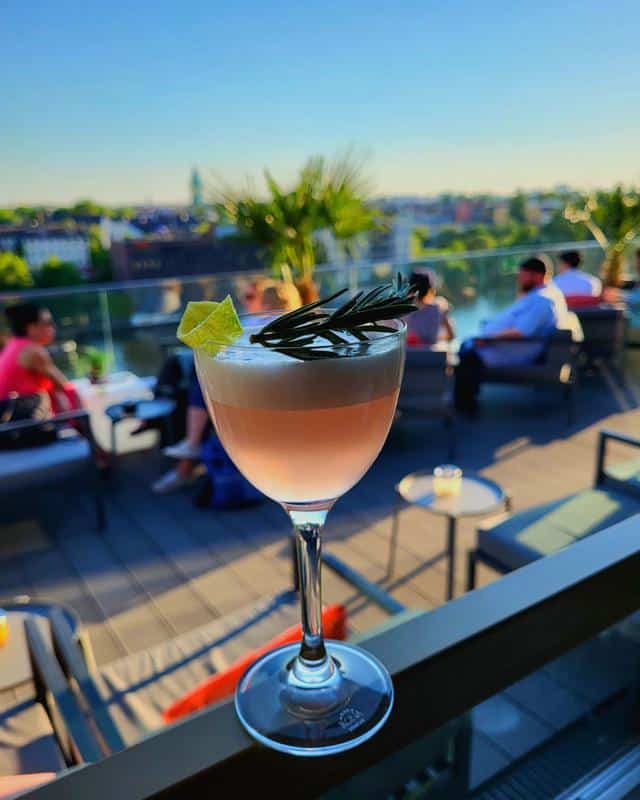 Location: 1325 Botham Jean Blvd, Dallas, TX 75215
Gallery Rooftop Lounge gives you a luxurious rooftop experience with an infinity pool and Instagram-worthy cocktails amidst a backdrop of the fascinating Dallas skyline.
Situated on the 6th floor of Canvas Hotel, it is open to non-guests and is ideal for a refreshing drink by the pool as you soak in all the beauty of the city. They have a breakfast service and also serve tacos, wings, and ceviche.
We love the intimate setting with private cabanas and fire pits along with local artwork to give you the perfect city ambiance.
Get the rummy Pineapple Ginger Refresher or the Watermelon Cooler spiked with tequila for the ultimate tropical feel as you soak in the heated pool.
Highlights
Beautiful rooftop setup with private cabanas on the 6th floor.
Heated infinity pool.
Wide range of drinks and snacks.
The Woolworth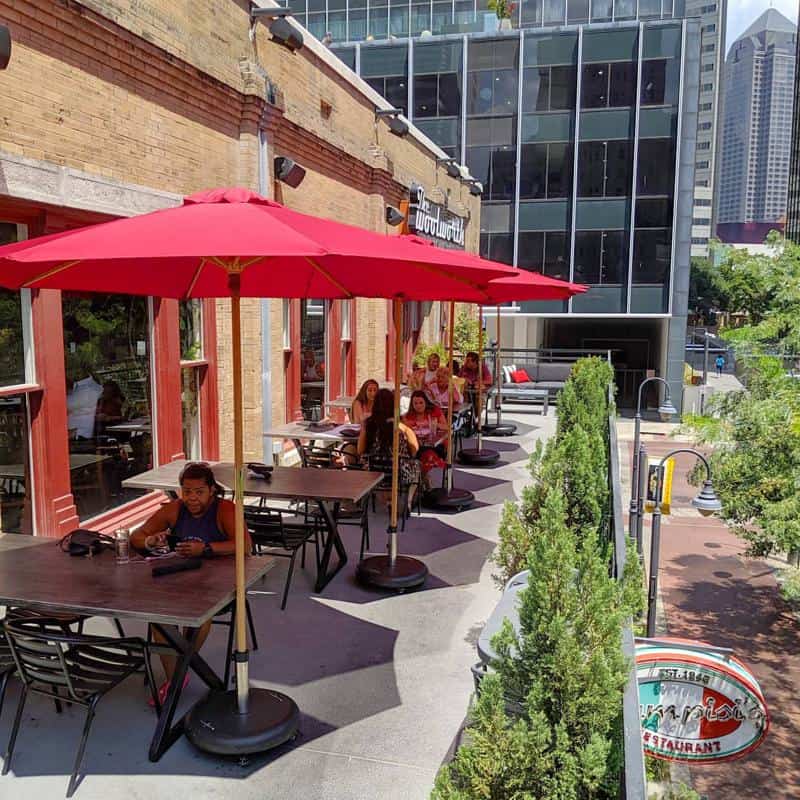 Location: 1520 Elm St #201, Dallas, TX 75201
Perched atop the massive 30-foot-tall eyeball sculpture in Downtown Dallas, the Woolworth gives you a perfectly cozy feel as you welcome in the sunny breeze and take the world in bit by bit.
Giving you a straight view of the streets, you can enjoy your lunch in peace while watching the city in action. Lunch and dinner options have all your basics covered with hearty steaks, light sandwiches and salads, and overflowing tacos.
They also have a special brunch menu for the weekends with Short Rib Skillet selling out like hot cakes!
If you wish to go for indoor dining, you will be welcomed by classy wooden interiors and dim lighting to set the mood for a sophisticated and calm evening with your beau. Get a taste of craft beers and handcrafted cocktails at their happy hour, and enjoy scenic views from the 2nd floor.
Highlights
Great location and views.
Happy hour with handcrafted cocktails and craft beers.
Brunch on weekends.
Vidorra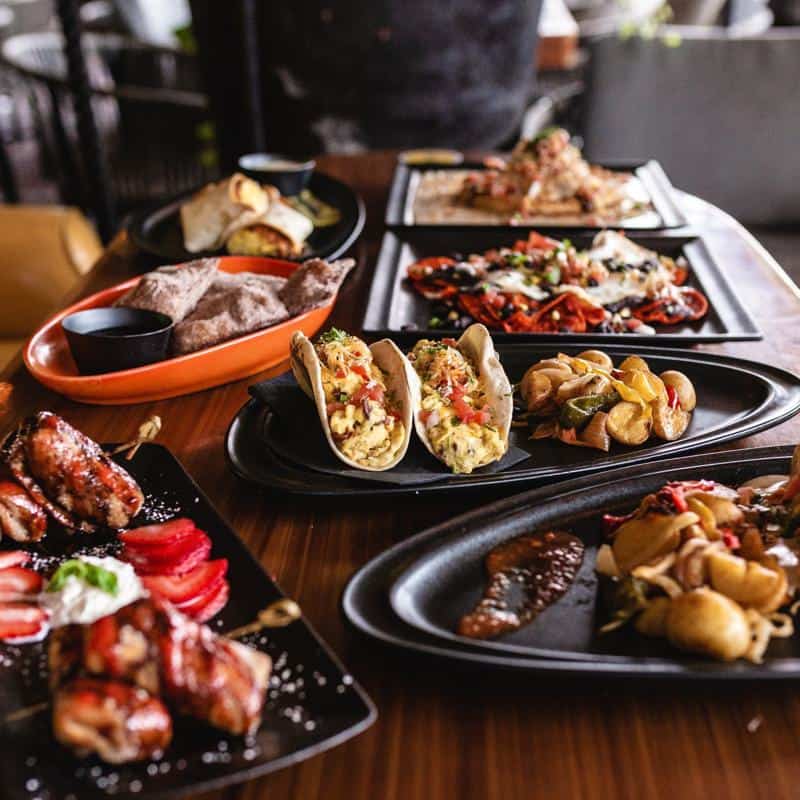 Location: 2642 Main St, Dallas, TX 75226
If you like to party and celebrate the lip-smacking Mexican cuisine, head to Vidorra in Deep Ellum.
The restaurant has a byline of 'Cocina de Mexico' and staying true to its name; the bi-level fancy rooftop restaurant in Dallas is an unadulterated celebration of Mexican culture with food, drinks and amazing hospitality.
We love the contemporary layout of the restaurant, softened by potted plants and wooden furnishing. The rooftop terrace has lounge seating and a dining area to enjoy delectable Mexican flavors while taking in the views of the city.
The scrumptious quesadillas and loaded burritos and tacos won't disappoint in the least, especially when paired with their unique cocktails and a huge selection of tequilas.
Highlights
Delicious Mexican cuisine.
Rooftop terrace with lounge seating.
Large tequila selection and cocktails.
Read More: Best Restaurants in Amarillo, TX
RH Rooftop Restaurant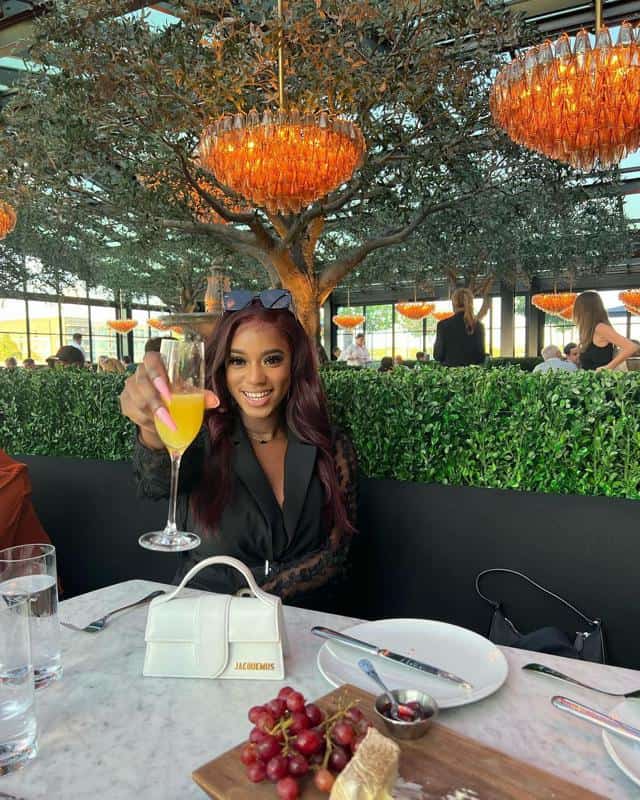 Location: 3133 Knox St, Dallas, TX 75205
Sitting atop the sprawling RH Gallery on Knox Street, RH Rooftop Restaurant offers an elegant dining experience with spectacular views.
It is located on the 3rd floor and has a magnificent atrium of glass and steel with classy retractable glass walls that open up to the beautiful outdoor terrace. With welcoming views and sounds of flowing fountains, tranquil olive trees and gleaming chandeliers, it is a perfect spot for a date night.
Apart from lunch and dinner, they also serve brunch on weekends. Enjoy hearty portions of your favorite American cuisines, from juicy steaks to fresh seafood paired with craft beers and artisanal wines.
Highlights
Spectacular views of Knox Street and beyond.
Weekend brunch.
Delicious American cuisine and drinks.
Sky Blossom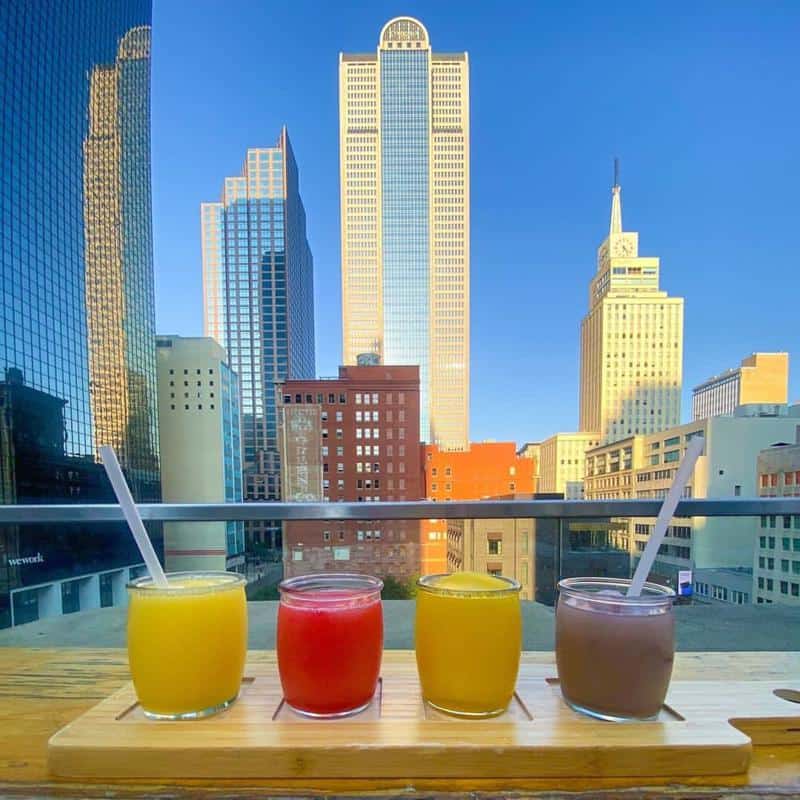 Location: 1514 Elm St #611, Dallas, TX 75201
Sky Blossom is a hidden gem in our list that you'll be thankful you found out about just in time! It is relatively new and can be challenging to find, but once you go up that elevator on Downtown Dallas Main Street, you will be enthralled at first glance.
With amazing views of skyscrapers poking through the clouds and your favorite drink in hand, Sky Blossom gives you a piece of heaven right in Dallas.
The menu features Vietnamese delights and an ambitious selection of cocktails with a fruity punch and unusual garnishing that's sure to make an appearance on your Instagram feed.
Visitors love to munch on the colorful spring rolls, pho, and crispy wings while looking the Main Street from the roof deck.
Highlights
Beautiful view of Main Street.
Great location Downtown.
Unique variety of cocktails and Vietnamese cuisine.
Tei-An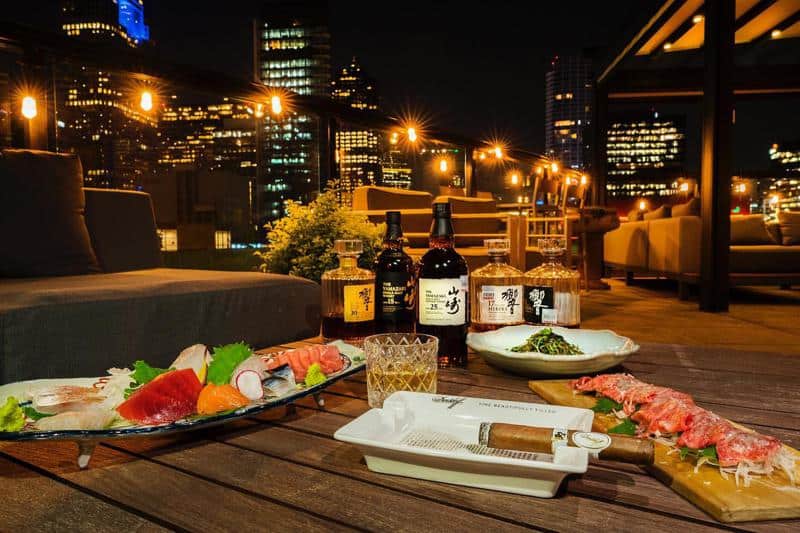 Location: 1722 Routh St #110, Dallas, TX 75201
Tucked in the Art district of Downtown Dallas, Tei-An is a work of art. The elegant and classy Japanese restaurant overlooks the beautiful skyline from its rooftop terrace.
However, there's a catch! The rooftop is open to members only during selected hours, so make sure you keep an updated membership to get the most out of your experience.
Apart from the captivating rooftop views, the food here is amazing. From mouth-watering sushi to cold and hot soups and soba noodle dishes, everything is spot on and drenched in luscious sauces. They also have a great selection of crafted cocktails.
Highlights
Delicious Japanese cuisine.
Members-only rooftop terrace.
Amazing range of crafted cocktails.
Also Read: Best Rooftop Restaurants in Houston, TX
The Green Room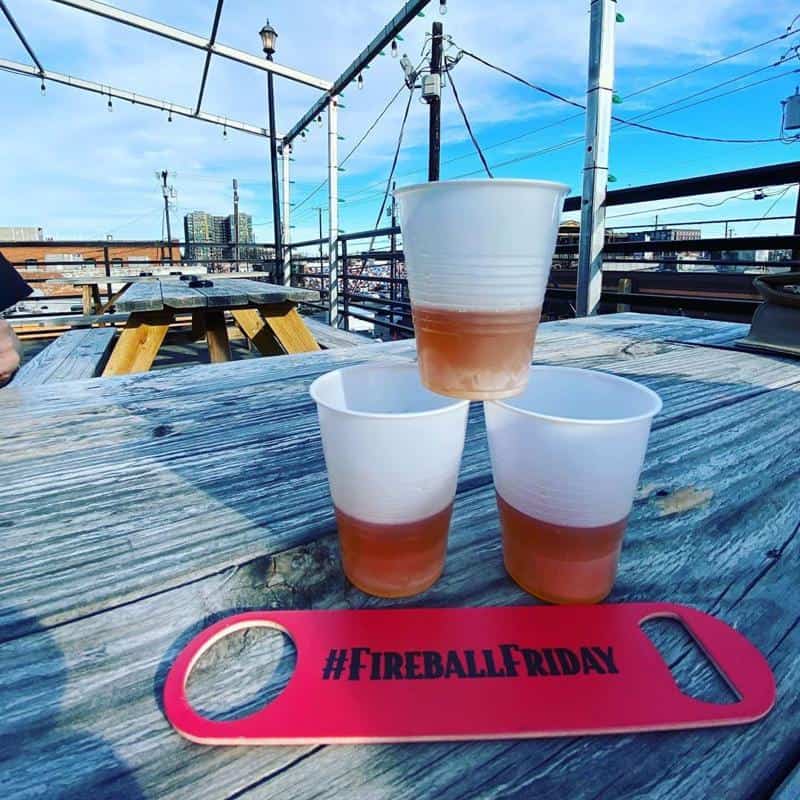 Location: 2715 Elm St, Dallas, TX 75226
Have a sweet affair on Elm Street at Green Room.
Opening up its rooftop to astounding views of Downtown Dallas, The Green Room is a lovely spot for dinner and drinks with your beau or friends.
The breeze is always generous here so that you can beat the heat in summers without compromising on striking views.
With familiar comforts and classy meals, you will love the delicious Blacktooth Burger and Short Rib Texas Poutine. They also have happy hour throughout the week where your favorite wine and beers will only cost a dime!
Highlights
Beautiful views of the city.
Happy hour on Sundays and weekdays.
Delicious American cuisines.
Also Read:
Map of Best Rooftop Restaurants & Bars in Dallas

Conclusion
Dallas has a very diverse food scene, bringing you everything you crave at your disposal. Combine it with captivating views of its mesmeric skyline, and you've got yourself the perfect deal! Our list features some of the best rooftop restaurants and bars that will help you kick back and relax while truly appreciating the beauty of D-town at its best.