The coastal community of Fairhope in Baldwin County is known for its beautiful parks and panoramic views of Mobile Bay.
Fairhope is a prosperous area with plenty to entertain visitors in the many shops, boutiques, cafes, art galleries, and gift shops.
With a long fishing tradition in the Bay and Gulf of Mexico, Fairhope has some of the best seafood restaurants in Southern Alabama.
But seafood is not the only option in Fairhope, as plenty of other restaurants call this city home.
Here are our top picks for Restaurants in Fairhope, AL:
Best Restaurant for Plant-Based Diets: Sage
Best Cocktails: Tamara's Downtown
Best Casual Restaurant: Big Daddy's Grill
Best Restaurants in Fairhope, AL
Gambino's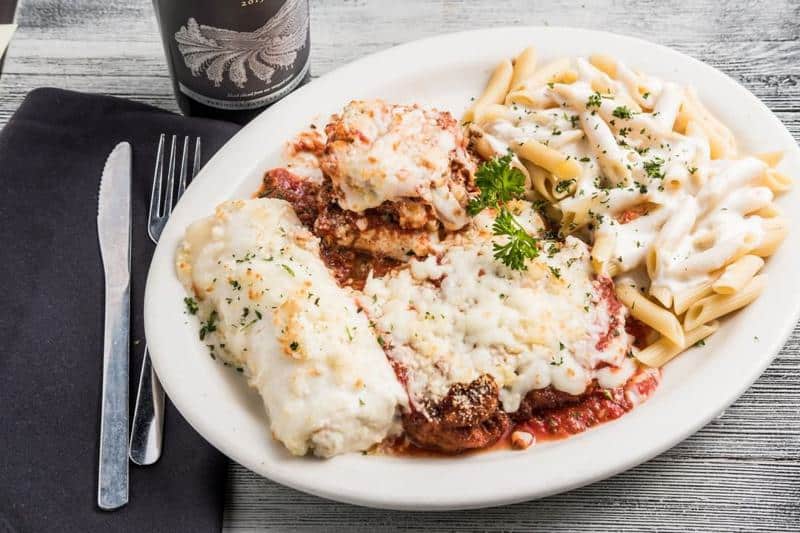 Address: 18 Laurel Ave, Fairhope, AL 36532-1109
Phone: +1 251-990-0995
Best known for: Classic Italian
If you find yourself in the Eastern shore area, head to Gambino's. Gambino's Italian Grill was established in 1975. The Gambino Family continues to offer the best in Italian classics, seafood, steaks, entertainment, and atmosphere.
The dining room has views of gorgeous Sunsets on Mobile Bay, and the stunning courtyard features an 1800-gallon koi pond with waterfalls.
The piano bar is a draw for customers with Nationally known Comics and local musicians.
Gambino's is a traditional old-school Italian Restaurant with dim lighting and big comfortable tables and chairs, and the menu reflects the heritage.
A popular dish from the menu is the Gambino's Taste of Italy.
Taste of Italy is a combination platter with oven-baked Chicken Parmesan, homemade lasagna, chicken, and veal-blended cannelloni with Alfredo and rich, creamy Penne Alfredo.
Perfect for sampling the quality of the dishes.
Gambino's is open from 5pm daily.
Sunset Pointe at Fly Creek Marina
Address: 831 N Section St, Fairhope, AL 36532-3310
Phone: +1 251-990-7766
Best known for: Sunsets and Fresh Seafood
Sunset Pointe at Fly Creek Marina is owned by "Panini" Pete Blohme, who you may know as he is a regular on the Food Network! He's had numerous appearances on Diners Drive-ins and Dives and Guy's Grocery Games.
Sunset Pointe is where to head if you want fresh seafood, unique menu items, expertly designed cocktails, and the best sunsets in town.
Sunset Pointe is one of the few restaurants with water views in Fairhope, making it a local favorite!
A Farm-to-table food ethos is teamed up with quality cocktails, all served up in a breathtaking waterfront space that is relaxing yet upscale.
The menu has sections split up into "Bights ."You can enjoy Gulf Coast BBQ shrimp or Kamikaze chicken in the small bights. A simple dish of fried chicken, soy, lime jalapeno glaze, and sesame seeds.
There is Rick Bragg's "Ode to grouper" Sandwich for the southern purists. Genuine gulf grouper grilled or fried, local lettuce, tomato, and served with grilled slaw.
Sunset Pionte is open Monday to Sunday, 11:30am-9:30pm.
Tamara's Downtown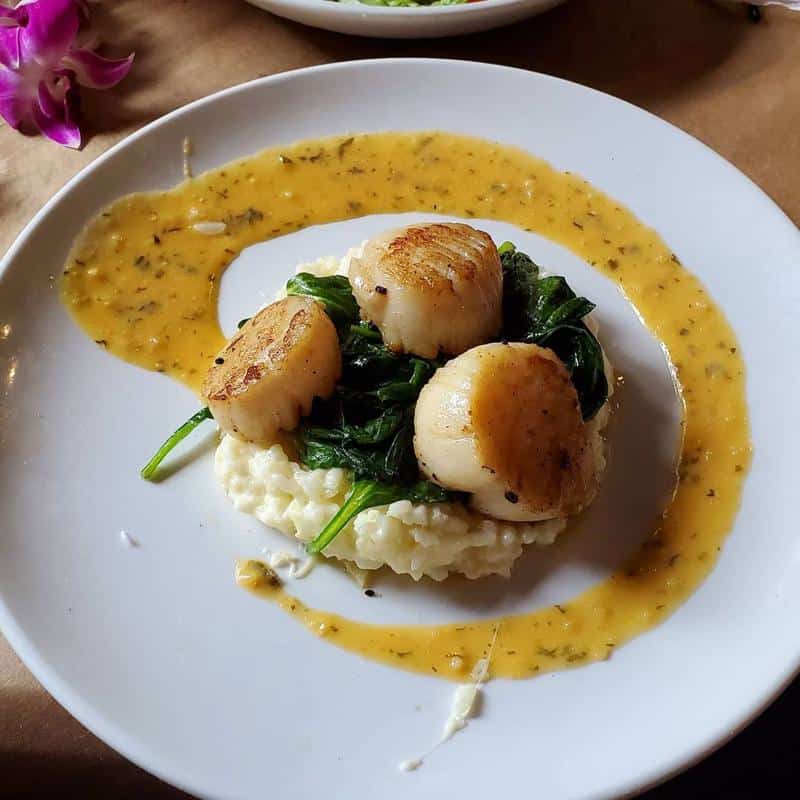 Address: 104 N Section St, Fairhope, AL 36532-2431
Phone: +1 251-929-2219
Best known for: Bloody Mary Bar
Tamara's Downtown is in a striking historic building in the heart of Downtown Fairhope.
The dining room is grand, the New Orleans-inspired courtyard is stunning, and the Bloody Mary" bar is an excellent place for cocktails.
The extensive menu features fresh local fish, black Angus beef, prime steak, lamb, pasta, eclectic burgers, and unique specialty dishes.
Try the crab meat pie to start, or for entrée, how about shrimp and grits with bacon béarnaise?
Sunday Brunch has become a Fairhope custom. Tamara's has all your most loved breakfast and lunch dishes, Mimosas, and a create-your-own Bloody Mary bar.
Tamaras has their Happy hour with beautiful cocktails and appetizers from 3-5:45 every day! Check their website for current opening hours.
Sage Lebanese Cuisine and Cafe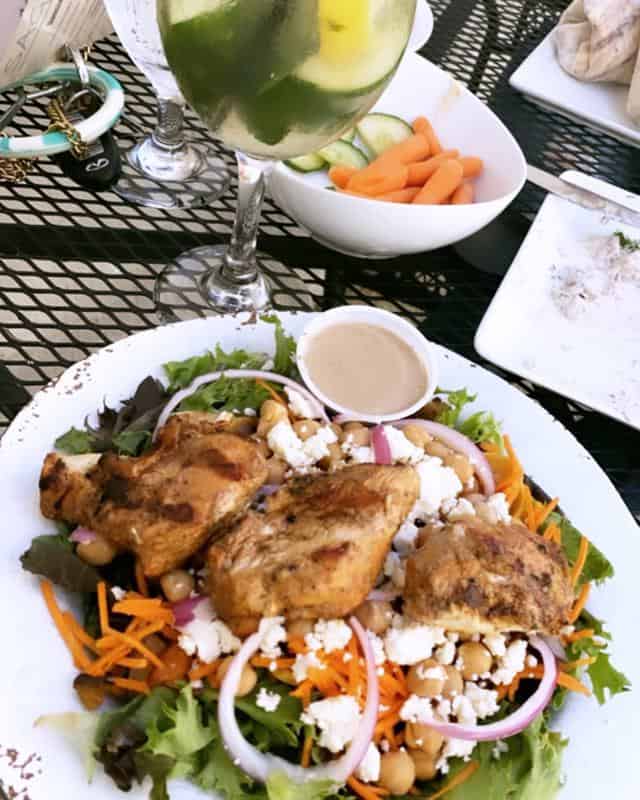 Address: 319 Fairhope Ave, Fairhope, AL 36532-2317
Phone: +1 251-517-7536
Best known for: Mediterranean & Lebanese cuisine
Sage is a restaurant blending traditional and new Mediterranean & Lebanese flavors.
With experienced passed down through the generations, using spices and herbs, they produce a beautiful culinary experience.
The restaurant is cozy, with cultural items displayed from Lebanon and the Mediterranean.
The décor helps transport you from Alabama to an exotic destination elsewhere. The restaurant has a smaller, intimate room and a larger space which can handle large groups.
There is also a dog-friendly walk side terrace which is fantastic for those who prefer outdoor dining.
The menu does not disappoint with a vast range of Hummus varieties, Baba Ghannouj, Mousaka, Tabouli, and a choice of different Mankoushe, amongst other appetizers.
Entrees have Kebabs, lamb chops, and various types of meat over rice or hummus, and vegetarians have plenty of options.
Wraps and pitta sandwiches are offered with Shawarma kebab fillings of chicken, beef, and lamb. For those on a plant-based diet, Falafel.
Sage is open Tuesday – Saturday, 11am-2pm, and 5pm to 9pm.
Big Daddy's Grill At Riverpark
Address: 16542 Ferry Road Fairhope, Fairhope, AL 36532-6617
Phone: +1 251-990-8555
Best known for: Casual dining with views
Big Daddy's Grill At Riverpark is located right on the beautiful Fish River, only minutes from Fairhope.
The restaurant has indoor and outdoor dining. The outdoor dining has plenty of space and a fantastic view; the advantage is you can arrive by car or boat!
This is a casual dining restaurant, as your food will be served in a plastic basket with your beer and wine poured into plastic cups.
It has a friendly and accommodating service, locally sourced fresh seafood, flavorsome food, and a top-shelf burger and has been established since 2007.
The menu is simple with traditional favorites and with no spin, just fresh ingredients, and served with southern charm.
Big Daddy's Grill is open 11am – 8pm every day except Wednesday.
Red or White Wine & Gourmet Center
Address: 323A De La Mare Ave, Fairhope, AL 36532-2319
Phone: +1 251-990-0003
Best known for: Gourmet food and in-house wine store
Red or White wine Gourmet Centre is a wine bar with a difference. The restaurant is inside a stunning wine store.
It has a unique, quirky, upmarket ambiance yet feels comfortable and welcoming.
Red or White specializes in providing a wide selection of affordable wines, a unique menu, and a distinctive ambiance.
The menu is based upon "boards" and wine pairing, which the staff will delight in assisting you with.
Board examples are the vegetable board with crispy roasted potatoes, roasted green beans, beets, grilled yellow squash, and mushrooms served with herb Manchego aioli and a baguette.
Meat lovers can choose Roasted Chicken Board served with marinated olives, artisan cheese, tomato confit, and a baguette.
They have delicious daily specials, which on the day of writing was, roasted swordfish served over butter braised pink eye peas with fresh sliced sweet peppers, local mushrooms & arugula.
The retail store is open from 10.30am, but food service is from 3pm to 8pm, Monday to Saturday.
Thyme on Section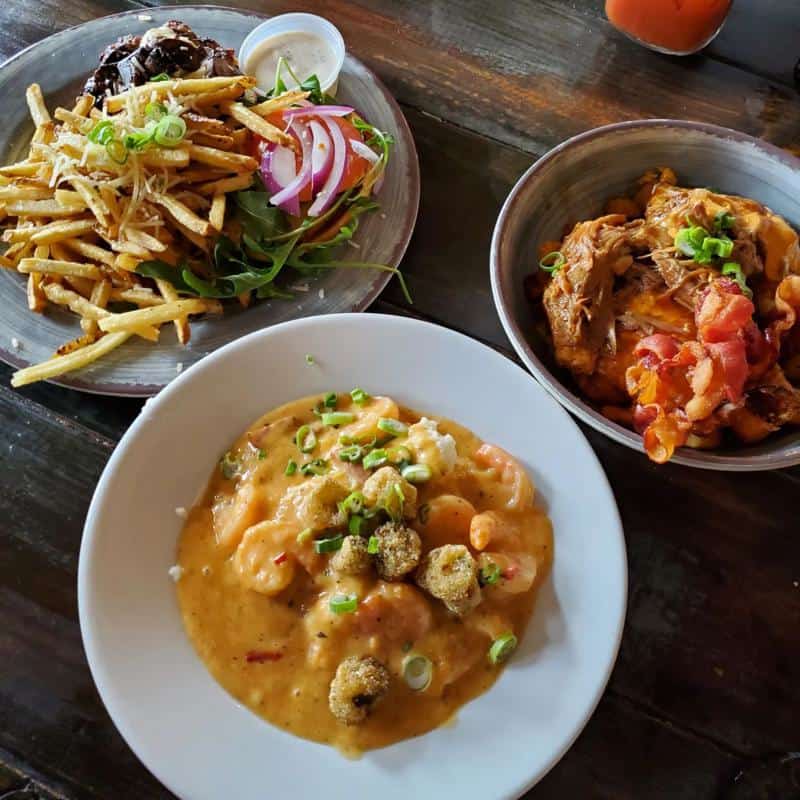 Address: 33 North Section Street, Fairhope, AL 36532
Phone: +1 251-990-5635
Best known for: Casual coastal dining
Thyme on Section opened in 2010 and is located conveniently next to the Hampton Inn. The chef-owners have over 20 years of experience working in some of the finest kitchens, which shows in the food.
The use of dark wood and black chairs in the restaurant brings an air of modern sophistication, and a window to the kitchen helps to keep the magic alive.
On the one hand, the menu is wholly unpretentious, but you'll find highly ambitious dishes.
There is also a hint of French cookery education behind some dishes, which is never a negative.
Regulars go for the Truffle fries and the Angus Flit, but you could try a Thyme twist with the Thyme Burger. Hand-seasoned patty, goat cheese, mushroom, arugula, tomato, red onion, and truffle aioli in a toasted bun.
You can enjoy a casual coastal dining experience Monday to Saturday, 11am – 3pm and 5:30pm -9pm.
Ox Kitchen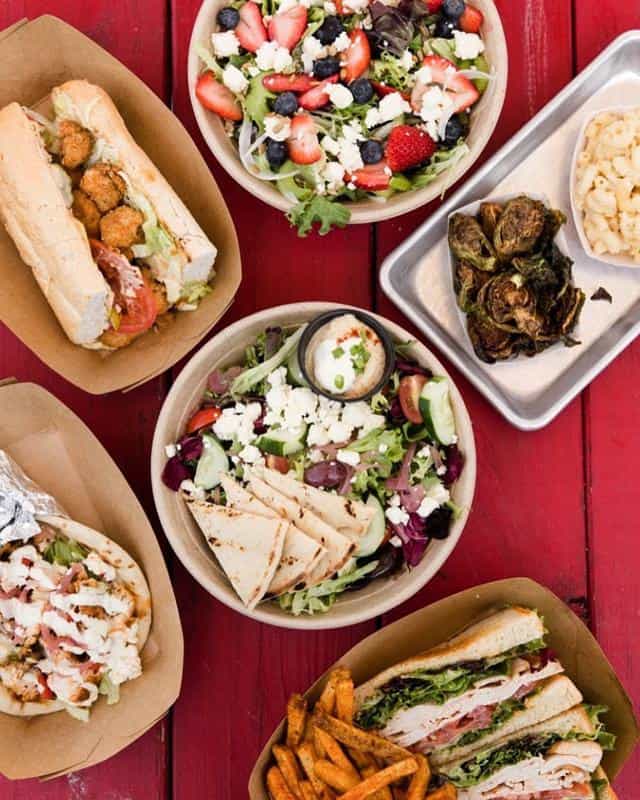 Address: 365 Greeno Rd S, Fairhope, AL 36532-1904
Phone: +1 251-928-8072
Best known for: Simple Food with a Southern Twist
The Ox Kitchen opened in 2017 in the back corner of what is now The Mill in Fairhope.
The restaurant is casual and family-friendly, with an approachable, familiar menu that does not intimidate. The food is simple but uses the freshest ingredients, and everything is made in-house daily.
The in-house attitude extends to the smoked turkey and pecan-smoked wings, the homemade French fries, sauces and salad dressings, and even the homemade pickles.
The chef and owner have created somewhere friendly and not stuffy that serves simple, quality food, or as he calls it, "New Southern Casual."
The food has the character and soul of the south, as you can see from the signature Ox Burger with oxtail gravy.
The Ox Kitchen is open from 11am but is closed Mondays.
District Hall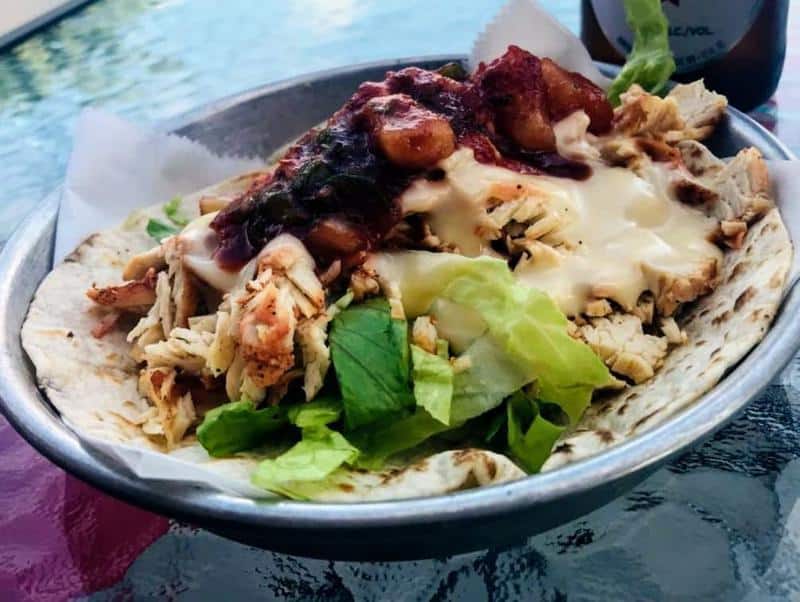 Address: 761 Nichols Ave, Fairhope, AL 36532
Phone: +1 251-929-4547
Best known for: Friendly and fun atmosphere
District Hall is a family-friendly restaurant and live music venue. It has an ample dining space with a rustic, almost steam-punk vibe in places but with a warm feel.
There is lots of distressed painted wood, which gives it the deliberate "lived in" look but is light and airy.
The vast outside space has plenty of room for the kids to run around and play. Inside they have regular guest bands playing and rock and roll bingo, whatever that actually is!
The food is typical Bar food of wings, shrimp, salads, burgers, and pizzas.
Happy hour daily 4pm – 6pm and daily specials such as "All you can eat" wings and 3 beers with a burger and hand-cut fries for $10
District Hall is open Tuesday – Thursday 4pm – 8:30pm, Friday 4pm – 9:30pm and Saturday 4pm – 9:00pm.
Yak The Kathmandu Kitchen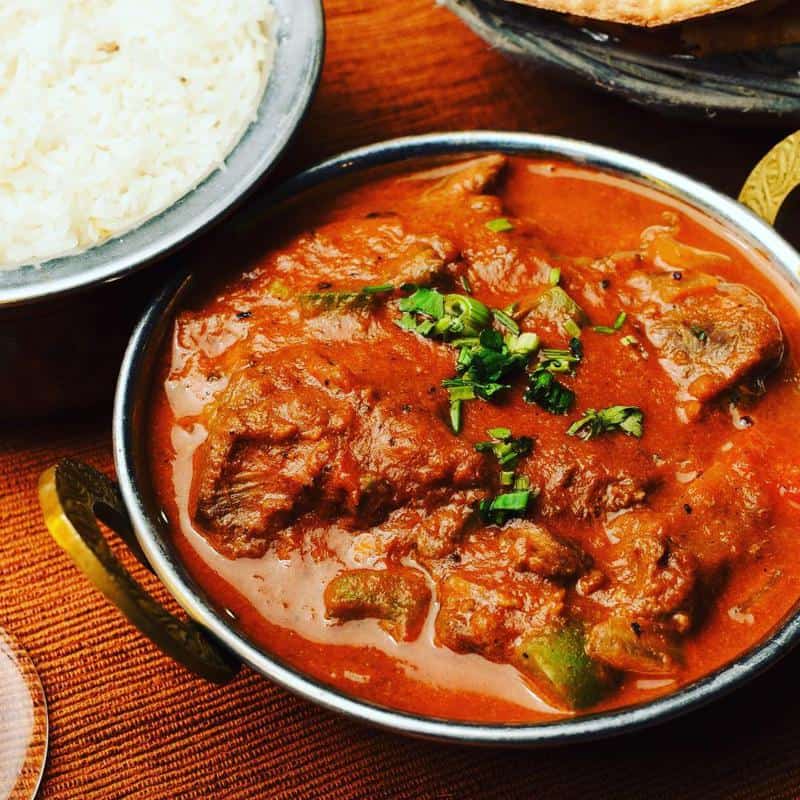 Address: 00 Eastern Shore Shopping Center, Fairhope, AL 36532
Phone: +1 251-990-6192
Best known for: Authentic Nepali Cuisine
Yak The Kathmandu Kitchen is family owned and has been serving delicious authentic food since 2012.
The restaurant is decorated in bright primary colors. It is a little shabby in places, but Yak is about the food and flavors.
The dishes are traditional Nepali, Indian, Tibetan, and Bhutanese gastronomy, which means plenty of flavors to savor.
The menu is vast and has goat options, which it should be as it is the mainstay meat in the region. Try the Momo (dumplings) if you have not had them before.
Lunch is a buffet-style experience, and evening dinner is table service.
Yak is open 11am – 9.30pm but closed on Wednesdays.
Saraceno's Restaurant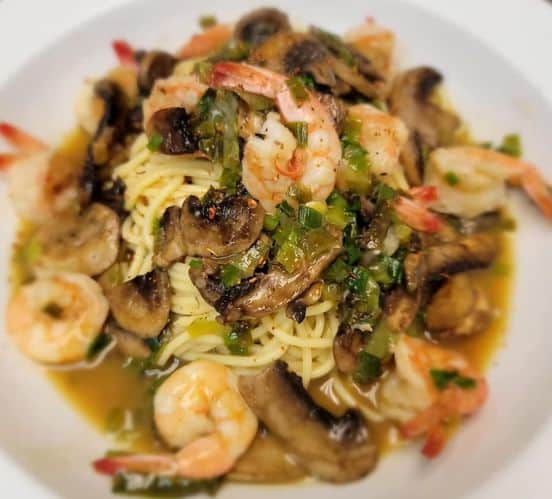 Address: 9509 County Road 32, Fairhope, AL 36532-5020
Phone: +1 251-928-1116
Best known for: Buffet Restaurant
If you love a good buffet, Saraceno's Restaurant is the place to go in Fairhope.
It is not fancy, but it is functional and clean. It also gets bustling, so try to get there before 1pm.
For $12.50, you can have an "All you can eat" buffet with drinks included. They have a great variety of meats and fish, such as fried chicken, pork chops, and fried fish.
There are around 16 sides, including mashed potatoes and plenty of vegetable choices.
The menu changes daily, but you can be sure you will not leave hungry.
Sarenceno's is open Monday, Wednesday, Friday, and Sunday from 11am.
Fish River Grill By The Bay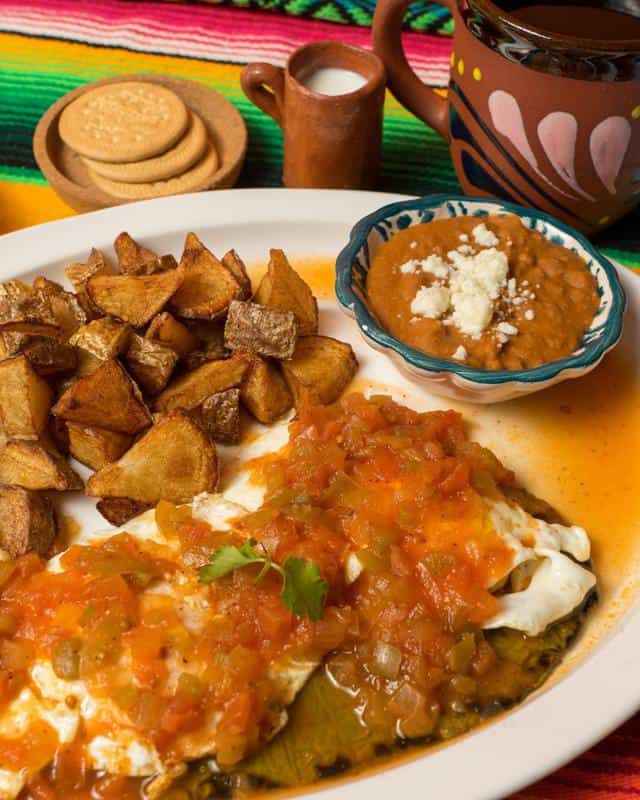 Address: 19270 Scenic Highway 98, Fairhope, AL 36532-6825
Phone: +1 251-928-8118
Best known for: Seafood and Swamp Soup
Fish River Grill By The Bay is a seafood shack that specializes in being a "Funky Junky Redneck Joint!"
You won't stumble upon it; you must head for it, as the locals do.
When you find it, don't let the outside put you off, it is a gem inside.
The menu is everything you want from a Redneck seafood shack, including their famous "Swamp Soup," which is complimentary if you dine in.
The menu includes a vast range of Po'Boys, burgers, shrimp, fish, frogs legs, gator, and catfish.
Fish River is open Tuesday to Saturday, 10.30am – 9pm.
Read More:
Final Thoughts
Fairhope is full of exciting traditional cuisines bundled with southern charm and hospitality.
So whether you choose fine dining, a filling buffet, or some gator bites, there is a restaurant for you.
Families are well looked after in Fairhope, and there are plenty of outdoor dining spaces and some with spectacular views of the Bay.
You can be assured a warm welcome and some great food in Fairhope.
Why not post your thoughts on a Restaurant in Fairhope, AL, in the comments section?