The gorgeous city of Fredericksburg is fast-paced and ever-changing, with a new restaurant popping up every few months.
Due to this, it can be quite a challenge to pick a good place to eat, but we did some digging for you to find some great varieties. Be it fine dining restaurants or a humble pizzeria, we have many great finds on our list.
Here are the best restaurants in the charming town of Virginia to stop by during your next visit.
Best Overall Restaurant: Foode
Best Restaurant with a View: Brock's Riverside Grill
Best Romantic Restaurant: La Petite Auberge
Best Restaurants in Fredericksburg, VA
Foode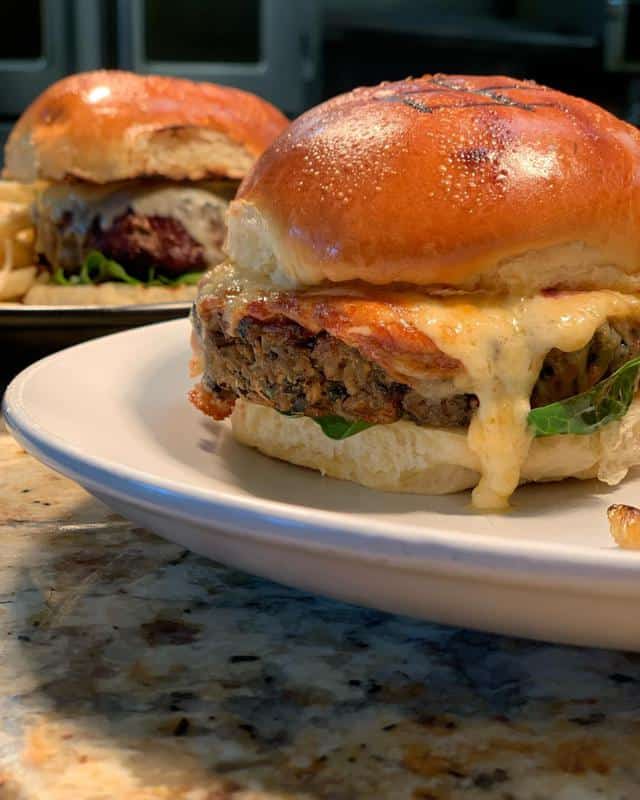 Address: 900 Princess Anne St, Fredericksburg, VA 22401
Known for: Farm-to-table American dishes with beautiful outdoor patio seating.
Foode maintains consistently high quality and standards. It is one of the best restaurants in Fredericksburg and is known for its casual and friendly ambiance. The farm-to-table American meals are very delicious, and they have a well-crafted menu for breakfast and brunch as well.
The dining area features rustic and quaint rooms and a lovely outdoor patio. The menu is kept small but includes seasonal delights and rotating specials. We can't recommend their burgers enough. Pair them with chilled beer and you will be in heaven.
The scrumptious Bank Burger has roast bacon with provolone, caramelized onions, brioche roll, and smoked dukes with herb fries. You can never go wrong with classic fried chicken or short ribs. For a change of pace, stop by early for an excellent brunch and a huge variety of cocktails.
Brock's Riverside Grill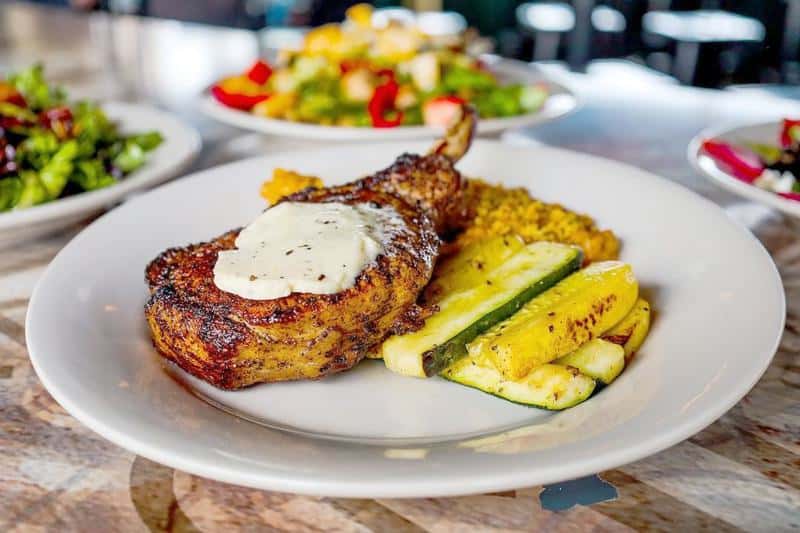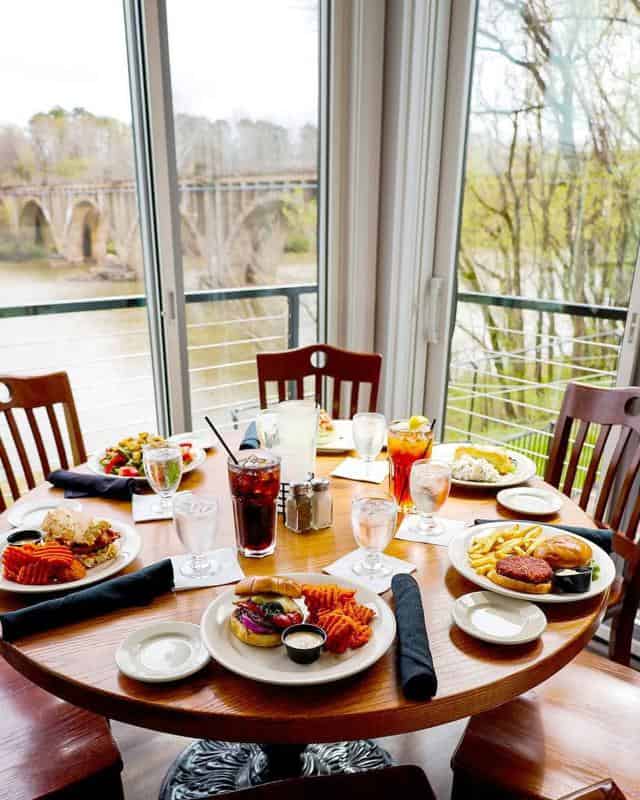 Address: 503 Sophia St, Fredericksburg, VA 22401
Known for: Scenic riverside location and traditional American dishes.
The idyllic and refined Brock's Riverside Grill has a beautiful location with a picturesque balcony setting. Set along the scenic Rappahannock River, you can enjoy your food with a soothing atmosphere and sweeping views.
Stop by this riverside eatery and enjoy nice weather with amazing food. In the evening, they also have live music, setting a perfect party ambiance with appetizers and drinks.
The menu has a bit of everything with classic American fare. You will find Vegetarian and Gluten Free options as well. Start with tender Rib Bites or Bacon Wrapped Scallops in a horseradish maple glaze, or perhaps an Old Town Salad to keep things light.
For meat lovers, we recommend the mighty Bone-in Pork Chop with a delicious coffee rub and truffle-herb compound butter topping. The generously served Crab Cake Platter and Shrimp Carbonara is one of the top items in their seafood variety. A lengthy menu of drinks is available to accompany your food.
La Petite Auberge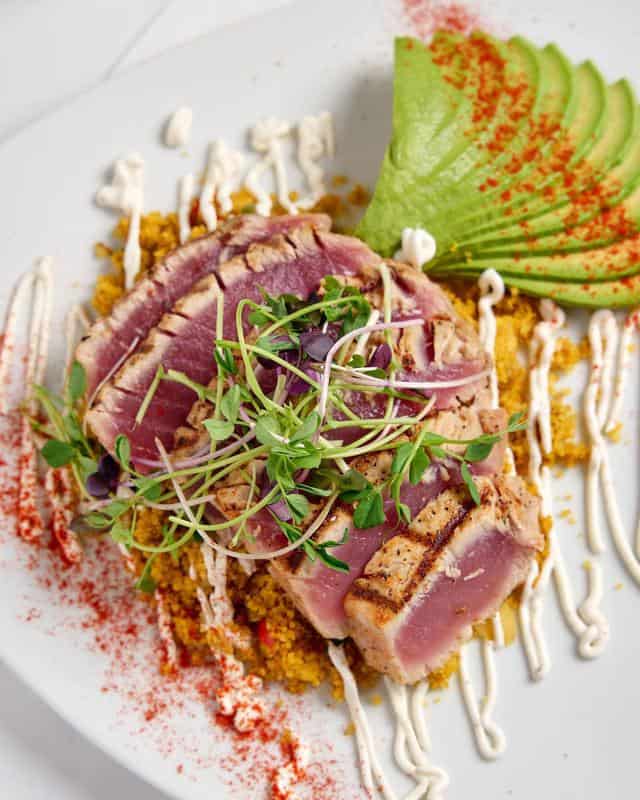 Address: 311 William St, Fredericksburg, VA 22401
Known for: Gorgeous themed interiors and classic French menu.
The charming and exquisite La Petite Auberge wins hearts with its fancy European fare and stunning interiors. Ideal for date nights, the dreamy dining area has a garden theme. They also have a music-themed bar, making it the perfect restaurant to impress your beau with the finest service and ambiance.
The menu has classic French dishes but also includes some American items for variety. Maintaining a high standard in the quality and presentation of food, you are sure to get a delicious meal no matter what you order.
If you are in the mood for seafood, try their vibrantly served Grilled Yellowfin Tuna. It comes with a lime cumin sour cream dressing and steamed Moroccan couscous.
For drinks, take a shot of their espresso martini, or head over to the casual bar and lounge area to enjoy some after-dinner drinks with your partner.
Sedona Taphouse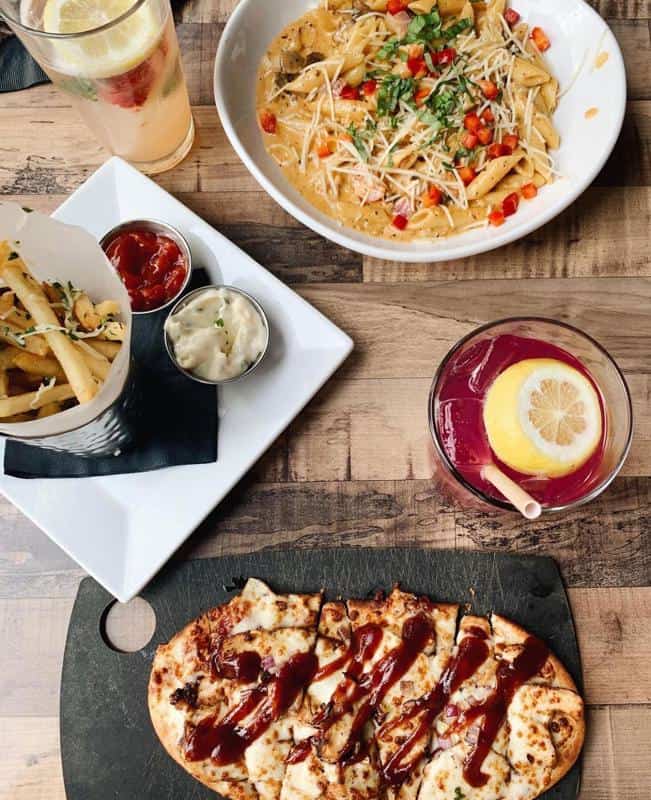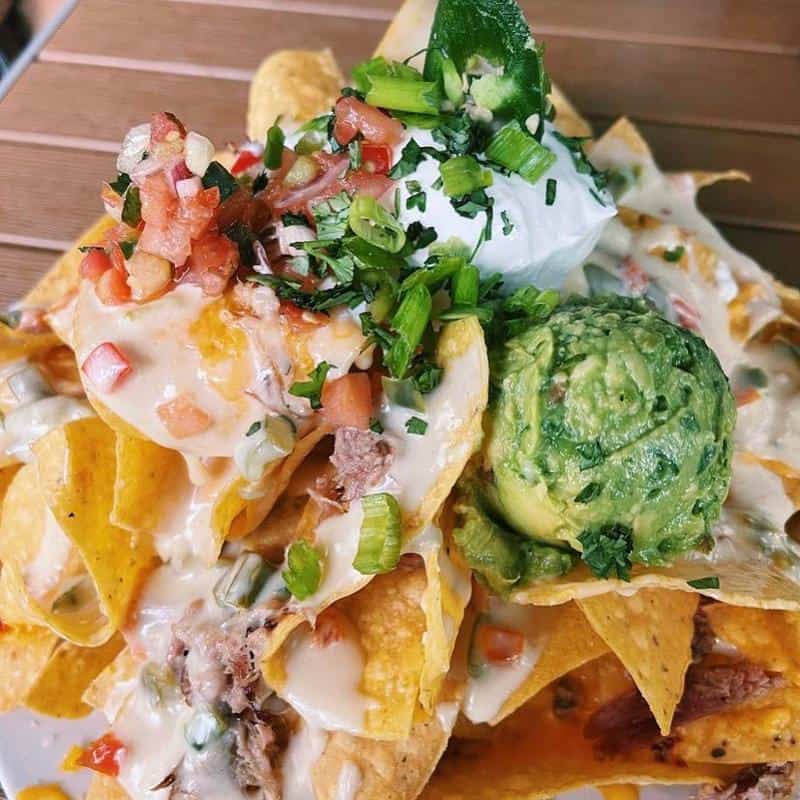 Address: 591 William St, Fredericksburg, VA 22401
Known for: Delectable pasta and flatbread varieties with a healthy spin.
Sedona Taphouse has a regional chain, with its branch in Fredericksburg running strong since 2015. The restaurant brings you dedicated service and a good variety on their menu. Although it primarily serves American cuisine, you will find diverse options like Kobe beef sliders, Hummus Duo, and Spicy Thai Shrimp.
Another great thing about the restaurant is that there is something for everyone. Dedicating a whole section to 'Greens', you will find a good range of salads like the Sedona House with organic greens, the heart of palm, tomatoes, and red onion tossed in house-made balsamic vinaigrette.
The most popular item on their menu is Flatbread and Pasta with a gluten-free option available on request. From the creamy goodness of Chicken Alfredo to the indulgent freshness of Primavera with seasonal vegetables in an herb and lemon-wine sauce, you will find delicious plates of pasta to pair with your favorite cocktail.
Fahrenheit 132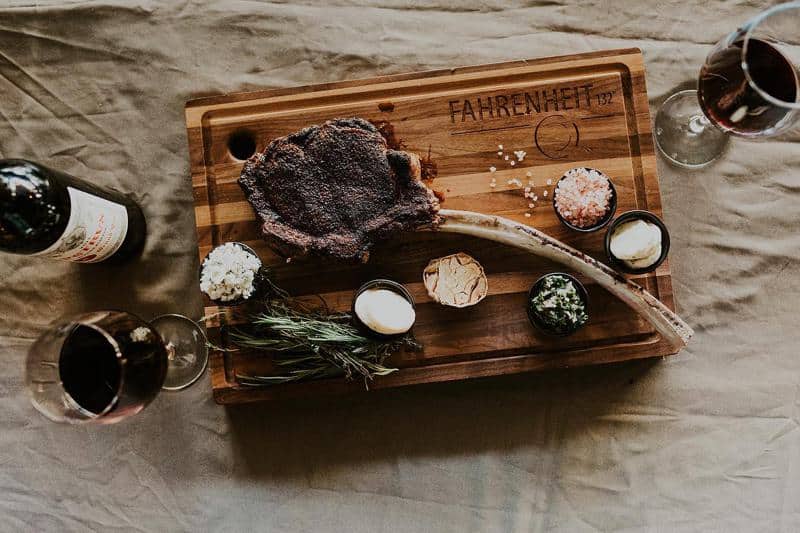 Address: 318 William St, Fredericksburg, VA 22401
Known for: Scrumptious steaks in a chill and romantic atmosphere.
Unwind and relax at the cool and hip Fahrenheit 132 offering a one-of-a-kind experience to its visitors. The fusion interiors have a sleek saloon setting with comfortable booths and an upscale wooden bar amidst a backdrop of cement and exposed bricks.
The dim lighting and covert ambiance make it a good spot for date nights. You will be pleased to know that the menu has many sharing options to have an intimate meal with your beau.
If you are particularly hungry, go for the three-course meal designed for two people. It has a massive Prime Kobe Cowboy Steak as the main entrée and a heavenly rich and decadent Peanut Butter Pie for dessert.
If you are in the mood for seafood, try their Prince Edward Island mussels drenched in a bourbon cream sauce, or get the best of both worlds with the super tasty bacon-wrapped shrimp. Enjoy your meals with local beer, wine, or craft cocktails on their menu.
The Alpine Chef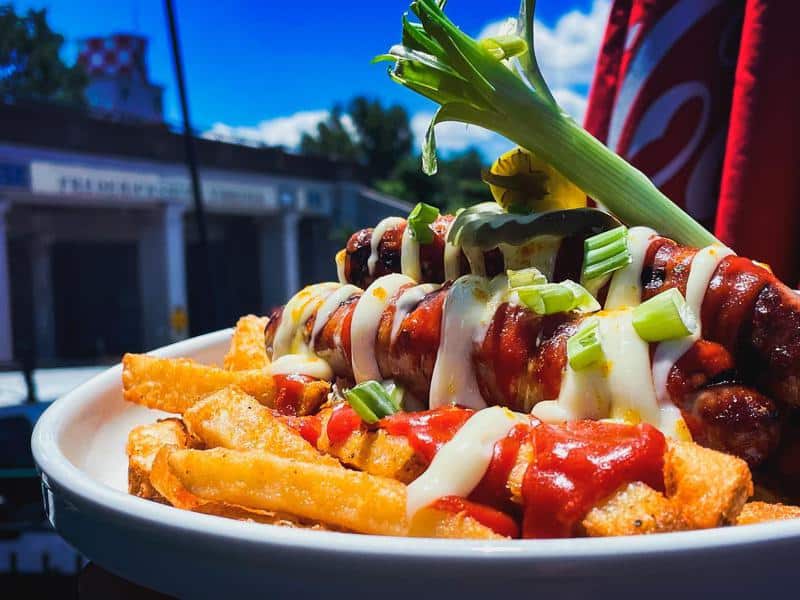 Address: 200 Lafayette Blvd, Fredericksburg, VA 22401
Known for: Lip-smacking German cuisine in a family-style dining atmosphere.
Formerly known as Bavarian Chef, the Alpine Chef is a laidback German restaurant with a lot of local charm.
The cozy and relaxed atmosphere is great for family dining, and as a bonus, they serve their dishes family-style as well. This not only offers something for everyone but also allows you to enjoy more sides with dark bread and potato dumplings.
Enjoy authentic German cuisine with the Best of the Wurst. We highly recommend the Berliner Currywurst Rot Weiss served with loaded mayo fries and curry ketchup.
The German Sausage Platter is a great option for meat lovers. It has Bratwurst, Sauerkraut, Bauerwurst and Weisswurst along with two Homemade Germane sides. The finest beef cuts include the succulent Pfeffersteak and Beef Tenderloins with Diane-Style mushroom sauce. Along with the huge German variety, don't forget to sample their beer.
Mason-Dixon Café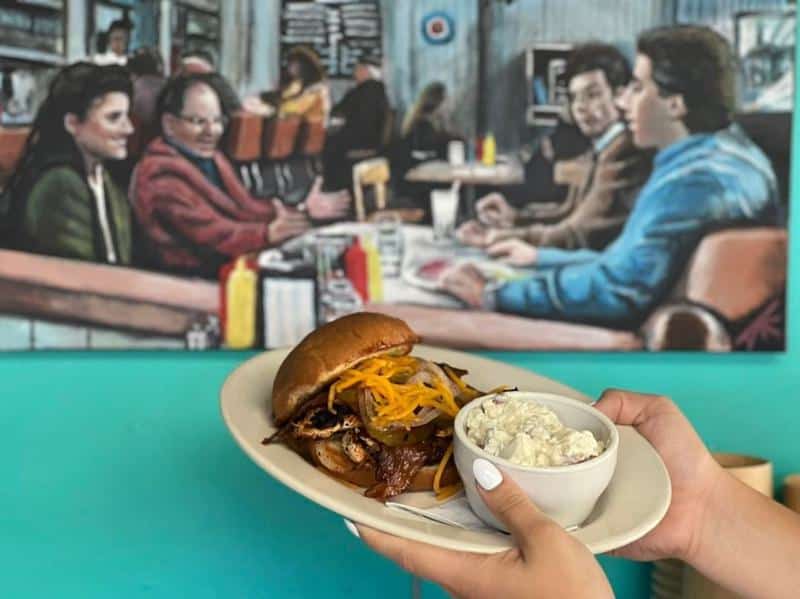 Address: 2100 Princess Anne St, Fredericksburg, VA 22401
Known for: Local charm, all-day breakfast, and classic American treats.
The rustic and humble Mason-Dixon has a lot of local charm. To experience life like the locals, you should stop by this lovely little spot and mingle with like-minded people over tea and sandwiches. It has a great location in the heart of downtown Fredericksburg.
Owned and operated by Chef Kelly Hunt, the restaurant has an all-day breakfast menu, lunch and dinner, and brunch on the weekends. You will find classic American delights in a cozy café ambiance.
The breakfast burrito is well-loved by locals, but it is the classic omelet and pimento burger that stands out. Try one of their burgers or sandwiches with well-balanced seasoning and a side of bacon and butter pickles. They have weekly specials uploaded on their website so keep your eyes peeled for them.
Also Read: Best Restaurants in Navy Yard, DC
Gourmeltz
Address: 10013 Patriot Hwy, Fredericksburg, VA 22407
Known for: Charming local spot with a casual setup and classic American food.
From humble beginnings in a food truck to a concrete spot in Fredericksburg, Gourmeltz has come a long way. The veteran-owned restaurant is famous for its gourmet artisan melts. The warm and welcoming hues of red and yellow invite you to a casual dining area with comfort food that warms the heart and soul.
They have a good variety of traditional American delights while leaving room for some inventive twists to elevate the dishes. From ample portions of fiesta burger melt and fried chicken to mouth-watering house-smoked pulled pork drenched in house BBQ sauce, there's a lot of great stuff to try out.
There are at least a dozen beers on tap so you won't go parched. The scrumptious crispy fried duck wings pair perfectly with the drinks.
Benny Vitali's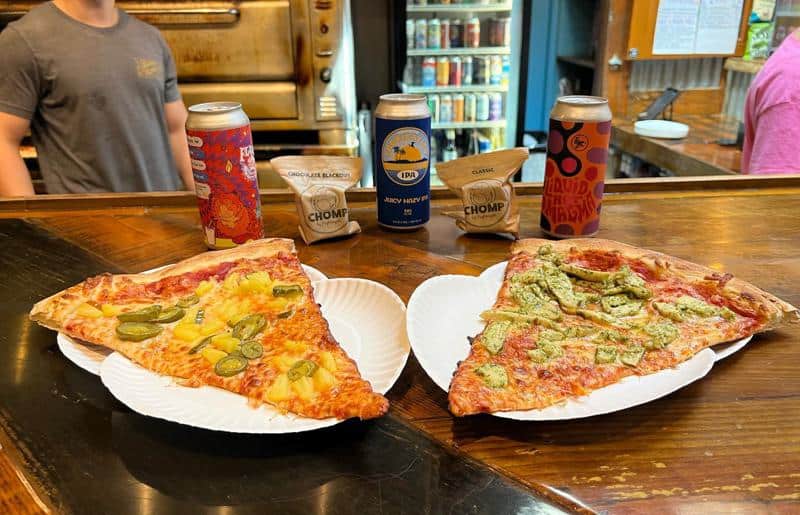 Address: 722 Caroline St, Fredericksburg, VA 22401
Known for: Mouth-watering pizzas and monthly specials.
Pineapple on Pizza – Yayy or Nayy?
A pizza with pineapple on it might trigger some people, but we urge you to push your limits and try a local favorite! Benny Vitali's is indeed a tasteful local gem with a lot of heart and personality. Nestled in the historic downtown Fredericksburg, the restaurant only sells pizza, and there is a monthly special to keep you on your toes!
If you are craving some good pizza, it is the best spot in the whole city to get it. The eat-in section has a very minimalist and cozy setup, but most people prefer the to-go side.
The New York-style pizzas are made with thin crust and come in large portions. It is an ideal spot to bring your family or hang out with friends. There are several domestic and local craft beers so your pizza won't be lonely!
Soup and Taco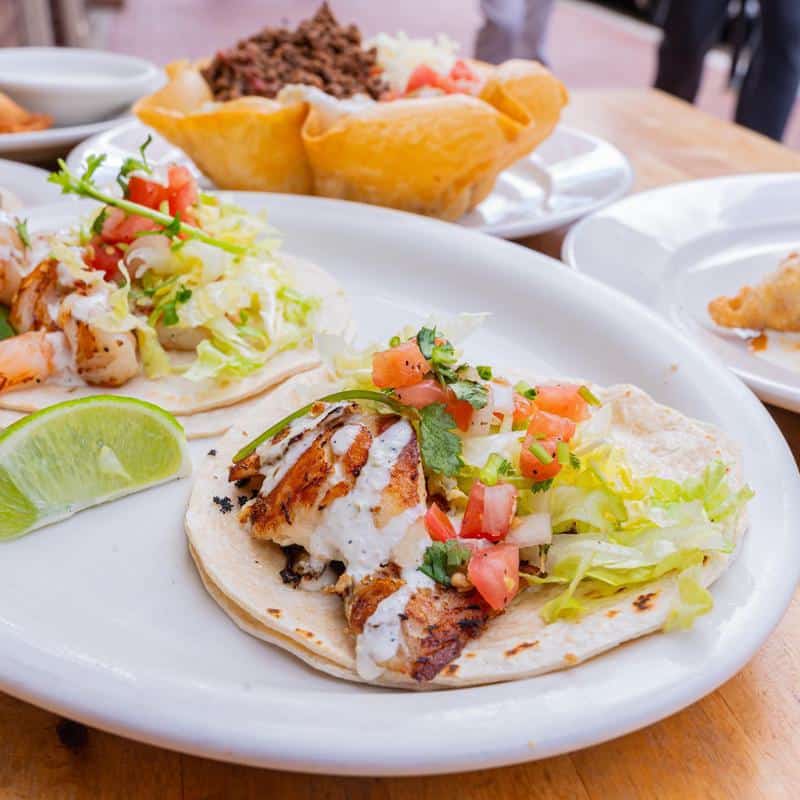 Address: 813 Caroline St, Fredericksburg, VA 22401
Known for: A local favorite with authentic Mexican-style dishes.
Soup and Taco is another local favorite in Fredericksburg. The appetizing Mexican spot is one of the few restaurants that have been around for decades in town. It also has a second branch on William Street.
As the name suggests, you will find a wonderful variety of soups and tacos on their menu. From classic staples to gourmet options, the list goes on. No matter which taco you go for, rest assured that you will get the most authentic Mexican-style preparation that hits all the right spots. The soft shell tacos come loaded with jalapeno crema and pepper jack cheese.
There are two varieties of soup that rotate weekly, with homemade variety and the highly ordered tortilla soup. Besides tacos, other Mexican delights on their menu include Carne Asada, Chicken Mole Dish, Chipotle Shrimp Enchiladas, Tortilla Encrusted Tilapia, etc.
If you are in the mood for sharing, get their hearty Super Nachos for the table which comes loaded with beans, cheese, jalapenos, lettuce, sour cream, pico de gallo, and your choice of meat and vegetables.
Park Lane Tavern of Fredericksburg
Address: 1 Towne Centre Blvd, Fredericksburg, VA 22407
Known for: Astounding wood décor and combination menu with European and American dishes.
Elevate your dining experience with the elegant and vibrant Park Lane Tavern. It would be a crime to not appreciate the architecture and attention to detail with numerous design elements inspired by Europe's classiest towns.
The same thoughtfulness and attention is evident in their menu. Traditional European fare combines with American-inspired dishes to give you the best of both worlds. The astounding variety of European-crafted spirits makes simple meals an elegant dining affair.
There is a good variety of salads to start with something light, and they also have 'Small Plates' with classic delights. One of their stand-out appetizers is the juicy Tavern Wings tossed in signature sauces.
The Seared Ahi and Firecracker Shrimp drizzled with spicy and creamy sauces are also worth a try, however, their Cracked Pepper Steak steals the show. The 10oz center cut sirloin is char-grilled to perfection, and comes with a side of chive whipped potatoes and sautéed green beans. Pair it with a Knob Creek Bourbon for a heavenly experience.
Billiken's Smokehouse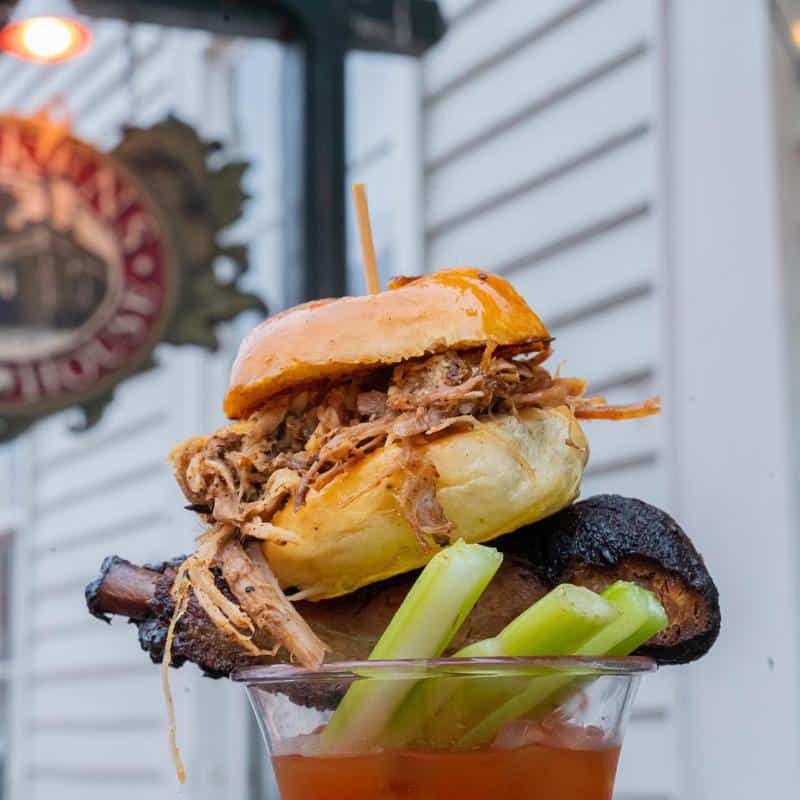 Address: 623 Caroline St, Fredericksburg, VA 22401
Known for: Beautiful outdoor seating and classic barbecue delights.
Billiken's is a beloved Fredericksburg restaurant with a unique setup. The quaint exterior has exposed bricks and beautiful outdoor seating with a bar and games for the kids. The interiors, on the other hand, resemble a colonial plantation home.
The restaurant is also famous for Sunday brunch and happy hours. The old-world barbecue-style dining experience is one-of-a-kind. Classic American dishes are taken for a spin to heighten their taste with a touch of char-grilled goodness. For instance, a classic BLT becomes 'BBLT' with the addition of a perfectly grilled Brisket.
Other Smokehouse specialties include the delectably juicy Sweet Miss Piggy with pulled pork, mango chutney, and smoked and glazed pineapple.
Also try their 'Chimney Stack' which may not sound as appetizing as it looks, but is sure to send your taste buds on a joy ride. The dish has brisket and sourdough bread with pulled pork, sausage, pork belly, and sliced tomatoes with a fried egg.
Read More:
Map of Best Restaurants in Fredericksburg, VA
Conclusion
The quaint and historic town of Fredericksburg is well worth your visit. Paired with the excellent food from our dedicated list of restaurants, you are sure to have a great trip indeed!