Being home to the Louis Armstrong New Orleans International Airport, Kenner is a city that many often bust through, but rarely spend much time there. But, the truth is, Kenner is quite a pleasant town with interesting areas and sights to explore. But what about the food?
While Kenner is certainly not the restaurant capital of the world, it is home to many soulful eateries that serve delicious meals. If seafood is what you are after, these are your best options:
Our Top Picks
Best Food: Harbor Seafood & Oyster Bar
Best Atmosphere: Kenner Seafood
Best Po Boys: Smitty's Seafood
Best Value: Queen's Cuisine
Best Seafood Restaurants in Kenner, LA
Harbor Seafood & Oyster Bar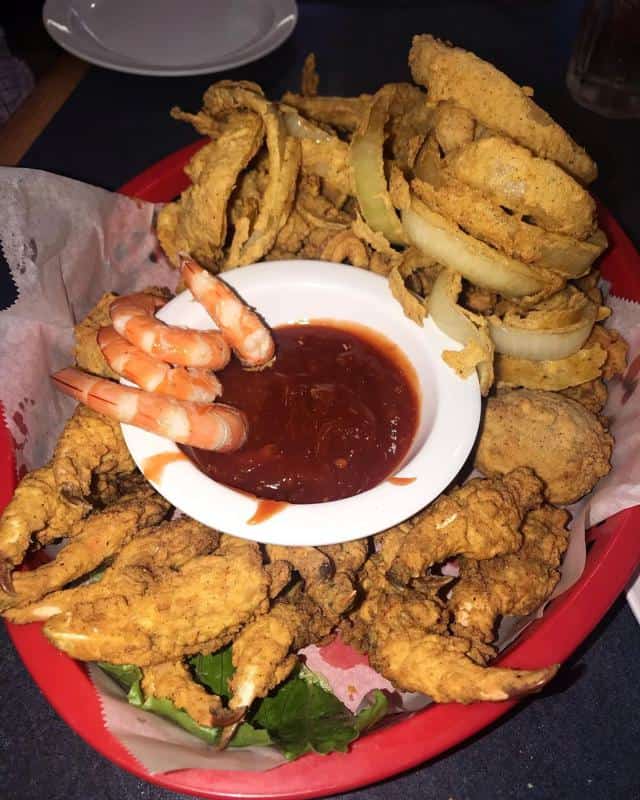 Address: 3207 Williams Blvd, Kenner, LA 70065
Hours: 11 am – 9 pm
Price: $$
The Harbor Seafood & Oyster Bar is one of the most popular and most respected seafood places in Kenner. Having been around for 30 years already, they have certainly proven they can hold up a good reputation.
Basically, if you are craving fresh seafood and local delicacies, this is the place to be. And considering it's less than a 10-minute drive from the Louis Armstrong International Airport, Harbor Seafood is a great first stop when you arrive in town. If you are hungry – or starving – after your flight, this place will fill you right up.
So what should one expect in terms of food? Everything! Just from looking at the appetizer menu, you'll find out that you can really taste the diversity of Louisiana seafood right in this restaurant.
Charbroiled oysters, oysters wrapped in bacon mingle with Louisiana alligator prepared in different ways as well as frog legs. But then, you can also order some more 'classic' options like calamari or shrimp.
There is also a huge PoBoy menu, lots of crispy fried fish, and a boiled seafood menu. Harbor Seafood is really a one-stop shop for all your seafood cravings.
Diner's note: If you are interested in training the local specialties, we recommend ordering the Swamp Platter. It consists of fried alligator, fried crawfish tails, fried frog legs, turtle soup, crawfish etouffee, and alligator sausage!
Kenner Seafood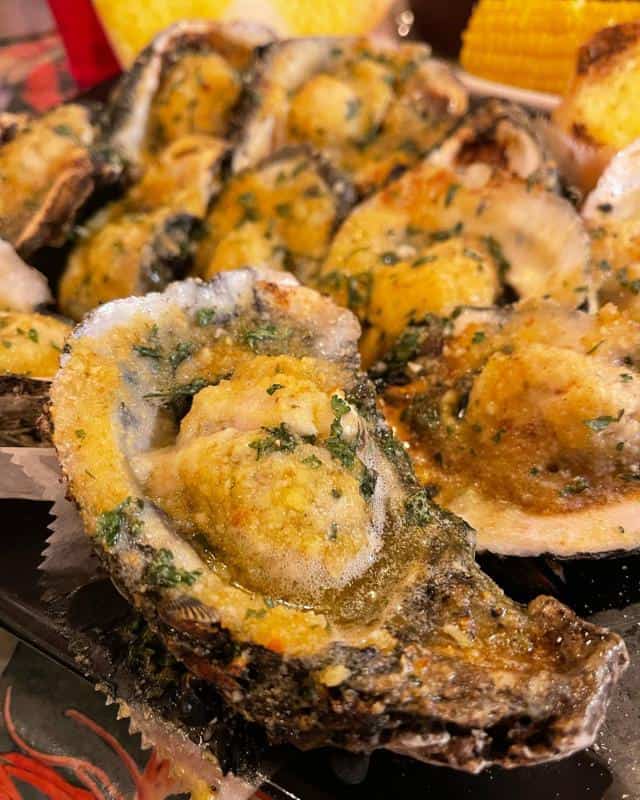 Address: 3140 Loyola Dr, Kenner, LA 70065
Hours: 11 am – 9 pm
Price: $$
While the name might sound a bit unspecific, Kenner Seafood is a great restaurant. The full name of the place is Kenner Seafood, Market, Restaurant & Catering, but most just call it Kenner Seafood or Kenner Seafood INC for obvious reasons.
Keeping with the New Orleans tradition, this is a no-frills diner where you can go to get a filling and delicious seafood meal. And seeing that the place actually features a seafood market, you know that the food you are getting is as fresh as can be.
As for the food, you can basically construct your own plate with seafood prepared just the way you like it.
Start with the oyster bar and choose fresh oyster raw on the half shell, or have them chargrilled – it's your choice.
For lovers of seafood boils, there is the Boiling Pot Menu which allows you to mix and match your own seafood boil: crab, crawfish, shrimp, corn, potatoes, mushrooms and more – pick your own combo. If you prefer your seafood fried or blackened, there is lots of choice there, but they also make a delicious gumbo and great New Orleans-style PoBoys. The hardest part is choosing where to start, really.
Looking from the outside, Kenner Seafood might not look like much, and you could easily miss it while passing by. But it would be a shame. It's a place that serves authentic Creole cuisine, featuring seafood and more, in a lovely, homey atmosphere. Have your meal at one of the tables indoors or bask in the sun on the patio if the weather is nice.
Smitty's Seafood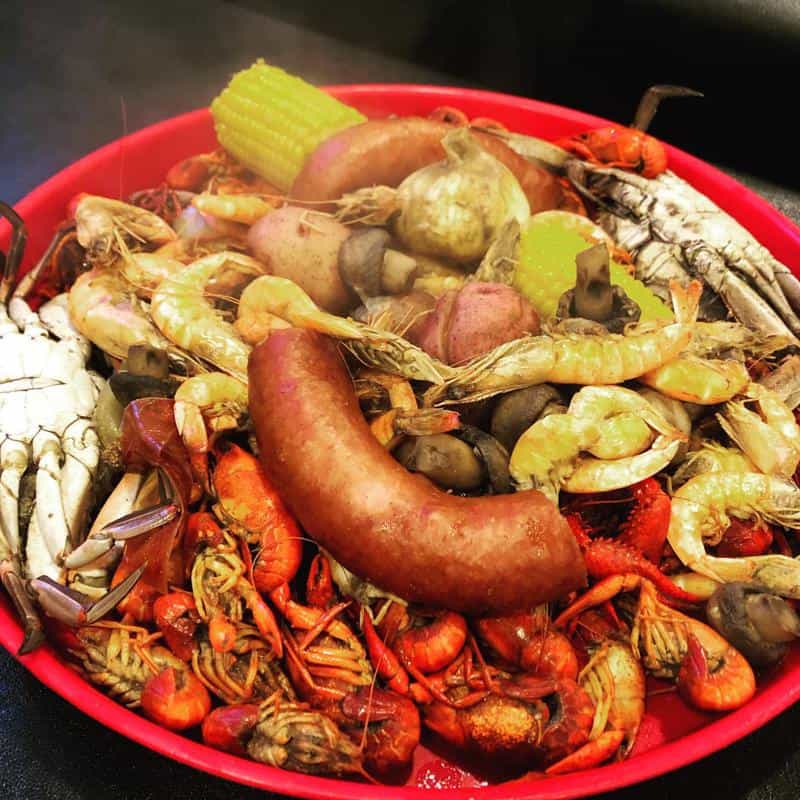 Address: 2000 W Esplanade Ave, Kenner, LA 70065
Hours: 11 am – 9 pm
Price: $$
Smitty's Seafood is another Kenner gem that serves delicious & filling seafood specialties. This place is quite small and has the vibe of an old-school neighborhood dive. If you want to experience New Orleans cooking at its best, the way that locals do, then this is the place to go.
Our favorite thing to eat at Smitty's are actually the overstuffed po boys. You can find po boys all over the place in Kenner, but at Smitty's they just make them so good.
You can choose between two sizes, and each po boy comes with mayo, lettuce, tomato, and pickles. Then, you get to choose the main part: fried shrimp, fried oysters, fried crawfish tails, soft shell crab or homemade stuffed crab – these are only some of the options. Whichever you choose, the end result is delicious!
But that's not the only reason to come to Smitty's. There is so much to try, from seafood boils to a delicious fried platter. And then, there are the house specialties like the classic Crawfish Etouffee, or Eggplant Napoleon with layers of fried eggplant and crab stuffing topped with andouille and shrimp cream sauce!
All in all, Smitty's is definitely worth a stop for a quick bit or an informal dinner. The place is quite popular, so you might have to wait a bit to be seated at certain times.
Also Read: Best Seafood Restaurants in Baton Rouge, LA
William's Seafood & PoBoy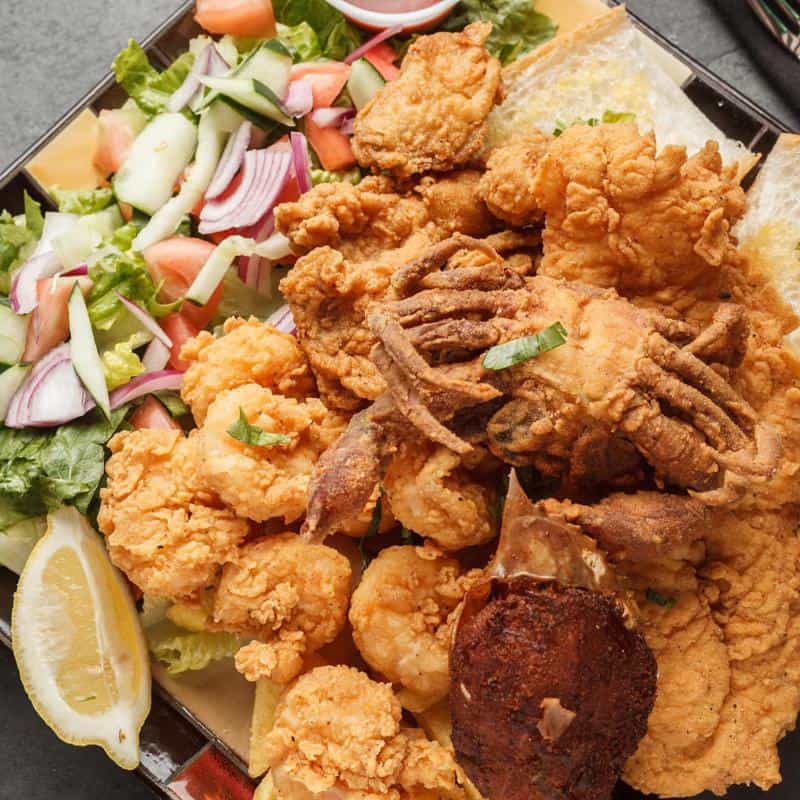 Address: 4041 Williams Blvd A8, Kenner, LA 70065
Hours: 10 am – 8 pm, closed on Sundays
Price: $
William's Seafood & PoBoy is a hole-in-the wall type of place that's great for a quick seafood fix. If you are passing by, or maybe looking to grab takeout, this is a good and affordable option.
Located in a strip mall in North Kenner on Williams Boulevard, this small restaurant is always a nice option if you are in the area, although we wouldn't drive to it from very far.
As you might guess from the name, this is a popular spot for Po Boys. The fried shrimp po boy seems to be the local favorite, but there are plenty of options including seafood, but also other tasty options like BBQ beef. Our favorite thing to do is actually getting the half & half seafood po boy which lets you choose two things rather than just one.
Other than that, you'll find all the local staples at reasonable prices here. Pasta with seafood, grilled seafood, fried seafood platters, the inevitable gumbo and more.
Lee's Seafood and Grill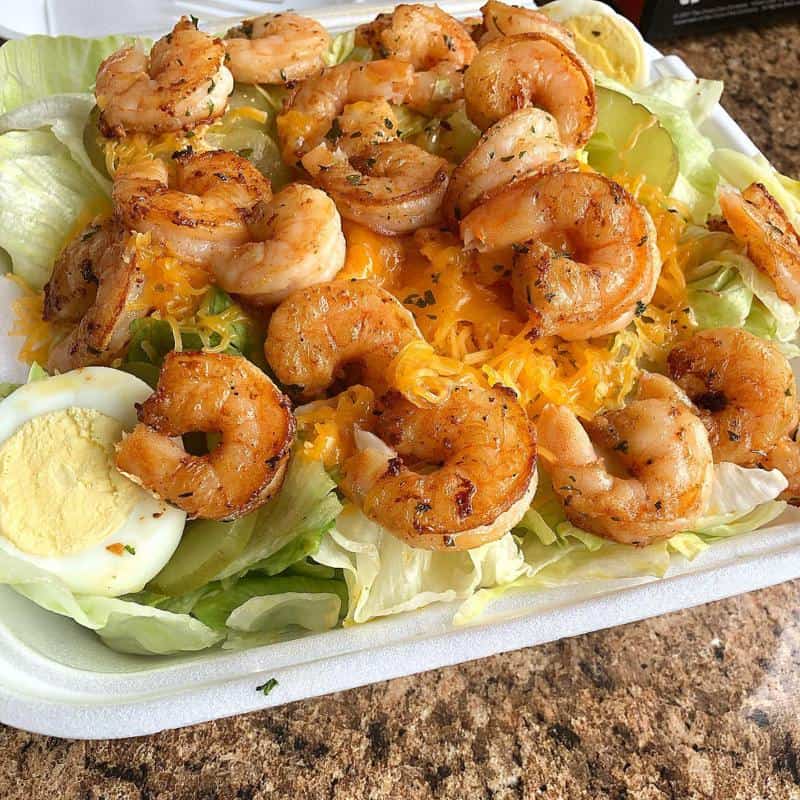 Address: 903 Williams Blvd, Kenner, LA 70062
Hours: 10 am – 7:30 pm; closed on Sundays
Price: $
If you've read the previous entries on our list, by now you might have realized that Kenner is really not the place to go if you are looking for a fancy seafood dinner in an upscale environment. But, if you want good hearty food, then you don't have to look far.
Lee's Seafood and Grill is another typical Kenner eatery. Stop by for a quick bite and grab a seat in one of their retro boots with cute red seats, or grab your meal to go. Either way, the food is quite decent and it comes at reasonable prices too.
The beloved Louisiana classics are there: Jambalaya, Gumbo, and Po Boys galore. But there are also various seafood plates and grill plates as well as some options for those who are not seafood lovers, like delicious (and affordable) wings.
Diner's note: Lee's Seafood and Grill only accepts cash payments, so come prepared.
Queen's Cuisine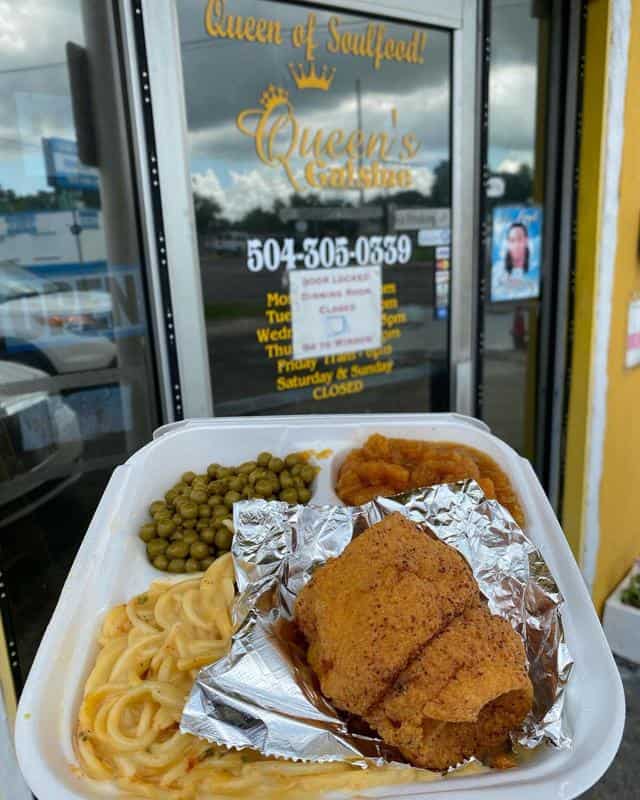 Address: 2000 Airline Dr, Kenner, LA 70062
Hours: Monday – Friday 11 am – 5 pm
Price: $
Queen's Cuisine is not your typical seafood restaurant. In fact, it's not really a seafood restaurant. Actually, it's a soul food diner, as noted by the sign that welcomes you in – "soul food for the soul".
However, you will always find a few options here that involve seafood. And as a plus, you get to experience the real authentic NOLA soul food.
Located on the corner of Williams Boulevard and Airline Drive, Queen's Cuisine is just behind the airport, which makes it a great stop on the way there or back. But, in our opinion, this tiny diner is worth a visit even if you are not heading to the airport.
Just come here, sit back, and relax. Enjoy the friendly service and the food that really feeds your soul. Delicious beans and fried rice mingle with mac and cheese and catfish stuffed with crab!
Stingray's Grill & Bar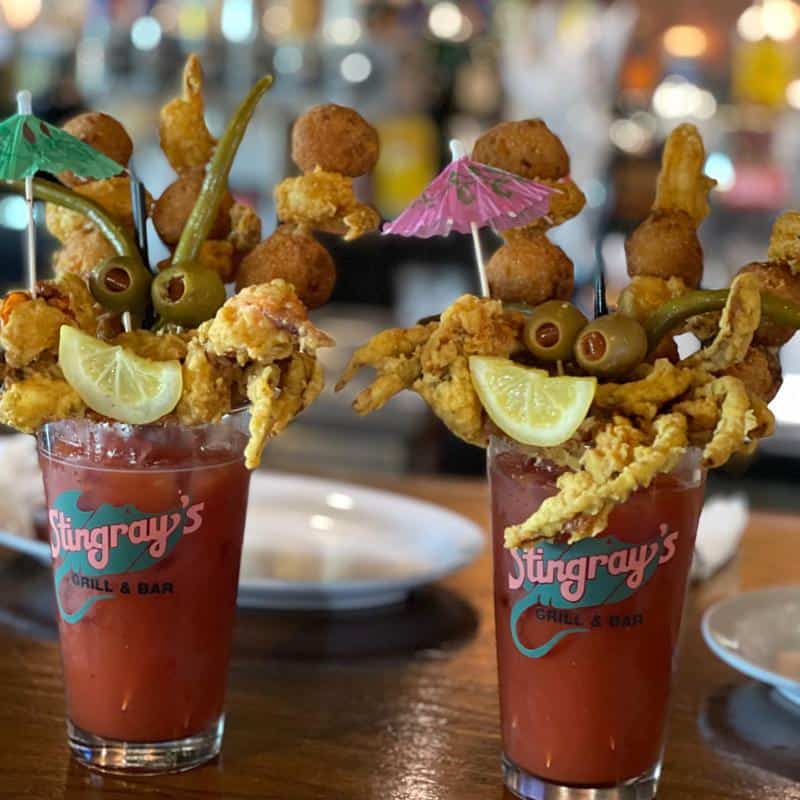 Address: 1303 W. Esplanade Ave. Kenner LA 70065
Hours: Wednesday & Thursday 4 pm – 10 pm, Friday 11:30 am – 9:30 pm, Saturday 3:30 pm – 9:30 pm, Sundays 12 pm – 4 pm
Price: $$
If there is one thing we can say about Stingray's Grill & Bar right off the bat, it's that this place is very fun to visit! Everything from the food to the decor is relaxed and just a bit eclectic.
As for the menu at Stingray's, perhaps we should say that it's completely dedicated to seafood. But, in case you bring any non-seafood friends, there is a special section at the end with some other options.
Still, we do recommend coming here for seafood specifically. The menu is a mix of local cuisine and a variety of influences, mixing the Cajun flavors with somewhat exotic ingredients like imported artichoke hearts. And, this is perhaps the only place in Kenner where you can have real Maine lobster (when in season).
Diner's note: Stingray's has peculiar working hours, with almost every day being different. They are also closed on Mondays and Tuesdays. So, if you are planning a visit, make sure to check if they are open before heading there.
Fiery Crab Seafood Restaurant And Bar
Address: 3900 Williams Blvd, Kenner, LA 70065
Hours: 11 am – 10 pm
Price: $$
Fiery Crab started with a single restaurant in Lafayette but it quickly grew into a chain of restaurants scattered around Louisiana and South Carolina.
The goal of Fiery Crab is to serve the delicious staples of Louisiana cuisine with lots of Cajun flair.
The pride of Fiery Crab are their seafood boils. The restaurant serves traditional Cajun-style boiled seafood which arrives piping hot in a heat-proof bag. If you are ready to roll up your sleeves for this messy meal, you are in for a treat. Their spicy sauce is really to die for.
If seafood boil is not your thing, though, you'll still find plenty of options at Fiery Crab. Baskets with fried catfish, flounder, or jumbo shrimp, po boys, and grilled seafood, it's all available here.
Final Thoughts
There is a distinct flair to the seafood restaurant scene in Kenner and the surrounding area. Here, seafood is comfort food, in the real sense of the word. The portions are big, the sides are heaty, and there is a lot of Cajun flair to all of it.
That being said, there are actually not too many seafood restaurants to pick from in Kenner itself. Still, there are a few really good ones. Pick an option from our list and you are guaranteed a delicious meal.