Most people don't think of sushi when they think of Louisville. This doesn't mean they should be counted out of the race. Louisville is a place that's passionate about food, and this allows for many cuisines to thrive in the restaurant industry.
Japanese cuisine has been a global hit. The people of Louisville have made no exception in delving into the sushi industry and creating beautiful and soulful eateries based around the popular raw seafood dishes. They have created a bustling market niche with many dedicated fans and incredible places to choose from.
Want to find out where the best sushi in Louisville is? Let's dive in.
Our Top Picks
Best Budget-friendly restaurant: Dragon King's Daughter
Best experience: Sake Blue
Best atmosphere: Wild Ginger
Best true to Japanese sushi: Hiko-A-Mon
Best Sushi in Louisville
Dragon King's Daughter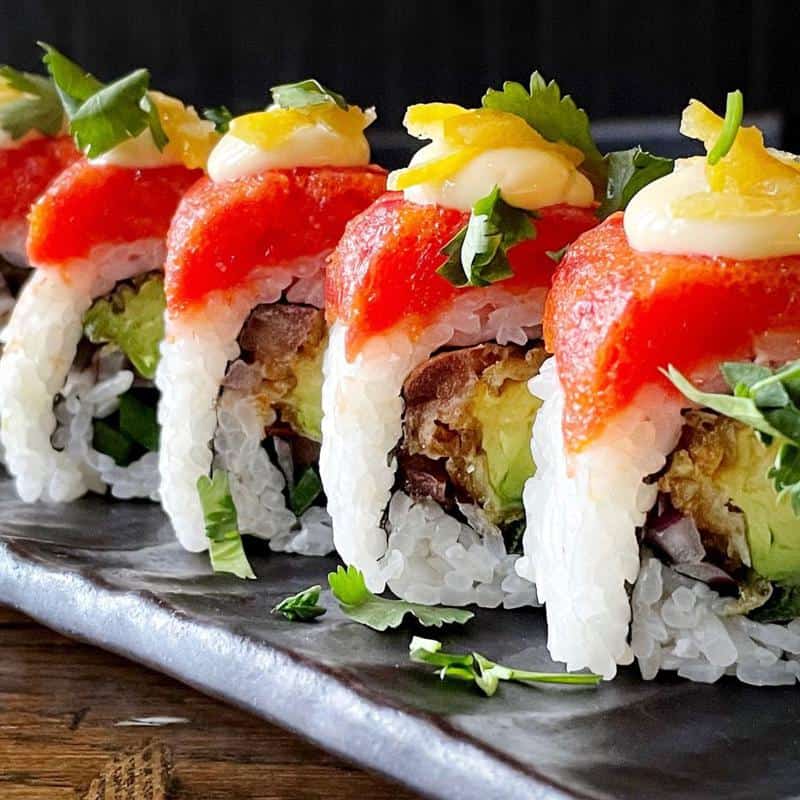 Location: 1126 Bardstown Rd, Louisville, KY 40204
Hours: 11:30am to 10:00pm
Price: $$
Dragon King's Daughter is a stylish, casual fusion-sushi bar that has thrived so much that they've expanded, adding a branch in Albany! The owner, Toki Masubuchi, named the growing business after the first woman to reach enlightenment. That's how you'll feel after experiencing their food, enlightened.
Their menu is an absolute flavor rollercoaster, using only the most incredibly fresh ingredients with some American flare. There are delightful delicacies galore.
Their sushi dishes are extensive, offering all shapes and sizes. Toro salmon sashimi is finely cut and beautiful to behold. Sushi rolls are packed with delicious tuna, unagi, and so much more. Specialty rolls that are crammed with everything amazing.
The restaurant is sleek and casual. It bleeds comfort and is certainly something pleasant. It doesn't over-exude decor. Instead, it lets the people and the food accentuate the dining experience, meaning the atmosphere is always bustling with good times!
Sake Blue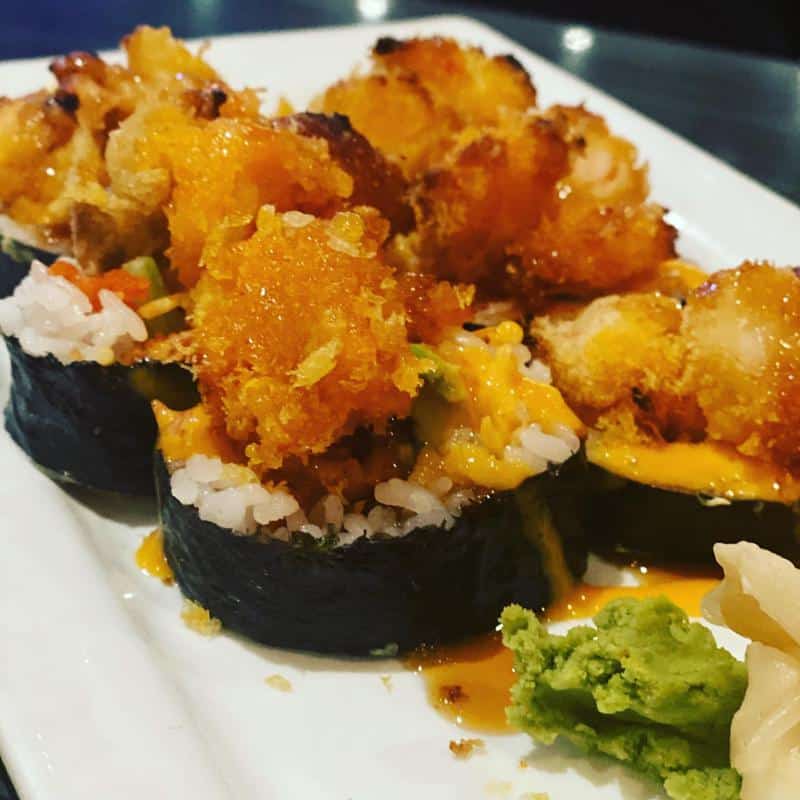 Location: 9326 Cedar Center Way, Louisville, KY 40291
Hours: 11:30am to 9:00pm, closes 10:00pm Friday and Saturday
Price: $$$
Award-winning Sake Blue is a family-owned and runs Japanese cuisine restaurant right on your doorstep. Every sushi lover's wet dream with champion food and prices that don't blow the bank. We have Flagship Restaurant Group to thank for this, and so do 13 other nationwide locations.
It's all contemporary, from the venue to the food. This means that the menu is a thriving sushi paradise inclusive of everyone's favorite traditional and fusion options! The chefs behind these exciting meals deserve infinite praise for their ability to splice flavors into the sushi master craft.
Sake Blue has added a sensual twist to everything using only the freshest and most diverse ingredients. From crunchy tempura prawn rolls to soft cream cheese accents. I dare you to find something to hate. To top it all off, this is only part of the experience, as there are multiple hibachi grill specialties too!
The venue is modern and bleeds an aura of divinity. They might be affordable, but they definitely require a little bit of formality to fit into their restaurant. From sweeping decor to a dark, contemporary interior with plenty of space, they are in a class of their own.
Wild Ginger – Highland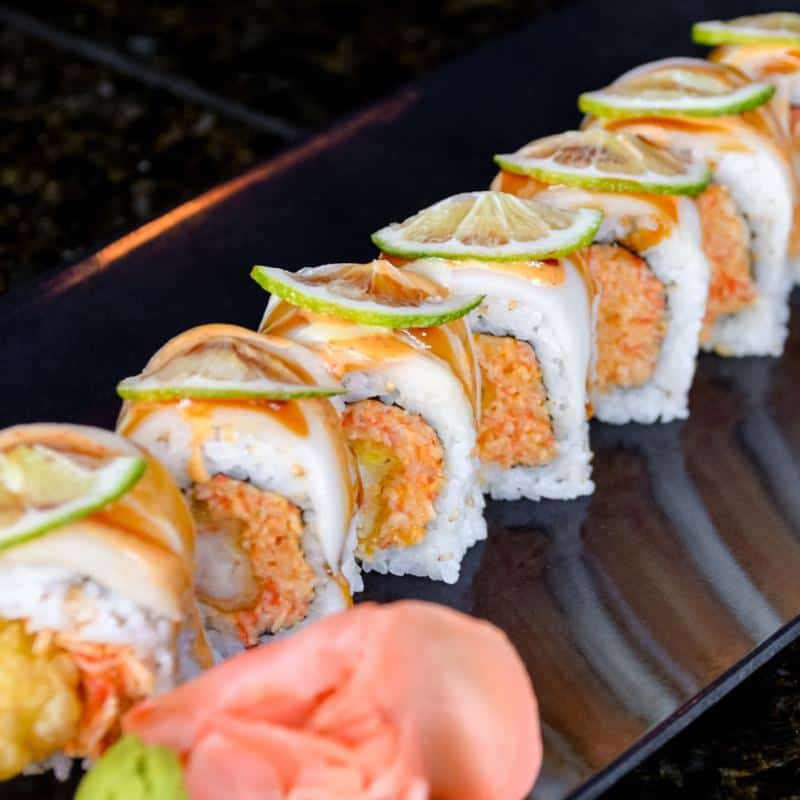 Location: 1700 Bardstown Rd, Louisville, KY 40205
Hours: Closed Monday and Tuesday, 4:00pm to 9:00pm, opens at 2:00pm on Fridays and Saturdays
Price: $$$
If you're looking for something casual yet creative, Wild Ginger is for you. They're an award-winning fan favorite amongst Louisville locals and have chefs Ronnie Herman and Gary O'Brien to thank. They've definitely made their mark with their unique approach to Japanese cuisine.
Wild Ginger Highland's menu is extensive, giving everyone something to love! From the crunchy Derby roll, stuffed with avocado, tempura shrimp, and cucumber, to their super volcano roll, they've nailed it in terms of taste sensations! Combining an all-American fusion into most of their plates, they've turned Japanese cuisine on its head.
The venue is small and genuinely tries to transport you to Japan. They use quaint and quirky decor scattered around the cozy and intimate space to bring Japan to you. It's easier than buying a plane ticket, and it's all about beautiful food and good company.
Hiko-A-Mon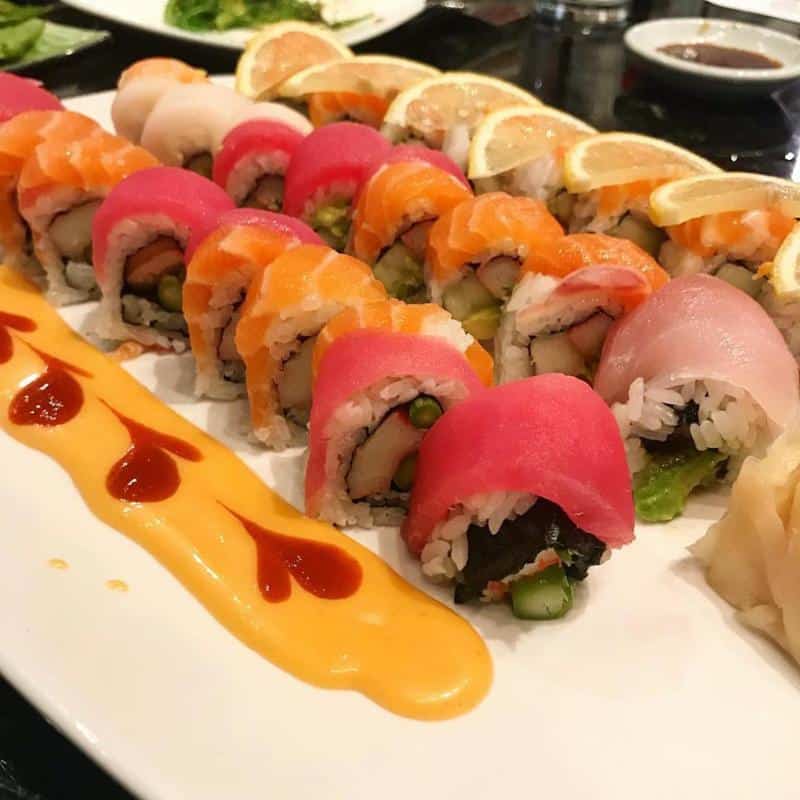 Location: 1115 Herr Ln Suite 130, Louisville, KY 40222
Hours: 4:30pm to 9:00pm, closes 10:00pm Fridays, 3:00pm to 10:00pm Saturday, 4:00pm to 9:00pm Sunday
Price: $$$
Hiko-A-Mon is a quant Japanese-run, Japanese cuisine restaurant that takes great pride in serving delicious meals! With chef and owner Hiko Nakanishi at the helm, they're a growing and thriving little business that offers nothing but the best.
They have two menus, one specializing in the most exquisite Japanese dishes and the other boasting nothing but rows of sushi options. While a good portion of their plates are as authentic to Japanese sushi as it gets, they haven't forgotten their home turf.
There are plenty of options, from fusion to traditional to choose from. Using the finest and freshest ingredients, you can try your hand at futomaki rolls or tuna toro nigiri. If the sushi bug hasn't quite grabbed you, or you're not a fan of raw fish, their sushi includes vegetable options, and their main menu has an array to pick from!
The interior restaurant boasts a modern twist, with small but powerful decor surrounding it. Hiko-A-Mon is represented by great food and excellent service from their in-house staff. The atmosphere is always cheerful. It's hard not to be when the meals are this good.
Fuji Japanese Steakhouse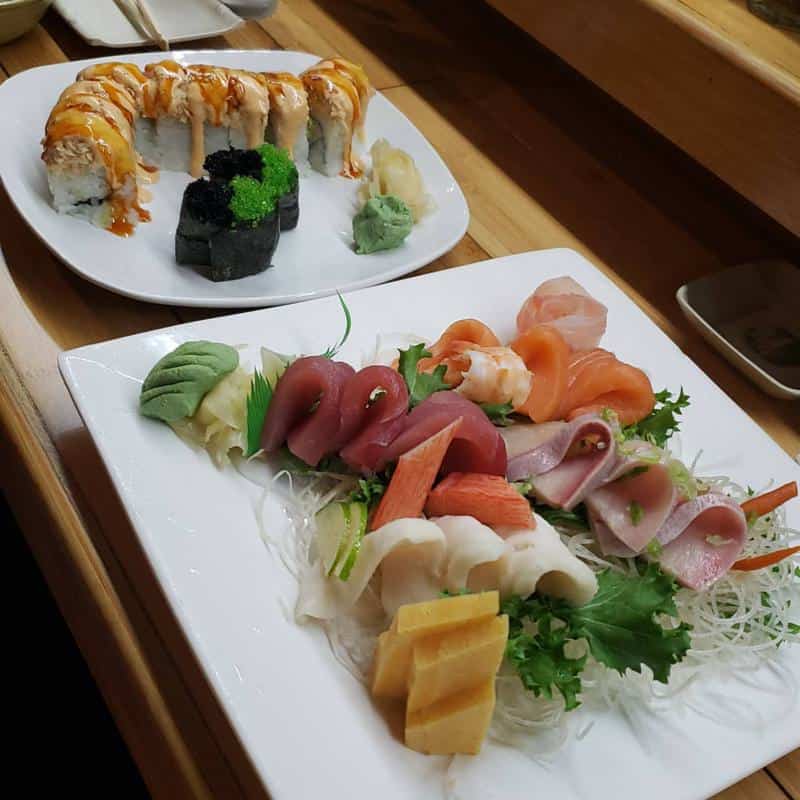 Location: 3576 Springhurst Blvd, Louisville, KY 40241
Hours: 4:30pm to 10:30pm, 12:00pm to 9:30pm Sundays
Price: $$
Fuji Japanese Steakhouse is a thriving brand across America. It works its way into top lists nationwide, so there's definitely something to be said about quality, and Fuji Louisville is no exception! They're convenient, quality, and passionate about Japanese cuisine.
They've listened well to their community and boast some true-to-Louisville-style fusion sushi as a result. They've beautifully crafted some incredible mixtures of ingredients to bring about a solidly delicious dining experience. Using fresh ingredients from crawfish to salmon, they know their audience well. Each plate is a masterful dish that's bound to get your heart racing.
Each restaurant is unique to its location, but they all have the same air of comfort and homeliness to them. Fuji Japanese Steakhouse is all about a family experience, and the best way to express it is by making you feel like family too.
Sapporo Japanese Grill & Sushi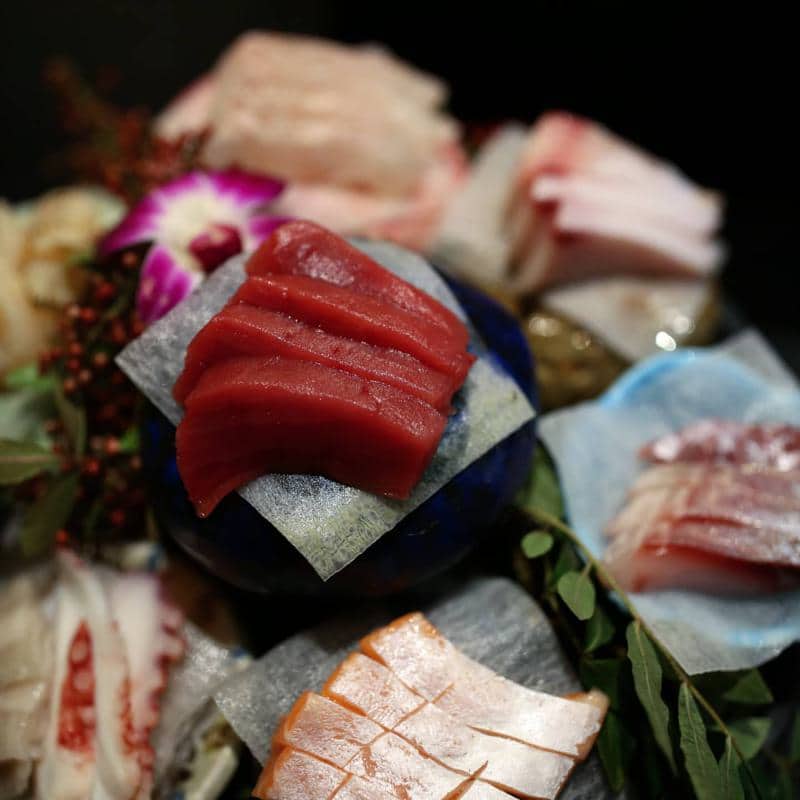 Location: 1706 Bardstown Rd, Louisville, KY 40205
Hours: 5:00pm to 10:30pm, closes 11:00pm on Friday and Saturday
Price: $$$
Sapporo is a Japanese grill and sushi bar built on passionate mastery of Japanese cuisine. It has been satisfying sushi cravings in Louisville for years and doesn't appear to be shaking under pressure. They are contemporary with a touch of retro and bring an overall different feel to the usual sushi experience.
The menu may be overwhelming at first, with options off the grill and sushi to try that span pages. But don't be afraid. Think about it this way, you have way more options to suit your tastes. They infuse their sushi with American ingredients, creating a unique and palatable plate that's bound to have you raving. Their menu has dishes like Moya Moya rolls, sashimi selections, and Sapporo Maki. I'm at a loss to tell you which to try first.
Their venue is decorated subtly but has an overall brooding atmosphere that's weirdly enjoyable. Using a mix of dark and light color palettes, Sapporo creates a sense of comfort and privacy, even with strangers at the table next to you. With seating for the masses, it's an excellent choice for a business lunch or even an intimate family gathering.
Related Read: Best Seafood Restaurants in Louisville, KY
Oishii Sushi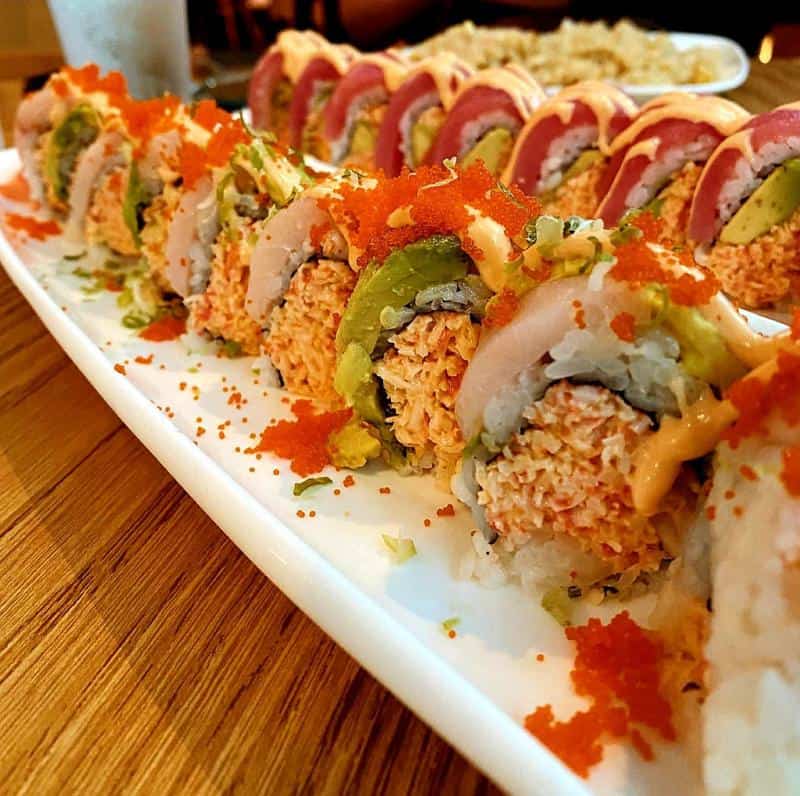 Location: 2810 Taylorsville Rd, Louisville, KY 40205
Hours: 11:30am to 1:45pm (Lunch) closed for lunch on Saturdays, 5:00pm to 9:00pm (Dinner), Closed on Sundays
Price: $$
Oishii Sushi is a thriving local sushi house that has received utmost adoration from locals for years. They are a dedicated team that puts their heart into their craft. This results in incredible food that's divine to taste and beautiful to look at.
Their menu hosts an expansive range of Japanese small plates, but their sushi is definitely the talk of the town. Using extremely fresh seafood ingredients and fusing them with non-traditional additions. Oishii has found creative and innovative ways to bring delicious, mouth-watering food to you. From their tantalizing 2-in-1 rolls, belly-busting big daddy hand rolls. They spoil you for choice, and it's a sushi paradise for anyone remotely interested.
Oishii Sushi is a vibrant and lively venue. With neons, bright colors, and a stunningly accentuated restaurant, they're a wonderful way to forget you're in Kentucky. It always seems like it's a bustling thoroughfare, with excited chatter filling the air. It's hard not to be happy tucking into their meals here.
See Also:
Sushi in Louisville: FAQs
Have any questions about sushi? Look no further.
What makes Louisville sushi unique?
Many of the restaurants have added a little bit of Louisville flare to their menu. They are, after all, locally supported, so most of them try to pay homage to their patrons. They use Louisville ingredients like crawfish, which can easily be made into a delightful sushi roll. They also add things like Cajun spices and fresh ingredients like asparagus and jalapenos. It's non-traditional, but it definitely packs a punch of flavor!
What is one of Louisville's most popular kinds of sushi?
While the Louisville sushi restaurants offer something different and special, they all have one thing in common: the Derby Roll. This is true-to-Louisville sushi unique to the state and very popular amongst the locals. But, of course, each restaurant has its own variation, so you'd have to try them all before deciding who did it better.
Conclusion
As you can see, there are plenty of incredible sushi places to be found in Louisville. Nothing stops you from diving in and experiencing the best of what Louisville has to offer. They're flavorful, passionate, and creative with their dishes, and that means Louisville sushi restaurants always have something unique to add to the plate.