St. George Island, Florida, is truly a hidden gem. This casual locale offers something for the entire family yet avoids the major tourist crowds of destinations like Siesta Key or Panama City Beach.
When you visit St. George Island, you'll indulge in the white sand beaches and crystal-clear waters. Then, you can check out the local nature preserves, shops, museums, and more.
But while you're in the area, don't miss out on one (or several!) of these St. George Island restaurants.
Best St George Island Restaurants
Blue Parrot Ocean Front Café
Location: 68 East Gorrie Drive, St. George Island, FL 32328
Price: $$
Known for: Tiki setting, ocean views
It's hard to find a better waterfront view than what's on display at Blue Parrot Ocean Front Café. You can come in for a refreshing cocktail or a full-blown meal, all with a magnificent view of the water just feet away from your table.
Start your meal with an order of Bahamian conch fritters or golden onion rings before moving on to entrée selections like the Monster Double Cheeseburger, Seafood Marguarite, or Stuffed Gulf Shrimp. Before you leave, be sure to indulge in a slice of Key Lime pie.
Blue Parrot is open every day of the week, so you should have plenty of time in your schedule to come by and see what the hype is about.
Harry A's on the Bay
Location: 28 West Bay Shore Drive, St. George Island, FL 32328
Price: $$
Known for: Live music and karaoke, fresh local seafood
Recently under new ownership, Harry A's on the Bay is a great place to enjoy fresh seafood and good company. Even if you're not in the mood for seafood, you can find something on the menu that's sure to satisfy.
Every day of the week, Harry A's offers classic dishes like chicken wings, nachos, burgers, tacos, and more. As far as seafood, you'll find everything from catfish and grouper to scallops, shrimp, ahi tuna, red snapper, and more.
If you come in for happy hour, you can enjoy specials on well liquor, beer, and wine. Just be sure not to leave without getting a chocolate lava cake or a slice of Key lime pie!
Brag-N-Bones BBQ
Location: 897 US-98, Eastpoint, FL 32328
Price: $
Known for: Award-winning barbecue and friendly staff
When you're craving barbecue, nothing else can do the trick. When you're in the St. George area, make your way to nearby Eastpoint to experience the award-winning eats at Brag-N-Bones BBQ.
Pitmaster Richard Wade offers up mouthwatering options like barbecue brisket, chicken, pulled pork, ribs, and more. If you're in town during football season, you can even get Brag-N-Bones' tailgate special to enjoy during the big game.
This eatery is run by a passionate team who will make you feel right at home. Sitting down for a delicious barbecue dinner with your family is a great way to escape the Florida heat and indulge in a home-cooked meal.
BJ's Pizza & Subs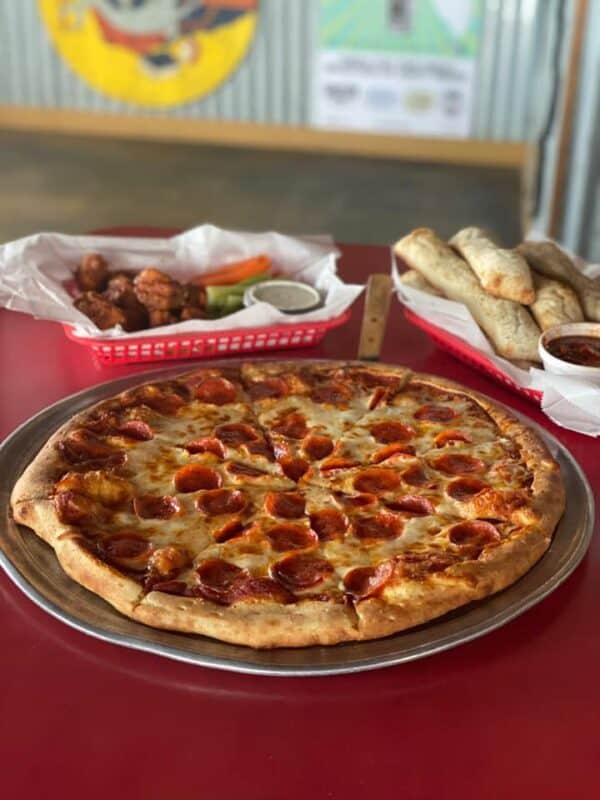 Location: 105 Gulf Beach Drive West, St. George Island, FL 32328
Price: $$
Known for: Family-owned eatery with hand-dipped ice cream
BJ's Pizza and Subs has been serving the St. George Island area since 1990 and is clearly a staple establishment around here. The family who owns the restaurant is proud of the atmosphere they've created and welcome each guest inside like family.
Of course, pizza and subs dominate the menu here. You can get classic varieties or customize your meal exactly the way you like it. All of the produce and ingredients used here are fresh and local, so you know you're getting the highest quality food every time.
To wash down your spinach artichoke pizza or Philly roast beef sub, you can choose from the seven draft beers on tap. They've also got several wine options as well as domestic and imported longnecks.
The Beach Pit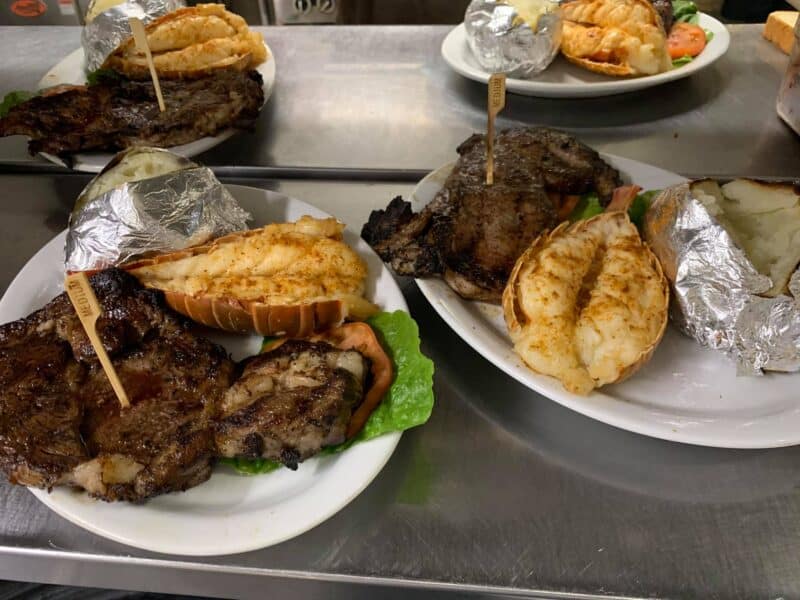 Location: 49 West Pine Avenue, St. George Island, FL 32328
Price: $$
Known for: Unique beers on tap, Texas-style BBQ
Texas BBQ and Florida seafood don't usually go together, but The Beach Pit manages to offer both options under the same roof. This unique eatery offers a casual yet intimate setting perfect for the whole family (dogs included!).
Start your meal with gator bites or crab legs before moving on to a loaded baked potato, one of several oyster varieties, a sumptuous barbecue sampler platter, or a fresh seafood selection. They can even cook up the fish you caught yourself earlier in the day!
While The Beach Pit is best known for lunch and dinner, they also have an extensive breakfast menu if you're looking for some early morning eats.
Paddy's Raw Bar
Location: 240 3rd Street East, St. George Island, FL 32328
Price: $$
Known for: Daily live entertainment, waterfront view
Paddy's Raw Bar has been welcoming guests for five years now and is a great place to relax and unwind with your crew. Grab a drink, get competitive at trivia, or simply indulge in a platter of fresh oysters.
The Apalachicola Oysters are easily the most popular option here and can be prepared in nearly a dozen different ways. You're also able to order unique sandwiches and other seafood dishes like shrimp, crab, or tuna.
Be sure not to miss out on their large beer and wine menu, which offers something for every taste and any budget. It all adds up to create the perfect recipe for listening to live music or enjoying your friends' company.
Weber's Little Donut Shop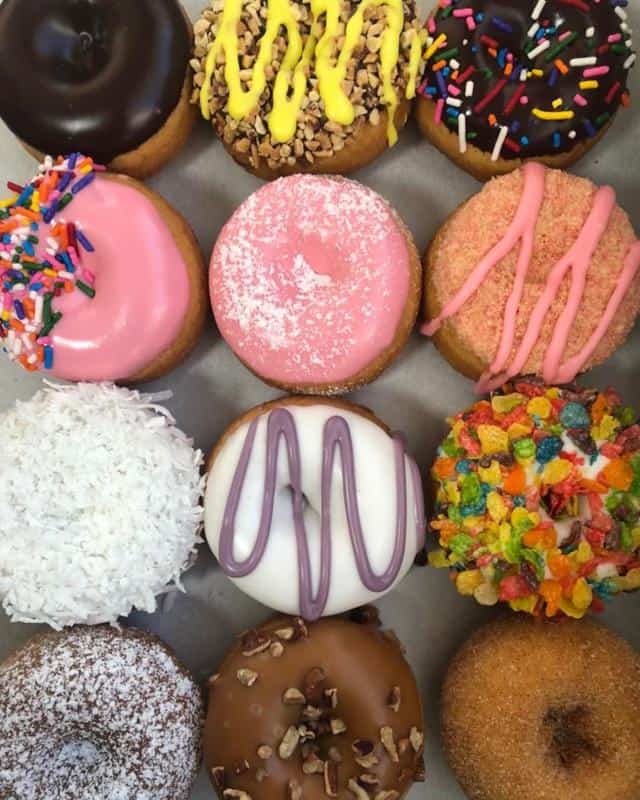 Location: 65 West Gorrie Drive #2702, St. George Island, FL 32328
Price: $
Known for: Freshly made donuts daily
If you're looking for a sweet start to your morning, head over to Weber's Little Donut Shop. Their artisan donuts are made fresh every single day and are sure to get your morning started on the right foot.
Here, you can find a unique variety to satisfy every member of your group. Get something traditional like chocolate with sprinkles or try new options that are constantly changing.
Since you can get a dozen donuts for less than $20, it's easy to feed the whole family and still have some leftovers. You should be aware that Weber's only takes cash, so be sure to hit the ATM before you come get your donuts!
Lynn's Quality Oysters
Location: 402 US-98, Eastpoint, FL 32328
Price: $$
Known for: Fresh, local seafood and unique raw bar
The family that owns and operates Lynn's Quality Oysters has more than four decades of experience in the local oyster industry, so if you're looking for the best fresh seafood on the Florida coast, you're in the right place!
If you're a traditionalist, you can get your oysters raw or steamed with butter. For those who want to try something unique, check out varieties like the Oyster Poppers (with jalapeño), the Manning (featuring bacon), or the Oyster Margarita (with mozzarella and tomatoes).
If you're not a fan of oysters, you can still enjoy a great meal here. Check out menu options like the snow crabs, Granny's Gumbo, slaw dogs, BBQ sandwiches, and more.
Sweet Surf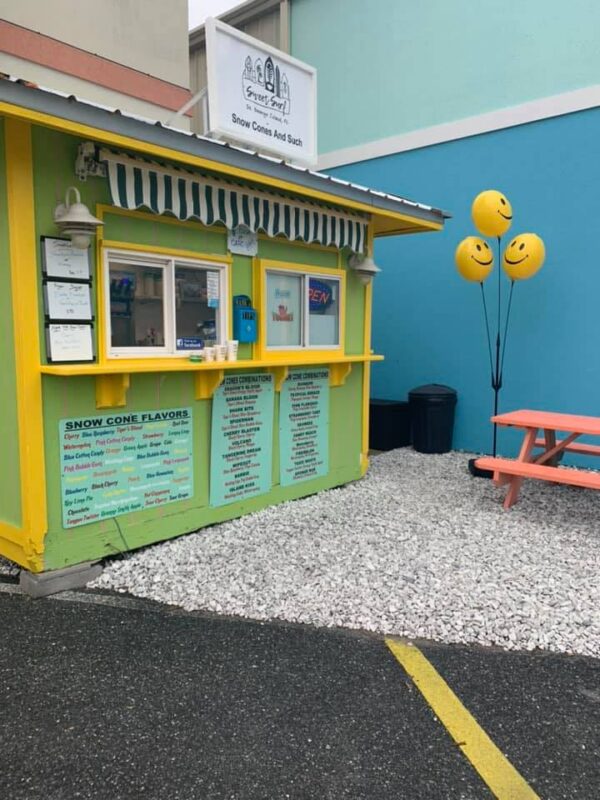 Location: 29 East Gulf Beach Drive, Eastpoint, FL 32328
Price: $
Known for: 40+ flavors of snow cones
Finding a great restaurant doesn't always involve sitting down for a full meal. Sometimes, it's as simple as getting a snow cone from Sweet Surf!
Here, they're offering more than 40 snow cone flavors for you and your crew to choose from. Their flavors provide something for everyone to enjoy, including classics like cherry and root beer to more unique varieties like toasted marshmallow, sour grape, hot cinnamon, and blue bubble gum.
If you're really feeling adventurous, try a combination! Combine wedding cake and pink bubble gum flavors to get the Barbie or enjoy the Sandy Beach, a combination of Blue Hawaiian and coconut flavors.
Red Pirate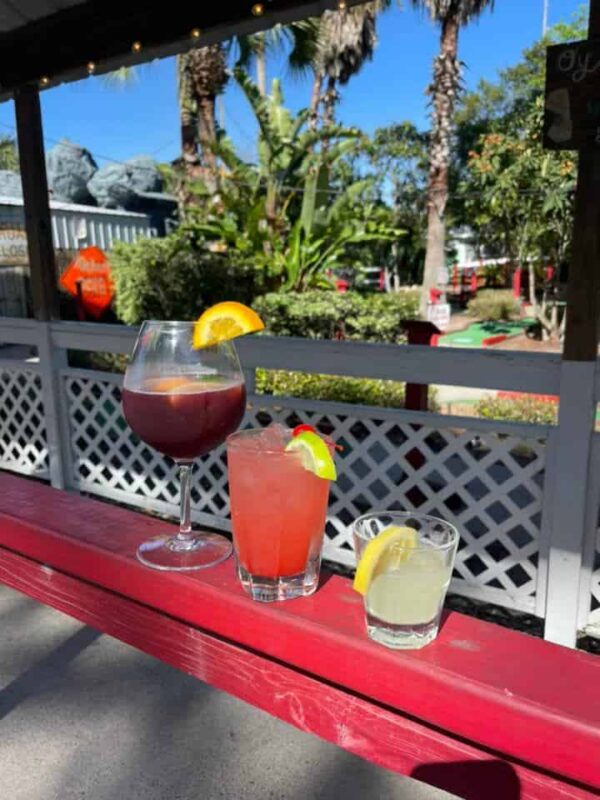 Location: 236 US-98, Eastpoint, FL 32328
Price: $$
Known for: Live music and mini golf course
On your trip to St. George Island, you'll probably be looking for a casual restaurant where you can enjoy some great food and even better company. You'll find both right here at Red Pirate Family Grill & Oyster Bar.
Red Pirate invites you to come as you are and enjoy fresh seafood, classic American dishes, and more. They've always got great specials going on around nearly any holiday, and they offer a great place to watch the big game!
Once you're done with your meal, the fun doesn't have to stop. You can stick around to listen to live music into the evening, or you can challenge your friends and family to a game of mini golf right on-site!
Owl Café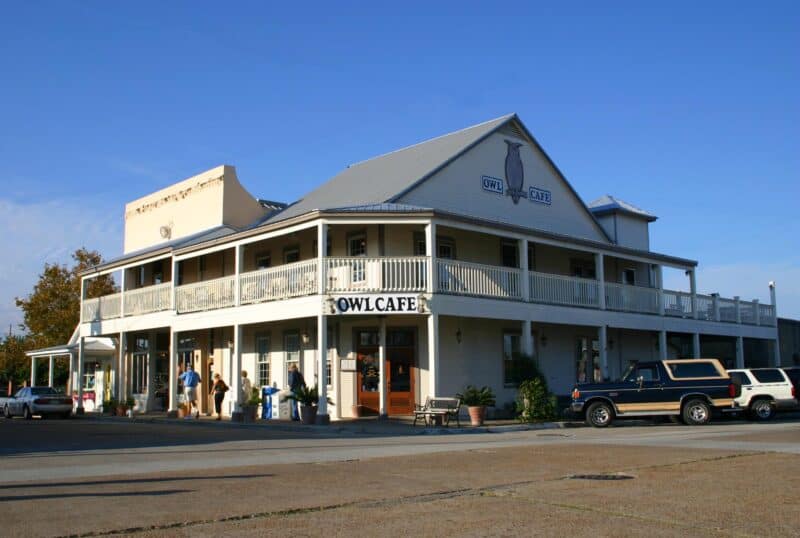 Location: 15 Avenue D, Apalachicola, FL, 32320
Price: $$
Known for: Globally inspired dishes
When you're in St. George Island, set aside time to head to the nearby town of Apalachicola and experience the popular Owl Café. Here, you'll find a wide range of dishes with global flavors to satisfy nearly any craving.
Enjoy seafood dishes such as fried Gulf shrimp, crab cakes, or Black Grouper. If you're in the mood for something from the land, check out the penne pomodoro, the ½-pound cheeseburger, or the gator sausage creole!
Make sure you save plenty of room for dessert, because when the meal is done, you can finish off with a handmade sweet treat. Choose from tempting options like the caramel custard, chocolate mousse cake, Key lime cheesecake, and more.
El Jalisco Mexican Restaurant
Location: 260 US-98, Eastpoint, FL 32328
Price: $
Known for: Classic Mexican fare
If it's authentic Mexican food you're after, you don't have to go far to find it. A quick drive over to Eastpoint will put you at El Jalisco Mexican Restaurant, where you'll find delicious food and a casual and welcoming atmosphere.
With so many menu options to choose from, your only worry will be how to narrow them down! Go for an order of their world-famous fajitas or choose a burrito, quesadilla, enchilada, or any combination of your favorite dishes.
El Jalisco keeps an extensive vegetarian menu for your meat-free friends. When you're done with your meal, indulge in a classic Mexican dessert like fried ice cream, churros, or flan.
Mango Mike's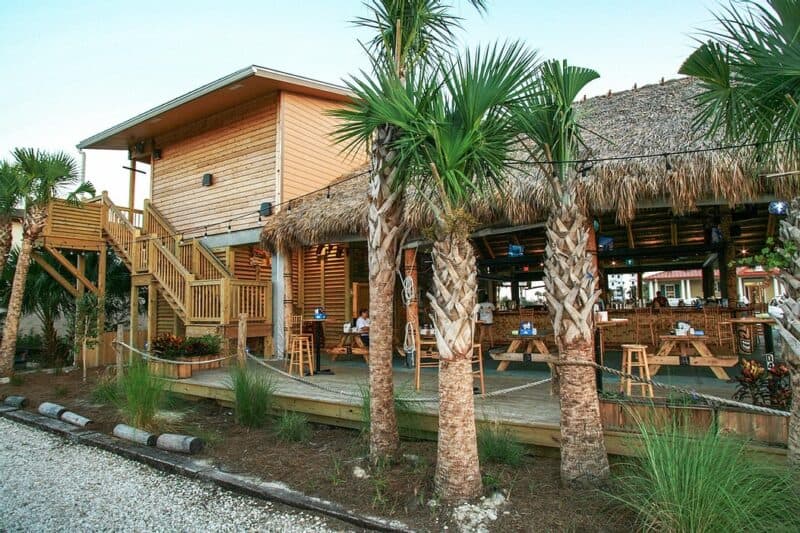 Location: 36 West Pine Avenue, Eastpoint, FL 32328
Price: $
Known for: Casual atmosphere, classic American dishes
Just because you're on a beach vacation doesn't mean you can't find a welcoming and laid-back sports bar to enjoy with your friends. That's precisely what you'll find when you walk into Mango Mike's Sports Bar & Grill.
The menu has some unique dishes to choose from, including starters like the gator balls or spicy cheese poppers. You'll also find nearly a dozen different oyster preparations, several sandwich options, and plenty of land and sea entrees.
No sports bar would be complete without a great drink menu, and Mango Mike's delivers. You can choose from bottled or draft beers, hard seltzers, wines, and plenty of specialty cocktails to quench your thirst.
98 Eats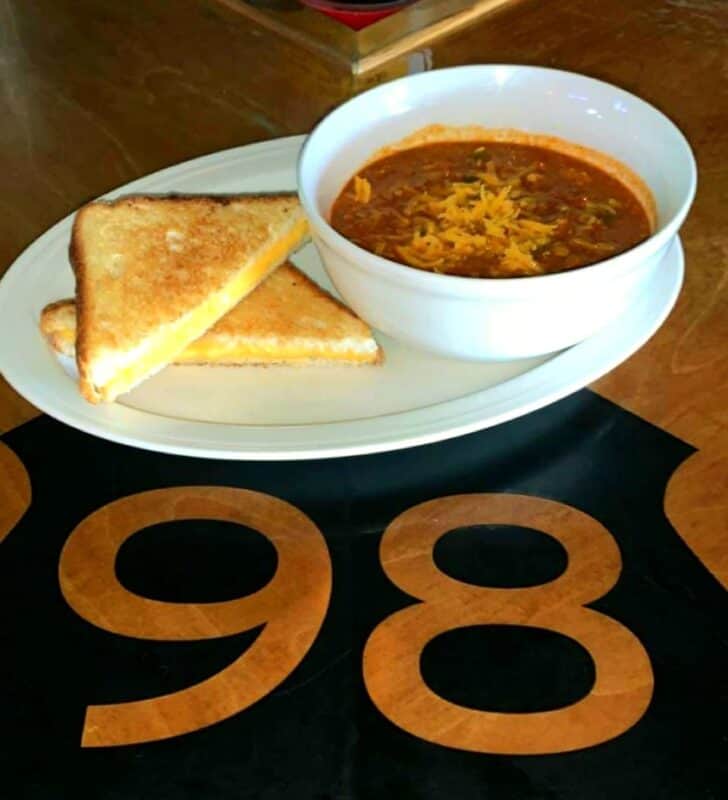 Location: 191 US-98, Eastpoint, FL 32328
Price: $
Known for: Family-friendly vibe with careful crafted American meals
Sometimes, you want to enjoy a simply delicious meal with no muss or fuss, sitting down in a cozy restaurant where you can relax and be yourself. 98 Eats in nearby Eastpoint delivers on all that and more.
While the menu here can change with the seasons, you're always sure to find something mouthwatering. Some recent favorites have included appetizers like Funnel Cake Fries and Boudin Balls as well as entrees like the Touchdown Fries and Meatball Sub.
If you're looking for a morning meal, don't miss Sunday brunch! You can enjoy the Build Your Own Bloody Mary Bar as well as food options like the breakfast tacos or Brunch Burger.
Mangia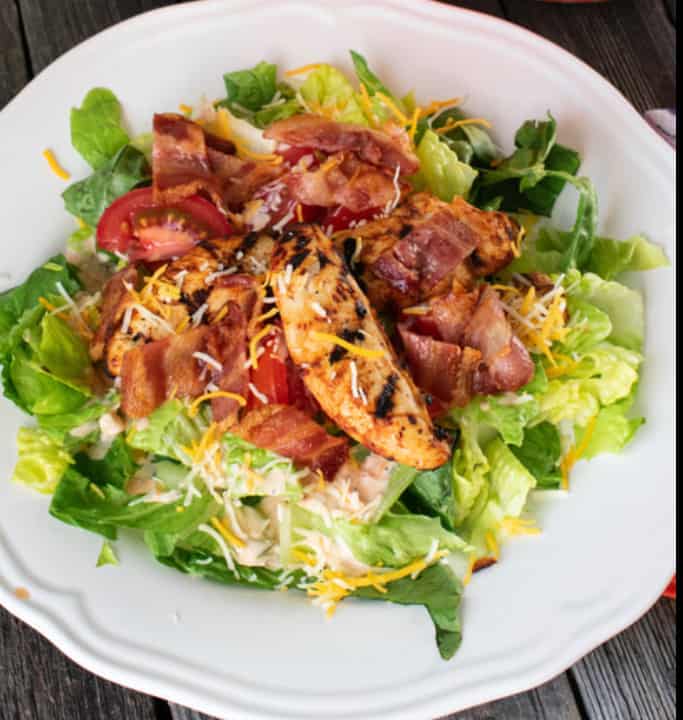 Location: 379 US-98, Eastpoint, FL 32328
Price: $$
Known for: Unique Italian dishes
Last but not least on our list is Mangia, a unique Italian eatery in the heart of Eastpoint. You'll find cozy and warming dishes, a welcoming wait staff, and an upscale yet casual vibe that's perfect for a family dinner or for date night.
The dinner menu holds beloved favorites like eggplant parmesan, spaghetti and meatballs, and fettuccini alfredo. The chef is also constantly creating new dishes, including mouthwatering selections like the creamy spinach artichoke pasta, the fried mortadella sandwich, and the lemon pesto linguine.
Of course, you can also find an extensive wine menu here, so there's sure to be something to pair with your favorite dish. Ask your waiter or waitress for their recommendation!
Read More:
Final Thoughts
St. George Island has plenty to offer its visitors, and the cuisine here is just one of the fantastic features of the area.
Whether you choose to stay on the island or head to nearby destinations like Eastpoint or Apalachicola, you're sure to find a satisfying meal right around the corner.