There is more to Space Coast than just rocket launches. Cocoa Beach, for one, is the perfect holiday locale with all the beaches and picturesque nature parks. But this kind of tropical vibe would certainly not be complete without good seafood.
If seafood is what you are after, you are in luck, as there are many excellent dining spots in Cocoa Beach. There is actually a surprisingly large number of seafood establishments for a town of this size, so much so that the choice can be overwhelming.
The key to avoiding the potential tourist traps and finding the perfect seafood meal to complete your visit to Cocoa Beach is being informed. This is why we created this list of 10 tried-and-true seafood restaurants in Cocoa Beach.
Our Top Picks
Best All You Can Eat Seafood: Florida's Seafood Bar & Grill
Best for Special Occasions: The Fat Snook
Best Beach Bar: Coconuts on the Beach
Best View: Squid Lips
Best Seafood Restaurants in Cocoa Beach, FL
Florida's Seafood Bar & Grill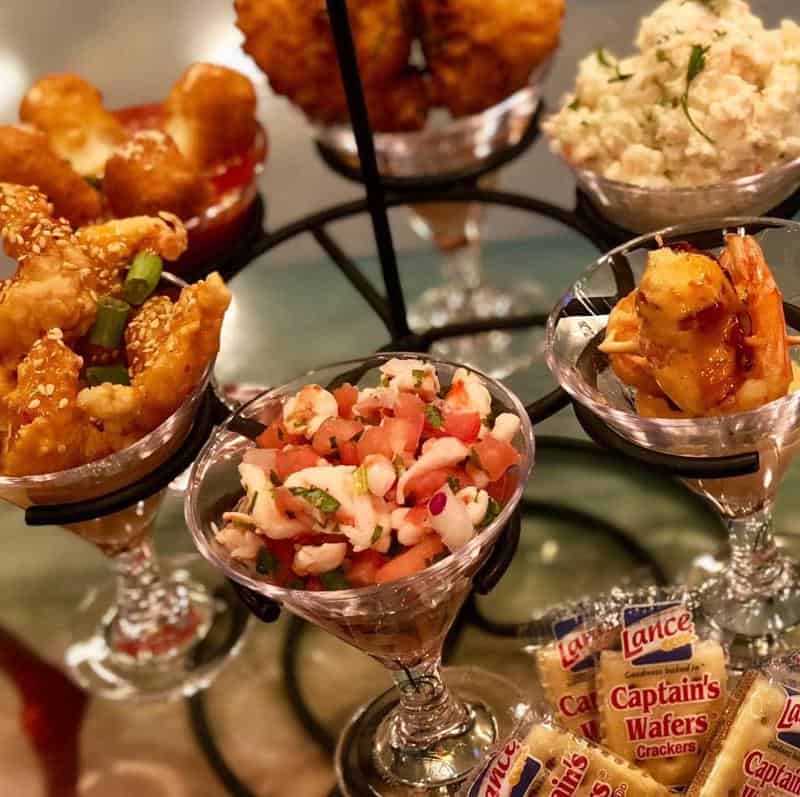 Address: 480 W Cocoa Beach Causeway
Hours: 12 pm – 10 pm
Price: $$$
Florida's Seafood Bar & Grill is one of the most popular restaurants overall in Cocoa Beach, and there are many reasons for that. First of all, the restaurant is located right off the West Cocoa Beach Causeway, so it's quite difficult to miss it.
As soon as you enter, you will realize this is a casual and fun spot. The spacious interior with an ample bar and lots of booths is very colorful, full of hand-painted murals and nautical-themed decor. But what stands out the most, perhaps, are multiple fish tanks with live fish you can watch while you eat. This feature is especially popular among kids!
But don't let the atmosphere fool you – the food here is top notch too. You can always rest assured your seafood will be fresh, simply due to the amount of daily traffic that Florida's Seafood Bar & Grill gets.
As for the menu, it is very extensive and you can have all kinds of seafood prepared just the way you like it. This includes fresh oysters, a plethora of tasty starters, fish specialties as well as the signature Florida seafood boils.
What deserves a special mention is their Ultimate Feast. This is an all you can eat special which includes 1 pound of snow crab legs and unlimited amounts of cod, oysters, clam strips, prime rib, and three different types of shrimp (the offer may vary seasonally). All of this is prepared fresh as per your order. A true feast for the real seafood lovers!
Florida's Fresh Grill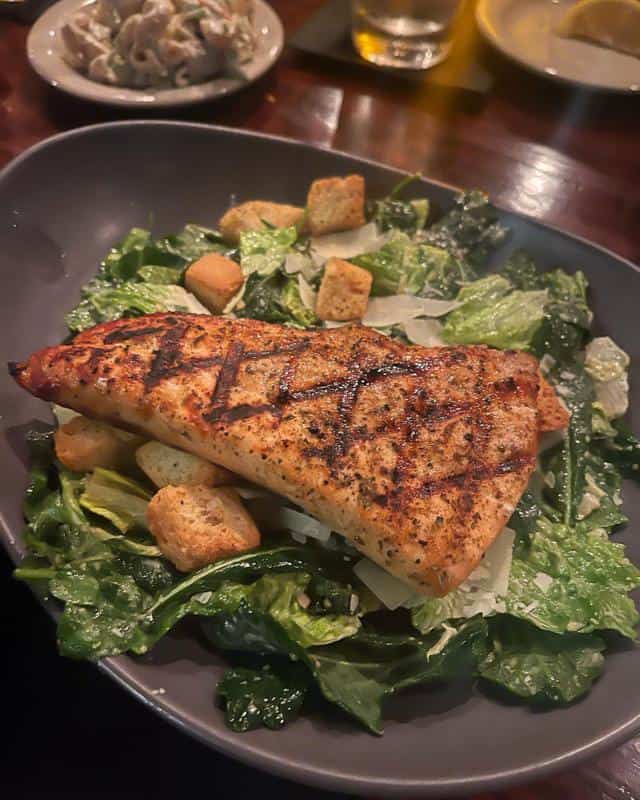 Address: 2039 N Atlantic Ave, Cocoa Beach, FL 32931
Hours: 4:30 – 9:30 pm
Price: $$$
Florida's Fresh Grill is another very popular seafood option, but not as popular as some others. This restaurant aims to provide an 'upscale casual' experience that's a bit more fancy than most at Cocoa Beach, but still fairly accessible with decently priced food (although more expensive than some other options.
Florida's Fresh Grill is located on Banana River Square. From the outside, it looks just like any other strip mall restaurant, but the interior will pleasantly surprise you.
Our favorite thing at Florida's Fresh Grill might just be the appetizers. All of them are just so good, starting from the signature avocado crab tower down to the crispy grouper bites and beer-battered tropical coconut shrimp.
Continue with a main course of fresh fish, steak, or surf & turf if that's more your style. Finish off with a key lime pie or the seasonal creme brulee – every part of the meal is outstanding here.
Diner's note: The dress code at Florida's Fresh Grill is 'country club casual'. This does not mean you have to dress super fancy, but men's tank tops or swimwear are a no-no, at least according to their website.
The Fat Snook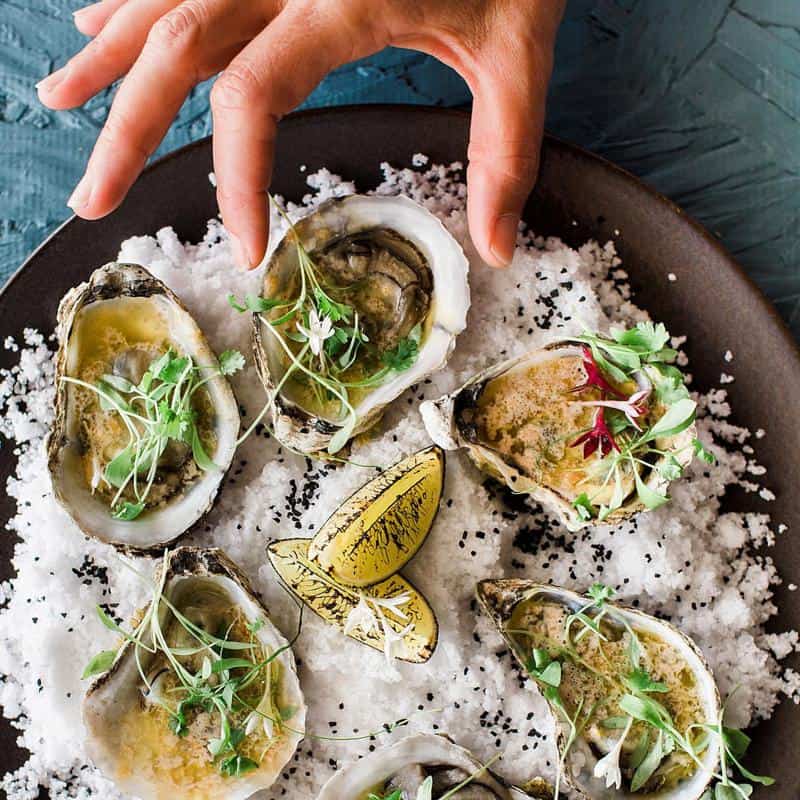 Address: 2464 S. Atlantic Avenue Cocoa Beach, FL 32931
Hours: Tuesday – Sunday 4 pm – 9 pm
Price: $$$
An unassuming blue shack tucked away from the busy hotspots of Cocoa Beach… Step in and you will be immediately transported to another world. Tastefully decorated from head to toe, the Fat Snook offers a cozy atmosphere and serves top-notch food.
The menu at the Fat Snook changes frequently, but it always features seafood heavily. Each dish here is unique with innovative combinations of ingredients, and served with attention on stylish plates that fulfill the impression.
Diner's note: The Fat Snook has a Happy Hour on weekdays from 4 pm till 6 pm on their cozy shaded patio. They offer all appetizers at half price at this time plus discounted drinks.
Coconuts on the Beach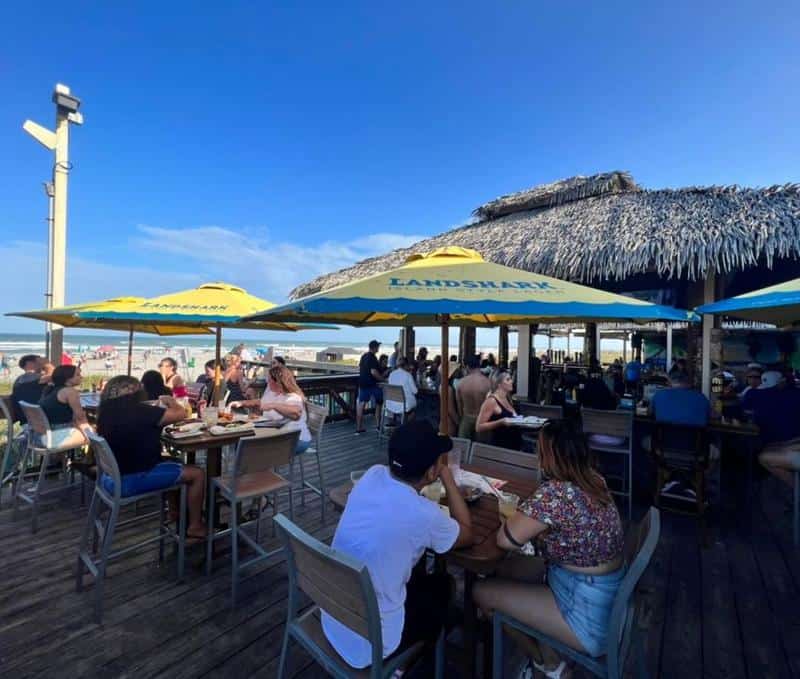 Address: 2 Minutemen Causeway, Cocoa Beach, FL 32931
Hours: 11 am – 10 pm
Price: $$
Coconuts on the Beach is the only restaurant on this list that is located directly on the beach. It is the perfect place to go if you want to soak in the beach atmosphere. Settle in, order a delicious meal, and enjoy the sunshine, the breeze, and the view.
Coconuts is a casual beach restaurant and bar with a lively atmosphere and frequent live music shows. The place is quite popular, but their large tiki deck offers lots of seating, so the wait is usually not terribly long.
This beach getaway is the perfect place for a casual meal with friends. We love their menu of appetizers / snacks for the table. Island conch fritters, bacon-wrapped shrimp & scallops, or poke nachos with marinated tuna? It's hard to choose.
But, the menu has more to offer. From sandwiches (we recommend the Mahi Reuben) and tacos to delightful fresh catch entrees, you surely won't be disappointed by the range of options.
Also Read: Best Seafood Restaurants in Fort Lauderdale
Squid Lips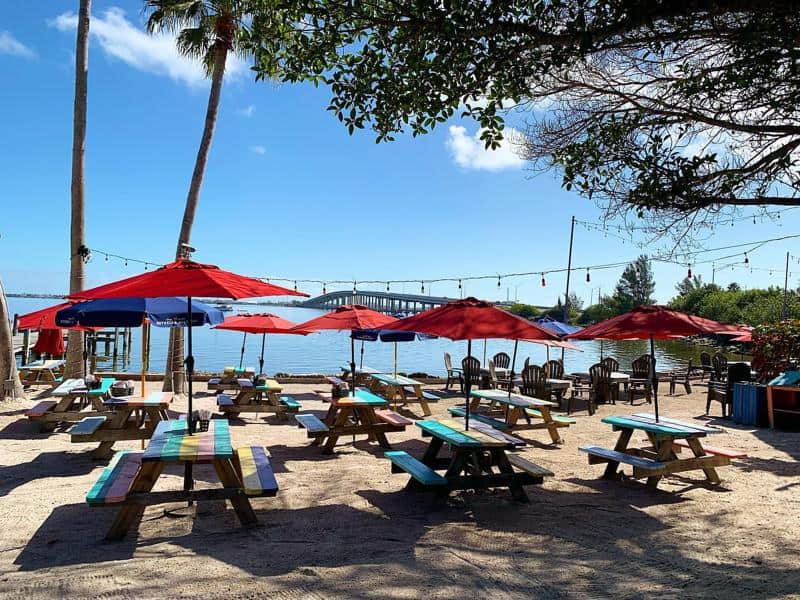 Address: 2200 S Orlando Ave, Cocoa Beach, FL 32931
Hours: 11 am – 9 / 10 pm
Price: $$$
The Cocoa Beach Squid Lips restaurant is the number one spot for dinner with a sunset in the area. The beautiful waterfront deck looks onto the Banana River lagoon and onto the ocean. That might seem a bit boring, but it actually means an open view of the sunset.
While the location is the main plus point of Squid Lips, it wouldn't be really worth it if the food wasn't good. Luckily, that's not the case. The menu offers an ample selection of seafood staples.
For a start, here is a nice selection of appetizers like conch fritters or coconut shrimp to go with your ice-cold drinks. And for the main course, you can choose from a wide array of options including fried fish baskets and signature entrees like the stuffed flounder or the Key Largo-style baked fish.
Read More: Best Seafood Restaurants in Daytona Beach
Jazzy's Mainely Lobster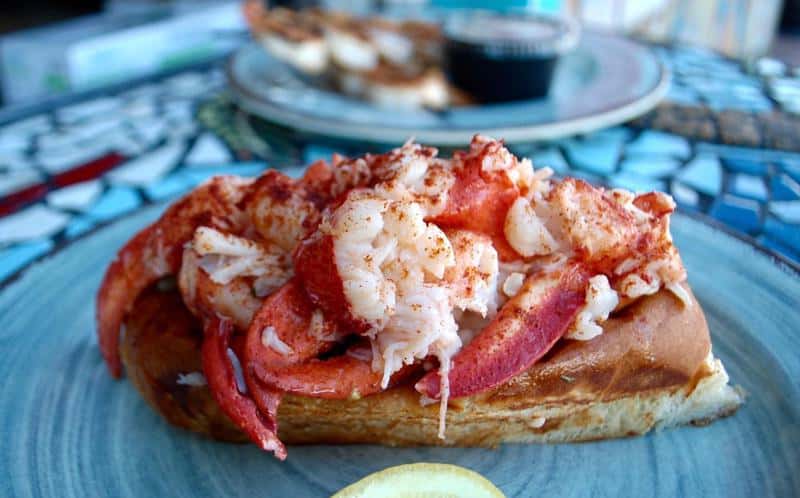 Address: 210 N Orlando Ave, Cocoa Beach, FL 32931
Hours: 11 am – 10 pm
Price: $$
Jazzy's is the place to go if you are craving New England comfort foods like clam chowder and true Maine lobster rolls. Didn't expect to find that in Cocoa Beach? Well, at Jazzy's, you can.
Jazzy's Mainely Lobster is a small family-owned restaurant with a pleasant atmosphere. The family has roots in Maine and this is the idea they based their business on: bringing the spirit of Maine to diners in Cocoa Beach.
Just as one might expect, the menu includes fresh Maine lobster, the classic clam chowder, and delicious lobster rolls. Our personal favorite are the rolls – Choose the New England-style roll with chilled lobster or the Connecticut-style roll with hot lobster. Either way, you get a complimentary cup of clam chowder or a side of french fries and coleslaw – your choice.
It's not all Maine here, though, as Jazzy's does offer a choice of fresh seafood off the coast of Florida. A choice of fresh shrimp, fresh oysters, shrimp prepared in various ways and more await.
Sandbar Sports Grill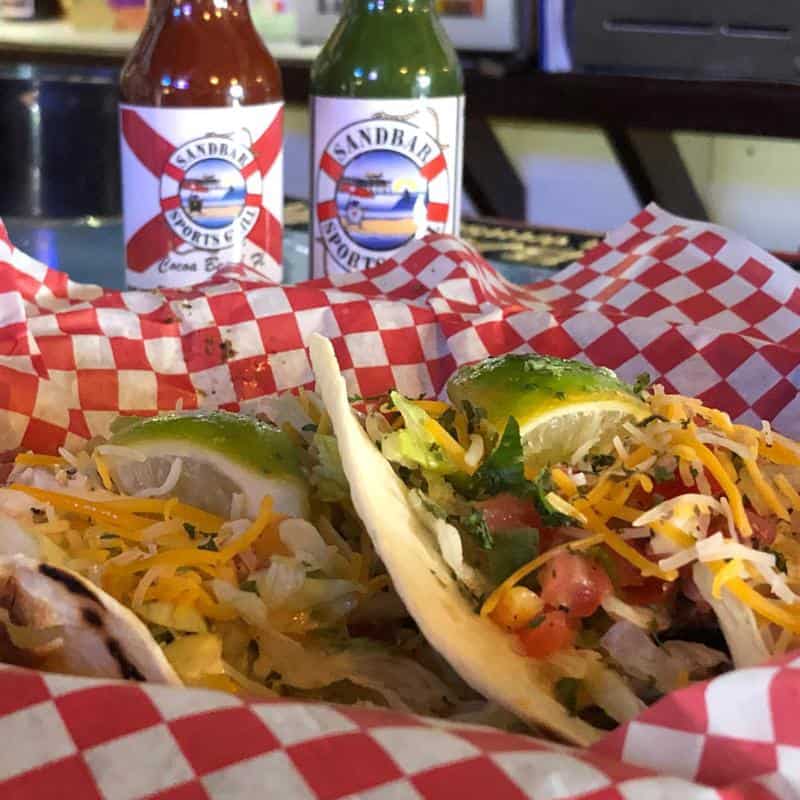 Address: 4301 Ocean Beach Blvd, Cocoa Beach, FL 32931
Hours: 11 am – 2 am
Price: $$
If you are craving a late-night meal while in Cocoa Beach, head straight to Sandbar Sports Grill (open each day until 2 am, but serving food until midnight. The Sandbar Sports Grill is somewhat of a mix between a sports bar with live music each evening and a casual eatery.
The meals here will satisfy even the heaviest case of the munchies. The portions are large, the food is filling, and there are quite a few unique over-the-top specialties. The signature dish of the Sandbar are the Gator Tacos, but you won't go wrong if you settle for the Monster Fish Taco Platter either.
There are some more toned-town but still deliciously prepared options too for a low-key lunch. Opt for the catch of the day, for example, which is always served with Spanish rice, black beans, and sweet plantains. The Teriyaki Tuna is also surprisingly good.
Long Doggers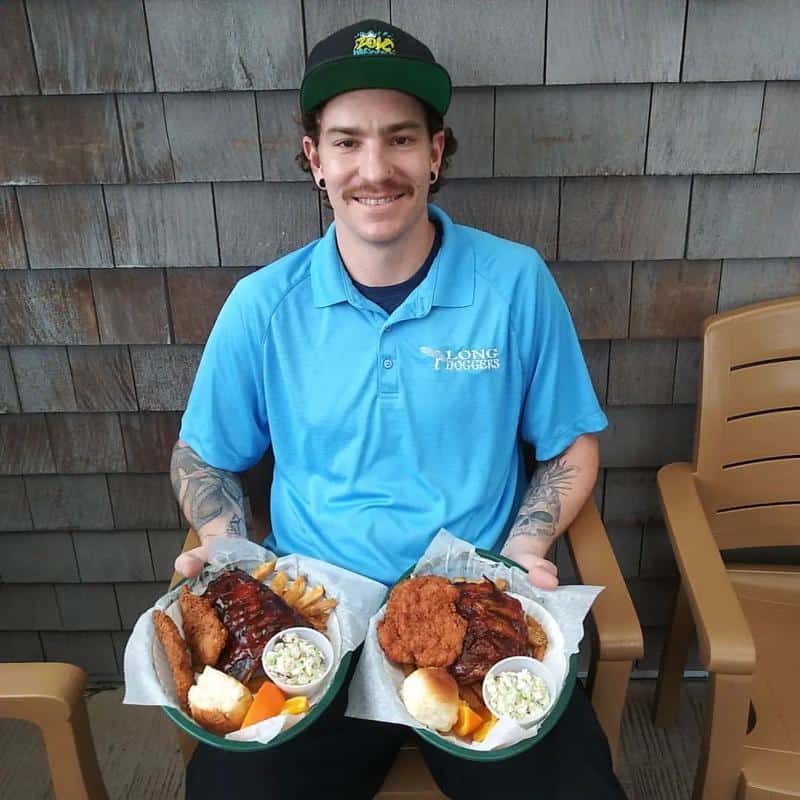 Address: 350 W Cocoa Beach Causeway, Cocoa Beach, FL 32931
Hours: Sunday – Thursday 10:30 am – 9 pm; Friday and Saturday 10:30 am – 10 om
Price: $$
The Long Doggers in Cocoa Beach, is the 6th, and most recently opened, outpost of the franchise. However, don't let this put you off: Long Doggers is not just a chain of restaurants that put out standardized food in a standardized environment: each location is unique, and we find the one in Cocoa Beach is especially cozy.
Long Doggers definitely has a surf vibe, and offers various quick meals like hot dogs and (more importantly for seafood lovers) sandwiches including a nice Grouper Reuben sandwich and the crispy fish sandwich.
However, there are also many nice options for a full sit-down meal. From intriguing starters like the Banzai Shrimp or the smoked fish dip served with pretty purple wontons to fried seafood baskets and specialties from the grill with tropical flavors.
Seafood Atlantic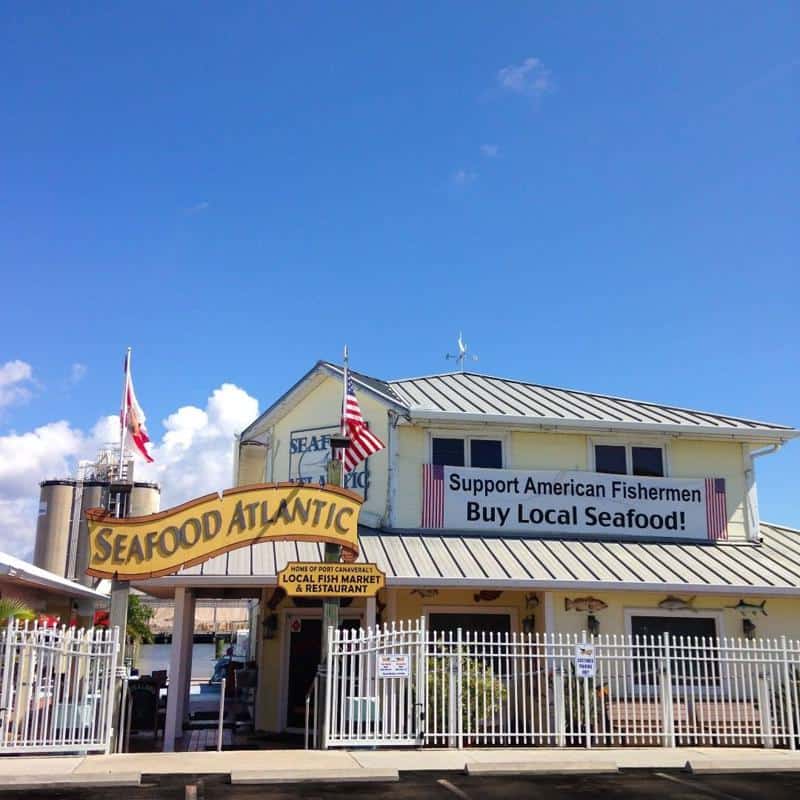 Address: 520 Glen Cheek Dr, Cape Canaveral, FL 32920
Hours: Wednesday – Sunday 11 am – 7 pm
Price: $$
Seafood Atlantic first started out as a fishing company as far back as 1984. Today, they are still very much in business. Located right in Port Canaveral, the Seafood Atlantic fish market is a key hub for local seafood, and all that delicious fresh catch is served in the restaurant next door.
Fish market restaurants are often very busy and loud places, but at Seafood Atlantic that's not the case. The dining area is actually very nice, with a large outdoor patio on the waterfront. The restaurant looks straight onto the port, so you can often enjoy watching the ships passing by.
The menu varies a bit with seasons, as you always get the freshest seafood here. However, it's always simple and wholesome fare that really lets the seafood shine.
Seafood Atlantic is a great place to stop by for lunch, but it's open till 7 pm so an early dinner is also possible. Their fish sandwiches are our favorite quick meal. They make a croissant with seafood salad or lobster which is really unlike anything else you've tried before.
Looking to explore other parts of Florida? Why not check out some of the best seafood restaurants in Jacksonville & best seafood restaurants in Tampa.
Nosh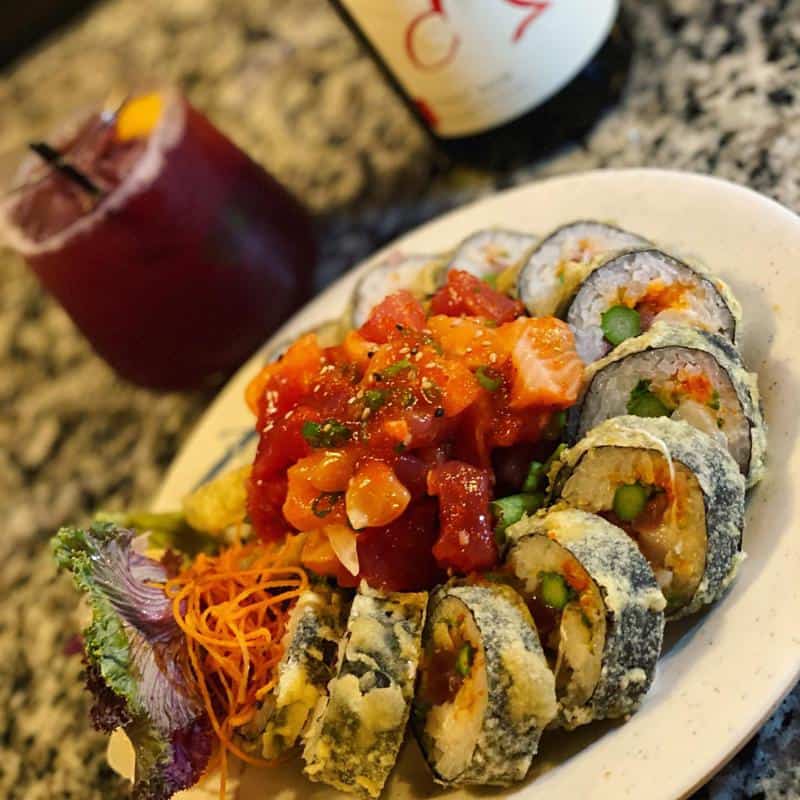 Address: 3800 N Atlantic Ave Ste. 6, Cocoa Beach, FL 32931
Hours: Wednesday – Sunday 4 pm – 9 pm
Price: $$$
Nosh is the hidden gem of Cocoa Beach. Located inside the Xtreme Surf Shop, Nosh has an unassuming exterior. You could easily miss it if you don't know where you are going, but that would be a shame!
Nosh serves world-class seafood dishes with a unique twist. The Southeast Asian origins of the family who owns the restaurant show in the menu, so you can find lots of dishes with Asian origin, from sushi to Thai noodles and delicious soups.
It's really hard to choose what to showcase from the Nosh menu. All of their dishes are beautifully presented and full of flavor, color, and texture. Their sushi rolls are really good, and so are the unique starters like the crispy tone or the crab angels – crispy wontons filled with crab and cream cheese!
The burgers at Nosh deserve a special mention: the Surf n Turf Burger and the Tuna Burger are both amazing, with unique crispy rice patties plus avocado and seaweed garnish. The house made soups and the filling noodle dishes are also nice.
Also Read:
Final Thoughts
Cocoa Beach has a lot to offer to seafood lovers. If you are after a romantic waterfront location, you'll find a few really good options here. But, if you are ready to step a block or two away from the beach, you'll be able to discover even more awesome seafood.
The seafood restaurant scene here is really diverse, so you'll be able to find pretty much everything, from Cajun-style specialties and seafood infused with tropical flavors to sushi.