Domino's is among the largest pizza chains in the world. Regardless of your location, Domino's provides a quick, convenient, and reliable pizza meal, thanks to its effective delivery services.
There are 7,000 locations across the United States (US)and more than 18,000 worldwide. Domino's is famous because customers are confident in their purchases.
The abundance of choices at Domino's is another fantastic feature. They have a variety of toppings and crusts, all of which can be combined to create the perfect pizza. Additionally, they provide several specialty pizzas and seasonal specials.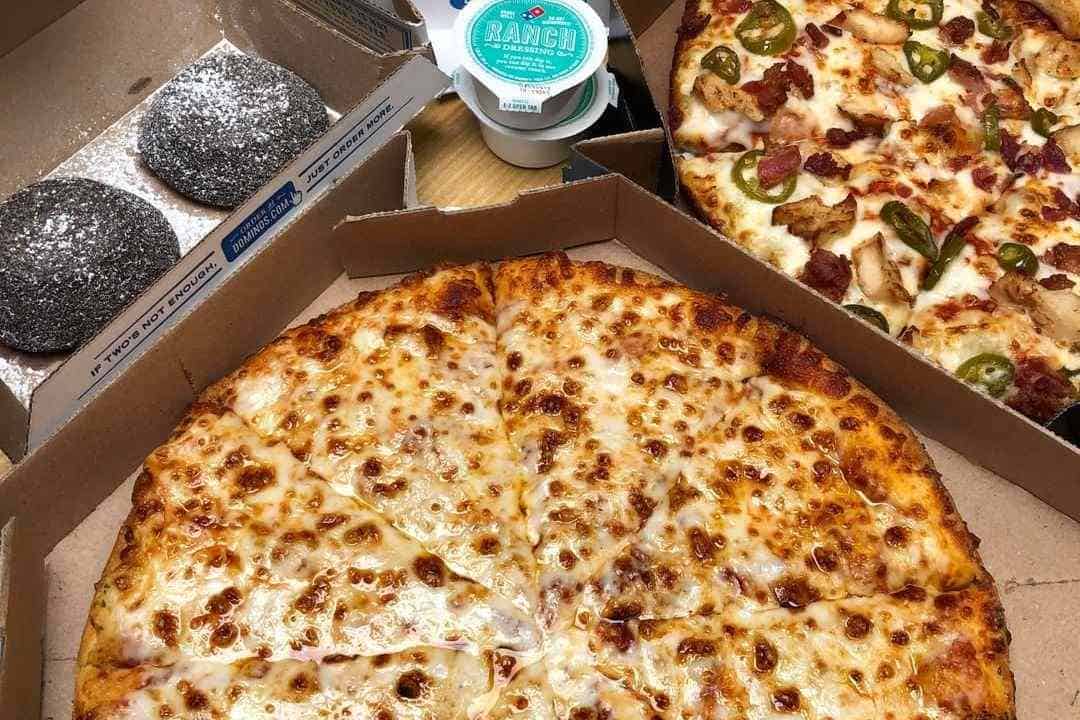 Within the last ten years, Domino's considerably expanded its US network considerably. Domino's had always focused on speed and efficiency, while other pizza restaurants were more concerned with flavor and the dining experience.
We understand that it can be a little overwhelming with all the options available, whether you're a frequent customer or new to Domino's. Don't fret, though; we're here to share the top Domino's pizzas to aid your selection process.
Continue reading to learn about the top ten best pizzas that will serve a delicious meal.
Top 10 Best Domino's Pizzas
Currently, Domino's is the largest pizza franchise business worldwide. It's been in operation for 60 years as of 2022.
The pizza shop is renowned for its generous use of toppings, and the cheese and flavors are also excellent. Additionally, you can use any sauce you desire to make your pizza unique.
However, choosing the most delightful pizza that Domino's serves often proves challenging as the options are numerous.
In the following paragraphs, we'll talk about the top 10 Domino's pizzas on the globe and their ingredients.
1. ExtravaganZZa Feast Pizza
Typical ingredients: Cheese, mozzarella, and tomato sauce.
Price: $14.99–$17.99 per pizza
Domino's ExtravaganZZa Feast is the perfect pizza for your satisfaction and relish. There are eight toppings and many cheese layers on the ExtravaganZZa Feast.
Despite being a large lunch, each bite is filled with goodness due to the well-chosen combination of complementing flavors.
Black olives, fresh onions, green peppers, and mushrooms are stacked high on the ExtravaganZZa Feast, along with pepperoni, ham, Italian sausage, and beef. As if those weren't enough, the crust and sauce are then placed on top of all those ingredients, sandwiched between two slices of mozzarella cheese.
The ExtravaganZZa pizza tastes zesty and spicy with just the proper salt. Its roast-like coating makes it appealing.
The interior of a slice of this pizza is quite fluffy, but the exterior is crunchy. Its enticing flavor from the Italian sausage makes it challenging to stop at one slice.
2. Spinach & Feta Pizza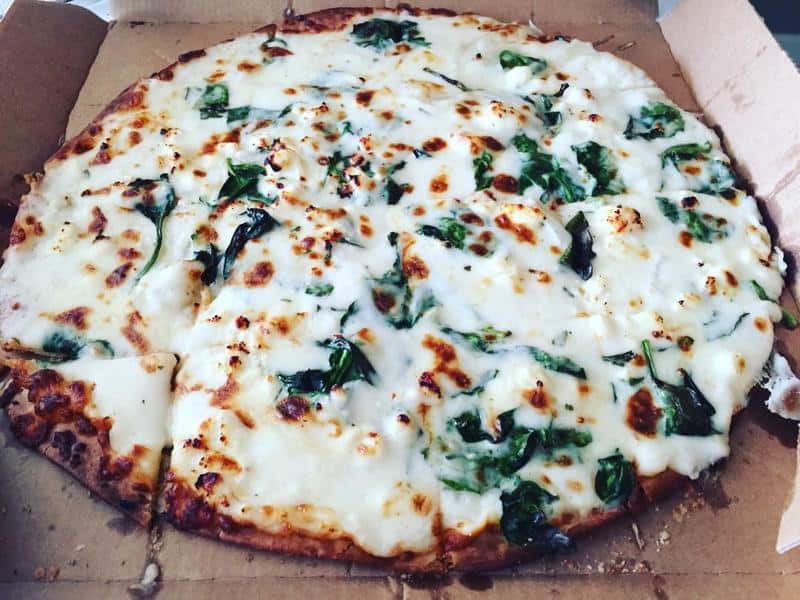 Typical ingredients: Baby spinach, cheese, and pizza dough
Price: $7.99 per pizza
For vegans, Domino's Spinach & Feta Pizza is a fantastic alternative. We suggest adding it to your order whenever you're in the mood for something a little drier.
The basis is made out of the usual cheese, sauce, and crust from Domino's. Domino's then heaps on a lot of spinach. Although it may seem strange to use spinach on pizza, it works nicely and functions similarly to basil.
While spinach's role in the pizza is to counteract the dairy, feta dominates the flavor. The feta also gives the pizza a salty, sour taste.
The Domino's Spinach & Feta pizza makes a fantastic substitute for birthday cake. You could just put some candles on it and go on with your celebration.
Moreover, here's a video on how to make Spinach and Feta Pizza.
3. Buffalo Chicken Pizza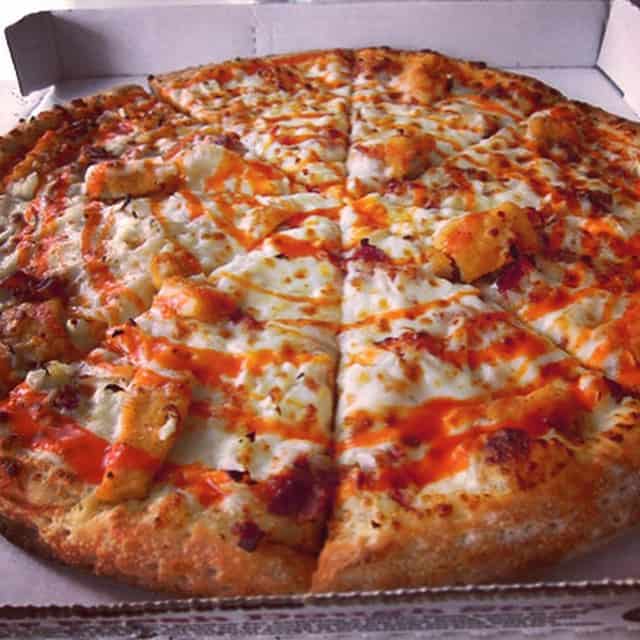 Typical ingredients: Cheese, grilled chicken breast.
Price: $19.99
One of the most well-known orders from Domino's is the Buffalo Chicken pizza. Its popularity is due to the combination of butter and hot sauce, which makes for a fantastic treat at a bar.
Domino's Buffalo Chicken pizza offers you a delectable bite. You'll adore its sauce, which has been mixed with tasteful sprinkles of spices and is not only sufficient for tasty dips. Even better, the pizza tastes lovely with the cheese added, which gives it a spicy and sweet flavor.
The pizza starts with its traditional base of dough, cheese, and sauce, premium grilled chicken, onion, and provolone cheese, after which it's then topped with Buffalo sauce. The cheese adds a silky sweetness, while the onion adds a nice crunch. After the meal, your mouth will be filled with the spiciness of the Buffalo wings.
4. Memphis BBQ Chicken Pizza
Typical ingredients: Crunchy fresh onions, premium grilled chicken, and cheese
Price: $14.99–$17.99 per pizza
Although this pizza type may be associated with summer, it's popular all year.
This Pizza offers savory, sweet, and a "little fire." As odd as it seems, it's the perfect way to describe Domino's Memphis BBQ Chicken Pizza, which they refer to as "summer in a box."
The pizza features three types of cheese as the base: mozzarella, provolone, and cheddar (which gives additional flavor). Domino's then adds quality grilled chicken and freshly cut, extra-crunchy onions. After that, delicious barbeque sauce is drizzled over your pizza.
Still, the well-cooked chicken gives the Memphis BBQ pizza a luscious texture. To swallow, you don't need to chew as much.
Domino's prepares the wings with barbecue sauce, which has a sweet flavor.
Here's a video on how to make Memphis BBQ Chicken Pizza:

5. Honolulu Hawaiian Pizza
Typical ingredients: Sliced ham, smoked bacon, pineapple, roasted red peppers, and cheese.
Price: $13.99–$17.99 per pizza
A standard mozzarella cheese pizza with ham and pineapple is a classic Hawaiian pizza. Domino's tops those components with provolone cheese, crispy bacon, and roasted red peppers.
The Domino's Honolulu Hawaiian pizza has a lot of jalapeno peppers; that's certain.
Additionally, there is a lot of cheese — 40% more than Domino's standard pizzas. The crust itself is completely covered in cheese.
The red peppers provide a different sweetness than the pineapple, and the bacon adds a great texture. Once you've tried it, there's no turning back.
6. Deluxe Feast® Pizza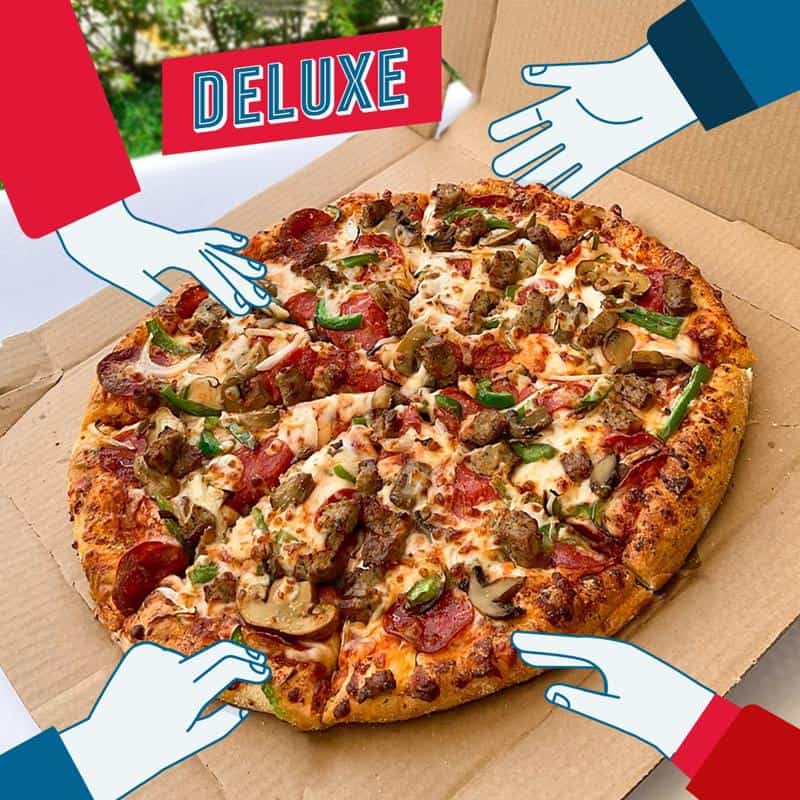 Typical ingredients: Pepperoni, Italian sausage, fresh green peppers, mushrooms, onions, and 100% real mozzarella cheese.
Price: $11.99 to $15.99 per price
Domino's Deluxe pizza has mozzarella cheese, pepperoni, Italian sausage, green peppers, mushrooms, and onions. The ExtravaganZZa specialty pizza is comparable to the Deluxe, which features a new reduced size.
Think of it as an "ExtravaganZZa-lite" designed for those who're hesitant to go the entire mile. It adds numerous tastes while keeping the overall pizza remarkably light.
The pizza has a lot of fresh onions, which helps balance the heavy meat and cheese. You may order this pie for gatherings as it appeals to the masses.
You can watch a video on how to prepare Deluxe pizza at your convenience.

7. Pacific Veggie Pizza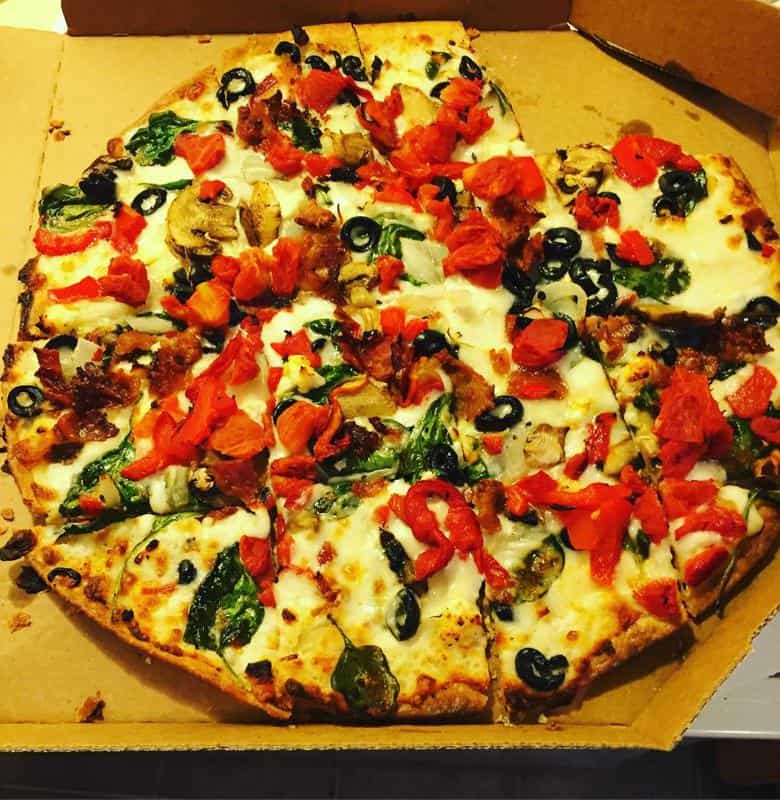 Typical ingredients: Roasted red peppers, baby spinach, onions, mushrooms, tomatoes, and black olives.
Price: $13.99–$17.99 per pizza
Do you want pizza and a salad at the same time? If so, the Pacific Veggie pizza from Domino's is the perfect vegetarian pizza made just for you because it's simply a pizza featuring a salad on top.
The Pacific Vegetarian pizza is both remarkably healthful and tasty. Although it lacks sausage and pepperoni, it's jam-packed with ingredients and tastes.
It's covered with the customary Robust Inspired tomato sauce, spinach, mushrooms, diced tomatoes, onions, black olives, roasted red peppers, and a mix of feta, provolone, and mozzarella cheese. If you're throwing a party, it's a decent addition.
Although it's slightly lighter than meat pizza, meat lovers can enjoy it. Thus, it's an excellent choice for everyone.
8. MeatZZa Pizza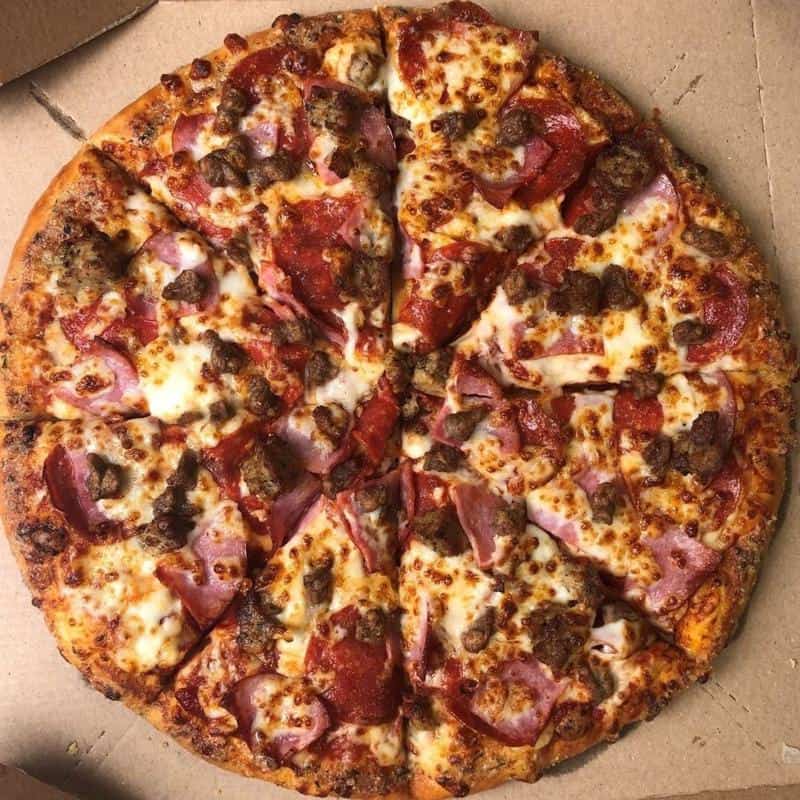 Typical ingredients: Meatzza, a meat-crust pizza, coconut flour, and cauliflower.
Price: $11.99–$17.99 per pizza
Meat pizza is the best for meat lovers who enjoy pizza. Domino's specially created the MeatZZa Pizza recipe for the meat enthusiast in your family.
This dish has a ton of meat, including two layers of mozzarella cheese and vast quantities of beef, ham, Italian sausage, and pepperoni.
If you want to consume enough meat for the entire week, the MeatZZa is a good option, given what it comprises.
Check the video on how to make your favorite MeatZZa pizza.

9. Philly Cheese Steak Pizza
Typical ingredients: Caramelized onions, bell peppers, provolone, and American cheese
Price: $14.99–$17.99 per pizza
Domino's uses flavorful, melted, and complete ingredients to prepare a delicious pizza called the Philly Cheese Steak Pizza. This pizza is tagged the "best sandwich in the world," according to Philadelphians and other cheesesteak devotees.
Domino's tops this pizza with provolone and American cheeses, fresh beef tenderloins, onions, mushrooms, and green peppers.
The various vegetables in the pizza provide a healthy nutritional balance and are delicately cooked. Again, the meat is thinly sliced, and the salting is just proper.
Its unique preparation enhances the flavor of the pizza as a whole. Additionally, you can taste the flavor of well-melted cheese.
Although it seems like a lot, everything works out well. This pizza is very gooey because of the variety of cheese.
You can watch a video on how to make your own Philly cheese steak pizza at home.

10. Cali Chicken Bacon Ranch Pizza
Typical ingredients: Bacon flavor, garlic parmesan white sauce, grilled chicken breast, tomatoes, 100% real mozzarella, and provolone
Price: $11.99–$15.99 per pizza
Domino's Cali Chicken Bacon Ranch is a perfect example of how "fresh and vibrant" comes to mind each time you think about California. It merges a host of ingredients to create a peculiar pizza.
This pizza utilizes Domino's garlic parmesan white sauce—quite similar to what an Alfredo contains—instead of their regular pizza sauce. Afterward, bacon, tomatoes, and grilled chicken are arranged on the provolone and mozzarella.
When it comes to pizza, the sauce is better as a side dish.
However, this pizza is a better option than attempting to divide a sandwich of the same sort into six portions if you want to feed a group of people who all like chicken, bacon, and ranch.
Also Read:
FAQs
What Makes Domino's Pizza Different?
Domino's pizza has a distinct flavor. Its crust comprises a bread-based dough with a high gluten level; most of its rivals use a conventional dough with lower gluten content.
What's Domino's Most Popular Pizza?
One of the most prominent orders from Domino's is the Buffalo Chicken pizza. You should try it today if you haven't already. Its popularity is attributable to the combination of butter and spicy sauce, making it a beautiful bar treat.
How Large Are Domino's Pizzas?
Pizzas of various sizes are sold in Domino's. Domino's pizzas are available in sizes ranging from 10 inches small to 16 inches X-large for thin, super-thin, and fragile crust.
Typically, pizzas come in three dimensions: large (14 inches in diameter), medium (12 inches), and small (10 inches).
Conclusion
When placing a Domino's order, you should be aware of the various delightful flavors you can have. Since they're reliable, quick, and can create your pizza virtually anyhow you desire, Domino's has been at the center of the pizza market for years. Consequently, a lot of people adore the chain.
Domino's regularly experiments with new flavors and menu items, most of which are definite hits. Instead of ordering your usual, try one of these new favorites on your next order, and you won't be disappointed.