Most people know Orlando as the home to countless theme parks. Most notable is none other than Walt Disney World. Another major destination is Universal Orlando which includes Universal Studios, Islands of Adventure, and the Wizarding World of Harry Potter.
But not many know that as diverse as the city's fascinating theme parks are, so is Orlando's culinary scene. Whether you're looking for local American restaurants, a global-inspired meal, or modern and elevated food, Orlando has everything you might be craving.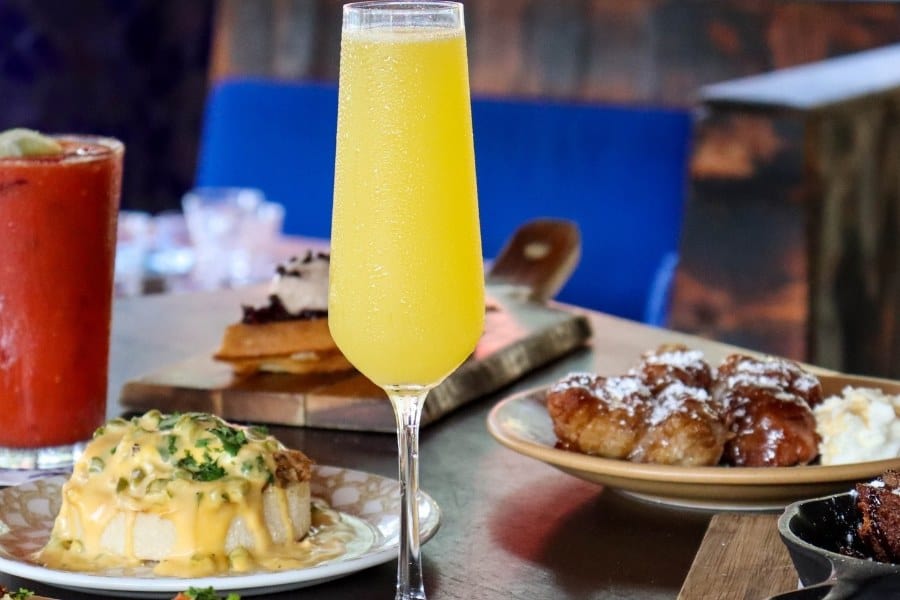 Once in a while, everyone loves indulging in brunch. Especially if you had a fun but exhausting trip touring Orlando's exciting theme parks.
Brunch is undoubtedly one of the best meals ever created. It is the meal you can easily feast on savory and mouthwatering sweet dishes at the same time while indulging shamelessly in tasty mimosas.
So, to help you find the best places for brunch, we gathered the best restaurants around Orlando.
Best Breakfast & Brunch Places in Orlando
Cafe Tu Tu Tango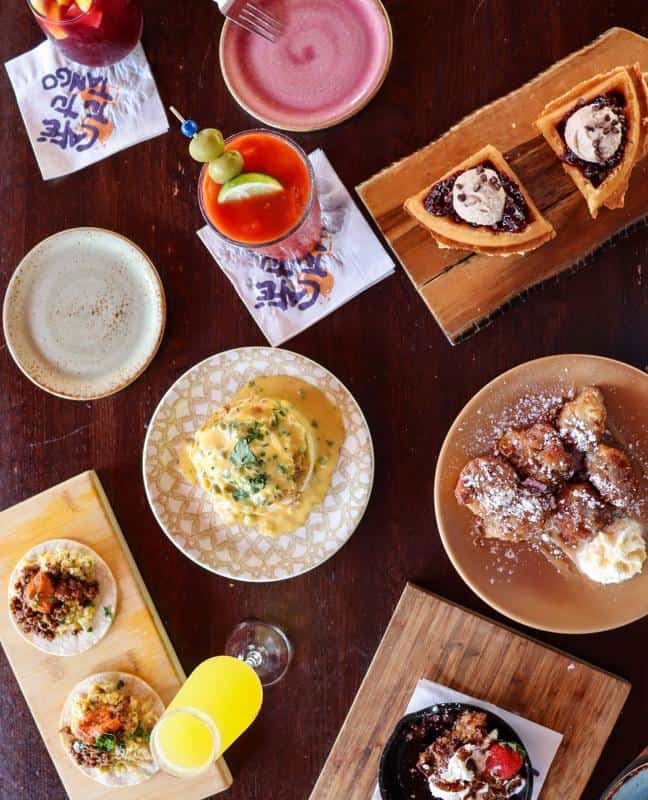 Address: 8625 International Dr, Orlando, FL 32819
Phone: +1 407 248 2222
Known For: tapas-style brunch menu, bottomless mimosa
Café Tu Tu Tango has a fun and boisterous vibe, offering a unique experience with one of the best brunches in Orlando. The food is served tapas-style, allowing you to try as many dishes as you wish.
Specifically, they offer a bottomless option featuring a taco bar and sweet and savory waffle station at an affordable price and family-friendly flavors. You can try dishes from Butter Chicken Tikka Masala to Crispy Brussels sprouts.
For the perfect Sunday brunch, go for a delicious Bloody Mary or a Mimosa and enjoy your morning with live music, entertainment, and resident artists painting live while you dine.
Santiago's Bodega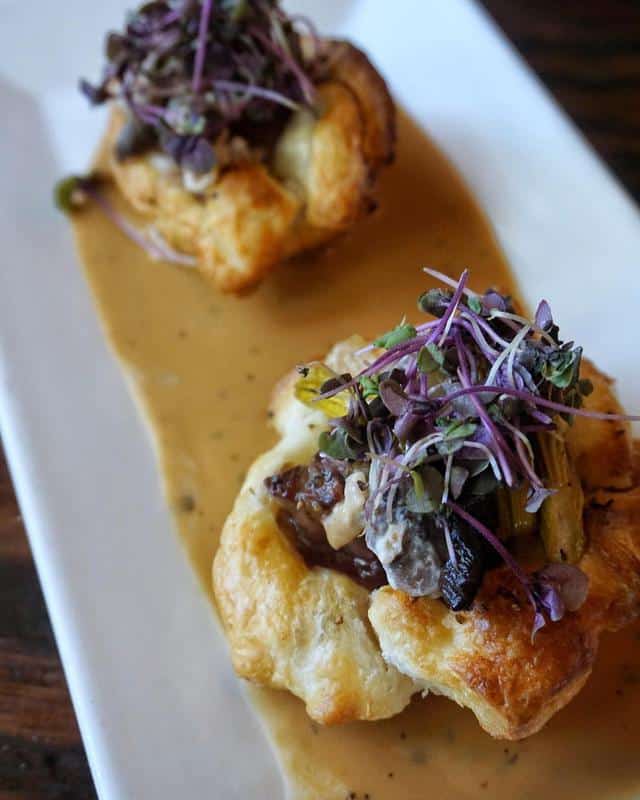 Address: 802 Virginia Dr, Orlando, FL 32803
Phone: +1 407 412 6979
Known For: all-you-can-eat menu
Located at Ivanhoe Village, Santiago's Bodega offers a weekend brunch specializing in an all-you-can-eat menu with various delicious hot, cold, sweet, and savory tapas.
At Santiago's Bodega, you can indulge in a diverse menu of International dishes such as snow crab and peel-and-eat shrimp, biscuits and gravy, and croissant French toast.
But of course, you can't have a perfect brunch without a delicious mimosa or a sweet sangria. No matter what you choose, this is a restaurant with eclectic food and drinks that will make you want more and more.
Bulla Gastrobar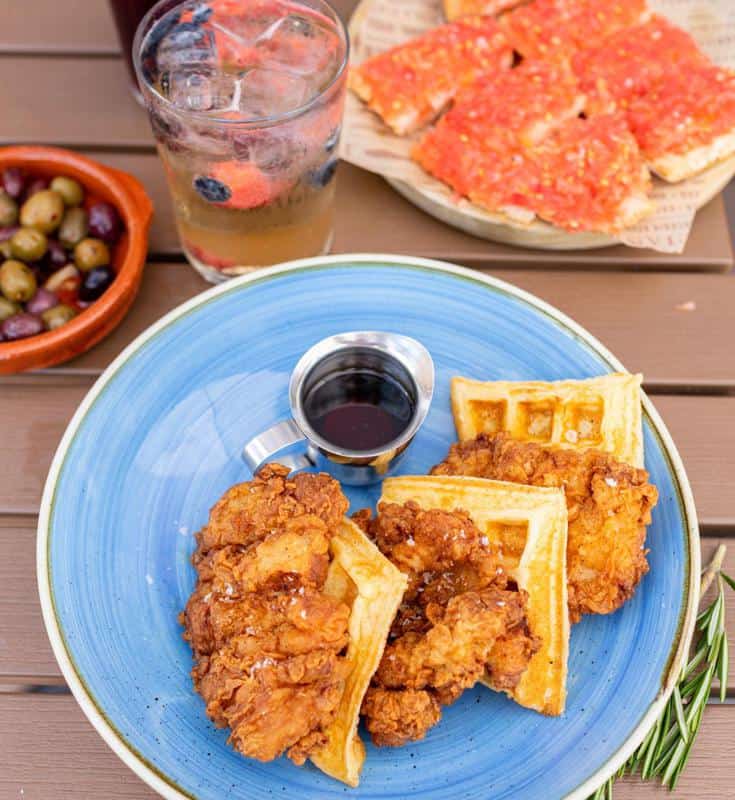 Address: 110 S Orlando Ave #7, Winter Park, FL 32789
Phone: +1 321 214 6120
Known For: bottomless mimosas and sangrias
Located in the Winter Park area, Bulla Gastrobar serves a Spanish-based brunch menu with bottomless mimosas and sangrias. It is a lovely spot for a unique breakfast experience.
Bulla Gastrobar offers a la carte options or an extensive three-course prix fixe menu. Some of the best dishes you can choose from are garbanzo frito with chorizo and poached egg and a montadito of smoked salmon, cream cheese, and truffle honey.
At Bulla, expect a steady stream of delectable tapas, tasty cocktails, and a funky ambiance for a relaxing weekend brunch with friends and family.
Canvas Restaurant & Market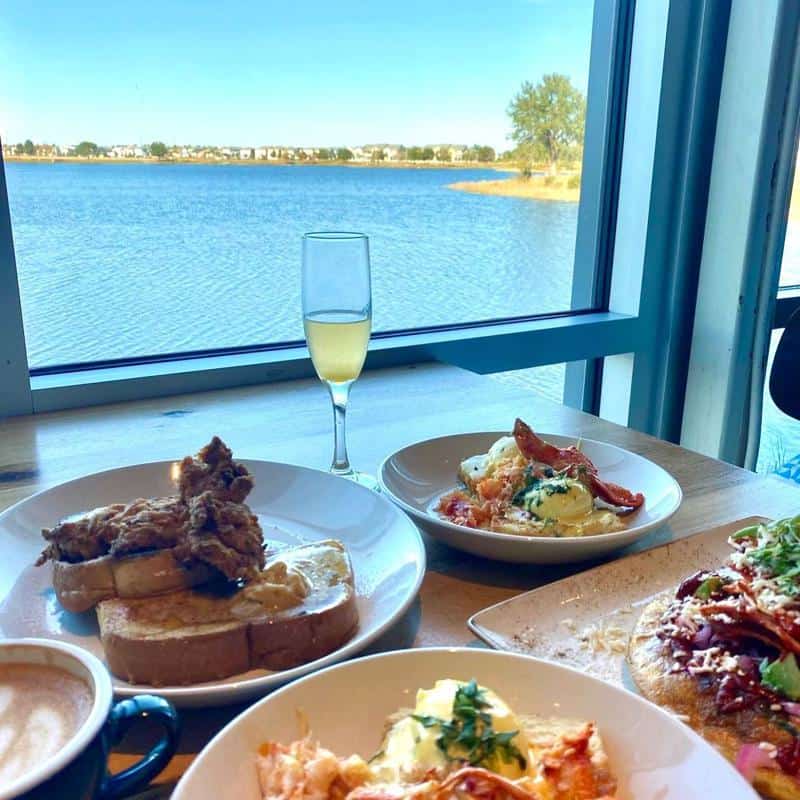 Address: 13615 Sachs Avenue, Orlando, FL 32827
Phone: +1 407 313 7800
Known For: creative classic brunch dishes, waterfront setting
Located in the Laureate Park Village Center in the heart of Lake Nona, Canvas Restaurant serves creative Southern and Latin American-based dishes. They offer innovative classic brunch dishes for every taste and preference.
The menu features savory, sweet, spicy, and balanced dishes such as omelets, egg scrambles, pancakes, French toast, and waffles, as well as gourmet sandwiches, fresh salads, seafood, and decadent desserts.
Along with the globally-inspired menu and creative cocktails, the restaurant has an inviting atmosphere with a peaceful waterfront setting, an outdoor herb garden, and an indoor market.
Also Read: Best Seafood Restaurants in Cocoa Beach
Briarpatch Restaurant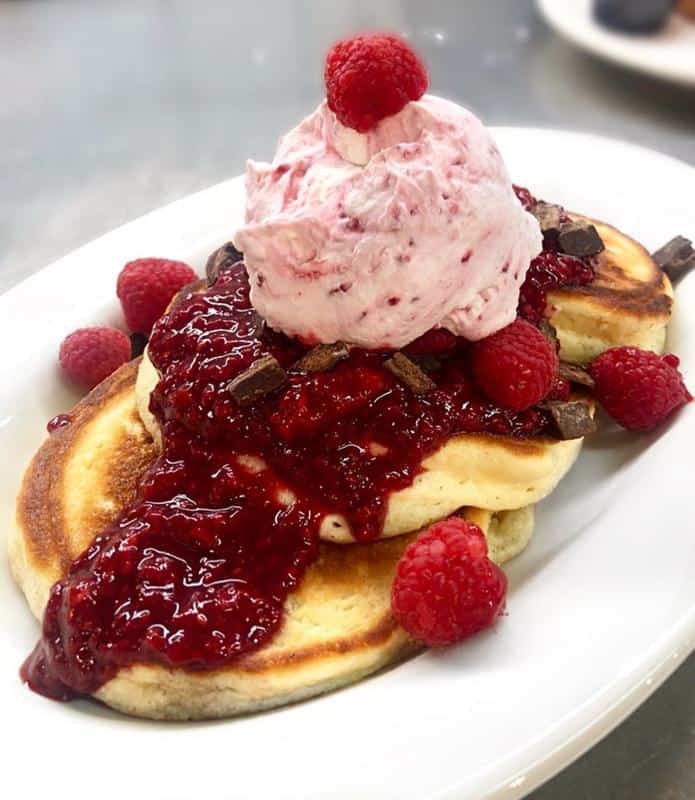 Address: 252 N Park Ave #3814, Winter Park, FL 32789
Phone: +1 407 628 8651
Known For: classic comfort food with a modern twist
Located in Winter Park, Briarpatch Restaurant is a quaint breakfast restaurant featuring a charming atmosphere. It has been on Orlando's culinary scene for over 40 years, and they continuously serve tasty brunch bites.
Their brunch menu consists of classic delicious meals of griddled goodies and savory eggy plates. If you prefer a sweeter palate, indulge in carnitas, pear pancakes, or prosecco peach bellini.
The restaurant has an outdoor patio where you can blend in with the bustling crowd with a mimosa. Or you can retreat inside the pleasant dining room for sandwiches, homemade pastries, and cakes.
Se7en Bites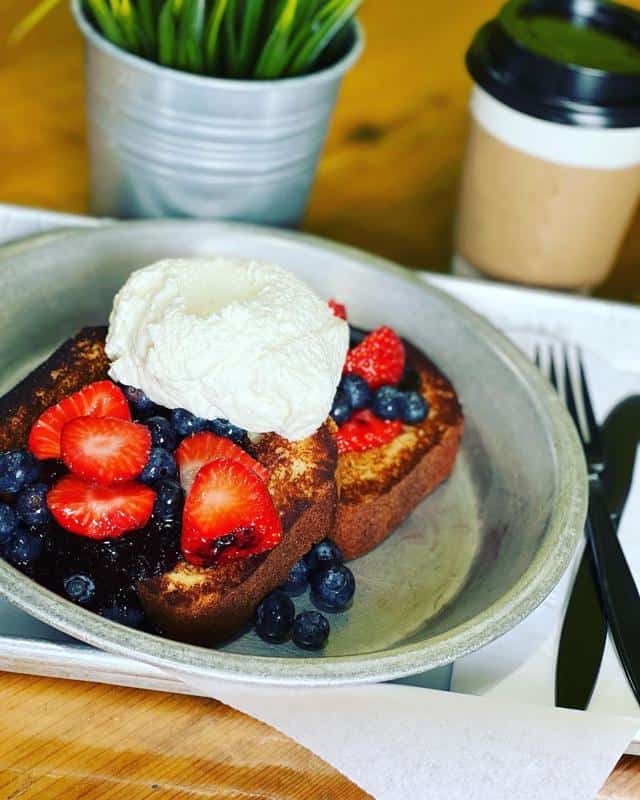 Address: 617 Primrose Dr, Orlando, FL 32803
Phone: +1 407 203 0727
Known For: southern comfort food with a modern twist
Located in the heart of Orlando's Milk District, Se7en Bites is a quaint bakery offering creative breakfast dishes. Its menu is mainly Southern-inspired with a modern twist.
At Se7en Bites, you can enjoy made-from-scratch dishes prepared only from fresh, local ingredients. You can indulge in refreshing fruit-infused cobblers, handcrafted moon pies, creamy buttermilk biscuits or thick gravy, homemade scones and jam, and fluffy egg omelets.
Otherwise, you can enjoy classic Southern comfort food such as baked eggs and ham with pimento cheese, cheddar chive grits, smoked bacon, and buttermilk garlic biscuits.
The Ravenous Pig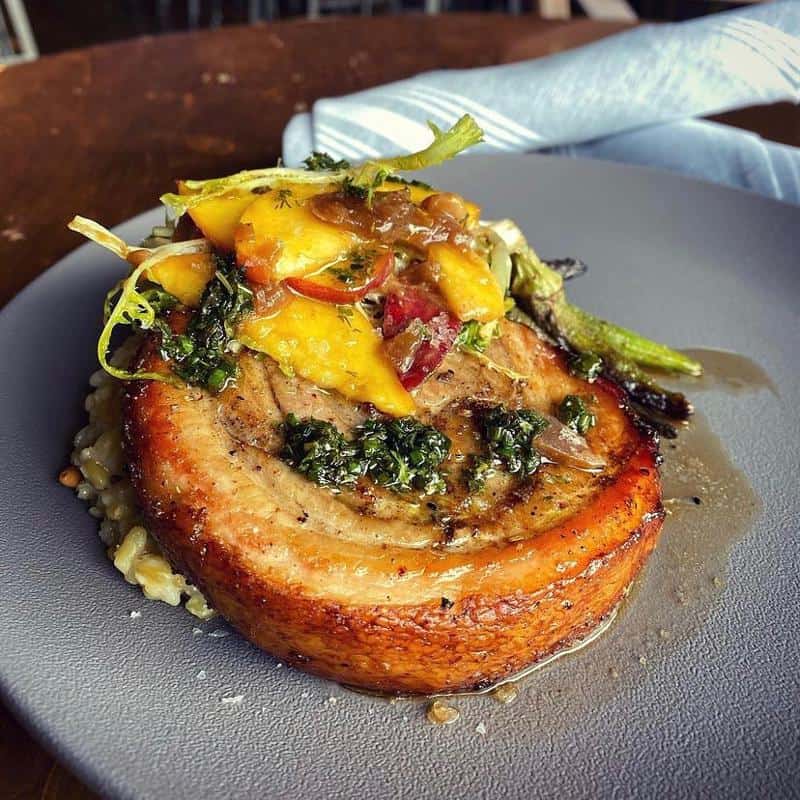 Address: 565 W Fairbanks Ave, Winter Park, FL 32789
Phone: +1 407 628 2333
Known For: lavish ambiance and excellent high-quality menu
The Ravenous Pig is one of the city's best restaurants, so naturally, it also serves one of the city's best brunches every weekend. It is located in the Winter Park area and offers a lavish brunch experience.
Pastry lovers can indulge in sweet biscuits and hand pies. Otherwise, if you are looking for a rather classic dish, dig into lobster frittatas or grab a French toast served with apple, walnut streusel, and apple cider caramel.
In addition to its impressive brunch, the Ravenous Pig also has a beer garden, wine menus, and an overall elegant ambiance.
White Wolf Cafe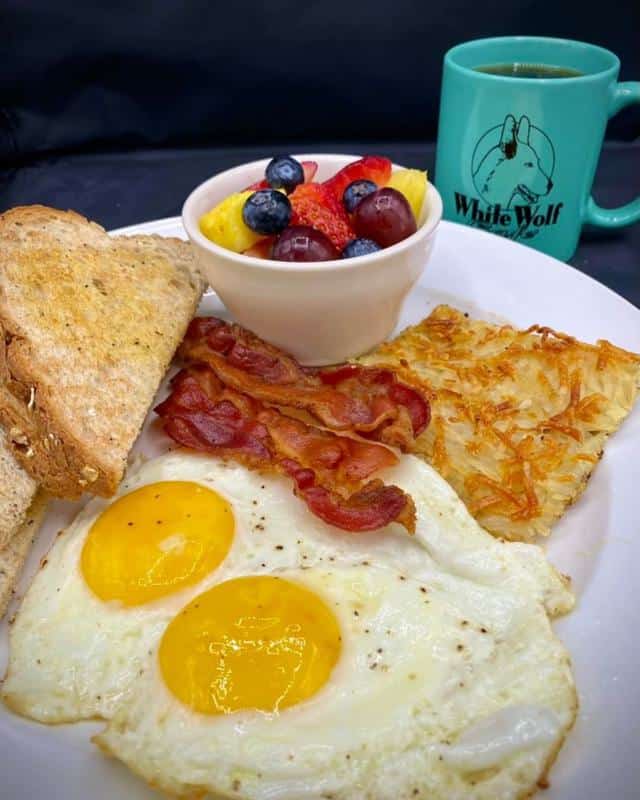 Address: 1829 N Orange Ave, Orlando, FL 32804
Phone: +1 407 895 9911
Known For: impressive and eclectic decor
White Wolf Cafe is an eclectic neighborhood restaurant in the Ivanhoe Village District. Once, it used to be an antique store, but now it transformed into a folk dining room with an impressive art collection and unique light fixtures.
White Wolf Cafe offers a weekend brunch that is both delightful and affordable. You can choose from a mouthwatering variety of specialty brunch dishes, salads, sandwiches, and more.
Specifically, it has a creative menu of classic comfort food with a modern twist. Also on the menu are build-your-own-omelets with various filling choices, homemade savory and sweet dishes, fresh fruit bowls, and freshly brewed coffee.
The Hammered Lamb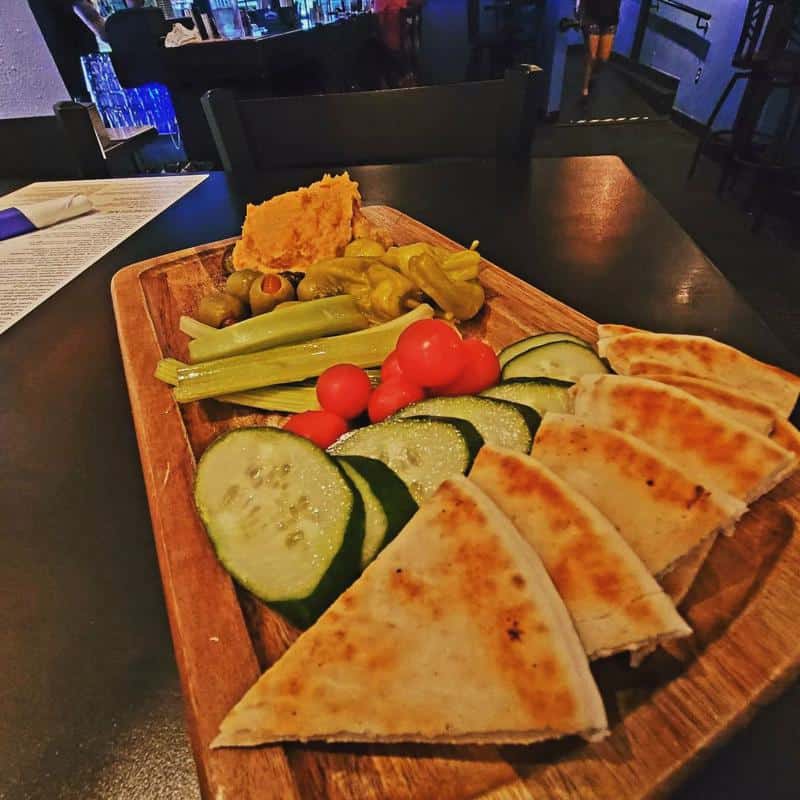 Address: 1235 N Orange Ave, Orlando, FL 32804
Phone: +1 407 704 3200
Known For: lively and fun atmosphere
The Hammered Lamb is a laid-back pub at Ivanhoe Village famous for its mouthwatering lamb dishes. Its lively atmosphere with ping pong, live music, and outdoor bar area made it popular for a weekend brunch outing.
On the brunch menu, you can find dishes such as pork belly avocado toast, Nashville hot chicken 'n' waffles, and a vegan breakfast sandwich served on a warm pretzel bun.
But what makes it even more popular are the 15 different mimosas and one of the best Bloody Mary bars in the city that can be customized with 75 different items.
Maxine's On Shine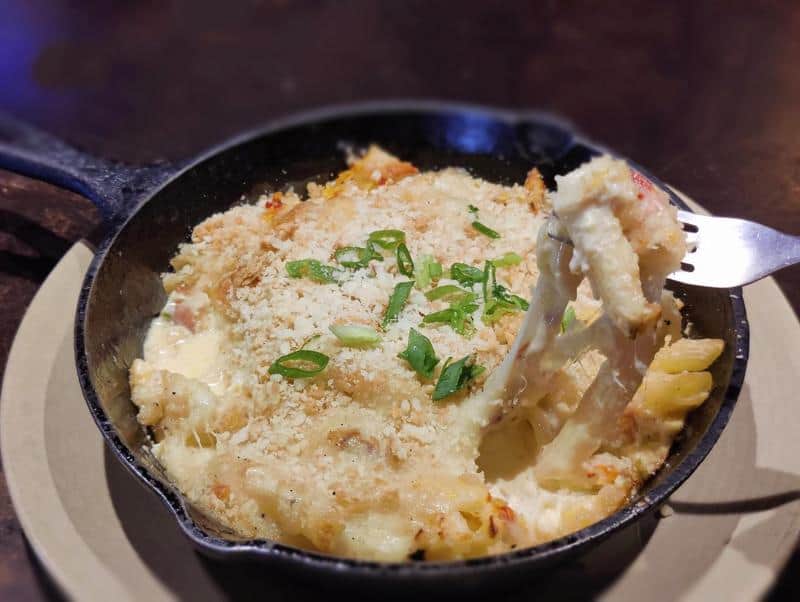 Address: 337 Shine Ave, Orlando, FL 32803
Phone: +1 407 674 6841
Known For: creative brunch menu with southern-based flavors
Maxine's on Shine is a local favorite in a residential neighborhood surrounded by the Thornton Park District, Colonialtown, and The Milk District. It has a creative menu that will surely delight your taste buds.
Its brunch menu, also called Rejuicination Brunch, consists of Southern-leaning dishes like fried chicken biscuit bowl, stout braised brisket omelet, and seafood creole served over polenta.
The weekend brunch also offers live music, a cozy outdoor dining space, and all the favorite brunch beverages, including sangria, mimosas, and the biggest Bloody Marys in town.
Mia's Italian Kitchen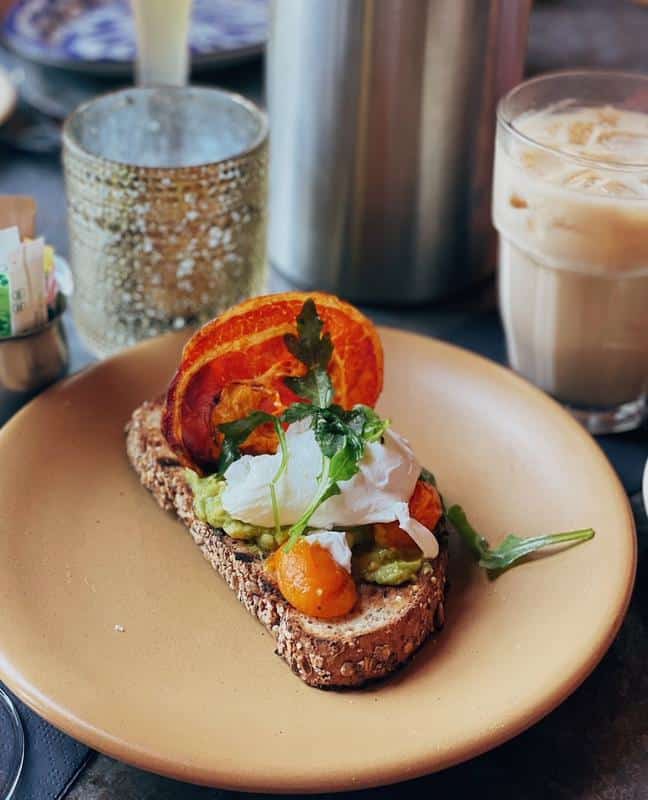 Address: 8717 International Dr, Orlando, FL 32819
Phone: +1 407 601 7130
Known For: authentic Italian brunch menu
Mia's Italian Kitchen celebrates family and Italian cooking heritage with fantastic dining deals. The restaurant promises delicious food at affordable prices and a fun, loving environment.
Many locals think dining here is the closest you can get to authentic Italian cuisine. In fact, you will feel like you are being transported to Italy from Orlando.
To have a full taste of Italy, check out their bottomless brunch, where you can order as many small plates as you desire for a fixed price. Add the bottomless mimosa bar, and you've got a filling, affordable brunch.
Peach Valley Cafe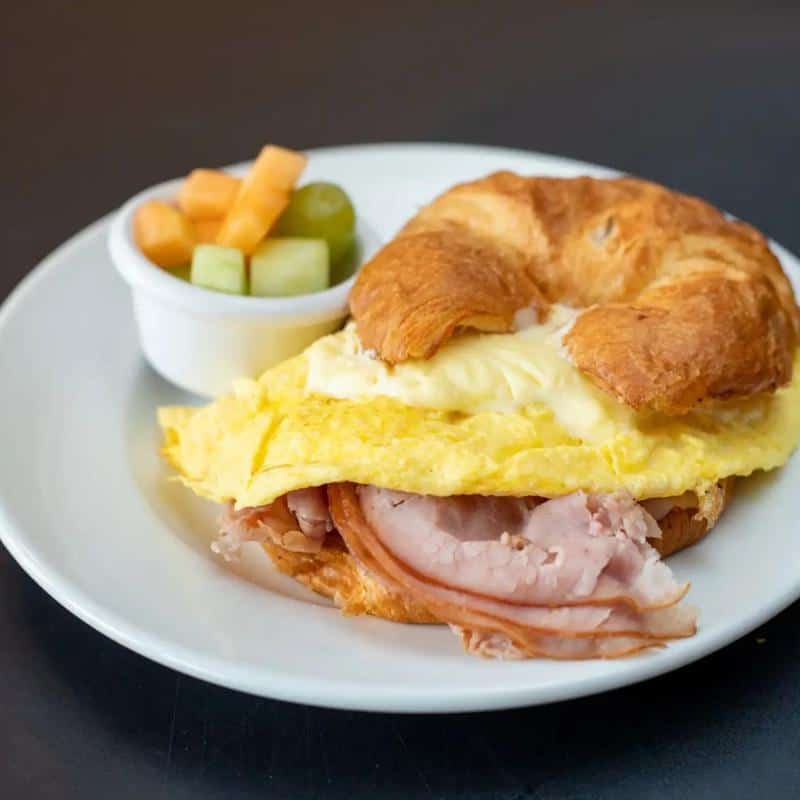 Address: 2849 S Orange Ave #310, Orlando, FL 32806
Phone: +1 407 896 4400
Known For: traditional American brunch menu
Peach Valley Cafe is a casual, family-friendly local chain serving a range of American breakfast, brunch, and lunch daily in a warm and welcoming setting.
The café became popular thanks to its creative brunch menu of classic dishes such as Peach Cinnamon Roll Pancakes, stacks of pancakes and Belgian waffles with sweet or savory toppings, and a variety of egg dishes like omelets and scrambled or skillets and egg sandwiches.
Its signature dish is the Birmingham Biscuit Love, a griddled buttermilk drop biscuit topped with scrambled egg, savory breakfast sausage, and apple butter served with breakfast potatoes.
Reyes Mezcaleria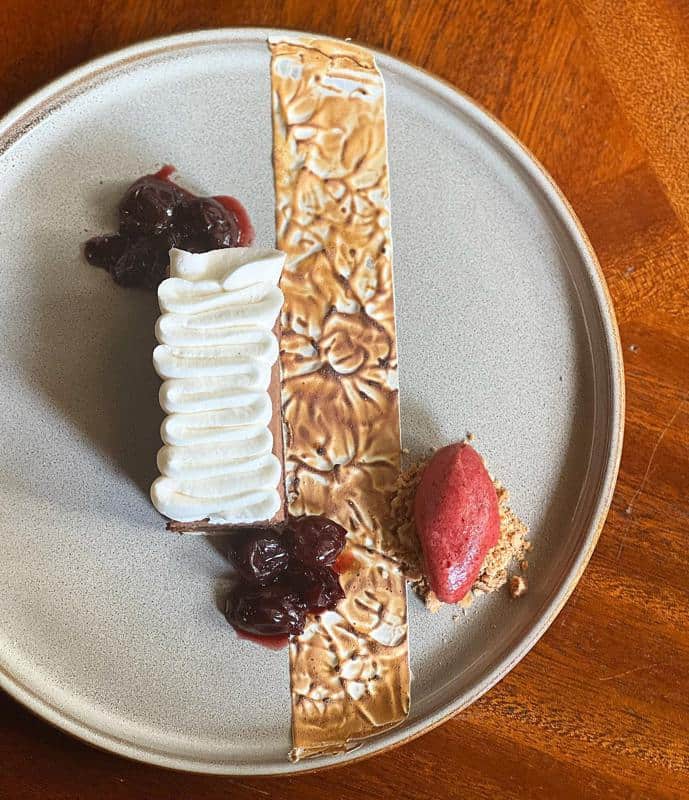 Address: 821 N Orange Ave, Orlando, FL 32801
Phone: +1 407 868 9007
Known For: Mexican brunch menu
Reyes Mezcaleria is the place to go for the best Mexican cuisine in the city. After all, the restaurant is often praised for its regional Mexican dishes and broad tequila-mezcal selection.
Furthermore, every weekend, Michoacan chef Wendy Lopez creates stellar brunch dishes and tasty mid-morning cocktails, including micheladas, mimosas, sangrias, and Bloody Marys.
Dishes you should not miss are the open-faced chicken tinga mollete and the chorizo brioche and tres leches French toast. They will surely blow your mind.
Sweet Mama's Restaurant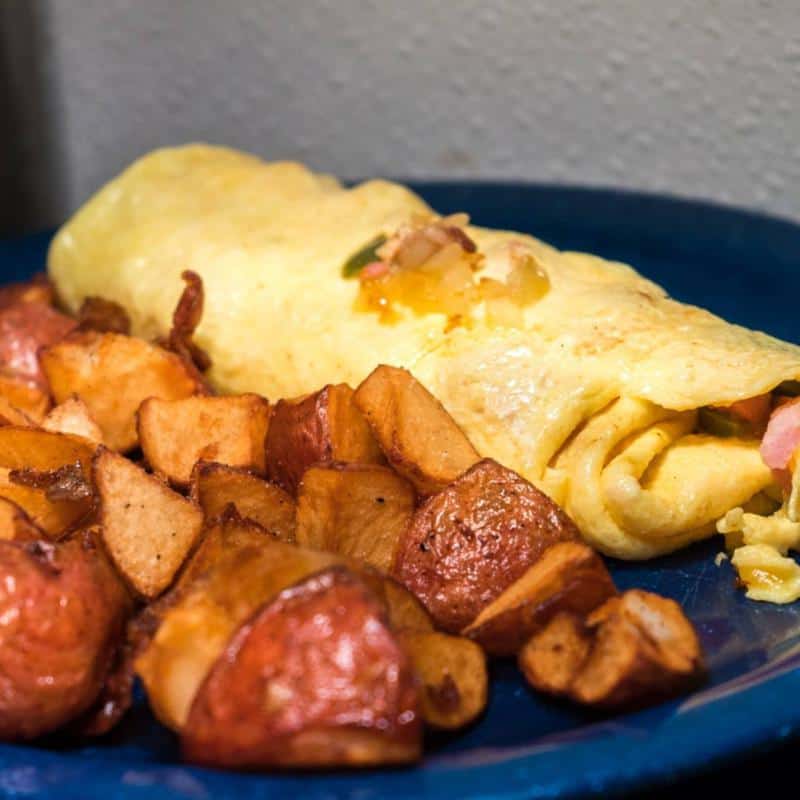 Address: 10743 Narcoossee Rd, Orlando, FL 32832
Phone: +1 407 282 7737
Known For: daily brunch menu
Sweet Mama's Restaurant is the place to go for delicious breakfasts and a relaxing Sunday brunch. Set on Narcoossee Road, it specializes in American comfort food and hot or cold beverages.
The brunch menu includes classics of omelets, egg sandwiches, and breakfast plates of bacon, eggs, sausages, hash browns, grits and gravy, buttermilk biscuits and gravy, and griddle regulars like pancakes, French toast, and Belgian waffles.
The restaurant is always striving to deliver satisfaction with delicious classic meals alongside a lively environment with live music and excellent service. It is a place you will surely enjoy your morning leisurely.
Artisan's Table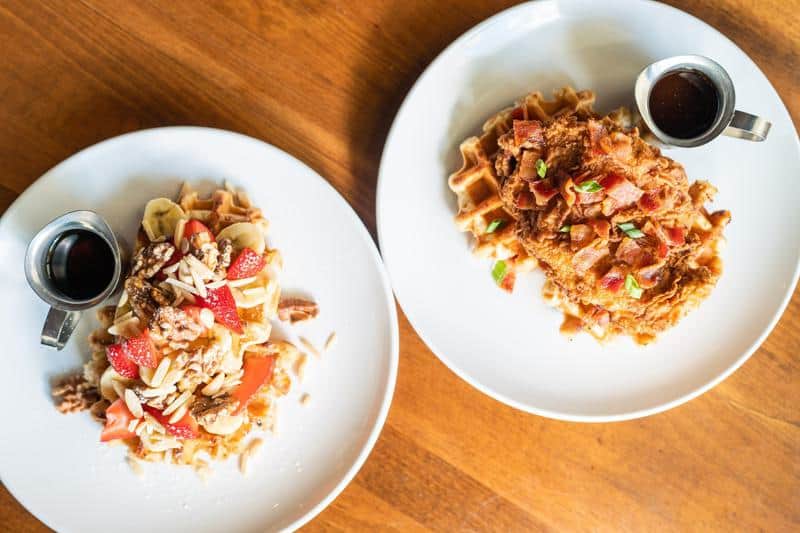 Address: 55 W Church St Ste 128, Orlando, FL 32801
Phone: +1 407 730 7499
Known For: creative menu with globally inspired dishes
Artisan's Table is a creative restaurant in the heart of Downtown, serving seasonally inspired American cuisine in an airy, spacious dining room with a casual ambiance.
The restaurant uses only the freshest, locally sourced ingredients, offering a delicious, healthy menu. Its dishes range from steel-cut oatmeal, Greek yogurt, fresh fruit, and homemade quiche of the day to black pepper-crusted bacon, French toast, and egg sandwiches.
However, if you prefer something more exotic, try the signature Japanese bowl, featuring bacon, scallion, togarashi, sticky rice, and sweet chili sauce topped with two eggs. The restaurant also has a unique coffee bar, serving house-roasted coffee and specialty coffee drinks.
Read More:
Final Thoughts
Orlando is a beautiful city with plenty of breakfast and brunch options that will satisfy everyone's cravings. From casual eateries to grab a breakfast sandwich to a local cafe with house-roasted gourmet coffee and buzzy restaurants to feast on local, classic hearty dishes. No matter what you choose, you will be delighted with the city's diverse, rich flavored and exciting cuisine.
Map of Best Breakfast & Brunch Places in Orlando