If you don't know all the best restaurants or spots in a new city, you might get the wrong impression, and your experience may not be as expected. Many know Daytona as the location of one of the world's most famous beaches, bet it can offer so much more, particularly excellent seafood.
If you are a seafood enthusiast and are planning a trip to Daytona soon, then we recommend you check this list for some of our best seafood restaurants in Daytona.
Because of the water in Daytona, it isn't challenging to find fresh seafood in the area, and we'll tell you all the right spots you should be looking at.
Best Seafood Restaurants in Daytona Beach
Ocean Deck Restaurant & Beach Club
Hours: Monday – Sunday: 11 am – 2 am
Address: 127 S Ocean Ave, Daytona Beach, FL 32118
Phone: (386) 253-5224
Price: $$
You will find the Ocean Deck restaurant and beach club ideally located on the waterfront and in a 3-story building that has been in operation since 1940.
One of the most notable features of this restaurant is its reggae bar which makes for great evenings of great food and live entertainment. It is an excellent spot in Daytona if you're looking for a bar, burgers, and fantastic seafood.
This is a perfect spot for anyone to enjoy some seafood and drinks while relaxing by the beach. You can have all the fun you want, sticking your toes in the sand and enjoying your favorite cocktail at the same time. We recommend that you try the flounder filet to appreciate what a real Florida treat means properly.
Pros
Large portions for reasonably priced food
Friendly and fast staff
Fantastic craft cocktails on their menu
Excellent atmosphere to relax and enjoy your food
There's a gift shop outside the upstairs doors to remember your Daytona trip.
Cons
You have to pay a non-refundable parking fee
Poor maintenance of facilities in the restaurant
Sessions Restaurant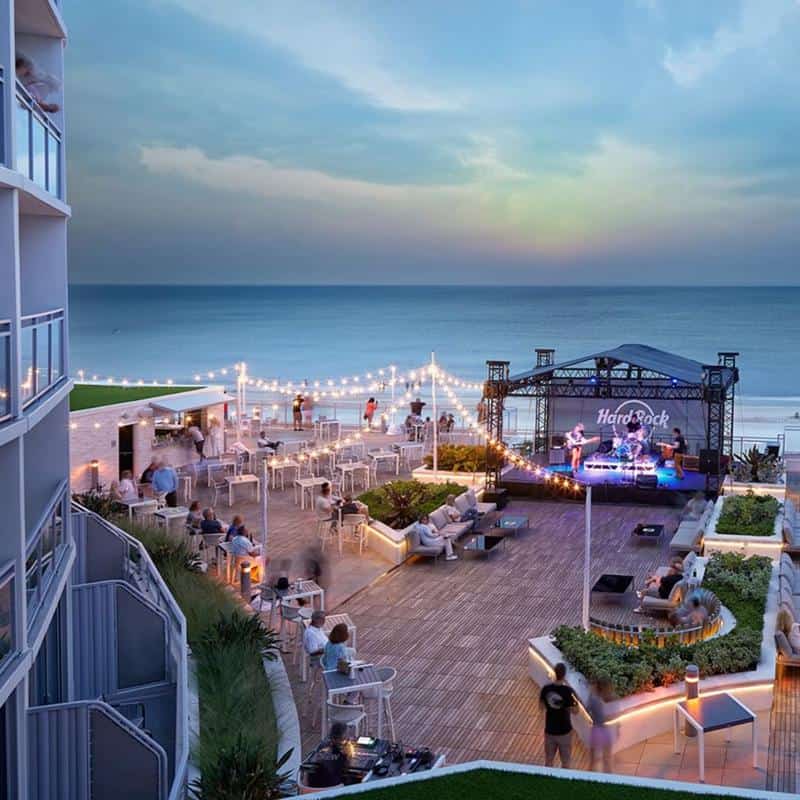 Hours: Everyday 7 am – 11 pm
Address: 918 N Atlantic Ave, Daytona Beach, FL 32118
Phone: (386) 947-7387
Price: $$
Sessions Restaurant is a great place to eat if you're visiting Daytona Beach from out of town because it is located in the famous Hard Rock Hotel off Highway A1A, close to the Holiday Inn & Suites. If you're staying in the Hard Rock Hotel, give this restaurant a visit. Sessions is known for its rock-star style and panoramic Atlantic Ocean views.
You can check out their breakfast, lunch, or dinner meals and libations and craft cocktails at their outdoor/indoor bar. We recommend the seafood fra with the option of two different kinds of pasta if you decide to visit.
Pros
Great atmosphere and ambiance for meals
Lovely views of the ocean from the restaurant
Good customer service
Excellent tasting food with great servings
Short wait time
Cons
Limited options on the menu
A bit on the expensive side
Bay Street Seafood Restaurant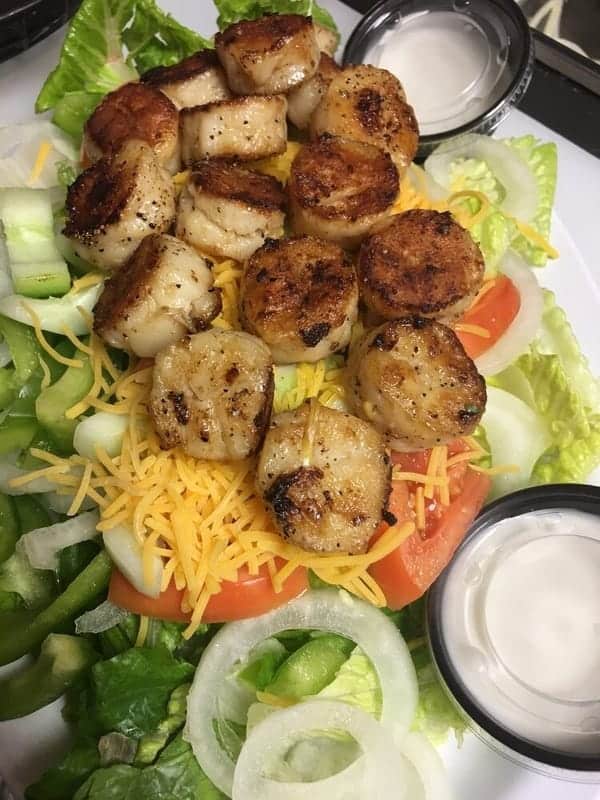 Hours: Tue – Sat, 11 am – 7:30 pm Closed Sundays & Mondays
Address: 141 Bay Street Daytona Beach, FL 32114
Phone: (386) 255-8650
Price: $$
Bay Street Seafood Restaurant focuses on providing a friendly neighborhood grill that appeals to customers. If you're in the area, be sure to catch their fresh, quality, and consistent food that appeals to a wide range.
Check out their menu for the several varieties available and make your pick. We recommend that you start with their hand-made gator bites or clam chowder. Bay Street seafood restaurant sources all their food and fish from the most delicate fish schools to give you the best possible dining experience.
Pros
Ample quantity of servings that make the price worth it
They prepare all their food to order, allowing you to experiment
Freshly sourced food that makes for excellent tastes and flavors
Great outdoor seating space
Quick service
Cons
Less than stellar decor
Some servers may be rude
4. The Oyster Pub and Sports Bar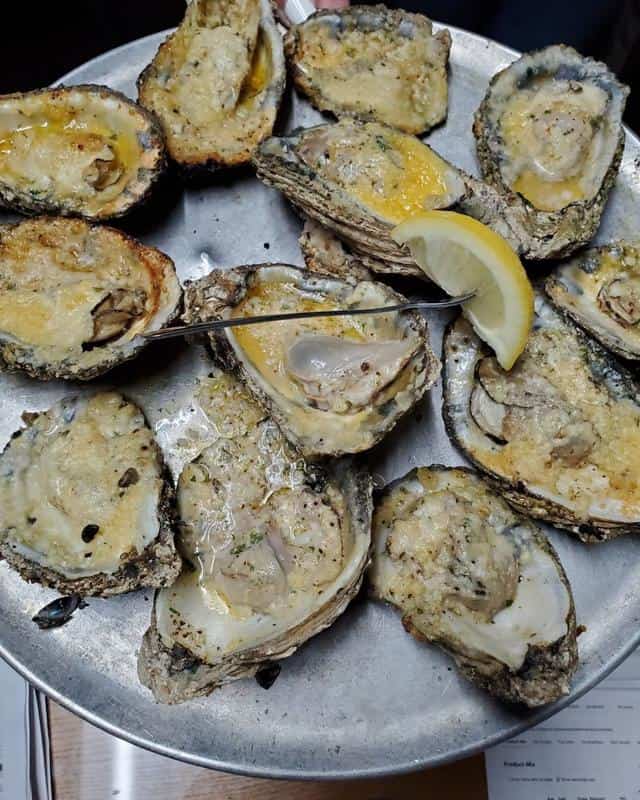 Hours: Sunday -Thursday 11:30am–11:00pm, Friday -Saturday 11:30am–12:00am
Address: 555 Seabreeze Blvd, Daytona Beach, FL 32118
Phone: (386) 255-6348
Price: $$
Just as the name says, no other establishment comes close to the Oyster Pub when it comes to oysters. They specialize in serving tasty, fresh oysters from the sea. You will find all their delightful recipes and combinations a delight if you're a lover of oysters.
This establishment is an old-fashioned pub with TVs on the walls, many drinks, and fresh seafood that you will thoroughly enjoy. We recommend that you start with the stuff oysters and the oysters Rockefeller.
Pros
Friendly and attentive servers
Great oyster recipes
Fresh food with large portions
Excellent prices
TV in your booth to watch games with a group
Cons
A bit of a dark ambiance
No great views because of the street dining
Chart House Seafood Restaurant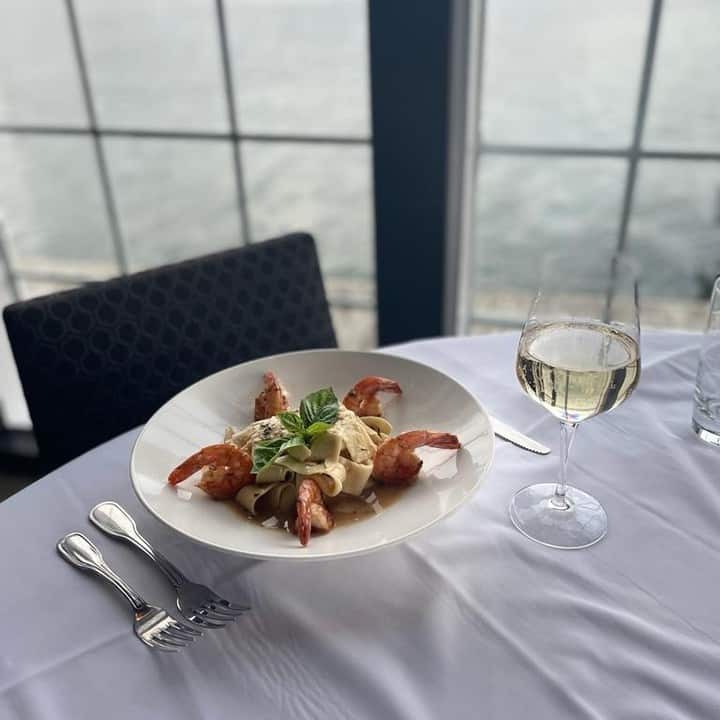 Hours: Sun – Thu: 4:30 PM – 9:30 PM Fri – Sat: 4:30 PM – 10:00 PM
Address: 1100 Marina Point Dr, Daytona Beach, FL 32114
Phone: (386) 255-9022
Price: $$
You might have come across this restaurant somewhere else, as it spans different states and cities across the US. Chart House has established itself as a spot that delivers high-quality food and service, hence its continued expansion. You will find that they serve some of the best flavored and tasty seafood and steaks across the area.
Apart from their food, they also have one of the nicest waterfronts in a restaurant I have seen in the entire city. You can choose either indoor or outdoor seating depending on your mood, and as a plus, there is a large outdoor patio on the river. The restaurant serves your food in an upscale setting, giving you exquisite dining views you can only dream of.
If you're looking for excellent seafood, wine options, and cocktails with the backdrop of formal dining settings, we highly recommend the Chart House Restaurant. On visiting the restaurant, if you don't know what to pick from the menu, we recommend the macadamia nut-crusted mahi-mahi; it's a must-try.
Pros
Intimate waterfront view to see the boats
Elegant and high-end looking setting
Wide variety of food and menu options
Attentive servers and outstanding service
A great atmosphere conducive for celebrating birthdays or other celebrations
Cons
The restaurant is a bit pricey
We suggest making reservations before visiting as they may not be space.
Caribbean Jack's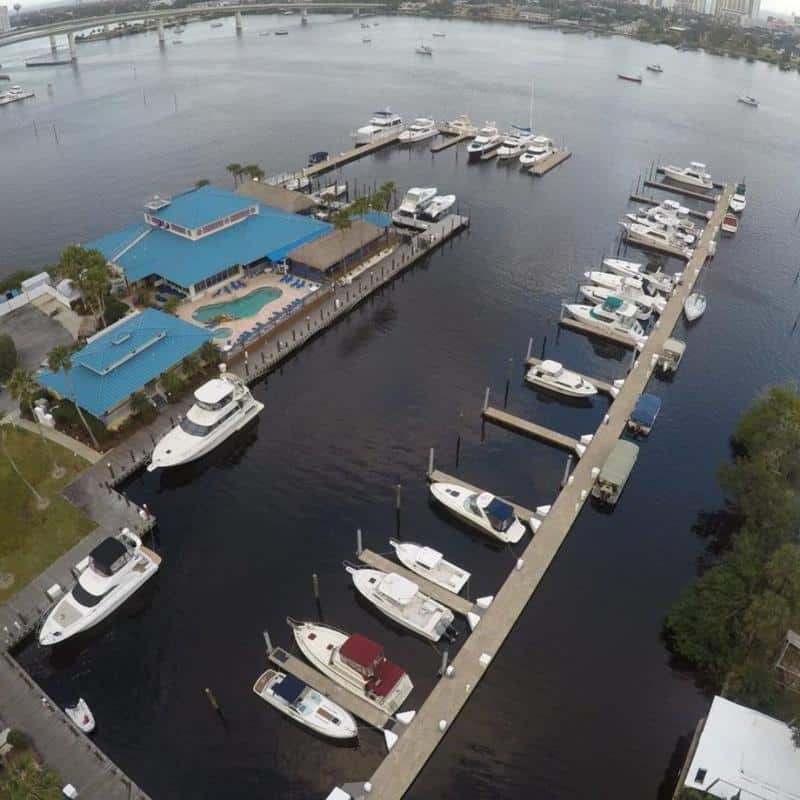 Hours: Sunday – Thursday 11:30 am – 9 pm, Friday – Saturday 11:30 am – 10 pm
Address: 721 Ballough Rd, Daytona Beach, FL 32114
Phone: (386) 523-3000
Price: $$
If you're looking for an excellent view of the water while you enjoy your meal, Caribbean Jacks is excellent. You will find the restaurant just off Ballough Road, positioned with a perfect beach view. The restaurant also has a dock for anyone that wishes to come by sea on their boat.
We recommend that you get the fried calamari as starters when you visit this restaurant. One of their most memorable meals is the Crabby Patty crab cake sandwich.
Pros
You may catch a live band playing on your visit
Excellent special drinks and food accompaniments
Great food with exquisite taste
Vibrant atmosphere
Outdoor seating available
Cons
Food is a bit on the pricey side
Some customers reported bad service
Fresh Box Seafood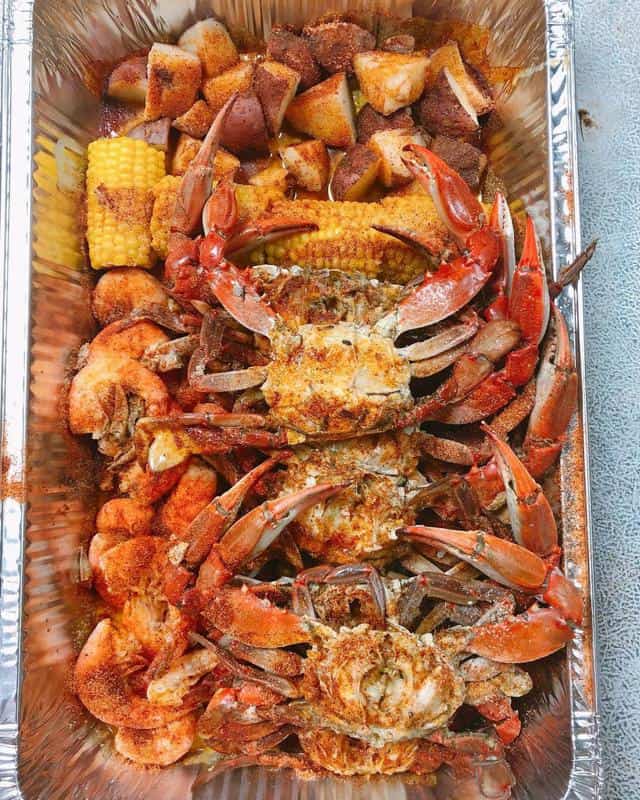 Hours: Mondays – Saturday 10 am – 7 pm, Sunday 11 am – 5 pm, Wednesdays Closed
Address: 1025 N Nova Rd Daytona Beach, FL 32117
Phone: (386) 255-0444
Price: $$$
This restaurant ranks high on our list, not just as the best seafood restaurant in Daytona but as the best restaurant overall. Fresh Box Seafood serves family-style steam trays and a large assortment of takeout-style seafood items from their menu. You can choose to dine in and enjoy the relaxed and casual setting or take your food to go.
If you're looking for family-style platters, look at no better place in Daytona. It is a great restaurant to go to with your friends or family. This restaurant is just off North Nova Road, close to the Home Acres neighborhood and north of the Holly Hill Plaza Shopping center.
Pros
Excellent and customizable food trays
Excellent quality and tender meat
The restaurant uses only freshly sourced crabs for their meals
Excellent quality platter with enticing smells
Excellent customer service
Cons
Prices are a bit on the high side
Plan for long wait times
Read More: Best Sushi in Daytona Beach, FL
Aunt Catfish's on the River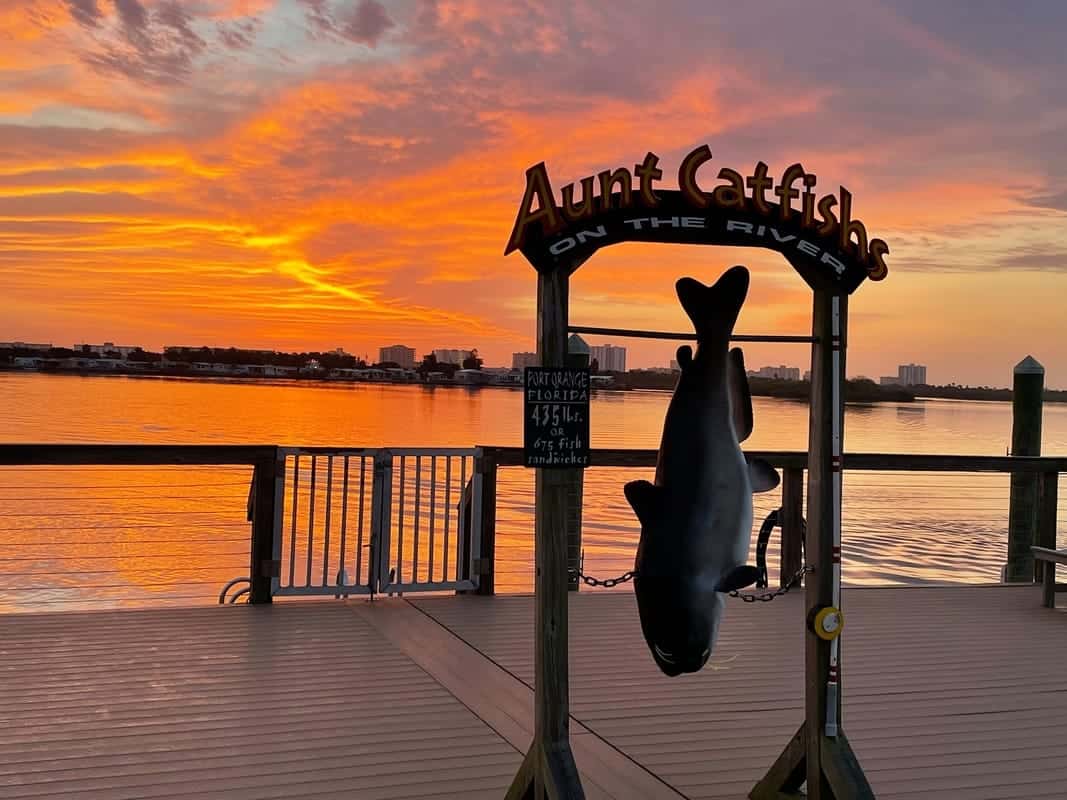 Hours: Monday – Thursday 3:30pm – 9pm, Friday and Saturday 11:30am – 9pm, Sunday 9am – 3pm
Address: 4009 Halifax Dr, Port Orange
Phone: (386) 767-4768
Price: $$
If you like to have Southern Style seafood, Aunt's Catfish on the river is perfect. It is a low-key, casual café on the river that gives you a relaxing view while enjoying large plates of food. Take a ride down to the restaurant and check out their menu. They focus on lunches through dinner, and you are sure to see some recipes that will surprise you.
Be sure to try out their cinnamon rolls, as it is what many of the visitors of this restaurant can't stop talking about.
Pros
Amazing views of the waterways
Outdoor seating for large groups
Fair prices
Great tasting food
Large food portions
Cons
Long wait times
No reservations
The Crab Stop of Daytona (Crab Stop II)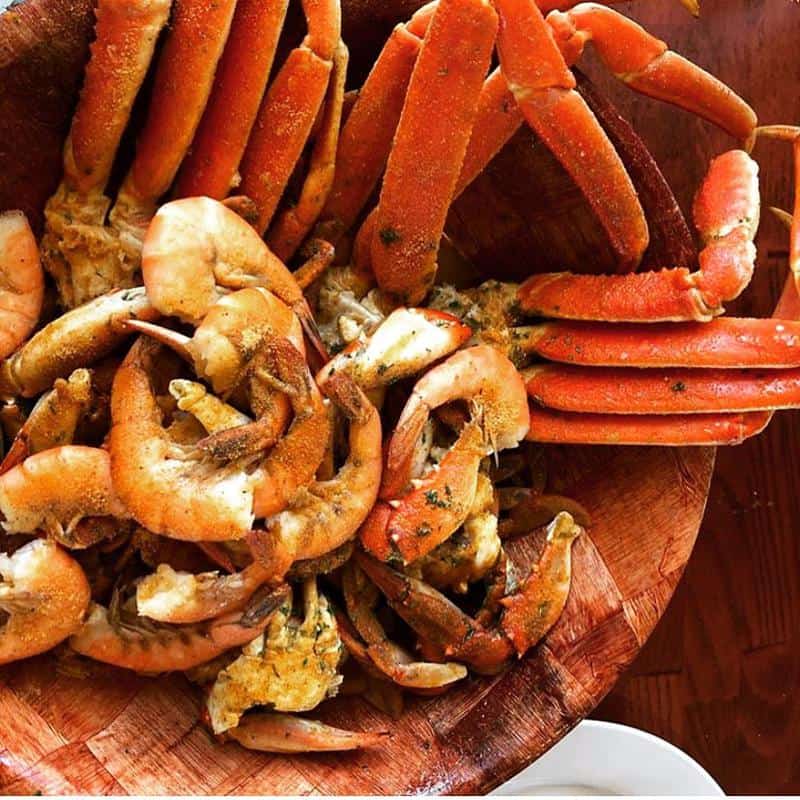 Hours: Sunday 11 am – 8 pm, Monday – Thursday 11 am – 9 pm, Friday – Saturday 11 am – 10 pm
Address: 933 West International Speedway Blvd. Daytona Beach
Phone: (386) 253-4616
Price: $
This restaurant has two locations in Daytona Beach, offering the same food. However, only one of these is a dine-in restaurant located on International Speedway Blvd, which is what we're reviewing today. If you love crabs and are up for a challenge, check out The Crab Stop of Daytona and see if they can satisfy your tastes. You can get anything that is shellfish-related in this restaurant, but one that stands out, in particular, is their Maryland-style blue crabs that you get steamed served with other delicacies.
Beyond crabs, you can also get other seafood delicacies, including conch fritters, shrimp, crawfish, and more. If you're craving land-based meals, they have several meals that you should like.
Pros
Extensive menu that gives lots of options
Significant portions of the price
Excellent tasting crabs with niche recipes
Friendly staff that deliver exceptional service
Short wait times
Cons
No TLC in bathrooms that give it an unrefined feel
Décor and setup could be better
Millie's Restaurant and Catering
Hours: Monday 11 am – 9 pm, Wednesday – Sunday 11 am – 9 pm, Tuesday Closed
Address: 3218 S Atlantic Ave, Daytona Beach Shores, FL 32118
Phone: (386) 275-1492
Website: milliesrestaurant.com
Price: $$
Even though this restaurant may be a bit of a drive for some, it is worth it, depending on where you are in Daytona. You will be glad you made the drive down to taste their high-quality and excellent tasting seafood. It is also well-loved by locals and visitors as it is ranked number 1 in Trip Advisor's list of Restaurants in Daytona Beach Shores.
Millie's Restaurant serves plenty of American fares and seafood offerings on its menu. Depending on your mood, you can have a wine or draft beer with your chosen food.
Our favorite in this restaurant is their local fish sandwich, and you can be sure that it is the freshest fish around because they prepare the catch of the day. You can tell the difference when you taste the food at Millie's, as they're big on sourcing food fresh every day.
If you're not in the mood for seafood, they have plenty of other options, and you'll never run out of choices in this restaurant.
Pros
Locally grown and caught food making everything you eat fresh
Good customer service with attentive waiters
Excellent tasting food and desserts
A popular spot to meet and connect with the locals of Daytona beach
Space for outdoor dining
Cons
You will need a reservation to secure a spot
A large number of fish-themed meals may not leave enough room for a variety
Nearby Seafood:
Conclusion
We advise you to check out at least one of the restaurants on the above list on your visit to Daytona Beach, and you will not regret it. We have included addresses for each restaurant so you can quickly locate the one closest to you and enjoy spectacular food.