The quaint little town of Corpus Christi is filled with immense local charm and is studded with classy beachfront restaurants.
Almost all the restaurants in the city offer fresh and local seafood that's unmatched in its taste and quality.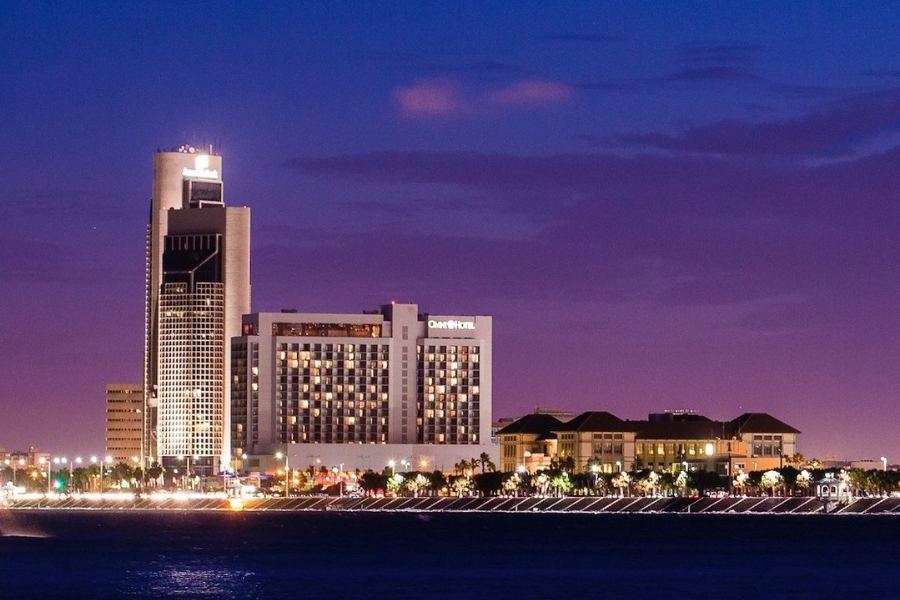 With options of bringing your own catch for cooking to having their personal breeding facilities, Corpus Christi is a seafood heaven.
Indulge in live music, magical views, and a mighty seafood extravaganza at the best restaurants in the city on our list.
Best Overall Restaurant: Saltwater Grill
Best Romantic Restaurant with Views: Republic of Texas Bar & Grill
Best Waterfront Restaurant: Doc's Seafood and Steaks
Best Restaurants in Corpus Christi
Saltwater Grill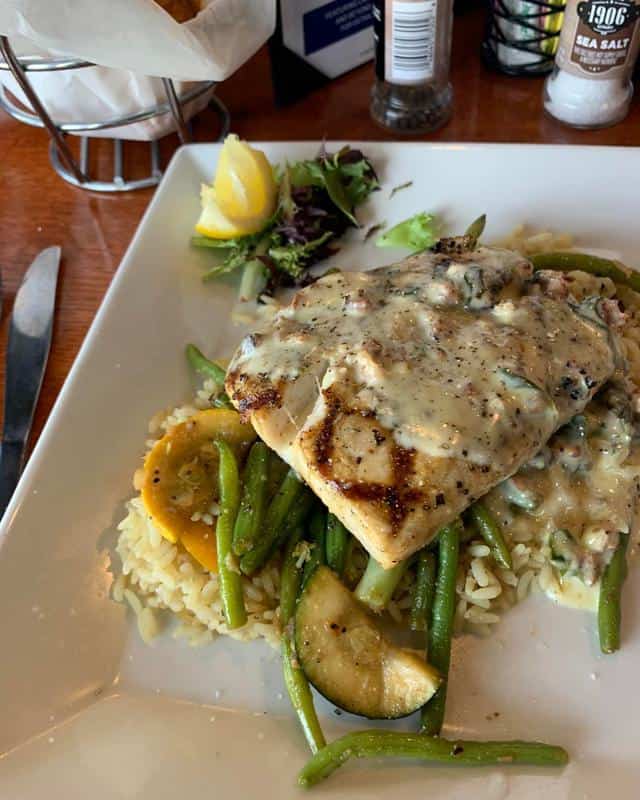 Address: 2401 Cimarron Blvd, Corpus Christi, TX 78414
Known for: Family-friendly ambiance with fresh seafood dishes and drinks
The quaint and family-friendly Saltwater Grill offers a warm and comfortable dining experience with a variety of fried and grilled seafood and a fresh catch of the day. The chef-inspired unique feature dishes make it a unique dining experience for the whole family.
Treat yourself to their hearty and filling Fried Seafood Platters served with coleslaw, fries, and hushpuppies. Options include Fried Oysters, SWG Sampler with fish, shrimp, oysters, crab cakes, Combo meals, and Coconut Shrimp.
The restaurant's signature dishes include an indulgent Mahi Mahi Alto Cocina with jumbo lump crab, avocado, pico de gallo, and their signature sauce. Pair your favorite food with a drink from their full-service bar offering wines, premium drafts, and bottled beer.
Republic of Texas Bar & Grill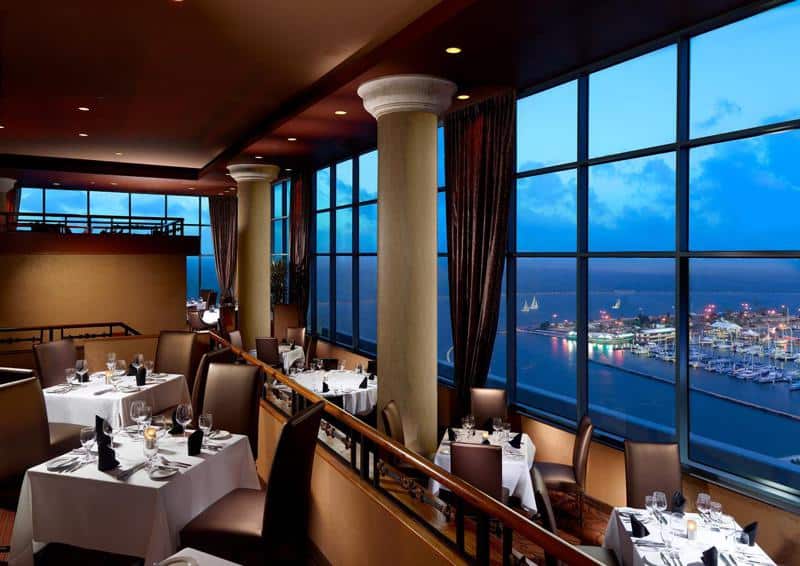 Address: 900 N Shoreline Blvd, Corpus Christi, TX 78401
Known for: Breathtaking panoramic views of the bay, award-winning wine list, and elevated fine dining with prime beef and fresh seafood
Have a wonderful fine dining experience with spectacular views from the 20th floor of the Omni Hotel at Republic of Texas Bar & Grill.
Recently named a Diner's Choice Winner by OpenTable, the swanky steakhouse overlooks the bay with panoramic views and features an award-winning wine list, prime beef cuts, seafood, and wild game.
The dining area is dimly lit and sets an ideal ambiance for romantic dates and anniversary dinners. The restaurant also has a wine room for special occasions where guests get to enjoy a lavish seven-course meal with four perfectly paired wines.
Executive chef Daniel M. Rosa pours his heart and soul into the menu to bring you an elevated fine dining experience. Try something from their Steaks and Chops, or go for a seafood delicacy like the Wild Caught Salmon or Cold Water Lobster Tail.
Doc's Seafood and Steaks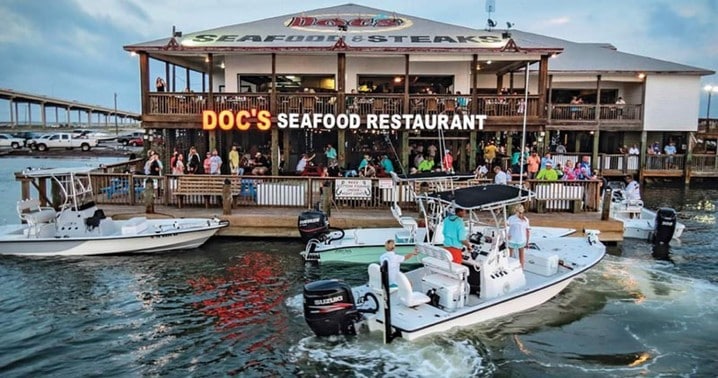 Address: 13309 S Padre Island Dr, Corpus Christi, TX 78418
Known for: Picturesque waterfront location, fresh Gulf seafood, hand-cut certified Angus steaks, tropical drinks, and live music
Have a full-fledged coastal experience with a breezy outdoor setting and a lively open-air ambiance at Doc's Seafood and Steaks.
Located on the Intracoastal Waterway, the restaurant has a picturesque location on the waterfront with fresh Gulf seafood, tropical drinks, and live music.
We highly recommend it for evening drinks and dinner, as the views at sunset are unparalleled in their beauty. The menu is loaded with seafood and steaks, serving specialty dishes like'Crab Docamole' with a clever wordplay, or the delicious Coastal Bacon Wrapped Shrimp.
The steaks are hand-cut and certified Angus beef. Choices include Chef's Choice Hand-Cut Steak and juicy chicken entrées with sides of fresh seasonal vegetables and roasted rosemary new potatoes.
See Also: Best Seafood Restaurants in San Antonio
U & I Steak and Seafood Restaurant
Address: 309 S Water St, Corpus Christi, TX 78401
Known for: Fresh and delicious seafood and steaks downtown
Serving the coastal bend with immaculate service and delicious food for over 50 years, U & I Steak and Seafood is a beloved restaurant in downtown Corpus Christi.
With a homely ambiance and a refreshing layout, the food is prepared from scratch daily with house-made dressings, bread, sauces, and desserts.
The menu features a variety of fresh and colorful garden salads, the freshest seafood from the gulf, grilled Angus beef steaks, an impressive wine list, and a few international delights, giving you plenty to choose from.
Start your meals with the classic U & I Sampler loaded with mozzarella cheese sticks, stuffed mushrooms, and jalapenos fried to crisp.
Have something from the 'Grill Thrillers' to satiate your meaty cravings with Sirloin Strip, T-Bone, Ribeye, and Filet Mignon. The Surf and Turf combo platter comes with a juicy 8oz Filet Mignon and a 6oz Lobster Tail with butter sauce and lemon.
Water Street Oyster Bar and Sushi Grill
Address: 309 N Water St, Corpus Christi, TX 78401
Known for: Delectable seafood towers and platters, fresh sushi with specialty rolls, and a variety of drinks
Water Street Oyster Bar and Sushi Grill is a classic coastal restaurant vehemently serving the coastal community of Corpus Christi since 1983.
Featuring local treasures with the freshest seafood variety and locally-sourced ingredients, it offers a classic menu and friendly service.
While there is a lot to choose from their seafood menu, nothing beats the majestic Water Street Tower that offers a bit of everything with oysters as the star ingredient.
If you are looking for comfort meals, get the warm and hearty Seafood Gumbo or a Seafood Pasta Jambalaya with andouille crème sauce.
The restaurant also serves sushi and has a variety of Poke Bowls, Nigiri/Sashimi, and Classic, Specialty, and Tempura Rolls on the menu. Lastly, the full-service bar makes every meal enjoyable with a selection of cocktails, draughts, wines, and bubbly.
The Blue Clove Seafood Bar and Grill
Address: 5884 Everhart Rd, Corpus Christi, TX 78413
Known for: Laidback ambiance with fresh seafood and option of preparing your catch for you
The Blue Clove Seafood Bar and Grill is a classic American seafood restaurant with a laid-back ambiance. It is run by a father and son duo along with four-time award-winning chef Tony Posada.
The restaurant serves freshly-baked desserts by an in-house pastry chef, the local and freshest seafood, locally-sourced ingredients, and weekly chef specialties. It is also three times winner of The Bend Local's List and has a full-service cocktail bar.
Try the Seafood Platters, Raw Oysters, or Chef Specialty Plates from their menu. A unique option offered by the restaurant is to bring your catch and have the restaurant prepare it for you.
Catfish Charlie's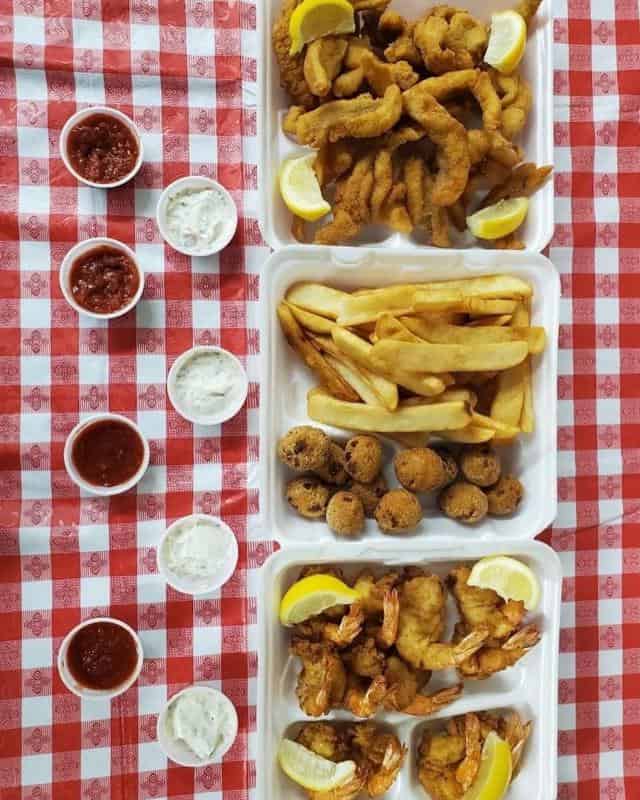 Address: 5830 McArdle Rd #12, Corpus Christi, TX 78412
Known for: Mouth-watering farm-raised catfish and jumbo fried shrimp
Catfish Charlie's has a lovely wharf-style setting with delectable Louisiana fare. Fried catfish is their specialty, but they also make lip-smacking shrimp and gumbo for a hearty family dinner.
The restaurant is known as "best of the best" for the deliciously indulgent farm-raised fried catfish, Cajun-style Frog Legs, and Jumbo Fried Shrimp alongside piping hot hushpuppies.
Besides the fried items, you can also get Pan-Seared Catfish or Shrimp with rice and red beans. The restaurant also has Catfish, Shrimp, and Oyster PO Boy.
Luciano's Italian Restaurant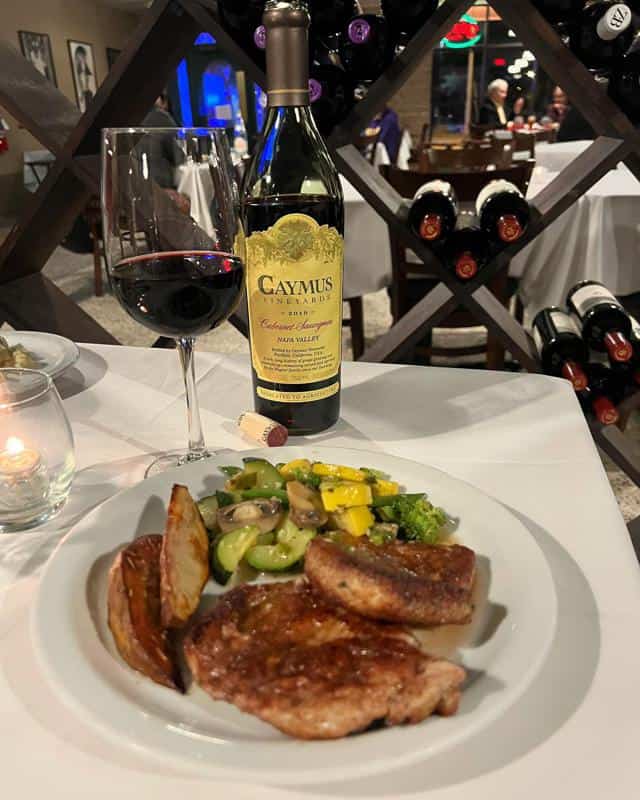 Address: 1821 S Alameda St, Corpus Christi, TX 78404
Known for: Traditional Italian fare with a great wine list
Luciano's Italian Restaurant is one of the best Italian restaurants in the city with a relaxed ambiance and flavorful homemade Italian delights.
Savor traditional Italian meals with classic pasta variety, succulent chicken preparations, fresh and seasonal salads, and a few vegetarian options.
Start the evening with a fresh and piping hot bowl of soup or a half-loaf garlic Bruschetta. With every dish, they have a wine from the impressive bar menu that beautifully complements it – like the juicy Pork Chops with a glass of Caymus Cabernet Sauvignon.
The restaurant also has private banquet facilities for private family dinners or romantic evenings.
Blackbeard's on the Beach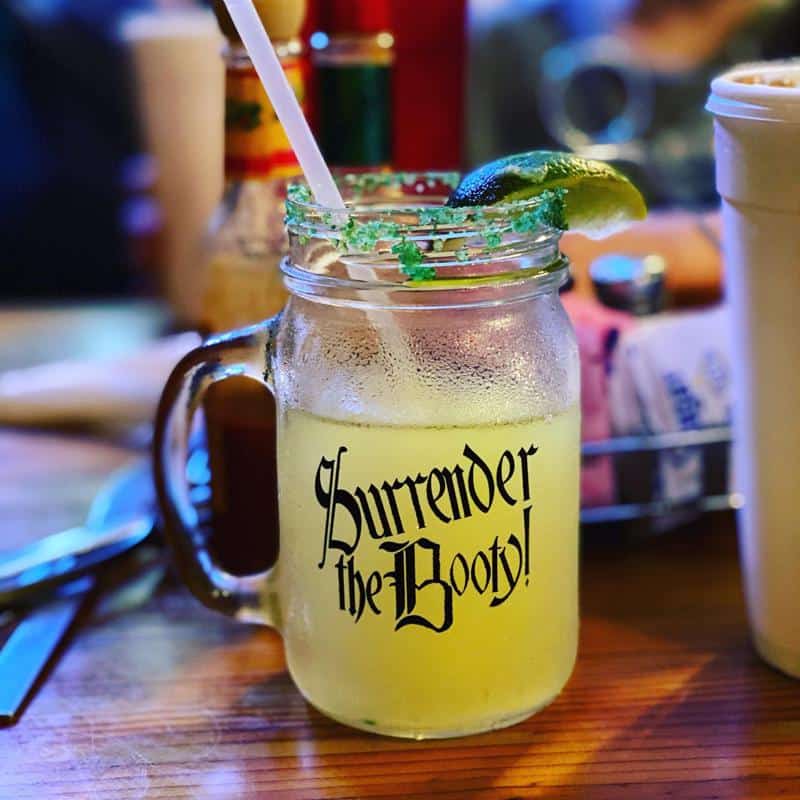 Address: 3117 Surfside Blvd, Corpus Christi, TX 78402
Known for: Fresh seafood, pirate-themed décor, live music, and margaritas in souvenir mugs
Have a mighty good time at the fabulous pirate-themed Blackbeard's on the Beach. The menu is mainly seafood-focused and the highlight of the restaurant is its eccentric and funny souvenir mugs for margaritas and other cocktails.
The pirates, ghosts, and rock 'n roll theme is beautifully carried out with live music and a lively beach location. Adding an alluring twist to their reputation, the restaurant is famously haunted and we wholeheartedly agree – the Fish Tacos are simply bewitching!
The restaurant features fresh local seafood variety with the catch of the day and weekly specials. Enjoy a tasty serving of Seared Tuna Pizza, Mahi Burger, Boudin Stuffed Potato Skins with Diablo Sauce, and delicious Honey Chipotle Shrimp.
Price's Chef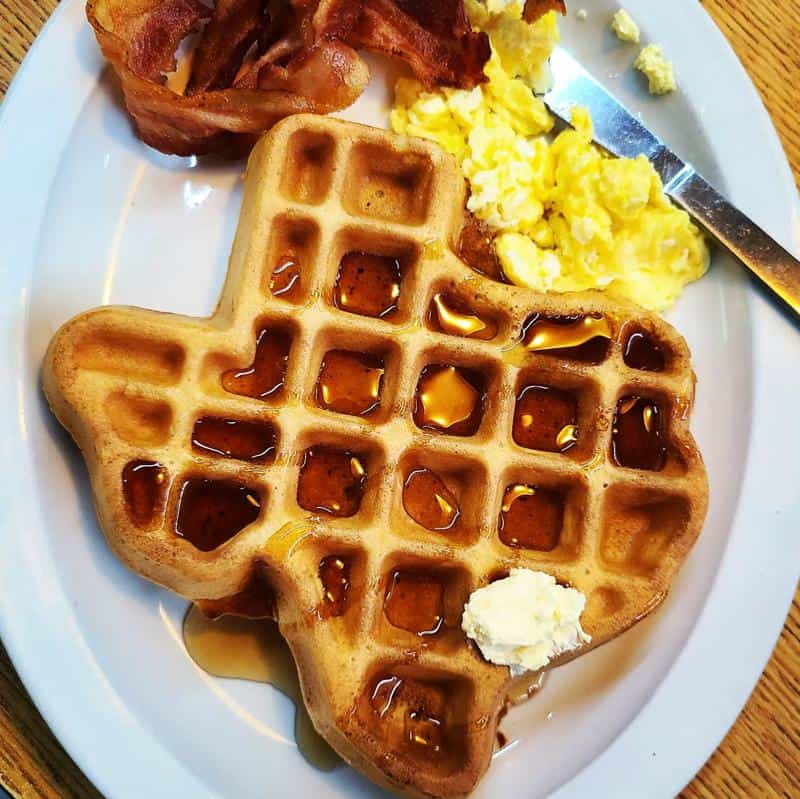 Address: 1800 S Alameda St, Corpus Christi, TX 78404
Known for: Texas-shaped waffles, generous portions, and delicious breakfast
Price's Chef makes you feel right at home with seamless Texan hospitality and enjoyable meals. Tucked in the heart of six points is a beloved breakfast spot with a family homestyle menu for breakfast and lunch.
While the meals are generously portioned in classic Texas-sized standards, you will be delighted to know that the waffles are also Texas-shaped. Order these famous waffles with a side of egg, bacon, ham, or sausage.
While the meals are generously portioned in classic Texas-sized standards, you will be delighted to know that the waffles are also Texas-shaped. Order these famous waffles with a side of egg, bacon, ham, or sausage.
Other breakfast delights include a variety of pancakes, French toast, and egg preparations. Lunch is loaded with sandwiches, soups, steak, and other classic diner grub.
Andy's Kitchen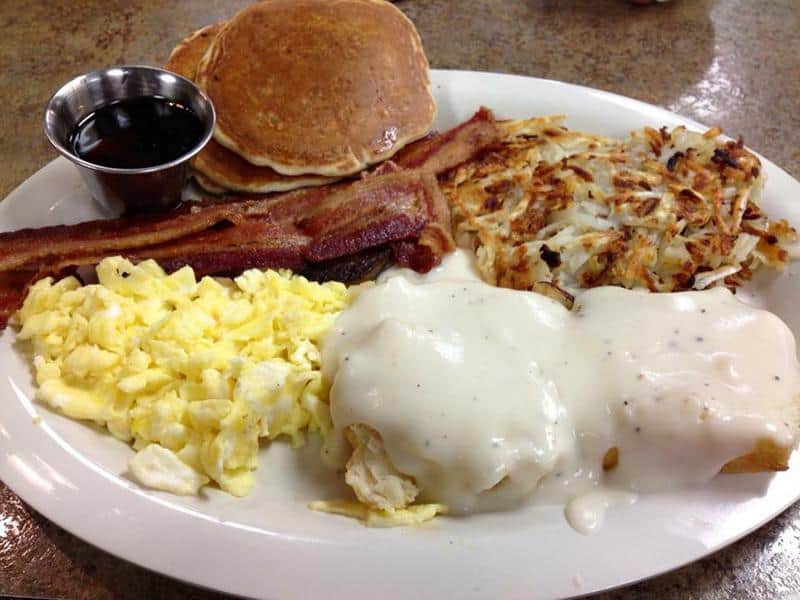 Address: 5802 S Staples St, Corpus Christi, TX 78413
Known for: Delicious and affordable breakfast and brunch with classic American and Mexican varieties
Andy's Kitchen is a laidback breakfast spot with homestyle comfort food and is famous for its hearty brunch at super economical rates. The menu is loaded with classic American breakfast staples along with Tex-Mex varieties.
Andy's Country Breakfast is a popular choice and comes loaded with mouth-watering breakfast items. The platter has two eggs, two slices of bacon, two sausage patties, hash browns, one biscuit with gravy, and three-dollar pancakes.
There are a variety of Steaks, Chicken, and Chops variety with eggs as well, and the breakfast is served with a side of hash browns, refried beans, grits, toast, or biscuits. They also have a selection of Mexican breakfast items on the menu.
Black Diamond Oyster Bar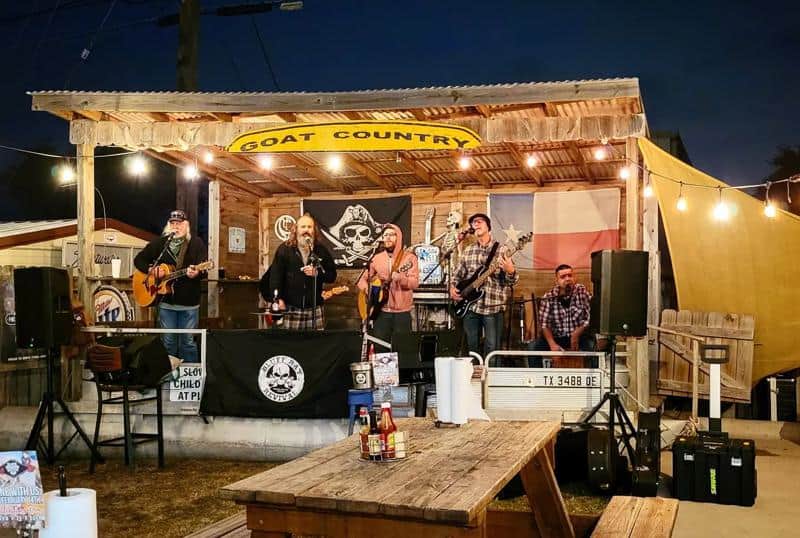 Address: 418 NAS Dr, Corpus Christi, TX 78418
Known for: Cozy ambiance with live music, daily special, and happy hour drinks
With a cozy and homely setup, Black Diamond Oyster Bar is a quaint little wood-accented seafood restaurant with fresh and locally-sourced food and a lovely outdoor setting. The restaurant is famous for its live music under the star-lit sky and a full-service bar with specialty cocktails.
Live music is performed on the Sweetwater stage every Friday, Saturday, and Sunday. Try the freshly shucked Oyster on the Half Shell served in a variety of preparations like Baked Oysters, Roberts, Rockefeller, and New Orleans.
The dinner entrées feature daily specials with the fresh catch of the day and classic sides including the Blackened Mahi Topped with Lemon Cream Crab Sauce and Boudin Stuffed Pork Chop topped with Crawfish Etouffee.
Daily drink specials feature a new cocktail every day of the week with weekday happy hour from 1 pm to 5 pm.
Ginger Café & Grill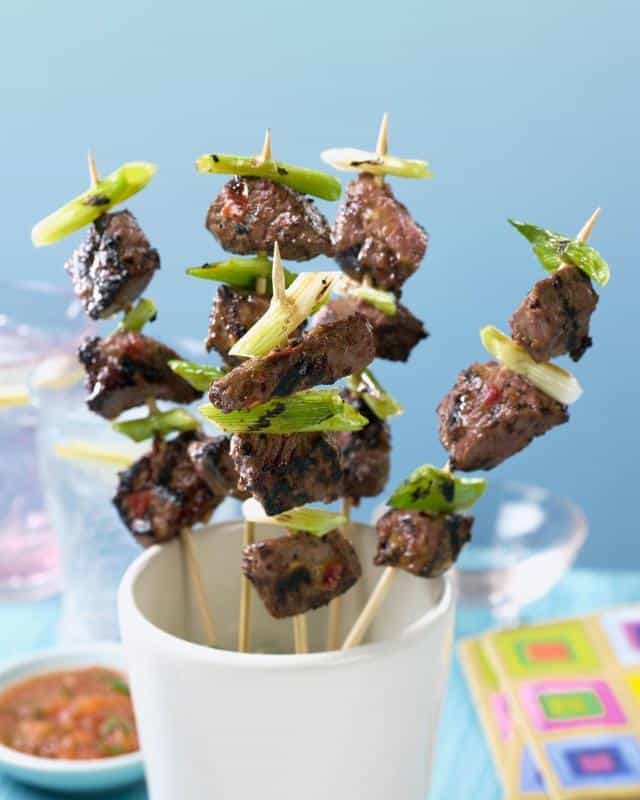 Address: 7009 S Staples St, Corpus Christi, TX 78413
Known for: Mouth-watering Mediterranean delights with juicy kebabs and fresh seafood
Ginger Café & Grill is a casual Middle Eastern Restaurant in a strip mall offering a huge variety of Mediterranean delights. Chef Jordan brings you a one-of-a-kind experience with hints of globally-influenced spices and flavors in all his dishes.
The menu features Appetizers and Mezzas, Mediterranean and Turkish Cuisine, Chicken Selections, South Asian Cuisine, fresh seafood, and pasta. Start your meals with a Combo Platter including fava medames, baba ghanouj, falafel, tabouli, and hummus served with pita chips.
Another must-try item is their delectable and juicy kebabs. From the Kibbeh appetizer of black ground Angus beef to a hearty entrée of Mix Grill Kebabs, you will love the succulent preparations on skewers with a delicious garlic herb butter sauce.
Authentic New York Pizza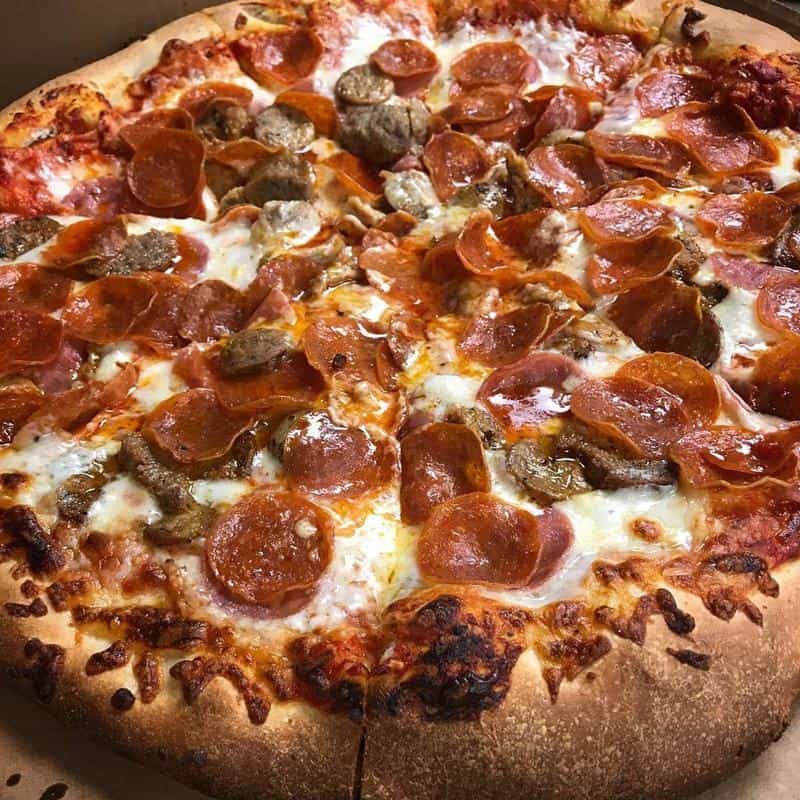 Address: 5838 S Staples St, Corpus Christi, TX 78413
Known for: A huge variety of pizzas and pasta in a causal ambiance
The humble and unpretentious Authentic New York Pizza is a family-friendly pizzeria known for its cheap and delicious pizzas and fried items. The restaurant has a casual ambiance with red-checkered tablecloths and friendly servers.
Start your meals with a classic appetizer to go with your pizzas – the Pepperoni Pizza Fried loaded with pepperoni, mozzarella, Parmigiano, and marinara. They also serve a variety of Wings that are excellent for sharing with family and friends.
The Specialty Pizzas include an indulgent and creamy Chicken Alfredo Pizza, Brisket Pizza, and Brooklyn Bomber. The restaurant also serves vegetarian pizzas and pasta.
Snoopy's Pier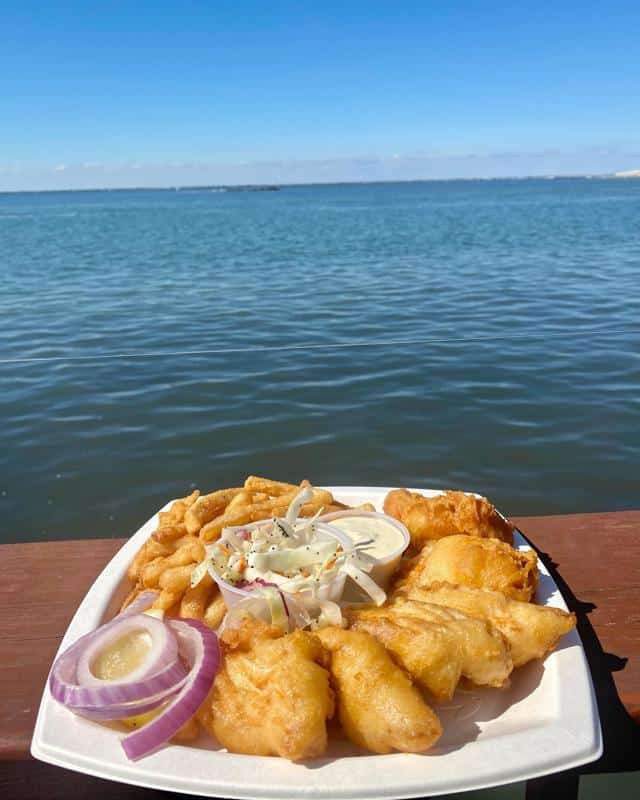 Address: 13313 S Padre Island Dr, Corpus Christi, TX 78418
Known for: Beautiful beachfront location and restaurant's own breeding facility for fresh seafood
Enjoy breezy waterfront dining with old-fashioned quality seafood at Snoopy's Pier. The restaurant offers amazing bay views and has its own breeding facilities to ensure the freshness of its seafood dishes.
The wooden accents and quaint outdoor seating area offer the best views for a carefree time with your favorite seafood. You simply can't miss the classic Fish and Chips or Fried Shrimp and Oyster Basket.
Choose from a variety of sandwiches for a light lunch with views, or have a refreshing house salad with mixed greens and Italian dressing.
Read More:
Conclusion
Tantalize your senses with fresh seafood and a huge variety of cuisines with the top restaurants in Corpus Christi on our list.
From laidback family-friendly brunches to intimate dinner dates, these are the best places to enjoy your favorite food and drinks in the city.
Map of Best Restaurants in Corpus Christi