San Antonio is a culturally rich town filled with beauty and architecture. It gets a lot of visitors around the year, and so the choices for food and dine-in are also overwhelmingly large.
With a huge variety of breakfast spots in town, it's easy to miss the good ones. We are here to make your work easy with our dedicated list of the best breakfast in San Antonio that you simply can't miss.
Start your day right by getting your favorite breakfast at one of these restaurants.
Best Overall Breakfast: The Magnolia Pancake Haus
Best Budget-Friendly Breakfast: Schilo's
Best Vegan Breakfast: Plantology
14 Best Breakfast & Brunch in San Antonio
The Magnolia Pancake Haus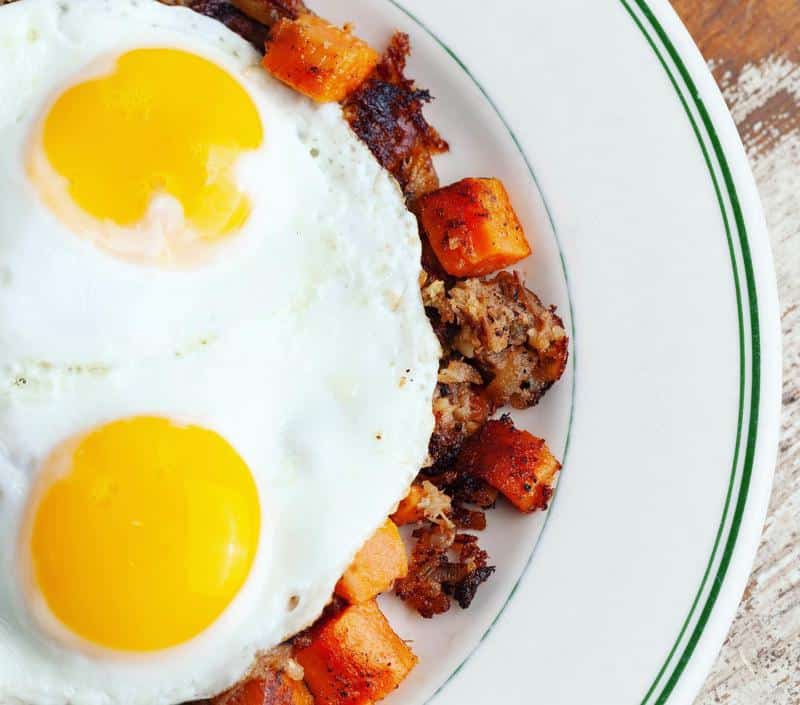 Address: 606 Embassy Oaks #100, San Antonio, TX 78216
Known for: Hearty breakfast food with mimosas in a warm and cozy ambiance.
The cozy and welcoming Magnolia Pancake Haus is a family-owned restaurant and a staple for breakfast food in San Antonio. Fresh and delicious American breakfast is prepared by the remarkable culinary team that has been featured on many TV shows including Dives, Drive-Ins, and Diners.
The restaurant has won the title of Best Breakfast in San Antonio for over 10 years and is also featured in the Urbanspoons' top 100 restaurants in the USA. Safe to say, this is a breakfast spot you simply can't skip.
Indulge in a variety of delectable breakfast items like specialty waffles, eggs, pancakes, hash browns, French toasts, grits, sausage potatoes, and much more. The restaurant also serves two varieties of Mimosas.
Schilo's German – Texan Restaurant
Address: 424 E Commerce St, San Antonio, TX 78205
Known for: Affordable German breakfast with a scrumptious home-style fare.
The rich history of Schilo's spans three generations, starting with "Papa" and "Mama" Schilo. The couple started serving delectable German dishes in San Antonio in 1914 and built a loyal customer base.
The same recipes have been passed down and perfected to bring you the best cuisine at affordable rates. The classic German breakfast is well-loved, and the restaurant is the oldest operating eatery in the city.
The home-style Papa Fritz Breakfast is the top-selling item on their menu. It has hash browns or grits with 2 eggs and biscuits/toast with bacon, ham, sausage, or maple links.
Their biscuits and gravy are also very popular, and we highly recommend the Chicken and Biscuits and Pioneer Biscuits with Sausage Gravy.
Plantology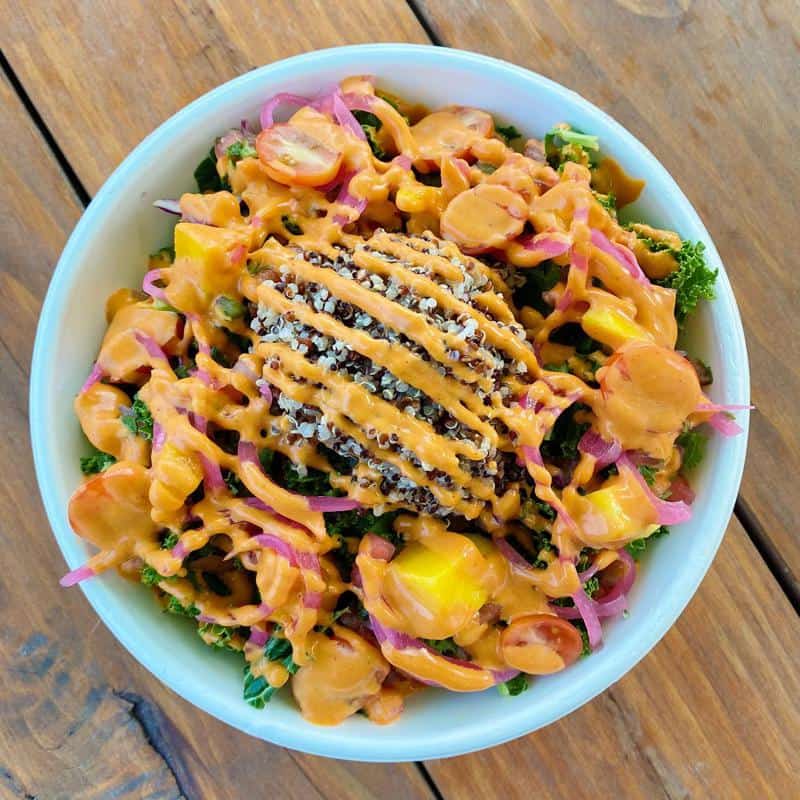 Address: 22026 US-281 #101, San Antonio, TX 78258
Known for: Fresh and organic ingredients and a hearty vegan menu.
With the idea of bringing a healthy and vegan variety of delicious breakfast food, Griselda Munoz founded Plantology in 2021. Putting special attention to freshness and organic ingredients, she curated a menu that offers delectable vegan delights to the customers.
The "Brekkie and Brunch" menu is quite extensive and offers delights like the Vegan Slam with stacks of pancakes or Belgian waffles and cauliflower hash browns. For a sweet indulgence, try their Cinnamon Roll Pancakes with a heavenly rich cream cheese frosting.
The all-day breakfast menu also includes the Sunshine Burger, Sun-veggie Tacos, Brekkie Wrap, a variety of Tacos, and colorful salads like the spicy Rainbow Mango Salad.
Supper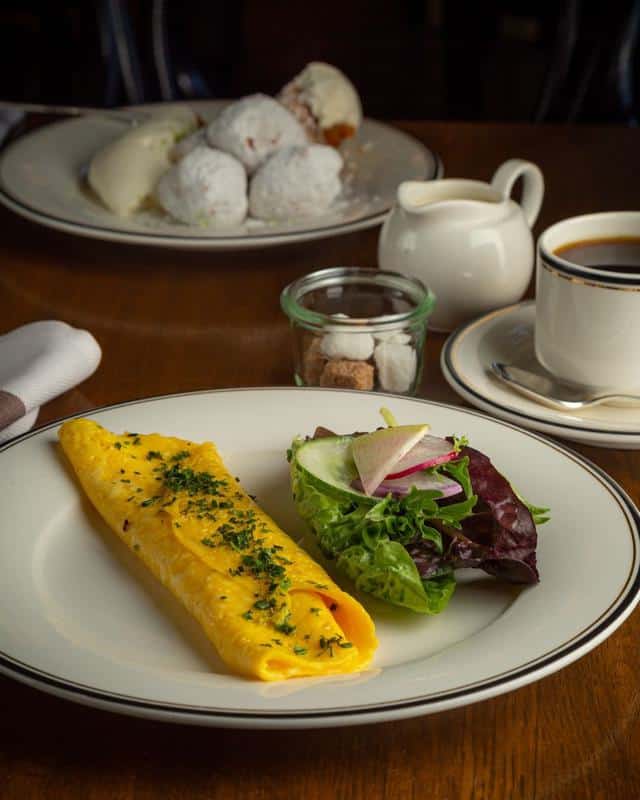 Address: 136 E Grayson St, San Antonio, TX 78215
Known for: Buttery French omelet and traditional American breakfast.
Wake up bright and early to enjoy some buttery French Omelets at the chic and contemporary Supper. Located near the San Antonio River and Hotel Emma, this trendy eatery has a simple name, and stays true to it with classic breakfast food carefully prepared by Chef John Brand.
The best thing about their menu is that it is tailored to each individual's palate. Want something healthy and filling without compromising on taste? – get the delectably prepared Steel Cute Oatmeal or a classic Poached Egg and Avocado on Grain Toast!
They are also very famous for their super-buttery French Omelet and Pumpkin Spice Beignets. Enjoy the lovely breakfast spread with a refreshing side of freshly-squeezed Grapefruit Juice or vitalizing Ginger Lemonade.
The Guenther House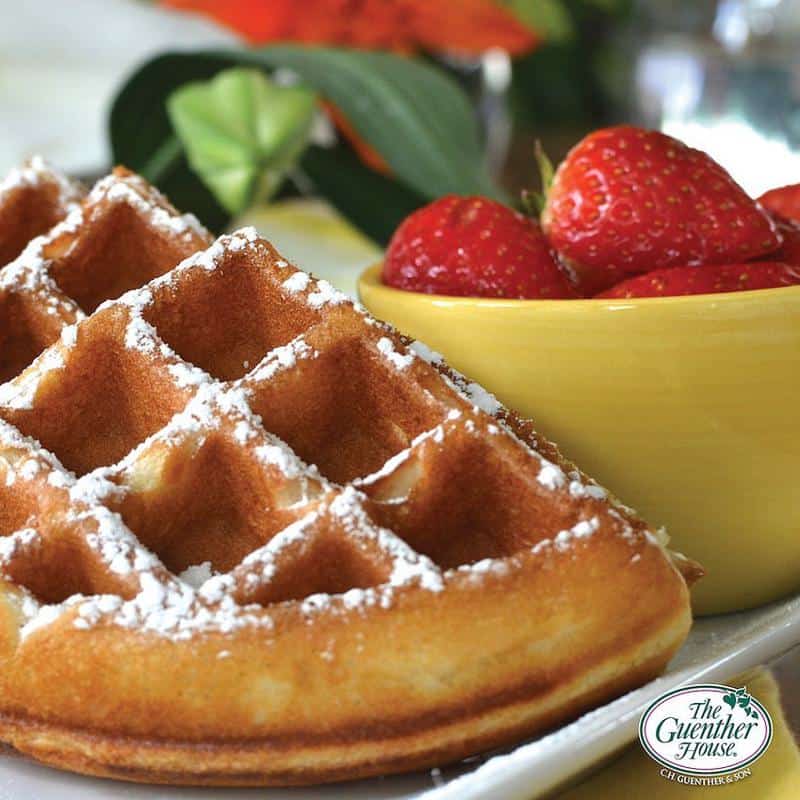 Address: 205 E Guenther St, San Antonio, TX 78204
Known for: A regal spread of all-American breakfast in an imperial setting.
Have a stately breakfast feast at the regal and imposing The Guenther House with a rustic "Ballroom-style" seating area and a glamorous layout reminiscent of the 20th century. The restaurant offers an all-American breakfast spread with shareable breakfast platters.
All the ingredients are produced in their Pioneer Flour Mills. Start with the smaller plates of yogurt, seasonal fruits, cereals, or oatmeal, and then move on to your favorites.
Notable items on the menu include stacks of pancakes drenched in butter and syrup, a variety of waffles and gooey French Toast, Eggs and Bacon, Sausages, Biscuits and Gravy, and an assortment of breakfast tacos. Pair your food with tea, coffee, juice, or lemonade.
Comfort Café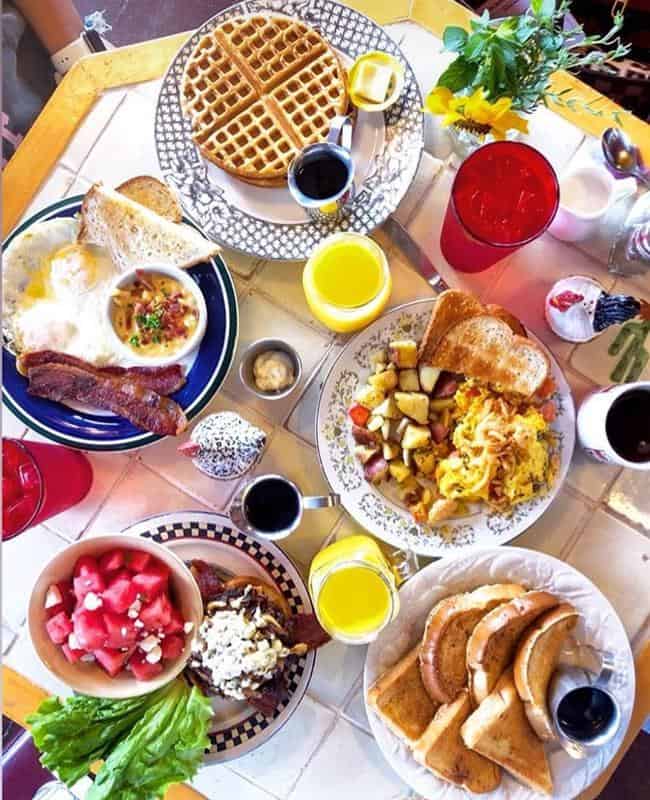 Address: 2015 NE Interstate 410 Loop, San Antonio, TX 78217
Known for: Gooey stuffed French Toast and hearty breakfast platters.
Tucked in the tranquil Oak tree-laden Los Patios, The Comfort Café is a lovely breakfast spot with a casual setup. The restaurant kindly suggests "pay what you can" with a minimum of $15 order and all the proceeds go to a charity.
Needless to say, the restaurant warms the heart and belly, making you happy and full to the brim. The bright and cheery Rise and Shine Breakfast menu have an excellent selection of all-time favorites, sweet cream pancakes, and stuffed French toasts.
Try the classic 'Rise and Sine' platter with homemade granola, Greek yogurt, fresh berries, and honey parfait with Texas-sized muffins and your choice of eggs and meat.
NOLA Brunch & Beignets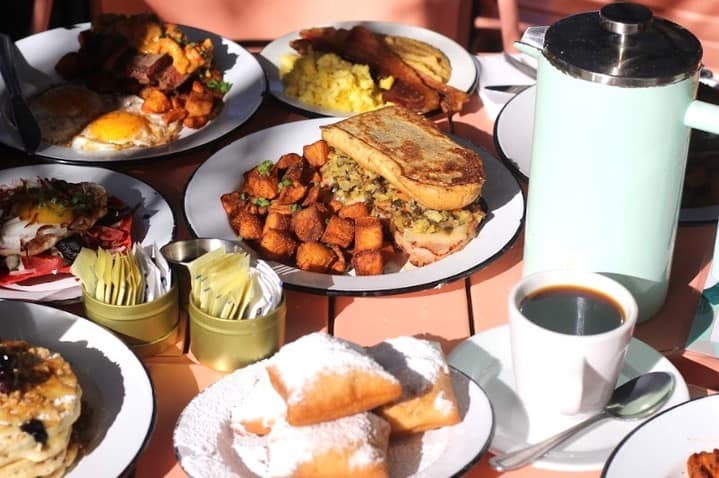 Address: 720 E Mistletoe, San Antonio, TX 78212
Known for: Sugary beignets and a variety of New-Orleans style breakfast and brunch items.
Relax and unwind at the casual and hip NOLA restaurant. Famous for its delectable Beignets, the restaurant serves a huge variety with seasonal flavors and a cup of Café au Lait.
The New-Orleans theme of the restaurant is quite refreshing, and it is located right on The Strip so you can easily plan your day. To try their offerings of sweet beignets, get the Mixed Beignets serving with lemon stuffed, two classics, and a seasonal beignet.
For a savory delight, go for the famous Chicken & Beignets or the NOLA Brunch Plate with praline bacon, scrambled eggs, and grits. Enjoy breakfast and brunch with their $30 Mimosa kit.
Snooze, an A.M. Eatery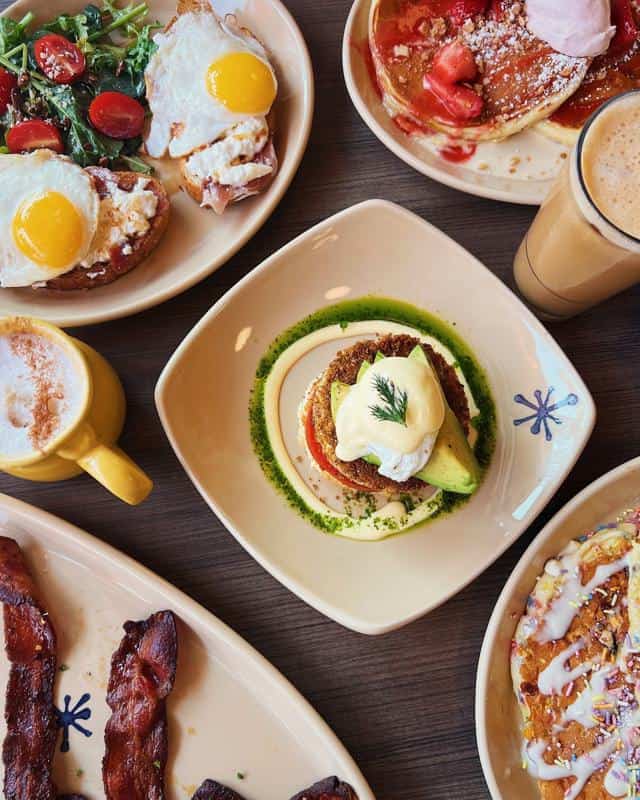 Address: 11255 Huebner Rd Suite 100, San Antonio, TX 78230
Known for: Creative breakfast variety with cocktails.
With a luxurious set up at three locations in San Antonio, Snooze, an AM Eatery gives off a retro vibe with delicious breakfast food and excellent service. The seasonal menu features creative breakfast and lunch with cocktails.
Inspired by the brunch scene of Sunny California, you will find traditional items alongside a special menu of chilaquiles with homemade tortillas, avocado crema, queso fresco, and green tomatillo sauce.
Besides the breakfast favorites like pancakes, breakfast burritos, oatmeal, French toast, breakfast sandwiches, and egg benedicts, the restaurant also has a paleo, vegetarian, vegan, gluten-free, and dairy-free menu. The full bar serves Bloody Mary, Mimosas, and a variety of cocktails.
La Panaderia Bakery Café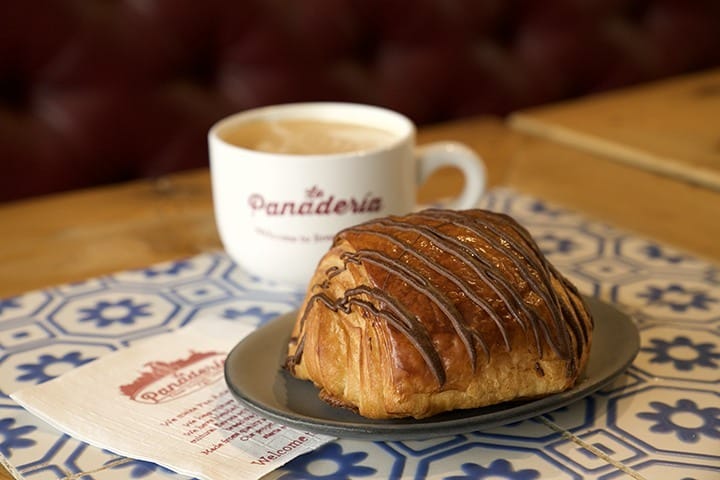 Address: 301 E Houston St, San Antonio, TX 78205
Known for: Freshly baked goods with an assortment of pan dulce, croissants, and long-fermented bread.
La Panaderia has numerous locations in San Antonio but its downtown bakery and café is by far the best one. Owned by brothers David and Jose Caceros, the breakfast spot takes inspiration from their Mexican heritage and zeal for baking.
You won't find a single person leaving the restaurant without a parcel of their handmade bread and pan dulce. The restaurant offers a huge variety of classic Mexican breakfast items in a warm and comfortable atmosphere.
Try one of their baked goods like the Tres Lesches Croissants or the Tequila Almond Croissant. Another famous item on the menu is the Monkey Bread, Nutella Cruffin, Conchas, and Orejas.
Liberty Bar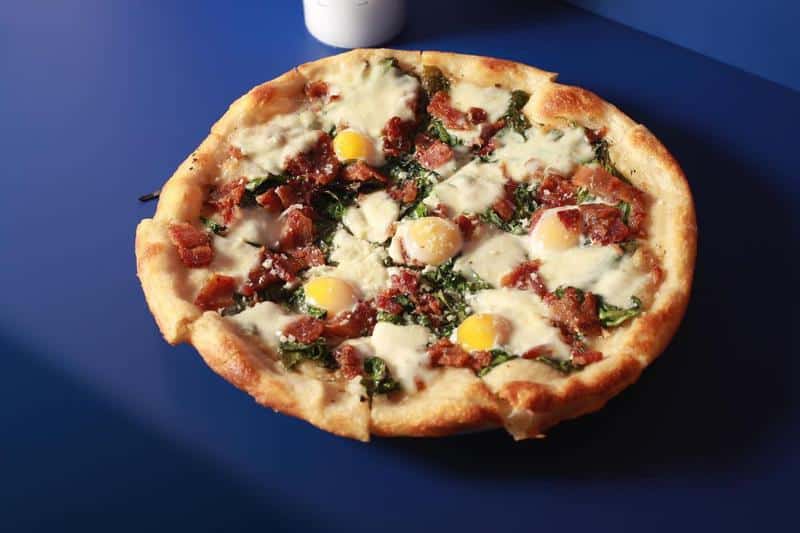 Address: 1111 S Alamo St, San Antonio, TX 78210
Known for: Beautiful setup with floor-to-ceiling windows and a mixed breakfast variety.
Step back into a rustic era with a stately vintage layout and flawless wood paneling in the quaint Liberty Bar. Located in a resorted convent on Alamo Street, the eclectic breakfast spot is a must-try in San Antonio.
The floor-to-ceiling windows further add to the beauty and charm of the restaurant, and the refreshing atmosphere offers a perfect ambiance to enjoy your breakfast.
Enjoy the peaceful atmosphere with a basket of freshly baked bread and pies, or try the heavenly rich Custard French Toast with a side of freshly squeezed juice. They also have delicious Chilaquiles and you can get some tasty Mexican cookies to go on your way out.
La Boulangerie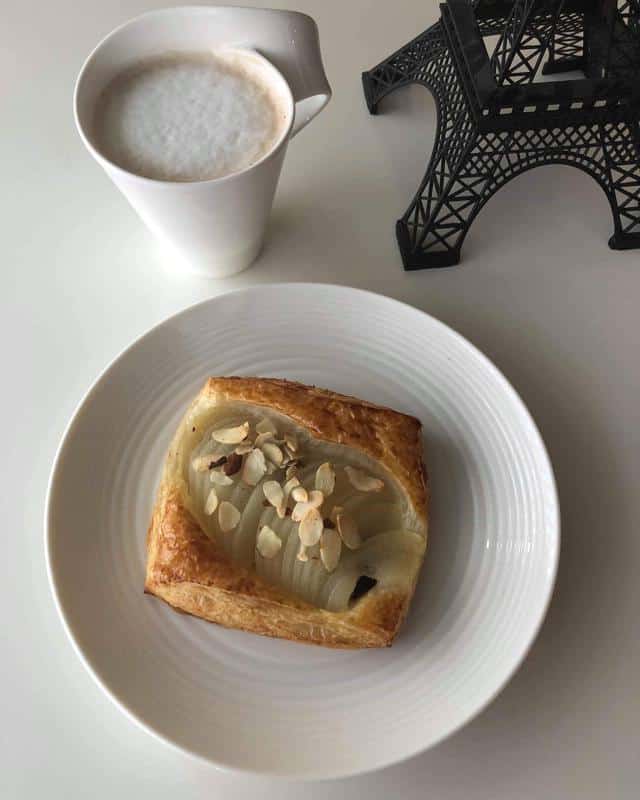 Address: 207 Broadway, San Antonio, TX 78205
Known for: Charming French bakery famous for home-baked goods.
The relaxed and charming La Boulangerie is a family-owned French bakery with a lovely setup for indoor dining. The wooden benches and tables are beautifully adorned with cushions for a comfortable experience.
The freshly baked goods are made from scratch every day, and the café opens for breakfast and lunch throughout the week. Indulge in a variety of French-inspired delights with freshly roasted coffee.
Visitors love to stop by for a serving of their sweet treats, and the pear and chocolate croissants are quite a hit. They also have a variety of gourmet baguettes and sandwiches with a stuffing of tomato and fresh basil, or a classic cheese and ham.
Max and Louie's New York Diner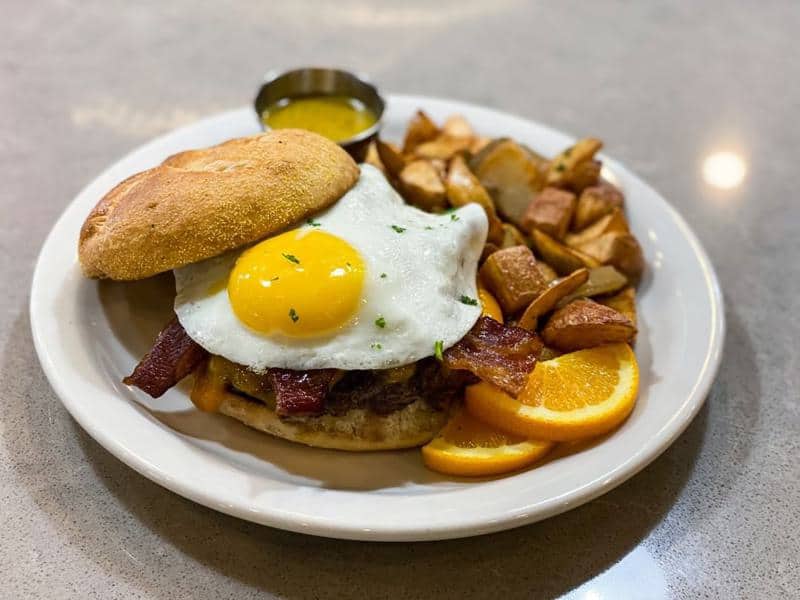 Address: 226 W Bitters Rd #126, San Antonio, TX 78216
Known for: Comfort food with a cozy ambiance and soda fountain.
The laidback and comforting Max and Louie's offer a relaxed dining experience with a spacious setting. The welcoming diner-style eatery and bar have an all-day breakfast menu with a New York Deli flavor.
People love the cozy ambiance and comfort food with plenty of variety for everyone to enjoy. A classic fan favorite is the delectable steak and eggs, but visitors also enjoy their griddles, benedicts, omelets, waffles, and smoked fish.
The all-day breakfast also has some great items to enjoy at lunch, like the stacked sandwiches with freshly squeezed orange juice, or a refreshing cup from the soda fountain. Don't forget to try one of their killer desserts, the decadent cheesecake is sure to satiate your sweet tooth.
CommonWealth Coffeehouse & Bakery Hemisfair
Address: 611 Hemisfair Blvd, San Antonio, TX 78205
Known for: Dainty Parisian café with French-American variety.
With a rustic Parisian setting that transports you to the cobbled streets of Paris, the charming Commonwealth Coffeehouse and Bakery is a beautiful café in San Antonio.
The restaurant offers a variety of French-American dishes including breakfast staples and a quaint weekend brunch. The lovely floral layout of the café sets the mind at ease and offers a peaceful start to the day.
Try one of their baked goods, especially the delicious Croissant Béchamel with a filling of black forest ham, parmesan béchamel, and melted fontina cheese on a handmade croissant.
They also have a range of healthy items like the Vanilla Yogurt Parfait, CW Baked Oatmeal, and an Avocado Toast. Stop by for a light breakfast or enjoy the Saturday brunch with classic French delicacies like Crepe and 'Mollette' with Café au Lait.
Bakery Lorraine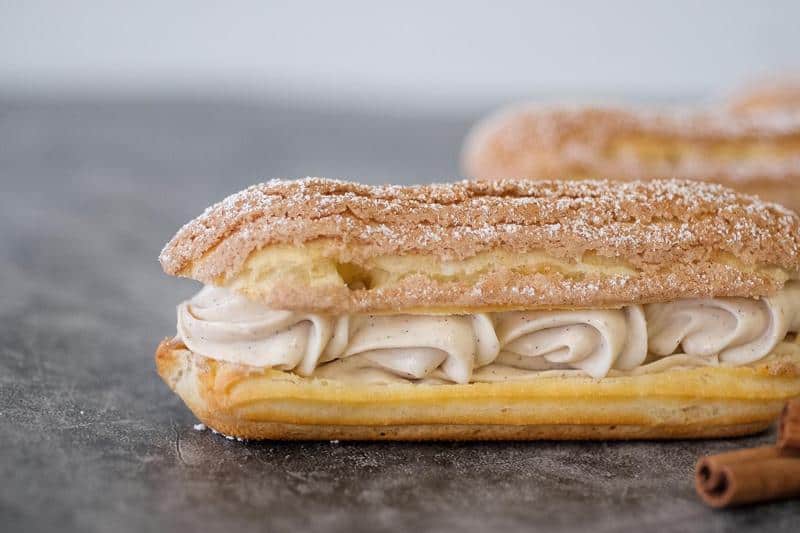 Address: 306 Pearl Pkwy #110, San Antonio, TX 78215
Known for: Freshly baked goods including airy croissant sandwiches, colorful macaroons, and flavorful cookies.
Bakery Lorraine is a famous breakfast spot in San Antonio. It has 4 branches in the city, but the one at The Pearl stands apart for its ambiance, location, and lovely outdoor patio.
Highly popular for their croissants, you won't find one as fluffy and light as they make it. A simple egg and sausage breakfast is elevated with thoughtful touches and impeccable preparation in a house-baked croissant.
Don't forget to take their freshly baked cookies on your way out, or try one of their fruity tarts with an energizing House coffee.
Other noteworthy items on their menu include the colorful macaroons in a huge variety of flavors like a tangy orange Dreamsicle, a cheery Birthday Cake, and a romantic Dark Chocolate Lavender.
Read More:
Conclusion
San Antonio boasts a variety of tourist attractions, with its beautiful Riverwalk and downtown beautifully lined with restaurants and cafes offering excellent breakfast. Indulge in classic staples or enjoy a hearty feast at weekend brunches offered at one of the restaurants listed above.
Energize yourself with a warm breakfast platter, or start fresh with an airy croissant sandwich and a side of freshly brewed coffee. You won't be disappointed with the choices offered on our list.
Map of Best Breakfast & Brunch Restaurants in San Antonio