The Domain is a great neighborhood in Austin with a vibrant personality and high-end establishments, including some of the finest restaurants in town.
With its picturesque park-like setting, visitors get to enjoy a wholesome experience with delicious food and mainstream retail stores.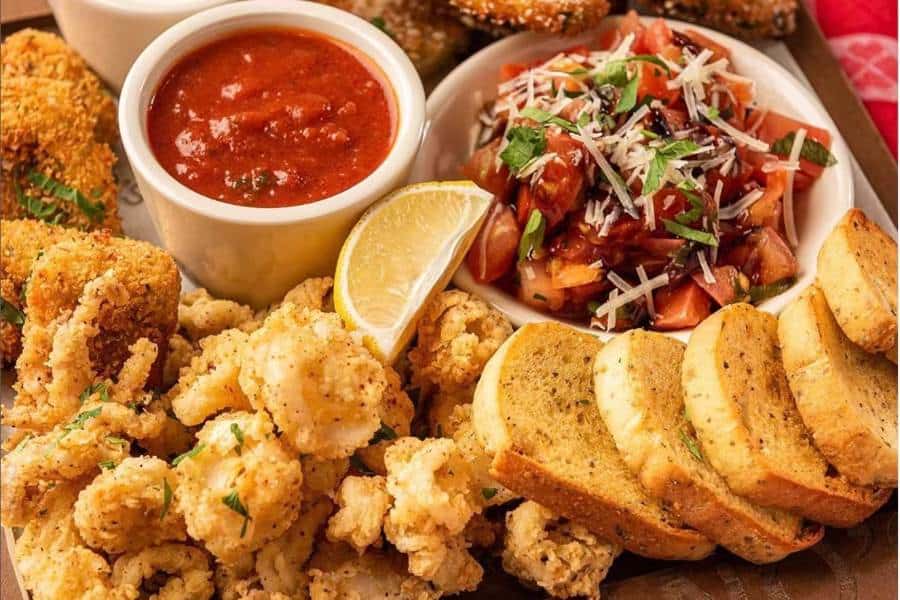 Unlike South or East Austin, the Domain maintains a polished, corporate ambiance with more fine dining varieties than any other neighborhood, and there are plenty of great options to take pleasure in while exploring all the incredible beauty North of Austin.
Here's our selection of the 15 best restaurants in Domain Austin to try out during your next visit.
Best Overall Restaurant: Second Bar + Kitchen
Best Family-Friendly Restaurant: Maggiano's Little Italy
Best Healthy Restaurant: True Food Kitchen
Best Restaurant with an Outdoor Patio: Plank Seafood Provisions
Best Restaurants at The Domain
Second Bar + Kitchen Domain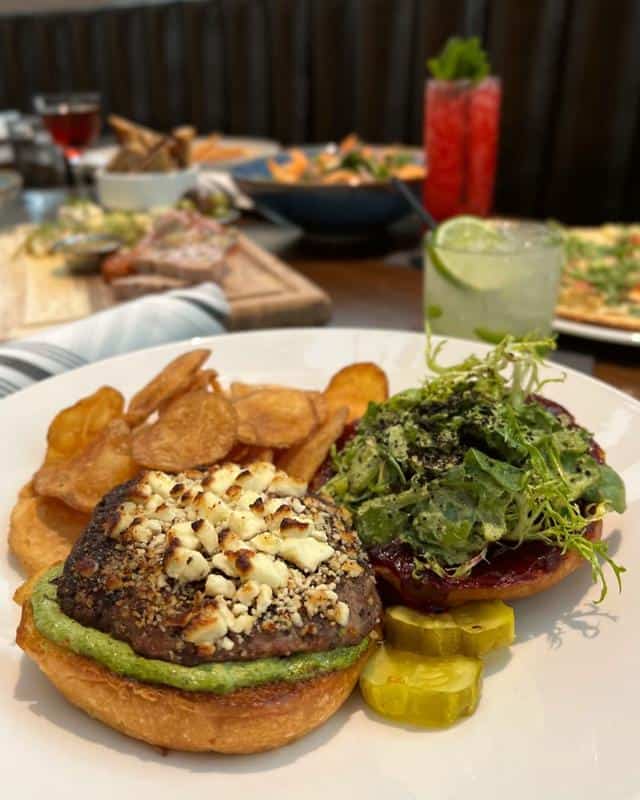 Address: 3121 Palm Way #101, Austin, TX 78758
Known for: Beautiful indoor setup with a farm-to-table dining experience.
Located in the heart of Domain, Second Bar + Kitchen enjoy a fine spot inside the four-star Forbes Travel Guide-rated Arch Hotel.
Executive Chef David Bull presents a farm-to-table experience for guests with New American tasting menus in a refined indoor setting under the gleaming Texas start ceiling.
The shareable small plates are a great option for date nights. The restaurant serves elevated entrees as well as delicious burgers and sandwiches, house-made pasta, and hand-tossed pizzas alongside an approachable wine program and finely crafted cocktails.
The best thing on their menu is the scrumptious Congress Burger with brisket chunk drenched in Swiss cheese and onion confit. They also host weekend brunch with a huge variety including Lobster Frittata, Strawberry Pain Perdu, Braised Lamb Hash, and Smoked Salmon Bagel.
Maggiano's Little Italy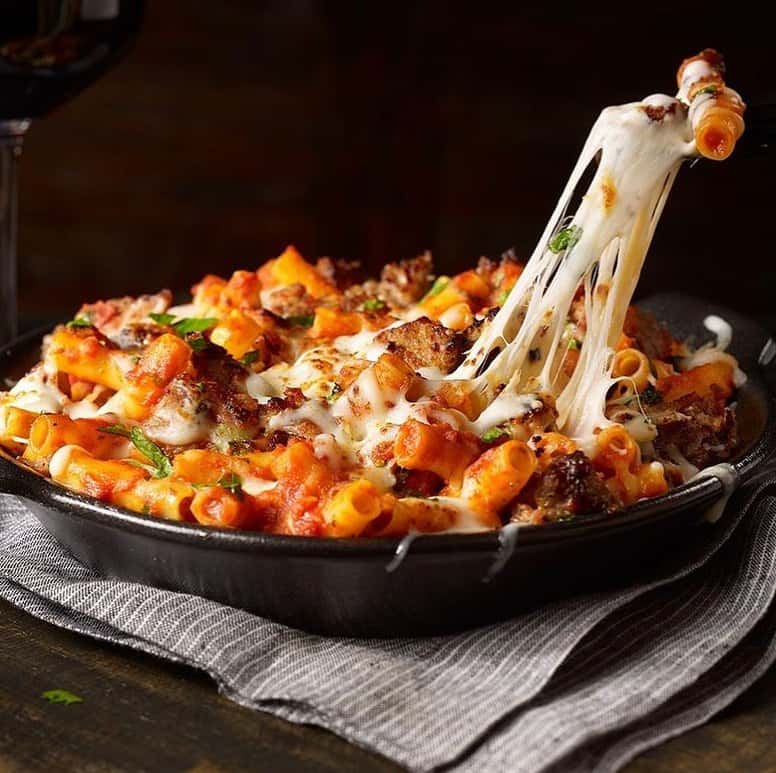 Address: 10910 Domain Dr Suite 100, Austin, TX 78758
Known for: Polished family-style eatery with much-loved traditional Italian dishes.
Since it opened its first branch in Chicago over 30 years ago, Maggiano's Little Italy has stayed true to its Italian roots with authentic recipes and flavors. The airy indoor dining boasts an upscale, family-style setup with signature dishes and sharing platters.
The restaurant has an exclusive family-style menu with four-course meals including salads, appetizers, main course, pasta, entrees, and desserts. Try the Famous Rigatoni "D" pasta, cheesy and indulgent Gnocchi, or the classic Spaghetti & Meatballs with special gluten-free or whole wheat varieties.
Don't forget to order desserts around the table to wrap it up the Italian way. We recommend the gooey and buttery Gigi's Butter Cake, or perhaps a true classic – Crème Brulee.
True Food Kitchen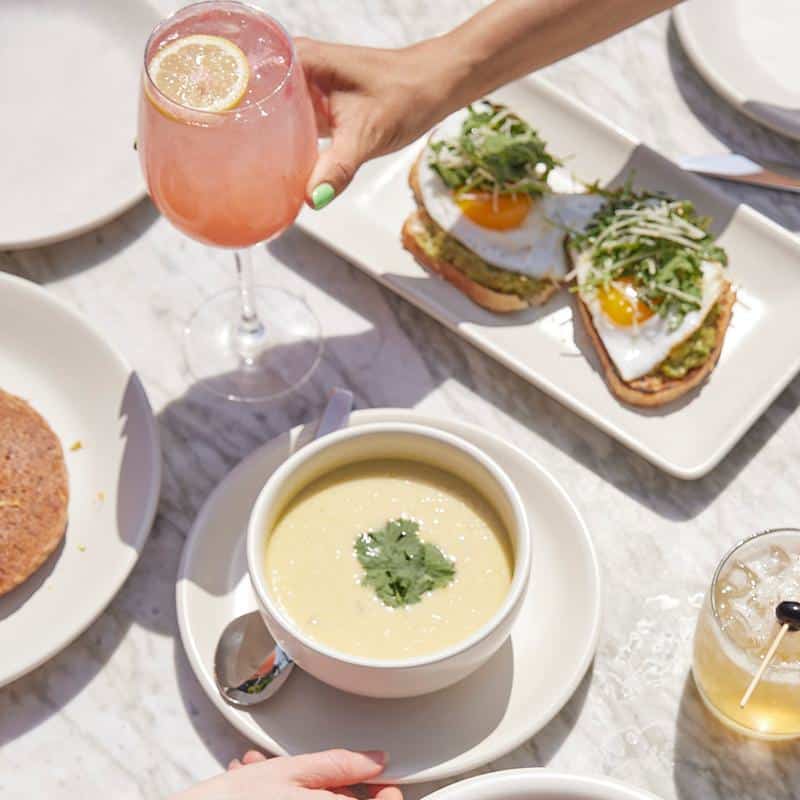 Address: 11410 Century Oaks Terrace Ste 100, Austin, TX 78758
Known for: Healthy variety of dishes with fresh and sustainable ingredients.
Indulge in hearty yet guilt-free treats at True Food Kitchen in the Domain. The restaurant has a beautiful indoor setup with a meticulously crafted menu featuring fresh ingredients, seasonal offerings, and hand-crafted cocktails.
There's a good variety of vegetarian and gluten-free options on the menu. Try the tangy Teriyaki Quinoa Bowl or a heavenly rich Spaghetti Squash Casserole with fresh mozzarella from their vegetarian selection.
They also have a good variety of grass-fed meat with pizzas, burgers, and sandwiches. The entrees include 100% grass-fed sirloin Grilled Korean Steak, Sustainable Pan-Seared Sea Bass, and a delicious Poke Bowl with wild-caught tuna.
Plank Seafood Provisions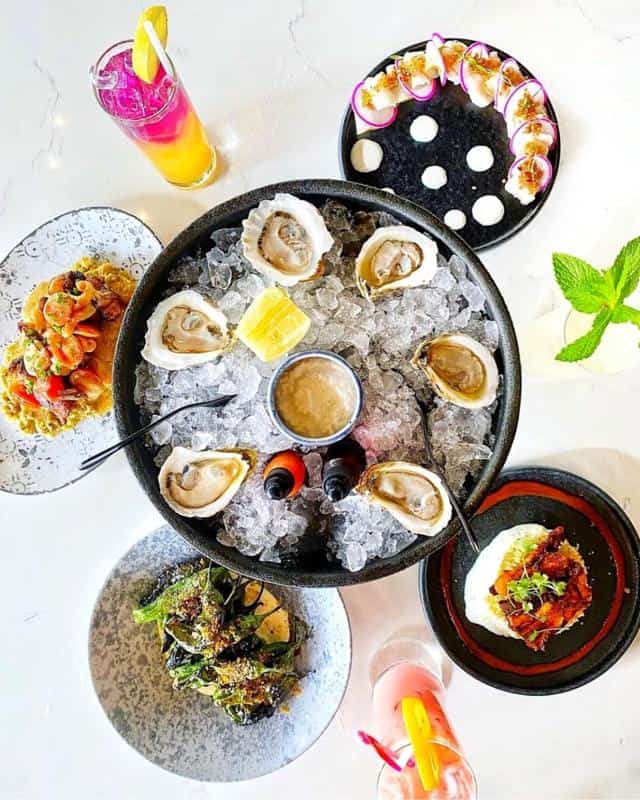 Address: 11410 Century Oaks Terrace Suite 136, Austin, TX 78758
Known for: Picturesque outdoor patio with fresh seafood variety and oyster bar.
Grab your girlfriends and head to the hottest coastal-inspired restaurant in town – Plank Seafood Provisions. The spacious and bright eatery has an oyster bar and seafood grill with thoughtfully sourced ingredients and creative cocktails.
Sprinkle a much-needed dash of sea-life luster in your life with their mouth-watering seafood tower comprising all the seafood delights you can think of. The fresh oysters come in a huge variety, but our favorite is the Dressed Oysters with smoked trout roe and jalapeño shoyu.
The beautifully platted wood-grilled sea scallops on squid ink linguini is another must-try item on the menu. Enjoy this refreshing dining experience on their exquisite outdoor patio.
Thai Kun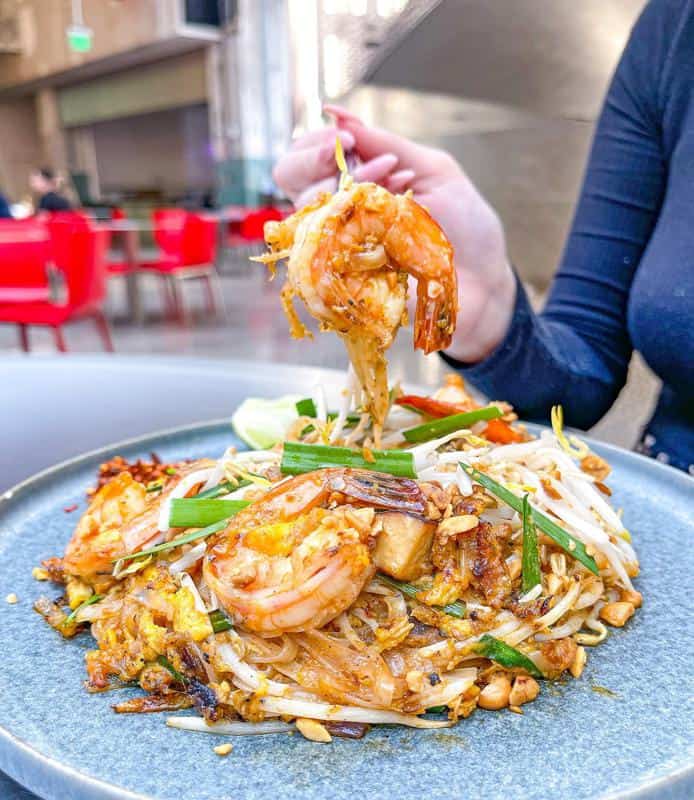 Address: 11601 Rock Rose Ave, Austin, TX 78758
Known for: Classic Thai food in an unpretentious setting.
Entice your taste buds with some spicy Thai dishes at Thai Kun. The fast-casual Thai Restaurant is nestled in the middle of the Domain on rock rose and has a hip and friendly vibe.
The menu comprises classic Thai dishes with vegetarian and vegan options available. Traditional appetizers include Fried Pork Wontons with 'Boom Sauce', Tamarind Chili Wings, Chive Cake, and Taro Crisps.
For a classic Thai experience, get their famous Pad Thai made with rice noodles in a delectable sweet and sour sauce with shrimp, spiced tofu, peanuts, bean sprout, garlic chive, chili ake, and lime.
The drinks menu has Booze-Free options, Draft Beers, Cocktails, and a variety of boutique wines.
Sweet Paris Creperie & Café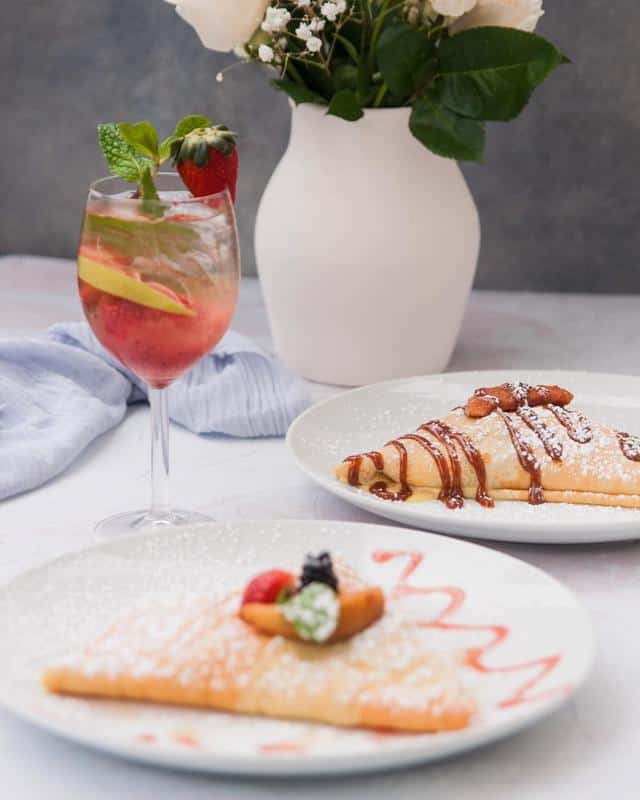 Address: 11410 Century Oaks Terrace Suite 112, Austin, TX 78758
Known for: A Dainty creperie offering a range of sweet and savory crepes.
The quaint and picturesque Sweet Paris is a delicious creperie offering sweet and savory delights for crepe lovers. Its branch in the Domain is relatively new but serves a full menu with a lot of variety.
Stop by for a quick lunch and get your hands on their decadent crepes and waffles. For light savory options, they serve salads and Panini along with savory crepes like a succulent ribeye Philly Cheesesteak, creamy Chicken Alfredo, or a refreshing Nordic with smoked salmon in a dill sour cream.
They also have a good selection of drinks, ranging from Juices and Lemonades to Milkshakes, Hot Drinks, coffee, and Iced Tea. Try the Frozen Mimosa or Mimosa Bucket or a beer and cider from their 'Le Bar' menu.
Velvet Taco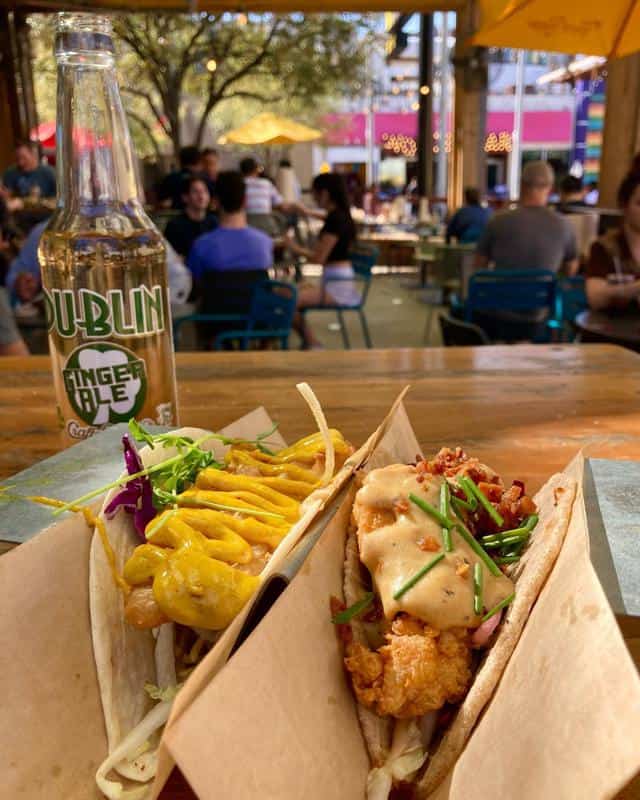 Address: 11501 Rock Rose Ave Ste 160, Austin, TX 78758
Known for: Globally-inspired variety of tacos with innovative combinations.
Satiate your late-night cravings for a good taco at the Velvet Taco in Domain Northside. Using the freshest ingredients, the restaurant extends the boundaries of multi-cultural cuisines while taking the good-old Tacos to new heights.
The globally-inspired variety on their menu elevates the taco game with inventive combinations paired with boozy libations. From their gourmet menu, the Shrimp & Grits taco and Nashville Hot Tofu are great options.
The Buffalo Chicken, Grilled Salmon, and Cuba Pig Taco also sell out like hot cakes. Enjoy your favorite variety with chilled beer, spirited cocktails, wines, or the good-old craft sodas.
Fleming's Prime Steakhouse & Wine Bar
Address: 11600 Century Oaks Terrace Suite 140, Austin, TX 78758
Known for: Elegant and romantic ambiance with delectable prime cuts and exceptional wine list.
Enjoying a prime spot in the northwest high-tech corridor right on Century Oak Terrace, Prime Steakhouse and Wine Bar offers an unparalleled fine dining experience with exceptional Prime steaks and handcrafted cocktails.
Have a memorable evening in the grand indoor dining area or the outdoor patio. The romantic setup is perfect to impress your beau with high-end steaks in an elegant atmosphere.
Working on the tagline of "Designed to complement, made to impress", we highly recommend their skillfully prepared Prime Tomahawk with Truffle-Poached Lobster.
You will love the succulent prime cuts of meat masterfully prepared with fresh seafood and an impressive wine list.
Hat Creek Burger Company
Address: 3210 Esperanza Crossing Suite 100, Austin, TX 78758
Known for: Casual family-friendly atmosphere with juicy burgers and milkshakes.
Have the perfect cheat meal of a big juicy burger overflowing with cheesy goodness at the Hat Creek Burger Company. The family-friendly restaurant has a casual setup with a wide range of burgers, including veggie and turkey versions.
There's a playground for kids to give you ample time to enjoy your meal without any distractions. While their 'Big Hat' remains the top choice on their burger menu, we also suggest deviating from classics with options like the might Cowboy or the tangy Southwest.
They also have a Lettuce Wrap Burger and a Paleo Burger Bowl with a wide variety of shareables and sides, milkshakes, and salads.
Xian Sushi and Noodle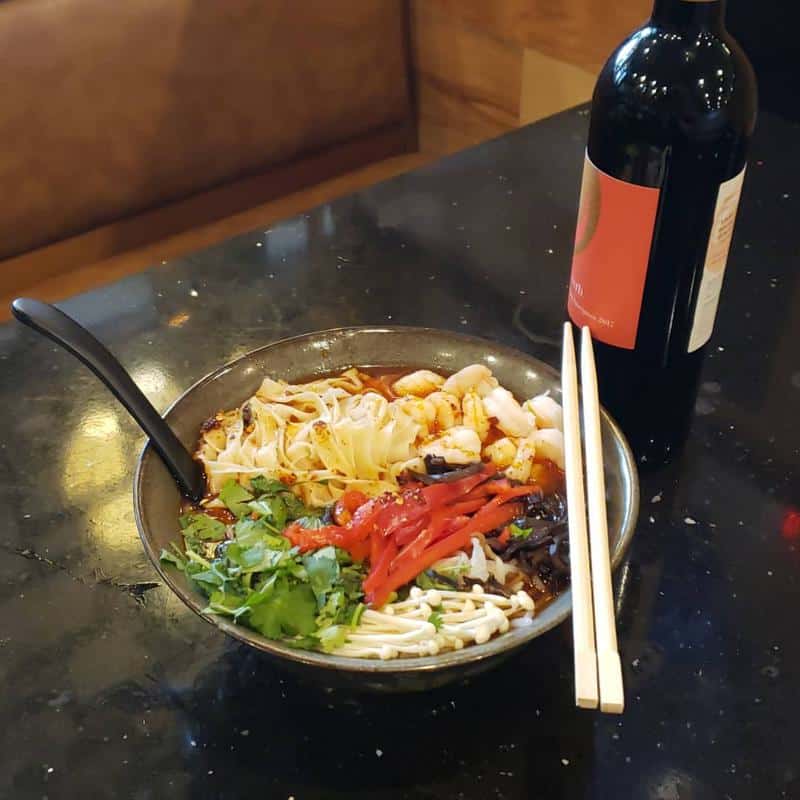 Address: 3401 Esperanza Crossing, Austin, TX 78758
Known for: Casual Asian eatery with hand-pulled noodles and dim sum.
Relish in springy hand-pulled noodles and classic dim sum at the laidback and comfy Xian Sushi and Noodle. The famous Asian eatery allows you to kick back and relax in an unpretentious setting in the heart of Domain.
The Appetizers are served in small platters ideal for sharing and include seafood varieties like Spicy Lobster Dumplings and Shrimp and Vegetable Tempura. The steamed dumplings are quite famous here, especially the Steamed Pork and Shrimp Dumplings called 'Shui Mai'.
Also, try their Hand-pulled Noodle dishes like the Shoyu Ramen Soup and Spicy Pork Noodles. The extensive drink menu has Asian delights like Sake and standard cocktails, frozen drinks, wines, and beers.
Mia Italian Tapas & Bar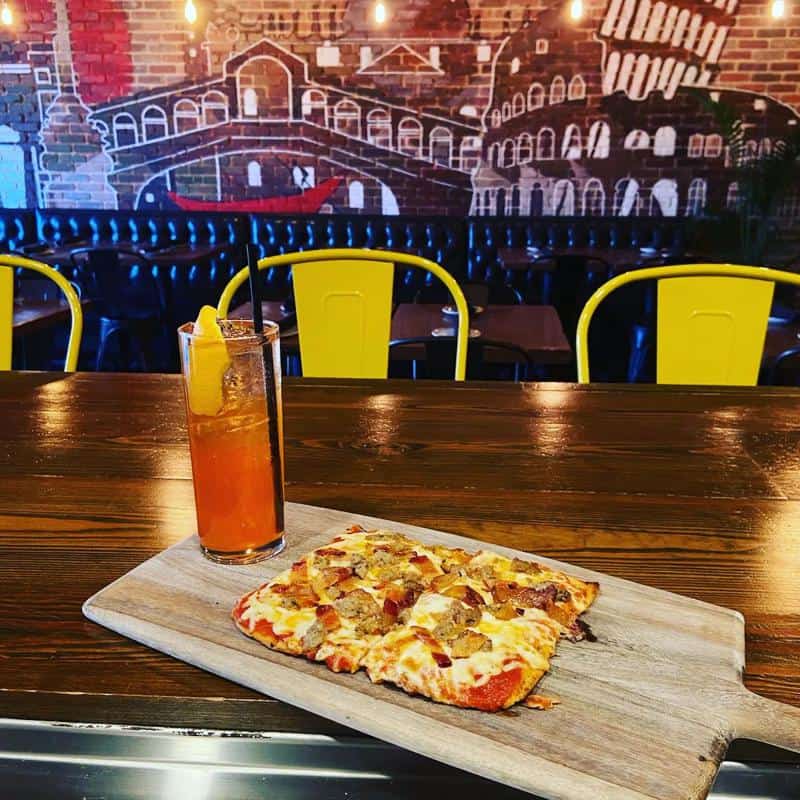 Address: 11420 Rock Rose Ave #120, Austin, TX 78758
Known for: Italian tapas and grilled pizzas with a wide range of drinks.
With an innovative approach to classic Italian fare, Mia is a sleek and trendy hangout spot with Italian tapas and casual happy hour delights. The locally owned and operated eatery specializes in tapas, hand-made pasta, and grilled pizzas.
From their huge tapas menu, try the succulent and perfectly cooked Grilled Striploin Steak with black truffle vinaigrette, Crispy Manchego with pomegranate chili sauce, tasty Beef Sliders, or a light and refreshing serving of Garlic Shrimps with brandy.
For larger portions, enjoy something from the grill with their rotating variety of pizzas paired with a side of your favorite wine or beer.
North Italia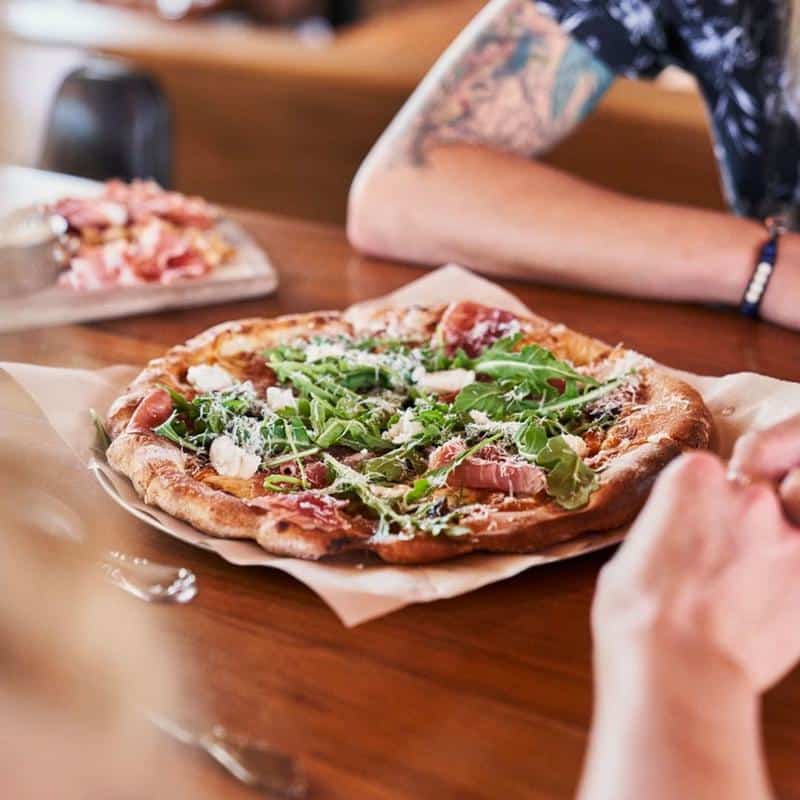 Address: 11506 Century Oaks Terrace Suite 124, Austin, TX 78758
Known for: Modern Italian dishes with the Chef's daily thin-crust pizzas.
Putting a modern twist on traditional Italian fare, North Italia is the perfect spot to satiate your Carb cravings. The contemporary and upscale Italian restaurant is famous for its thin-crust pizzas.
The delicious meals are prepared from scratch every day and feature the Chef's daily pizzas and a luscious range of wines, beer, and house-made cocktails.
Chef's Board is loaded with classics, including a fresh vegetable variety from Farmers' Market and classic Italian delights. Besides the Chef's daily pizza, their vegetable noodles and gluten-free pasta are also a big crowd pleaser.
Punch Bowl Social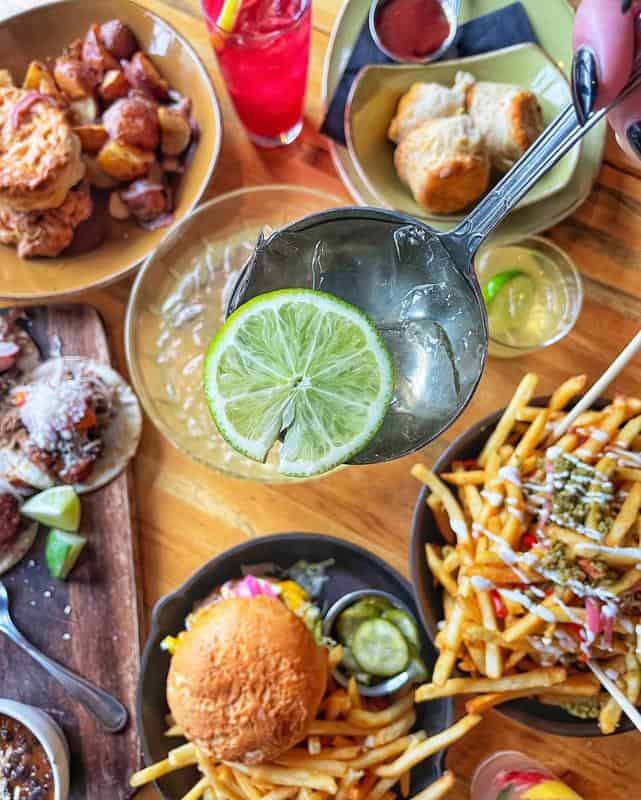 Address: 11310 Domain Dr, Austin, TX 78758
Known for: Award-winning food, craft cocktails, gaming zone, and weekend brunch.
Punch Bowl Social is a one-stop shop in the Domain where you can indulge in some serious food-tainment. The lofty, lounge-like setup is ideal for socializing and mingling with like-minded people over a game of bowling or ping-pong.
The restaurant has a range of comfort foods on its menu to drown your worries away. The fully-loaded drinks menu is equally satisfying and gets you the perfect amount of tipsy for a fun-filled karaoke night.
If you get tired of the life-size scrabble and classic video games, join in on weekend brunch for award-winning food including burgers, waffles, and classic breakfast delights. The boozy brunch drinks include the chilling House Bloody, Beermosa, and Corpse Reviver to name a few.
Perry's Steakhouse & Grille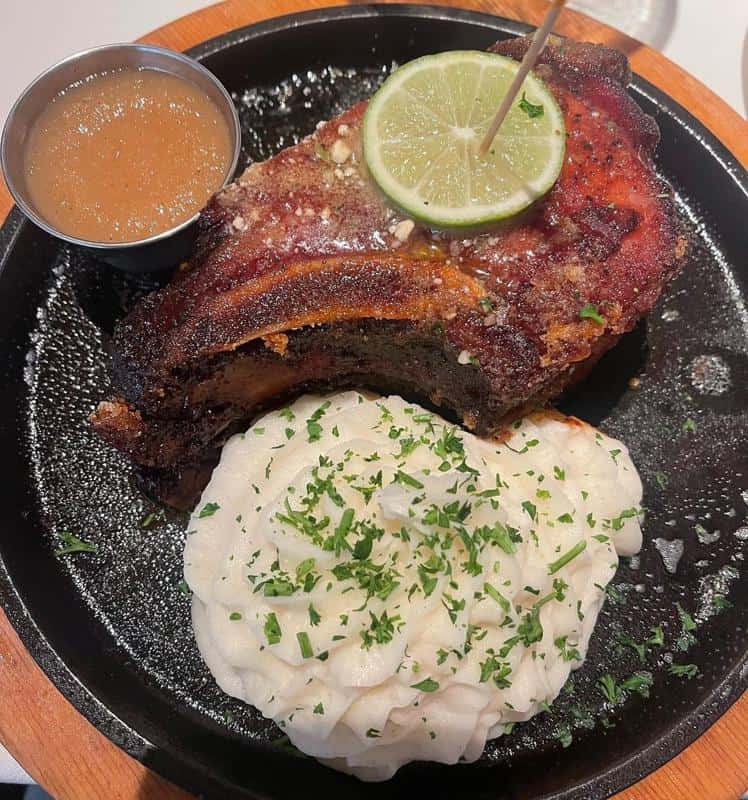 Address: 11801 Domain Blvd, Austin, TX 78758
Known for: Intimate and lively venue with a meaty menu, live jazz, and Bar 79.
The sleek and stylish Perry's Steakhouse & Grille invites you to dine like royalty in an upscale setup with live jazz. The intimate and dimly lit venue is beautified with an imperial layout and a vibrant bar.
The high-quality food includes prime steaks and chops with creative tableside presentations. The famed Pork Chops are perfect for sharing and go exceptionally well with their wide selection of wines and cocktails.
The flaming desserts and refreshing sips at the upbeat Bar 79 mark the perfect end to the evening. They also have an expansive patio to pair your drinks with the warm evening breeze.
Flower Child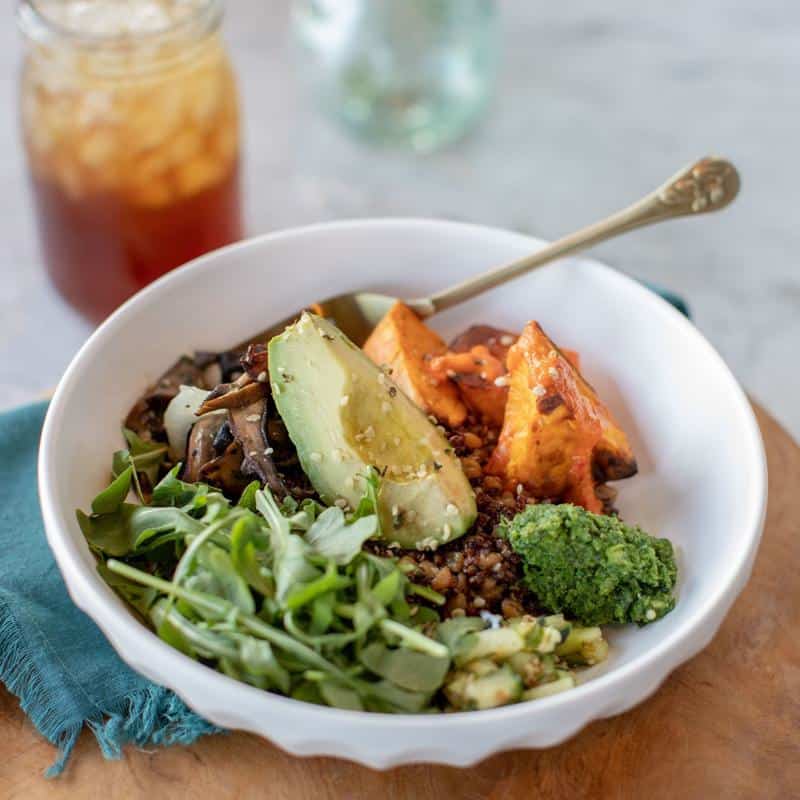 Address: 11721 Rock Rose Ave, Austin, TX 78758
Known for: Aesthetically pleasing set-up and healthy food.
The dainty and beautiful Flower Child is as uplifting and cheerful as its name suggests. The health food haven has an elegant setup with colorful flowers on every table and an airy atmosphere.
The menu is loaded with a variety of salads, wraps, bowls, and classic sides. Vegetarian, vegan, and gluten-free options are also available.
For sharing and large gatherings, order the sharing platters including 'The Grateful Spread' with a large salad, six wraps, and avocado/hummus with pita and vegetables. Mix and match your favorite dishes alongside an impressive list of wines, beer, and kombucha on tap.
Read More:
Conclusion
The Domain has a well-establish culinary scene, and we invite you to experience it in full bloom with the best restaurants on our list.
Offering an assortment of cuisines, dining ambiance, and side options of gaming zones and live music, you are sure to find your heart's delight in the restaurants mentioned here.