Texas is one of the most preferred States to visit by tourists for its remarkable charm and its small Southern towns reminiscent of mixed cultures from Eastern Europe to the Mediterranean.
Founded in 1846 by German immigrants seeking asylum from political unrest in Europe, residents of Fredericksburg help to preserve the memory of those early pioneers with refurbished culinary experiences.
Whether looking for a warm place to experience a night of fine dining or a taste of the Wild West, Fredericksburg offers something for everyone with its array of German restaurants on Main Street. This article takes you on a food tour of some of your favorite places to enjoy a charming romantic evening with your partner in Fredericksburg.
Willkommen!
Best German Restaurants in Fredericksburg, TX
1. Vaudeville Restaurant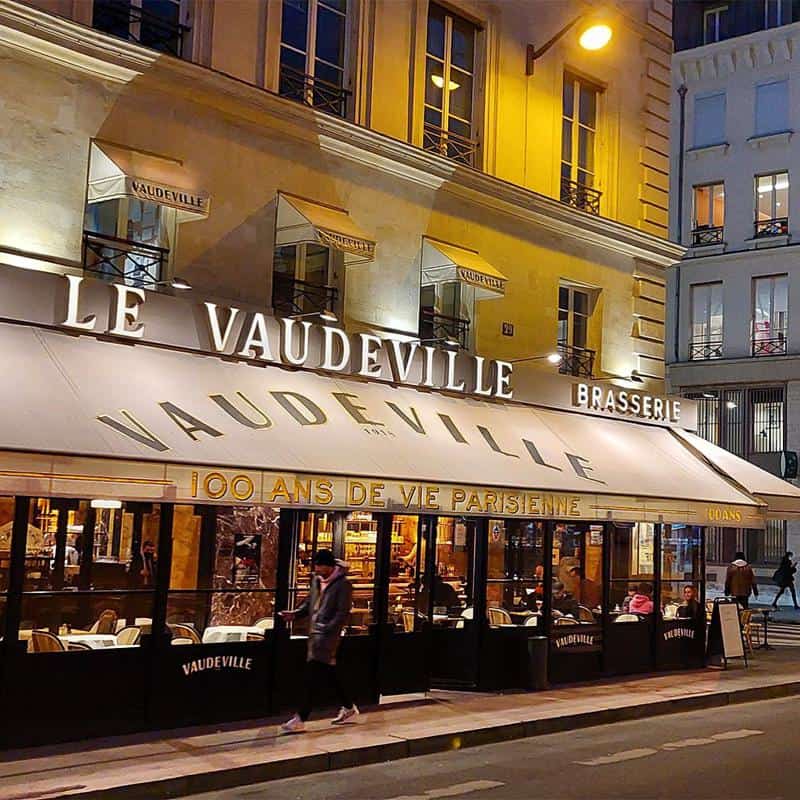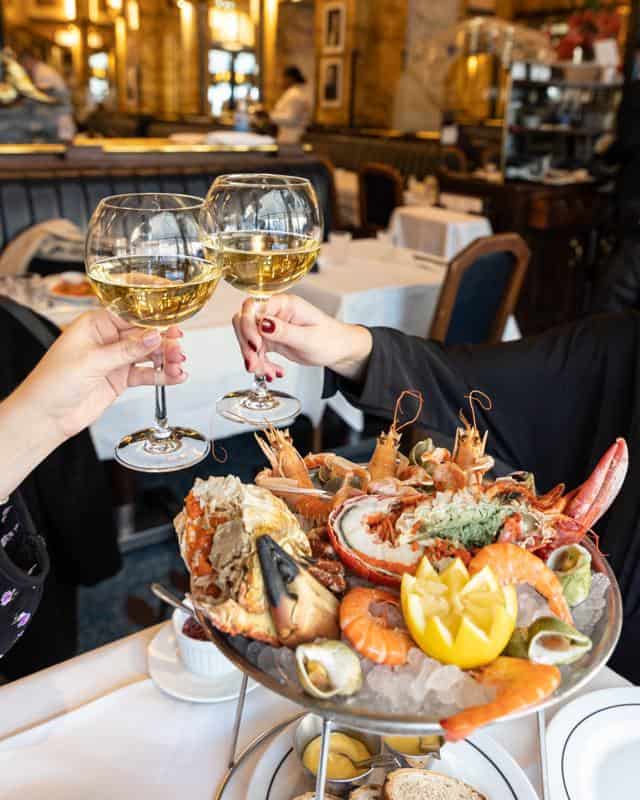 Location: 230 E Main St, Fredericksburg, TX 78624
The Bistro is right on Main Street. Integrated with Vaudeville Boutique, a fanciful boutique, Vaudeville is set in a cozy setting on a lower floor from the boutique – just a few steps down the stairs. Make reservations for your special night in the finest romantic Bistros in Fredericksburg, Texas.
The menu isn't a novel fuss – relatively easy to browse through the well-curated items on the list and decide what you want within minutes. The wine selection is scarce too but refined to perfection. Try the Blanc de Blanc or craft beer.
For starters, go with a classic Sashimi Salmon or a Basil Pesto Vinaigrette. The featured entrees on the menu vary with your taste. You can opt for grilled Lamb, Duck Confit, or seared Tuna – all made to perfection, and with fantastic accompaniments, including grilled tomatoes, oven cured potatoes and herb spaghetti.
Take advantage of the day's special when you visit – that gives you the Chef's undivided attention to deliver a classic meal. On Sundays, they have heavenly fried chicken to go with a lusciously fat lump crab made in the dough (or with dough, as a pastry); it's delectable nonetheless.
Dessert & pastries include crème brûlée, dark chocolate crème, and soft croissants.
Highlights:
Fine dining
Basement setting
Limited menu
2. Old German Bakery and Restaurant
Location: 225 W Main St, Fredericksburg, TX
The Old German Restaurant and Bakery Is located on Main Street in Fredericksburg. It is a family-owned eatery that serves authentic German food using traditional recipes to make delicious meals.
Every dish is made from scratch, with farm-fresh ingredients from the local farmers' market. Come here for breakfast and daily specials at lunch.
It is a great family restaurant with people lining up, waiting to get in on most days – which is a good sign that they serve fresh, tasty food.
They have some benches outside with lovely-looking tables along the front windows next to the bakery area, and the sweet aroma fills the air as you enjoy your meal while watching the activities on Main Street.
Enjoy German cuisines such as tasty soft pretzels from the bakery, pecan meringues, and chocolate puff. In the restaurant, try the beef rinds roulade, tall cheeseburgers with plenty of meat and fixings but without the bun, Local cuisine, and Vegetarian Friendly.
Highlights:
Fantastic food served in generous portions
Great family atmosphere
Delicious treats from the bakery
Good ambiance, spacious with outdoor seating
3. The Ausländer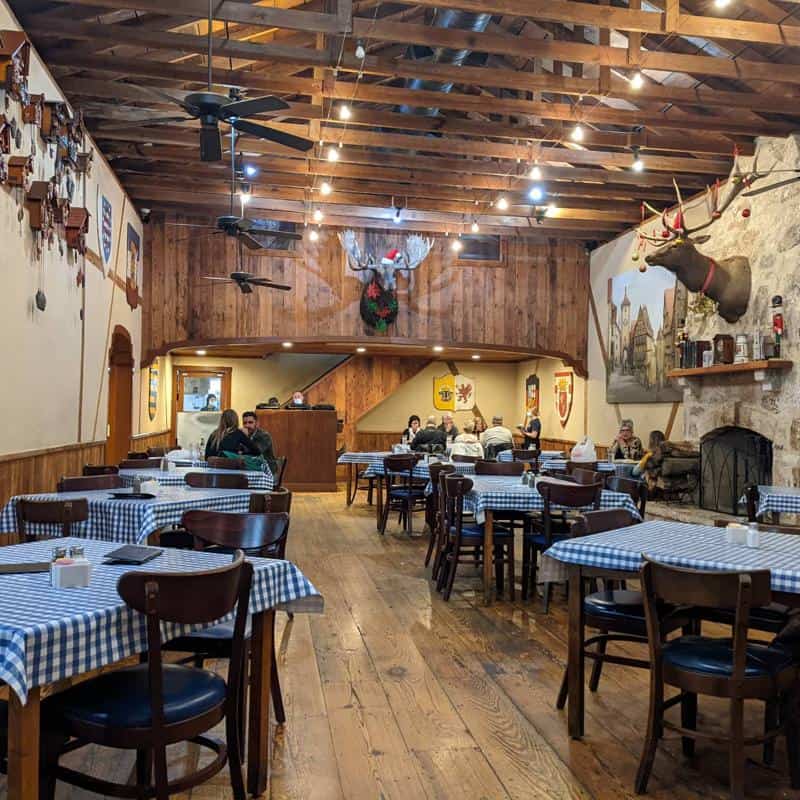 Location: 323 E Main St, Fredericksburg, TX 78624
The Ausländer restaurant and beer garden (Biergarten) is located on Market Street and has been around since 1979. It has indoor and outdoor seating – the outdoor seating space offers a pleasant cool breeze, which is excellent if you want to enjoy the lovely atmosphere on a warm Texas day.
They serve fantastic authentic German food, ranging from quality steaks and a vast selection of the finest beer in Texas. On weekends the place packs up with eager patrons who enjoy German delicacies over live music in a German atmosphere.
Some of the best dishes include; the Jagerschnitzel and Rouladen, the pot roast and Bratwurst, the bread pudding, the potato soup, and the Schnitzel. Try the delicious peach mousse or the apple strudel for dessert.
They also serve great beer choices, which go very well with the steaks.
Highlights:
Bustling, fast, and efficient service
Excellent German dishes made to perfection
Great choice of beers
Live music on weekends
4. Der Lindenbaum Restaurant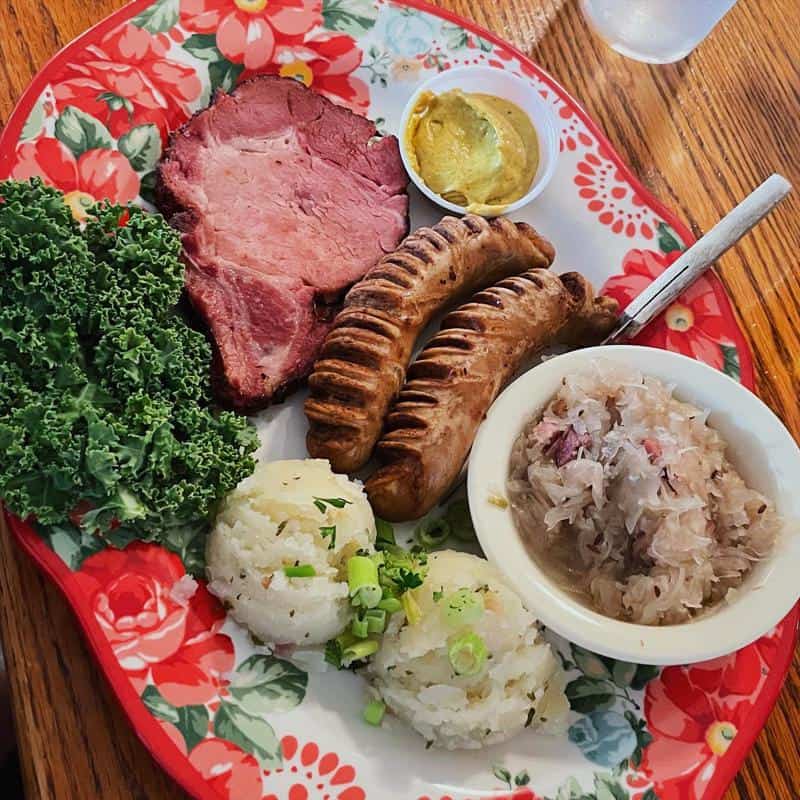 Location: 312 East Main Street, Fredericksburg, Texas 78624
This amazing small but homely restaurant is on Main Street, near the Nimitz Museum in Fredericksburg, Texas. It's truly one of a kind, with a stunning limestone building that dates back over 100 years ago.
"The Linden Tree" (Der Lindenbaum) is nostalgic to Germans, especially in the springtime – it's a symbol of the Homeland. Many comrades who visit the restaurant feel right at home due to the atmosphere and the warm, savory German dishes available at this great restaurant.
Ingrid Hohmann, the delightful owner, is a professional chef who has attracted numerous visitors to her restaurant, which is famous for its Rheinland-style lunch specials and delicious cakes such as apfelstrudel Black Forest cake and streuselkuchen.
For a beautiful German dining experience in Texas, visit Der Lindenbaum restaurant and sample some authentic specialties such as juicy steaks, Schnitzel, the best Spätzle, and homemade cakes for dessert.
They also have an array of the choicest wines and German beer – both draft and bottled beer.
Highlights:
German traditional food
German beer and wine
Delicious Chef made cakes
Cozy atmosphere
5. Fredericksburg Brewing Co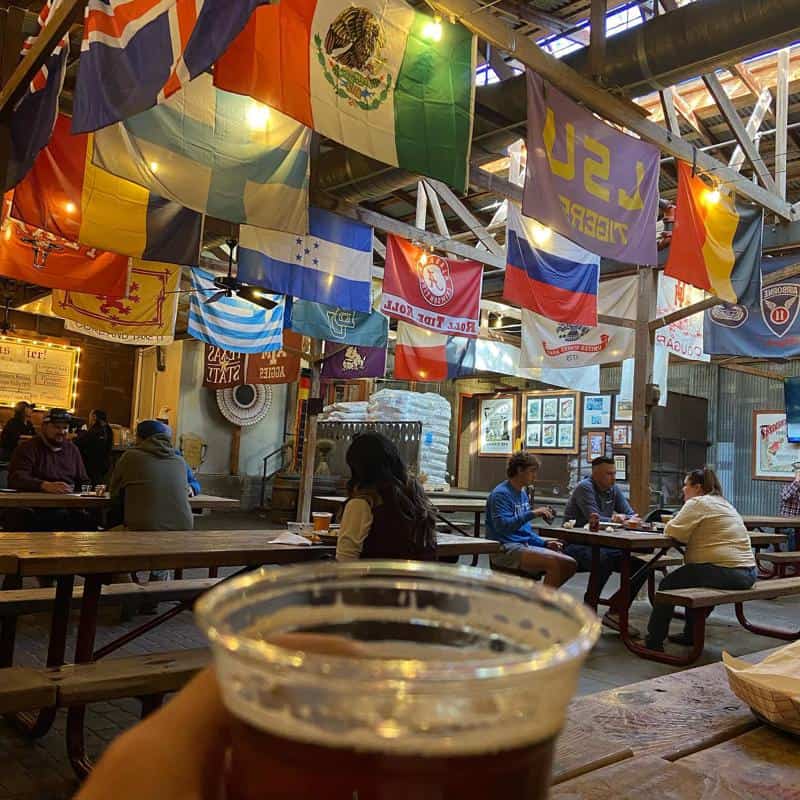 Location: 245 E Main St. Fredericksburg, TX
Crowned as the Best brewpub in Texas, Fredericksburg Brewing Company is the oldest restaurant and brewpub in Texas. Its award-winning brews have made the establishment an international phenomenon and the "go-to place" for a German beer experience while in Texas.
The 1890s building is a refurbished historical rock building with a cozy fireplace, old-fashioned wooden ceiling, gorgeous antique lighting, and an enclosed Biergarten.
The Brewery offers a tasty selection of meals ranging from 'Uberbacken Schweineschnitzel' — Baked pork schnitzel; Knackwurst, Bratwurst & Pepperwurst – a range of sausages served with creamy cheddar ale soup, mashed potatoes, or fresh bread.
You can also combine the sausage samplers or boneless pork chops with spicy green beans, Cheddar Cheese, and Mashed potatoes or French fries.
The Fredericksburg Brewing Co is undoubtedly the best place to experience a good Ol Wurst' (large sausage). And the Best locally brewed beer.
Highlights:
Best range of sausages
Locally brewed German beer – try the red or dark beers; or the Beer Flight
Gift shop selling various souvenirs
Best spot to celebrate Oktoberfest
6. Rathskeller Restaurant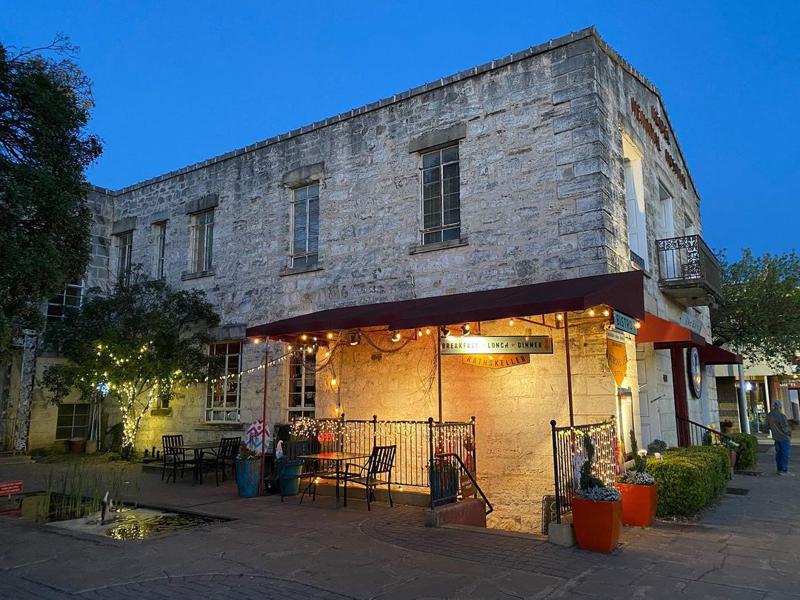 Location: 260 E Main St, Fredericksburg, TX 78624
Rathskeller is a rustic, warm spot where you can pop in for a hearty homemade German meal. The restaurant sits in an old building that was once a hospital in the early 1800s.
Opportunely located on Main Street, this hidden gem is huddled in the basement serving up German classics like Schnitzel, steak, seafood, and sandwiches, accompanied by hot potato salads or red pickled beets.
The restaurant offers a fine dining experience with a classic selection of wine and beer. The food is sold in large portions, which you can enjoy a plate for two if visiting for an intimate dinner. They also have American favorites such as burgers, meatloaf, and steak combos.
Try the chicken fried steak; it comes on a huge platter and is very tender. You can also sample the signature dish – the Bavarian Schnitzel; delicious tender pork layered in seasoned bread crumbs and deep fried in creamy butter.
They have the best peach bread pudding with caramel sauce for dessert.
Highlights:
Basement joint
Combo meals – a mix of American and German delicacies
Live music most Saturday Nights
7. Otto's German Bistro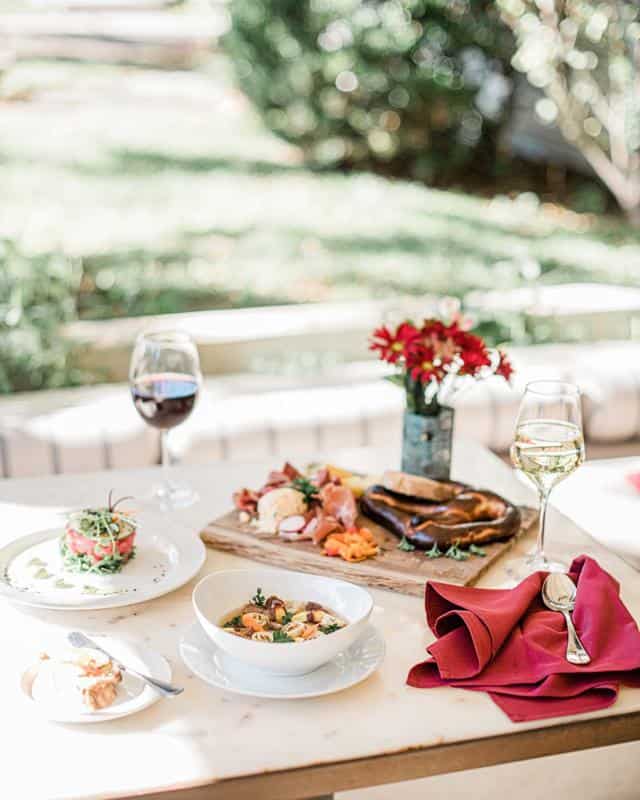 Location: 316 E Austin St, Fredericksburg, TX 78624
Otto's is a great, casual restaurant – so good that you have to book your reservations early to secure a spot. Walk-ins are allowed, and the wait time for a free table is about 30- 60 minutes.
A superb romantic spot in Fredericksburg for mid-morning Brunch, offering outstanding service, with indoor/outdoor sitting in the heart of Fredericksburg, TX. It's also a popular date night Bistro in Fredericksburg, and you will enjoy decent food and good ol' German beer in a quaint environment.
The meals are carefully prepared using fresh ingredients from the local farmers. For starters, they have flatbread perfectly done and thinly crusted to perfection.
You can also try potato pancakes and mushrooms. For the mains, try their delicious truffle – shrimp pasta served with a plate of sausages; or the duck schnitzel, deep sea prawns, with casarecce pasta all are outstanding choices.
For dessert, you can have the French press coffee with a chocolate torte which, as returning diners claim, is "to die for," while others say it is "heavenly" and "a soft landing bliss" in your mouth. Otto's is considered one of the best restaurants in Fredericksburg!
Highlights:
Dinner & Brunch
Homely meals, flavorsome desserts & classic beers
Helpful, non-obtrusive service
8. Altdorf Restaurant & Biergarten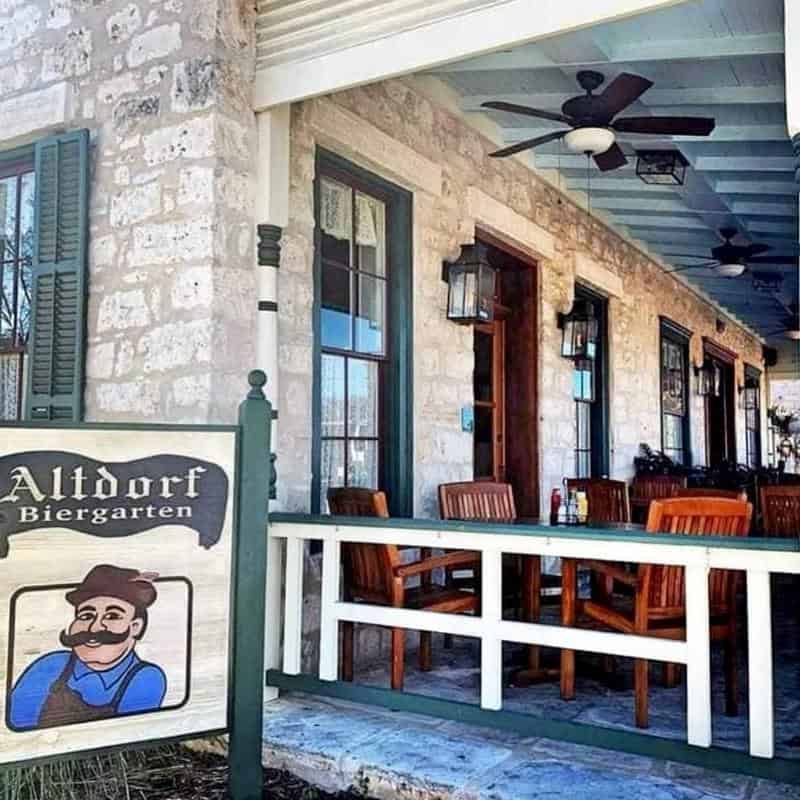 Location: 301 W Main street Fredericksburg, TX
The Altdorf is a historic establishment that was first built in 1977. It's a favorite German spot in the area.
It has unique features of Altdorf, a stone-lined, hand-dug well at the entrance, the fixtures carved from the wood remnants of the original building. The outdoor sitting area is ideal for happy hour enthusiasts and is a pet-friendly place.
Their menu includes a range of traditional German sausages, side dishes, and appetizers. The Schnitzel is a regular dish in German eateries which you should try. While most eastern European cultures claim Schnitzel as a traditional dish. Jägerschnitzel is originally a typical German signature dish and one you will encounter in any of the Fredericksburg restaurants.
Altdorf makes it perfectly—the juicy flavors built from shallow fried onions in bacon fat—and you've got jägerschnitzel. Enjoy your classic pork assortment (Schnitzel) with mushroom sauce and wash it down with a glass of rich red wine.
Sample their famous apple strudel for dessert topped up with homemade ice cream.
Highlights:
Live music on weekends
Schnitzel
Beer garden in the outdoor sitting
9. Cabernet Grill Texas Wine Country Restaurant
Location: Cotton Gin Village; 2805 S. State Highway 16 Fredericksburg, TX 78264
Considered an ideal place to eat in Fredericksburg for an unforgettable old-fashioned romantic dinner night, the Cabernet Grill welcomes you with rustic wooden décor and ivy-covered walls filled with chestnut themes wooden fixtures.
It simply blows your mind away at the simplicity of it all and yet so elegant. The outdoor setting fills you with a warm, inviting air—surrounded by calm koi ponds, stunning landscaping, and lovely rustic cabins and cottages for a lovers' getaway. The perfect romantic German restaurant in Fredericksburg to make all your dreams come true.
Dining at the Cabernet Grill Restaurant begins with optional wine flights. Appetizers are either Texas Twinkies or goat cheese. For the entrees, the range involves unique fried chicken variations, broiled shrimp, and grilled quail – which is quite tasty, well-seasoned, and cooked to perfection.
The desserts are irresistible. Try the Lavender ice cream topped on a peach cobbler or the chicken fried pecan pie sweetened with Jack Daniels whisky and rich chocolate ice cream pure bliss!
Toast your love with a long glass of Greek Grape Creek Cabernet Trois (which goes well with seafood) or a sweet glass of McPherson Vermentino.
Highlights:
Beautiful indoor/outdoor landscape
Intimate setting
Great food & choice of the wine list
Read More:
Map of Best German Restaurants in Fredericksburg, TX
Conclusion
So go ahead and take in the charming restaurants in the small town as you explore your dining options with German restaurants in Fredericksburg splashed on Main Street. From Ausländer Biergarten, Der Linderbaum, to Vaudeville or the sentimental Old German Bakery and Restaurant at the east end. Tell us about your date night in Fredericksburg dining experience in the comments section. We'd love to hear from you!