Searching for a restaurant in America's most famous Sin City that promotes decadent foods and serves a burger that packs 9,982 calories? Look no further than Heart Attack Grill!
Heart Attack Grill is without a doubt, one of the most controversial restaurants in downtown Las Vegas. Serving incredibly unhealthy meals, this hospital-themed dining establishment is definitely not for the faint-hearted.
At Heart Attack Grill, excessive eating is not looked down upon. With signs on the walls like "Cash only because you might die before the check clears" this tongue-in-cheek restaurant actually encourages you to feast on monstrous portions of meat.
For some reason, Heart Attack Grill is one of the most popular culinary destinations in Las Vegas. It attracts large crowds of tourists who come here to indulge in giant burgers that just might give you a heart attack.
The restaurant is well-known for its super unhealthy Bypass Burgers which range from Single (half a pound) to Octuple (four pounds). Other special dishes include things like hot dogs, butterfat milkshakes, and flatliner fries.
Heart Attack Grill: A Little Bit of History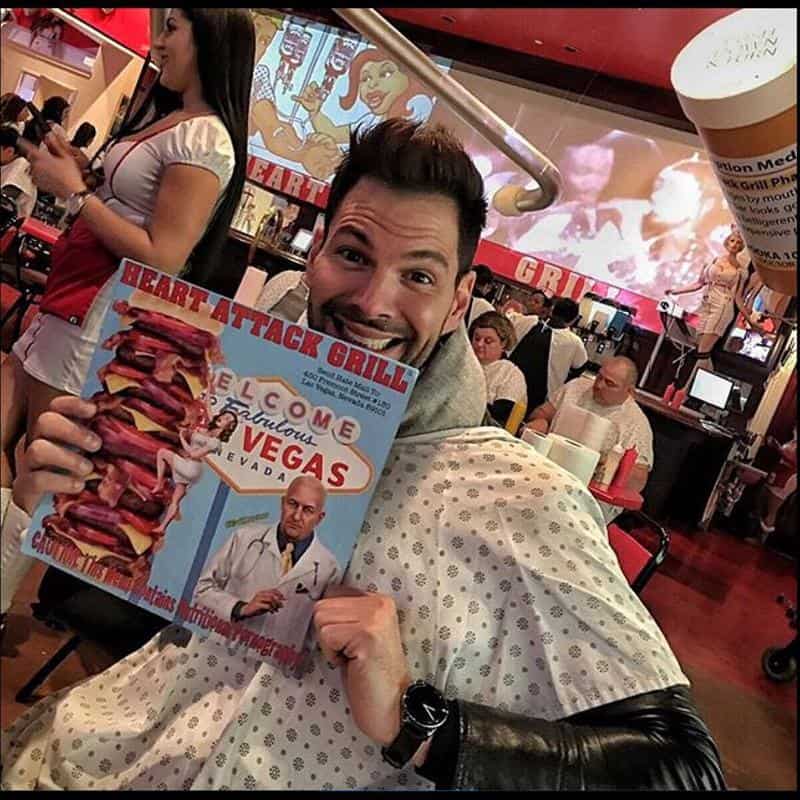 Heart Attack Grill was founded back in 2005 by Jon Basso, a non-AMA-recognized physician. Dr. Jon, as many know him, is not a fan of political correctness. He once apparently declared that he wanted to make food "so bad for you it's shocking." Heart Attack Grill has found itself in a continual state of self-defense against various activist groups and branches of state government.
The first version of the Heart Attack Grill was actually opened in Arizona's Tempe. The procedure here was quite simple. Let's serve fast food that is incredibly unhealthy. The restaurant was closed in 2011.
Jon Basso didn't want to give up and decided to open a new branch in Dallas, Texas. Due to non-payment of rent, the Dallas branch closed its doors in October 2011.
The third version of Heart Attack Grill was opened in Las Vegas in 2011. Since then, the restaurant has managed to establish itself as a dining institution in downtown Las Vegas. It is now uncommon to see Dr. Jon in his doctor's lab coat and stethoscope on the grill flipping hamburgers.
The Theme of Heart Attack Grill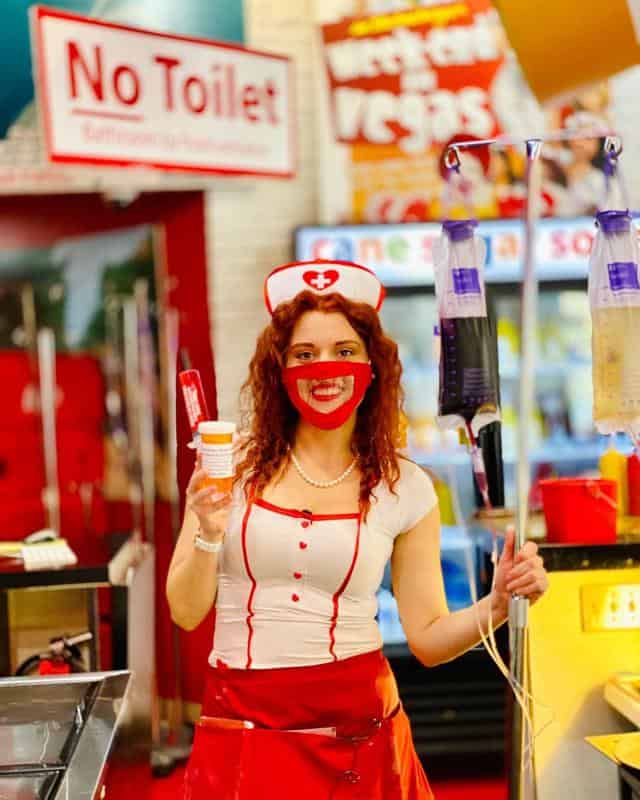 This restaurant in Las Vegas features a rather unique theme, to say the least. Think of dining at Heart Attack Grill like visiting a hospital. Diners are "patients", while the waiters are referred to as "doctors" and waitresses as "nurses". The waitresses attend to diners dressed in provocative medical attire. Keep in mind that no one here is a licensed doctor or a nurse.
Upon "check-in" to Heart Attack Grill, you will be given a wristband, as well as a medical gown. Some guests find the décor morbid, while others find it amusing. Expect to see a high ceiling adorned with giant bottles of meds and urinals sporting the faces of Hilary Clinton and Donald Trump. Heart Attack Grill has many catchphrases, and one of them is "a taste dying for". You get the picture, right?
Another unique feature is a parody of Leonardo da Vinci's "Last Supper". In this photo, you will see the founder, Jon Basso, enjoying food with a range of foodie celebs like Ronald McDonald and KFC's Colonel Sanders. With signature dishes Bypass Burger and Coronary Dog, the food menu reflects the theme and décor at Heart Attack Grill.
Heart Attack Grill Menu and Prices
Let's get down to the food menu at Heart Attack Grill. After all, this is why diners visit this restaurant in the first place.
Menu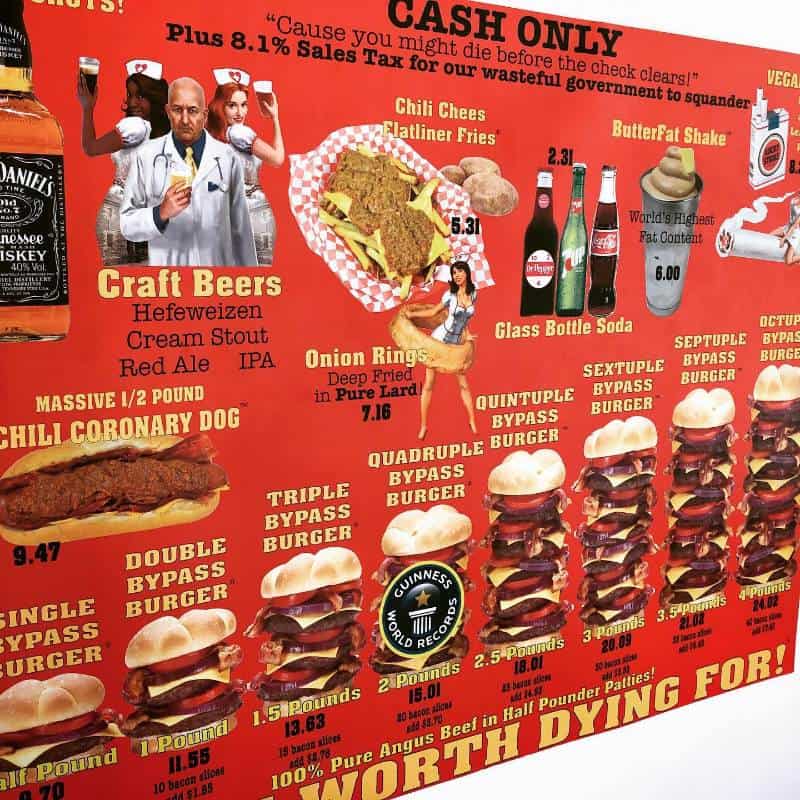 The menu is quite simple and focuses on the restaurant's signature Bypass Burgers. Each burger includes cheese, chili, meat patties, mayo, ketchup, mustard, and caramelized onions which are cooked in lard. There is no salad here, just a few slices of tomato. Diners can add slices of bacon to their burger.
There is no shortage of burger options at this foodie joint in downtown Las Vegas. These burgers range in weight from half a pound to four pounds of beef. The burger menu is extensive and includes:
Single Bypass Burger®
Double Bypass Burger®
Triple Bypass Burger®
Quadruple Bypass Burger®
Pendruple Bypass Burger™
Sextuple Bypass Burger™
Septuple Bypass Burger™
Octuple Bypass Burger
Alongside signature burgers, Heart Attack Grill offers "Flatliner Fries" which are cooked in lard and available as a side dish. Loaded with loaded fries, onion rings, jalapeño poppers, and cheese sticks, this side dish is packed with calories.
If you don't feel like having burgers, go for the considerably-sized Coronary Dog. Smokers will be pleased to hear that Heart Attack Grill sells unfiltered Lucky Strike cigarettes in the restaurant. As for the drinks list, it includes everything from wine to beers. Try the Pabst Blue Ribbon Beer.
You can also order Butterfat Shakes which are served with a large dollop of butter on top or enjoy full-sugar Coca-Cola. Although it's not the kind of place where you take your kids, the restaurant sells candy cigarettes for the little ones.
Prices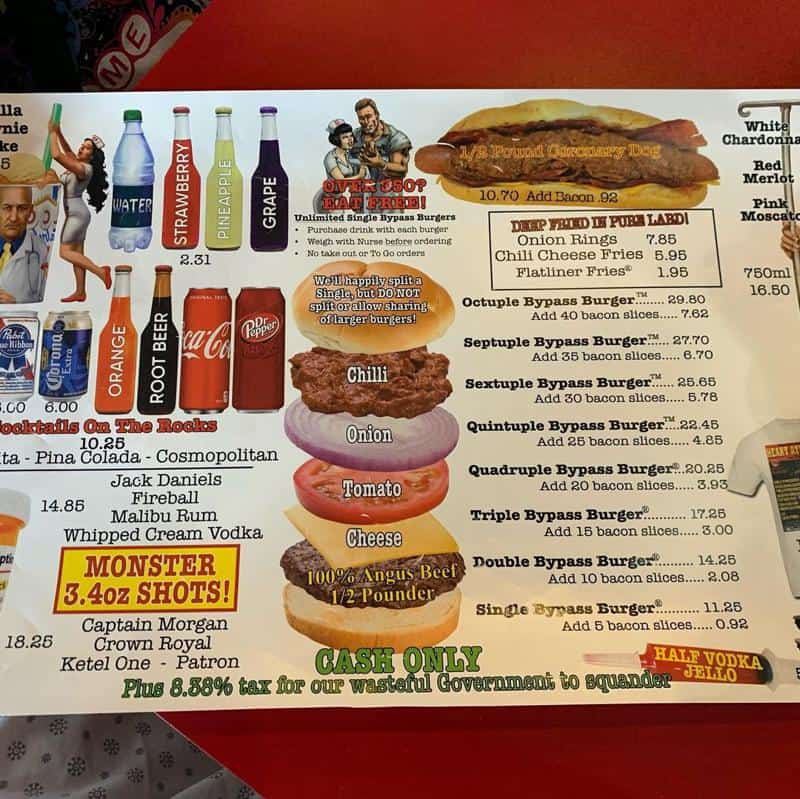 We have to admit that the food at Heart Attack Grill is reasonably priced. For instance, the Octuple Bypass Burger costs $29.80. Deep-fried Flatliner Fries will set you back $1.95. Check out the prices for some of the most popular dishes on the menu:
Single Bypass Burger $11.25
Double Bypass Burger $14.25
Triple Bypass Burger $17.25
Quadruple Bypass Burger $20.25
Quintuple Bypass Burger $22.45
Sextuple Bypass Burger $25.65
Septuple Bypass Burger $27.70
Octuple Bypass Burger$29.80
Coronary Dog$ 11.25
Flatliner Fries $1.95
What is the Octuple Bypass Burger?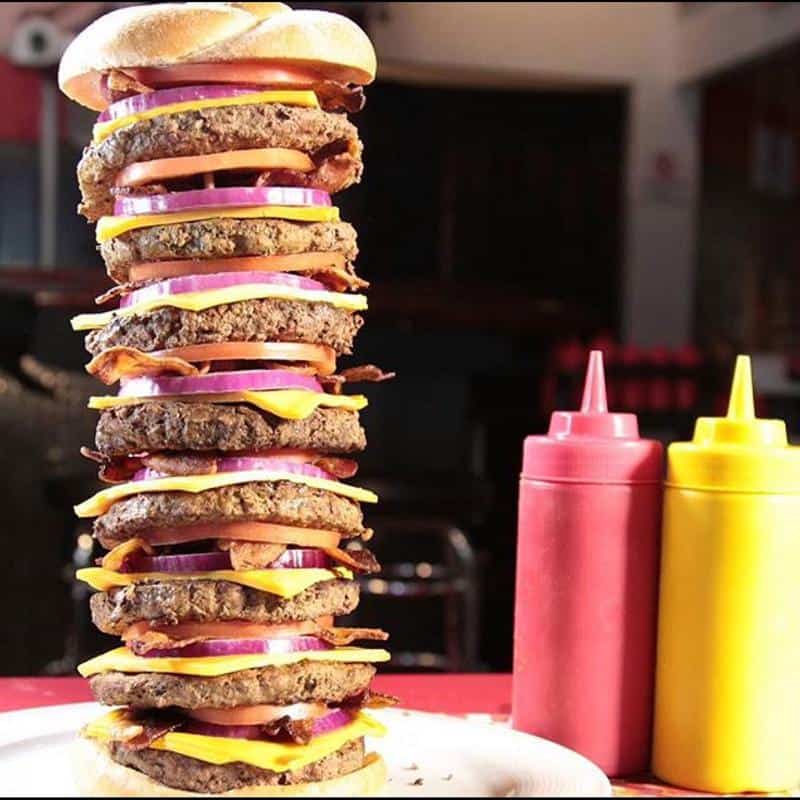 This ultimate guide to dining at Heart Attack Grill in Las Vegas would not be complete without telling you a bit more about the most popular dish, the Octuple Bypass Burger. This monstrous creation consists of 8 beef patties, 40 slices of bacon, 16 slices of cheese, an entire onion, and chili.
Promotions & Gimmicks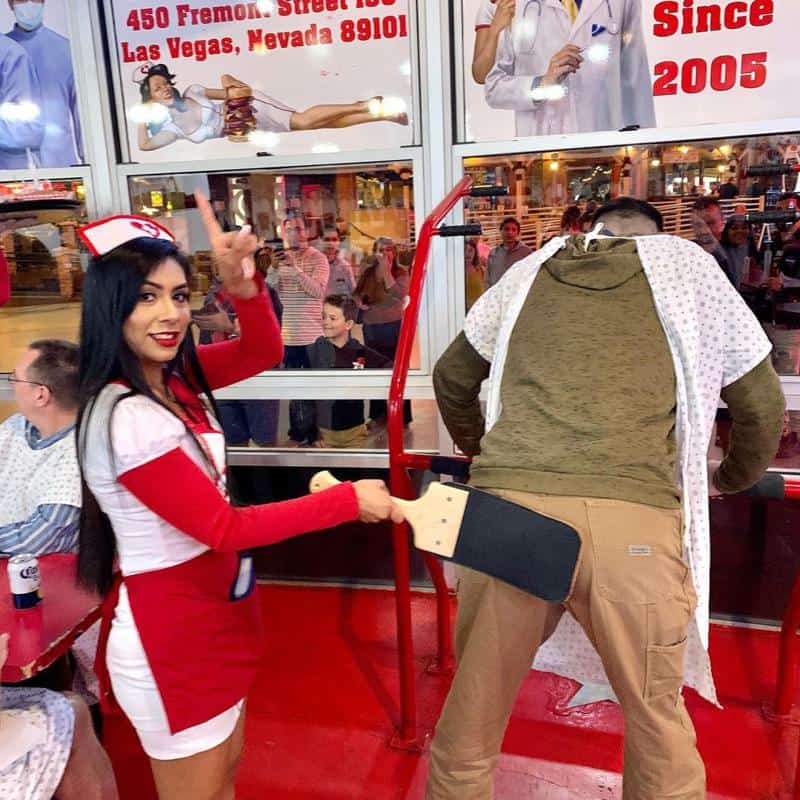 Heart Attack Grill is known for its weird promotions and gimmicks. For instance, if a visitor weighs over 160kg (350Ibs), they can eat for free at a restaurant with unlimited food. The procedure for this promotion is quite simple. A nurse waitress will weigh the customer on an electronic cattle scale right in from of other guests.
There is also the popular Quadruple Bypass Burger Challenge and Punishment For Failure. If a person successfully finished a Quadruple Bypass Burger, this customer will be placed in a wheelchair and pushed out outside the restaurant by a "personal nurse". However, anyone who is unable to finish the Quadruple Bypass Burger will be spanked by a waitress/nurse with a wooden paddle.
Guinness Book of World Record Holder
In 2013, the restaurant was awarded by Guinness Book of World Records, "The world's most calorific burger", for their signature Quadruple Bypass Burger® weighing in at a whopping 9,982 calories.
We should also mention the competitive eater Matt Stonie who managed to eat the signature Quadruple Bypass Burger in 4 minutes and 10 seconds. The previous record for eating the Quadruple Bypass Burger was seven minutes and 42 seconds.
So how many calories do the burgers at this Las Vegas restaurant contain? The Quadruple Bypass Burger was calculated as having 9,982 calories back in 2012. However, these days you can get the monster Octuple version of the burger. It is estimated that the Octuple burger contains nearly 20,000 calories.
For those who don't know, 20,000 calories are the recommended calorie intake for about 10 days for a regular person. It is still unclear if anyone has ever managed to finish the Octuple burger in a single sitting.
To put that into perspective, that's the recommended calorie intake for a regular person for ten days – although it's unclear if anyone, has ever managed to finish one in a single sitting.
Heart Attack Cases at Heart Attack Grill
Did someone actually have a heart attack after eating at this restaurant in Las Vegas? Unfortunately, there have been at least two fatalities which include the deaths of Blair River and John Alleman.
Heart Attack's spokesman, Blair River died of complications arising from pneumonia in 2011 when the restaurant was located in Arizona. Another spokesman, John Alleman, also died while leaving the restaurant in Las Vegas back in 2013.
Location & Opening Hours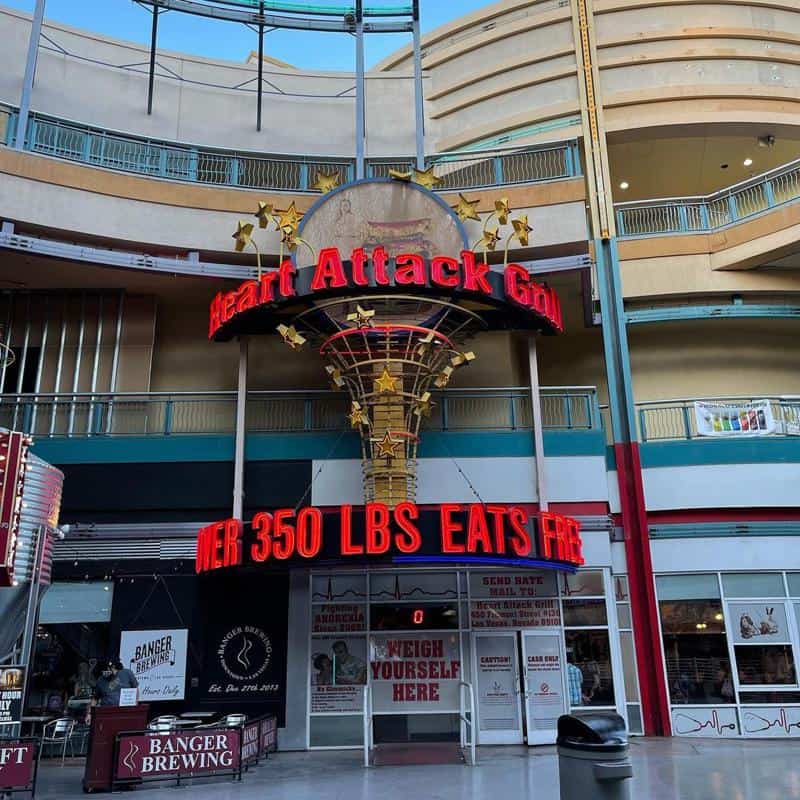 You will find Heart Attack Grill on Fremont Street in Downtown Las Vegas.
Address: 450 E Fremont St #130, Las Vegas, NV 89101
Tel: +1 702-706-7568
The restaurant is open daily from 11 am to 10 pm.
Read More:
Final Thoughts
Heart Attack Grill is definitely one of the most unique restaurants in Las Vegas for obvious reasons. Burger lovers can look forward to trying a range of burgers and other unhealthy meals. On the other hand, people with a more healthful lifestyle will want to avoid this dining establishment at all costs.