Boston is a thriving metropolis built on baseball and food. We cannot thank them enough for their world-famous baked beans, which may not necessarily be fine dining, but is a household staple across the globe. But, aside from this, they seem to lack the praise they so rightfully deserve in their contribution to excellent seafood.
They're a coastal town, and so it's only fair to say that they'll serve some of the best seafood this side of America. They're innovative in every way, and this transfers over to their culinary industry, seeing many champions of fine dining rise over the years.
So, of course, we can't doubt for a second that Boston would've swept into the sushi market with all the finesse and creativity needed to make it something worth talking about.
So what's better than great sushi? All-you-can-eat sushi! And Boston has you covered.
Our Top Picks
Best venue: Fat Baby
Most creative menu: Koy
Best value for money: Yamato II
Best All You Can Eat Sushi in Boston
Fat Baby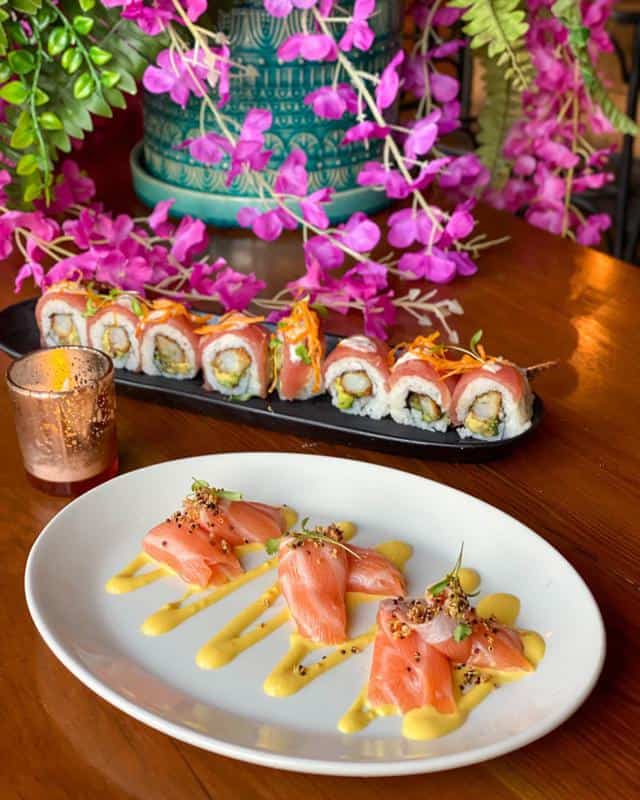 Location: 118 Dorchester St, Boston, MA 02127
Price: $$
Fat Baby isn't your typical sushi thoroughfare. Instead, this restaurant embodies an entirely different atmosphere from usual Japanese cuisine venues. It stays open late and serves some of the best AYCE sushi in Boston!
Mondays are when Fat Baby is the place to be, with an All-you-can-eat sushi special running for only $27 per person. You get to choose between 6 signature rolls and an ever-changing weekly special to eat your heart out.
Besides this, their menu is budget-friendly, with nothing reaching above $30. They have a menu that includes brunch items, midnight snacks, and sushi rolls that will have your mouth watering.
They're a stunningly unique place, with wall art and an almost tropical atmosphere surrounding them. Their dining area is small, but they always keep it lively and busy with weekly events like karaoke and music. It's a quirky little hangout and a top-rate place to be.
Koy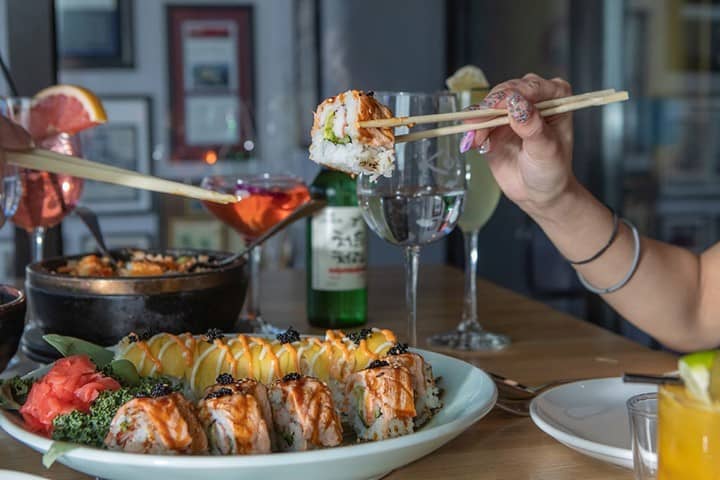 Location: 16 North St, Boston, MA 02109
Hours: 3:00pm to 10:00pm (closes 12:00am Thursdays, Fridays and Saturdays)
Price: $$
While sushi is usually Japanese cuisine, Koy, a traditional Korean restaurant, has entered the game with mass success. Bostonians are getting a bang for their buck by Koy introducing an all-you-can-eat sushi experience every Wednesday night for under $30 dollars.
The vibrant little restaurant has an enthusiastic audience who all pine on the off days for the Wednesday dinner special. It's a taste extravaganza with maki sisi that takes influence from three different cuisines. Aside from sushi, their menu has an array of Korean meals, from dumplings to noodle dishes, that are a hit with the crowd.
They take retro influence, from bright colors to pop art. Koy certainly knows how to create an atmosphere. They're a lively venue with DJs on Saturdays, Karaoke on Thursdays. There's always something happening here!
Yamato II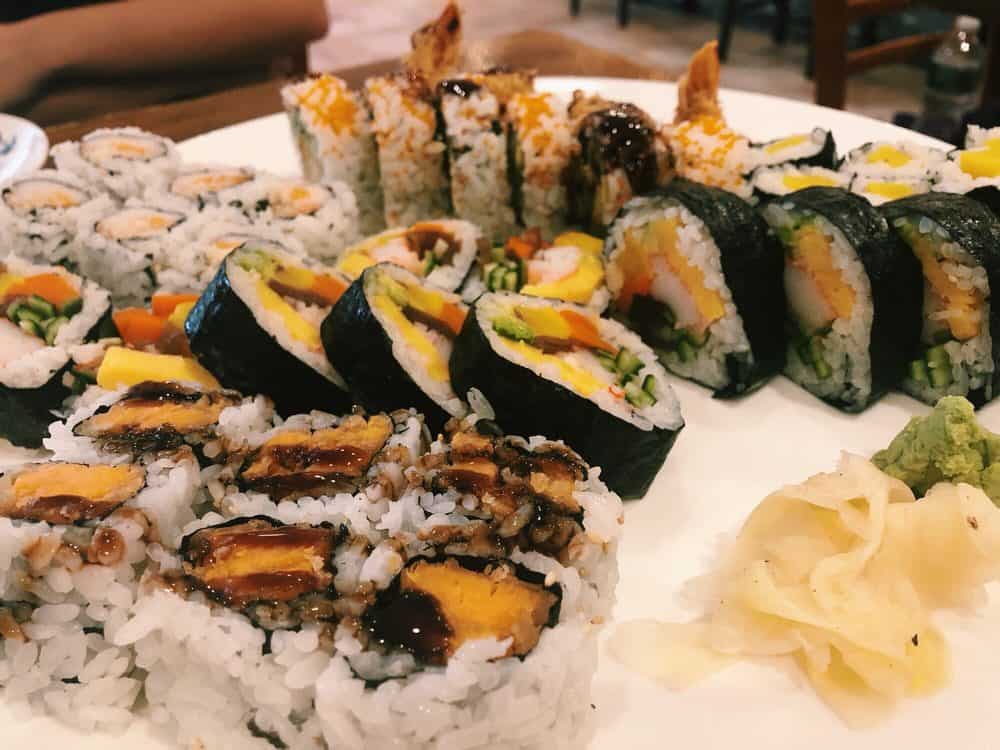 Location: 545 Boylston St, Boston, MA 02116
Hours: 11:30am to 10:00pm (Opens 12:00pm on Sundays)
Price: $$
Yamato II is a thriving business in the Boston Back Bay area. It attracts a crowd throughout the day, so be sure to squeeze in early at the start of dinner service, or you might find yourself having to wait. With attentive and speedy staff and creative and passionate chefs, you'll find delightful masterpieces on your plate that you won't be able to get enough of.
Their menu is a host of sushi bar-style food, with appetizers to warm up our pallet and an extensive range of sushi to keep you satisfied. They serve everything fresh, chefs making orders according to what the tables want, so there's no denying their food quality.
With refreshing seafood ingredients ranging from salmon to clam and everything in between, you can have your fill of raw sushi in chef rolls, sashimi, and more! A trip to Yamato II costs about $35.00 at dinner time, but it's well worth it, considering what you get!
It's a refreshingly popular local hangout. It's casual and expects nothing more from the diners than to have them sit down and fill up on incredible sushi and surround themselves with friends and family. But, not to be mistaken for Yamato itself, Yamoto II is separately owned and operated and brings its own unique twist to the plate.
Yamato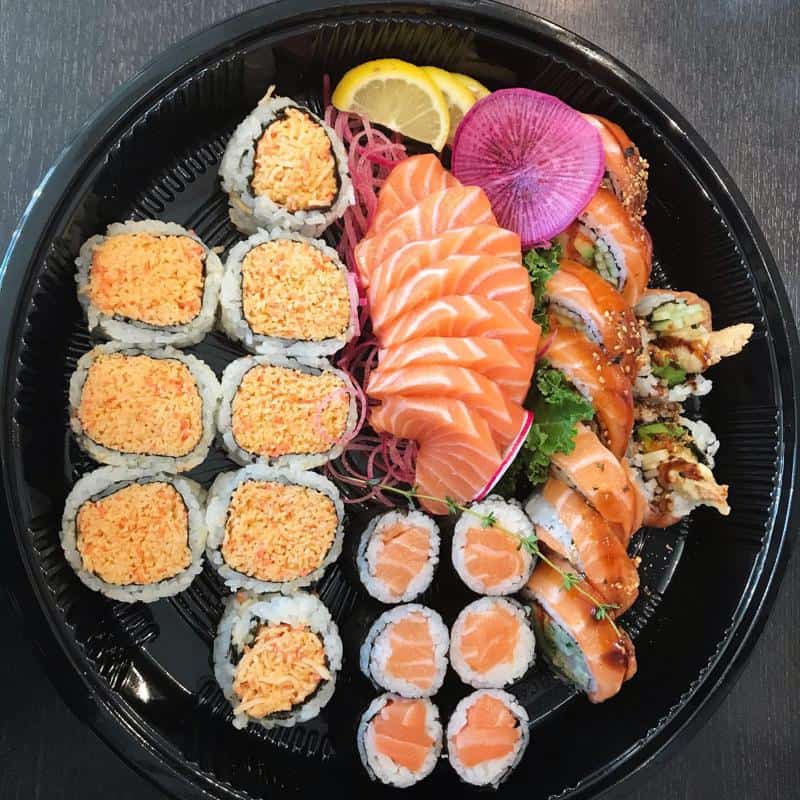 Location: 117 Chiswick Rd, Brighton, MA 02135
Hours: 11:30am to 10:00pm (Closes 11:00pm Friday and Saturday), 12:00pm to 10:00pm
Price: $$$
Yamato is a gem in its own right, hosting many key features to draw in hungry diners. Passionate chefs hold the line and deliver a generous amount of love in their food. Their drive to provide some of the best sushi in Boston has seen them holding the line for years as a local favorite. Their incredible attention to detail reflects and definitely makes them worth a visit.
Their menu is extensive, to say the least, and you won't have your hand forced to pick the perfect meal for you. Instead, they thrive on genuine, hearty Japanese cuisine. With an option for all-you-can-eat sushi spanning across lunch and dinner (with varying menus, of course), there's a feast to be had.
You'll feel like an absolute emperor, peaking over the selections of delicately sliced sashimi, both raw and cooked. They didn't forget their roots and have included fusion sushi throughout their menu in the form of makimono and house specials that deliver the best of both worlds in terms of ingredients. They're fresh and particular about the quality they serve. This attention to detail has earned them their place in the big leagues.
Their venue boasts ample seating in a large dining room. Your preference for a bar seat to watch your food being prepared or a booth for a more close and cozy environment is catered for. If the bustling dining hall isn't for you, they also provide a private dining room for you and your company to enjoy your meal in seclusion. All of this will put you out less than $30 per person, and that's honestly too good to be true.
Minado
Location: 1282 Worcester St, Natick, MA 01760
Hours: 5:30pm to 8:30pm, 11:30am to 2:30pm (Saturday & Sunday Lunch)
Price: $$$
Minado is an expensive Japanese buffet that serves a plethora of all-you-can-eat options. Their chefs have a keen eye for attention to detail, and in this same breath, it means the food is as good as if you went to a sit-down restaurant. Their staff is enthusiastic and attentive, bringing the quality you want at the price you crave.
There's a lot to say about self-service. My best piece of advice in the case of Minado is your eyes are definitely not bigger than your stomach. With a display of perfectly crafted foods, you'll have a hard time stopping yourself from filling up.
I warn you, save space for the sushi. While they may not have an extreme range, they have just enough to have your head spinning. All this means is that there is more finesse placed into each piece to ensure it's the best of the best. You'll still feel like a king in these walls, featuring rolls, sashimi, nigiri, and more.
They haven't skipped on important details for a restaurant that'll cost you just over $30. They have created a vibrant and swanky atmosphere. There's nothing classic to this buffet. Instead, you'll feel as though you've just walked into a fine-dining space with that same geometric styling Japan is renowned for.
Yutaka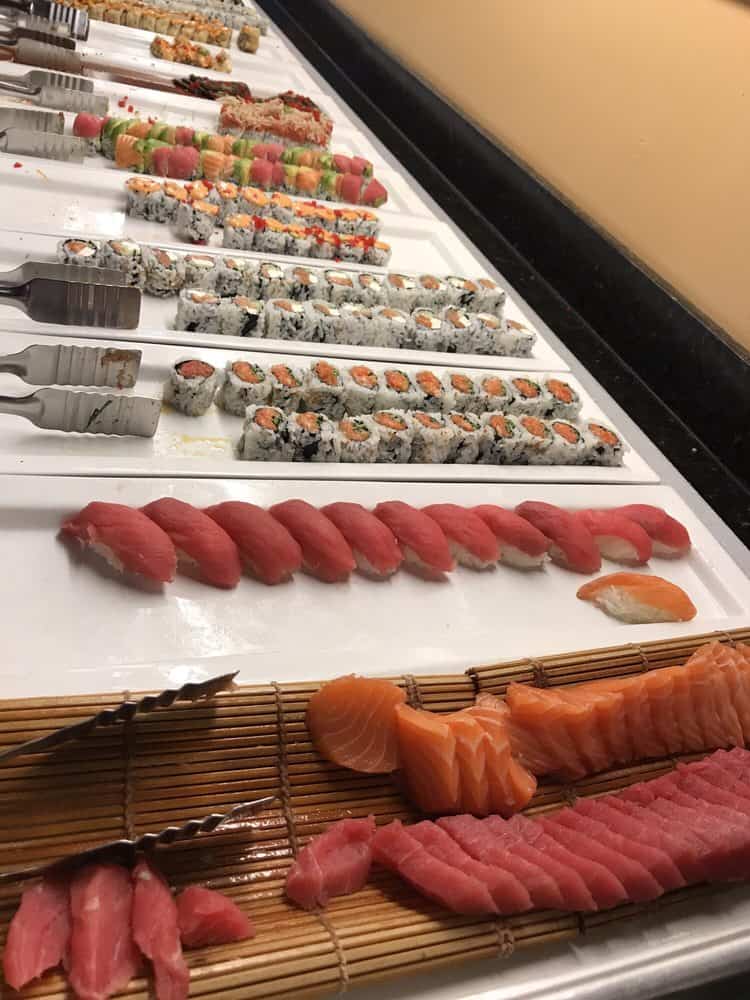 Location: 350 Longwood Ave, Boston, MA 02115
Hours: 11:30am to 9:45pm (closes 10:45pm Friday and Saturday), 12:00pm to 9:45pm (Sunday)
Price: $$
Yutaka is a hidden treasure that deserves far more praise than it gets. It's a cozy feature in Boston that exudes confidence unlike any other seen in a buffet. Everything from their food choices to their decor transports you to a different country, multiple, even depending on your tastes.
With expert chefs with a genuine love of their artistry working hard daily to deliver some of the most refreshingly divine dishes, there's no questioning why Boston loves Yutaka so much. Their menu is inspired by Chinese and Japanese cuisine, and if you feel for both, there's no stopping you here.
Yutaka's sushi is Beautifully displayed and ripe for the picking. You'll find boat-loads of sushi kept chilled and fresh to stack on your plate. In addition, they serve delicacies in the form of tataki, sashimi, and makimono in their dozens, leaving you spoiled for choice. For around $25.00, you'll be truly amazed by what they offer.
Their interior is enveloped by warm wood tones, ample seating, and a large dining space. You'll feel welcome and at home, with enough privacy to make you forget you're in public, and you might need to when you chow down on their food. Yutaka has an air of sophistication that can't be beaten, all wrapped into a casual dining experience.
Ibasaw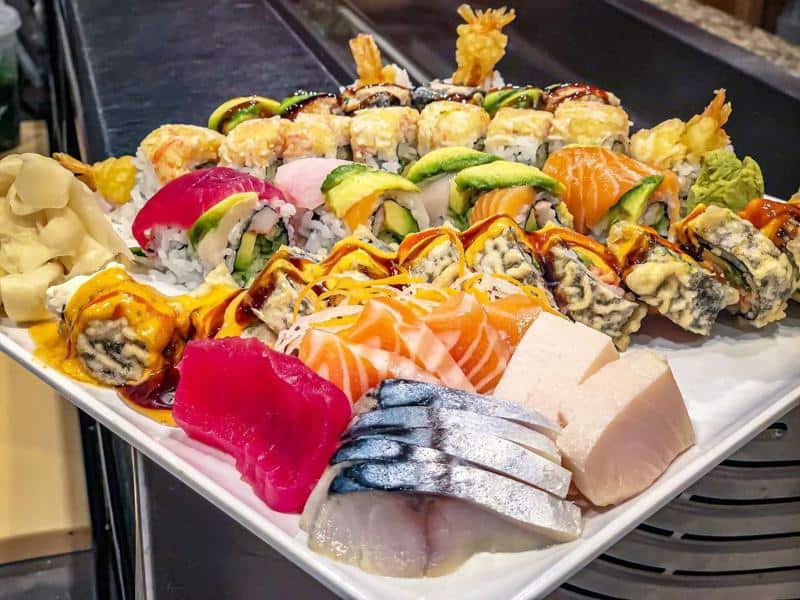 Location: 95 Middlesex St, Malden, MA 02148
Hours: 4:00pm to 12:00am, 12:30pm to 12:00am (Saturday and Sunday)
Price: $$$
Ibasaw is a culinary fusion buffet featuring the best of Korean and Japanese cuisine. They're quirky and interesting and have generated enough of a fanbase to keep them thriving over the years. Who doesn't love all-you-can-eat sushi? And their hotpots? Get out of here.
Do you want to talk about options? Great, Ibasaw has dozens, all specially crafted from fresh ingredients and fusion innovation. They've left no space for imagination and no doubt about who the real masters of sushi are!
For a mear $34.95, you'll be in heaven for hours, carefully selecting your food to get the best for your buck. There's no doubt that you will. There's so much to try with dishes spanning from sashimi to signature rolls!
They're a very laid-back establishment, but this by no means cuts their class. With finely decorated interior, plenty of seating to bring the whole family, and just enough class to make you question whether you're in a fine dining restaurant. It's a spectacularly affordable treat for you to enjoy quality food, attentive service, and the best company!
NijiyaSushi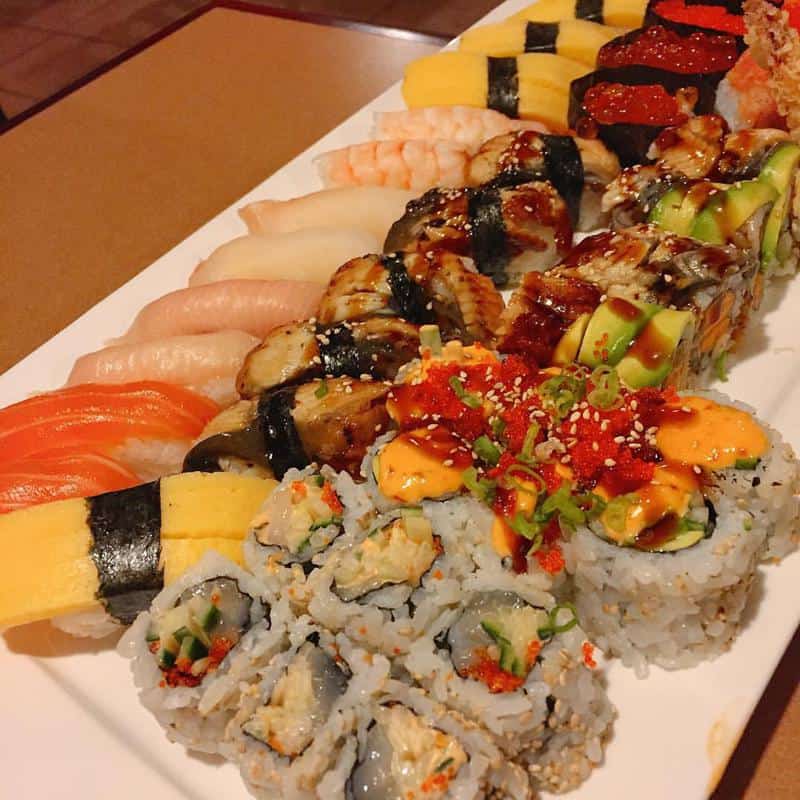 Location: 9 High St, Medford, MA 02155
Hours: 11:30am to 9:30pm (Closes 10:15pm Friday and Saturday), 12:00am to 9:30pm (Sunday)
Price: $
Nijiya Sushi is a fast-paced Japanese restaurant. It's a local favorite and great for big parties wanting to fill up on some of Boston's best all-you-can-eat sushi. With options for both lunch and dinner, they're here to satisfy cravings with artfully crafted Japanese cuisine.
Their menu is expansive and covers a multitude of options that aren't just limited to sushi. With noodle and teriyaki entrees and sushi in the form of sashimi and maki rolls. You have so much to choose from and plenty of time to give everything a try if you're up for it. With lunch sitting at around $20.00 and dinner sitting close to $30.00, it's incredibly budget-friendly for all.
The dining room is colorful and airy, providing a welcoming and comfortable environment for you and your company to enjoy! While they only take reservations for parties over 6, it's such an incredible experience. You'll hardly struggle to get friends or family on board for this all-you-can-eat bonanza!
More Boston Food:
Conclusion
So while Boston may be known for other culinary feats, its sushi is not to be looked down upon. The creative chefs of the industry have created intricate specialty dishes unique to Boston. Still, they have helped it gain popularity and traction to the point that it's the talk of the town.
Sushi is a delicacy and something most dream of as an occasional special treat. Still, with the affordability and quality of all you can eat in Boston, we hope you make it a regular thing!